If you've been dating awhile, but the passion and commitment seem a bit one-sided, you may be asking yourself, "Does he really love me?" Sometimes it can be hard to tell. Men aren't exactly forthcoming with their emotions.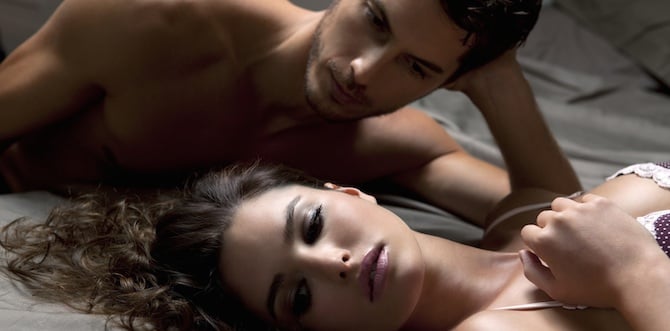 And, even if he has dropped the L-word, how do you know he means it? It's important to find out because if he isn't head over heels for you now, he might never be. Rather than wasting time in a relationship that is headed for a dead end, it's usually best to accept the truth and move on to focus on new relationships and men that truly appreciate how awesome you are.
But, to find out if he really loves you, you are going to need to understand signs that are more accurate than pulling petals off a flower while singing, "he loves me, he loves me not."
Does He Love You? Here's The Questions You Need To Ask
1. Is he there when you need him most? – Even in the deepest of relationships, it's important to be self-reliant and to maintain some independence. But, we all need a shoulder to cry on and a helping hand once in awhile. If he really loves you, he'll want to come to your rescue when you are feeling low or are in a bind.
If, in your time of trouble, he is working late at the office or out having a guy's night with his buddies, he might not care as much as you would like. But, while he should share in both your good times and you bad ones, every strong relationship needs time apart. He needs his weekly basketball game/time with his buddies just as much as you need happy hour with your girl friends.
My most powerful sex tricks and tips aren't on this site. If you want to access them and give your man back-arching, toe-curling, screaming orgasms that will keep him sexually obsessed with you, then you can learn these secret sex techniques in my private and discreet newsletter. You'll also learn the 5 dangerous mistakes that will ruin your sex life and relationship. Get it here.
2. Does he help you grow as a person? – Everyone grows and changes over time so if your relationship is going to last he needs to love who you are right now and also who you are going to be. Take a hard look at whether he supports and helps you are you grow personally and professionally.
How does he react when you get a raise or promotion at work? He should be proud and celebrate with you, rather than being jealous. What does he do when you talk about taking a new class, making a new friend or trying a new hobby?
Hopefully he asks enthusiastic questions, helps you find room in the budget and helps you along the way rather than being critical. If you find that he holds you back or is resentful as you grow, it could definitely be a sign that he doesn't exactly love you…but he does want to control you…
3. Does he do his share of chores? – Traditional male and female roles are changing and evolving. Gone are the days when women tended the home while men earned a paycheck.
Today, relationships are partnerships. When asking yourself, "Does he love me," consider if the two of you split the workload equally or if you carry most of the weight yourself. If your relationship is strong and both of you are committed to making it work long term, you will be able to talk honestly about how to divide up household duties and errands.
However, if he lets you tackle things on your own and doesn't do his fair share, he might enjoy having someone to take care of him more rather than actually loving you. Just remember that this isn't a definite sign that he doesn't love you as often there is some imbalance in relationships.
4. Is he honest with you? – The best relationships are built on honesty and openness. If he has a history of lying to you, you probably don't even need to ask, if he loves you. While tiny, white lies might seem mostly harmless, if he is comfortable lying about little things he may also be ok with hiding the truth on bigger issues.
Remember, omitting details and not telling you things you should know is the same as saying things that aren't true. It's even called 'lying by omission'.
5. Does he want you to be happy? – One of the biggest signs of love is thinking of someone else's happiness above your own. If the answer to "Does he love me" is "yes" you'll find that he will go out of his way to make you smile.
From big things like compromising during disagreements to little things like picking up your favorite ice cream on the way home from work, someone who loves you will find a ways to show you. Remember, everyone displays affection in their own way, so the gestures he uses might not be the same ones you choose, but they are still very real.
When looking at the signs and asking yourself, if he really does love you, don't worry if he doesn't get them all right all the time. You aren't looking for someone who is perfect, just someone who values you and cares for you. What's really important is that he is putting effort into the relationship. If he consistently makes you a priority and tries to show you he cares for you, chances are he really does.
I Don't Think He Loves Me. What Now?
After taking a hard, honest look at the relationship if the answer to the question "Does he love me" seems to be no, it's time to make a decision. The worst thing you can do is to take a wait-and-see approach. Though it takes time for feelings to develop, if you have been together for a while and he is not as invested in you as you are in him, it's time to face the issue head-on. Once you know the truth you have two options.
Talk about it – In an open and honest relationship you should be able to discuss anything, even this. Be sure you enter the conversation ready to hear and accept the truth, no matter what it might be.
This isn't a conversation to be rushed, so set aside time when it's just the two of you and delve into it. Start out by telling him how you feel about him. If he knows where you stand he will feel less vulnerable about opening up. Then, let him know that you aren't pressuring him or looking to make a lifelong commitment right now.
Rather, you are just looking to understand how he feels about you and whether he wants the relationship to move forward when it's time. A conversation about where your relationship is and where it might go will help you better understand whether or not he loves you.
Break up – If your conversation didn't lead to a happy ending, or if the answer to your "Does he really love me" questions is such an obvious "no" that you didn't need to talk about it, calling it quits may be the ultimate resolution.
Breaking up is never easy, but if you have deeper feelings for him than he does for you, then staying together can lead to much more pain later on. Though it will be difficult now, moving on opens you up to start a new relationship with someone who is potentially a better partner.
If you aren't sure if he really loves you, you owe it to yourself to take a close look at your relationship. Everyone deserves to love and be loved in return. If your current boyfriend doesn't have strong enough feelings for you, you need to find out now before you invest too much time in someone who isn't the one.
Watch This: Blow Job Tutorial Video
I put together this in-depth, step-by-step instructional video that will teach you how to make your man sexually addicted to you and only you. It contains a number of oral sex techniques that will give your man full-body, shaking orgasms. If you're interested in learning these techniques to keep your man addicted and deeply devoted to you as well as having a lot more fun in the bedroom, then you may want to check out the video. You can watch it by clicking here.