While there isn't yet a little blue pill for increasing sex drive in women, there are a number of things you can do to give your libido a boost! The first step in how to increase your sex drive is to recognize what's holding it back.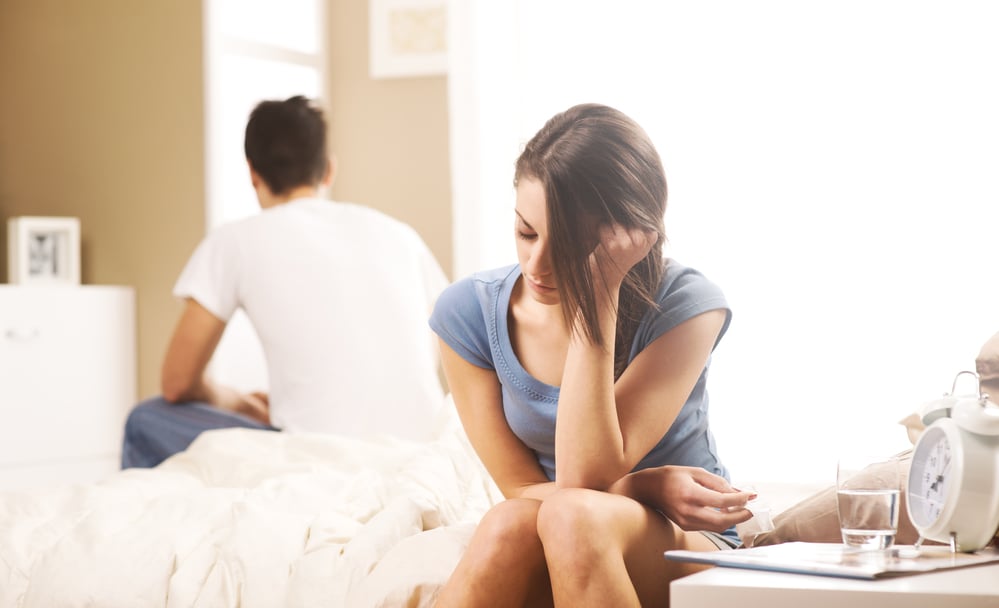 What You Need to Know to Boost Your Sex Drive
There are lots of things that affect libido, some of which you can control and others that you can't. These six factors are among the most common that can upset the balance of your sex drive, and this can lead to an issue if you man wants to have sex more than you do. You might even feel out of sorts if you know your sex drive isn't what it used to be, too!
1. Testosterone
Although this is known as being a man's hormone, women actually have testosterone in their body, too. Not only can it increase you tendency to be aggressive, but it can also boost your sex drive! In fact, a lack of testosterone can even lead to erectile dysfunction. Source.
If you feel like you're not as interested in sex as you could be or have been, it might be due to a dip in your testosterone levels. There are testosterone creams that can fix this, but be aware that they come with risks such as weight gain and an increase in body hair. You may also be able to talk to your doctor about increasing testosterone if your hormones are out of balance.
Estrogen, the woman's hormone, can also play a part in increasing your sex drive – or decreasing it when your estrogen levels are low. Source. Birth control pills are one source of hormones that your doctor might suggest. However, we don't recommend introducing any hormones into your system without consulting a doctor first.
2. Stress
Although sex can be a great stress reliever, stress can also make us disconnected from our partners and even our bodies, leading to a drastic decrease in the amount of sex we're having. The Mayo Clinic even lists stress as one of the leading inhibitors of sex drive. Stress is also bad for our bodies, leading to an increase in belly fat and blood pressure, according to Dr. Mark Hyman.
Remember that sex shouldn't be stressful or add to the amount of stress you're experiencing. It should be pleasurable, a way for you to connect with your partner and a positive thing in your life. Plus, the hormones released during and after sex can help you to relax. Try starting with a sensual massage – more on that here – to get the positive vibes flowing during your sex times.
There are times in our lives that will be more stressful than others, and you may not be able to do anything about it. If you can, reduce obligations at work, school or home, and find ways to make them less stressful. If you can't do that, consider meditation or yoga to help relieve stress.
3. Psychological Factors
Even if your body is ready to go and a sexy man wants to do the "no pants dance" with you, you might still struggle with wanting to have sex. There could be a few reasons for this:
You children/roommate/family members are in the next room, and you're worried about them hearing your sexual activities.
You have other obligations that have you distracted from sex.
You're ill or physically out of sorts.
The bed isn't made or the bedroom isn't clean enough for you to feel comfortable having sex.
There are many reasons why you might not want to have sex, even if the opportunity presents itself. You may not even be aware of what these issues are. You can solve many issues by setting aside time to have sex, preparing the room where you'll be getting down so it feels sexy to you and ensuring you have all the privacy you need. In some cases, this may mean leaving home. Perhaps you and your man could rent a hotel room for a night or weekend to help alleviate some of the things that are lowering your sex drive!
For more serious reasons, and those that you might not understand, you may consider seeing a professional therapist.
3. You're Not Comfortable With Your Body
We're constantly bombarded with images of perfect women – and men. But even supermodels are Photoshopped, and professional hair and makeup artists spend a lot of time to make those people look so super. When even celebrities can look at their own photos and not recognize themselves, it's pretty much guaranteed that no one can live up to the expectations.
What does this mean for the 99% of us who aren't supermodels? Many of us have body and self esteem issues that can rear their ugly heads when it comes time to disrobe for a man! You're not alone if you experience this sort of sexual anxiety. In fact, many men feel something similar. Remember that your man chose you, and if you're in love, that makes you even more attractive to him. Also remember that there's no single way to be attractive. You've probably liked some guys who are quite different from one another!
One thing you can do to feel better about yourself and increase your sex drive is invest in lingerie – and clothing – that make you feel sexy. We've got advice for picking out sexy lingerie in this post. Invite your man to help you, and it's sure to increase your sex drive!
On the other hand, if your man is the one making you feel uncomfortable about your body, then you might want to consider breaking up with him.
4. Your Needs Aren't Being Filled
All too often, men get what they want in the bedroom, and women are left out in the cold. It's no wonder that some women wind up with a low sex drive. They're not getting anything out of the deal! This is also why some women treat sex like a commodity to be traded to their man in turn for something that benefits them. Of course, sex has many benefits that you should be reaping, and you should absolutely be getting yours, too!
One specific way that woman often feel dissatisfied in the bedroom is that they're not experiencing an orgasm. If you've never had one before, it can be difficult to orgasm with your man. We definitely recommend experimenting with masturbation so you can show your man what you need. If you know that you need something such as oral sex to cum – only 25% of women consistently orgasm through vaginal stimulation (Source) – then you've got to let your man know!
Many women are afraid to speak up or unsure how to do it. Check out our guide to talking about sex with your man for some tips. You can use this guide to describe your wants and needs, become more sexually fulfilled and grow closer to your lover.
5. You Haven't Explored Your Fantasy
If your idea of a wild night is having sex in missionary position before bed, you might not be experiencing a low sex drive because you haven't explored all your fantasies. But for many people, this type of sex doesn't cut it. They want more, and they're not getting it.
There are a lot of fantasies to explore, and we've talked about many of them on the Bad Girls Bible:
The list goes on, and the more you explore, the more you'll find to try that you haven't yet done! That's one of the great things about human sexuality!
You don't necessarily need to try out a fantasy, either. Perhaps you can watch some porn and read – or even write! – some erotica that features your favorite scene. Fantasizing is a natural part of human sexuality, and you might even find it hot to talk about fantasies with your man. Eventually, you may find yourself wanting to have sex.
6. Your Relationship Is Rocky
Finally, it's worth noting that many people will have a hard time getting in the mood for sex if there's something wrong in their relationship. Click here to find help dealing with some of the most common relationship issues. Some issues can be tackled at home while others will require the help of a professional. Even if you go yourself, you might see some improvement in your relationship – and in yourself!
All relationships have ups and downs, and sex is often the first thing to go out the window when you're in a slump. Having sex when you don't feel connected to your partner may feel wrong, so we don't necessarily recommend pushing the idea. While sex cannot fix a relationship that lacks a strong foundation, it can help to make you feel closer to your partner when things are good. Plus, fixing your relationship can breathe new life into your sex life.
Of course, there are many other factors that can make it hard to increase your sex drive. Certain medical conditions and even medications – SSRIs affect up to 70% of people who take them (Source) – can minimize your desire to have sex. Adjusting medication may lead to increasing your sex drive. Depression and overall poor health are also detrimental to a healthy sex drive, so you may want to consult your doctor if you think you'll need medical help increasing your sex drive.
One thing we do recommend is not worrying too much over how to increase your sex drive. Instead, look for ways to have quality sexual time with your man. Don't get too caught up on