Most relationships start with love and passion. But routine coupled with boredom often replace those feelings and lead to sexless marriages. When couples stop having sex, it weakens the marriage. Yet, a sexless marriage feels like an insurmountable problem for couples. They might not even be sure how or why the sex stopped and feel embarrassed and depressed about the situation. Never fear: you can learn how to fix a sexless marriage.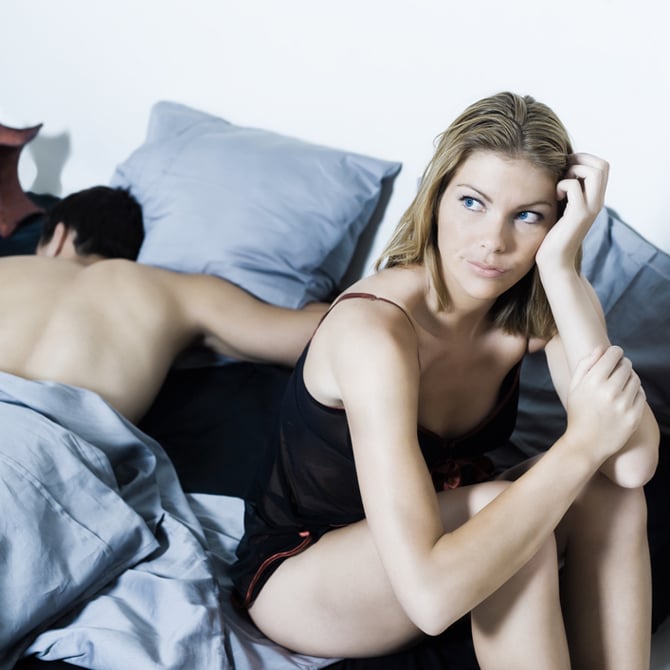 Reasons for a Sexless Marriage
Sex can stop in a marriage for many reasons. Maybe you and your husband don't get any private time together anymore because you fear others in the house will hear you. Or maybe you work opposite hours. Maybe no one is initiating sex because the other partner said "no" one too many times. There are many reasons for a sexless marriage. Learning the reasons is the first step to changing the problem.
1. Personal or Religious Beliefs
Some people might have been taught that sex is bad or evil when they were children and have a difficult time having sex as a result, even after marriage.
Some people's religious beliefs teach that sex is for procreation only. They might have been taught that sex is sinful except for procreation. That thinking leads to a sexless marriage if you aren't trying to have kids.
2. Physical Problems
Physical problems and the medications prescribed for the problems often lead to a sexless marriage. Some of the most common illnesses that cause sex to end are lupus, fibromyalgia, rheumatoid arthritis and chronic fatigue syndrome. Drugs used to treat those conditions could also hinder sex drive, as can drugs prescribed for depression and birth control.
3. Past Traumas
A past trauma involving sex can block any sexual feelings you might now have, which can lead to a sexless marriage. If you've been a victim of sexual abuse and never were properly treated for it, you can be suffering from depression, anxiety or post-traumatic stress disorder — all of which can make it difficult for you to want to have sex.
My most powerful sex tricks and tips aren't on this site. If you want to access them and give your man back-arching, toe-curling, screaming orgasms that will keep him sexually obsessed with you, then you can learn these secret sex techniques in my private and discreet newsletter. You'll also learn the 5 dangerous mistakes that will ruin your sex life and relationship. Get it here.
It's often particularly difficult to maintain a healthy sex life if you suffer from PTSD caused by sexual abuse. PTSD causes withdrawal, recreating the event in your mind and avoiding any circumstances that remind you of the abuse.
4. Emotional Problems Within the Marriage
If you and your husband aren't getting along, it's difficult to want to have sex. If you are always irritable with each other, judgmental toward each other, critical of each other or blame each other whenever there's a problem, you won't feel much like having sex, and you might find yourself in a sexless marriage in no time.
Note that makeup sex happens when you have an active sex life and are happy with each other but have had a fight about something. This differs from chronic feelings of hostility, which may indicated a love-hate relationship.
Some people withhold sex as a power play in the relationship, or they do so as a passive-aggressive way to punish the spouse for something.
5. Porn Addiction
Porn addiction sometimes causes sexless marriages. It's one thing if you or your guy watches porn sometimes, either alone or together, and another altogether when one of you becomes so addicted to porn that it affects your everyday life and your relationship.
People who are addicted to porn want to stop watching it, but they can't. The urge is just too great for them to control. This can hurt a partner in a marriage, making that partner feel rejected, not good enough or even unloved. That makes it difficult for two people to have sex.
6. Alcohol or Drug Problems
If one partner has a substance abuse problem, the marriage will probably suffer, and so will the sex. When one partner abuses drugs or alcohol, the marriage is probably an unhappy one, and the couple usually experiences an emotional distance. There are often fights about the substance abuse and things related to the substance abuse, such as money problems, trust issues, and anger at the substance abuser for neglecting responsibilities. There might even be physical fighting.
If you or your spouse has a problem with drugs or alcohol, the problem won't go away on its own. It will probably get worse without treatment.
7. Cheating
Cheating often leads to sexless marriages. Even spouses who are happy in their marriages sometimes cheat, but there's often a big price to pay. If a spouse is caught cheating, it's very difficult for a marriage to stay together, and it's sure to suffer. The spouse who did not cheat now doesn't trust the spouse who did and carries hurt or anger, neither of which is conducive to a healthy sexual relationship within the marriage.
Look for these signs that he's cheating.
8. Age
The aging process could lead to a sexless marriage because sexual interest tends to lessen with age. But if older people schedule sexy times, it could help. It might not be arousing for a long-term couple to simply see each other anymore, but if that couple starts to have foreplay or some other sort of sexual activity, they can get in the mood again. It's almost like going to gym: you might not want to go initially, but if you make yourself go, you enjoy being there and feel better for it when you're done.
Of course, more foreplay can help you get in the mood, too. Check out this article.
Fixing a Sexless Marriage – The 7 Steps
When you're in a sexless marriage, it usually means there's an underlying problem in the marriage. Once you and your spouse can figure out the problem and then learn how to fix it, you'll have a much better chance of having a happy marriage, complete with sex.
1. Think About the Reason – Think about your relationship to try to understand why you're now in a sexless marriage. It could be because of one of the reasons discussed above, or it could be something else, such as you think that you and your partner are no longer a good match. Denying the problem or failing to try to understand your partner won't do you any good, however.
Once you have thought the problem through, it's time to talk with your spouse.
2. Talk with Each Other – It might be difficult to bring up the subject at first, but it's important that you and your spouse talk about the lack of sex. Don't blame your partner or sulk about it. This is a time to bring the problem to the open and then share your wants and needs. Then let your partner share his.
3. See a Professional – Sometimes you need a professional to get you back on track. A therapist who specializes in intimacy and sex difficulties can offer suggestions to bring sex back to your marriage.
Typical suggestions a therapist or counselor might make would be for the two of you to talk about the problem when there are no distractions. Make sure you're tactful with what you say and that you listen to what your partner has to say without interruptions and without being defensive.
You then might be asked to list the barriers that are preventing sex. Sometimes, writing down the problem helps you take the steps needed to fix it.
It's important for the two of you to want to have sex again and to connect emotionally and physically to have a marriage that survives.
4. Try New Things Sexually – Maybe you stopped having sex because you weren't getting much from it. If that's the reason, it's time to try some new things. There's dozens of sex positions, and odds are you haven't tried them all. Try some or all of the 100+ sex positions in this guide. Even if some of them aren't your favorite, it's fun to just try, and plus…you're having sex again.
Some positions are better for a woman's orgasm, some are better for a man's, and some are just as good for both of you. You might even find a new favorite when you experiment.
You can also go shopping together for sex toys. There are many couples toys that pleasure both of you at the same time. Sometimes you just need a little bit of lube to get you going. Tips for buying and using sex toys here.
5. Go On a Marriage Retreat – You can find marriage retreats designed to give couples a vacation while working on the marriage with a counselor. You'll learn tools you need to succeed in the marriage at these retreats. Marriage retreats that you can sign up for are all over the United States. Some retreats take place out of the country. When you go on these retreats, you are with other couples, and you can have discussions with other people if you choose to in a group therapy type of fashion.
6. Find Out Your Partners Desires – The two of you should tell each other your sexual desires to get the sex going again. Here's a list of some the top fantasies of men and woman. Maybe one or more of them are yours:
One of you be in charge: the person who's in charge directs the sex that night
Have oral sex: if oral sex stopped, start it up again
Have anal sex: you can find tips right here on this site for doing this in a pleasurable way
Watch each other masturbate
Watch porn
Have sex in a public place (making sure you won't be caught) or try these 9 ideas to spice up your sex life
Indulge in a fetish if one of you has one
Role play — tips here
Get a motel or hotel room for a rendez-vous
7. Build Sexual Tension – Building sexual tension helps put you in the mood to have sex. You can build sexual tension many ways.
Start by flirting with your husband as you did when you were dating: look him in the eye when you talk to him, and even talk dirty. All our flirting tips are located here!
Touch him when you pass by. Rub his back, or put your hand on his shoulder.
When you're apart, send him a sext message. It can be as simple as telling him you can't wait until he gets home.
Sit next to him on the couch when you watch TV.
Wear clothing that looks flattering on you that you know he likes. Learn more in this post.
Give him a long hug before he leaves or when he comes home.
Whisper something to him when you're out together in public.
As you can see, many things can cause a sexless marriage. But the good news is that these problems are often completely fixable. It takes some work and some time. After all, your sexless marriage probably didn't happen overnight. But it's worth all the time and effort to get the sex back.
Once you start having sex again, you should feel happier and better about your marriage. Sex promotes oxytocin, the feel-good hormone, and it's a fun way to keep your marriage strong.
Because you've had a sexless marriage at one point, it's important for you to remember how your relationship got that way and to recognize if you're slipping back to your old patterns and into a sexless marriage again. By recognizing the signs early, you should be able to apply your fixes and start having sex again.
Watch This: Blow Job Tutorial Video
I put together this in-depth, step-by-step instructional video that will teach you how to make your man sexually addicted to you and only you. It contains a number of oral sex techniques that will give your man full-body, shaking orgasms. If you're interested in learning these techniques to keep your man addicted and deeply devoted to you as well as having a lot more fun in the bedroom, then you may want to check out the video. You can watch it by clicking here.