If you ask most people what ingredients are necessary for a healthy and stable relationship, many of them will respond with trust. You need to feel assured that your partner is loyal, considers your needs in addition to and sometimes above his own and wouldn't do anything purposely to hurt you. Otherwise, why would you want to be in a relationship with him?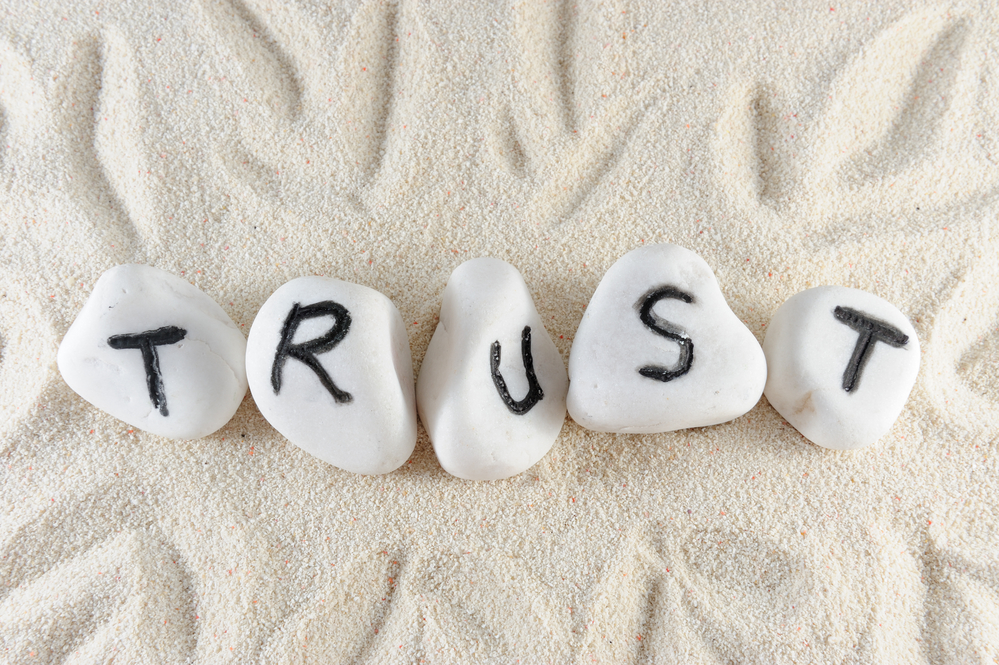 It's not a stretch that if one or both of you has trust issues, those issues will slowly chip away at the foundation of your relationship and push you apart. If your relationship has any chance of working out, you've got to deal with any trust issues you might have. This enables you to to be in a functional, loving relationship and breathe easier.
Where Do Trust Issues Come From?
Trust issues often arise from situations in the past. Perhaps an ex cheated on you, or your new man is dealing with the same. You may have had close friends or even family members who were dishonest in some way, perhaps sleeping with your ex.
Issues can stem from many years ago, including when you were a child. Perhaps your parents weren't attentive or your father walked out on you. If you had to deal with abuse from people you should have been able to trust, then it's natural that trust issues may have arisen. Gambling, addiction and other behavioral problems your parents may not have dealt with can also contribute to trust issues. When you have a rough past like this, trust issues make sense; although, they're certainly not helpful.
Similarly, your current partner can contribute to existing trust issues or even add new ones if he does any of the following:
Hides text messages, emails or phone calls from others
Doesn't set boundaries with female friends or coworkers, especially with exes
Displays lack of trust in you
Attempts to make you jealous of other people or women
Cheats on you, either physically or emotionally (signs of cheating in this post)
Doesn't check in when he's going to be late
Although it might seem quite ironic, sometimes people become distrusting about their partner's behavior because they themselves are cheating. If you're seeing someone else on the down low, you might not trust your man not to do the same! But your relationship can get over cheating. More on that here.
Still, trust issues can arise even if you haven't had negative experiences, and illogical trust issues can be even more difficult to deal with. For example, psychiatric conditions such as paranoia and schizophrenia can create trust issues, which makes them even more difficult to defeat. However, it's important to tackle trust issues head on as they are unlikely to resolve themselves and can be so pervasive that they can lead to the demise of your relationship when left unchecked.
These insecurities can manifest themselves in a variety of ways that impact your life negatively. You might feel uncomfortable or have trouble engaging in physical intimacy. Perhaps you don't allow yourself to connect emotionally with others, especially a romantic partner. Even your friendships may suffer or be nonexistent because of a trust issue.
If you have trust issues, you might find yourself trying to control your boyfriend or husband. You may constantly question him about where he's been and with whom, look over his shoulder when he's on the phone or computer or forbid him from spending time with women who you think want to be with him or even friends who you think might facilitate whatever activity it is you're worried about happening.
Of course, he can see how this controlling behavior can drive your man away whether or not he's doing anything to warrant it. But it's especially problematic when he hasn't done anything that could be considered untrustworthy, and you'll only come off as paranoid and insecure, and no one likes that! It's only a matter of time before behavior like that will drive your man away, potentially into the arms of another woman. Check out this list of other reasons why men cheat.
Whether you have a legitimate reason to mistrust your man or you're simply being paranoid, you'll be miserable as well. It can lead to a lot of fighting, and your desire to be right may cause you to stay in an unhealthy or dishonest relationship even if it's not what's best for you. That's why we recommend getting to the root of your trust issues so you can either move past them together or on your own.
How to Fix Trust Issues
These steps can help you take control of your life and be reassured with your relationship, but it's not usually an easy task. You can get the ball rolling with these steps, however.
1. Pinpoint the Cause
If your trust issues stem from a previous relationship, you can break them down with logic. Look for ways that your partner is trustworthy and has been honest with you. Similarly, you may be able to identify a single event that was a catalyst for your mistrust. Perhaps it's an incident of physical abuse or finding out that your ex was cheating. The loss of a loved one or even a vicious rumor that someone spread about you when you were younger could also be the culprit.
Although it may not be difficult to locate reasons for your difficulty trusting other people, especially when you're looking for it, it can also be harder than you expect. You could enlist the help of a longtime friend or family member who is familiar with your story, Or you could enlist the help of a professional, which can also help your relationship.
2. Seek Counseling
No one expects you to deal with trust issues on your own. In fact, it may be impossible to do that. And while you might not be able to get closure or revenge with someone who caused you to have a trust issue in the first place, you may be able to work through some of the feelings and thoughts you both have of those events.
A professional therapist or counselor can help you discover the reasons for your trust issues, open up to your partner, begin the healing process within yourself and strengthen your relationship. Some of your issues may be so deeply ingrained that it takes a while to work through them, but professionals who have training can make the process smoother and more efficient. It's like they say, work smarter, not harder. And counseling is definitely smart when you have trust issues!
3. Respond with Reason
Paranoid behavior is a common side effect of experiencing issues trusting people, and you can combat many of those thoughts by stopping to analyze them. At first, you might have to do so after the fact, but you'll save yourself a lot of trouble as you develop the ability to stop negative and unproductive thoughts as they occur.
For example, if you're worried your husband is cheating on you but know he's working hard at a new project at work, remind yourself of that fact. Reassure yourself with what your know rather than what you suspect, especially if those suspicions have no base. This practice might be easier in the beginning if you enlist the help of a friend or professional.
However, a caveat exists. If your partner is secretive, it will be more difficult to stop those thoughts with logic, which is why it's so important to talk to your partner and explain how you feel and how he can help. Create a plan that allows you to openly talk in a safe place, and let him know what he can do to help assuage your trust issues. This post has advice to improving communication.
4. Trust Yourself
Before you can trust other people, you have to trust yourself. This means trusting your instincts and your own intelligence.
When you respond with reason, you might notice that some of your suspicions are founded. One thing that cheaters and abusive partners try to do is to inject self doubt into their partners. He may try to make you feel crazy so he can continue getting away with his unscrupulous behavior. Or he may convince you that you're not smart enough to know what's going on, not worthy enough to live without him by your side or deserving of cruel treatment. Check out this post for more signs of emotional abuse.
If things really don't add up when you look at them rationally, it might be time to have a talk with your man – and the answers might not be so pretty! You may have to break up with him. More on that in this post.
But this gives you a chance to move on from a relationship that will always have trust issues because he is being dishonest or refuses to help you get over your trust issues.
Learning skills such as responding to irrational thoughts and opening up to your partner takes time, especially if you've built the opposite habits for years. Patience with yourself and your partner is a must if you ever want to get over trust issues.
While you may be able to fix trust issues with your relationship if both you and your partner work toward resolution, this isn't always possible. You may have done too much damage with your controlling and paranoid behavior to fix your relationship. Or these issues may simply require that you fix them on your own, when you're single and without having to deal with a relationship on top of it.
This might be crucial to attracting the right sort of man.
But if you tackle your trust issue head on with your partner, you may be able to save and even strengthen your relationship and experience happiness well into the future. When you allow these issues to fester and grow, they will poison your relationship, not to mention you own head space, and prevent you from living a happy and healthy life.