Your girl friends may have fairy tale romances and are happily married to their soul mate. Every time you talk to them, they may even tell you about how perfect their husband is.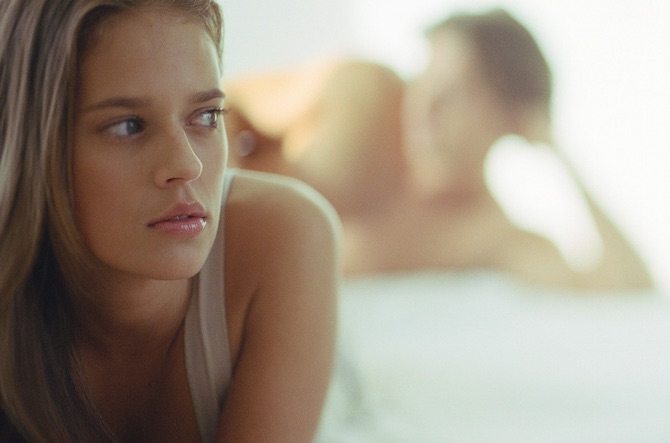 Two drinks in, though, and they're spilling the details about why they're cheating and how they're hooking up with the hot guy from work or how they're on their way to meet up with someone from Tinder. Cheating is not exclusive to the drama filled, unstable relationships. You may see what you think is the world's most stable marriage, but dig a bit under the surface and it's filled with sordid tales of cheating.
The Wall Street Journal reports that 14 percent of married women end up cheating. It's a sad situation and can make it hard to believe in happily ever after. However, the reasons why women cheat are far more complex than they appear on the surface. Here are some of the main reasons why women cheat…
1. Lack of Emotional Intimacy
A relationship is built around emotional intimacy, otherwise it would simply be a friends with benefits situation. When there's a lack of emotional connection with a woman, there's a significant amount of emotional fallout. You have a lack of trust or respect for yourself or your partner, self-esteem issues, a lack of desirability, or even full out depression.
It's a major blow to a relationship when your husband or boyfriend seems to not care about you. It's entirely possible that they care a significant amount, but are having problems expressing that or communicating issues that lead them to cut off emotional intimacy.
It's not hard to answer why do women cheat in this situation.
They look for an emotional connection to fill the void left by their current partner so they can feel happy, fulfilled, desired, and cared for. One way to address this issue is to be open with your significant other when you feel that they are pulling away. Maybe they're stressed, or you're acting in a way that's upsetting them, or they think you're the one pulling away.
When you can discuss the issues with emotional connection with your man, you can head off some of the issues that lead to why women cheat for this reason.
2. Lack of Physical Intimacy
Physical intimacy is another major issue that leaves no question as to why women cheat. There's the physical impact a lack of sex gives, such as feeling a lack of physical connection, sexual frustration, and the demands of the libido.
There's also many potential psychological impacts, such as feeling unwanted, not good enough, and feeling rejected. Both physical and psychological reasons can result in cheating, particularly if you don't talk to your partner about how you're feeling. Most relationships need physical intimacy to remain healthy and happy. When there's an issue in the bedroom, it's not hard to understand why many women want to stray.
These tips on building sexual chemistry and these ones on building sexual tension will help you to keep the fire alive in your relationship.
3. Bored of the Relationship
Sometimes relationships end up getting stale and boring in the long run. You found Mr. Right, but the demands of life and simple complacency leads to the death of excitement in the relationship. A stale relationship makes you yearn for the early days when you had romantic dates, long nights, and everything else that new relationship energy brings to the table.
When women cheat in this situation, you are looking for a way to recapture that excitement by going to someone new. Someone new is inevitably fresh, exciting, and helps to bring back those feelings. Address these feelings in your current relationship by planning fun activities together, setting a date night (here's 30 fun dates ideas), and working at adding excitement back into the relationship.
You don't have to give up on the thrill simply because you're in a long term relationship with someone, but it does take more work keeping that up among the demands of life. These tips will help to keep him completely into you.
4. Looking for the Thrill
Cheating is taboo and that brings a certain thrill of excitement to it, especially when you're dealing with major issues in your relationship. You don't have to worry about long term commitments, responsibilities, and the other aspects of a dedicated relationship.
You get to be selfish about your needs in the present moment, which can be an incredibly freeing feeling. Sometimes you can fix this problem by identifying why you want the thrill. Is your relationship stale or boring? Is the stress of life overwhelming? Are you feeling under appreciated with the work you do in the relationship? If you can pinpoint a base problem, it helps you work through it.
If you are looking to spice things up in your current relationship, then try some of these tips.
5. Born a Cheater
Some people simply aren't wired for loyalty and faithfulness. If your eyes are always wandering and you blanch at the thought of being with a single sexual partner for the rest of your life, you have a difficult road ahead of you. You do have some options, such as looking into open relationships as a way to get your variety while still having an emotional commitment to your partner.
6. Cheating as Revenge
You're going to go through many emotions if your man cheats on you, and one in particular makes it tempting to cheat as retaliation: rejection. If you feel rejected by your partner in the relationship, you want to feel accepted and desired again. One way to do that is by cheating, especially as you can feel justified in it since your partner already broke trust first. Two wrongs do not make a right, however, and often make you feel guilty.
7. Impaired Judgment
Drugs and alcohol cloud the judgment and may make you take opportunities that you normally have no problems resisting. The drunken one night stand is a common trope for a reason. You aren't thinking as clearly, that stranger looks mighty fine, and you're having issues in your relationship you'd like to forget for one night. It's a hard to resist combination that sometimes leads to the bedroom and a night of drunken regrets.
8. Taking Advantage of an Opportunity
Somehow, you end up alone with your favorite celebrity in the world and there's an opportunity to sleep with them. The status symbol of having sex with your favorite celebrity creates a compelling temptation, and many couples jokingly have a cheating exception list to give them free reign on once in a lifetime opportunities such as a celebrity.
In most cases, however, this list is created as a joke and actually sleeping with your favorite celeb is grounds for big issues in the relationship. Before jumping on a tempting opportunity, even if it is once in a lifetime, ask yourself if it's worth the potential for losing your relationship.
When you wonder why do women cheat, sometimes it's a simple case of being in the right place at the right time…or the wrong place at the wrong time, depending on how you look at it.
9. Lack of Communication
It's hard to stay on the same page if your partner doesn't talk to you about serious issues that arise in your relationship. Open and honest communication is a must for everything from sorting out financial matters to meeting each other's needs in the bedroom. If you or your partner are having issues with talking about serious matters due to wanting to avoid confrontation or another reason, it's difficult to fix this problem.
Without proper communication, the long term health of the relationship suffers and is why women cheat in some cases. This is something I talk about in depth in the Bad Girls Bible newsletter.
10. Not Feeling Special
One reason to be in a relationship with your partner is because he makes you feel special with his words and actions. If you aren't feeling special and appreciated, it leads to a frustrating situation. You aren't happy at home, then your co-worker starts doing little things for you, such as getting you your favorite drink from the coffee shop and taking the time to ask about your day.
And all of this can happen very slowly and subtly without it being that obvious to either you or your man.
Discuss why you feel unappreciated or resentful with your partner to try to head these issues off at the pass. Many people get caught up in the stress of everyday life, so your man may not always realize that he's being neglectful to you. It's hard to connect the dots between neglect and why women cheat until it's explained in a straightforward manner.
11. Abusive Relationship
Abusive relationships, whether physically or emotionally, have massive impacts on your self-esteem, self-worth, and desirability. Cheating in this situation is a way to have a break from the dysfunctional situation at home and to try to repair the emotional damage done by the abusive partner.
This coping mechanism is sometimes used if you don't feel safe leaving the relationship for fear of retaliation, but you want to do something to make yourself happy.
12. Exploring Sexuality
Hooked up with your high school sweetheart but now you're finding out your sexuality isn't what it was in high school and college?
Some women discover they aren't heterosexual even after being in a committed relationship for years, and it's hard to resist the urge to explore these feelings when they happen. You cheat in this situation because you want to explore this path, and it's hard to come out to a long term partner. Some partners are open to helping you explore your newfound sexuality, either via experimentation with friends or through opening up the relationship.
In other cases, you ultimately find out you aren't sexually compatible and the relationship dissolves. In some unfortunate cases, you're with a homophobic partner so it's hard to predict what the reaction to your revelation may be.
The Bad Girls Bible will help you to explore your sexuality with new sex positions, tips and more without needing to find a new partner.
13. Previous Cheating
If you cheated in the past, especially if you got away with it undetected, it may make it more likely for you to be receptive to cheating opportunities in the present moment.
You know the kind of thrill that comes with cheating, and it's hard to compare that adrenaline rush to the stability of a long term relationship. Not everyone who cheats in the past is doomed to repeat their mistakes again, but it's a good thing to keep in mind as you move to other relationships.
14. Major Life Changes
Change is scary for a lot of people, especially major life changes such as a new job, moving away from your support network, or a new child. It's hard not to feel vulnerable when everything is changing around you.
One way some women cope with this feeling of vulnerability is by cheating, as they have control over the situation. The stress that accompanies these life changes may also result in other issues in the relationship. For example, feeling undesirable after childbirth as your body goes back to normal is a common sentiment, especially if your partner doesn't want physical intimacy during that time frame.
Some reasons on why women cheat mirror men's reasons, such as a lack of physical or emotional intimacy, a history of cheating, and rejection by their partner. Cheating usually results in a horrible situation that's almost impossible to recover from due to the damage it does to trust.
You aren't always going to be able to predict whether your partner is a cheater, but encouraging open communication and talking with previous partners will give you a good insight into your partner's thought processes, previous actions, and feelings. This way you can avoid getting deep into any relationships that may involve him cheating.