Relationships are tough, and at times, it becomes apparent that the relationship you've been in will not stand the test of time. As difficult as it is to come to the decision to call it quits, the actual uncoupling conversation can be extremely tough for both you and your soon-to-be ex.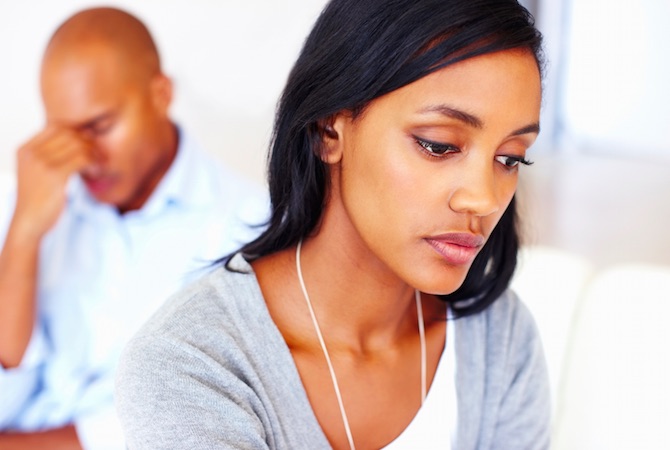 Remember, you're delivering a difficult message to someone you care about, and you don't want to leave that person wounded when the conversation is over. A great way to uncouple with dignity is to leave the person with an inspirational break up quote, something that reminds the person of how special he or she is and helps the person feel better sooner. Following, then, are 15 of the best break up quotes to help you both get through that tough, but important, conversation.
And if you're the person at the receiving end of a break up, these tips will help you to get over it quickly
1. "Remember that sometimes, not getting what you want is a wonderful stroke of luck". – Dalai Lama
In many aspects of life, there are times in which we all believe that some thing, or someone, will make us tremendously content. But this powerful quote reminds us that at times, not getting what you want is not only not a bad thing, it can sometimes be one of the best things that ever happens to you. This is true not only in romantic relationships, but even in professional ones too.
A great example is WhatsApp founder, Brian Acton. He was rejected for a job by Facebook in 2009…which turned into the best possible outcome of him creating his own company and then selling it to Facebook for $19 billion.
My most powerful sex tricks and tips aren't on this site. If you want to access them and give your lover back-arching, toe-curling, screaming orgasms that will keep them sexually obsessed with you, then you can learn these secret sex techniques in my private and discreet newsletter. You'll also learn the 5 dangerous mistakes that will ruin your sex life and relationship. Get it here.
2. "Relationships are like glass. Sometimes it's better to leave them broken than try to hurt yourself putting it back together."
This remains one of the best quotes about breaking up. It is a great quote that puts things back into perspective, helping you both to realize that when the relationship is broken, sometimes the effort required to patch things up, to make things work, causes far more damage than good…especially when you could have been moving on with your life.
3. "Stars can't shine without darkness."
Initially, this may not come across as a breaking up quote. However, it can easily be applied to relationships, especially when you're ending a relationship with someone you really admire and care about. There may be nothing that your soon-to-be ex did wrong, and perhaps you can really imagine the wonderful places the other person is heading. But you may also know, deep down, that the two of you are destined to lead very different lives and you both want the best for each other.
This break up quote affirms the other person, letting him or her know you recognize their special qualities, and although the relationship isn't going to stand the test of time, all stars require a bit of darkness to shine through. (19 powerful tips on getting over your ex here)
4. "Don't stress the could haves; if it should have, it would have."
This is also among the best break up quotes ever penned. The end of a relationship can often bring about the "could have, should have, would have" questions. It can help when you're scratching your head, replaying situations over and over, trying to figure out if you should have handled things differently. Sometimes, it's just better to let things go.
5. "Sometimes good things fall apart so better things can fall together." – Marilyn Monroe
Take The Quiz: Do I Give Good (or BAD) Blow Jobs?
Click here to take our quick (and shockingly accurate) "Blow Job Skills" Quiz right now and discover if he truly enjoys your blow jobs…

At the height of her fame, the beautiful and sultry Marilyn Monroe certainly had to disappoint a number of suitors. However, this poignant break up quote is a great way of confirming that you appreciate those things about the relationship that were good. But it is also a great reminder that sometimes you have to let go of what you have to embrace the good that's coming.
6. "The first step towards getting somewhere is to decide that you are not going to stay where you are."
Maybe the two of you are in different places, maybe you both want different things… and it's not anybody's fault. However, this break up quote provides the opportunity to bring the state of the relationship into the proper perspective. After all, every journey begins with the first step.
7. "Don't be afraid to lose what wasn't meant to be."
You never know what good thing is round the corner. But you have to let go of what was not, ultimately, meant to be in order to receive the relationship that is just right for you. This is usually one of those gut feelings.
8. "Watching you walk out of my life does not make me bitter or cynical about love. But rather makes me realize that if I wanted so much to be with the wrong person how beautiful it will be when the right one comes along." -Anonymous
This is a really fantastic break up quote. It honors the worth and value you have for the person, and for the relationship, while offering you both hope and perspective. By the way, if you're someone who hates or despises their husband, you might want to read this.
9. "When we are in love, we are convinced nobody else will do. But as time goes, others do do, and often do do, much much better." – Coco J. Ginger
When your soon-to-be ex is having a particularly emotional response to the break up, this will remind them that great love is still out there awaiting them and that with time they will be able to forget about you and move on. The no contact rule can help you heal much more quickly.
10. "If you can't figure out where you stand with someone, it might be time to stop standing and start walking."
This is among the best quotes about breaking up, especially if there's a disconnect surrounding where the relationship is or where it's heading.
11. "That's what true love is. Always wanting what's best for someone, even if it doesn't include you."
Among all quotes about breaking up, this one provides a perfectly selfless way of reminding someone that true love always has the other person's best interests at heart. (Find out if he truly does love you here)
12. "You gain strength, courage and confidence by every experience in which you really stop to look fear in the face. You are able to say to yourself 'I have lived through this horror. I can take the next thing that comes along.' You must do the thing you think you cannot do." – Eleanor Roosevelt
Ok, this is a pretty intense one for a break up quote, I get it. But often, people want to stay in a relationship because of familiarity or because of the fear of the unknown. But at times, it's best to let go and to acknowledge that you are, indeed, stronger than you think you are. (tips for awesome break up sex here)
13. "I'm a firm believer that every person you are with carries a small fragment of your heart with them. But you'd be surprised how many pieces you carry yourself that can fit the gap just as nicely." – Hannah Kilfoyle
This one reminds the other person that everyone experiences heartbreak at some stage, and that it does hurt, but with that being said, they too will most likely have given others heartbreak too. (Learn powerful tips for falling out of love here)
14. "Just because a relationship ends, it doesn't mean it's not worth having." — Sarah Mlynowski
The end of the relationship shouldn't diminish its value or erase those special moments from your experience. It can be brutally tough breaking up, and you can be sad and even a bit bitter…but looking back you should hopefully be able to see that at least parts of it were worth having.
15. "Nothing in the universe can stop you from letting go and starting over." — Guy Finley
Sometimes, we all need a fresh start. When you're ready, move forward with optimism, knowing that you alone are the only force that can possibly limit you.
In conclusion, It's true–breaking up can be tough, and can leave you both with an emotional "hill to climb." However, hopefully these break up quotes will offer a bit of encouragement as you begin moving forward.
Watch This: Oral Sex Tutorial Video
I put together this in-depth, step-by-step instructional video that will teach you how to make your lover sexually addicted to you and only you. It contains a number of oral sex techniques that will give them full-body, shaking orgasms. If you're interested in learning these techniques to keep your lover addicted and deeply devoted to you as well as having a lot more fun in the bedroom, then you may want to check out the video. You can watch it by clicking here.