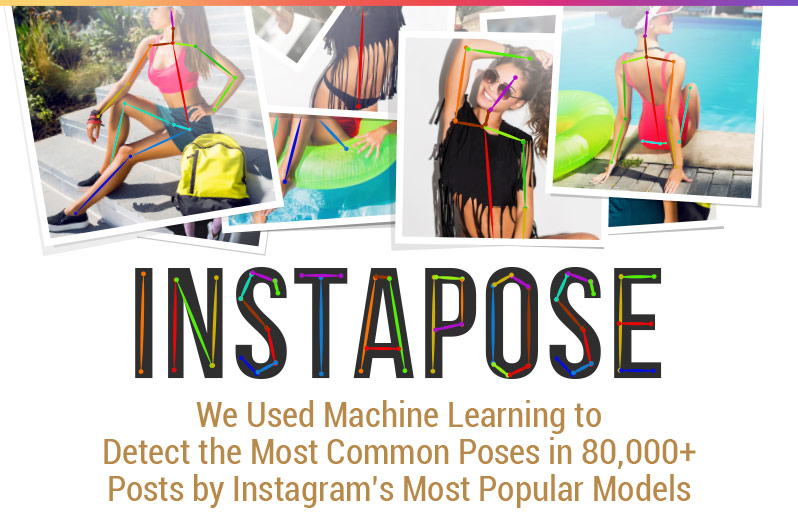 Every 24 hours, more than 100 million photos are shared on Instagram. That means tens of millions of times each day, Instagram users across the world – with varying degrees of deliberateness and prowess – decide which pose to strike.
To explore the world of Instagram poses and discover the most common ways to sit, stand and lie for the camera, we used machine learning to analyze over 80,000 photos belonging to 96 of the world's most popular female models.



The most common pose was the "knee pop," found in nearly 1 in 7 images.


The second most common was the classic "plandid" pose, "the stride" (8.5%), followed by the lazy lean in third and the flamingo in fourth.


In head-hold photos, the right hand was nearly six times more likely to be placed on the head than the left.


Based on over 80,000 images we analyzed, the left side of the face was emphasized 37% of the time versus 28.3% for the right – a statistically significant bias.


Models were twice as likely to look over their left shoulder than their right.


Models have favorite poses: Vicki Vodar was five times more likely than average to hold her arms above her head, and Anna Nyström showed a bias four times stronger than average toward the "over-the-shoulder" – 24% of her poses were in this category.
Every few months, a new pose spreads through the Insta-sphere. You or someone you've patiently taken a photo of may even have struck one of these poses, be it the chin shelf, the flamingo, star pose, T. rex selfie hand, the peach pop, the migraine pose, the Bambi, the street squat, Barbie feet, fingermouthing, the back pop, the hat clasp, peacock pose, the Titanic – the list goes on. 
Many of Instagram's most popular poses presumably begin by accident and are noticed only when they reach a certain degree of ubiquity. But some of the platform's most-followed influencers are well-aware of how they pose. Take the case of "nude in straw hat" – a vacation shot posted by Kylie Jenner that influencer Amanda Ensing claimed looked "awfully familiar," i.e., copied from one of her posts.
Accidental discoveries and influencer squabbles aside, to date, no one has systematically categorized Instagram poses on a grand scale. But now, with the aid of machine learning, we can analyze vast numbers of photos with precision and answer the question the whole world has been asking: Is the "Greek goddess" more popular than "the perch"? Or is "womanspreading" the most dominant pose of all?
The Most used Instagram poses according to artificial intelligence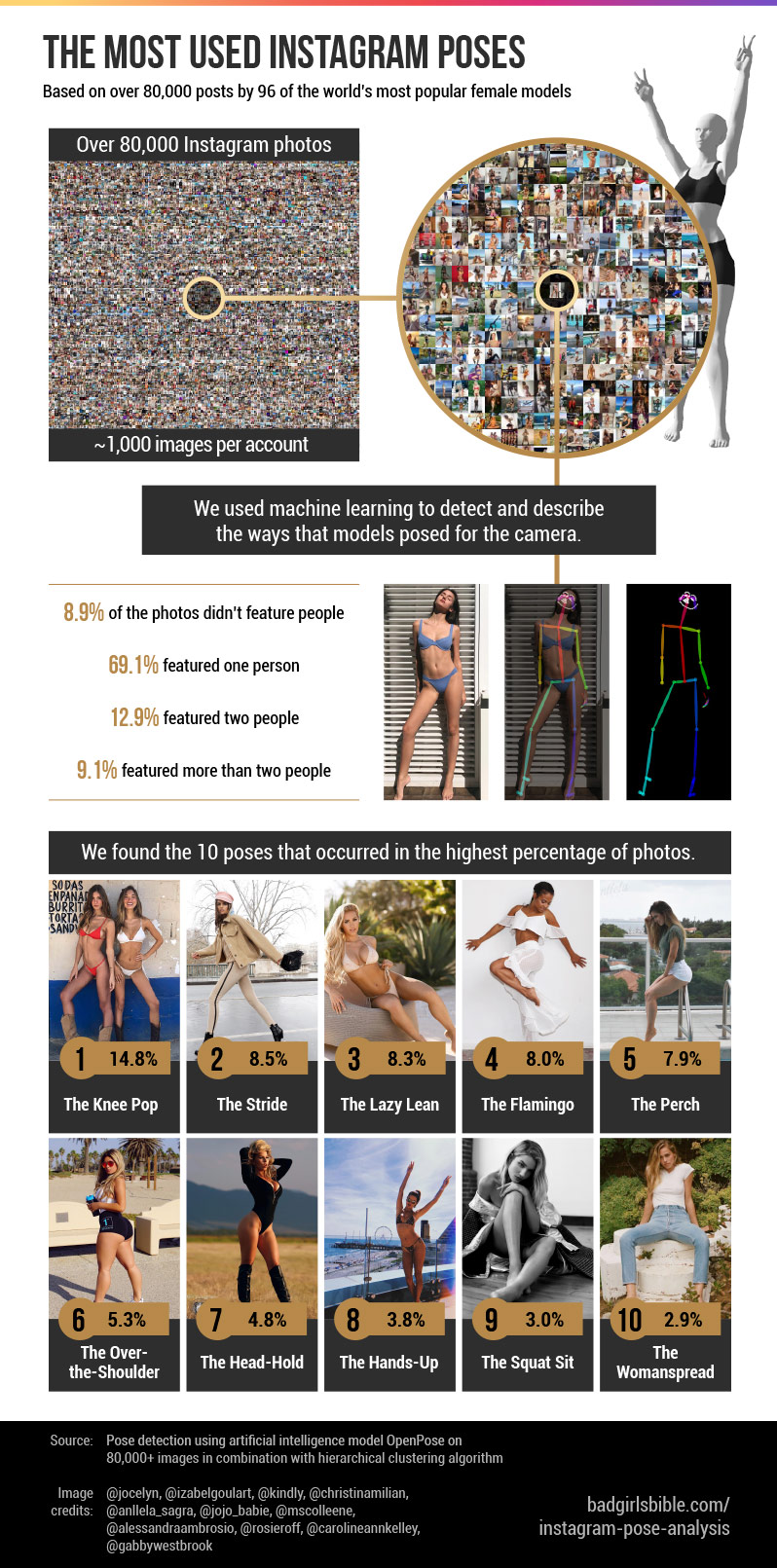 Our dataset of images was built from this list of the "100 hottest Instagram accounts to follow." It features many of the world's most popular female models, who we suspected – compared to the average Instagram user – strike specific poses that we could detect using our machine learning approach. The account owners are professional posers (in the nicest way possible), so we thought their photos could teach us something about the psychology of posing.
The accounts:
96 of the 100 accounts had a reasonable number of posts to analyze (≥200).

9 in 10 account owners were described as "models" in their profiles, on Wikipedia, or in media coverage. For a full list, see the methodology section.

Most followed: @chrissyteigen (25.9 million); least followed: @lexieelston (20,633) 

Total followers across all 96 accounts: 344.2 million



The data:
We used the 1,000 most recently uploaded photos

or

all of the photos from each account (whichever was greatest), equal to 46% of their entire photo upload history. 

Average likes per post: 25,347; average comments per post: 280

81,149 images in total with a combined file size of 19.2 gigabytes
How we did it (short version)
To detect the poses, we turned to the open source deep learning system OpenPose, which uses artificial intelligence trained on millions of images to detect body, foot, hand, and facial key points. For each image that contained one or more human figures, the system marked 135 key points representing body parts – such as the right foot, left elbow, hips, and so on – and connected the dots into a skeleton pose.
After filtering out 8.9% of photos that didn't contain people and estimating the position of missing body parts that were out of frame, hidden by other body parts or objects, or otherwise undetectable, we used machine learning to cluster the poses into similar groups. 
Seven in 10 of the detected poses ended up in groups that a human could identify as having a clear pose theme, and at that point, we were able to name the most popular poses among the over 80,000 photos we began with. (For a longer description of the approach, check out the methodology.)
The Knee Pop is the most used pose by Instagram's top models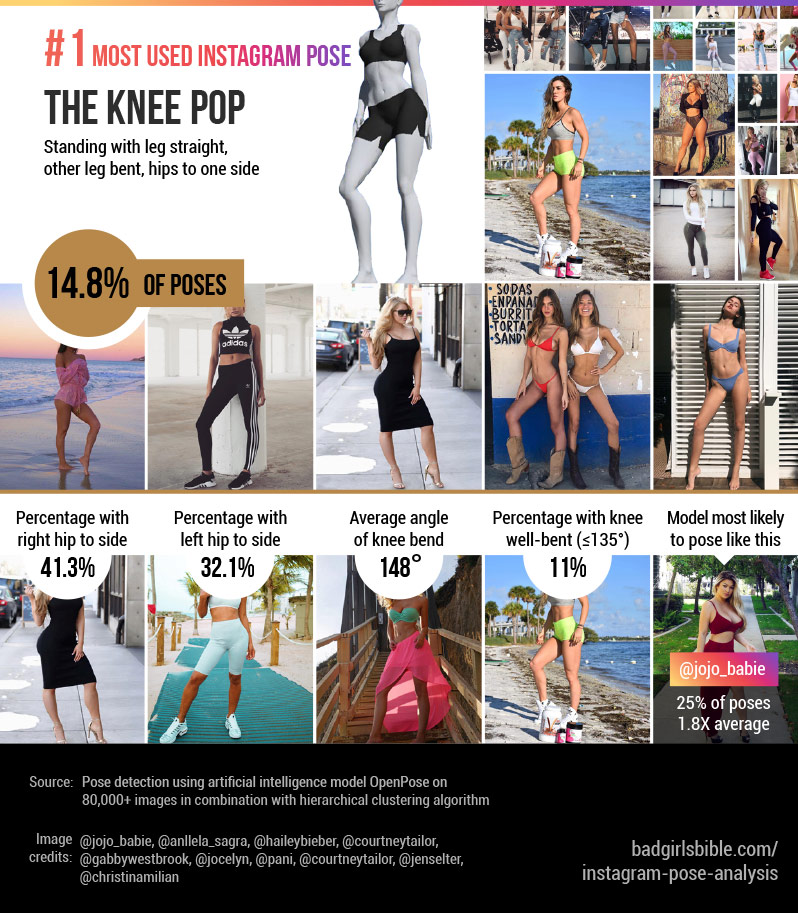 The most common pose, appearing in 14.8% of posts with detectable people, is standing with one leg straight, the other bent, and pushing one's hips to the side. We call it the knee pop.
Many people have noticed women striking variations of the knee pop on Instagram and elsewhere. It's been discussed many times on reddit, forums, and in guides about how to pose for pictures. The prevailing explanation for this classic pose is that bending the knee and popping hips to one side makes the waist appear narrower, while a slight bend to the arms (or hand positioned on the hips) further strengthens the hourglass silhouette. 
Jojo Babie, who has 9.2 million followers, uses the knee pop more than any of the other 95 women whose pictures we analyzed. One-quarter of her photos were assigned to this category – 80% more than average. Ivanka Trump (not a model on our list) uses a subtle version of the knee pop – a kind of T-shape. According to a body language expert, this pose is "… meant to make you look more flattering, more slender."
To mimic the knee pop exactly like a typical Instagram model, your knee should be bent at a 148-degree angle – only 11% of models bent it 135 degrees or more. And popping hips to the right (camera left) is more popular than the left (41% versus 32%).
Walking from right to left was twice as common as vice versa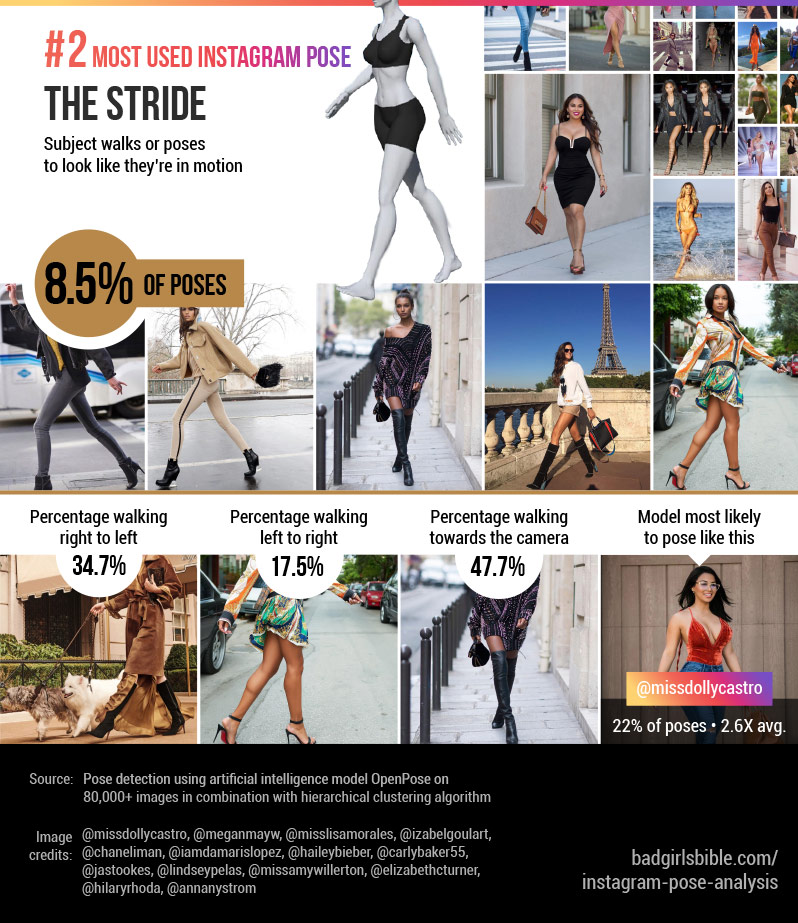 The second most common pose is a perfect example of the "plandid" – the planned candid shot. At first glance, the stride (8.5% of poses) looks like a casual shot of the subject walking, but in many cases, the steps are totally fake. 
Walking toward the camera was most common (47.7% versus 34.7% "walking" right to left and 17.5% left to right). Kristina Rodulfo, writing for Elle.com, confirms that motion is your friend: "You've got to keep moving around to get the best shot. I've done everything from spin around, dance like a maniac, and walk repeatedly back and forth to get a plandid worth posting."
Lying on the left side beat the right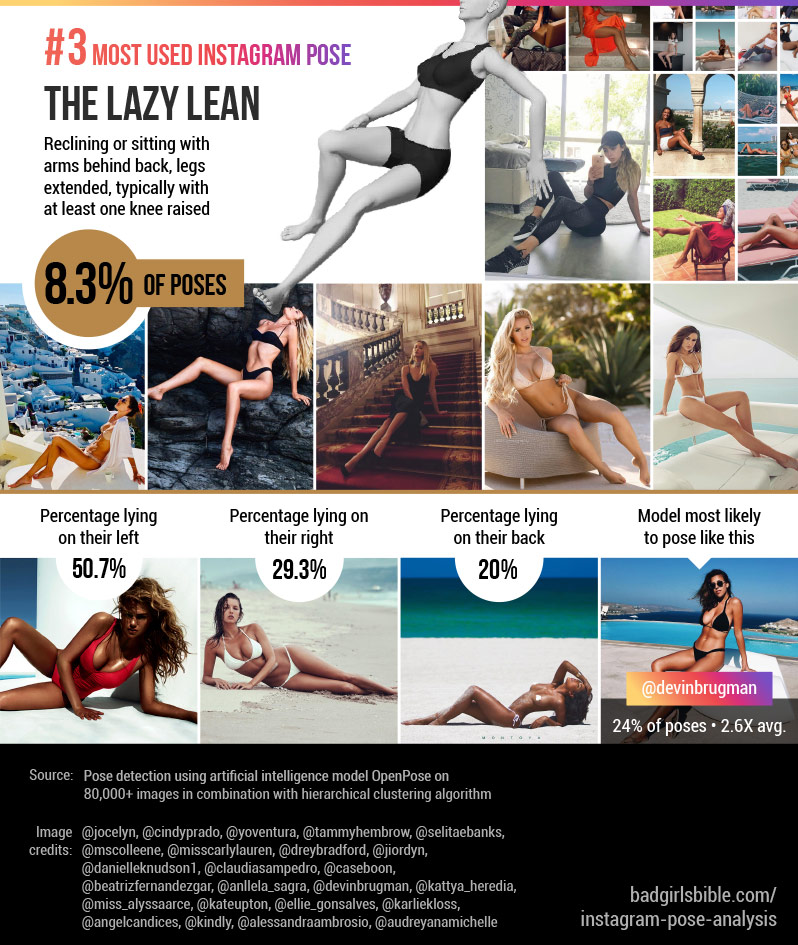 If popping a knee or taking a stroll aren't casual enough for you, consider the lazy lean – the third most common pose, found in 8.3% of poses. It involves reclining or sitting with your arms back, legs extended, and typically one knee raised. 
Lying with one's head to camera right and legs to the left was considerably more popular than vice versa (50.7% versus 29.3%), and both appeared more often than lying on one's back (20%), often with a back pop for good measure. 
The Flamingo is still a popular pose on Instagram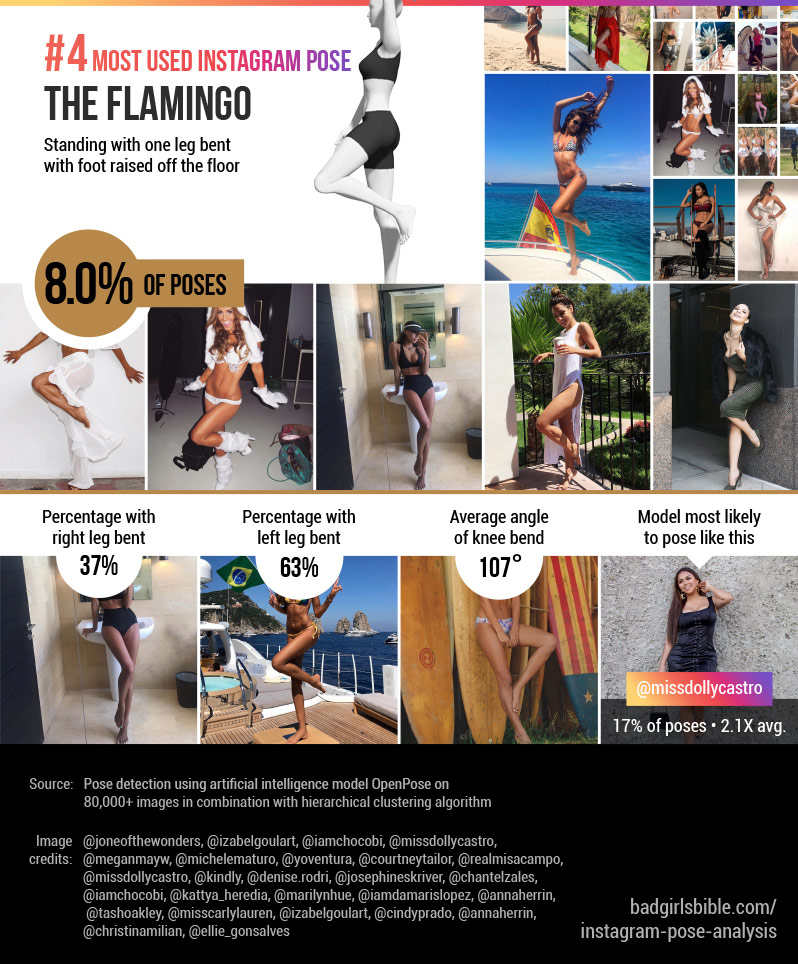 2015 was the year of the fish gape. 2016: T. rex selfie hand. 2017: the Bambi. 2018: Barbie feet.
2019's hottest posing trend is said to be the flamingo – standing with one leg bent and foot raised, either held in the air or against a wall or other surface. Beyonce and Kendall Jenner have both given it a whirl. 
The flamingo was the fourth most popular pose among female models on Instagram, according to our analysis (8% of poses).
Bending the left leg was considerably more common than the right (63% versus 37%), which makes sense given that 70% to 95% of people are right-handed and 90% of right-handed women are right-footed.
The average angle of the knee bend in the Instagram models' flamingo pose is 107 degrees. Remarkably, this is only 3 degrees more acute than a typical female greater flamingo in the wild (completely untrue). 
What is true is that Dolly Castro used the flamingo 2.1 times more than average (17% of her poses).
The typical "Perch" involves a 78-degree knee bend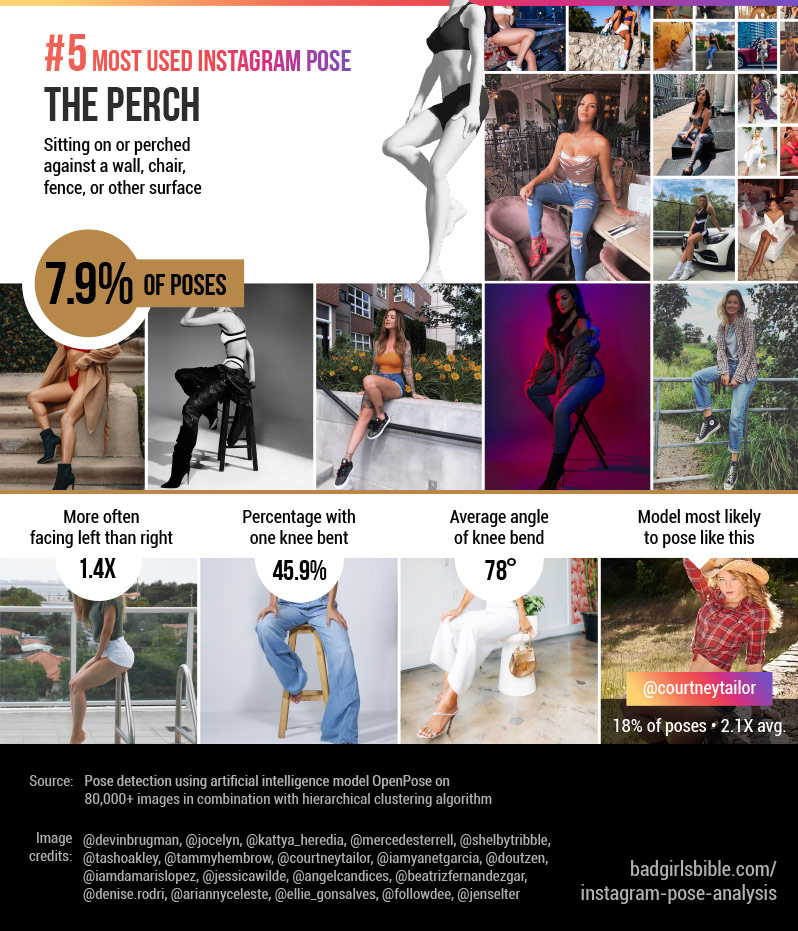 The perch was the fifth most popular pose (7.9%). It involves sitting perched against a wall, chair, fence, or another surface, sort of like a tired flamingo, but typically with more of a bend in one leg (78 degrees versus 107 degrees in the standing flamingo).
As we've seen with the knee pop and flamingo poses, bending the knee helps emphasize a narrow waist. However, it could also be argued that bending one's legs when perching is natural and necessary to avoid falling over. 
Competitive bikini model Courtney Tailor was most likely to use the perch (18% of poses versus 8%, on average).
Looking back over the left shoulder was twice as common as the right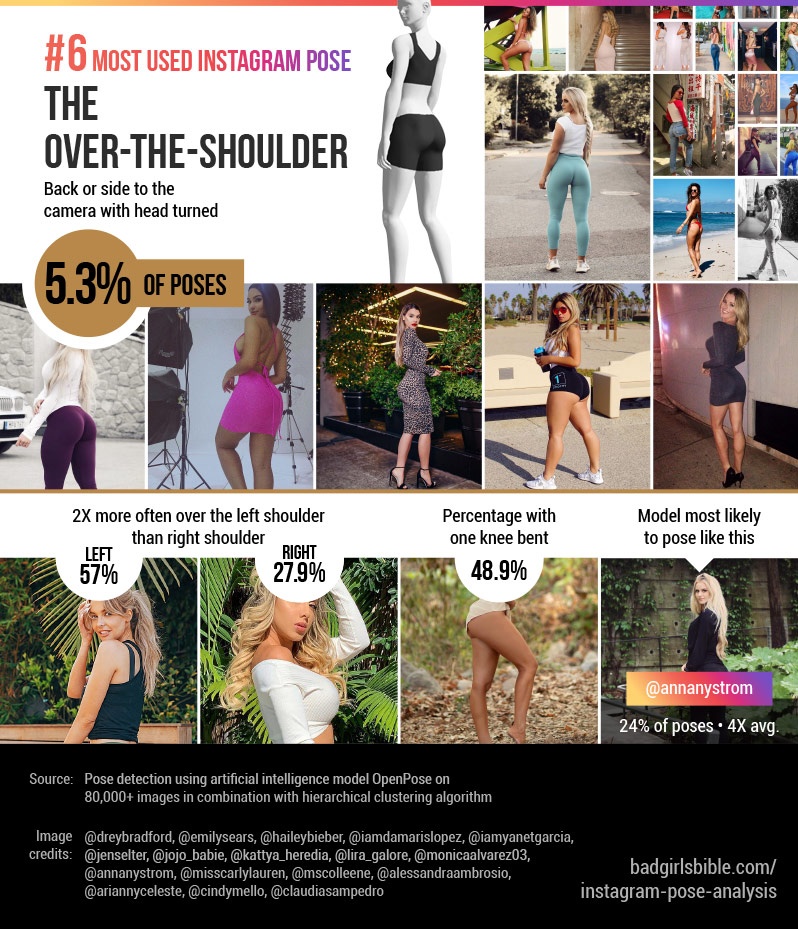 The sixth most used pose, the over-the-shoulder (5.3%) could be considered a "plandid" knee pop – the subject is seen with their back or side to the camera, head turned, and in half of cases (48.9%), with one knee bent.
Swedish health, fitness, and lifestyle influencer Anna Nyström showed a strong bias toward the over-the-shoulder – 24% of her poses were tagged in this category, four times higher than average.
Around 1 in 20 models' posts involved placing their hands on their heads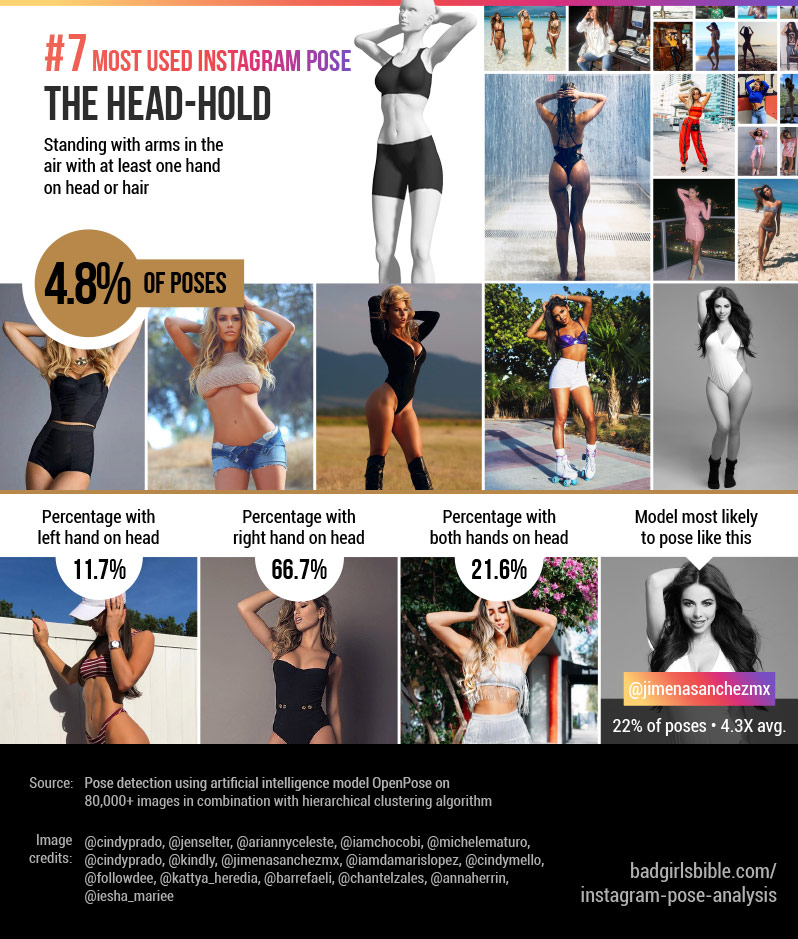 The seventh most popular pose (4.8%) has been called the "headache" or "migraine pose" – we opted for the less painful-sounding "head-hold." 
This pose most often involves placing one hand on the head (78.4%), but both hands were on the head in 1 in 5 head-holds. The right hand was nearly six times more likely to be placed on the head than the left (66.7% versus 11.7%), which again could be due to the high prevalence of right-handedness.

Host of Fox Sports Mexico Jimena Sanchez was 4.3 times more likely to place her hand(s) on her head than average. 
This pose may be one of the most controversial on our list, particularly in cases where a hand is placed on one's temple, as in 2018, it reportedly caused a backlash among chronic migraine sufferers, who felt it trivialized the condition. However, it's been said to be beneficial to the poser by "instantly trimming down the figure and enhancing your bikini body."
One-quarter of "hands-up" poses were part of a group photo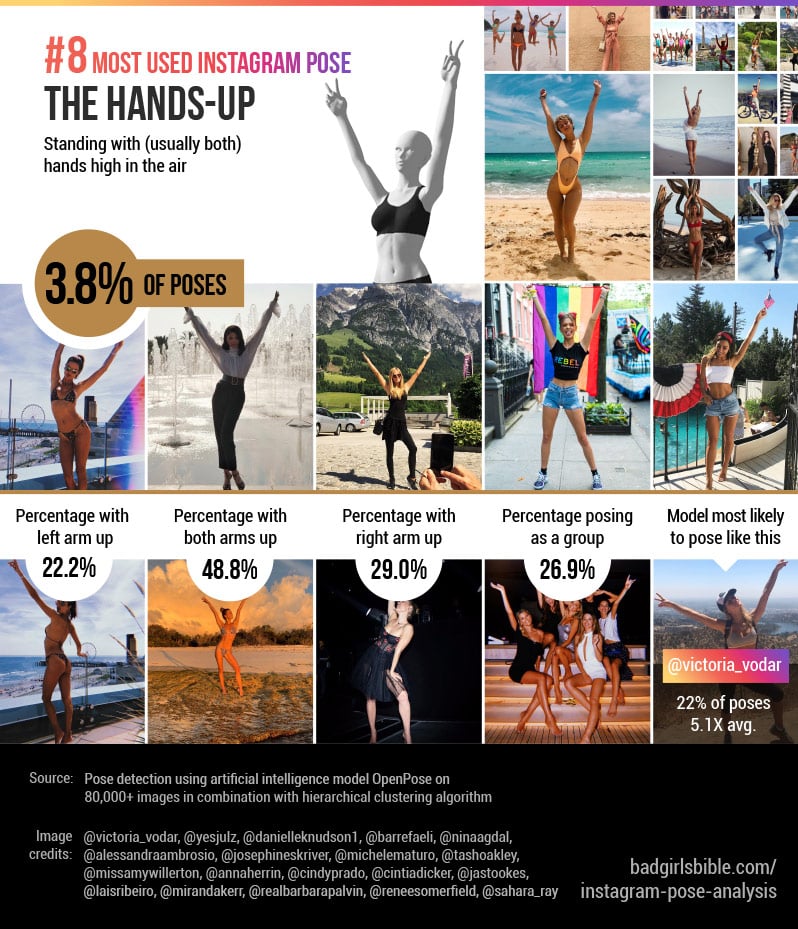 A more dynamic version of the head-hold is to simply outstretch the one or both arms above one's head. The hands-up was the eighth most common pose (3.8%), with both arms up proving more popular than just the right or left (48.8% versus 29% and 22.2% respectively).

Actress and adventurer Vicki Vodar was five times more likely than average to have one or both arms above her head, which may reflect her tendency to pose in travel-related shots, for which the hands-up is especially popular. 
Hands-up is also popular in group shots, with more than 1 in 4 (26.9%) of group photos containing at least one person in this pose.
The Squat Sit was a popular pose when only one person was featured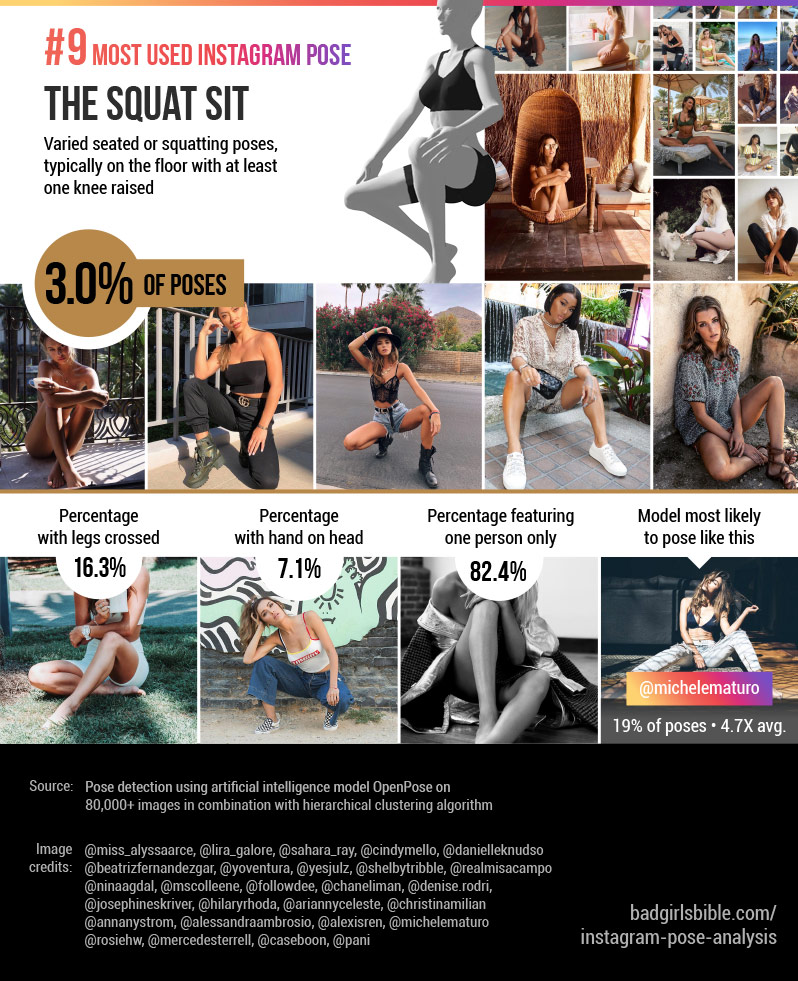 The squat sit, involving varied seated or squatting poses, typically on the floor and with one knee raised, was the ninth most popular pose (3%). 
The "frogs legs" is one type of squat sit and is apparently the perfect way to give the middle finger to "the old etiquette rule of being 'lady-like' and keeping your legs together." Crossing of the legs sometimes appears with the squat sit (16.3%) and occasionally one hand is placed on the head (7.1%). This pose is particularly common in shots that feature only one person (82.4%), perhaps because squat sit photos generally have tight framing and an intimate feel.
The female equivalent of "manspreading" was the 10th most used Instagram pose among female models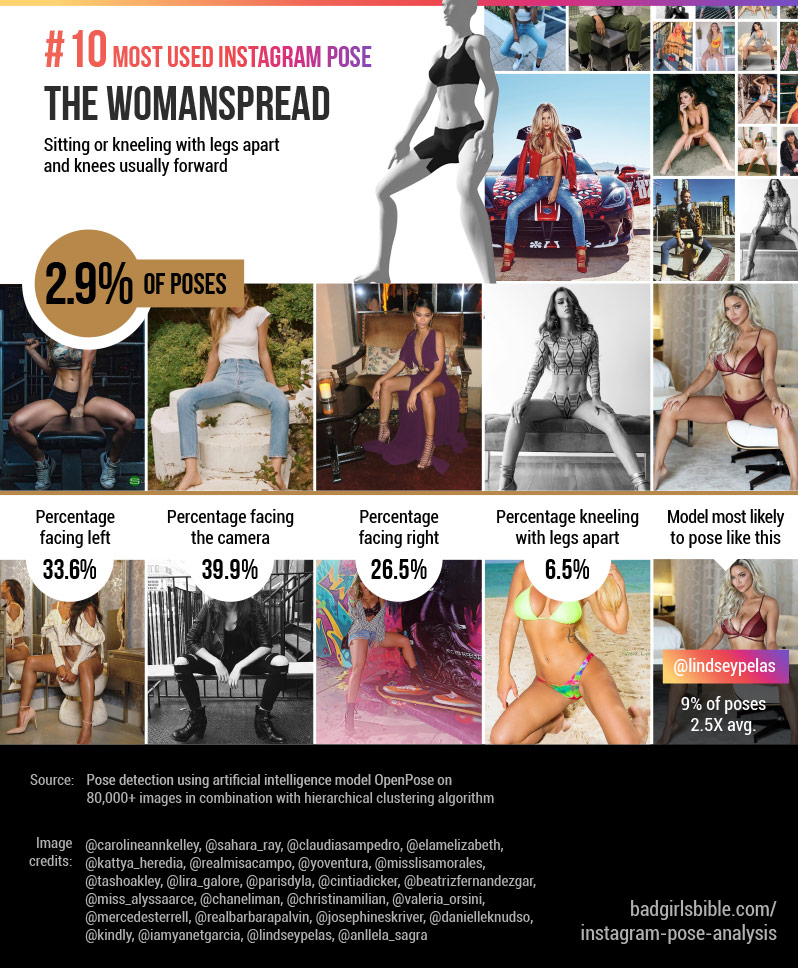 Apparently, any pose men can strike, women can strike it better. That's the case for our 10th most popular pose, the womanspread, in which the legs are spread open in a sitting or kneeling position. This pose is closely related to the squat sit (ninth), but here, there's typically more deliberate-seeming spreading of the legs, with knees forward. 
Womanspreading was reported to be the "latest provocative pose taking over Instagram" in February of 2019, but given its ranking in 10th place, it seems it may be losing its appeal. However, in April of 2019, the concept of womanspreading was used on a placard in Pakistan to support women's rights, which makes it one of the more socially consequential poses on the list.
Half of the Instagram models had a bias towards showing their left cheek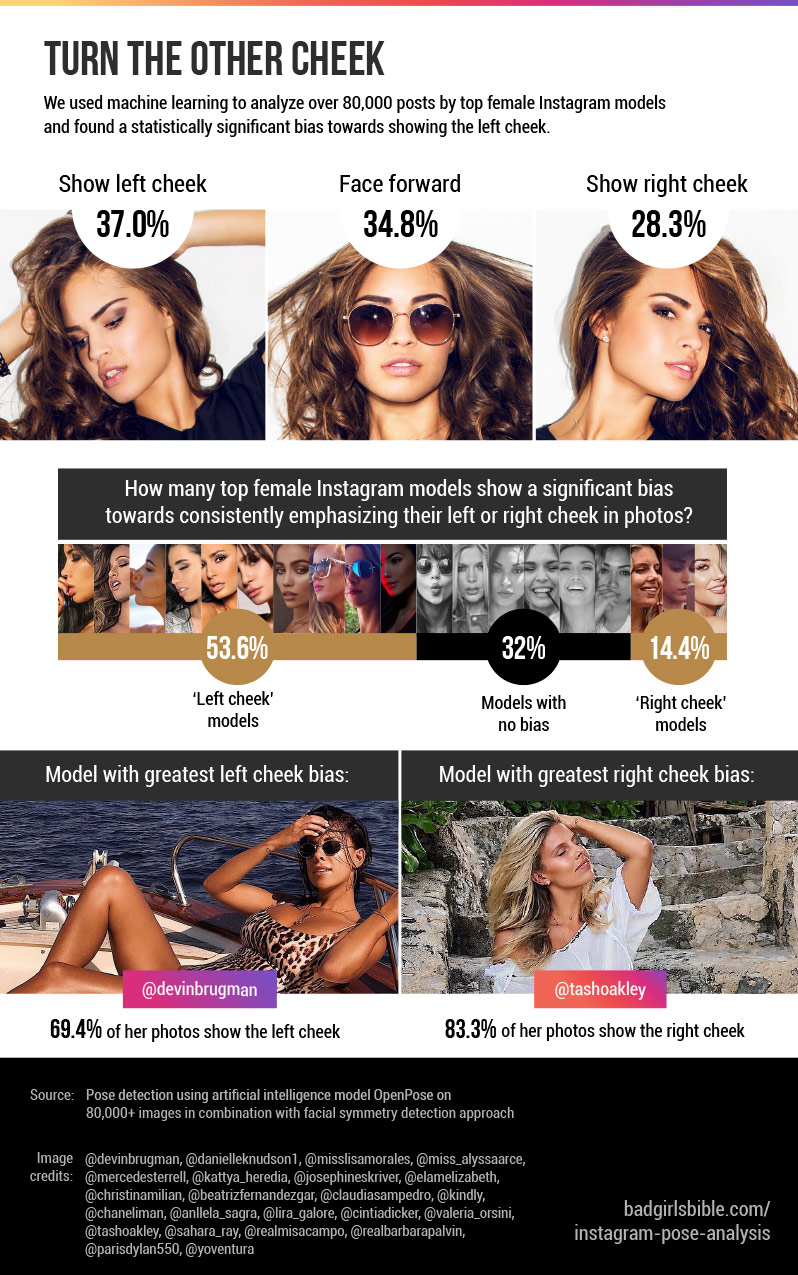 Body language experts, photographers, fashion writers, and influencers all have theories about why people in photos pose, or should pose, in particular ways. A common theory seems to be that some poses are more flattering than others because they handle curves in advantageous ways, either by showing them off (e.g., by keeping arms away from sides to show the silhouette of the waist) or taking the focus away from them (e.g., by putting one leg in front of the other or turning to the side instead of facing the camera directly). 
These habits could be formed consciously, unconsciously, or a bit of both, but there's a fascinating posing trend that appears to be entirely unconscious: models' bias toward showing the left side of their face over their right. 
If there were no bias, we'd expect models to show their left and right cheeks 33% of the time and face forward at the same rate. But, based on poses from the over 80,000 images we analyzed, 37% of the time, the left cheek was emphasized versus 28.3% for the right – a statistically significant difference. 
53.6% of models showed a bias toward showing their left cheek, whereas only 14.4% preferred their right. The model who most bucked the trend was Natasha Oakley, who emphasized her right cheek in 83.3% of her photos.
The left cheek bias has been studied for decades, but this may be the first time it's been demonstrated across such a large sample of Instagram photos.
To date, the bias has been found in photos of celebrities on cookbook covers, in self-portraits (expressed as a right cheek bias when people depicted their mirrored reflections), in famous works of art (e.g., the Mona Lisa), and in over 90% of the depictions of Jesus, he turned his left cheek. 
The theory is that the right side of our brain is better at reading emotions than the left. The right side also mainly operates through the left side of the body, which means that when you look at someone's face, the right hemisphere takes in more information from the left side of your visual field. That means you notice more about the left side of a person's face. It's not clear whether people choose to show their left cheek more because they unconsciously know it's more expressive, whether photographers select left cheek photos more because they find them more appealing, or a combination of the two. 

However, a 2019 study showed that left cheek bias is not only independent of sex and culture, but species too. In 2,000 pictures tagged #chimpanzee on Instagram, 57.2% showed the left cheek, and 42.8% showed the right. The study concludes, "Thus humans choose to depict chimpanzees just as we depict ourselves: offering the left cheek." 
The prevalence of chimpspreading on Instagram is less clear, but we expect it to be pretty high.
Methodology
This project wouldn't have been possible without the hard work of
OpenPose
's authors (
Gines Hidalgo
, 
Zhe Cao
, 
Tomas Simon
, 
Shih-En Wei
, 
Hanbyul Joo
, and 
Yaser Sheikh)
and contributors (
Yaadhav Raaj
,
Bikramjot Hanzra
,
Donglai Xiang
,
Luis Fernando Fraga
,
Akash Patwal
, and
Helen Medina
).
In September of 2019, we collected up to 1,000 of the most recent photos posted by 96 popular female models and influencers on Instagram, collecting a total of 81,149 photos that included 98,695 photographed people. We used OpenPose, a pose detection artificial intelligence model, to detect the presence of each person in the photos and their pose by finding the locations of their body, face, hands, and feet. We used OpenPose's BODY_25 model with hands and feet detection included. To filter out most background people from our analysis, we removed detected persons who occupied less than two-thirds the vertical photographic space as at least one other person in the photo.
We classified the detected poses into distinct types of poses using hierarchical clustering on the detected poses for which we had complete sets of body parts. We ran the clustering algorithm on the independent x and y coordinates of each of the 25 body parts. To remove the effects of photographic depth (i.e., was the person in the foreground or background?) and position in the photo (e.g., left or right), we rescaled coordinates so that each pose's coordinates varied between 0 and 1, bounded by either the maximum vertical or horizontal range, whichever was greatest. For each pose, the coordinates, therefore, reflected the position of each body part relative to all other body parts, expressed in the same units.
To maximise the number of poses we could include in the clustering, we imputed the position of body parts when a pose was missing only one or two body parts whose positions are strongly dependent on the positions of other body parts that had been detected (e.g., imputing the left ear position when we knew the left eye position). We imputed missing body part positions by fitting Generalized Additive Models to a training set of complete poses, predicting the body part position as a function of other body parts parameterised using two-dimensional smoothing splines. We assessed the effectiveness of our imputation models by finding the percentage of variation in body part positions that could be explained by the models, using a test dataset of poses on which the models had not been parameterised. The lowest percentage of variation explained by any imputation model was 69%, but most explained over 90% of variation in test data coordinates. After imputation, we had 19,586 poses with complete data that could be used in the clustering analysis.
We explored different clustering algorithm and data processing options and chose the most explanatory approach to grouping poses. We tried clustering on the independent x and y coordinates (50 features), the pairwise distances between every body part (300 features) and, for both previous options, we tried using their first 10 principal components to reduce the dimensionality of the data (in both cases, 10 principal components explained 90% of variation). The first option, using the independent x and y coordinates, produced the most explanatory clusters. We passed a Euclidean distance matrix of this dataset to the hierarchical clustering algorithm. Among the clustering options we tested were linkage methods (average, complete, and two variants of the Ward criterion), and the number of clusters to cut the classification tree into (we explored cuts from two up to 25 clusters). We assessed each permutation of algorithm settings by looking at the within-cluster sum of squares, Dunn's Index, and Silhouette plots, which help quantify the distinctiveness of clusters by plotting the dendrogram to find natural cutting points that produce distinct clusters while avoiding singletons, and finally by sampling photos assigned to clusters to make sure the statistical groups reflected meaningful pose groups. After inspecting the various clustering algorithms, we found the best model in our case included 16 pose clusters and used the Ward linkage criterion (without squaring dissimilarities). After cutting the tree into 16 clusters, we sampled photos from each cluster and chose to present several similar clusters as one by grouping higher up the tree. Two cluster groups were considered noise groups as they didn't represent a distinct pose; 73% of all poses were classified into a cluster that we could identify and name as a distinct pose. For each cluster, we sampled photos and estimated what percentage of photos in that cluster we would define as the named pose. In every pose group, a minimum of half sampled photos strongly resembled the pose named.
The clustering method wasn't perfect, and the percentages representing pose prevalence will inevitably contain some margin of error. We did all we could to minimize misclassifications while still using an approach that worked at scale. Our expectation is that the noise is similar across pose groups. Percentages given for "most likely to pose like this" represent the percentage of the model's photos that contained detectable poses, not all collected photos.
To test the left cheek bias among our Instagram photos, we measured the symmetry in the detected facial features by measuring the distances between the nose and surrounding facial features. The average log ratio of feature-to-nose distances between symmetric pairs showed whether the face was predominantly facing left, right, or straight ahead. We scaled the log ratios by their standard deviation, and then split the distribution of log ratios into three groups (left-facing > 0.43 sd; right-facing < -0.43 sd; and -0.43 <= forward-facing <= 0.43). The three groups were defined such that, if there was no bias, we would expect one-third of photos to be assigned to each group. We tested the strength of bias against our null hypothesis of equal distribution and found that left-facing and forward-facing photos were significantly more common than expected, while right-facing photos were significantly less common than expected.
Accounts analyzed: @abigailratchford, @alessandraambrosio, @alexisren, @angelcandices, @anllela_sagra, @annaherrin, @annanystrom, @ariannyceleste, @audreyanamichelle, @barrefaeli, @beatrizfernandezgar, @britmanuela, @carlybaker55, @carolineannkelley, @caseboon, @chaneliman, @chantelzales, @chrissyteigen, @christinamilian, @cindymello, @cindyprado, @cintiadicker, @claudiasampedro, @courtneytailor, @danielleknudson1, @denise.rodri, @devinbrugman, @doutzen, @dreybradford, @elamelizabeth, @elizabethcturner, @ellie_gonsalves, @emilysears, @followdee, @gabbywestbrook, @haileybieber, @hilaryrhoda, @iamchocobi, @iamdamarislopez, @iamyanetgarcia, @iesha_mariee, @izabelgoulart, @jastookes, @jenselter, @jessicawilde, @jimenasanchezmx, @jiordyn, @jocelyn, @jojo_babie, @joneofthewonders, @josephineskriver, @jourdandunn, @juli.annee, @karliekloss, @kateupton, @kattya_heredia, @kindly, @laisribeiro, @lexieelston, @lindseypelas, @lira_galore, @madi_edwards, @marilynhue, @mathildtantot, @meganmayw, @mercedesterrell, @michelematuro, @mirandakerr, @miss_alyssaarce, @missamywillerton, @misscarlylauren, @missdollycastro, @misslisamorales, @monicaalvarez03, @mscolleene, @nataliavelez, @nicole_mejia, @ninaagdal, @oabramovich, @pani, @parisdylan550, @realbarbarapalvin, @realmisacampo, @reneesomerfield, @rosiehw, @sahara_ray, @selitaebanks, @shelbytribble, @svetabily, @tammyhembrow, @tashoakley, @tonigarrn, @valeria_orsini, @victoria_vodar, @yesjulz, @yoventura
Fair Use Statement
We'd love for you to share our research, including the graphics. All we ask if that you link back to this page to give credit to our researchers and your readers access to the full findings.