Question
The question that was submitted is very long. Here is a quick summary.
I use many different techniques when giving my man a blowjob. What else should I do?
Below, you will find the full question (which contains some great pointers):
Hey Sean!
I just recently found your website when looking for new and better ways to give a blowjob. I knew that sticking it in your mouth was just too simple and not enough, so here i am writing to you hoping you can help me. So in doing this, i thought that i would just tell you what i do when giving him a blowjob, and then you could tell me what i did wrong, and what i need to do better, okay? But first, there are two ways we go about this, i either give him a blowjob before sex, or we have sex, i go down on him, then we have more sex. And just to be clear he almost always mentions the blowjob, i would like to but i feel kind of silly.
Now down to the nitty gritty. First we kiss, then he tells me he wants to, or he asks if i would like to and i enthusiastically say i want to. BTW i like giving head, and i swallow (dont know if that makes a differance or not). I would slowly kiss and lick his shaft, while rubbing, tickling, or massaging his balls. Then i would make my way up to the tip and suck on it. And then i would go deeper, and as i go deeper i get faster. I would do this for a while, then i would slow it down by using my hand and mouth at the same time, then removing my mouth and i would give him a handjob. And then by then he usually wants me ontop of him.
My most powerful sex tricks and tips aren't on this site. If you want to access them and give your man back-arching, toe-curling, screaming orgasms that will keep him sexually obsessed with you, then you can learn these secret sex techniques in my private and discreet newsletter. You'll also learn the 5 dangerous mistakes that will ruin your sex life and relationship. Get it here.
Now, the techniques i do with my tongue. I would also flick my tongue across the very tip of his penis over the hole. I also put my lips over my teeth so that it seems tighter or more pleasurable i guess you could say. I know definately to not, NEVER, use your teeth. Iv gotten more comfortable with him watching me while i pleasure him, since im not used to being in the "spotlight".
So, i guess what i really want answered is… Am i doing it alright? Anything i can improve on? Iv heard that some couples try to use warm honey for a warm, thick sensation; should i try something like that? Etcetera, etcetera! Thanks for your help and feedback, look forward to hearing from  you.
Eunice [name changed]
Answer
Hi Eunice,
Firstly thanks for your question. It contains a wealth of information that is highly valuable to those looking to get better at giving their man a great blowjob.
Everything that you are already doing is great. In addition to what you are already doing, you'll find lots more great BJ techniques throughout the site that you should try to integrate into your routine.
One thing you said, that is incredibly important, although many seem to forget is:
Iv gotten more comfortable with him watching me while i pleasure him, since im not used to being in the "spotlight".
In other words, confidence comes with practice. You can't magically become super confident at giving blowjobs without some practice. Reading about great blowjob tips and techniques helps, but there is simply no substitute for practice.
Take The Quiz: Do I Give Good (or BAD) Blow Jobs?
Click here to take our quick (and shockingly accurate) "Blow Job Skills" Quiz right now and discover if he truly enjoys your blow jobs…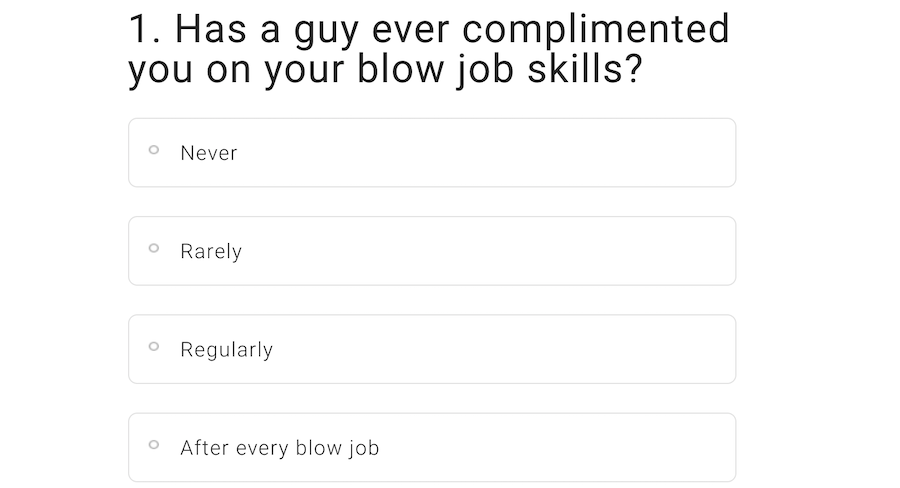 One thing that I would highly recommend is constantly learning and trying new things while giving your man a blowjob. So keep the techniques that are working now and then try out some new ones continuously. That way you will slowly & steadily build up a vast repertoire of BJ techniques that you can use on your man.
One stumbling block that many girls encounter is finding a routine that their man enjoys and then using it again and again and again until he gets bored of it. A better strategy is to use it sometimes while testing other techniques.
In other words:
Use Variation
So try out things like:
Playing with his balls (with your hands or mouth or both).
Playing with his perineum.
Playing with his ass.
Giving him a handjob mixed in with a tiny about out mouthwork, focused around his his glans just as he is about to cum.
If you are looking for my best blowjob techniques, then I highly recommend you check out the Blowjob Bible. It's over 100 pages and has my best tips, techniques and strategies for giving your man a killer BJ.
Hope this helps,
Sean
Watch This: Blow Job Tutorial Video
I put together this in-depth, step-by-step instructional video that will teach you how to make your man sexually addicted to you and only you. It contains a number of oral sex techniques that will give your man full-body, shaking orgasms. If you're interested in learning these techniques to keep your man addicted and deeply devoted to you as well as having a lot more fun in the bedroom, then you may want to check out the video. You can watch it by clicking here.