Question
Hi Sean,
I really enjoy reading The Bad Girls Bible. I have learnt quite a lot from you and really appreciate the newsletter. I have a question that I'm not sure if you want to answer. Here goes:
I am a really sexual person. I usually masturbate more than once a day. I often even get turned on just seeing a hot guy walking past me on the street. That's how sexual I am.
Currently I am dating this great guy. We're almost like best friends who also fuck! It's wonderful. But while I really care about my bf, I have this burning desire to be with other guys too.
The truth is that I have cheated many times on him. It doesn't feel like cheating as I usually just find guys through Craigslist or other dating sites. I usually just meet them once for sex and we don't even talk that much. It's just sex. I did this too before I was in a relationship, but now that I am in a relationship, it feels way hotter.
My man knows nothing about my cheating, but it's killing me. I'm careful to cover my tracks, but I feel that he will eventually find out about my cheating.
If you want to give your man back-arching, toe-curling, screaming orgasms that will keep him sexually obsessed with you, then you can learn these sex techniques in my private and discreet newsletter. You'll also learn the 5 dangerous mistakes that will ruin your sex life and relationship. Get it here.
I don't do this that often, maybe only 6 times in the last 2 years. But it feels like something that I can't live without.
What should I do? I feel like telling my man, to be honest about it. But at the same time I know it could ruin or otherwise perfect relationship. What should I do?
Thanks
Candice
Answer
Hi Candice,
Let me first say that the goal of The Bad Girls Bible is to teach you how to keep your man and yourself sexually satisfied.
Unfortunately, we're not a relationship website 🙁
But I'll try to answer your question anyway and hopefully give readers some advice on how to handle similar situations as well as how to prevent them from arising in the first place.
It's not easy to give you a black and white answer so that everything will be ok and you can stop feeling guilty about cheating.
Take The Quiz: Do I Give Good (or BAD) Blow Jobs?
Click here to take our quick (and shockingly accurate) "Blow Job Skills" Quiz right now and discover if he truly enjoys your blow jobs…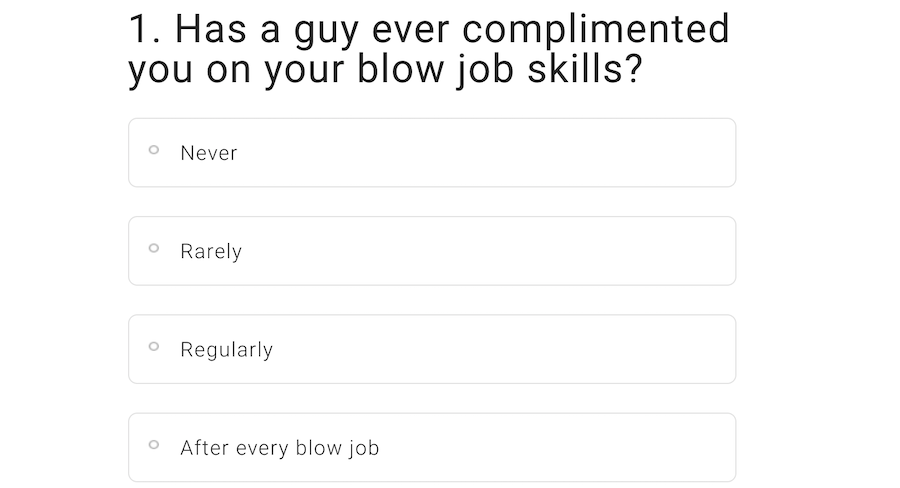 You can tell your man about what you were doing, but if you do, then it's quite likely that he will be crushed, pissed off and may have trouble ever trusting you again.
I think that a better way to approach it is to see how he feels about these kinds of things in the first place BEFORE GETTING INTO A SERIOUS RELATIONSHIP.
That way you can find someone that you are compatible with on every level: sexually, emotionally, physically
In your case, I advise that you start off with a few probing questions. They should start off quite tame and be about things that he probably wants anyway and then they should slowly lead to what you really want to ask him. Try something like these:
Do you think it would be hot to see me with another girl?
Would you ever think of having a threesome with another girl and me?
Would you ever think of having a threesome with another man and me?
If he answers yes to these types of questions, then ask him:
Do you think it would be hot to see me with another guy?
Make sure to make these questions seem as innocuous as possible at first. You should NOT be super serious about them at first. They should seem like questions that briefly crossed your mind and you thought that it might be fun to ask them. Make sure that after you do ask them, you quickly move onto another topic so he doesn't see them as a big deal.
But if he does become quite interested in them, you should mirror the same amount of enthusiasm.
But What Has This Got To Do With Your Situation?
If your man responds negatively to these questions and is seriously against the idea of a threesome or you being with another man or woman, then you can be sure that he'll be very upset with the idea of you cheating on him!
If he is slightly interested in a threesome or seeing you with someone else, then you can probe further, asking him about what scenarios would turn him on the most.
Again make sure to mirror his interest level. If he seems really enthusiastic, you should try to be too. If he seems only a little interested so should you be.
Just because your man is interested in seeing you with someone else (even if it's a guy) doesn't mean that he'll be ok with you cheating.
If he says that it's something that turns him on, then you can tell him about what aspects about being with other people that turn you on and discuss it with each other.
The key here is again gauging his reactions. If he is seems interested and excited about it all, then keep slowly opening up to him. There is no need to tell him everything about it straight away. It's better to do it quite slowly and steadily over a number of days or weeks, judging his reactions to everything you tell him.
Eventually if he seems enthusiastic, you can get to the point where you can tell him about your desire to remain in a relationship with him, but that you'd like to meet other guys just for sex.
[hr]
As you can probably tell from the length on this answer, there is no simple solution. I'd love to say that there is, but then I'd be lying.
But if you can see that he is interested in what turns you on and gets you off, then great, you've found someone that shares the same kinks and desires as you!
But you may also find that he has no interest in seeing you with someone else at all.
Often you'll find that he wants something in between.
In any case, you have to decide for yourself whether to tell him or not. I can't make that decision for you. Weigh up the pros and cons of telling him and then decide what to do for yourself.
In future, I strongly believe that you (and the rest of the readers) should get these things out in the open before you start any relationship, instead of letting them getting out of hand to the point where you are cheating on your man behind his back.
I hope that this answer your question.
Watch This: Blow Job Tutorial Video
I put together this in-depth, step-by-step instructional video that will teach you how to make your man sexually addicted to you and only you. It contains a number of oral sex techniques that will give your man full-body, shaking orgasms. If you're interested in learning these techniques to keep your man addicted and deeply devoted to you as well as having a lot more fun in the bedroom, then you may want to check out the video. You can watch it by clicking here.