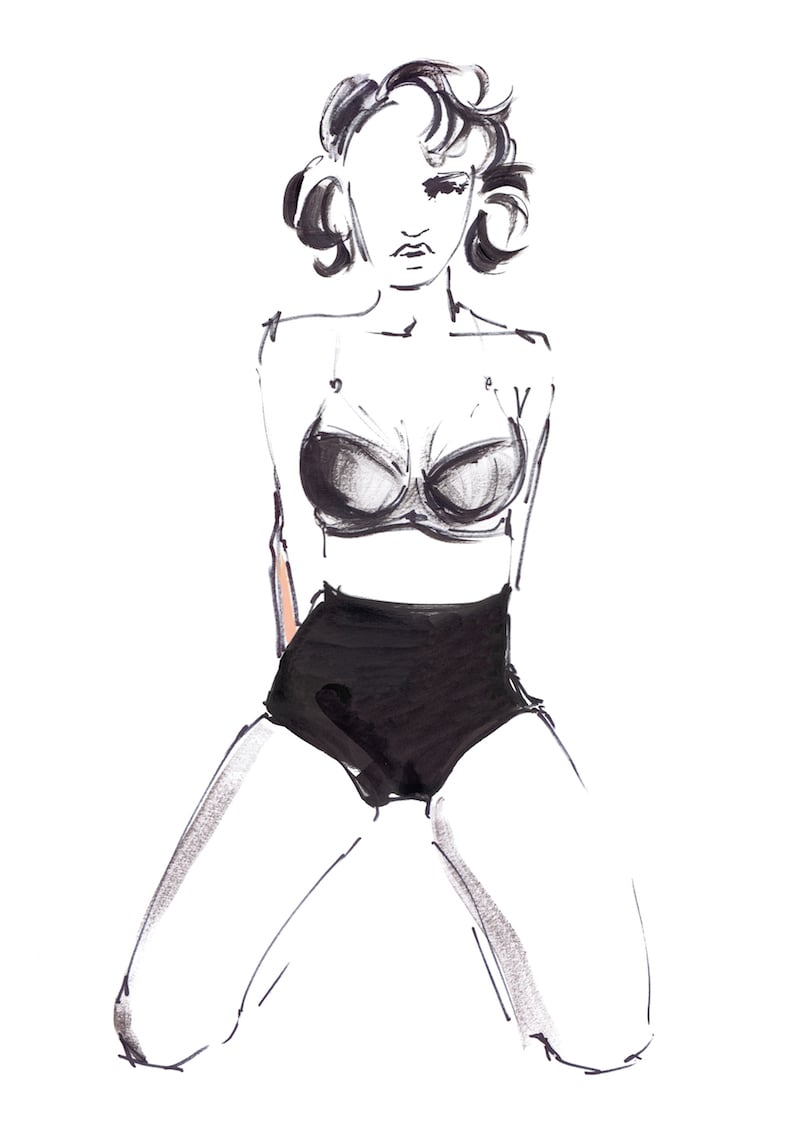 View all previous research here. If you are a journalist and would like early access to our monthly sexuality research before it's publicly published, please email: [email protected]
As most of our guides and articles contain references to academic and clinical research, we decided to share the most interesting research we found from 2017. Enjoy!
1. Nanotechnology for treating erectile problems
Source – January 2017 – Wang, Alice Y. and Podlasek, Carol, Ph.D.
Finding – They discuss the four ways that nanotechnology can be employed to assist men who are experiencing erectile dysfunction (delivery of ED drugs, injectable gels into the penis to prevent changes after prostate removal, hydrogels to promote  regeneration of the nerves responsible for erection or neuroprotection, and encapsulation of drugs to increase erectile function). They recommend moving forward with medical trials.
2. Sexually adventurous women have better sex
Source – January 2017 – Burri, Andrea, DrSc, compared the relationship between sexual sensation seeking (SSS) and sexual compulsivity (SC) as well as gender identity. She interviewed 279 participants.
Finding –  She found that sexual sensation seeking and compulsivity strongly correlated with one another. Higher levels of sexual sensation seeking lead to increased sexual function in women. In other words, women who seek out sexual sensations more have higher levels of desire, arousal, lubrication, and orgasm and less sexual pain.
3. Facial recognition via artificial intelligence detects if you are gay with 91% accuracy
Source – February 2017 – Wang, Yilun and Michal Kosinski, Michael, from Stanford University, were able to create a computer algorithm that could more accurately determine whether a person was gay than humans can.
Finding – The program was able to detect orientation in 81% of men (improving to 91%) and 74% of women (improving to 83%) of women while humans have success rates of 57% for gay men and 58% for lesbian women.
4. Gay people are more considerate lovers.
Source – February 2017 – Frederick, DA, John, HKS, Garcia, JR, and Lloyd, EA
Finding – They report that a large orgasm gap still exists between men and women with 95% of straight men achieving orgasm every time during sex and only 65% of women having an orgasm during every sexual encounter. The survey found that gay men and women had less of a gap (89% for men and 86% for women). While bisexual men experienced a comparably high rate of orgasm, only 66% of bisexual women have orgasms every time.
5. Men & women classify 'anal sex' differently
Source – February 2017 – McBride, KR, Sanders, SA, Hill, BJ, and Reinisch, JM surveyed 3,214 straight adults to determine which sexual activities count as having sex.
Finding – Both men and women were likely to define penile-anal penetration as having sex while analingus was the activity that qualified to both groups as sex. However, men were more likely to count receiving manual anal stimulation as sex and women were more likely to count analingus as having sex.
6. Taking the antibiotic doxycycline post sex can lower your chances of getting an STI
Source – February 2017 – a team consisting of Molina JM, Charreau I, Chidiac C, Pialoux G, Cua E, Delaugerre C, Capitant C, Rojas-Castro D, Meyer L, and the ANRS Ipergay Study Group announced at the Conference on Retroviruses and Opportunistic Infections the results of a study of 232 a study of 232 men who have sex with men.
Finding – 24% of the men who took two doses of the antibiotic doxycycline within three days of unprotected sex contracted STIs while 39% of the control group contracted STIs.
7. Sexual Shame? Postmenopausal women are reluctant to discuss vaginal or sexual symptoms with their health care professionals even though they want to
Source – March 2017 – Michael Krychman, Shelli Graham, Ph.D., Brian Bernick, MD, Sebastian Mirkin, MD, and Sheryl A. Kingsberg, Ph.D.,
Finding – They discovered that postmenopausal women often failed to recognize vaginal atrophy as a symptom of menopause. Furthermore, women who experience vaginal atrophy or other sexual difficulties as a result of menopause were unlikely to discuss it with their doctors. These women desired to have these discussions with medical providers and to learn from their doctors.
8. 61% of women would be willing to try a drug that increases orgasm frequency and intensity and sexual desire if it existed
Source – March 2017 – Melanie Gutsche, Msc and Andrea Burri, Ph.D., sampled 159 Swiss women to uncover their opinions on sexuality-boosting medication.
Finding – The researchers found that 61% of women were willing to try medication to boost their sexuality, especially if it contributed to more desire and more and improved orgasms. 48% of women were willing to wait for medicine to kick in within an hour, while 41% preferred waiting less than fifteen minutes. Women who experienced higher relationship satisfaction were less interested in taking these medications.
9. Religious people feel more guilty about using porn than athiests
Source – March 2017 – Nathan D. Leonhardt, Brian J. Willoughby, and Bonnie Young-Petersen, all researchers at the School of Family Life, Brigham Young University surveyed 686 unmarried adults about their perceived pornography use and addition.
Finding – They found a correlation between increased religiosity and guilt over porn use, even when those people relied on porn less frequently than others.
10. Feeling desired by a woman is the MOST important factor that influences a man's own sexual desire.
Source – March/April 2017 – Murray, SH, Milhausen, RR, Graham, CA, and Kuczynski, L interviewed 30 straight men who were in committed relationships to determine that influences sexual desire.
Finding – Researchers discovered that feeling desired by a partner was the most significant factor in desire, followed by exciting sexual encounters, intimate communication, rejection, physical and health issues, and lack of emotional connection.
11. The better the sex, the better your mood the next day
Source – June 2017 – Kashdan, TB, Goodman FR, Stiksma, M, Milius, CR, and McKnight, PE from George Mason University analyzed the connection between sexual activity and mood by assigning daily diaries to 152 adults.
Finding – They found that not only were participates likely to experience a next-day positive effect and increased sense of the meaning of life after having sex but that higher quality of sex resulted in better mood the next day. The study didn't find a correlation between well-being and next-day sexual activity.
12. Flibanserin is a drug that can increase sexual desire in postmenopausal women
Source – June 2017 – Louise Brown, RPh, James Yuan, Ph.D., Robert Kissling, MD, Sheryl A. Kingsberg, Ph.D., and David J. Portman, MD, examined whether Flibanserin would effectively improve desire in postmenopausal women.
Finding – Previously, the drug was only approved for premenopausal women. Compared with a control group, women who took Flibanserin were more likely to experience desire. However, the experiment was ended early by the sponsor.
13. Kegel exercises increase arousal, orgasm and sexual satisfaction in postmenopausal women
Source – July 2017 – Fahimeh Ramezani Tehrani, MD, Hamid Alavi Majd, Ph.D., Soheila Nazarpour, Ph.D., and Masoumeh Simbar, Ph.D. examined whether postmenopausal women who performed Kegel exercises saw improvement in sexual function.
Finding – Scores for arousal, orgasm and sexual satisfaction were significantly higher for women who performed the exercises than those in the control group.
14. Playing 1+ hours of video games per day prevents ED…but lowers sexual desire
Source – July 2017 – Andrea Sansone, MD et al. analyzed 396 questionnaires from men between the ages of 18 and 50.
Finding – Researchers found that men who identified as gamers, playing more than one hour of games per day, were less likely to experience erectile dysfunction. However, these men also experienced lower levels of sexual desire.
15. Sex stats: 10% women & 18% men have had a threesome.
16. 59.9% of men don't find strip clubs appealing
Also: More women (26.9%) than men (24%) have sent dirty pics.
Source – July 2017 – Herbenick, D, Bowling, J, Fu, TJ, Dodge, B, Guerra-Reyes, L, and Sanders, S posted the results of an Internet survey that inquired into eight different sexual activities/interests of 2,021 adults.
Finding – Men were more likely to have watched porn than women, but more than half of women had done so. Women were more likely to wear lingerie or sexy underwear for their partners while men were less likely to have used dildos or vibrators.
The survey also asked about social sexual situations such as visiting strip clubs or engaging in group sex. Men were more likely to have participated in social sex in every situation than women, but half or fewer of the men who were interested in threesomes or group sex had done so. Both men and women admitted to going to strip clubs while not finding the idea appealing.
17. Women prefer lifestyle changes to improve their sex life instead of medications
Source – August 2017 – Holly N. Thomas, MD, MS et al. interviewed 39 midlife women (median age 52.8), broken into three focus groups, about sexual concerns.
Finding – Most women expressed a preference for behavioral changes to improve sexual function and satisfaction due to concerns over possible side effects of medication.
18. 12% of Belgium's adult population has tried BDSM
Source – September 2017 – Holvoet, L, Huys, W, Coppens V, Seeuws, J, Goethals, K, and Morrens, M, surveyed 2,764 Belgian respondents about their interest in 54 BDSM activities and 14 fetishes.
Finding – While nearly half of the participants reported trying at least one BDSM activity, 22% had ever experimented with it. 12% of the survey-takers regularly engaged in BDSM activities.
More men than women had interest in BDSM or fetishes, and younger respondents were more likely to have an interest than older ones.
19. Previous studies about female orgasm may be inaccurate due to how questions were phrased
Source – October 2017 – Shirazi T, Renfro KJ, Lloyd E, and Wallen K questioned 1,400 women about their frequency of orgasm during sex.
Finding – They found that women were more likely to report having an orgasm when the question specifically referenced clitoral stimulation during sex than when inquiring about orgasm during sex without referencing clitoral stimulation. The researchers also questioned men regarding the frequency of their female partners' orgasms. Men were more likely to estimate that a partner orgasms during intercourse both with and without clitoral assistance. However, they more greatly overestimated how often a woman had an orgasm from vaginal penetration alone.
20. You are almost 2x more likely to have a threesome with a fuck buddy compared to a romantic partner
Source – November 2017 – Justin Lehmiller, Ph.D., presented a paper at the Society for the Scientific Study of Sexuality meeting regarding peoples' behavior regarding group sex and BDSM activities when engaging casually versus having sex in a committed relationship.
Finding – Lehmiller found that committed couples were more likely to engage in kinky sex and that 17% of friends-with-benefits had had a threesome compared with 9% of romantic partners.
21. Millennials have less sex compared to every other generation
Source – November 2017 – Twenge, JM, Sherman, RA, and Wells, BE analyzed sexual data about American adults between the years of 1989 and 2014.
Finding – Results show that not only are people engaging in sex less frequently but that millennials are having less than any other generation. Furthermore, more frequent porn use corresponded with more frequent sexual activity.
22. Science says that stoners have more sex
Source – November 2017 – Sun, AJ and Eisenberg, ML analyzed data from 28,176 women and 22,943 men to find connections between marijuana use and sexual frequency.
Finding – Findings indicate that marijuana does not impair sexual function, and those who smoke pot daily have approximately 20% more sex than those who abstain from smoking marijuana.
23. Contrary to popular belief, parts of your brain DON'T shut down when you orgasm
Source – November 2017 – Nan J. Wise, Ph.D. et al. examined ten women who experienced orgasm both solo and with the assistance of a partner in the first-ever fMRI experiment.
Finding – Researchers compared similar time points, discovering similar results between solo and partner orgasm except in the mid-stimulation stage, which showed more brain activity during solo simulation. Orgasm activated multiple locations in the brain.
24. Bisexual people are the most depressed, straight people the least depressed
Source – November 2017 – Ross LE, Salway T, Tarasoff LA, MacKay JM, Hawkins BW, and Fehr CP analyzed 52 studies from the course of 20 years to determine if bisexuals experience depression at different frequencies than straight and gay people.
Finding – Researchers concluded that bisexuals experience higher levels of depression than straight people and, in some cases, gays. Additionally, bisexual women experienced greater disparities than bisexual men.
25. Your body releases cannabinoids after masturbating
Source – November 2017 – Johannes Fuss, MD et al. compared endocannabinoid and cortisol levels before and after masturbation.
Finding – They found that the endocannabinoid 2-AG increased significantly after masturbating to orgasm.
Researchers also compared 2-AG levels with a control group, which does not see an increase in a second study. The second study found increases in oleoyl ethanolamide.
26. The G Spot disappears when you die? Autopsies on 13 women failed to reveal the G Spot
Source – December 2017 – Nathan Hoag, MD, FRCSC, Janet R. Keast, Ph.D., and Helen E. O'Connell, MD, MBBS, FRACS examined 13 female cadavers
Finding – They searched for signs of spongy tissue in the area of the putative G-spot on the anterior wall of the G-spot. They concluded that a macroscopic investigation could not confirm the location or existence of the G-spot.
Throwback from April 2007 – Men feel that porn has a negative effect on their lives
Source – April 2007 – Gert Martin Hald of The Clinic of Sexology, Copenhagen University Hospital (Rigshospitalet) and Neil M. Malamuth of Department of Communication Studies, UCLA sampled 312 Danish men about pornography use.
Finding – While religiosity didn't correspond to the frequency of use, these men did associate more porn use with having a negative effect on their lives.
Watch This: Blow Job Tutorial Video
I put together this in-depth, step-by-step instructional video that will teach you how to make your lover sexually addicted to you and only you. It contains a number of blow job techniques that will give him full-body, shaking orgasms. If you're interested in learning these techniques to keep your man addicted and deeply devoted to you as well as having a lot more fun in the bedroom, then you may want to check out the video. You can watch it by clicking here.