In the May 2018 installment of sexuality research, we dive into the latest studies and surveys to find out how illness, medications, stress, and surgery affect sexual function. This month's research also includes information on how relationship satisfaction and sense of smell relate to sexual pleasure.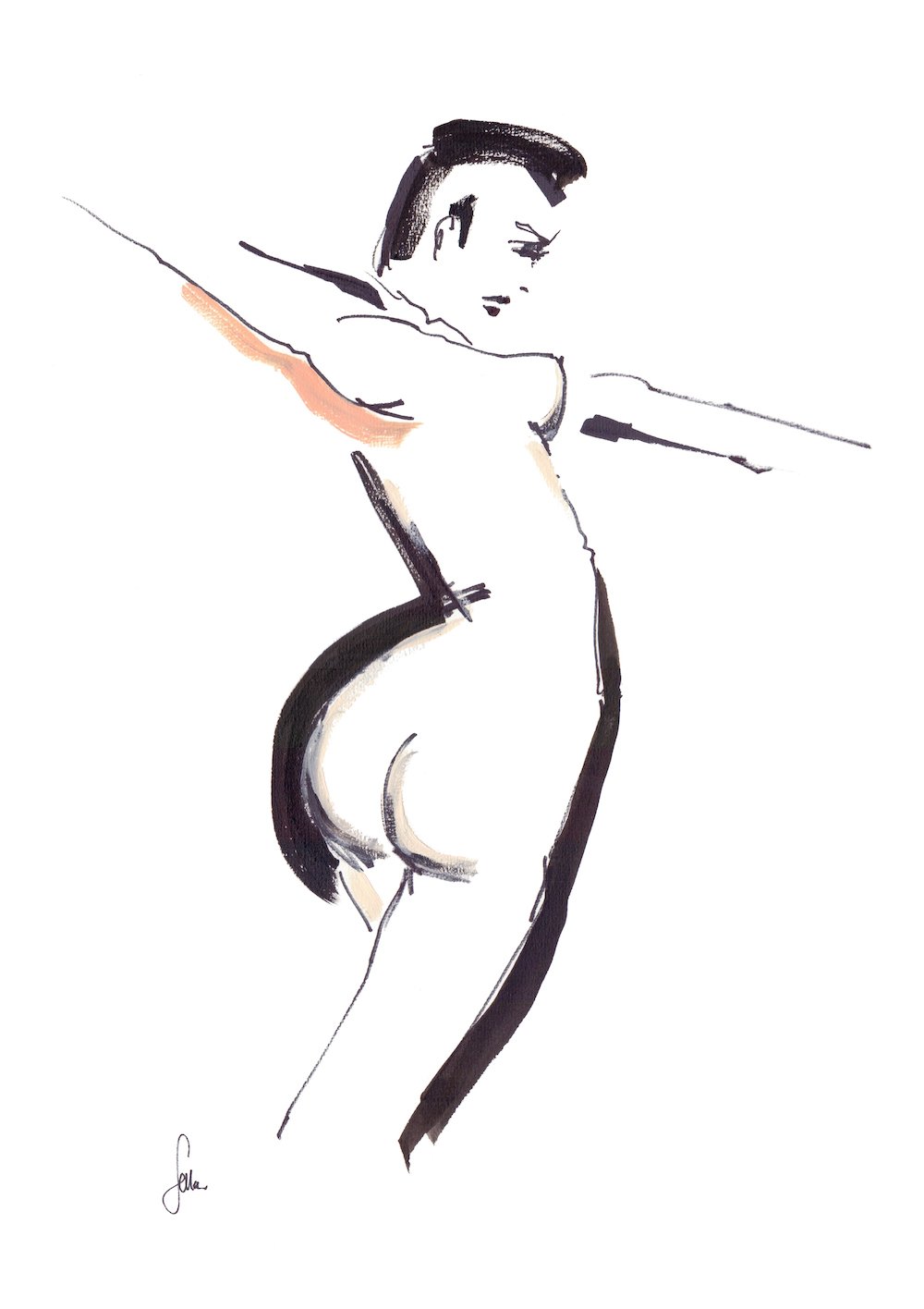 Thyroid Conditions Correlate With Both Premature Ejaculation & Delayed Ejaculation
Source – Eleonora Carosa, Andrea Lenzi, Emmanuele A. Jannini
Findings: A team of researchers reviewed previous studies on thyroid gland conditions and sexual function. The scientists argue that abnormal thyroid activity can affect sexual function, including ejaculation, erection, and desire and more research is necessary to examine the role of the thyroid on sexual function, especially in women.
They relied on previous knowledge about the connection between the thyroid and sexual function to make this argument. For example, both hyper- and hypoactive thyroid conditions, but premature ejaculation had been found to be the most common in hyperthyroidism whereas delayed ejaculation is more common with hypothyroidism.
Women with Vulvodynia Report Increased Pain on Days with Greater Anxiety/Depression
Source – Myriam Pâquet, Natalie O. Rosen, Marc Steben, Marie-Hélène Mayrand, Marie Santerre-Baillargeon, Sophie Bergeron
Findings: For eight weeks, a sample of 127 women with vulvodynia and their partners reported their daily experiences with anxiety, depression, pain from sex, sexual function, and distress regarding sex.  Researchers examined these reports to find that on days when participants experienced great depressive and anxious symptoms, they reported greater pain and lower sexual function. Higher depressive symptoms also correlated with greater levels of sexual distress in both partners.
92% of Women with Infertility Experience Sexual Dysfunction, that that can be improved
Source – Sevda Demir & Ergul Aslan
Findings: Researchers wanted to determine if using the BETTER model of sexuality assessment might improve the sexual function of women who struggle with infertility, especially because treatment tends to focus on infertility rather than sexual dysfunction. In a preliminary evaluation, scientists found that 83 out of 90 infertile women struggled with sexual dysfunction. The experiment sample consisted two 35-women groups, one a control and the other with sexual dysfunction. Researchers administered the Female Sexual Function Scale and the Golombok Rust Inventory of Sexual Satisfaction (GRISS) to both groups before participants underwent two 90-minute counseling sessions over the span of a week.
The experimental group had significant improvement in FSFI scores while the control group had no significant change in score. After the second assessment, the experiment group had significantly decreased dissatisfaction scores when compared with the control group. The team also found that duration of infertility increased sexual dysfunction
Having A Good Sense Of Smell Means More Pleasure In Bed (& More Orgasms If You're Female)
Source – Bendas J, Hummel T, Croy I
Findings: Researchers from Technische Universität Dresden in Germany surveyed 70 adults (28 male, 42 female) about their sexual desire and pleasure after performing a test to determine their odor threshold (sensitivity to smell). The survey showed that both men and women who were more sensitive to smell also reported greater sexual pleasure, and, for women, having a strong sense of smell correlated with experiencing more orgasms during sexual activity. Researchers suggest that those with greater smell sensitivity may be more easily triggered by the odors of a partner's body during sexual activities.
Stronger Correlation Between Solitary and Dyadic Desire in Women
Stress Increases Desire in Men
Source – Jessica C. Raisanen, Sara B. Chadwick, Nicholas Michalak, Sari M. van Anders
Findings: In a survey of 157 first-year college students, researchers looked at correlations between stress, cortisol, testosterone, and desire. The study looked at differences in solitary and dyadic desire between men and women. While the two types of desire correlated in both men and women, the connection was significantly stronger (12 times) for women than men. 55.8% of women reported the lowest amount of solitary (masturbatory) desire possible. Women with higher testosterone levels and stress were more likely to report more desire to masturbate.
Furthermore, while women who reported stress experienced significant decreases in desire, the same was not the same for men. On average, men with higher stress also had a higher sex drive.
Curcumin May Alleviate Erectile Dysfunction Caused by Type-2 Diabetes
Source – Andrew Draganski, Ph.D., Moses T. Tar, MD, Guillermo Villegas, Ph.D., Joel M. Friedman, MD, Ph.D., Kelvin P. Davies
Findings: Researchers separated ten rats with type-2 diabetes into groups, applying a topical placebo to the abdomen of one group and topical curcumin to the bellies of the other group. Scientists then stimulated the rats and measured intracorporal pressure normalized to systemic blood pressure (ICP/BP). They found that rats treated with the curcumin exhibited higher blood pressure than those in the control group. They determined that the difference was statistically significant.
Furthermore, the team measured  NF-κβ-activating protein, a protein that responds to stress, and found a 60% decrease in the rats treated with curcumin.
German Men Less Sexually Active in 2016 Than In 2005
Source – Manfred E. Beutel, Juliane Burghardt, Ana N. Tibubos, Eva M. Klein, Gabriele Schmutzer, Elmar Brähler
Findings: A survey of 1,095 German men in 2016 was compared to a similar study of German men from 2005. The polls asked about age, sexual activity, whether respondents lived with partners and sexual desire. The recent survey found that men who were living with partners were more sexually active as previous research indicates. This survey also found a decrease in men reporting sexual activity from 81% to 73% since 2005.
The number of men who reported lack of sexual desire also increased from 8% to 13%.
Majority of Americans Support Same-Sex Marriage
Source – Jeff Jones, Lydia Saad
Findings: According to a recent Gallup poll, which was done via phone interview of 1,024 adults, 67% of Americans are now in support of same-sex marriage. This is the highest level of support gay marriage has seen by Americans. The survey also differentiated between political party, finding that 83% of Democrats were in favor of gay marriage while only 44% of Republicans support gay marriage. Independents were more supportive than Republicans: 71% were in favor of gay marriage.
Early Marital Satisfaction Shapes Satisfaction Later in Life
Source – Hongjian Cao, Nan Zhou, Mark A. Fine, Xiaomin Li & Xiaoyi Fang
Findings: A study of 268 Chinese couples examined the relationship between marital and sexual satisfaction. Researchers found that husbands who experienced satisfaction with their marriages in the first wave were more likely to be sexually satisfied during the second wave. Wives who experienced sexual satisfaction at wave 1 were maritally satisfied during wave 2. Scientists found no correlation between satisfaction between the second and third waves, however.
Erectile Dysfunction Symptom of Arterial and Heart Dysfunction
Source – Hiroshi Kumagai, Ph.D.; Toru Yoshikawa, Ph.D.; Kanae Myoenzono, MS; Keisei Kosaki, Ph.D.; Nobuhiko Akazawa, Ph.D.; Zempo-Miyaki Asako, Ph.D.; Takehiko Tsujimoto, Ph.D.; Tetsuhiro Kidokoro, Ph.D.; Kiyoji Tanaka, Ph.D.; Seiji Maeda, PhD
Findings: Japanese researchers measured carotid-femoral pulse wave velocity (PWV), brachial-ankle PWV, femoral-ankle PWV, and arterial stiffness gradient to determine arterial stiffness and possibly related organ damage in a study of 317 Japanese men.  Scientists administered the International Index of Erectile Function 5 to participants to analyze sexual function. This highlighted an inverse correlation with h carotid-femoral PWV, brachial-ankle PWV, femoral-ankle PWV, and PWV ratio. They also found that carotid-femoral PWV and PWV ratio correspond with International Index of Erectile Function 5 scores.
Authors conclude that issues with male sexual function can be symptoms of arterial stiffness.
Women Want More Anal Sex Education
Source – Kimberly R. McBride
Findings: Researchers interviewed 33 straight women about the risks they associated with anal sex. Women reported concerns over STI risks, potential physical harm, other infections, and hygiene. Six participants specifically mentioned a lack of education about anal sex and activities that would enable safe and pleasurable anal sex.
Medication Can Reduce Pain in Women with Endometriosis
Source – João Paulo Leonardo-Pinto, Cristina Laguna Benetti-Pinto & Daniela Angerame Yela
Findings: A 12-month study of 30 women with deep infiltrating endometriosis who took with a daily dose of 2MG Dienogest showed a decrease in pain during sex from 5.3±3.1 to 3.7±3.3.  There was also improvement in the Female Sexual Function Index (FSFI). There were no significant improvements in lubrication, desire, or satisfaction, however.
Arousal Lowers Cognitive Function
Source – Yana Suchy, Laura G. Holmes, Donald S. Strassberg, Austin A. Gillespie, A. Renee Nilssen, Madison A. Niermeyer & Bryce A. Huntbach
Findings: In an attempt to examine whether emotional responses such as thought suppression can deplete executive functioning (EF) of the brain, researchers discovered that arousal decreased EF whereas suppressing arousal does not. This is in line with previous research that finds arousal affects inhibitions and the decision-making process. Researchers revealed this by instructing 21 participants to suppress their thoughts of arousal while a group of 23 participants was encouraged to be aroused.
The team also looked at lower-order component processes of the brain but found no group differences.
Diabetes Causes Sexual Dysfunction in 1/3 of Women and 1/2 of Men
Source – Ewelina Bak, Czeslaw Marcisz, Sylwia Krzeminska, Dorota Dobrzyn-Matusiak, Agnieszka Foltyn, and Agnieszka Drosdzol-Cop
Findings: Scientists compared 115  participants with Type I Diabetes against 105 healthy participants. Women completed the Female Sexual Function Index while men used the International Index of Erectile Function to determine sexual dysfunction. Scores indicated that Type 1 Diabetes decreased. Specifically, women with diabetes had significantly lower scores in all six domains of the FSFI, indicating more dysfunction: sexual desire, sexual arousal, lubrication, orgasm, sexual satisfaction, and dyspareunia. The results of the IIEF showed significantly greater dysfunction in erection, desire, sexual satisfaction, and overall satisfaction for men.
Furthermore, researchers administered the Beck Depression Inventory to identify how diabetes affects mood. In women, the diabetic group experienced more low moods than the healthy women (35% vs. 7%), and the authors concluded that one in five diabetic men (20%) experienced exhibited symptoms of depression.
Antidepressants Can Cause Smaller Testicles & Wreck Your Sex Drive
Source – David Healya, Joanna Le Nourya, and Derelie Manginb
Findings: Scientists viewed reports of patients who were prescribed SSRIs, 5α-Reductase inhibitors such as Finasteride, and isotretinoin to determine the effect on sexual function. They identified 300 cases in which patients received any of the drugs in these categories, including 14 different SSRIs.
Reports indicated known side effects of drugs such as erectile dysfunction in men taking SSRIs (86%), Isotretinoin (93.9%), and 92% for 5α-Reductase inhibitors. Loss of libido was also a common side effect of all these drugs; however, only SSRIs caused penile curvature, PGAD, premature ejaculation, and reduced sensitivity of the nipples. Other unusual symptoms included soft glans when on SSRIs and Isotretinoin and numbing on the skin caused by all three categories of medication. Isotretinoin was the only drug not to cause any cases of testicular atrophy.
In women, loss of libido was the most common symptom with 72% of SSRI takers experiencing it and 100% of Isotretinoin takers, follower by 60% of both groups suffer genital anesthesia. More women than men experienced persistent genital arousal symptom (8% vs. 1.2%). Several women on SSRIs experienced either loss of taste or less sensitive nipples when SSRIs but not Isotretinoin, and Isotretinoin did not affect women's emotional or orgasm intensity.
At-Risk Youth Have Sex Younger and With Less Contraception Than All Other Youth. They're Also More Likely To Get Pregnant
Source – Nadine Finigan-Carr, Rochon Steward & Cathy Watson
Findings: Scientists surveyed 270 youth who were involved in systems such as foster homes, group homes, therapeutic treatment centers, and detention centers about their sexual activities and beliefs. The team compared these rates to national averages. The study found that 70% of system-involved youth ever having sex (with 93% of kids in foster care having sex) compared to 34% of general youth. 86% of the current sample had first had sex before age 16 while only 34% of the high school population had an early sexual debut.
Teens in the general population were more likely to use contraception during their first sexual activities — 72% versus 56%. Furthermore, 31% of at-risk teens experienced teen births while only 11% of the general teen population had.
Young Women Use Less Sexual Verbal Communication with Longterm Romantic Partners Than Casual Ones, Feel Less Comfortable, Less Safe
Source – Tiffany Marcantonio, Kristen N Jozkowski & Jackie Wiersma-Mosley
Findings: A study by researchers at the University of Arkansas examined the relationship between internal and external consent and relationship status of 390 young women. Researchers found that women who engaged in intercourse with a new partner reported lower levels of Safety/Comfort, Readiness, and Agreement/Wantedness than women who had sex with a serious partner. Women in a serious relationship were more likely to feel sexy and romantically connected during their interactions. Those women were also more likely to use non-verbal cues to communicate with their partners than women who were having sex with a first-time partner.
Women Who Believe Desire Is Stable Struggle More with Desire Issues
Source – Siobhan Sutherland & Uzma S. Rehman
Findings: Two groups of women (363 and 407) reported their beliefs about sexual desire and whether it can change over time (incremental) or remains stable (entity). Neither group was more likely to experience desire issues; however, when desire issues did occur, women in the entity group were more likely to experience maladaptive coping and not seek resolution, perhaps because they believe there is no way to fix desire issues. Scientists were surprised that women in the incremental group were not more likely to proactively deal with desire issues, perhaps because they assumed those issues would resolve themselves over time.
Straight Women Prefer Men With Masculinized Voices For Casual Sex
Source – Jillian J. M. O'Connor, Benedict C. Jones, Paul J. Fraccaro, Cara C. Tigue, Katarzyna Pisanski, David R. Feinberg
Findings: Researchers played audio recordings of male voices in multiple pitches — some more masculinized than others — to 95 heterosexual women. The women completed the Sexual Desire Inventory-2 to determine their levels of dyadic sexual desire (desire to have partnered sex). In this first study, women who experienced greater dyadic sexual desire preferred the masculinized versions of voices compared to women who had lower dyadic sexual desire scores.
The team then played similar recordings of pitch-adjusted male voices to a group of 80 straight women and asked the women to rate voices that were most attractive for short-term relationships and long-term relationships. Participants rated the more masculinized voices more appealing for both short and long relationships at rates "greater than chance." Researchers compared preferences to solo and dyadic sexual desires, finding a correlation between dyadic sexual desire and a preference for masculinized voices in short-term relationships, perhaps because women prefer male partners with higher testosterone levels for short-term sex based on reproductive viability.
Male Sexual Function Declines at 45.5
Source – Allison Polland, MD, Meghan Davis, MPH, Alexander Zeymo, MS, and Krishnan Venkatesan, MD
Findings: Researchers analyzed the 3rd National Survey of Sexual Attitudes and Lifestyles (6,711 women and 4,872 men) to determine which comorbidities affect sexual function. They found that depression and other heart disease affected lubrication in women and depression, diabetes, and other heart disease correlated with erectile dysfunction. They also determined that male sexual function declines after age 45.5.
Chinese Asexual Men Have More Sex Than Asexual Women
Source – Lijun Zheng, Yanchen Su1
Findings: A study compared sexual attraction, romantic attraction, sexual experience and frequency of masturbation between Chinese participants who were split into three groups: asexual, heterosexual and uncertain asexuals. Uncertain asexuals were those who identified as asexual but scored lower than 40 on the Asexuality Identification Scale. Only 28.2% of asexuals also identified as aromantic with participants experiencing heteroromantic, biromantic, and homoromantic orientations.
The survey found that 44.5% of asexuals had never masturbated. While the rest of the asexuals had masturbated, 41.4% of them masturbated multiple times per month. Uncertain asexuals were likely to masturbate more frequently across the board, and they were more likely than heterosexual participants to masturbate two or more times per month. Asexuals who identified as having same-sex romantic attraction were among the most likely to masturbate than other asexuals.
Asexuals had fewer sexual partners, but asexual men reported more previous sexual partners than asexual women.
40% of Middle-Aged Canadian Women Experience Low Sexual Desire In the Last 6 Months
Source – Quinn-Nilas C, Milhausen RR, McKay A, Holzapfel S
Findings: An inquiry into the most common sexual dysfunctions experienced by 2,239 Canadian adults in their midlife revealed that low sexual desire is the most common for men and women. However, low sexual desire is more common among women, with 40% of the sample of 1,079 women reporting low sexual desire in the previous six months. 30% of men experienced low sexual desire. This was followed by erection issues and ejaculation problems for men and vaginal dryness and orgasm difficulties for women.
29.9% of men reported a single sexual dysfunction while 27.7% of women reported the same. 4.5% of female participants had reported four or more sexual issues. However, 45.8% of men reported no sexual problems at all, comparable to 43.3% of women who said the same.
Up to 12% of Men Affected by Infertility
Source – Francesco Lotti & Mario Maggi
Findings: In a review of previous sexual studies, researchers from the University of Florence found that sexual dysfunction is infrequently the cause of infertility in men. However, every type of sexual dysfunction, including erectile, orgasmic, desire, and ejaculatory, has been reported in men who have infertility. Of the types of sexual dysfunction in interfile men, hypoactive sexual desire disorder is the most common. Providers should be aware of the connection between erectile dysfunction and poor health.
Transgender People Report Lower Sexual Satisfaction
Source – Sanne W. C. Nikkelen & Baudewijntje P. C. Kreukels
Findings: A study looked into groups of trans women and trans men, both those who were exposed to hormones and those who did not receive gender confirmation treatment. Among those groups, FTM who received testosterone treatments masturbated more than those who did not. An opposite effect was found in MTF with those who underwent hormone therapy masturbating less than those who did not.
FTM participants who had received either hormones or surgery to fulfill their gender expression had the most sex out of any of the groups. While there were no large differences between the groups regarding sexual satisfaction, results showed lower levels of sexual satisfaction between transgender and cisgender people (27%–41% versus 46.8% and greater levels of dissatisfaction than cisgender people (27%–39% versus 20.8%).
Testosterone Therapy Improves Some But Not All Sexual Function in  Klinefelter Patients
Source – Ferlin A, Selice R, Angelini S, Di Grazia 2, Caretta N, Cavalieri F, Di Mambro A, Foresta C
Findings: A survey of 62 non-mosaic naive KS patients found significant levels of sexual dysfunction, especially erectile dysfunction, which corresponded to psychological distress. When compared to a control group, this group also reported less sexual satisfaction and overall satisfaction. Treatment with testosterone therapy proved effective at reducing most sexual dysfunctions and increasing satisfaction. However, hormone therapy did not affect erectile dysfunction in patients.
Anterior Lumbar Surgery Leads to Retrograde Ejaculation
Source – Malik AT, Jain N, Kim J, Khan SN, Yu E
Findings: In an inquiry into sexual function and satisfaction post spinal surgery existing reports revealed that Anterior lumbar surgery, especially those using the transperitoneal laparoscopic method, corresponded to higher likelihoods of retrograde ejaculation. Researchers could not determine a preferred position for intercourse after spinal surgery after reviewing reports of spinal surgery.
Avoidant Attachment Style Corresponds With Low Sexual Desire
Source – Coralie Purcell-Lévesque, Audrey Brassard, Belina Carranza-Mamane & Katherine Péloquin
Findings: According to a team from the Université de Montréal Quebec, these results came from a survey of Canadian men and women (88 women and 45 couples) who were struggling with infertility, the aim of which was to connect attachment styles to sexual dysfunction. Furthermore, research highlighted a connection between men's attachment-related anxiety and erectile dysfunction. The survey did not find a marked difference in sexual dysfunction between infertile participants and the general population.
Cycling Causes Genital Numbness, Doesn't Increase Dysfunction
Source – Baradaran N, Awad M, Gaither TW, Fergus KB, Ndoye M, Cedars BE, Balakrishnan AS, Eisenberg ML, Sanford T, Breyer BN
Findings: Researchers recruited 2,774 male cyclists to determine the effect of cycling on genital numbness and sexual dysfunction. Researchers found that genital numbness in cyclists correlated with those who had high blood pressure, diabetes, history of heart attack, and cigarette use. The review also showed that biking more than once per week increased likelihood of genital numbness as well as biking more than five miles at a time. However, genital numbness did not correspond to sexual dysfunction.
Watch This: Blow Job Tutorial Video
I put together this in-depth, step-by-step instructional video that will teach you how to make your lover sexually addicted to you and only you. It contains a number of blow job techniques that will give him full-body, shaking orgasms. If you're interested in learning these techniques to keep your man addicted and deeply devoted to you as well as having a lot more fun in the bedroom, then you may want to check out the video. You can watch it by clicking here.