You have the perfect man. Now, you need the perfect Valentine's Day gift for your man! Valentine's Day is not a day just for you – your man deserves to feel loved and special too! If he has made this day extra special in the past with flowers, dinner or other nice gifts, remind him that you appreciate him and you may even think about taking care of plans this years.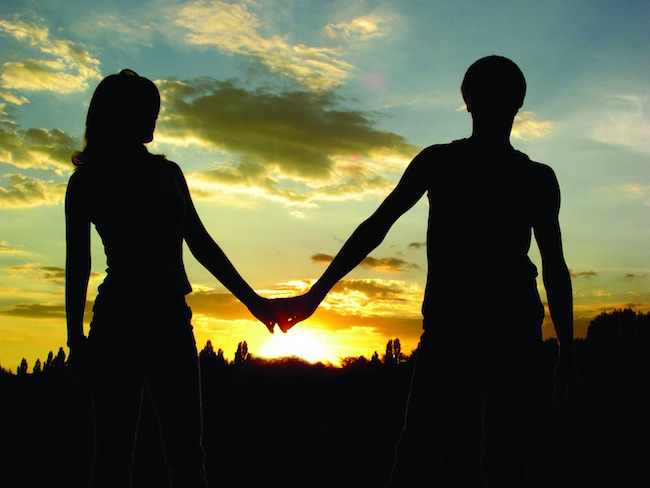 You can go all out with elaborate getaways, more erotic gifts (some ideas here), expensive gifts and unique treasures, or your Valentine's Day gift for him can be simple or something practical. Plus, if your budget is limited, Valentine's Day gifts for him can be purely from the heart and be homemade. Your gift should also represent the length of your relationship.
If your relationship is fairly new, your gift may not be as personal as when you are in a long-term commitment. Either way, remember it's not the expense, but the thought and the memories you create that count.
Food Gifts
If the way to a man's heart is through his stomach, a man's Valentine's Day gift that involves food should have him falling head over heels for you in no time. Again, you can plan an expensive evening out, or spend a little less and make something for the two of you. The thought and effort you put into a gift are much more important than the money. A Valentine's Day centered around eating can last all day if you:
Make him breakfast in bed.
Bring him lunch at work, or take him out to lunch.
Make reservations at his favorite restaurant.
Cook him his favorite meal, served by candlelight.
Prepare a picnic, weather permitting, or have an indoor picnic in front of the fireplace.
Car Related Gifts
Most men are very proud of their vehicles and take the time to keep their car clean. If your man is a bit anal about taking care of his car, a car-related gift should put a big smile on his face! (speaking of anal…you can learn more about having anal sex here and what the best anal sex positions are here). Consider:
A gas card- it may seem impersonal, but if you have practical man, he'll appreciate it!
Gift certificate for an oil change- probably best if you're in a new relationship and have no idea what he likes!
Car wash coupons- especially if you live in an area with salt-covered roads.
Ask to borrow his car and spend your time cleaning the interior and exterior. Surprise him with this unselfish act of service.
A key chain of a private joke you share, or have a key-tag engraved with a special phrase or date.
Photograph Gifts
Photographs are a timeless way to show your man how much you care about your relationship. When considering Valentine's Day gifts for him, photos offer many options such as:
A framed photo of the two of you at your favorite place- purchase a cool frame, or decorate one with shells if your photo is at the beach, or glue candy hearts to a frame to symbolize Valentine's Day…you get the idea.
An autographed picture of his favorite athlete- this one takes a lot of pre-planning, but it's worth it!
Re-condition a family photo of his parents or grandparents.
Make a DVD of photos of the two of you and set it to "your song".
Take sexy photos for him and hide them around his home as a clue of what's to come.
Sports Gifts
Valentine's Day gifts for men don't always have to be romantic or relationship-based. Sometimes, getting him something that is just for him is the perfect way to show your love. If your man is a sports fan a great Valentine's Day gift for him is:
Tickets to watch his favorite basketball/hockey/football/sports team.
A jersey or other memorabilia from his favorite sports team.
Watching a game on TV without interrupting him, except to bring him a beverage and food- if money is an issue!
Signed memorabilia.
Sexy Gifts
Your choice of a Valentine's gift for him can embrace the romantic mood of the holiday. Sexy gifts are more for the two of you instead of a specific Valentine's Day gift for your man, but you can make it a day he will remember and look forward to every year. Some sexy gift ideas include:
Writing a romantic or flirty letter and leaving it in his car or at his office.
Wearing sexy lingerie and creating the ambiance with candles, flowers, music, etc. Tips on finding the perfect lingerie here. And more on dressing sexy here.
Role playing by dressing as a sexy teacher or leather-wearing master. More roleplaying tips here.
Purchasing a sexy toy for both of you to enjoy. More tips on sex toys here.
Printing out love coupons, playing a sex game, or rolling sexy dice to add a little spice to your relationship. You can learn some really powerful sex games here.
Scheduling a weekend away with time for the two of you- remember to take the lingerie! Make sure to try out some of these sex positions while you're away.
Valentine' s Day Gifts for a New Man
If your relationship is fairly new, it may be difficult to find that unique Valentine's Day gift for your sweetie. You don't want to put any pressure on him for taking you on a weekend getaway, or ask to borrow his car. When you're in a new relationship on Valentine's Day, consider gifts that are a bit lighter such as:
A DVD of his favorite TV show, movie or band.
Tickets for the movie theater.
A gadget such as a car charger or pocket tool.
A video game or book.
Plan an at-home movie night complete with popcorn and his favorite snacks.
(These gifts are also enjoyed by the man you've been with for years, but who already has "everything"!)
Sensual Gifts for Valentine's Day
Most men would probably deny it in front of their friends, but they enjoy being pampered. If you think your man is up for this, plan a spa day for him. You are the spa mistress and will take care of his every need. These Valentine's Day gifts are all about physical touch and being sensual without having sex- at least not yet! Of course, you can schedule a spa day for both of you complete with a couple's massage, or stay home and:
Prepare a bubble bath for your man
Give him a pedicure along with trimming his nails and using a pumice stone on his feet
Use scented oils and give him a full-body massage (more on massaging your man here)
Do some 'manscaping' and trim his facial hair, chest hair, back hair and undercarriage, if he'll let you!
Musical Gifts
A song can quickly bring back a memory, uplift your mood or motivate you. If your man enjoys music, consider a muscial Valentine's Day gift for him such as:
Concert tickets to his favorite band
A current, or hard-to-find album or CD of his favorite band
Create a playlist, or make a mix CD, of songs that remind you of him
Stuff He Can Wear
If your man is very fashionable, men's Valentine's Day gifts can revolve around attire. These can be tricky, unless you know his tastes very well. Also, be sure to purchase the correct size so he doesn't have to exchange it. He won't want to hurt your feelings and will wear whatever it is you buy, so it should be something you want to see him in! Some clothing-based Valentine's Day gifts for him include:
A cool t-shirt- that's if he'll wear shirts with logos or pictures on them, likes funny sayings or vintage shirts of bands, products or TV shows.
Knit him a scarf or hat.
Baseball cap of his favorite sports team.
A nice sweater to wear when you take him out for Valentine's Day dinner.
An engraved watch or bracelet if he likes to wear jewelry.
Creative Gifts
If you have a special talent for painting, photographing, drawing, sculpting, or writing, use this to show your man how important he is to you. These unique Valentine's Day gifts are things he will treasure for years. You can create one-of-a-kind gifts such as:
A painting or photograph of his favorite furry friend
A sculpture of one of his accomplishments
A poem or sexy, short-story to turn him on
A painting or drawing for his office
Physical Gifts
Valentine's Day gifts do not have to be anything material. You can create wonderful memories by doing something physical together- out of the bedroom! Plan a Valentine's Day adventure for your man that includes:
A day pass to his favorite, but unaffordable, gym
A walk or hike, or snowshoe through a peaceful park or forest
Ice-skating
Indoor rock climbing
Salsa dancing – complete with you in your sexy, little dress
Belly dance for him and see what happens next! (tips on stripping here)
Valentine's Day is a day to celebrate your relationship and the man you love. Whether it's a new love or one that's lasted 20 years, your gift will make an impact. If the sky's the limit, shower him with multiple gifts, expensive dinners and weekend getaways to make it a holiday you'll both treasure. If your finances are limited, remember that if he truly loves you then he will appreciate your thought more than anything. He doesn't want you struggle for months to pay off one day of celebration, so choose a simpler, or home-made gift for him.
Your choice of gifts also shows how well you know your man. If he feels emasculated at the thought of a spa day, do not force him into a bubble bath, take him to a sports game instead. However, Valentine's Day is a day to soften hearts and keep an open mind, so be prepared to shake things up and focus on the love you share.