Valentine's day is the perfect time to revel or renew your feelings for your significant other. There are plenty of tried and true methods of symbolizing your feelings, however to really convey true affection put a little thought into your gift or date. The saying "it is the thought that counts" is true when it comes to figuring out the perfect Valentine's day idea for him.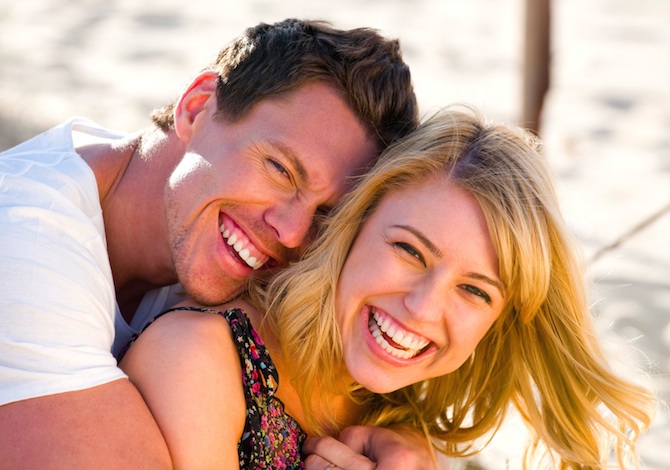 13. Play to his hobbies
Is your man completely into video games?
Then perhaps a new game or a challenge to play together all day is in order. This Valentine's day idea for your man will work best if you are actually into video games.
If aren't, then you are going to feel neglected half-way through the day and perhaps this idea should be saved for another time. Keep in mind though, that the act of your love teaching you about something he enjoys can be very romantic, even if it's just video games.
You can also turn the competition of playing together into a sexy game. The loser will have to lose a piece of clothing each round, or perform a sexy act drawn from a jar that you both contribute racy ideas to. You'll find lots of ideas for sexy act here, here and here.
12. Give Him a Photo Album, Retro Style 
If you are figuring out some Valentine's Day ideas for him, then you've likely been together a while and have at least a few photos together on your phone and Facebook, Instagram, etc .
Turn some of those images into hard copies and compile them into an album or scrapbook.
If you are not crafty, then there are several sites like Snapfish or Printstagr.am that make turning your images into a scrapbook pretty darn easy. A hardcopy of your images to glance through is surprisingly romantic. It's a perfect Valentines' Day idea for him that he can keep at his desk to remind him of you.
11. Breakfast in Bed
Breakfast in bed is a typical Mother's and Father's day tradition, but a romantic breakfast in bed is a romantic Valentine's Day idea for your man that can set the tone for the whole day.
Start with a sexy wake up call and perhaps a massage (tips on giving a great massage here). Make the breakfast lighthearted and full of individual touches that make it personal and sweet. Do not wake him at an unusual time to enjoy it though, you want him alert for the festivities.
10. Exchange Silly Cards and be Humorous 
Perhaps your relationship is new, or maybe you have done the romantic dinner thing together recently due to an anniversary. So perhaps you don't want to overdo the romance.
Instead, to keep it lighthearted, you and your guy can try giving each other the silliest gifts possible, tthat make light of the day and still show you love each other.
A handmade, personalized coffee mug with "kiss" marks where he drinks, so he is kissing you when he has his morning cup is just silly and sweet enough to show you care but are also not taking the day too seriously. You could make it a competition to see who can give the other the funniest or the mushiest card possible. Bonus points for including an in-joke!
9. Plan an Anti-Valentines' Day Date
If you and your man are not at the stage where you are ready to commit your feelings in a romantic way, then a great Valentine's Day idea for him is a date that intentionally and completely ignores the day altogether.
For example if February 14 happens to fall on the first few dates of your new relationship, you can plan to spend the day together without awkwardness by doing something completely unromantic.
Go for a hike, play monopoly, eat unromantic food and keep it light. Who knows? Maybe next year you will be with the same guy and you can replay a similar anti-romantic date that will actually be super sweet because it is nostalgic of your first Valentines day together.
8. Be Cute 
There are a million ways to keep it light, and still be romantic. Stuffed animals are tried and true, perhaps even a bit over done. But what about a huge stuffed bear the size of your bed?
You can joke and say that it was the only one big enough to show how you really feel. To make it even better, try doing something that references a shared joke, so he knows that you really are listening. You do not have to act super sexy, or gaze at each other over candle light if it is not how you roll. You can frame a silly picture of you, or write a poem, or plan a meal that is less romantic, but still loving.
7. Plan a Romantic Scavenger Hunt 
If you and your guy like puzzles, a Valentine idea for him is a scavenger hunt, where you leave a series of clues like photos, or small trinkets along with instructions to find the next clue. At the end of the hunt, have the final clue be something unexpected, or at least better than the rest of the hunt.
The hunt does not have to be just for him either.
For example, one clue could lead him and you to a adult toy store and the challenge could be to buy a gift for each other. The next clue could lead you to a motel.
Between each location, place questions to ask each other. For example while you are traveling from your home to the first location, the cards could prompt you each to tell a story from third grade or ask each other a dirty question (lots of examples of dirty questions here and naughty truth or dare questions here).
While traveling to the second location the card could prompt you to share your most embarrassing moment. These dirty "never have I ever" questions will make it easy. Planning a scavenger hunt like this is pretty labor intensive, so it's something that you should only really do if you have both been together for a while.
6. Be Smart 
If you are the intellectual type you can try playing a challenging and intellectual board game with him like Trivial Pursuit, and then reward him for each correct question by removing a piece of clothing. Obviously the harder the questions are, the longer and more drawn out the game will be.
5. Get Creative 
If you're in a long term relationship, then no one will know your guy the way you do. 
Is he a closet Doctor Who fan?

Or is he really into collecting something unusual?

Is he a foodie with a hidden desire to try imported truffle oil and wine?
Think hard about what makes him tick, and build a gift basket around that, that really shows he how much you've been listening to him. If you can show him that you really know him in an unexpected way, he will feel more valued than if you spent a ton of money on something generic.
4. Offer Him Something Completely New 
Is there a sexual position you have not tried? You'll find loads of positions to try, with photos here.
Or perhaps he has wanted to take you rock climbing and you have been hesitant?
A great Valentine's Day idea for him to Spice things up is offering to do something that is completely uncharacteristic for you. There is no need to compromise your morals or who you are to offer him a new side of you, but do try to step outside of some of  your boundaries.
Perhaps dirty talk in a public place (you'll find great tips on talking dirty here), or forgetting to wear an important part of your underclothes and then telling him while watching a movie is just racy enough to push boundaries yet still safe, or even buying and wearing some sexy lingerie for him (tips on choosing the perfect lingerie here).
The main thing is to decide what you are comfortable with and surprise him with this new side of you. His reaction may just surprise you in return.
3. Get Away 
A great Valentine's Day idea to share with your man is to go someplace neither of you have ever been before. It does not have to be far or expensive, just somewhere new.
Rent a room, explore the area, eat new food, talk about new things. This new place will become yours and his alone, and later when you return it can bring back good memories. If you are on a budget it can even be a section of your hometown you never explored and you can do something as simple as browsing bookstores, or go to a new theater…anything that is a new shared experience together.
2. Hide From it All 
Sometimes just locking the doors, turning off the phones and disappearing together in the confines of your own home can be the most romantic Valentine's Day idea for your man and you.
Think about how often moments get interrupted by social media, text messages, and phone calls. Turn off anything distracting for the evening. Enjoy time together with no distractions from the rest of the world.
The next morning you both can go back to hanging out with other people and texting your buddies, but for the one evening just hide away from it all. Keep it light, though. If he needs to keep his phone on for a job be willing to compromise. Remember, the idea here is to separate yourselves from the rest of the world.
1. Try Something New Together 
If you try a new and different Valentine's Day idea with your guy, you may rekindle past feelings or reinforce already strong feelings. It can be as simple as trying a completely different type of food together. Even if you hate it, the new tastes and smells will awaken your senses and you can bond over the dislike of the restaurant or the food.
Try a cooking class, or a dance class, or go indoor rock climbing. The point of this date is that it is something that you are trying for the first time together. Some new activities can awaken the senses and be erotic as well. For example getting a couple's message, or learning about aromatherapy can add a whole new element to your relationship once you return home.
One important thing to keep in mind is that the Valentine's Day idea you choose for you man does not have to be expensive, or even physical. When it comes to Valentine's day the thought really is what counts the most.
Find the perfect activity or thoughtful gift that shows your guy you really know him personally. More than the gift itself, showing him you noticed a side of him that's deeply personal or intimate may be the best thing to touch his heart. Also keep in mind, while you are taking a lot of time coming up the the perfect Valentines day gift or idea for him, he may not have put so much thought into your gift.
Be prepared and ready to push aside any feelings of disappointment if his gift is not quite so thoughtful. Just know that your creative gift this year may challenge him to be more creative next year. Either let him know in advance you are planning something special, or cut him some slack if you your gift appears more thoughtful. 
And if you have any Valentine's Day ideas for guys that you would like to share with the community, please do so in the comments!