There's a difference between wanting to spend time with someone you really like and smothering him. If you find that you're demanding your guy's attention or if you worry about what he's doing when he's not with you, then you may start acting clingy.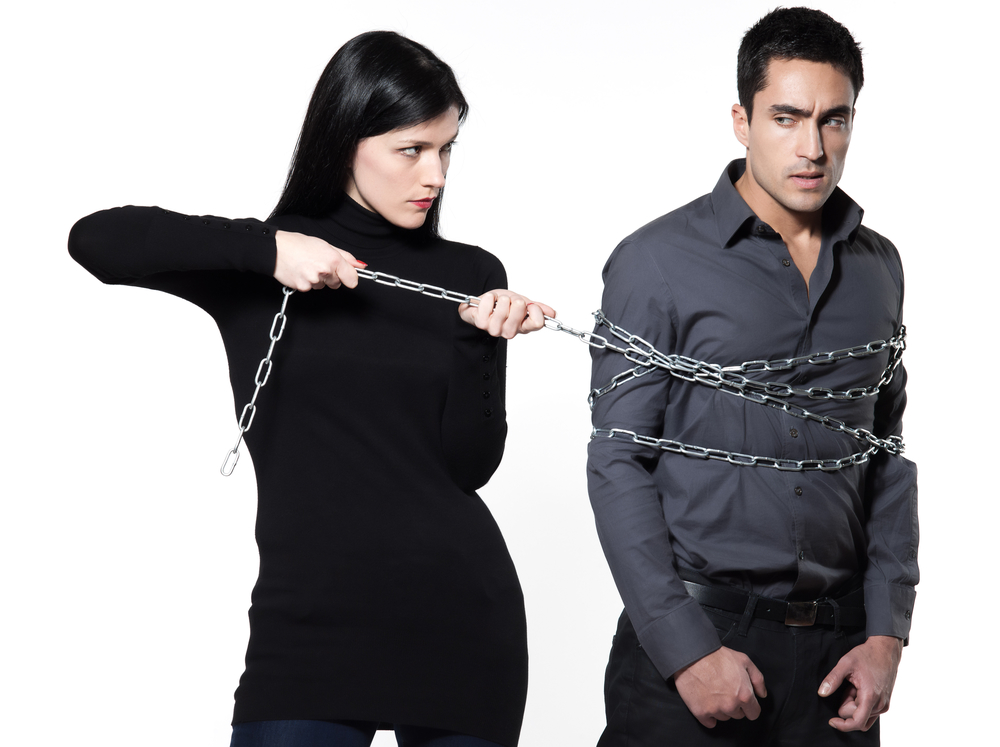 But what does clingy mean? It means you act needy and probably feel insecure, jealous and lonely. If your guy isn't available immediately, you might start to feel anxious, even rejected. You might wonder whether he's with someone else. All your thoughts might start to drive you crazy. This leads you to become clingy, demanding his attention.
But the more you demand, the less he feels like answering your calls or texts or seeing you. Your clingy behavior can make your worst fears come true: he might want to call off the relationship. And you shouldn't have to deal with a clingy boyfriend, either!
Once you figure out what clinginess means, what clingy behavior is and can acknowledge whether you act in a clingy way, you can begin to change your behavior before it's too late.
Here are some examples of what clinginess means to guys:
If you want to give your lover back-arching, toe-curling, screaming orgasms that will keep them sexually obsessed with you, then you can learn these sex techniques in my private and discreet newsletter. You'll also learn the 5 dangerous mistakes that will ruin your sex life and relationship. Get it here.
Trying to spend every waking moment with your boo
If you're in a relationship, don't make the mistake of thinking that you need to spend every waking moment with your boo as if you're joined at the hip or handcuffed together. Not to mention that your friends are likely to stop calling because they're tired of always hanging out with both of you together.
It's important for you both to have your own interests and friends and to be apart sometimes. When you insist on always being with your guy, you'll start to make him feel smothered. He might then start to become annoyed with you and even resent you for stealing away his life and friendships. Don't be that gal.
Texting him 20 times a day when he doesn't reply
When you and your guy have been texting with each other, it's OK for you to initiate the text sometimes. It's also OK to text maybe twice without receiving a response from him, especially if you need an answer to something soon. But it's a whole other ballgame if you keep texting him, like every 10 minutes or so, and he doesn't respond…AND you do this repeatedly. Now you're officially being clingy.
Also, have something of interest to say when you text him. Texting just to get a response from him might make him lose interest in you altogether. If he doesn't answer at all, or if he sends you back one-word texts, you should stop texting.
We've got some great advice about when to text in this post and ideas for how to text him here!
Calling too much
Calling your guy too much is the same as texting too much. Analyze your feelings before you make the call. Are you feeling anxious, upset or insecure? If so, you're probably calling him out of clinginess.
Once you recognize that's what you're doing, you can stop yourself. If you place the call anyway and he doesn't pick up, note how you feel. Is your urge to speak with him even greater now? This indicates you're in the clingy zone. Take a deep breath, relax and do something else besides calling him again. More tips in this article.
Not having a balanced outlook on your relationship
When you feel as if you're not getting what you want and need from your guy, you might keep trying for more, whether it's a deeper emotional connection or to see or talk with him more. Demanding this behavior from him makes you clingy and makes it more likely for him to do the opposite of what you want.
If you feel as if your guy is not meeting your emotional or social needs, seek out other people. A best girlfriend can allow you to vent what's on your mind and can be a fun person for you to hang out with. And once you're not so needy, you might find that your guy is more available.
Take The Quiz: Do I Give Good (or BAD) Blow Jobs?
Click here to take our quick (and shockingly accurate) "Blow Job Skills" Quiz right now and discover if he truly enjoys your blow jobs…

Refusing to hang out with anyone else besides your man
If you're the type who immediately ditches your girlfriends and won't hang out with them anymore once you get a guy, you won't have any friends left after a while. Your friends should not be people you just use for company when you're lonely and waiting for your guy to turn up. You can hurt people's feelings when you do that. And you'll miss out on the support true friends can give you.
If you don't want to make plans with your friends because you want to leave your calendar open in case your guy asks you out, you're doing a disservice to your friends, and you'll be coming across as desperate. Your guy might eventually take you for granted if he knows that you'll always be there when he calls.
You should be able to date your guy and still make time for your friends. Besides, your guy probably wants to keep his friends and would like you to have friends to hang out with, too, so you aren't always trying to tag along wherever he goes.
Not allowing him to spend time with other people
If you pitch a fit every time he wants to do something without you, you might be putting yourself on shaky ground. You might win the battle and lose the war. He might start pulling away from his friends and interests because you insist and hang out with you, but he'll ultimately resent you for it.
You stalk him
If you wait outside your guy's home, place of employment or class, hoping to see him when he comes out, your clingy behavior has entered stalking mode. It might be cute to do this maybe once, but he'll find it unnerving if you continually just pop up unexpectedly. This can quickly enter the realm of illegal activities.
Many guys like to pursue women, which is why it might be better to play hard to get so he won't take you for granted.
Trying to contact him when he's not with you
If your guy does manage to get away without you, but you keep texting or calling him while he's out, you might as well be there with him. This type of behavior comes from jealousy and trying to control him. Not only will your guy get a bad feeling from this, the people he's with won't be impressed with you and might try to talk him out of seeing you.
Putting pressure on him
If you consider yourself a couple before he does or are constantly pressuring him to tell you his feelings or asking him where the relationship is going after you've only just started dating, you're being clingy by moving too fast.
In the early stages of a relationship, it puts pressure on a guy if you start talking about anything to do with your future, particularly marriage, living together or having children. It can even be too much pressure to talk about the near future on a first date. This sort of talk sends the signal that you're clingy and that you come on too strong.
Most guys, when feeling pressure early on, just disengage. A good rule of thumb is to match his pace, not exceed it.
Now that you have the answer to what does clingy mean, you'll know what not to do. It's important to avoid being clingy if you want a healthy, lasting relationship – signs of an unhealthy relationship here. When you have a fulfilling life away from a guy and encourage him to have one as well, you'll both have so much more to bring to a relationship. You'll be the person he'll want to come to … not run from.
Watch This: Oral Sex Tutorial Video
I put together this in-depth, step-by-step instructional video that will teach you how to make your lover sexually addicted to you and only you. It contains a number of oral sex techniques that will give them full-body, shaking orgasms. If you're interested in learning these techniques to keep your lover addicted and deeply devoted to you as well as having a lot more fun in the bedroom, then you may want to check out the video. You can watch it by clicking here.