264 Dirty Phrases To Turn Him On, Build Sexual Tension, Massage His Ego & Have Incredible Sex

Here's How The Dirty Talking Bible Can Help Your Relationship…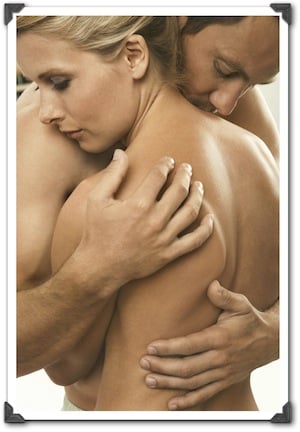 Keep The Attraction Alive
Have you ever been afraid that your man is losing attraction for you? If you are like most women, then you've probably been in a relationship with a guy that started out fun and exciting but you quickly grew less and less attracted to him over time. The funny thing is that so has your man!
Inside the Dirty Talking Bible, I am going to show you the exact phrases, words, lines and techniques to use to keep his attraction sky high for you, whether you have been dating for 3 months or 30 years.

Build Explosive Sexual Tension
The most powerful technique that I am going to show you in the Dirty Talking Bible is how to use dirty talk to build sexual tension with your man.
One of the keys to a fun & exciting relationship is building and using sexual tension so that he is literally shaking with excitement, waiting to just rip your clothes off and be with you. Is this something that you'd be interested in?

Hot, Steamy, Orgasmic Sex
Why write a book about talking dirty without explaining how to use it to enhance sex and make it more fun for BOTH of you.
You'll be glad to know that I won't be giving you any ridiculous or weird dirty lines to use on your man. I will guide you through the process of using dirty talk to arouse your man and give him a more pleasurable time in bed, all without you sounding like some crazy pornstar.

Make Him Miss You When You're Not Around
Do you ever wonder what your man thinks about when you're not around? Would you like him to be thinking of you all day long whether he's at work, on holidays or even at a strip club?
I have included 2 entire sections of the book where I will show you how to send your man dirty text messages and talk dirty dirty on the phone so that he will be desiring you even when you are not there by his side.

Get Comfortable & Confident Talking Dirty: A Step-By-Step Guide
One problem many women find is that they don't know where to start when learning how to talk dirty. Let me show you exactly what to do…
I have created an entire step-by-step process that will make talking dirty to your man easy, straightforward and a ton of fun for you as well as him.

Here's what other women think of the book
Note: I have changed some names by request
Thank you so much Sean.

Can't thank you enough my marriage was almost falling apart and I have five kids my husband loves me but he's to attracted to the outside world..

As soon as I purchased your material It started working like wonders..

Your doing an amazing job!!! Keep up the great work!!

– Gladys
Dearest sean,

Thank you sooooo much for this amazing book. I'm reading it right now and you don't know how much I appreciate this!!!!
I'm a woman from Suriname, South America, who is truly grateful

Lots of love

– Shyla
Dear Sean,

I have been married to the same man for almost 25 years. Our relationship has endured 4 kids (3 in college now), 3 whole-house renovations, job losses, career changes and promotions, relocations, infidelity, counseling, and more. But, I was about to give up just a few months ago. You see, about 3 years ago, his job took him almost 600 miles away from where we had recently relocated for his previous job. We were not going to move the kids again so I stayed in this place where I knew no one and he went off to pursue his career and keep the paychecks coming in.

That's when I found your site and started subscribing to the BadGirlsBible newsletter. Then I bought the e-books…and read everything in a few short days. I realized that I was already doing a good job of keeping him "happy" in bed. I am very comfortable telling him what I want and I go down on him regularly – and I LIKE IT.

But, it wasn't the lack of sex or satisfaction when we were together… it was being apart that was causing "problems" for him. Instead of reaching out to me for sexual release during the week, he was jerking off to porn to just get by. I have spent two decades making it clear that there was no room for any other women (real or fake) in our marriage. Porn was not an option… I had to do something.

So, I took your "dirty talk" advice and started subtly tease-texting him during the day and interjecting playful talk into our conversations at night. Then, one night I asked him to mutually masturbate with me over the phone. He was nervous and skeptical but I convinced him that phone sex wasn't weird or unlike anything we hadn't done before…it was just different because we were apart. I took the lead, got him to relax and then drove him crazy. After he climaxed ("this is fucking amazing" was exclaimed more than once), he couldn't believe that the sound of my voice narrating suggestive imagery of our real sexual encounters was actually better than watching an anonymous, staged, porn video. I had broken through. I was going to win!

Communication has become more open and I am letting the walls and fear slip away to trust and confidence once again. I keep educating myself with new ideas and have bought new lingerie and a few toys to keep things interesting. He loves it. Tonight I am picking him up at the airport for a weekend at home. In anticipation of his arrival, I started texting him last night while he was apparently at dinner with his boss and a few co-workers. I had him so worked up over 2 hours that he finally stepped outside to call me and ask me to book a hotel room near the airport (since our home is over an hour from the airport).

This is our "new normal". Thanks for the tips, confidence and new-found excitement to keep us going for another 25 years!

– Lyn
The advice that you give in this book is tremendous. It's changed the relationship between myself and a long distance "lover" I have in Puerto Rico, I live on the mainland in the United States. He is an old friend from my youth and we just started connecting about a two months ago.

There was a moment where he was starting to step back on our relationship such as it is. We started having Skype sex and with the use of some of the awesome tips that you have supplied. I'm driving him sexually insanely in love with me, he thinks about me all the time and can't wait for our next encounter. He says he doesn't know why I have this "affect" on him… but I know (wink-wink).

He wants more of me. All of our "sex" is on Skype. We are having extreme dirty talking while he watches me playing with my vibrator "Bubba". He absolutely loves it. I love putting on a show for him on Skype. I can't wait until he comes back to the U.S. I can just imagine what our sex life is going to be like in person. BTW… We are both in our mid 50's and let me tell you this it's some of the best sex I've ever had.

I just wanted to tell you how awesome the Bad Girl Bible has been affecting my life.

Damn I'm getting horny just writing this.

Your eternally greatful fan…

– Denise
Hello Sean,

I just wanted to let you know how much I enjoyed reading your book and bonuses. I hesitated a lot before buying, not because of the price but because I was not sure if it will be worth reading.

And it absolutely is!

I am a 30 year old woman and I find it great to be able to get such an insight on men's mind and how to pleasure them and make it great.

Also wanted to tell you I really appreciated the way you write and the very complete and respectful way you have to talk about relationship and sex life. As a whole.

– Steph
Hi Sean

I've been practicing the techniques on your book on my husband. I must tell you, it has been really fantastic! It saved my marriage, and I really want to thank you for the materials in your book.

I feel very lucky that I have put effort to do research and stumbled on your book, and provided me very practical and good pointers on what makes him drawn to me. He absolutely loves it, I can tell. I have not gone through have of the book, but I really look forward to more materials and practices on him.

Thank you for your book. 🙂

– Shari

Here Are The Bonuses You Get When You Purchase The Dirty Talking Bible Today For Just $37
Pornstar Sexual Confidence (normal price: $27)

What's the point in knowing how to talk dirty to your man if you don't have the confidence to try it? Pornstar Sexual Confidence will take you by the hand and show you exactly what you need to do in order to become more confident inside & outside the bedroom with your man.
A simple tip you can use to make any performance pressure melt away immediately.
The 2 things you must do if you want to become confident when giving your man a blowjob.
How to properly prepare for a blowjob, so that you are are relaxed when you go down on him.
An important technique you must use if you want to relax and enjoy getting sexual with your man.

Frisky Foreplay (normal price: $17)
Contrary to popular belief, foreplay serves a very important purpose for men. Proper foreplay will make your man orgasm a lot stronger AND HARDER than usual if done correctly. Foreplay also makes transitioning from talking dirty to your man to getting sexual with him very natural and super easy. Here is what you will learn in Frisky Foreplay:
The areas a man most likes to have kissed (

yes men do like being kissed just as much as you!

)
A 3 step solution to give your man a wonderful and long massage. You'll be blown away at how easy it is to give your man a proper massage without any fancy moves others would have you believe.
How to perform a sexy striptease for your man without feeling shy, nervous, weird or awkward. Even if you are not that confident, my method will make it super easy for you.
How to start foreplay hours before you even kiss him. This will literally have him salivating way before you actually get physical with him.

Stop Him Cheating (normal price: $17)
Why learn all these dirty talking & sexual techniques and maneuvers if your man doesn't stay faithful? This is exactly why I have included Stop Him Cheating. It will show you what you need to start doing immediately to keep him from straying.
In fact if you follow my advice properly, your man will literally become obsessed with you and cheating will never even enter his mind.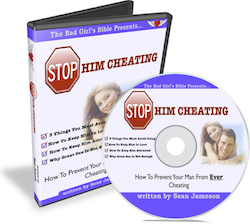 I will explain to you why listening to what he says is just not good enough, but I will also show you what you need to do in order to really figure out if he's up to no good.
You're going to learn why in certain situations, spending more time with him will actually drive him away from you. I'm also going to show you exactly why having you own life is crucial if you want him to stay faithful. YES, having your own life and interests is vital if you want your man to stay faithful! I'll show you how and why inside.

The Dirty Talking Bible Audio Version, listening time: 1 hour 57 minutes (normal price: $37)
I'm also including the audio version of the Dirty Talking Bible absolutely free so that you can listen to it whenever & wherever you want.
Most students actually prefer listening to the audio as it means they don't have to worry about hiding their screen to prevent people seeing what they are reading.
It also means that you can learn my secret dirty talking techniques anywhere… while driving, at the gym or even while you are walking your dog.

Deep Throat – The Easy Way (normal price: $27)
The last book that I'm including completely free is an important one. I decided to include it as I have been getting a stream of letters and questions from people that want to know how to give their man deep throat without gagging.
So with the help of a previous girlfriend who was amazing at giving deep throat, I have written the only book you need on the subject.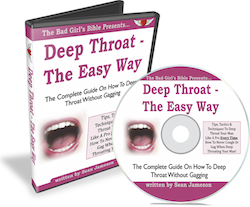 Inside you'll learn how to control your throat and gag reflex so that giving your man deep throat is just like giving your man a regular blowjob.
Knowing how to deep throat is a skill that the majority of women have no idea about. Deep Throat The Easy Way will guide you from beginner to pro in lightning quick speed. I'll show you the 3 different stages you must go through to control your gag reflex and deep throat your man like a real pro. Inside, I'm also going to show you the deep throating positions you must use to make giving deep throat 10X times easier.

The Sex Secrets Audio Course (normal price: $19.95)
For a limited time I am also going to give you free access to the Sex Secrets audio course.
Inside I will show you my most powerful sex tips, techniques, manoeuvres and ideas to use on your man to keep him constantly sexually satisfied and fulfilled. This goes beyond just talking dirty and covers things like oral sex, sex positions, sex games & more



Discreet Billing & Your Privacy
To prevent any unwanted suspicion or embarrassment, your bank statement will show a charge from our payment processor, "Clickbank" or "CLCKBNK*COM"
After you order on the secure server, you will be brought to a special access page where you can quickly and easily download the Dirty Talking Bible course along with with your 6 bonus courses. The Dirty Talking Bible and 6 bonus courses is a set of pdf & mp3 files which can be read on any PC or Apple computer, smart phone, tablet or ebook reader.
Once you download the Dirty Talking Bible and 6 bonus courses, you will be able to learn my best strategies on making your man completely addicted and devoted to you.

My 60 Day 100% No Questions Asked Money-Back Guarantee
The Dirty Talking Bible and 6 bonus courses come with a no questions asked, 60 day money back guarantee. If for some reason you decide that the Dirty Talking Bible isn't worth the paltry $37 you paid for it, just shoot me an email and I'll buy the book back back from you. No question asked, no hassles, NO FINE PRINT.
This means that you have a full 60 days to test and practice everything you've learned in the Dirty Talking Bible and 6 bonus courses and if you don't totally fall in love with the techniques you are just 30 seconds away from learning, then I will refund every cent.
I'm deadly serious by the way. I'm convinced that Dirty Talking Bible and 6 bonus courses is the best course that you will ever find on the subject of making your man obsessed with you and adoring you. If I wasn't, I wouldn't put myself on the line like this.
If you are not completely satisfied with the Dirty Talking Bible and 6 bonus courses, then I will buy it back off you. The truth is that I'm not satisfied unless you are.

This product contains adult language and situations, and is not meant for those under 18 years old.

If you need to contact me for any reason, then you can reach me at this address:
[email protected]
P.S. I'm also going to include access to my sex tips email newsletter in your purchase. Purchasers in the EU will need to tick the opt-in box on the payment form, otherwise, they will not receive the email newsletter. Unsubscribe any time.




ClickBank is the retailer of products on this site. CLICKBANK® is a registered trademark of Click Sales, Inc., a Delaware corporation located at 917 S. Lusk Street, Suite 200, Boise Idaho, 83706, USA and used by permission. ClickBank's role as retailer does not constitute an endorsement, approval or review of these products or any claim, statement or opinion used in promotion of these products.