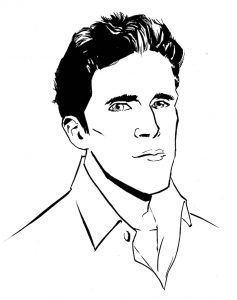 Hi,
It's Sean Jameson here. You're probably wondering who I am and what the Bad Girls Bible is all about. Let me tell you…
The truth is that I'm a pretty normal guy, I like hanging out with friends, having a beer and going to the movies. But, I also publish this website to help teach women throughout the world how to dramatically improve your sex life, have more orgasms and connect more deeply with your man.
How I Learned This Stuff
Many years ago I was in a relationship with a woman I connected with on a deep level. Everything was going great. She was fun, she made me feel like a million bucks when we hung out together, and she was a burst of sunshine the moment she walked into a room.
Unfortunately, there was one problem…
We wanted to improve our sex life and there just wasn't any good information out there. We couldn't find anything online and the selection in local book shops and library was woeful.
We talked about how, growing up in a Ireland, a country that was somewhat sexually repressed until recently, may have contributed to this. Heck, family planning books were banned in the 1970's in Ireland, condoms were illegal until 1980. Even Playboy was illegal until 1995! Thankfully, Ireland has come a long way since those dark days…
As we talked more she said something that hit me like a wrecking ball:
"It's not like they teach this stuff in school!"
It was incredible! She was right, they don't teach sex skills in school. But when you think about it, they don't teach this stuff anywhere…
Sure, those women's magazines in the grocery store publish huge lists of 'tips'. [To be honest I have read them, and most of these tips are completely ridiculous. I feel that they are doing a serious disservice to women around the world.]
You can buy a book written by 'an expert' with a Ph.D. The problem with these 'experts' and their Ph.Ds is that they have spent all their time in a lab or with their head buried reading boring academic research papers. They haven't spent time actually having sex & teaching real people how to have better sex.
Asking your friends can help. But often, you'll find that they are just pretending to know what they are talking about so that they won't seem clueless or inexperienced themselves.
And watching porn will not help. Pornography is a lie, no matter how much you want to believe it.
So, with the odds stacked against us, I decided that I was going to do everything in my power to help improve our sex life. Like a headless chicken, I purchased every DVD, book and recording I could get my hands on to try learn something new
What I started to discover was that most of these products were garbage. Each of them contained only 1 or 2 good ideas at most but often I wouldn't even learn a single good technique or idea.
Thankfully, I improvised and catalogued the techniques, tips and ideas that did work in a notebook I kept.
I jokingly referred to my notebook as the "Bad Girls Bible."
When we figured out what actually worked, things got far, far better for both of us. Very quickly, the passion ignited and we were constantly making excuses to jump into bed, all thanks to my notebook (or should I say my "Bad Girls Bible")
What happened next caught me by surprise…
One day I noticed the Bad Girls Bible was missing. Over dinner, I asked my girlfriend if she had seen it. To my complete surprise, she had given it to a close friend that was having troubles over her own.
A few days later her friend returned it with a big smile on her face. She couldn't get over the crazy effects the techniques in my Bad Girls Bible notebook had on her sex life. Her husband had canceled his regular Saturday golf date with his buddies, so he could spend the morning in bed with her.
Over the next few weeks, my Bad Girls Bible notebook went missing again and again as friends and then friends-of-friends began demanding access to it.
Then things got a little crazy. I had to start making copies of my notebook to give out. Often these copies were "lost" or never returned, so each week I had to create more & more copies as demand grew…
In my frustration, I tried to figure out a better way to share this information with the women and men who want and need it.
And that's how I came to start my sex tips newsletter (you can get it here). When I started it, only a handful of people received it each week. But word quickly spread as people started sharing it with their friends. Eventually, I started sending my sex tips newsletter to over a hundred women…then over a thousand…then over ten thousand and today it keeps growing. You can even read what people have to say about it here.
As a result of my newsletter, I also started getting lots of emails from all over the world asking me questions and looking for advice.
Note: I try to answer them all personally, but currently I have a massive backlog to get through. Apologies if I have not answered your email yet!
Eventually, I decided to create a program on how to give your man the best blow job he has ever received, as this was the number #1 reason people were contacting me (click here to check it out). You can also read some emails of praise I got about it here.
In the process, I also created the Bad Girls Bible website where you will find detailed guides on having more powerful and more frequent orgasms during sex and how to give your man the most intense sexual experiences of his life along with how to have a sex life that will make your friends jealous. We've been featured in multiple editions of Cosmopolitan as well as Huffington Post, Thought Catalog, Elite Daily, Life Hacker, Der Standard newspaper in Austria, Bustle and much more. You can also read what people are saying about the site here.
So if you are interested in improving your sex life, here is what I suggest you do:
1) DON'T just blindly buy my programs or any of my products!
2) Instead, check out some of my free tips first. If you are new to the Bad Girls Bible, I advise that that you sign up for my private, discreet and free newsletter (click here to find out more about it) to get my most powerful strategies for giving your man a great blowjob, talking dirty and having wild, passionate sex. You can cancel at any time.
3) After signing up for my newsletter, check out some more of the articles on the Bad Girl's Bible website. You'll find wonderful information on every aspect of lovemaking and sex right here.
4) If you've enjoyed my free information on different sex techniques and positions, but want to take things to the next level, then you should consider one of my wonderful products that will help you to enhance and improve your love life.
But before you even try one of my programs, please note that they all come with a zero risk guarantee. You can take any program you want, try it out and if you don't think it's for you, then I'm happy to give you a no-questions-asked refund.
To be clear if you don't like any program you purchase, I will return your payment. I'm happy to do this because I'm confident you are going to fall in love with how your man starts treating you and acting around you after using my programs.
I hope to hear about your success in the coming weeks!