I can't publish my most intense and wild sex tips online, so I send them in my private and discreet email newsletter. You can find out more here.
If you don't yet know how to use a vibrator, then you are seriously missing out on a lot of orgasms and pleasure. Using a vibrator is the perfect addition to both masturbating and your regular sex life. In fact, it might give you an orgasm if you've never had one before [1], and some women are only able to cum while using one [2]! This guide is going to teach you exactly how to use a vibrator along with what techniques work best.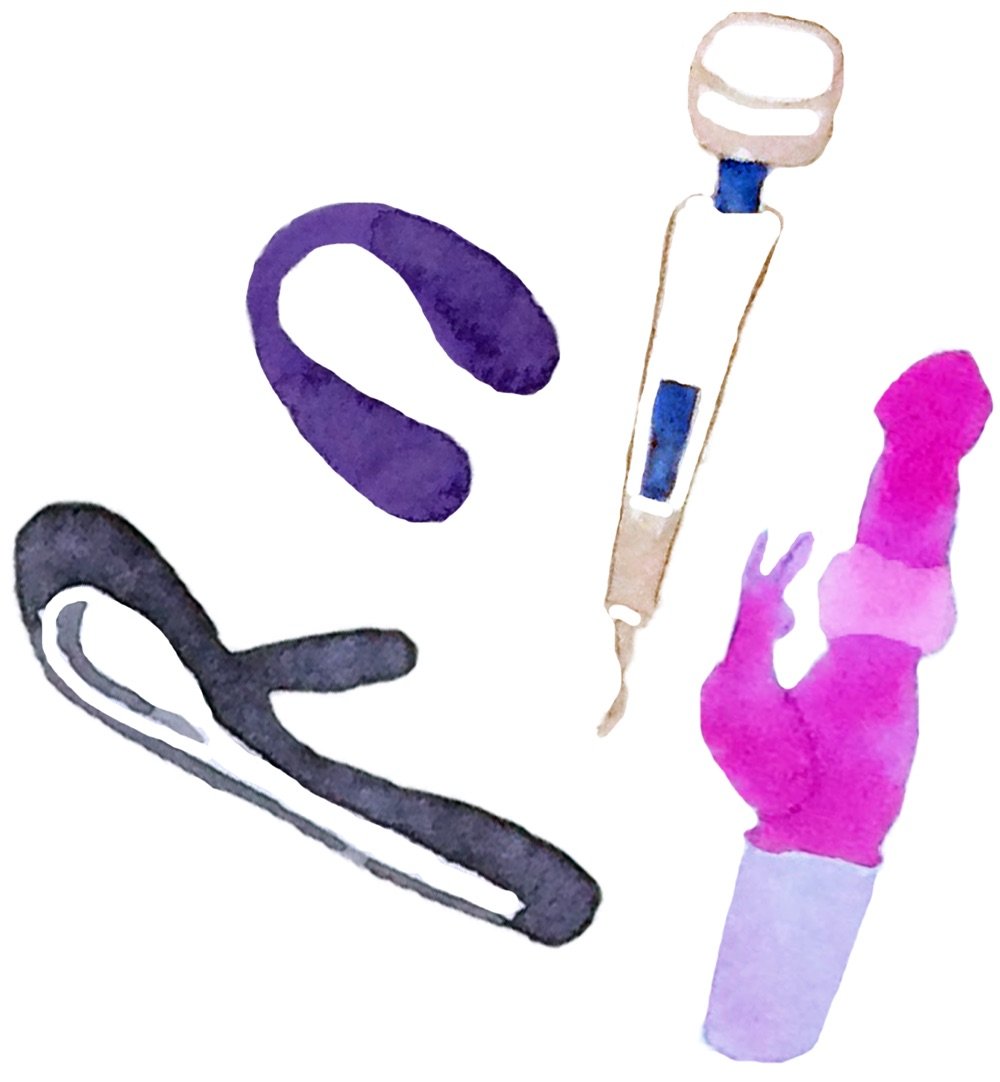 There are three sections to this vibrator guide (Section 3. is the most important)
Podcast: Using A Vibrator For More Pleasure
I recorded a podcast on how to use your vibrator effectively for the most back-arching, spine-tingling, body-shaking orgasms of your life. If you enjoy the guide below, then you may want to listen to it for maximum pleasure.
Side note: If you are currently struggling to orgasm during sex or masturbation, then you may want to learn about the Easy Orgasm Solution. It will teach you how to have multiple vaginal and full body orgasms during sex and masturbation. It works even if you currently struggle to orgasm during sex or when masturbating. You can find out more here.
Listen to more Bad Girls Bible podcast episodes here
Choosing The Right Vibrator For You
Before learning how to use a vibrator, you want to choose the one, and there are a couple of vital factors to take into consideration:
Power – The most important factor when selecting a vibrator for yourself is making sure it's powerful enough. If you currently struggle to orgasm either during sex or masturbation and require a lot of intense stimulation to get yourself over the edge, then mostly likely you'll need a more powerful vibrator.
This means that you'll need to avoid the cheap options which often don't deliver much stimulation and stick with mid to high-end vibrators that include the likes of Lelo, WeVibe, the Hitachi Magic Wand, Sybian and well made "rabbit" style vibrators.
If you want to give your man back-arching, toe-curling, screaming orgasms that will keep him sexually addicted to you, then you'll find them in my private and discreet newsletter. You'll also learn the 5 dangerous & "dumb" sex mistakes that turn him off and how to avoid them. Get it here.
Modes & Settings – Another major issue to consider before splashing the cash on a brand new vibe is what modes or settings it has. With many vibrators, you can adjust the intensity of the vibration. This is awesome as it means you can customize it to get exactly the type of stimulation you want.
On some vibrators, you can also set it to deliver cycles of intensity. This means that the vibrator will automatically change how intense the vibrations are so that you feel pulses or waves of vibration repeatedly building and receding instead of a constant level of intensity.
Most women find this to be a lot more pleasurable than the same continuous power that less well-made vibrators give. In fact, one of the biggest problems with most low-end vibrators is that if the intensity is not right, there is no way to adjust it. So it can end up being too weak or too powerful, and there is nothing you can do to adjust it.
Shape – For many women, the shape of their vibrator is not very important when using it. This is especially true for those of you who are only interested in clitoral stimulation and using your vibrator on the outside of your vagina. If you want penetration also, then obviously the shape of your vibrator is important too.
Thankfully, most stores stock a large variety of shapes and sizes, from vibrators that look like small capsules (bullets) to penis shaped vibrators to smoother forms with bumps and curves in all the right places, so you'll always be able to find the right shape for your needs.
Noise – The last thing to touch on when choosing a vibrator is noise. If you share a house with others, you will naturally want to be discreet. A noisy, loud vibrator isn't going to help you achieve this! My advice is to avoid the cheaper, less well-made vibrators is you want a quiet one.
Prepping For Maximum Pleasure
Once you've got a good vibrator, there are a few things you can do before getting down to business to ensure you enjoy maximum orgasmic pleasure
The first and most important thing is understanding what turns you on and makes you horny. This could involve things like:
Having a long, hot bath beforehand.
Reading your favorite erotica.
Setting the mood in your room with the right music, scents, and lighting
Performing some foreplay on yourself. These masturbation tips should help.
Watching porn if that's your thing.
Having a glass of wine.
Ultimately, you need to do what works for you. So if there is something not mentioned here, but it gets you horny-as-hell, then do that instead. You can find more great ideas to make yourself horny in this guide as well as tips to increase your sex drive in this article.
The other important strategy for achieving maximum pleasure is knowing your body intimately so that you understand the exact buttons you need to press to bring you over the edge into an ocean of orgasmic bliss. If you currently struggle with reaching orgasm and climaxing but want to learn how to make it super simple, then check out my mind-blowing and in-depth guide on making yourself orgasm here.
How To Use A Vibrator – 9 Intense Techniques
The key with the techniques below is experimenting with them and figuring out which ones work best for you.
1. Vibrator Foreplay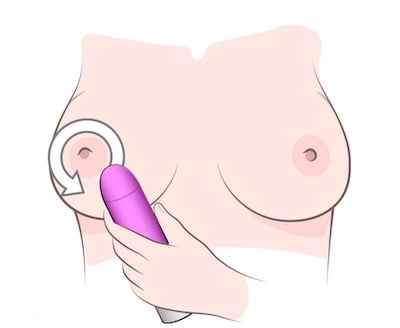 Start by softly dragging your vibrator over your most sensitive erogenous areas. These are places like your breasts and nipples and the inside of your thighs. For some people, they find that their neck, lips, stomach and even the inside of their elbows (really!) also respond well to the vibrations.
As you are starting to get aroused, start focusing more on your thighs and vagina, but don't apply your vibrator to your vagina just yet. Keep teasing yourself by gently trailing your vibrator around it, running it over the outside of your labia and above your clitoris until your body is crying out for more direct contact.
2. Gentle Teasing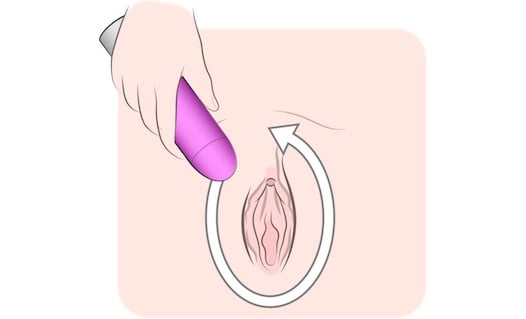 Gentle Teasing is similar to the previous technique, except this time you will be focusing more directly on your vagina but only making very light contact.
Start by applying the tip of your vibrator to the bottom of your vagina and slowly dragging it upwards towards your clit. Once you reach the top of your vagina, above your clit, slowly drag it back down. While doing this technique, your body will be crying out for more pressure and intensity, but don't give in just yet. Maintain a "feather-light" touch for as long as possible.
3. Clitoral Focus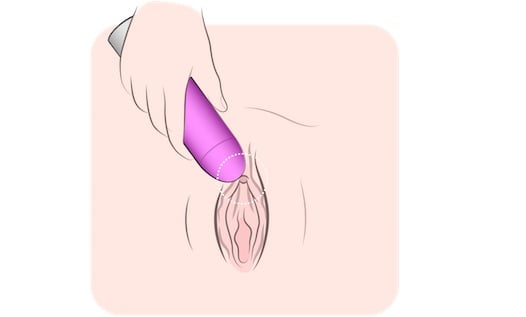 Now it's time to use your vibrator on your clit! Move the tip of your vibrator over your clitoris and start applying direct pressure to it. There are bunch of things you can do here:
You may prefer to push the tip of your vibrator into a particular side of your clit.
You may prefer to rub it over and back on your clit.
You may prefer to circle your clit slowly or very rapidly.
You may prefer to keep softly teasing yourself by applying minimum pressure.
The key is experimenting with different techniques and finding the part of your clit that feels most enjoyable and pleasurable with your vibrator. These masturbation techniques that focus on your clit will give you some more ideas of what you can do with your vibrator on your clitoris.
4. Clitoral Hood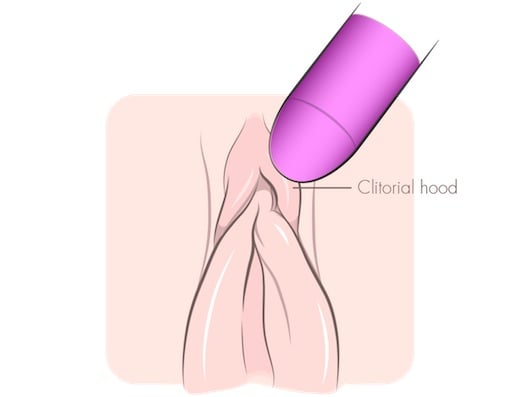 Some women find that direct contact on their clitoris is too intense and can even be painful. If you fall into this category, then don't worry, you're not alone, and there is a simple solution…
You need to use the clitoral hood as a buffer. This is the little flap of skin that covers your clitoris. So instead using your vibrator on your clitoris, use it on your clitoral hood instead. This way the vibrations will be less intense but still enjoyable.
5. Coming In From Below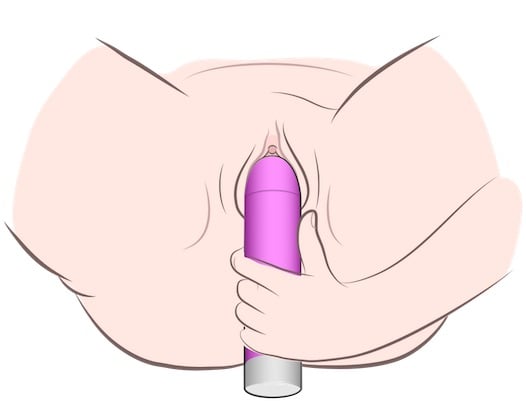 This technique is universally popular as you will be able to stimulate the entire outside of your vagina with it. You need to take your vibrator and press the length of it against your vagina. The top of your vibrator should be pressed against your clit, while the length of the vibrator is pressed against your vagina/labia and the bottom of your vibrator should be at the lower part of your vagina.
If you squeezed your legs together in this position, you would easily be able to keep your vibrator in place.
6. Cum Inside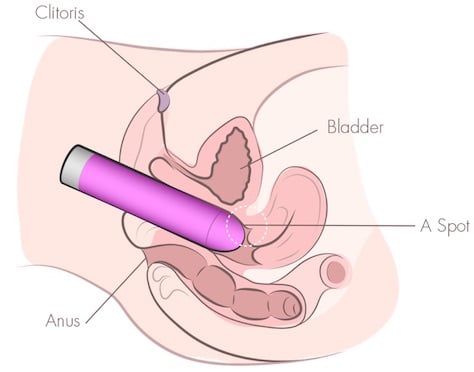 While all the previous techniques involved the outside of your vagina, it's now time to think about what's on the inside. For this, you will need a vibrator that is somewhat penis shaped and can easily enter your vagina.
Using your natural lubrication or some lube that you purchased, coat your vibrator with it and slowly push it inside your vagina. Simply leaving your vibrator to sit inside your vagina can be very pleasurable, but you'll find it much more enjoyable to apply pressure to the most sensitive spots in there, particularly your G Spot and Skene's gland area along with your A Spot, which can cause orgasm [3].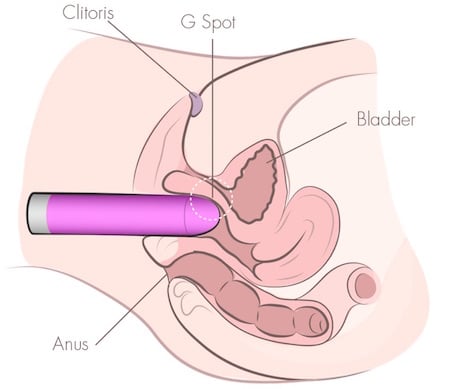 Experiment with the pressure you apply, the intensity of the vibrations and different areas inside your vagina to discover what feels most intense. If you are using a penis shaped vibrator, then you can check out the Dildo Guide here that will show you some excellent techniques that you can also use to enjoy earth-shattering, neighbor-waking orgasms.
7. Add Your Fingers To The Mix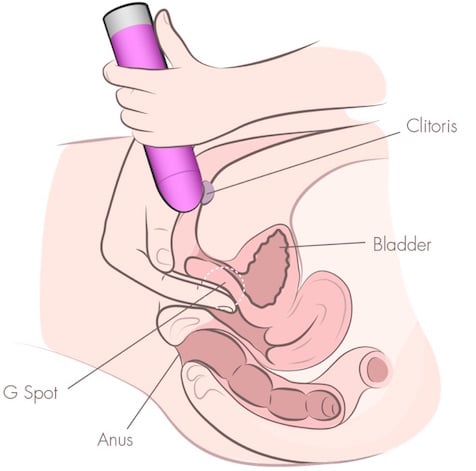 Just because you are using a vibrator doesn't mean that you can't also use your fingers. In fact, doing so only adds more pleasure to the mix. Use your fingers on one hand to stimulate your G Spot, while simultaneously using your vibrator in your other hand to pleasure your clitoris. Find you G Spot here.
Of course, you can also switch your hands around here and use your fingers to rub your clit, while pressing your vibrator into your G Spot.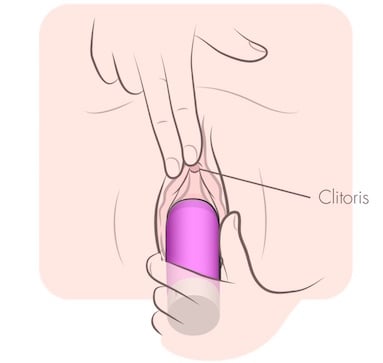 As I keep repeating like a parrot, the key is experimenting and seeing what you prefer. You may find that you prefer pressure on your A Spot or prefer to rub your labia instead of your clit. This guide on fingering yourself will give you lots of examples of how to finger yourself for maximum pleasure.
8. Use Your Vibrator For Better Sex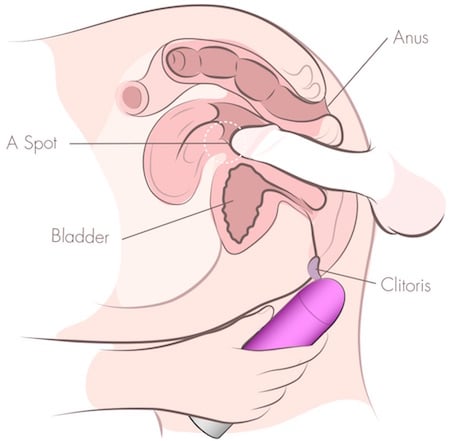 Vibrators are sometimes referred to as "marital aids", and seeing them as such is a good idea. Using a vibrator during sex can dramatically add to both your AND your man's pleasure [4].
If you currently struggle to orgasm during sex, then using a vibrator can help a lot to reach orgasm during penetration. Using it on your clitoris in certain positions like Missionary or the Coital Alignment Technique can be very cumbersome and awkward while other positions like Doggy Style or Spooning make it very easy.
If you like, your man can also take over and use the vibrator on you during sex.
Another fun option is to use your vibrator on HIM. Again this is dependent on what position you are in. If you are in a position that makes it easy, you can use it on his balls, perineum (the area of rough skin between his testicles and anus) or even his ass.
IMPORTANT: Some insecure guys think that if you use a vibrator during sex, it's because he is a terrible lover or that you need something more. This can be super frustrating, especially if you just want to try something new with him. If your man acts offended at your suggestion or seems distressed, then, unfortunately, you need to reassure him that you only want to try something new and that it's NOT him.
9. During Blow Jobs & Hand Jobs
As well as using your vibrator on your man during sex, you can also use it on him during a blow job or hand job. Here are a few ideas:
Try gently running it along his shaft and the head of his penis and watch his reaction!
While giving him either oral sex (check out the Blow Job Guide here) or a hand job (check out the hand job guide here), you can use it on his testicles, trailing it over them and caressing them with it or holding it against them with your hand.
Your man's perineum is also incredibly sensitive, so try pressing your vibrator on it. Although it's sensitive, you can use a lot of pressure which makes it more enjoyable for him.
If your man enjoys having his ass played with, then don't be afraid to use it on his ass too. You can rub it around the outside, softly press it inside or even just fully penetrate him with it. Of course, you need to clean it afterwards before using it on yourself again.
Warning
While vibrators work to enhance most women's sex lives, there is also a dark side to them that some women fall prey to.
Don't worry; I'm not talking about addiction! It's something a little more subtle.
When you start using your vibrator, you'll notice how the strong vibrations make it easy to orgasm; it's even been described as "inescapable" [5]. Over time, if you consistently use your vibrator instead of other means to masturbate and orgasm, your body will begin to adjust to the strength of your vibrator. When you switch back to using only your hands, many women notice that they can't possibly provide as much pleasure as your vibrator can, making it much harder to orgasm.
The same is true for regular sex. If your body has adjusted to the intense vibrations of your vibrator, then you may begin having difficulty climaxing as your man can't provide nearly as much stimulation. This dependency on your vibrator can be frustrating and even doctors who recommend vibrators to couples are advised to prepare them for this possibility [6]. Of course, the solution is simple, stop using your vibrator for a few months and your sensitivity will return.
The last thing to say on this guide to using your vibrator is that it was very in-depth and covered a lot of areas. Often when you're about to use yours, you're already horny, so you can skip all the foreplay and preparation that I discussed at the start of the guide and go straight to the techniques you enjoy most.
Orgasm Every Time. Easily. Here's How...
I want to tell you about my friend Karen.
Karen came to me one day. She was hysterical.
She told me that her marriage was falling apart because she and her husband didn't have satisfying sex.
Every time they were intimate, Karen was faking her orgasms. It turns out she couldn't orgasm during sex.
In fact...
She never had an orgasm in her entire life. Not one!
This left her feeling embarrassed and ashamed. And...
She completely hid this from her husband. Thankfully...
It turns out that there is a way for any woman to orgasm. Easily. And have multiple vaginal and full body orgasms during sex and masturbation.
I shared the process with Karen.
After she followed the simple process, she could barely come to terms with how...
Quickly and dramatically her sex life changed.
We met up a few months later and...
She would not stop talking about it,
"I thought I was one of those women who couldn't orgasm. I used to think I was 'broken' and 'unfixable.' This saved my sex life, and that saved my marriage."
Even if you currently struggle to orgasm during sex or when masturbating, this process will also work for you.
And best of all, you don't need to do anything weird or uncomfortable to start having the best orgasms and sex of your life.