There is a massive difference between giving your man oral sex and sucking his dick. Oral sex is certainly a sensual and enjoyable experience for your man while sucking his cock is a more intense, erotic, inhibition-free, animalistic act…And that's what this guide is all about, showing you how to suck his cock with this wild, intense enthusiasm.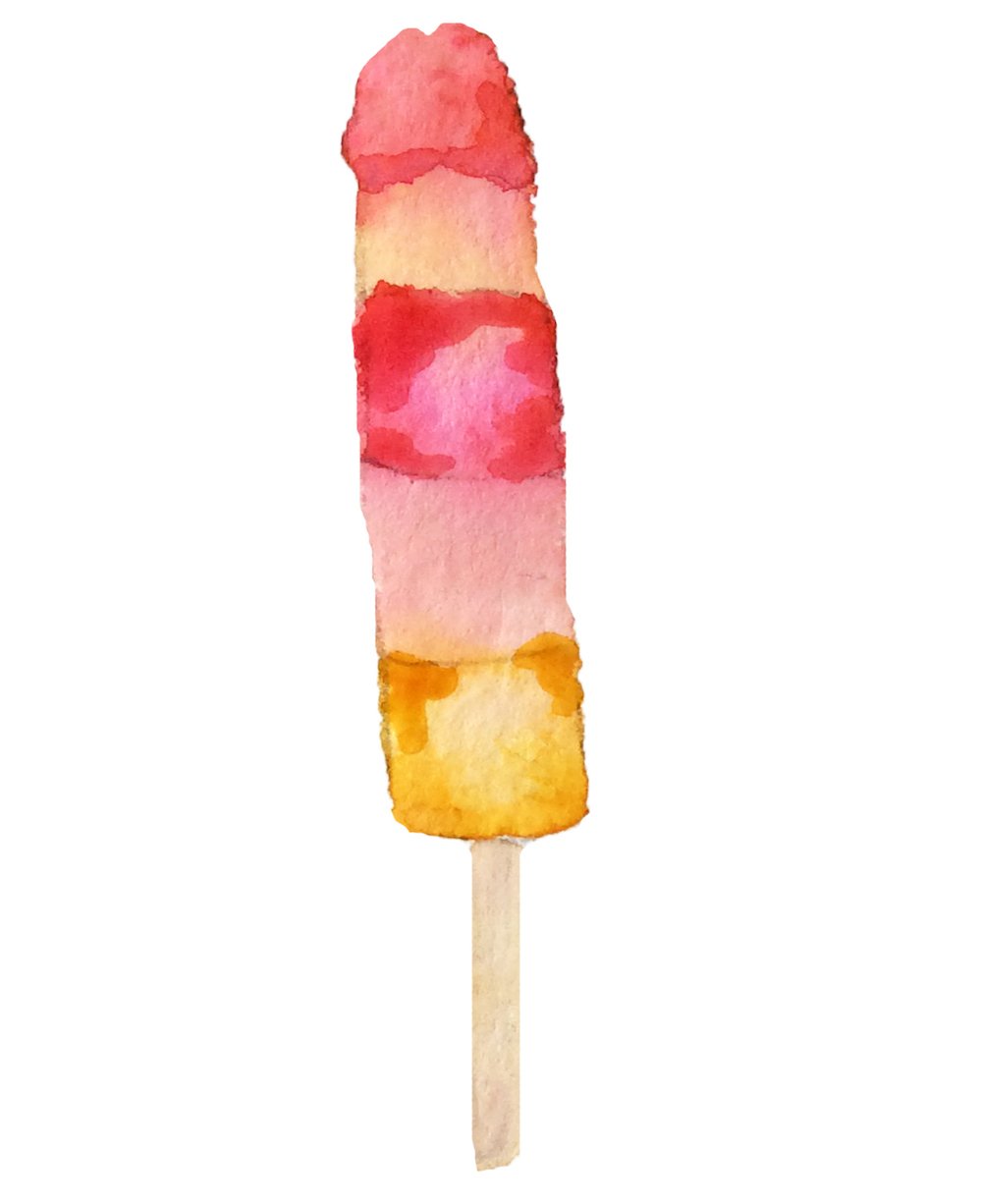 This page is Chapter 5 of the Blow Job Guide, and it's going to teach you everything you need to know about how to suck cock in a way that will leave your man wondering if you were a pornstar in a former life.
If you'd prefer to learn some easier techniques for giving him oral sex, then I suggest you start in Chapter 1, which will give you an overview on giving him a good blow job, and then work through Chapter 2 which will teach you how to start sucking cock properly. When you've finished that, head over to Chapter 3 to learn 55 cock sucking techniques that will blow his mind, while Chapter 4 continues the dick sucking tutorial with tips about finishing him off.
Now let's jump into this part of the cock sucking tutorial and learn how to suck dick in a way that will leave your man breathless.
Rule #1 – Take The Initiative
The first rule for sucking cock like a pornstar is being able to take the initiative and start blowing him without any prompting from him. Taking the initiative works incredibly well for many reasons.
You know that feeling when your man just can't take his hands off you and just "has to have you?" It's irresistibly hot to be desired by someone who can't control themselves around you. He experiences those same feelings of being desired when you take the initiative and start sucking him off when he's not expecting it. So use this to your advantage.
Related: 9 Ways to Initiate Sex
Another reason is due to the power and pleasure many women feel when giving their man oral sex. A recent study has shown that over 30% of women enjoy the feeling of power they get when they are sucking cock [1], and in another study, 28% of women reported that they find the act of giving their man oral sex to be very pleasurable [2]. So if you already enjoy these feelings of power and pleasure when sucking his cock, this is another reason to take the initiative.
Here are a few examples of how you can take the initiative and start sucking your man's cock:
BJ Surprise – Let's say you're both sitting at home, watching some TV. When he's least expecting it, cuddle up beside him and start massaging his crotch with your hand to get him hard, before pulling down his pants and giving him a blow job.
Road Head – The next time he is driving you home at night, do the same. Start massaging his testicles through his trousers, before unzipping them and giving him some road head. Just make sure you aren't breaking any laws! This idea works equally well if you are both sitting in the back of a friend's car 😉
Morning Wood – Let's say you wake up before your man on a lazy Sunday morning, why not wake him up with a surprise BJ? Discover more ways to have fun morning sex.
A little bit of planning ahead of time goes a long way if you want to wake him up by sucking his cock. Most importantly, think about sleeping naked together (learn the benefits of sleeping naked), as this makes everything super easy. Otherwise, you may wake him as you take off his pajamas/briefs and "blow" the surprise.
Once you have his pants off, you'll need to very quietly make your way down to his groin. Then it's a simple case of taking him into your mouth and sucking him off as you usually would.
My one dick sucking tip when giving your man a morning blow job would be to go softer and more slowly than usual. This way, he should wake up more slowly…or he may even climax before he fully wakes up, making it a brand new experience for him.
Note: My advice is to talk about a morning blow job first with your man before attempting it. Otherwise, he may get a shock when you go down him…potentially causing injury…or worse, perhaps he's in that small minority of men who don't want to experience it.
Rule #2 – Animalistic Enthusiasm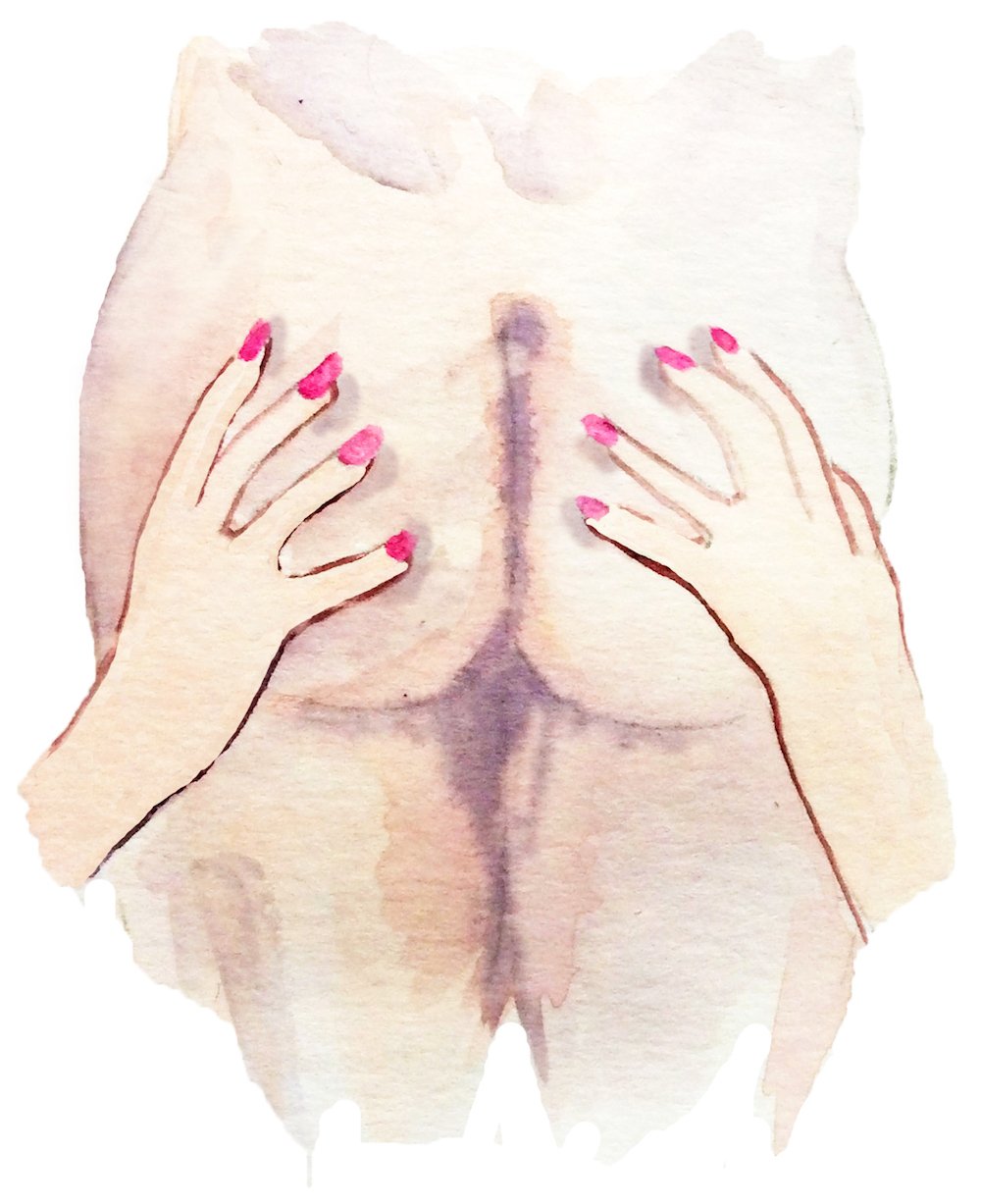 The next technique for sucking his cock in a way that totally blows him away is making sure you do it with a high level of animalistic and almost insatiable enthusiasm.
Most guys see this (enthusiasm) as the single most important dick sucking tip that you can use in the bedroom [3].
One Redditor even explains how she's been told that the "main factor" that contributes to the quality of her blow jobs is that she enjoys giving them [4]. Other users chimed in that this enthusiasm is "at least 50% of what makes a blowjob good."
I talk more about how enthusiasm is a vital component to giving a satisfying blow job in Chapter 1 here, but to further explain how important it is, I want you to do something. Imagine this scenario…
Your man hasn't seen you for almost an entire week, and you're waiting in your place for him to arrive. When he opens the door and lays his eyes on you, he immediately rushes forward and grabs hold of you. As he embraces you, he leans in, and gives you the most intense kiss you've ever received.
But he doesn't stop there, he picks you up and brings you into the bedroom, tears your clothes off and has his way with you. You don't want him to stop for a second, and even if you tried to stop him, you probably couldn't as he is acting on every animalistic impulse in his body. There isn't a single logical thought going through his head right now. It's just pure testosterone and lust running through his veins.
There is something ridiculously hot and passionate about this…his unbridled enthusiasm. When you reverse the situation above, and you become the aggressor, the one who acts out of pure lust, and you attack your man with animalistic enthusiasm while sucking his dick, you can make it an experience that surpasses anything he could ever imagine. Even if you aren't using new techniques or positions in the bedroom…it can make a dull sex life into a highly charged one.
Note that if you're not sure if you suck cock good and are skittish or constantly ask for feedback, it might not be as hot for him. However, you can use dirty talk to gauge how much he's into what you're doing, speaking of dirty talk…
Rule #3 – Talk Dirty

Another way to make the experience feel magical for your man is to talk dirty to him while sucking his cock. While the Dirty Talking Guide goes into great detail teaching you exactly what to say and how to say it, here are a few guidelines that work great for talking dirty to your man while sucking him off…
Tell Him What You're Going To Do – Before you even meet your man, you can start building anticipation with him by getting his mind thinking of you AND what you've got planned for him. If you're on the phone to him, you can let him know that you have something planned for him later. But don't let the cat out of the bag just yet! Try to be a little vague about what you're planning so that he keeps thinking about you and trying to figure out what you meant.
If you're messaging him (get other ideas for sexy text messages), try sending one of the following, "I've got a little surprise for you later!" or "I've had you on my lips all day, can't wait to see you later!" or even "Don't make any plans for later. I need to see you."
Tell Him How Turned On Your Are – This works fantastically well both before you meet him and when you're together. Again, you can either call him or message him…but in general messaging is easier. Try sending one of the following messages to him, "Ugh…I wish this day would just end! I'm too horny to be in the office today," or "I'm sitting here at my desk, and all I can think of is wrapping my lips around your cock."
Tell Him How Much You Enjoy It – Now that you've used dirty talk to amp up the anticipation and have your man salivating and eager to feel your lips on him, it's time to use dirty talk to enhance your blow job. The best way to do this is to tell him how much you're enjoying it and how much sucking his cock is turning you on. Here are a few examples:
"I love feeling your cock in my mouth!"
"I want to feel you explode and cum all over my face."
"Just having your dick in my mouth makes me so f**king wet!"
"I want to feel you throb in my mouth when you're cumming!"
"I want to be on my knees every day for you."
If you're not sure that you can suck dick well, the enthusiasm you show by talking dirty can push your blow job from one that's just okay to one that's super hot!
You can whisper these dirty talk phrases in your man's ear before you go down on him, or you can say them midway through. You can learn more dirty talking phrases and examples in Chapter 2 and Chapter 3 of the Dirty Talking Guide.
Use Dirty Talk to See If He Likes It – If you've read Chapter 4 of the Blow Job Guide, then you've already covered "Sucking Dick 101," and know how important communication is when you suck his penis. Some people shy away from talking about sex because it can be difficult or awkward.
Dirty talk can actually make it easier to get feedback.
How?
All you need to do is simply ask if he likes what you're doing or if he wants more. You can even try two techniques and have him let you know which he prefers. Then use his responses to start sucking the good dick.
Your Head In His Hands
A super powerful way to intensify this oral sex experience is to allow your man to take control and dictate things. You can do this by getting your man to hold your head while you keep your arms down by your side or even tied behind your back. Learn more kinky sex ideas here and some BDSM ideas here.
Now that your man is in control, he can dictate how fast you suck his dick AND how deep you take it. All of this is perfect if you enjoy your man being in total control, but it's not so much fun if you have an overactive gag reflex…unless, of course, you like the idea of throwing up midway through.
Some people call it skull-fucking or face-fucking when your man is in complete control and can "fuck your mouth," especially when he gets aggressive, but we see it more like a simple act of submission, of handing over power to your man.
One Redditor expands on this, saying how she loves face fucking because that "feeling of your throat being entirely filled up with a hard cock and not gagging is absolutely amazing [5]."
If the idea of submitting to your man turns you on and you know he respects you enough not to go too fast or too deep, then putting your head in his hands and handing him control can be incredibly erotic, arousing and fun for both of you.
Related: Discover How to Be More Submissive to Your Man
However, you don't want to jump into this haphazardly. If you are curious to try this with your man but are nervous about having your hands tied behind your back and losing all control, then try it while holding a bell in your hand. This is in place of a safe word, which you won't be able to use…because his dick will be in your mouth.
When you feel uncomfortable or want your man to stop, you can ring the bell to let him know you need a break. Explaining all this to your man ahead of time is vital.
Or he could simply bind your hands with thread, which you will be able to break easily enough if you need to.
Even if you do want to try this, it's smart to use caution. Let your man know if you're into the idea but need to practice it over a few sessions. Or perhaps you leave it for the very end of the blow job.
One Reddit users warns that you "should NOT do this until you feel you have begun to master the basics of deepthroating, because your muscles will NOT have gotten used to the action and you WILL bruise your throat [6]."
Turn The Tables, Take Control & Dominate Him
Of course, control can work in the opposite direction too 😉
If might seem like you have to be submissive when you suck a cock, but that's not true! You can be the one to take control and dominate your man. This goes beyond taking the initiative that I talked about earlier in this Chapter. And…
There are plenty of ways to take control and dominate your man:
Bondage – Just like your man can tie your hands behind your back, you can restrict your man too. There are multiple ways to do it, but my advice is to start with the least intense ways first and build up to more intense bondage when sucking his cock. Here are a few ideas:
Get him to sit on his hands while you suck him off.
Tie his wrists behind his back or even use handcuffs.
Tie him by his wrists and ankles to the bed.
Make sure that if you are tying his wrists/ankles to the bed that you don't use materials that will restrict his blood flow.
Get more ideas about tying up in our guide to light bondage.
Tease Him – A fun and somewhat vanilla way to dominate him while sucking his cock is to tease and tantalize him before and during it. I talk about this a bit in Chapter 2 and more in the tease and denial guide.
Here are a few quick cock sucking tips to tease him in the build up, before you start sucking his cock:
Tell him what you've got planned for later in as much detail as possible, so he can begin to fantasize about it. More tips on talking dirty.
Get a little grabby with him when you're out and about together, to start turning him on.
And here are some tips you can use during your blow job to tease him:
Stop. That's right, midway during your blow job, simply stop and do something different (but still intimate) until he asks you to continue. An example of this would be to go from sucking his cock to doing something less stimulating, like cuddling him. All he will be able to think about is you taking him in your mouth again.
When he is close to cumming, start to edge him by doing something like gently kissing his penis or balls instead of blowing him. I talk more about edging in Chapter 4 on how to give him head and make him cum hard.
Make Him Beg – Making your man beg can be a lot of fun or…awkward. It all depends on what you and your man's preferences are. So don't feel that you must use this idea.
If you enjoy wielding power over him and he enjoys it too, then most likely, you'll have a lot of fun.
Here's a bunch of different ways to make him beg you for a blow job if you are into this idea:
Ask him to say "please" if he wants a blow job.
The next time you are on your knees before you start sucking him off, ask him to beg, to say, "please suck my cock."
While sucking his dick, stop and tell him that you won't continue until he says, "Please don't stop. I'm begging you to continue."
Of course, these are just examples. Feel free to make him beg in any way you want.
Make Him Promise – Making your man promise you something during a blow job is a really fun way to feel the power you have over him. It's also quite similar to making him beg you.
When you can tell he is close to orgasm, slow down, so he doesn't come, then make him promise you something like:
"I'm not going to let you cum until you promise to go down on me every night this week."
"If I let you cum on my face, you have to promise to give me a 30-minute massage tomorrow night."
"Before I let you cum, I want you to promise me something: Promise me that you'll…"
One crucial thing to keep in mind when making your man promise you something when you go down on him is that…
The promise must be something small & fun.
If you try to manipulate him or make the promise something huge, things will start to get weird, and it will kill the vibe you are trying to create. So, keep the promises small & fun.
You can learn more ways to dominate your man in the femdom ideas guide and this article on how to dominate your man in bed.
Deep Throating
I'm not going to talk too much about deep throating your man right now, as Chapter 7 is devoted to deep throating.
All I will say is that if you don't have a super-sensitive gag reflex and are with a man that you trust, then you should try it at least once. Deep throating provides your man with yet another set of sensations when sucking his cock that will help make him see you as a sexual goddess.
Get Sloppy – When you take your man deep into your mouth and throat, you will naturally stimulate your gag reflex. This can make you gag, BUT it will also make your mouth produce a lot of saliva.
This excess saliva can make your blow job feel quite messy as it runs out of your mouth, but…
Many guys find this messy/sloppiness to be super hot and arousing. Take it from one Redditor who describes "Messy blowjobs are awesome[…]Ugh, my dick would nearly explode from how hard it was during the session [7]."
The excess saliva also acts as a lubricant, making your cock sucking feel far more intense than usual. You can even take some of this saliva on your hands and use it to massage his balls or make fingering his ass more enjoyable.
Some guys like gagging – Many women are afraid to deep throat their men because they don't want to gag. They think it may be unattractive or unsexy for their man.
The funny thing is that…
Lots of guys adore hearing their partner gag. It turns them ON, not off.
So experiment and see if your guy enjoys hearing you gag (or just ask him).
Of course, if you don't enjoy gagging, feel free to ignore this idea.
If you want to learn more, then check out the deep throating guide (Chapter 7) for a step-by-step guide on how to do it with style!
Prostate Pleasure
I've already briefly covered stimulating your man's prostate when sucking his cock in the blow job techniques section, and I cover it in detail in the guide for milking your man's prostate, so I'm not going to repeat myself here.
All I will say is that some men go crazy for prostate stimulation, and doing it while sucking his dick is something that most men will sadly never experience. If you can be the person that gives him this experience, it puts you in a very powerful position.
Podcast: Foundation For Sucking Dick
In addition to reading the guide below, I hope you will listen to this podcast I recorded that will teach you my 11 most important tips for giving your man the perfect blow job. I also cover the horrendous mistakes women make BEFORE they even begin their blow job.
Listen to more Bad Girls Bible podcast episodes here.
Human Cock Ring!
Cock rings are a super popular sex toy among men and with good cause. One of the most enjoyable aspects of cock rings for your man is that they give him new sensations as he orgasms, helping to keep things fresh. I explain more in my Cock Ring Guide.
What I want you to do is…
Use your hand to make a "human" cock ring as he climaxes and allow him to experience these new sensations.
Here's how to do it:
When you can tell your man is about to cum, wrap your thumb and index finger around the base of his cock to make a "cock ring" and squeeze firmly as he begins cumming. You don't want to apply too little pressure when doing this, but you also want to make sure not to use too much pressure that it stops him from ejaculating altogether.
To be clear, you will be squeezing your "cock ring" around the base of his penis, and you won't be jerking him off. You need to keep it in the same place.
Figuring out how much pressure your man enjoys takes some practice, so make sure to talk to your man and get his feedback on your technique.
You can also experiment with how many fingers you wrap around his dick.
Human Ball Stretcher
Similar to making a cock ring with your hand, you can also make a ring with your index finger and thumb at the top of a man's testicles when you suck his dick.
As he cums, you can then SLOWLY and VERY GENTLY pull down on his balls WITHOUT squeezing them.
For some guys, this dramatically intensifies their orgasm.
Others don't enjoy it so much.
As always, make sure to talk to your man, get his feedback, and figure out if he enjoys this technique or if you should focus on other cock sucking techniques in the future. You can always try these testicle massage techniques, instead.
The Finish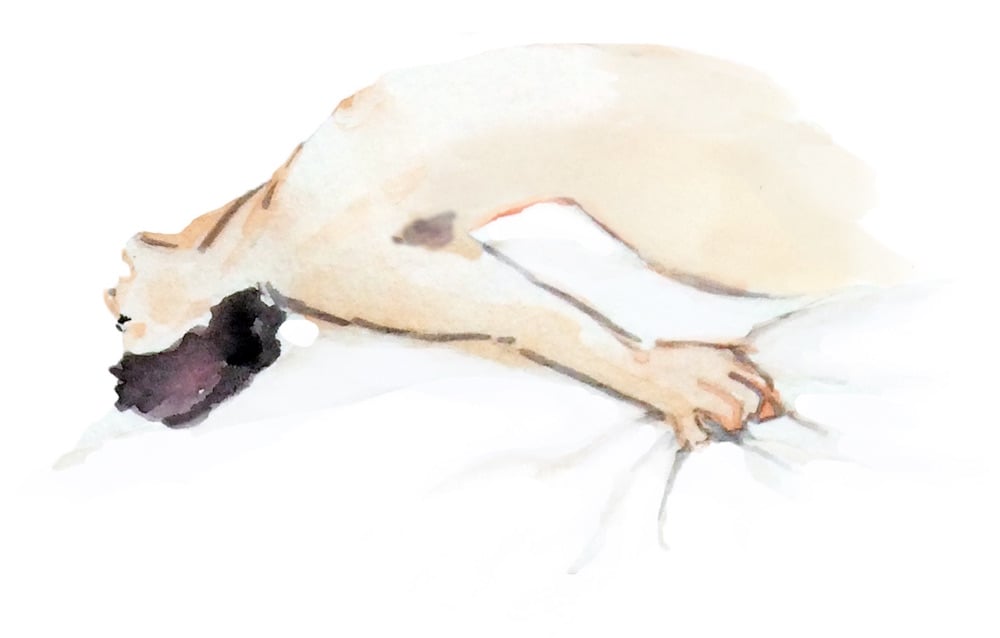 If you've successfully used all the dick sucking techniques in this guide, then it's all built up to this moment. And if you finish him off just right, you can give him an orgasm so powerful he'll get amnesia [8] and he'll brag about how you can suck dick like a pornstar.
While giving him a regular blow job, you'll probably just spit or swallow his load or finish him off with a hand job as I explain in Chapter 4, the chapter on finishing your man off in style. But, when you're sucking his dick, you're putting on a performance for your boyfriend. You're trying to be his very own pornstar!
Psst, not sure whether to spit or swallow? Discover the pros and cons of each. Pay attention to his diet. If the taste of his semen changes with what he eats and drinks, you may want to avoid swallowing the next day, even if you normally swallow [9].
With this in mind, here are a few additional ideas you should try when your man climaxes so that sucking his dick becomes a piece of performance art.
Swallowing With Attitude – As I mentioned earlier, you can just swallow your man's load when he ejaculates. But to make it more intense for him, try swallowing it like you haven't had a drop of water in days and are desperate to have his cum inside you. The moment he climaxes and explodes in your mouth, swallow it while still sucking for more. When your man sees how desperate you are for his cum, it can seriously intensify his orgasm.
Show & Swallow – Another powerful way to swallow your man's load after he finishes in your mouth is to first open your mouth and show him his cum before you then swallow it.
Licking Your Lips – A simpler way to finish him off while making it incredibly hot is to have him cum in your open mouth. Then after you swallow his load, lick your lips, and ask him, "When can I have some more?"
Facial Plus – Letting your husband cum on your face can be incredibly hot for both of you. But you can make it more intense by having him cum on your face, then collecting it on your fingers and licking your fingers clean.
Direct the Facial – When he is about to cum, take his penis in your hands. Pull him out of your mouth and aim it at your face to give yourself a facial.
Rubbing It In – Another super erotic way to finish off your man when sucking his dick is to have him cum on your breasts or stomach and then start rubbing it and massaging it around your breasts and stomach, putting on a show for your husband. You can even use it as lube and start masturbating with it. Check out the Masturbation Guide on masturbating for incredible orgasms.
Snowballing – Snowballing can be the wildest, most intense experience of your man's life, or he may vomit from it. To "snowball" your man, you need to hold his load in your mouth after he cums. Next, you kiss and make out with him, sharing his semen with him, sensually tonguing and pushing it into his mouth.
If you struggle with the taste of his cum, you may not want to swallow. There is a post on Reddit about blowjobs that advises that you have him ejaculate further into your mouth so you can swallow his cum immediately and deal less with the taste [10].
Now that you know how to suck dick like a pro, you may be interested in learning some awesome oral sex positions from Chapter 6 that you can use to spice up a blow job. You can also learn how you can finish your man off in style so that you give him the most powerful orgasm he has he experienced. Chapter 4 will teach you how.