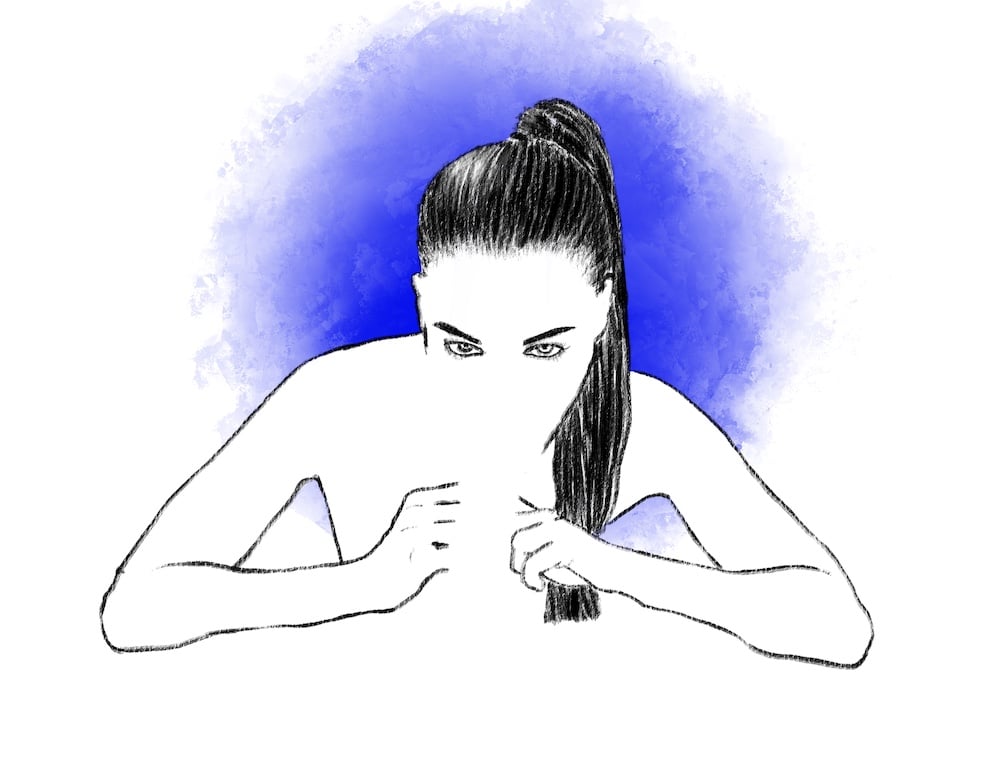 If you have read the other nine chapters of the Blow Job Guide (Chapter 1 is the best place to start), you will have learned everything there is know on giving your man great oral sex. This is the very last chapter of the Blow Job Guide. You can skip to Chapter 2, 3, 4, 5, 6, 7, 8 & 9 by clicking the numbers.
Ever since I first published the Blow Job Guide, I have gotten countless pieces of advice, techniques and tips from readers who have their own stories on how they give their men incredible fellatio. Below are the most helpful comments from readers. By the way, if you have a helpful tip yourself, please leave it in the comments section below.
1. After The Show
This one is from Ashli
Just before the last act of the stage theater behind, I whisper that I can't wait too have his cock in my mouth. Then slowly rub is leg during the performance. When he looks at me I slowly lick my red lipstick and sensually open my mouth. He squirms and can't wait for the show to end.

And I'll tease his cock in the car with through his pants wish my finger nails. He blows his load the second we are home when I put him in my mouth. He had no recollection what the show was about.
2. Hard Day At Work
A comment from Sue
I have a something that I would like to share.

If you want to give your man back-arching, toe-curling, screaming orgasms that will keep him sexually addicted to you, then you'll find them in my private and discreet newsletter. You'll also learn the 5 dangerous & "dumb" sex mistakes that turn him off and how to avoid them. Get it here.

When my man is feeling a little down, bad day at work or whatever; I always want to show him how much I love him and want to make him feel amazing. So what I do is I start slow, kissing and touching my man all over. I kiss his neck up to his ear lobes and then slowly move down his body; I take him in my hands and slowly tease him too build things up even more. when I have him really turned on and is ready to go a little harder (No pun intended) I take him with both my hand and firmly twist my hand in opposite directions; right hand twisting to the left, left hand going right and moving upwards to the tip. Then I use my mouth to suck hard on his tip using my tongue fellatio his tip. This drives him insane, nothing makes him moan so load and cum quickly. =)
3. The Stop/Start
Diane posted this first fellatio story in the comments section…
First off I love giving blow jobs. I love how it feels in my mouth, how it tastes and how I make the men feel. Usually the guy doesn't know I want to give just as much as he wants to receive.

To me giving a man a blow job is a totally submissive thing. I do not use it for foreplay, once I start he knows I will finish. Once we where at a movie theater in the back row. I got him so close but before he could finish people came in. We stopped and I started again on the drive home but again we where interrupted by a cop pulling him over for weaving. The cop had to know what I was doing but he didn't say anything and gave just a warning.

The guy was crazy excited. I knew he had "blue balls" and so wanted to finish so we parked and I went at it again. He jerked and grunted and told me later that was the most fantastic orgasm he ever had. The build up, the stop and starts. Having to talk to the cop with a throbbing erection, wondering if I would do it some more just drove him crazy.

I have practiced this on many guys since but I tell them before, just be patient. It may take all night, off and on, but at the end you/we will get the reward.

Then I moved in with a guy and we started letting it go for a day then two then a week. I would play with him, suck him, let him enter me but never let him complete. I would of course one way or another but after a few days the guys attitude completely changes. I controlled when he came and the anticipation. drives them nuts. And the attention they give you during this period is awesome!
4. A Very Loving BJ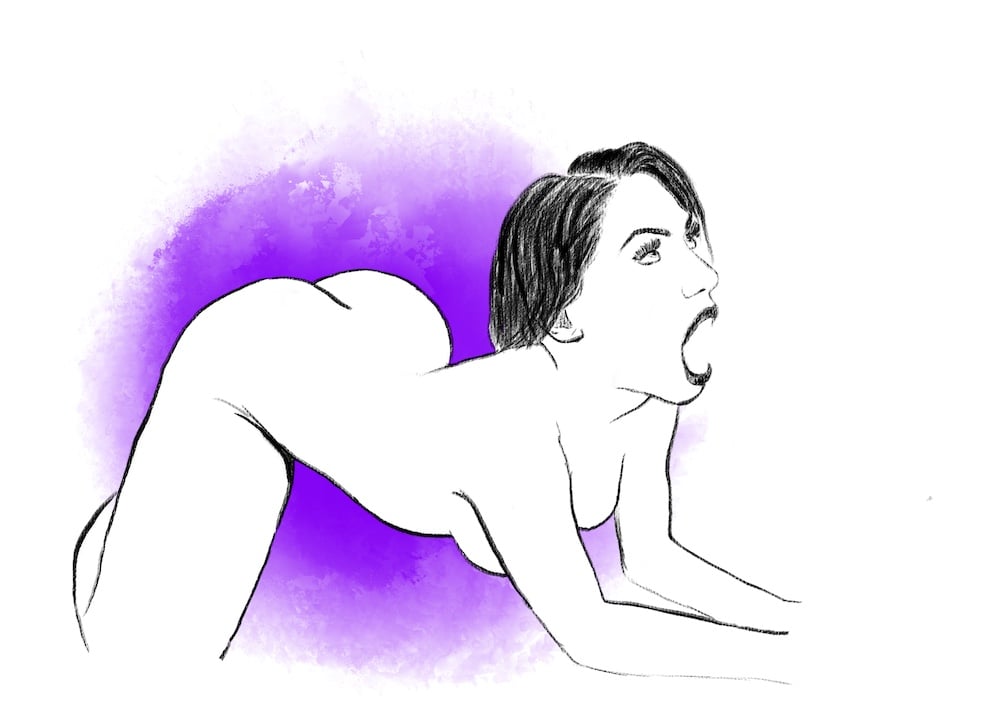 This story was sent in my Pamela (name changed for privacy)….
Here's something I've done a few times to really knock the socks off my man that I think your readers will enjoy.

When I know, my man has had a long and hard day, (no pun intended!) and he gets off work I want to show him how much I appreciate everything he does for me. Of course, I could just tell him how much I appreciate him, but, actions do speak louder than words!

He usually likes to sit down on the couch and watch TV before bed, so this is when I deploy my unique fellatio routine.

First, I walk over to the sofa and straddle him so I can tell him how much I love him, before giving him a few kisses. Nothing super intense or long or overly passionate. Just some kisses so he knows how I feel about him. (Learn more tips on building up to and starting your blow job in Chapter 2)

Next, I reach down with one hand and start to massage him between his legs. If he's had an especially stressful day at work, it can be a lot of trouble getting him hard, but most days he's like a flag pole 🙂

Once I can feel that he's hard, I then get down on my knees and pull his jeans down. Well, I try to pull his jeans down. Sometimes this can be a bit awkward, though, lol!

Once I have them off, it's time to get to work! I usually start by licking all the way from the base of his penis to the tip. And when I say base, I mean the part behind his testicles. I lick from there, over his balls, up the shaft of his penis and to the head of it.

Sometimes when I get to the tip of his penis, I give it a few seconds of extra attention before starting at the bottom again. I try to do this "bottom-to-top" motion super slowly, so I draw out his pleasure. (Note from Sean: You'll find a lot more great oral sex techniques like this on in Chapter 5)

After a few minutes of this, when he's awake and into it, I take his hands and hold them while taking about 2-3 inches of him in my mouth. Then I just move my tongue around his cock, around and around. That's all I do. There's really no secret.

There's just something so intense and intimate and passionate about holding his hands while I perform fellatio on him. It feels like a combination of doing something loving and caring and intimate and sexy for my man all rolled into one.

Then when he climaxes, he squeezes my hands extra hard, starts cursing like a bandit and cums in my mouth. (Note from Sean: Chapter 4 will teach you more intense ways to give your man a powerful orgasm at the end of your blow job)

And that's how I perform fellatio on my man. I hope my story inspires others!
5. Deep & Slutty
This next one was sent in by Sandra (name changed for privacy)…
I love when we have our date night on a Friday or Saturday night, and I have a few drinks. It always makes me super horny and eager to get him home.

I'm blushing as I type this, but it makes me feel kinda of slutty, but in the best possible way. Being a little drunk sets me free to feel a bit like a pornstar, eager to do more than I normally do…if that makes sense. (Learn more blow job tips pornstars use in Chapter 5)

That's when I like to take my man deep instead of just giving him regular fellatio. He puts his hands on the back of my head and controls everything. Even though I still gag a bit, it's super-crazy hot.

Feeling his dominance, hearing him moan in pleasure and knowing that he's about to ejaculate uncontrollably is the hottest thing ever. And he usually does go over the edge after just a minute or two of this.

I guess you could say that my tip to your readers is to let your man take control and "head fuck" you, as my man calls it. Even though it can be a little uncomfortable, messy and you may be gagging a bit, it's red hot being his submissive oral sex slave.
6. Take Some Tips From A Gay Man
First of all, actually giving a guy a BJ takes a lot of initiative from your end, so that is why guys don't really give feedback on your performance. They don't want to feel like they are pestering you. So that is why you should take them by surprise and give them head that they will never forget.

Secondly, you have to take the type of dick he has into consideration. Whether he is cut, uncut, big, small, there are different techniques to maximize his pleasure.

For cut dicks, you should use more pressure, since they are not that sensitive. Don't just slurp on his dick, you have to really use some hoover action with your cheeks. Just imagine that you are sucking a golfball through a garden hose, as the saying goes. Use more pressure with your tongue and lips.

For uncut dicks, let's hope that it is a clean one. If not, be honest and tells him that he needs a wipe around the hood. If everything is good, then go for it. Uncut dicks are more sensitive, so you have to be careful with how much you stimulate the head. You should still suck hard, but also use the foreskin to your advantage. Tug it a little. Put your tongue in between the foreskin and the head, and swirl your tongue around while stroking him with your hands.

Here are some other things you can do while blowing him:

Lick the frenulum (the area just under the head, under the "peehole," there is a little flap of skin). It's the most sensitive part of the penis. Use it to your advantage.

Cup his balls while you suck him. Place a finger on his perineum (taint) and put pressure on it.

Glide your lips up and down the sides of his shaft.

Tease him. For example, start slowly putting your mouth towards his penis, but backing away at the last second.

Rub your open palm (with lube) over the top of his head in a circular motion, like you are polishing it, while grabbing the shaft with the other hand.

Stick your tongue in his "peehole." It's weird, but can feel good.

Nibble gently on the foreskin with your teeth.

Generally, teeth is frowned upon, but an expert Blow Jobber will know how to use it will. An example is ever so slightly scraping around the shaft with your teeth.

Deep throating requires some training before you can get it right. Even then, it might now always be in your favor. Of course you are more likely to gag on large dicks than small ones. To lessen the gag reflex, you have to do the "tongue depressor" action, which is opening your mouth wide, and sticking your tongue out.. Then, once his dick gets near your throat, you have to start swallowing (this stops the gag reflex). It requires a lot of coordination, mental focus, and practice to get it right. But if you start choking or gagging, pull out his cock. He will find it flattering that you are literally suffocating from his dick. ????

Just explore with what you have… Using your lips, tongue, and whatnot. Find out what feels good to him. Communication is key.

And lastly… The dreaded rimjob. If you can get over the ick factor, you will have complete control over him. Surprisingly, usually guys are less into rimjobs because they feel that they are too "hairy" or "gross" down there. If you have a strong stomach, I'm sure you won't mind that. Otherwise, they can shave down there and get it all squeaky clean.

Rimjobs have to be eased into… They will find it ticklish at first, but if it "clicks," they will be hypnotized.

First, make sure that he is comfortable. Some guys prefer lying on their back, but you might have to squish your face into the bed. You could put a pillow under his lower back to alleviate this, or have him lie on his stomach (or go on his knees, bent over), if he can, as this will allow more range of motion with your head.

Start by lightly dabbing your tongue on the hole, and then making circular motions, or licking up and down. As he "loosens up," you can add more pressure. Use your lips to literally "kiss" his butthole, and start sucking on it a little. Constantly switch it up, to create things exciting. Eventually, if you can get your tongue into his anus, and into the rectum, that is where you have him locked down. He won't want to take your tongue out. It's that good. Once inside, start flicking your tongue and going crazy (just don't pull your tongue muscles! you don't want to have any embarrassing injuries).

While you are rimming him, you can also stroke him a little. But be careful, as he might start to climax very quickly. It really feels that good!

And there you have it, a gay man's guide to oral sex (for women). Blow jobs are very labour intensive, especially if you will have to do it for 10 minutes, and you might have to deal with a hoarse voice or a neck pain the next day. But follow these steps, and I am sure your man will buy you that Chanel bag. ????

Cheers!
7. Hold on Tight!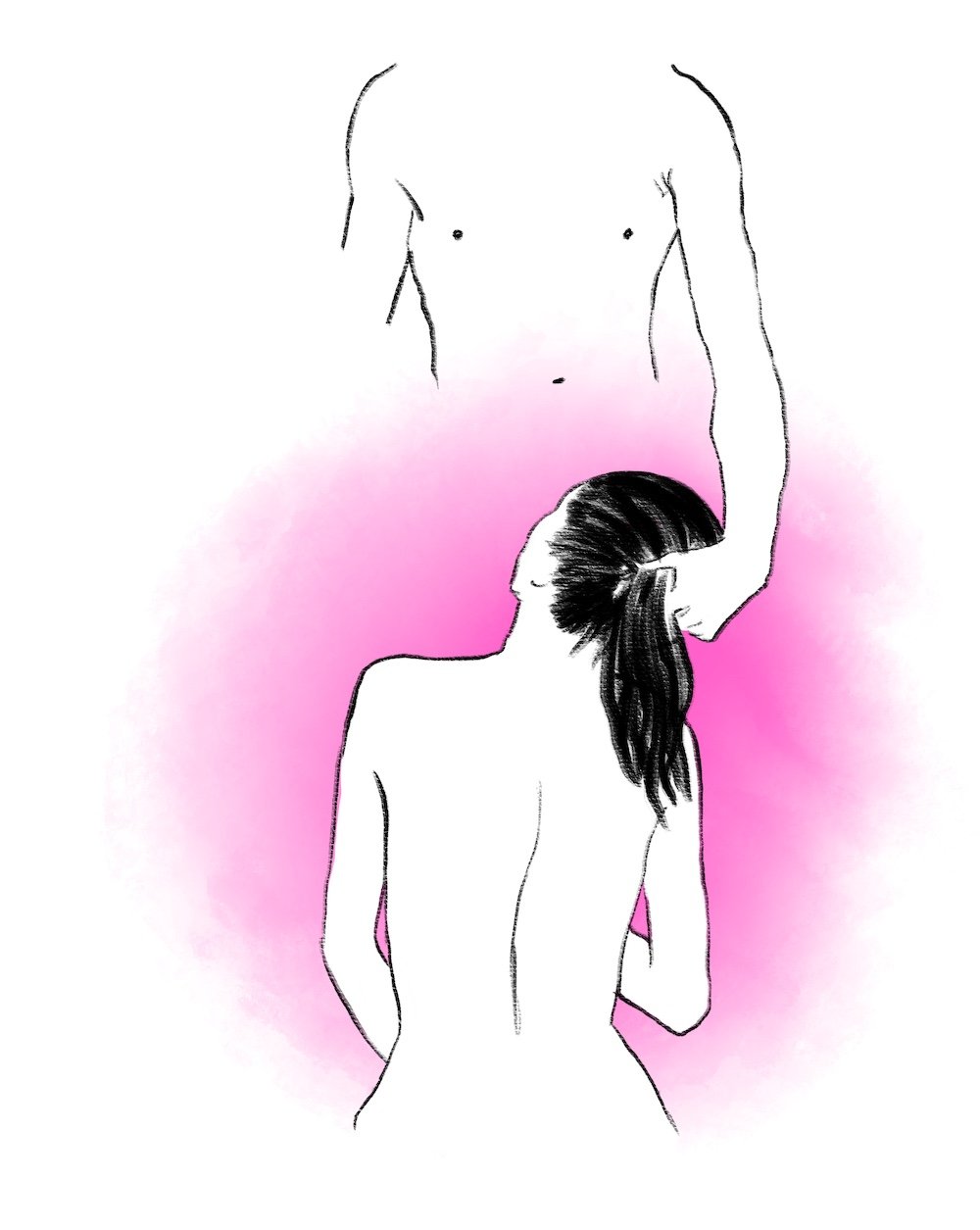 Here's what Alexa does when her man is about to cum…
My favorite trick is to keep a firm grip on the base of his cock when I know he's about to cum. Basically you're trying to hold tight enough that the cum can't immediately escape from his balls, but not so hard that you've got that G.I. Joe Kung Foo grip 😉

You'll feel the cum back up in his shaft. Let it. Hold on for another beat or two and let go… releasing the load after the initial orgasm can make him feel like he just had multiple orgasms.

Peel him off the ceiling and patiently await all manner of breakfast in bed, flowers, and sweet nothings.

xoxo
8. Taking It Deep
Jane has some tips on deep throating
1. Don't be scared to gag a little, men find it attractive
2. Go as deep as you feel comfortable until you eventually escalate to taking it as deep as you can(nobody likes a head hunter)
3. The more spit, the merrier. More spit essentially means you can stroke it better and you replicated the feeling of a vagina using your mouth.
4. Consider the size of the head. Some men have tips that grow quite large so your teeth might hurt him (some men, Not all)
5. Faster isn't always better, having a slow back and forth motion combined with a little bit of jerking can make him cum faster
9. Using A Vibrator
This tip was sent to us by Shasta (name changed for privacy)…
We added a bullet vibrator to our play last blowjob. At first, I teased his cock with the vibrator. Made him so hard. Then I began the oral while vibrator his balls and taint. He shot a bigger load than he ever did before. Big Fun! I can't wait to try it again!
10. Lube, Gagging & Tips From The Mafia
From Harley (name changed):
My advice is to use a good quality water base personal lube. Not only does it give me a good excuse (as if I need one) lol to give my man a sensual penis massage to get things started but it makes everything move more easily without relying on producing enough saliva. This trick has extended my ability to perform comfortably which makes it obviously more enjoyable for both of us.

The other thing is to remember to breath especially if you feel like you might gag. I noticed that porn has changed (about the only change in 40 yrs.) lol. It seems to be desirable to gag. Is that so the man feels like he's just too big to handle?? Lol. Us ladies tried very hard not to gag so I'm sticking with that.

Just for fun, I'd like to tell you that the man that taught me how to give a blow job was raised by mafia prostitutes who taught him everything they knew.

Thanks for your advice. Keep up the good work and you can ask my advice anytime.
11. Make It Sloppy
Eva says:
This guy I was seeing told me the sloppier the better. After a blowjob is finished, there should be a wet spot wherever he was laying. Don't give up after just a few minutes, it takes girls some time to cum too so give your guy a chance! Also, don't give blowjobs to make a guy like you. It won't work.
12. Good Morning Blow Jobs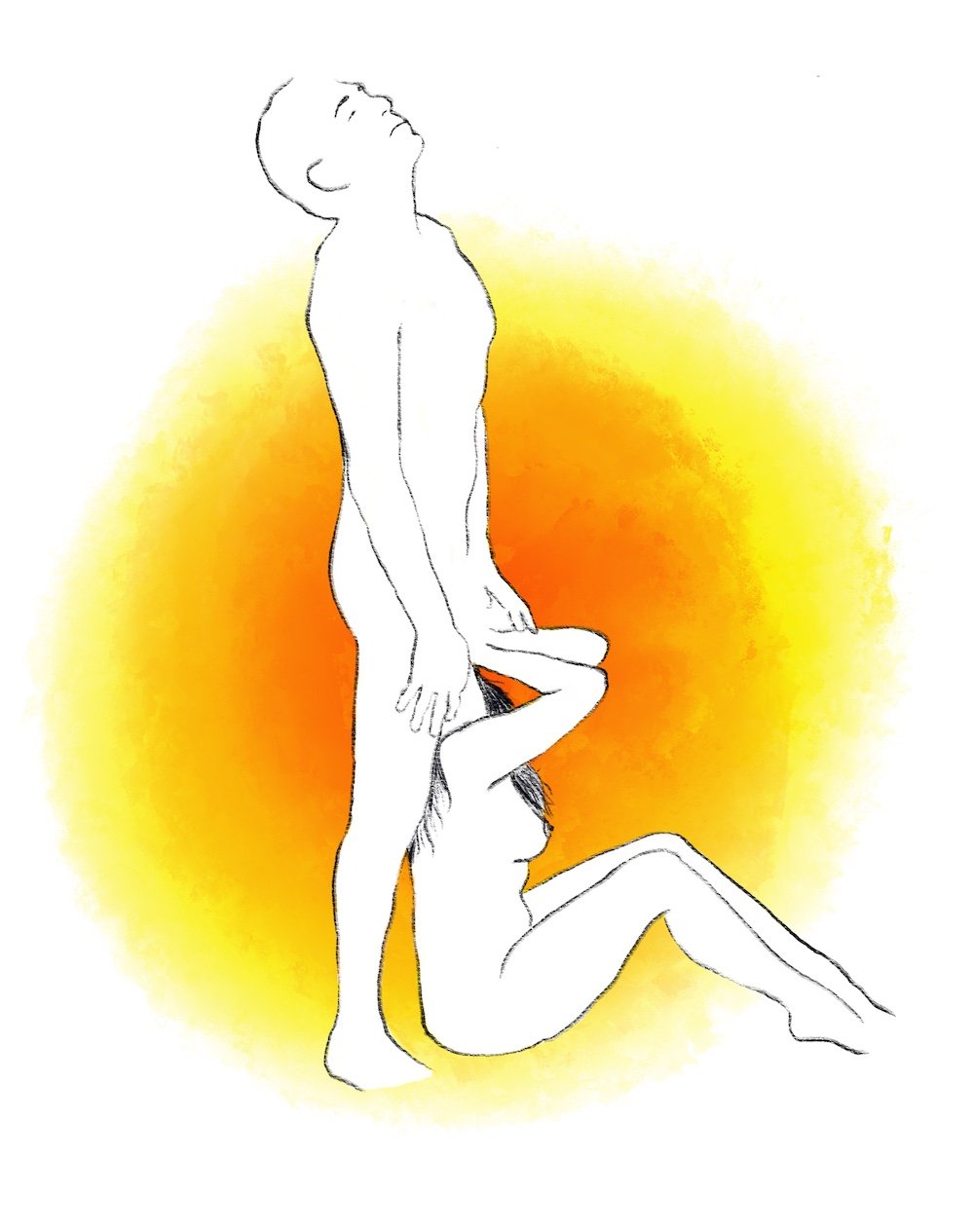 K had these 3 tips…
Use your hands too (esspecially if he likes his balls touched).
If you really wanna Deep throat but it's hard for you… Practice! A finger, a banana, anything clean can work. It's a mental block and angles. Find the right angle, get past the block, Deep throat like a pro.
There's nothing like a good morning blowjob. My man loves it and moans more (and louder). I've been told its his favorite wake up.
13. Tips For Guys Getting Blow Jobs
Jack has these tips that your man should read before he gets a blow job from you…
Personally I love a blowjob as much as I do getting laid, less effort, easy to relax and enjoy and if she's really good then you're in for a treat. Tips, be clean, if you know you just worked, had a long day whatever it may be, have the courtesy to not let her go down, till you've cleaned up.

Next thing is to keep it groomed, hair and mouths don't mix. As far as the blowjob itself, relax, don't force it, your penis or her head down, lol, let her figure it out, I've had terrible and I've had toe curling, but that toe curling started out terrible too. Coach if all else fails, give pointers, encourage. She will figure it out. Hopefully you get one that can already do a full shakedown on the skin flute and have your toes throwing up gang signs.
14. A Trick To Stop Gagging During Deep Throat
CJ has this advice to stop yourself gagging when deep throating your man…
If you have a weak gag reflex squeeze your thumb or thumbs.

It's kind of hard to explain but super easy to do. Your right hand will be squeezing your right thumb. Bend your thumb in so it's laying over the center of your palm. Like a reverse thumbs up. Then bend your fingers over your thumb and squeeze your thumb. So it's like a fist but with your thumb inside the fist. The tighter your sqeeze your thumb you won't gag.

You can do this with one hand or both. So try it, stick your finger to the back of your throat until you gag. Then try it while you squeeze your thumb with the other hand. It works for me. Try it, let me know if it works to keep you from gagging so easily.
15. Kitten Licks & More Tips
Greybird has mulitple tips you can use…
Be eager – Most importantly you must be eager to do it, a partner who wants to please you is the sexiest thing and makes you feel amazing. Initiate it too, catch him off guard and help him out. If you're eager and happy to be performing they'll feel like the king of the world.

Wetter is better – Personally I've found that the wetter the better when it comes to blow jobs, you can use all sorts but my favourite is either your own saliva or a flavoured lube, it helps to glide easier and makes the experience a lot more enjoyable for both of you.

Play with his balls – I like to start slow and massage and suck the balls, they often get forgotten and they're so sensitive it's a shame, I start by rolling them with my hands and tugging slightly before taking them in my mouth one at a time. I often go from that to licking a strip on the underside of the penis from base to tip.

Heady – Next I like to play with the head gentle sucks and kitten licks, directing firm licks straight onto the frenulum drives them wild. Treat it like a clit and give it a decent amount of attention. Some guys like it if you push your vibrator against the shaft while you're performing, it adds an extra sensation and can feel really nice for them.

Edge him – Whenever I am giving head I like to take my time, drive them to the edge then stop and start again. I always feel really powerful when I do this and it makes it feel so much better for him when I do finally get down to making him cum.

Fix your gag reflex – If you have a sensitive gag reflex a tip I've found that helps is making a fist with your left hand trapping your thumb in the middle. It suppresses the urge and even if it doesn't work to suppress it fully it might help to take the penis in further.

Take him where you want him – You don't have to let him cum in your mouth if you aren't ok with it, most guys are happy to cum on your face or over your boobs.
16. The Twister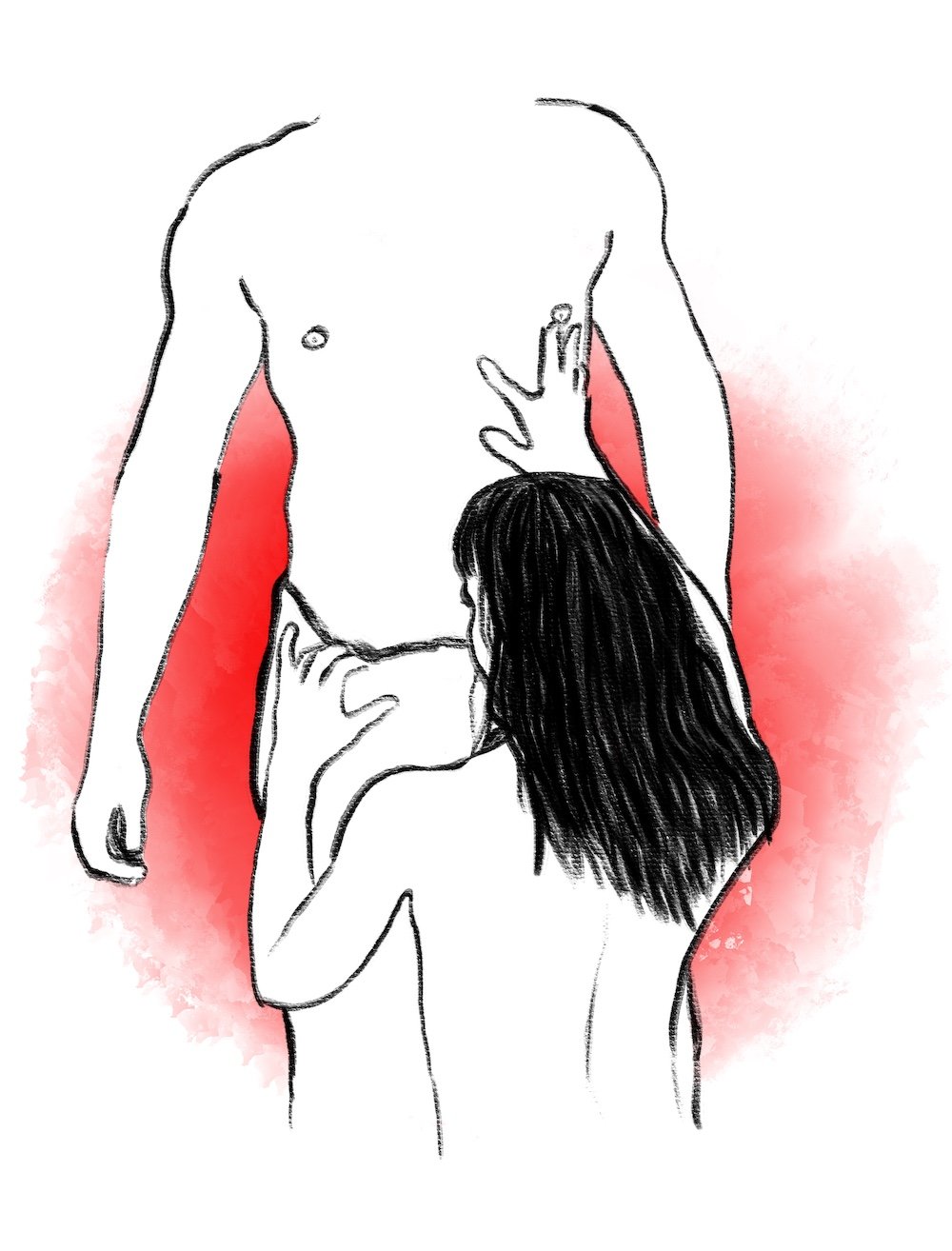 From Linda…
Hey Sean!

I call it the Twister. Tbh I don't even know where I learned it from haha. So the method basically goes like this; left hand plays with the balls and fingers press on the skin right underneath the balls, right before the prostate (the perineum), while the right hands' wrist bends when it goes down and straightens when it goes up along the shaft. And your mouth follows this hand pumping motion, but your head does not bend with your hand.

I hope that makes sense!
17. Not So Tight!
Jim says…
My main tip to you is don't grip it like you're holding on for dear life. that hurts. SOME pressure but not a lot. And for the love of god NO TEETH unless he specifically asks for it. don't sit there darting your tongue around the head of his dick. that's annoying. just think how you would suck on a popsicle. Do that. no biting. You're set.
18. Embrace The Dick
MP had this advice…
The only advice I have. For me. Don't run from the dick. Embrace it. Caress it. Get truly familiar with the dick. Every inch(soft and hard). Don't stay at the head. Lick, kiss and deep throat the dick ass long and as much as you can. I do. I've gotten over gagging. I have to gag myself. I've never enjoyed sucking dick before. Now, it makes my pussy wet giving my man goosebumps and making his toes curl. Give it to him the way you want him to eat your pussy. You get what you give. Use your hands to not wear out your mouth.
1,114 Woman Study: Why women like giving head to men.
19. Don't be afraid to show him that turning him on turns you on
Mika's tips…
If I could give any helpful advice in regards to giving a 5-star blowie I would begin by saying, "attitude is everything". I've been with my current partner, and father of 2 of my children for nearly five years and our level of intimacy is as firey and alive as the first time we had sex.

If you're not into giving oral, men pick up on those kinds of signals. I don't find it very difficult in initiating a fun time by doing it with a smile (or a donut smile rather…) along with enthusiasm. It doesn't matter if you're a pro or have never given oral before, if you know many techniques or a simple up and down, figure out what he likes most by paying attention to the way he reacts to different techniques. Try fast, slow, tight sucks, and loose ones… Once you find what he likes it's all about finding the right rhythm.

Don't be afraid to show him that turning him on turns you on is another thing I'd suggest. Playing with your breasts and or touching yourself while blowing your partner can not only enhance your own pleasure but his as well.

That's all I've got, hope this helps.
20. Rub-a-dub-dub
Rudabaker had this technique to share:
Hi Sean, my tip is a little tricky to explain but I will try my best. It's like rubbing your tongue on the roof of your mouth only do the same motion to the head of the penis. Right over the slit, use the roughest part of you tongue and use little licks sliding down.

Position your head directly over the head of the penis, like your going to lick the head with your whole tongue. Only with this, stick the head in your mouth, and use the middle of your tongue to apply pressure and lick back and forth over the slit. While gliding your hand up and down the shaft with plenty of spit or lube. Drives my guy crazy. Hope I explained well enough.
21. Anal Beads, Nibbling & Edging
Hilda varies her blow jobs with multiple techniques:
I found using anal beads and either a vibrater or wand on the man's balls while sucking or licking gets a nice response, and before he is allowed to cum i sometime use ice cubes on the tip of his penis… it's fun watching guys squirm and beg.

Nibbling on sides is another one I found guys to enjoy, and sometimes I either start really fast so he hits climax and then stop or I can start really slow and build him up and stop and start all over again. Hope this helps
22. Get Him On All Fours & Cool Blowing
Mana shared this advice
You know how guys love it when you suck their earlobe and then lick around the ear just before blowing on it? They also love that same sensation on their cocks. When you've licked the cock wet enough (taking it in your mouth and/or spitting on it also helps), blow gently on it either from the side or while you still have your mouth around it. You can use gentle warm breath or blow out faster, colder air for varying sensations.

One move you can do (in the middle of the job, not as a beginning, as you want him already hard) is to get the guy on his hands and knees and kneel behind him between his spread legs. Start sucking the head of his cock (contortit slightly or gently pulling it towards you are necessary for long cocks) and then, without breaking contact, move into slowly licking the shaft, then over the balls, and up to the anus where you play with the anus (circle your tongue around, push it in gently, etc.) for a short time before starting the move all over again. Bonus points for gently biting an ass cheek.

And don't forget to lick the man's cock clean after he comes in your mouth, telling him how good he tastes (I enjoy the taste anyway)!
23. 4 Things: More Than His Penis, First Contact, Be Present & Enjoy It
Olivia has 4 tips, #4 is the most important:
1) The penis is not the only sensitive part of the groin area. There's a huge realm of things to try and play with. There´s buttocks, anus, perineum, legs, balls of course, but there are also hips, pelvis, and that sensitive place where the legs and the torso join. Also, the underside of the legs, where the buttock and the legs meet.

2) My first contact with the penis, especially when it's my first time with the guy, involves a straight lick from the very base of the penis up to the tip, usually quite slowly. The goal is to pay attention to his reaction; that way you can find out which part of this particular guy's dick is the most sensitive, or the part he enjoys having stimulated the most.

3) Pay attention, always. I think many girls get in their heads too much and stop listening, stop feeling him or responding to his reactions. This is so important.

4) last but not least, and this is something you always say, we need to actually have fun and enjoy it, lose the pressure. My current boyfriend is a bi-sexual, and once I asked him the difference between the guys he had been with and the girls. He told me that usually, females are in their heads so much, while men tend to relax and let go. It makes for a much more primal, sensitive sex. He taught me to get out of my head and play, have fun, find things out, explore, and have a good laugh when we feel like it. To me, giving a blowjob is more about making him (and even yourself) feel good, not about making him come. It's like cooking something tasty for someone you love. You do it so they enjoy the meal, not just to fulfill their biological need to eat 🙂
24. The Underwater, The Bind & The King
Katarina swears by these 3 techniques:
1. The Underwater – During this bj, I move my mouth and hands INCREDIBLY slow, as if I were moving underwater. I incorporate a lot of eye contact and quivering pauses to increase tension. Moving back and forth often between penis and balls is also helpful.

2. The Bind – Usually during oral I open my husband's legs so I can access balls/taint/inner thigh. But for variety sometimes I will press his legs together at the hips. In this move, only the penis and the top of the balks are accessible. This gives the blow job the novelty of variety, as well as a light s&m feel.

3. The King – This is a tantric move in which I use intention to elevate the oral experience. Before I even start, I take a few minutes to think about all the wonderful manly things my husband does that I so appreciate. Fixing things around the house, building things with his hands, looking hot as hell in his tank top and jeans. Then I imagine I can't verbally express these things – I must use my mouth and tongue and hands to communicate that appreciation right into his manhood. I keep all that gratitude in my mind and visualize myself 'speaking' that feeling directly into his cock. Who says blow jobs cant be romantic 🙂
25. Build Up
Naomi says:
Don't just go into it without building the suspense and arousal first

For actual technique, I like to start by licking around the head first, kiss and lick up and down the shaft, and lightly massage the testicles. Then when I finally wrap my mouth around it, I go slow and work my mouth down as far as I possibly can and will sometimes try to lick his balls while the shaft is in my mouth.

Once momentum is built, I always use my hands to help stroke and massage. I try to get a good rhythm going for a while and then break it up with enthusiastic licks to the frenulum and swirling my tongue around the head, and then go back to sucking. Use the hands!

Let them help, but not too aggressively. The inside of your cheeks gives the same sensations as the inside of the vagina, so you want to make sure its enjoyable in a similar way.

I am also a fan of letting him choose where to cum. I think it helps the excitement when you let a man fulfill his fantasy of where they would like to unload. And don't be afraid to swallow. It's good for both of you.
26. How To Not Gag During Fellatio
Sancha has this tip to prevent gagging:
Okay, this may sound a little bit weird and strange, but I use this technique to help me not gag when I'm deepthroating a dick.

Naturally, I don't have a gag reflex so I can deepthroat easily. But I only use this technique whenever my face gets throat fucked, or the guy pushes my head against his dick. Since I'm right-handed, I make a fist (thumb inside) with my left hand while I'm getting my throat destroyed
This personally helps me to not gag.

If the girl/guy is left-handed, they can make a fist with their right hand (thumb inside) while stroking the penis with their dominant hand. Hopefully, this helps!!
27. Inevitably he will feel like he ought to be the one thanking you
A really important insight from one reader:
Sean,

I have learned so much from your site and podcasts–thank you! Hope this helps someone else…
[name removed]
1. Find the right partner–in my experience, if you're well-matched, you will crave your man. While I was considering whether or not to proceed with a certain person, my friend said to me, "It's simple–do you want his cock in your mouth?" My husband of 17 years and I were not sexually compatible, and he didn't care for blow jobs, which is a shame because I love to give head, and just really had no desire left for him. My new love makes me feel amazing in every way. I crave him. When we are apart, I fantasize about his cock, the way he feels and tastes, and the sounds of pleasure I get to bring out.
2. Relax the back of your throat, your jaw, and your neck, and release yourself from internal pressure. Welcome him and let him melt into you, find a natural pace, and don't make it complicated. Flow into it, he will love it!
3. Remember that it's not just a body part. Your man's cock is the full physical expression of his being and essence. You aren't just pleasing his physical senses–you're taking him in his power and glory. Adore him. Think of everything you love about him, and realize that you are tasting his greatness as a man. Let him know you feel that way.
4. Thank him! Inevitably he will feel like he ought to be the one thanking you–and hopefully, he will reciprocate. But when you thank him for giving himself to you this way, it blows his mind and affirms him.
28. Taste Yourself
R has this great tip on tasting yourself during sex:
I always alternate with intercourse and blowjob back to intercourse and blowjob again. Something about me licking my own juices off of his cock makes him go wild! It took me a while to get used to my own taste.

I used to only do this after showering first. But it didn't take long for me to get used to it and now I can't wait to taste myself on him! Bonus – when I give him oral, I make it extra sloppy, so there is plenty of lube for intercourse. It doesn't last as long as regular lube, but when it wears off, I just put him back in my mouth, get him extra slippery from my saliva, and then insert him back inside.

Often times we will switch positions between blowjobs. Maybe start off spooning then switch to a blowjob. Then go to missionary then back to a blowjob. Doggy, blowjob, seated, blowjob, etc. You get the picture. Of course, I always end on a blowjob so that he sees me licking the mixture of his and my own cum off of his cock. I haven't got the nerve to try anal to mouth yet. It's not really in my plans. But that's always an option for the more daring lol!
29. Thoughts on Vomiting
Warning: I received this from a reader, but I don't recommend you try it. However, I wanted to include it as an alternative perspective as I get many questions about throwing up/vomiting.
Remember, great sex is about consent.
From Gina
I don't know if you will be able to use my response…

A guy I've been seeing for about a year calls me over about every 2 weeks. I love giving him a blow job, I love the way he tastes and feels good in my mouth, sometimes I call him because I love it so much. He is really big, so I was surprised when I was able to deep throat him without any problems the first time we were together.

The second time though, I vomited on him.

This is the first time that had happened to me, and I think him too because we both paused, I didn't know what to do, but then he told me to keep going so I swallowed and continued. I was soo… embarrassed and thought he would never call me back, but he did and more often than he was.

He must have liked it, a lot, because I'm sure he makes me vomit on purpose now after I got more comfortable being around him

I think I have come to like it too.

It's something about him having that kind of control over me, the way he moans and the fact that it's because of me, the way he tells me to take it all as he pushes my head down with his strong hands; I love it when he touches me; the way he plays with my nipples, the way his cum tastes, the way his penis throbs from base to tip while in my mouth, that turns me on.

So I guess my advice would be to push yourself outside your comfort zone. I push myself because there have been times where I wanted to give up on him, even though he cums fairly quickly, but it's always worth it, for both of us, for me to keep going.
30. Suck His Balls
Haley had this advice about an often overlooked aspect of fellatio
My tip, which I'm sure is well known, but girls never seem to do it is…

Always suck the balls.

Start off with a little lick, a gentle suck, and then when you know he's into it get it your mouth. Sloppy sucking of balls is a game-changer x
31. Choking
A short and sweet tip from Phoebe
It is ok to choke and dribble spit, guys love that.

And keep your teeth out of the way!
32. Be Open & Honest
Helen had a really important message on communication
To be honest, I would say be open and honest and be comfortable. Me and my partner are really open with ideas.

Sometimes he suggests things, and I think "no." Others I am honest with and say I will consider. It makes blow jobs special, as I never feel "oh god I don't really want to be doing this." or "am I doing this how he likes?" because we talk. We share porn scenes between us of things we like and incorporate in our own way.

Also, confidence is a HUGE thing. If you get a bit bored, bring in some toys, it is all about trust. Whipped cream, anything to make it fun. My opinion is that sex should be fun. Also, be open that you and your partner may have very different ideas of what gets you off. That is okay!

Start a conversation about it and don't judge and see where it goes. Noises and mess is all part of the fun, and in my experience, welcomed.
33. 5 Killer Fellatio Tips
M gave 5 of her top fellatio techniques
First off, I love giving my man blow jobs! He gets them almost every morning before I leave for work…and then sometimes again later.

I just adore my man and get crazy wet, taking him into my mouth. I mean, I even moan a lot because I love it so much! I was thankfully given the gift of a never tiering jaw, lol.

I like to play around with different techniques (and locations) all of the time, but here is one of my/our favorites:

1. I tell home to lay back and relax, and then I blindfold him, so he has no idea what to expect, and his other senses are intensified.

2. I put a generous amount of flavored lube on his cock and spread it around with my tongue and lips, then my hands.

3. After playing around with different licks, strokes, rhythms and tempos that I know drive him wild, I take him deep into my throat a few times — pulsing and squeezing it in my throat until I absolutely need to come up for air.

4. I then wrap both hands around his cock (one on top of the other) so that as I stroke down (in a slow twisting, bobbing motion), I can take the tip of his cock into my mouth. I also move my tongue around vigorously to stimulate the frenulum more. As I stroke up, my hands and mouth remain in the same position, but only one hand is still on his cock. I repeat this several times.

5. He's naturally expecting to feel my mouth each time after I do this, but I randomly won't put my mouth back, and his poor tip is left out…oops!

This drives him wild and he can't hold back for long at all! Though, I usually make him wait… bringing him to the edge at least 2 times before I let him orgasm.

I call swallowing him "my dessert".

Tip: Be a lady (or gentleman) and clean up your mess — gently lick the extra lube off his shaft and balls when you're done. A few times I've gotten him hard again and to cum twice in 30 minutes with this one!
34. Only Do It If You Love It
From the Fellatio Fanatic
If you don't love giving your man a bj, then don't do it. He can tell. You need to love giving him a bj just as much as you love sex with him. When you love it, he'll love it even more!
35. "Suck his cock like you are stealing his soul"
These are wild!:
I believe blow jobs are something you are supposed to like doing, and it's a skill every man will enjoy. You can either hone your skills or you will be giving what I call high school blow jobs for the rest of your life, you know like when you first start…

You are only doing it because you are trying to impress your man: In and out, not too deep and praying he cums soon. You should embrace it, make it better every single time.

I have a saying that every cock sucker should live by. "If you don't watch his soul leave his body as you swallow at least once every six months you are not doing it right."

Twirl your tongue, not just on the head but all the way down.

Suck hard sometimes like you are giving a hickey.

Don't be lame and only suck on the tip. Make sure that you are taking all of it down your throat. If you are not, you need to practice.

Swallow, don't spit it out. (he'll love it, it's cleaner, and you know no one is getting pregnant).

Don't give out the good blowies to every Tom, Dick, and Harry. That's reserved for your "special guy."

Moan while sucking, grind your pussy on his leg or whatever you have around you.

Suck his cock like you are stealing his soul every time.

If you don't have to get on your knees, then don't.

Don't be afraid to try new ways to move your tongue and lips.

If you really want to steal his soul and have him obsessed with you, don't stop sucking when he gets done cumming, wrap your arms around his hips and keep sucking until he squirts!
36. "If you get tired, just use your hand for a couple of seconds or a minute to relax your muscles"
Gina does use a combination of things to make fellatio spicy
My personal advice in regards to blowjobs is to, first of all, not to rush into it straight away. Gently tease over the pants, touch around his penis and scrotum once you feel it getting big.

Then slowly unzip those pants, give it a few kisses, especially if he has his favorite spots he likes you to kiss. Then gradually "absorb" that penis with your mouth.

It is important to be hydrated before the blowjob as more saliva = better slide.

Don't use your hands until that penis is well moist, and you can start sliding over it otherwise, it will be unpleasant for him.

I always use both hands, one on his penis going slowly up and down, and the other one from time to time on balls touching around, sometimes around and in his anus as he likes it.

I generally am doing everything very slowly, as if I was eating an icecream I really like.

My bf's favorite is when I twist the top of the penis aside while I'm sucking it simultaneously.

If you get tired, just use your hand for a couple of seconds or a minute to relax your muscles.

I usually do all of this on my knees, but sometimes sitting on his chest too, with my butt facing his face.

It adds extra spiciness. At the end, alwayyyys, finish in the mouth. That's our secret ingredient to a happy relationship. 😛
37. Fellatio Games To Improve Your Skills
Francis has these 2 fun games to play to improve your fellatio experience
My fun tip is role playing a version of teacher and student with him being the teacher. Essentially it's a sexy and fun shortcut to him teaching you exactly what he wants! Make sure to ask "like this?" and ask for a lot for clarification. Then, simply remember what your teacher taught you next time 🙂

Another fun one is a game we call "You have to watch". You can roll play with this one too in a ton of ways but the gist is that the person receiving has to maintain unbroken eye contact with the giver. As a receiver, it's so hard yet sexy. It seems to intensity everything! As the giver, it's a really fun kind of light-hearted torture. Fun all around 🙂
38. Enthusiasm + Deep Throating
Lots of tips from R:
I LOVE GIVING BJ… to the right person only haha.

Here are a few tips:

#1 (Most important) Enthusiasm: You just got to love giving fellatio! Guys can tell if you are not enjoying it. Honestly, seeing your guy getting out of control because of what you are doing to them is the best feeling/ motivation ever!

#2 Communication: Do not be scared to ask what he likes/ how he feels. It's all about respect. Some guys probably feel sensitive in some areas, and they don't want to be touched in those areas – so asking them is the best way to find out. Also, don't be afraid of trying new things – of course, need to get permission from the person + you need to be comfortable with it too!

#3 Deep Throating Tips: TOTALLY DOABLE.

Yes, you might gag a lot in the beginning, but thing good thing is you can practice. I've learned that you can practice it even when you brush your teeth, just put the toothbrush slightly towards the back of your throat, and over time you learn to relax.

I found a slightly easier way – have yourself lie on the bed, with your head hanging at the edge of the bed (so your neck and body are in a straight line). That way, I found it easy for him to slide in deeper. Of course, when you feel uncomfortable, you have to let him know. Honestly, deep throating is one of the best things you can do for a guy as you produce a lot of saliva in the process, which makes the whole experience even more pleasurable for him.

#4 Eye Contact: No matter how messy your makeup/ hair is, just look up to your guys – they love it. Seriously they still see you as a goddess, so just forget about your looks at that moment – being in present is key!

#5 Hand + Mouth + Tongue: This is a killer combo and will send your guy straight to heaven. Try swirling your tongue around it, treat it like a delicate, precious thing (be gentle too), and massage the balls at the same time. If you and your guy are into rimming, you can try licking his rim (+tongue skill) and use your hand to move up and down his thing.

#6 Roleplay + compliments: Throw in some role play (e.g., daddy) and compliments (e.g., wow, this is so big). This gives a guy the feeling he is wanted and shows that you are dying to give him a BJ.

Also crucial for guys, you have to compliment your girls on their oral skills! I wasn't that confident at giving fellatio until I met this guy who gave me a lot of compliments on how good it felt, how it was the best BJ he's ever received.

Hearing things like this really boosts your ego and encourages you to try more new things with him.

I probably have more tips, but the above are the ones that I can think of right now.
39. Let Go
Short & sweet from anonymous
My biggest advice is to let go of self-consciousness and drool and spit with abandon. Messy blow jobs are the best.
40. Don't Act
TB explains her secret weapon
I find that when I meet his (this has applied to any man I have given oral to) gaze and lock eyes when I am very slowly licking or sucking the tip of his penis, they lose their minds. Men are so visual and they love watching the oral sex happening slowly so they can record the mental image of it. I suppose it also encompasses the "worshipping" moment of it and what man doesn't love that moment?

I'm sure that it doesn't hurt that I have perfected this innocent/sexy/submissive/I'm in heaven giving you oral sex look on my face. It is, however, VERY important to note that this is not an act. I ONLY give oral to a man that makes me feel those things in the first place. When that is authentic, then I am VERY turned on by his response and how turned on he is.

I also like to talk dirty so throwing in an "Mmmmmm, I LOVE sucking your rock hard c@ck….." in my best sultry Marilyn Monroe voice while I give the look equals fireworks!!!

Hope this helps! xoxo
41. A Lot Of Spit
This one is from T:
I have always considered myself to be above average when it comes to the art of oral sex. I pride myself on being able to make a mans back arch with just the power of my lips around his cock. My boyfriend says it's like he has his own little pornstar between his legs.

I think a lot of people try rush the blowjob in order to get to the good part. However, a blowjob is meant to be savored. First by taking your time to generate (and isn't the most seductive way of putting it but) a massive amount of spit. And then proceed to in the sexiest manner possible get the dick covered. I like to let it run down my bottom lip before it drips onto his length keeping eye contact with him.

Once there's enough lubrication I can get started with a wide lick up his shaft to meet the tip, gently taking the head of his penis between my lips and rolling my tongue over the sensitive nerve endings paying attention to his body language for where the most pleasurable parts are.

All the while I'm also working my hand up and down his length. During this portion I also like to gather some spit in my hands to (lightly!) fondle his balls. At this point there should be some telling drops of pre-cum forming at which point I will begin to take him deeper down my throat, letting the head of his dick graze the back of my throat sucking the whole time.

I'll then switch back to the head of his penis giving attention there while my hand will again work his shaft, switching between the two.

This next part is my favorite because it's what almost always guarantees me leg shakes and back arches of pleasure. I then will make my way down towards his balls, sucking on the sensitive area towards the bottom of his shaft. While I do this my hands works the top of the penis, my thumb running over the head. I'll also make my way down to his balls, licking and sucking until he is begging me to take him down my throat again.

At that point I typically ask him what he wants from me to make him cum. But so far no complaints for this mouth here! Hope this helps some ladies out there trying to please their man!
42. I Make Every Blowjob A "Thank You" Letter Of Sorts To My Man.
From A
I make every blowjob a "thank you" letter of sorts to my man.

Each one is unique in the various techniques I use to tell him how much I love his big cock (using both hands to stroke while flicking my tongue on the underside of the head for instance, going between pointed tongue and flat; or learning to gag when deep throating because I found out he was into that and I naturally don't gag. Communication is key.).

I tell him thank you for making me cum (playfully lick from base to tip in one motion before putting my mouth all the way around the head and slightly twisting my head back and forth/up and down, while licking and gently sucking- always stroking the base with one hand, other hand playing with myself until I cum again and then let him lick my fingers.).

Tell him that he can relax and let me take care of him (gently cup, rub, pull the balls, ladies. They'll melt and be putty in your hands).

As long as you're enthusiastic and genuinely enjoy what you're doing, your man will know and probably find you super hot. Looking him in the eye, showing him his load on your tongue before swallowing and telling him, "thank you" doesn't hurt, either.
43. Anticipation, Biting & Dentures
From Anonymous
My late wife really was tuned into me, and I was never left wanting.

Almost as good as the blow job itself, is knowing that you are going to get one…the anticipation. She knew how much I liked to be blown. And not surprisingly, she knew I liked to finish in her mouth. So more often than not, sex sessions started with me orally getting her off until she was too sensitive to touch. Then all kinds of fucking and sucking, stroking and poking. And then we usually finished with me in her mouth.

But knowing I would come in her mouth, this anticipation kept the fire burning hot during sex. I knew she was going to suck me off, and she knew it too. But she would still TELL me she was going to.

It was dirty talk at its best! And the icing on the cake is she got off sucking me off.

That just takes it up a notch!

One thing as far as technique goes, women are always told to keep their teeth out of the way, for a good reason. But that is missing out on some good stimulation. Reasonable biting pressure is really good! It is the teeth scraping the cock that is bad! So "biting" needs to be done with no in-and-out motion.

That all said, there is one more thing to mention…

A long way back, she was having so many dental problems. She finally decided to have all her teeth pulled and go with full dentures. That was the best thing she could have done. No more dental problems.

What we didn't realize was…What a boost that would be for oral sex! Wow! Easier for her and for me? I'm sure you can get an idea, but it is even better than that! So go ahead and bite down. Hard. And drag in and out. So full dentures are not something to do unnecessarily, of course, but if faced with it, there is one huge benefit!
44. This Creates A Pool Of Saliva
From DK
1. The most important tip is to be into it …. Appear that you cannot get enough of it – worship it and love it

2. Sometimes, when your giving a blow job your mouth becomes dry and a blowjob always feels better when it's super wet. I ask the guy to push my head down quick and gently, but enough so it hits the back of my throat … this creates a pool of saliva and will drip out of my mouth all over the place. Makes it super easy to jerk them off at the same time.

3. Use your hand and mouth in unison … when your mouth goes down or up, your hand follows. Using your whole hand, wrap it around and start bobbing up and down at the same time.
If you have a story of your own, you can share it with the community by using the comment section below.