Spooning is one of the classics along with the Missionary, Cowgirl and Doggy Style sex positions. It's not a sex position for rough or 'hardcore' sex. Instead it's more for those who enjoy slow, intimate sex with their man as your bodies are in full contact with each other.
Spooning is really easy. It's a lot like the Sofa Spooning position except it's performed in bed. You and your man both need to lie on your sides, facing in the same direction. Your man will be behind you and then needs to enter you. When in the Spooning position, you need to bring your top leg forward a little bit to make it easier for your man to penetrate you. Once he has entered you, he can wrap his arms around you for closeness.
Side note: If you are currently struggling to orgasm during sex or masturbation, then you may want to learn about the Easy Orgasm Solution. It will teach you how to have multiple vaginal and full body orgasms during sex and masturbation. It works even if you currently struggle to orgasm during sex or when masturbating. You can find out more here.
What The Girl Does In The Spooning Position
When you are Spooning with your man, you can push back against him with each thrust. You can also play around with your position by bending forwards slightly or lifting your legs towards your stomach to change the angle that your man is entering you at.
You'll find that you can also lean slightly onto your stomach as well to change the angle of entry. When Spooning with your man, you will be in the perfect position to start massaging your clitoris or using a vibrator to help bring yourself to orgasm or you can finger yourself if you are having anal sex with your man.
What The Guy Does In The Spooning Position
Like I have said before, Spooning is a really easy position for cuddling or sex. Your man doesn't have to be flexible or strong at all to Spoon with you. He simply needs to thrust in and out of you while on his side. He may find it easier to thrust into you if he leans over you slightly.
Your man is also in the perfect position to reach around and start masturbating you, by rubbing around your clit and labia with his fingers. He can also grab the top side of your waist so that he can thrust into you with a little more force. If your man puts his arms around you, then his lower arm may become numb or get pins and needles if he keeps it there for too long. To prevent this from happening, he can put it behind your back or stretch it out above him (which will make him look a little like Superman flying).
Things To Consider When Performing The Spooning Position
Almost everyone has tried Spooning (or some slight variation of it). Below are some of the thoughts and feedback on it by students of the Bad Girls Bible:
If you want to give your man back-arching, toe-curling, screaming orgasms that will keep him sexually addicted to you, then you'll find them in my private and discreet newsletter. You'll also learn the 5 dangerous & "dumb" sex mistakes that turn him off and how to avoid them. Get it here.
Spooning is perfect if you have just woken up or if you are really exhausted and you don't want to do too much during it.
Spooning is perfect if you want to feel really physically close to your partner during sex.
You can perform anal sex while Spooning with your man.
Similar Sex Positions
Sofa Spooning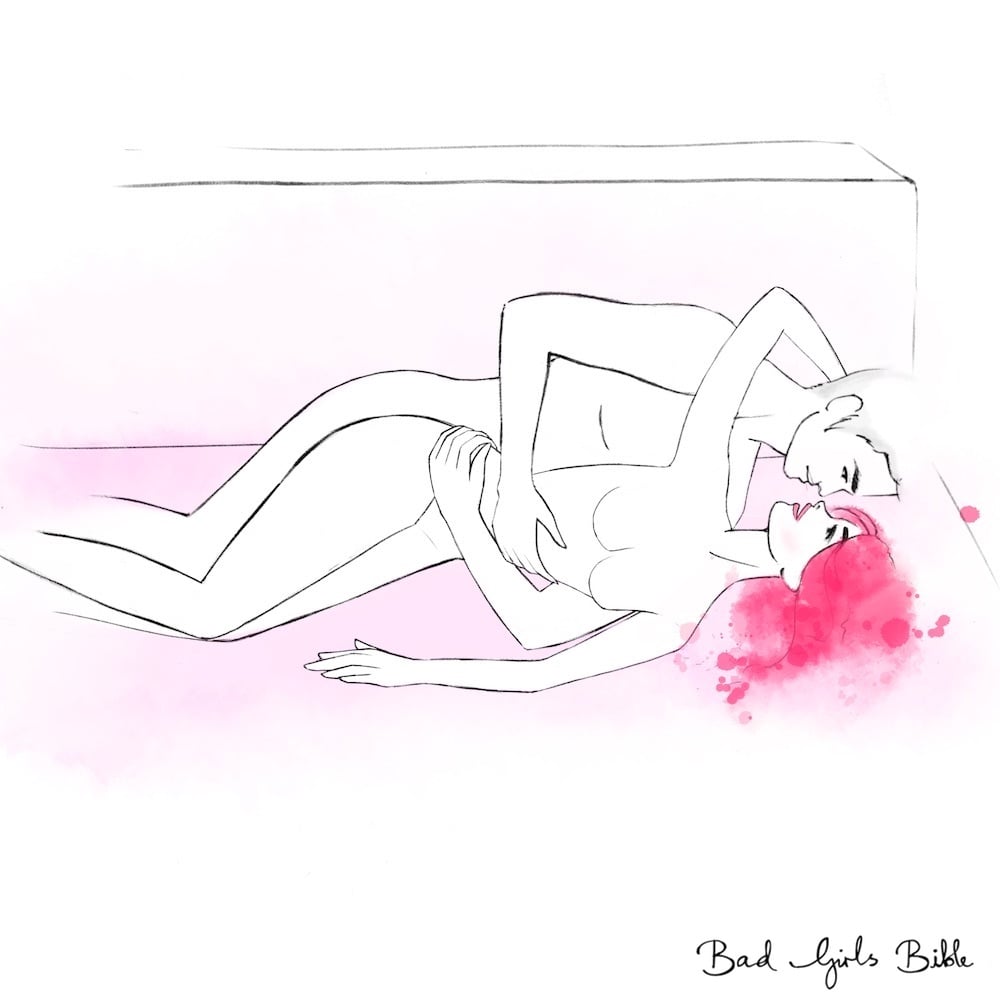 You don't have to change much up for Sofa Spooning–just the location!
Tea Spooning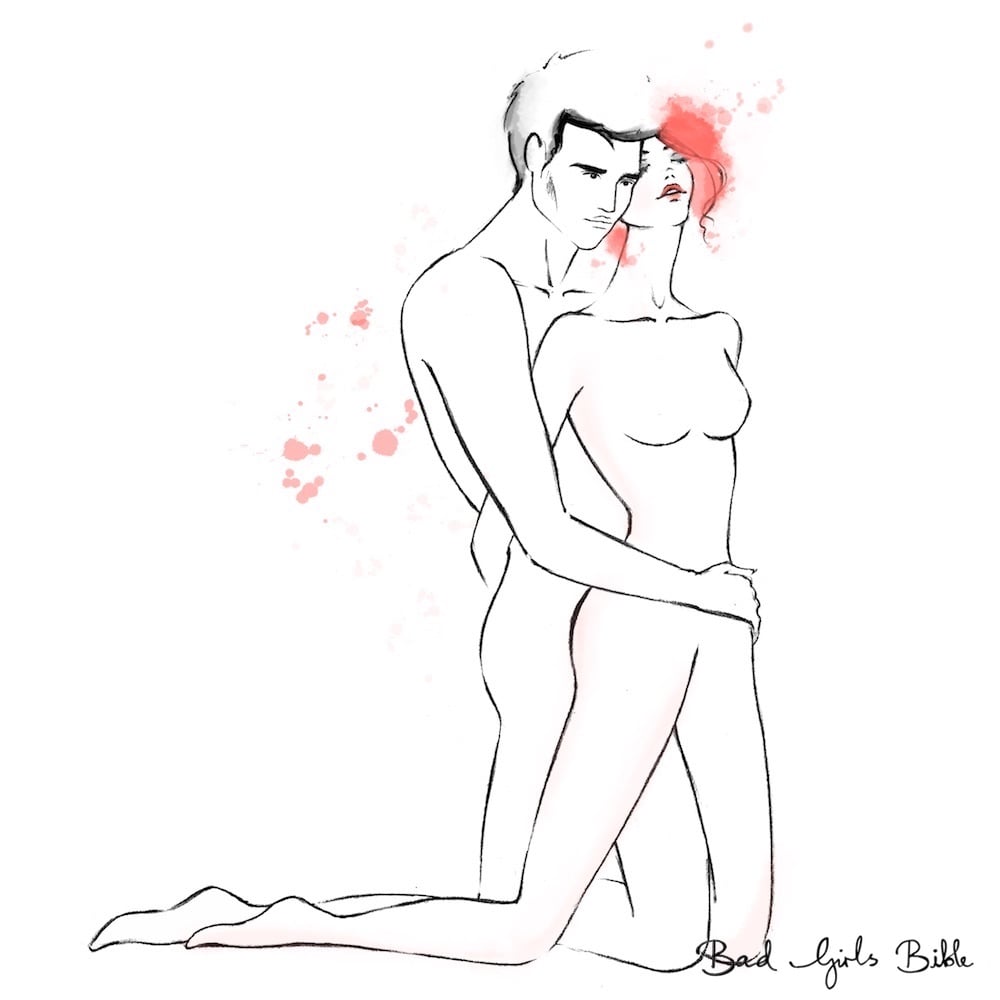 If you like your man behind you but want to mix it up, try kneeling, instead.
Bent Spoon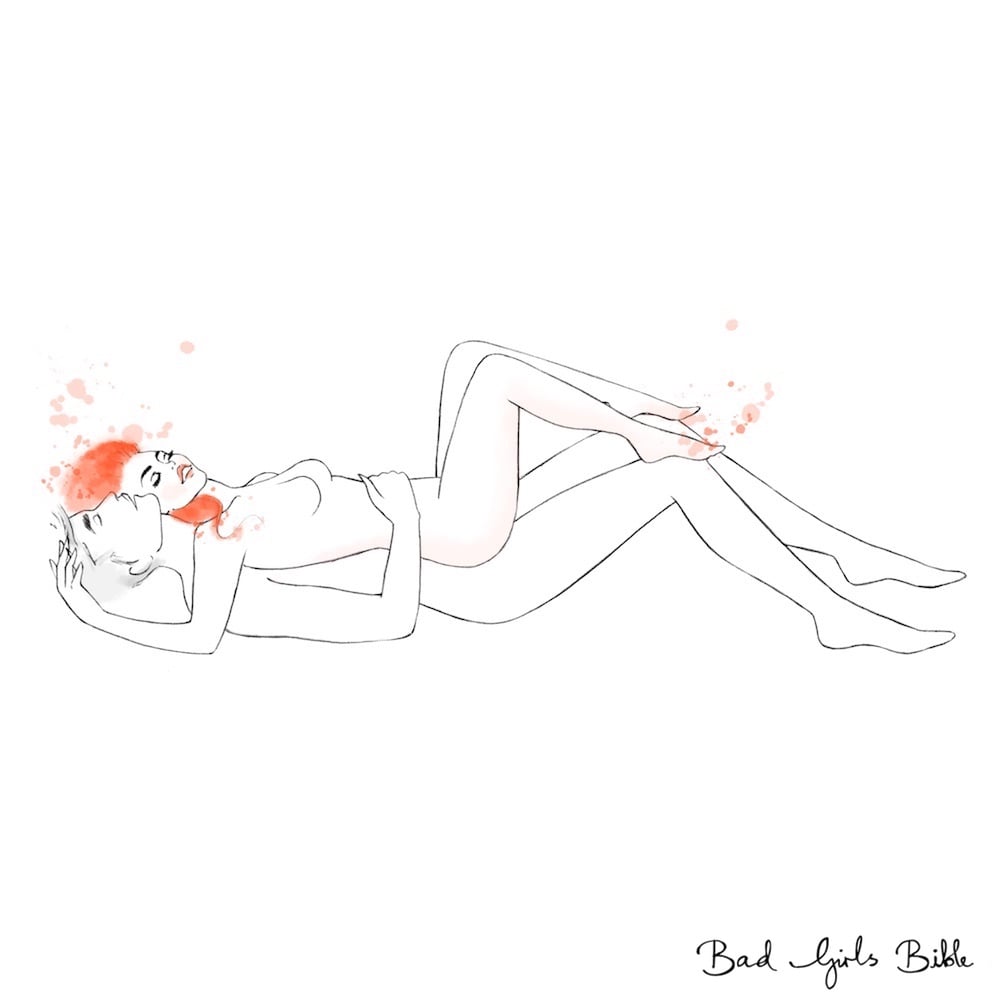 Another variation has the man on his back and the woman on hers on top of him!
Sean's Thoughts On The Spooning Sex Position
Like just about everyone else, I am a massive fan of Spooning. If feels wonderful, especially when it's with someone that you are really close to. I highly recommend you try it with your guy if haven't already.
This Woman Finally Learned How To Orgasm Easily During Sex. At 42 Years Old. Here's How...
I want to tell you about my friend Karen.
Karen came to me one day. She was hysterical.
She told me that her marriage was falling apart because she and her husband didn't have satisfying sex.
Every time they were intimate, Karen was faking her orgasms. It turns out she couldn't orgasm during sex.
In fact...
She never had an orgasm in her entire life. Not one!
This left her feeling embarrassed and ashamed. And...
She completely hid this from her husband. Thankfully...
It turns out that there is a way for any woman to orgasm. Easily. And have multiple vaginal and full body orgasms during sex and masturbation.
I shared the process with Karen.
After she followed the simple process, she could barely come to terms with how...
Quickly and dramatically her sex life changed.
We met up a few months later and...
She would not stop talking about it,
"I thought I was one of those women who couldn't orgasm. I used to think I was 'broken' and 'unfixable.' This saved my sex life, and that saved my marriage."
Even if you currently struggle to orgasm during sex or when masturbating, this process will also work for you.
And best of all, you don't need to do anything weird or uncomfortable to start having the best orgasms and sex of your life.