This guide on clitoral stimulation is going to teach you multiple techniques to rub, grind and stimulate you clitoris when you're masturbating alone and during sex allowing you to experience all types of intense orgasms with your man. Think of this guide on clit stimulation as an extension of my other masturbation guide here.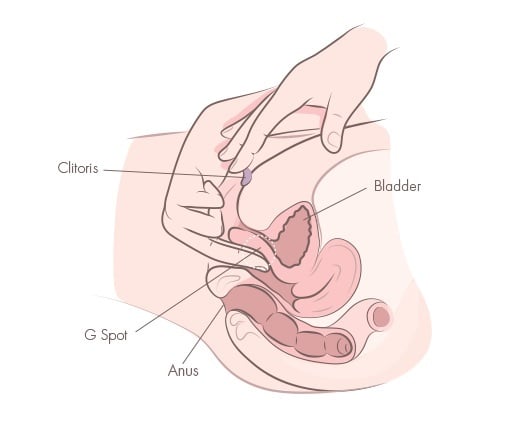 Note To Men: You guys can also perform these techniques to help give your partner more intense orgasms more often.
While you can skip down the page to the techniques by clicking here, I first want to cover a few important things that will help you to get the most out of these clitoral stimulation techniques and experience eye-rolling, screaming orgasms.
Podcast on Clitoral Orgasms (& Vaginal Orgasms Too)
Before reading the clitoral stimulation guide below, you may want to listen to the podcast I recorded on having more clitoral orgasms, more often. In the second half of the episode, I also talk about having more vaginal orgasms.
Listen to more Bad Girls Bible podcast episodes here
Your Environment & Frame Of Mind
This part may sound boring, but it's important, don't skip it. Creating an environment that puts you in a great state of mind is paramount if you want to have satisfying orgasms.
This includes things like:
Making sure your bedroom is fresh and clean.
Setting up the light in a way that makes you feel comfortable. This could include using candles, putting a t-shirt over a lamp to mute the intensity of the light or even just turning off the lights altogether.
Lighting a scented candle, burning incense or wearing a perfume that gets you in the mood.
Having a glass or two of wine to relax and get in the mood.
Wearing something that makes you feel sexy or wearing nothing at all.
You'll find more in-depth tips on how to get in the mood in this section of the Vibrator Guide. Also, you may want to check out the guide on increasing your sex drive and this article on how to make yourself aroused.
Know Yourself First
The first type of clitoral stimulation we're going to cover is masturbating and rubbing your clit. Then we'll cover multiple clitoris stimulation techniques to use during sex.
Softly On The Side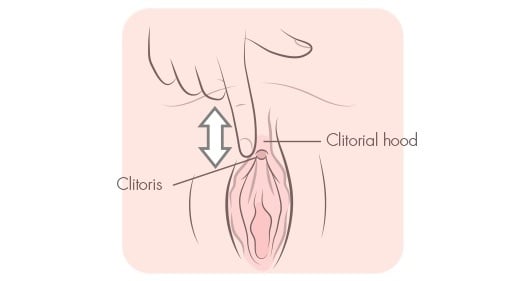 This first clitoral stimulation technique is very easy. You just need to rub the side of your clit with one finger. There's no need to start applying pressure directly to your clit just yet. Instead, rub your clitoral hood or keep your finger just far enough away from it so that it's not making direct contact.
Start with very light pressure so that it feels like you are almost teasing yourself. Then as you start to become more and more aroused, increase the amount of pressure you use. You should be able to reach orgasm this way, but if not, then all you need to do is bring your finger closer to your clit and even make direct contact with it for more intense stimulation.
2, 3 and 4 Fingers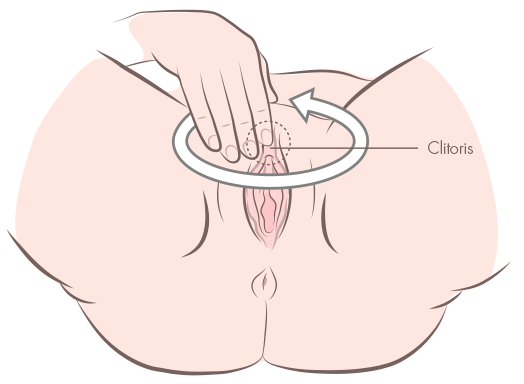 Moving on from using a single finger, is using more or even your entire hand. This of course provides more stimulation, with each finger running over your clit right after the previous one. You can run your fingers from side-to-side or you can move them in a circular motion. As always the key is experimenting with what you enjoy the most.
My Most Powerful Clitoral Stimulation Techniques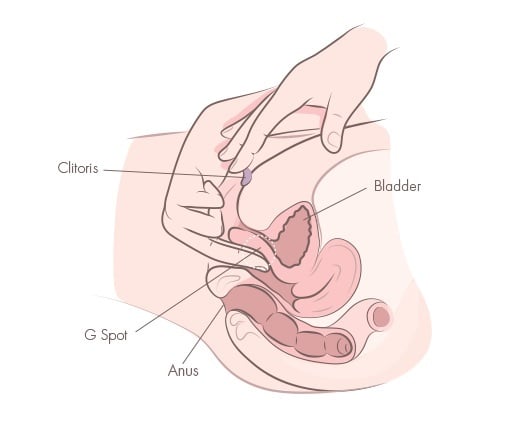 For fifteen more clitoral stimulation techniques using only your hands, you should check out our in-depth masturbation guide. It's got detailed illustrations of each of the fifteen techniques that will bring your wave after wave of orgasmic pleasure. Check it out here.
Now it's time to learn the clitoral stimulation techniques that you can use during sex.
First, You Need To Get Your Man On Board
All of these clitoral stimulation techniques work incredibly well when properly performed, but if your man is not in tune with you and your body, then you're not going to get much out of them.
That's why you need to talk to him and let him know what you need and what buttons to press to get you off. Otherwise, he will just be guessing what he should be doing. And if he's focusing on the pleasure of penetration and thrusting, you could wind up with no clitoral stimulation or orgasm based on your clit position and size [1]. This means no orgasm for you.
If you are having trouble talking to your man about what you want and need in the bedroom, then my advice is to check out our guide on sexual communication here.
The Most Important Thing
The amount of pressure you apply to your clit is almost always the most important aspect when it comes to pleasurable clitoral stimulation during sex. If your man can't apply enough pressure, then you're not going to feel much sensation.
Always keep this in mind when changing into a new sex position. And if you're looking for new positions to try out, you'll find over 100 different positions to choose from here.
The Grind
The most effective clitoral stimulation technique you can use is what I like to call The Grind.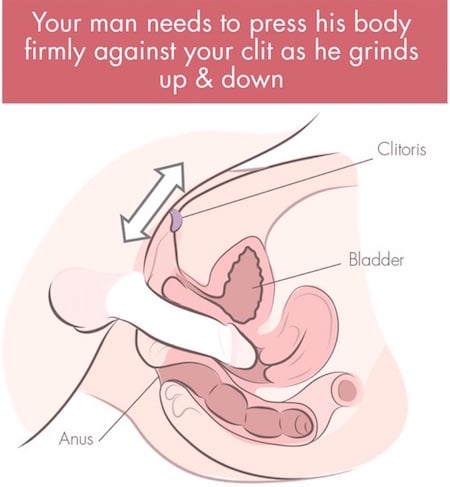 At a basic level, you will be grinding your clitoris against your man, but there are large number of variations you can incorporate depending on your personal preferences:
The Up & Down – Assuming you are in the Missionary position, your man simply needs to press the area above the base of his penis (this area includes his pubic bone) into your clit and grind upwards and downwards as he is thrusting in and out.
Side To Side – A variation of this is for him to switch to grinding from side to side on your clitoris instead of thrusting. So he needs to stay as deep as possible while grinding from right to left to right to left and so on.
Circular – Another variation is for him to grind in a circular motion on your clit while remaining as deep in you as possible. Doing this has the added benefit of making his penis move around and stimulate all your vaginal walls as he does it.
I've mentioned that your man should be doing all the grinding, but in reality, you can do it too, or you can both do it simultaneously. Experiment and see what you enjoy most.
The Vulcan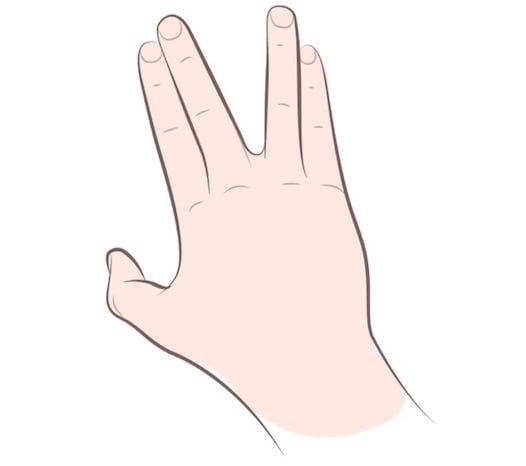 This next clitoral stimulation technique works best in girl on top sex positions like Cowgirl or the Man Missionary. While you are on top of your man, and he is lying down, he needs to lower his hand down the centerline of his stomach with his palm on his belly. When he reaches his penis, he needs to spread his fingers apart so that he makes the Vulcan "V" sign like in the illustration above.
So his baby and ring finger will be on one side of his penis, while his index and middle finger will be on the other side.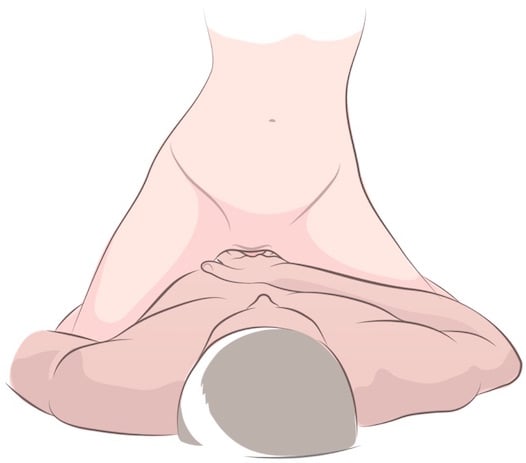 As he presses the Vulcan V down on his penis, his knuckles should come into almost direct contact with your clit, with his fingers pressing against your labia. As his fingers and knuckles are obviously very hard, it can make for some intense grinding when you start pressing your bodyweight down on them.
Men: are you looking for more tips. Find out how to make her orgasm.
You can also place a hand on your lower stomach and apply pressure so that your G Spot is pushed deeper into your vagina.
Vibrating Cock Ring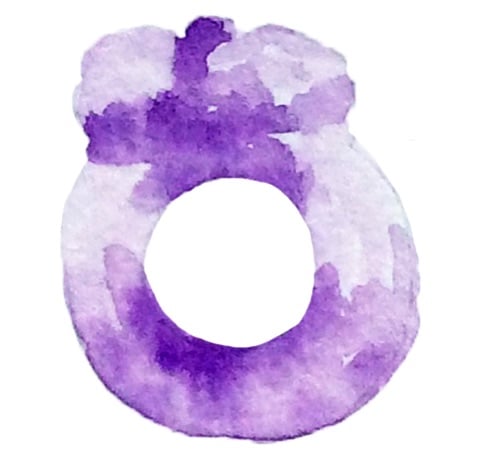 While some crazy folks think that using a vibrating cock ring is somehow 'cheating', most people see the very fun benefits of having your man wear one during sex. Sometimes these cock rings can slip out of place during sex, so don't be afraid to readjust it if necessary.
A Little Self-Help
When you are in a position like Doggy Style or almost any anal sex position(here's 19 anal positions you should try), then there is going to be zero pressure on your clit. The majority of women find clitoral stimulation more pleasurable than vaginal stimulation [2], so if you are in this majority, then positions like Doggy Style be frustrating.
So if you want any chance of cumming in these kinds of positions, then you'll need to give yourself a hand and rub your own clit. There are 3 different clitoral stimulation techniques that you can use here:
1. Manual Masturbation – This is the obvious choice and has the added benefit that you know exactly what you prefer. I've created a whole guide on the most satisfying masturbation techniques here.
2. His Hand – Of course, you could just get your man to take over and masturbate you with his hands while in a Doggy Style position like these ones. You may want to show him the Masturbation Guide so he has lots of different techniques to use.
Also, make sure to give your man lots of feedback on what you enjoy him doing and what you're not so fond of.
3. Use A Vibrator – Using a vibrator is NOT cheating. In fact, if you currently struggle to climax during sex, then a vibrator can help with that, even if you've never had an orgasm before [3]. While most vibrators aren't specifically designed for sex, you can find some that you can comfortably wear, and that stay in place during penetration without you needing to hold them.
Of course, there are also vibrators like the WeVibe that are designed to be used during sex.
The Right Positions
I've spent the first part of this guide talking about the clitoral stimulation techniques you can use during sex that involve using your hands or vibrators. The funny thing is there are many sex positions that naturally incorporate lots of clitoral stimulation like the ones below.
Coital Alignment Technique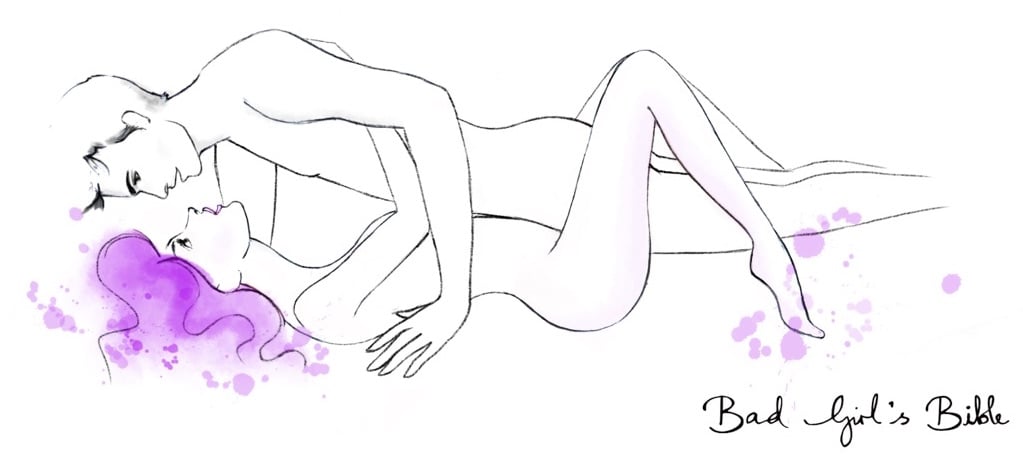 The Coital Alignment Technique or CAT as it is sometimes known is all about clitoral stimulation. Performing this position is very similar to Missionary position, but with a few differences.
Your man won't be thrusting like in Missionary position. Instead, he will stay deep inside you and move his body as forward as possible over you. Doing this will cause his penis to point downwards, and he will be making plenty of contact with your clit.
Then he will grind up and down on you. If you need more pressure than he is providing, then you can grind back against him. Click here to check out the main Coital Alignment Technique Guide.
The benefit of this position is more consistent and stronger orgasms [4][5] and the possibility of mutual orgasm [6]!
Cowgirl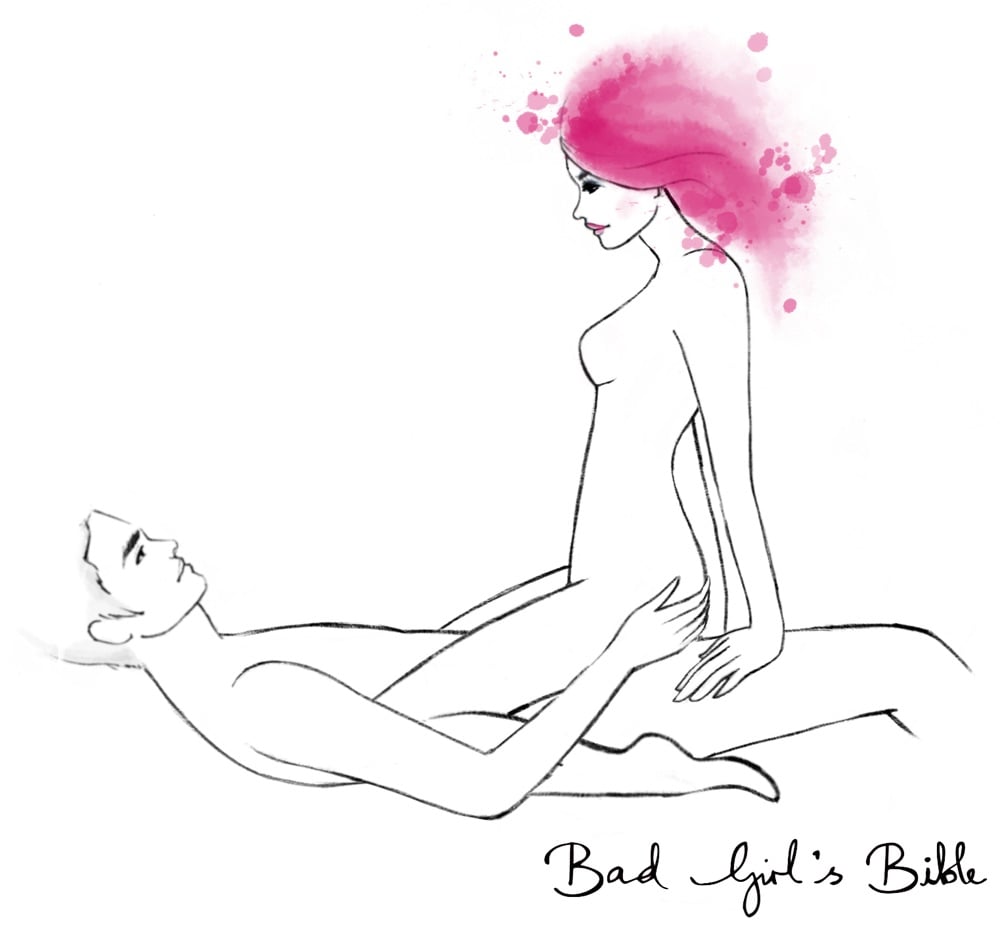 This classic position will have your man lying down on his back with you straddling and facing him with one leg on either side of his body.
While you can bounce up and down on your man in this position, you will get a lot more clitoral stimulation if you lean forward, resting your weight on your arms/elbows and then start grinding forward and backward on him. The amount of clitoral stimulation you get during Cowgirl position depends a lot on both you and your man's body shapes. Check out the Cowgirl guide for more info.
Thigh Tide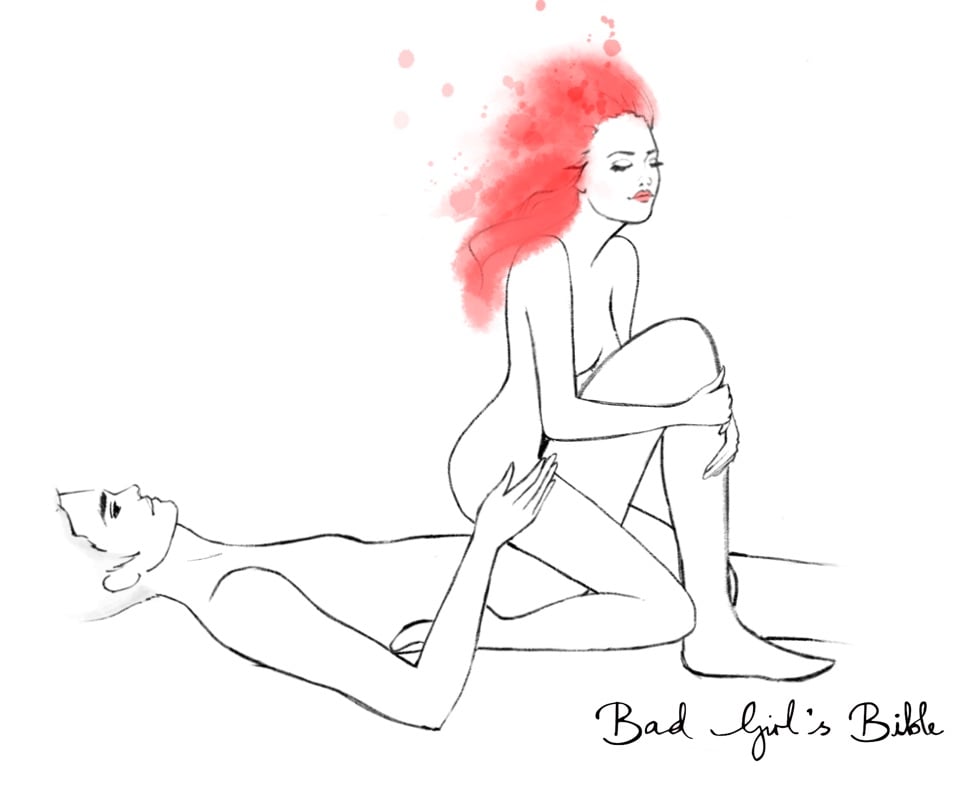 This is a position that you probably haven't tried before. You will have your back to your man and will be straddling just one of his legs.
While straddling his leg, you then need to hold it firmly and pull yourself into it so that you get lots of clitoral stimulation. Find out more about the Thigh Tide position in this guide.
Woman On Top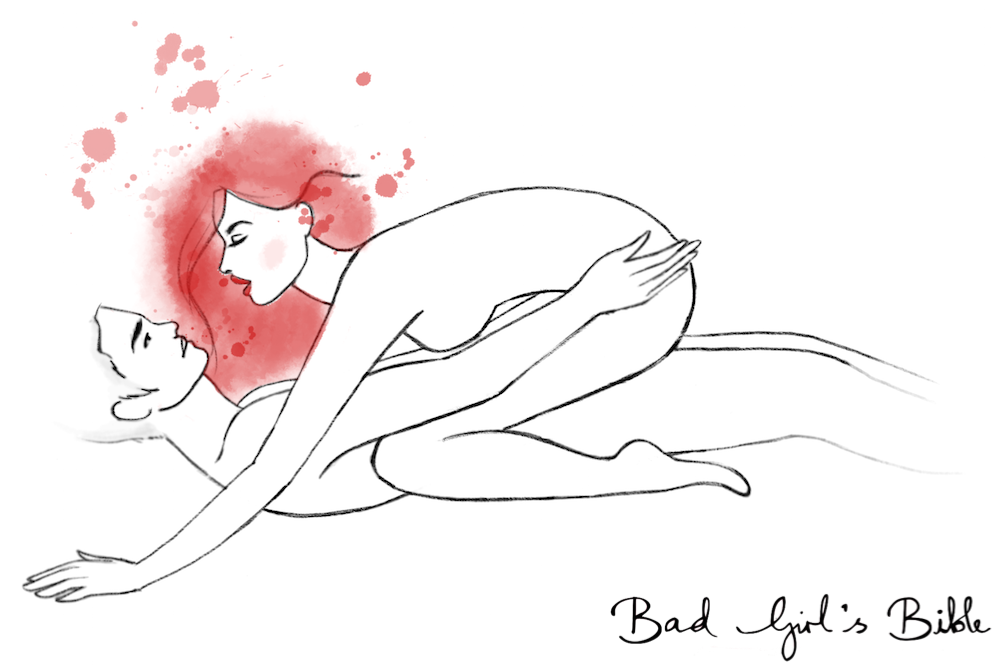 The Woman On Top position is very similar to the Cowgirl position with even more focus on clitoral stimulation. You need to straddle your man in this position just like in Cowgirl except this time you will be leaning forward and resting your weight on either your hands or elbows like in the demonstration.
You'll then be grinding yourself on your man. This position requires a bit of core strength, so if you have strong abs, you can grind down hard. Click here to learn more about the Woman On Top position.
Drill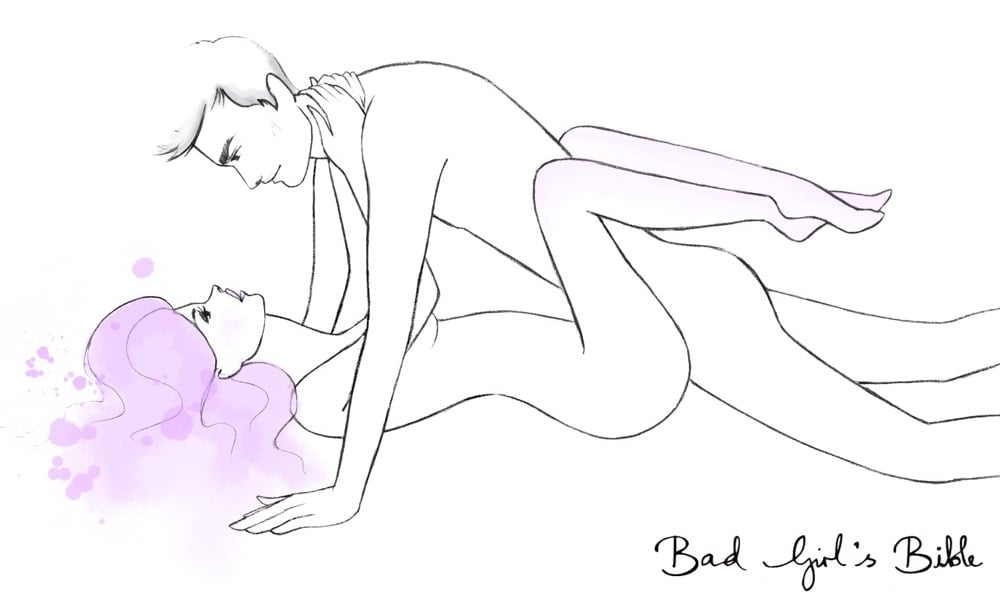 The Drill is another variation of Missionary position that provides lots of clitoral stimulation. As you can see from the demonstration, you'll be on your back with your legs wrapped around your man, pulling him into you.
Play around with how high you wrap your legs around his waist and how you position them for maximum clitoral stimulation. Learn more about the Drill position here.
You Know The Best Clitoral Stimulation Techniques
I have given you a big selection of different clitoral stimulation techniques that you can start using tonight. However, you will ultimately know what works best. How? Because everyone's body is different and responds to different things. So you need to experiment with these techniques and figure out what you enjoy most.
Remember, like with all my advice in the Bad Girls Bible, you need to treat these clitoral stimulation techniques as guidelines and not as the only way that you can pleasure yourself. Experiment, evolve and adapt them to suit you. And if you're looking for more ideas and techniques to pleasure yourself, check them out in this guide.