Since 1988, the Coital Alignment Technique has been heralded as the sex position that would allow women to experience orgasm during penetration. Originally created by psychotherapist Edward Eichel, the coital alignment technique, also known as CAT, the position was first published in the Journal of Sex & Marital Therapy in the 1980's [1], which included several studies about it since then [2].
Coital alignment aims to simulate a woman's clitoris with her partner's pubic mound to create the friction necessary for orgasm. This is important because 36.6% of women require clitoral stimulation to orgasm [3], almost 7 out of 10 women focus solely on their clitoris during masturbation [4], although another study found that more than half of women prefer a combination of clitoral and vaginal stimulation to get off [5].
Side note: If you are currently struggling to orgasm during sex or masturbation, then you may want to learn about the Easy Orgasm Solution. It will teach you how to have multiple vaginal and full body orgasms during sex and masturbation. It works even if you currently struggle to orgasm during sex or when masturbating. You can find out more here.
Researchers believe that "concurrent clitoral stimulation increases the likelihood of women experiencing orgasm in intercourse [6]."
CAT continues to be recommended as a treatment option for female orgasm disorder [7, 8].
The Coital Alignment Technique sex position is great if you like clitoral stimulation. To perform it with your man, you need to lie on your back with your legs open while your man is on top of you, just like in the regular missionary position.
Except…
Instead of thrusting deeply in and out, your man needs to move his body forward over your body, or "ride high [9]". This will change the angle that your man's penis enters you. It will now be pointing downwards and will be in greater contact with the back wall of your vagina (opposite from your G-Spot).
Related: If you want to give your man back-arching, toe-curling, screaming orgasms that will keep him sexually addicted to you, then you'll find them in my private and discreet newsletter. You'll also learn the 5 dangerous & "dumb" sex mistakes that turn him off and how to avoid them. Get it here.
When you man is this position, his pubic bone (and sometimes the lower section of his penis) will more easily come into contact with your clitoris.
What The Girl Does In The Coital Alignment Technique Position
When you are in the CAT position, you'll find that you will get much, much more out of it if you actively participate, rather than letting your man do all the work. The main thing you should focus on is keeping your clitoris in close contact with both your man's pubic bone and the lower part of his penis, to keep it stimulated as he thrusts up and down. A great way to maintain contact is to wrap your legs around the back of your man's legs and pull yourself into him.
You'll find that you get more out of the Coital Alignment Technique if you get into a nice rhythm with your man, where you rock backward and forwards as he rocks up and down.
What The Guy Does In The Coital Alignment Technique Position
Your guy is going to be thrusting vertically upwards and downwards (directly towards the mattress) when performing the Coital Alignment Technique position. This is completely the opposite to missionary position when your man is thrusting in and out in a mostly horizontal position.
When performing the CAT with you, he won't be thrusting that deeply, as part of his penis will be outside your vagina. Instead, he needs to focus on staying in contact with your clit almost the entire time and getting into a rhythm where you are both rocking back and forth while he is only performing small thrusts each time he rocks back and forth.
Things To Consider When Performing The Coital Alignment Technique Sex Position
Many of my students have performed the CAT sex position with their partners. They have reported varying levels of success; some say it feels wonderful while others get little enjoyment out of it. They have filled me in on a few interesting points:
The Coital Alignment Technique can feel great for you, but often your man may not get much out of it.
If you prefer clitoral stimulation during sex, then you will love the CAT sex position as your man will be in continuous contact with your clit.
If your man has a very short penis, then he may have a tough time performing the Coital Alignment Technique properly without constantly slipping out.
You may find the CAT frustrating and may not initially get anything out of it, but before giving up on it, play around with slightly different positions to see if they are more pleasurable for you. Try putting a pillow or cushion under your hips. Try getting your man to arch his back. Try rocking in a more circular motion instead of just up and down.
Similar Positions
Missionary
Missionary is the classic man-on-top sex position but may not offer as much clitoral stimulation.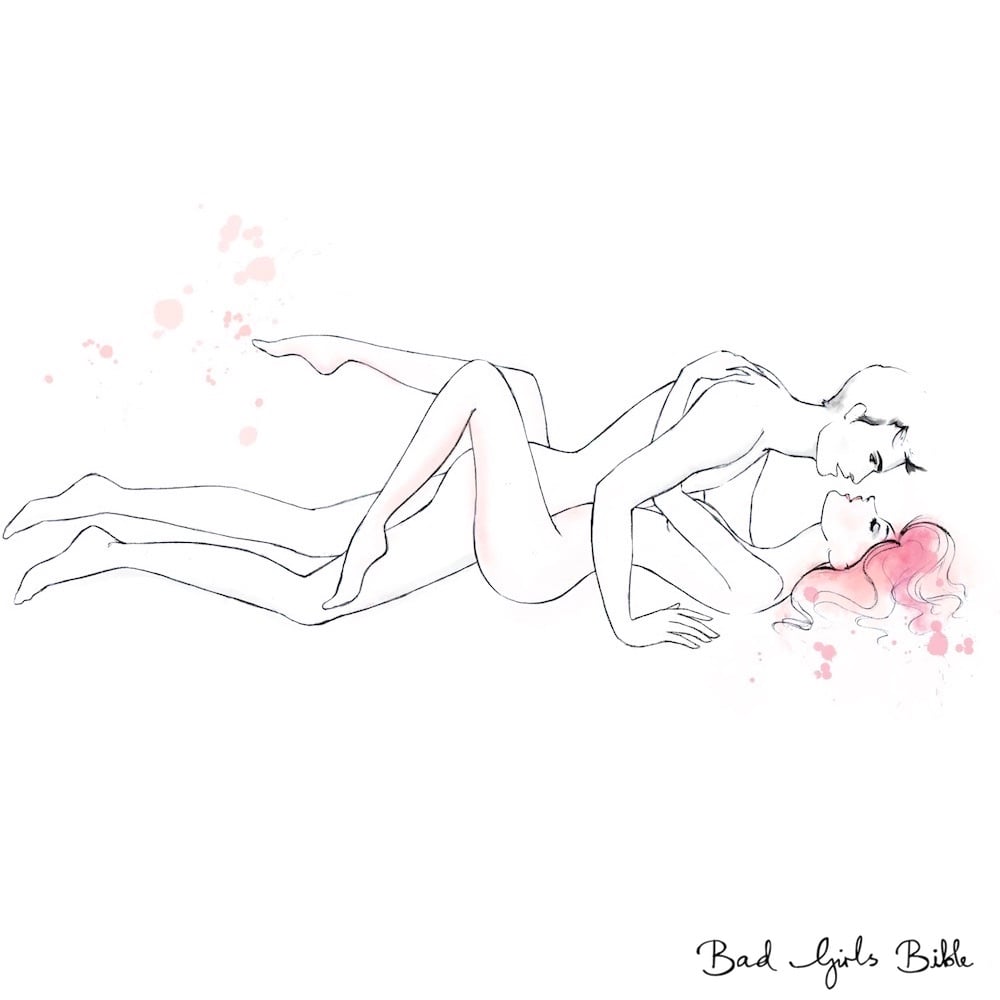 Drill
The Drill sex position can offer more stimulation to the woman because wrapping her legs around the man's waist lifts her hips.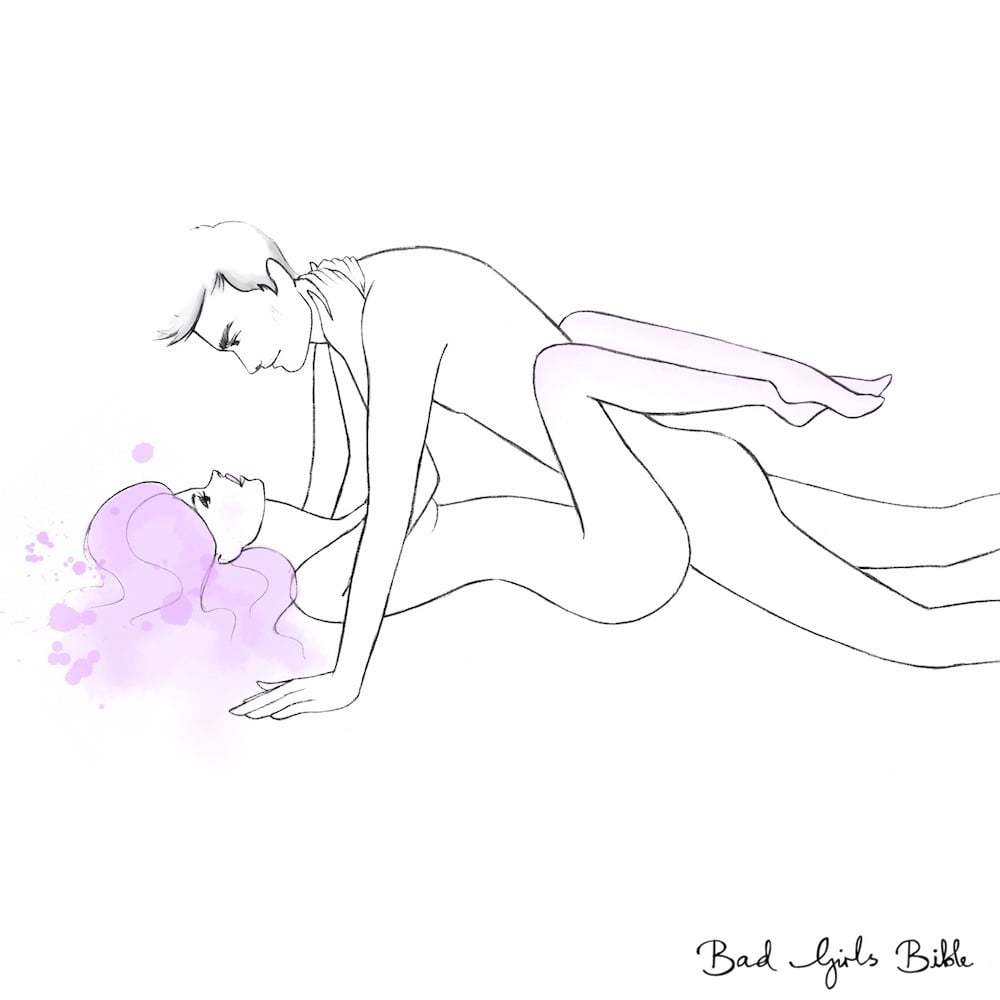 Thigh Tide
Although Thigh Tide doesn't have the man on top, it does offer quite a bit of clitoral stimulation.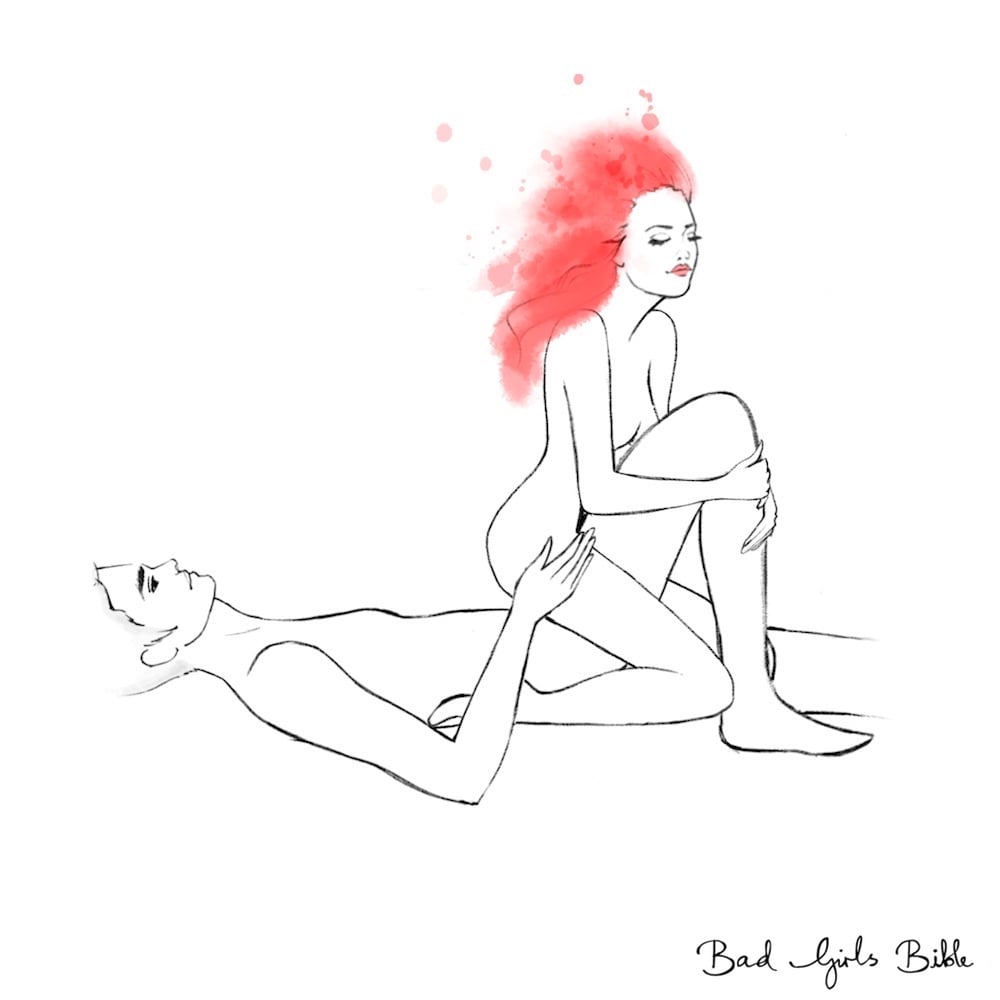 Sean's Thoughts On The Coital Alignment Technique Position
I initially did not enjoy the Coital Alignment Technique position that much. A lot of other guys that I talked to felt the same way (but not all of them). Luckily for me, I eventually discovered a variation of it that I and a lot of other guys really enjoy…
Legs Together – Instead of keeping your legs open when your man is on top of you, put them together and keep them straight. It's easiest to do this if your man is already inside you first. Your man then puts his legs outside yours, and you proceed with sex as you normally would with the Coital Alignment Technique. Putting your legs together will make your vagina feel far tighter for your man, meaning more stimulation and a tighter feel for him, while it still feels very similar to regular CAT for you.
Grab Each Other – If you require more clitoral stimulation and friction from your man, then you should grab each other. He can wrap his arms around your shoulders and back or even better, he can reach down and grab your butt and pull you closer. You can do the same and will find that grabbing his butt is better and also more erotic.
Note that closing your legs may not work if your partner is not well-endowed or if your thighs make it impossible to stimulate your clitoris.
Additional Tips From Readers
[credit: idhavetocharge] "A tip of my own to add to your site if you wish. Under 'coital alignment' place a pillow under her rear, but not directly under her hips. Have her drop her knees farther toward the bed ( straightening her legs and keeping everyone's knees closer together) this allows for plenty of contact while changing the angle of penetration to a more horizontal plane. ( a thick enough pillow and he will be hitting her G-spot) Also if he lowers his upper body towards hers this works much better."
[credit: _neon_reflected]  "Oh… this is NICE! My wife and I use coital alignment, and we find that grabbing the slats of the headboard or pushing with my feet on the footboard of our bed instead of thrusting with my hips gives me a consistent 'aim' when I'm at the right spot. To get a slight touch deeper, we'll combine hip thrusts with me pulling myself further in at the headboard.
We DID break our first bed this way, then we found a very sturdy handcrafted 4 poster bed with slatted headboard exactly for this…."
As you can see, experimentation is key to success.
Not Everyone Likes Coital Alignment
While some people have gone so far as to call this the "perfect" sex position, the reality is that not everyone likes CAT. Some people prefer thrusting to rocking, some women dislike the lack of G-spot stimulation, and some men think it's uncomfortable or even painful.
Like any sex position, you should experiment to see if you can find a way to make it work for you, but it's okay if that's not the case. There are plenty of other positions for you to try. For example, many women enjoy Thigh Tide because of the clitoral stimulation or Cowgirl because it puts them in control. Doggy style is also a good option for those women who can't get enough G-spot stimulation.
The important thing, no matter what position you're in, is to get direct clitoral stimulation. An easy way to do this is simply to use your hands — or his. Don't be afraid to ask your man to touch you in the way you need or to literally take things into your own hands.
Check out these tips for clitoral stimulation.
Some sex positions also enable you to use sex toys, which can increase your pleasure and the likelihood of you having an orgasm. There are couple's toys such as We-Vibe that you "wear" during sex, but many vibrators can also be used with your partner.
Finally, remember that what may be preventing you from coming might not be the position you're in. Something else might be at play. Find out more in this the "How to Cum" guide.
Orgasm Without Penetration
While CAT and some positions make it easier for you to orgasm during penetration, you don't have to have an orgasm this way. It's perfectly fine if you prefer to orgasm (or can only have an orgasm) through other types of sex, including manual and oral sex. So if you get off before your partner enters you or during mutual masturbation (more on that here) or even during dry humping before your clothes even come off, that's all common and perfectly fine!
Learn how to have an orgasm with more tips like these.
The coital alignment was designed specifically to help women orgasm during penetrative sex, and you might find it does this for you. But if that's not the case, you can have fun exploring other positions and techniques to orgasm during sex.
The Science Behind the Coital Alignment Technique
One of the biggest indicators of whether a woman will have an orgasm during penetrative sex is the distance between her clitoris and vagina, known as the clitoris–urinary–meatus–distance or CUMD [10, 11]. If your clitoris is further away, it's unlikely that it will receive any stimulation during penetrative sex. But if it's closer to your vagina, penetrative sex may stimulate it.
This was first studied by Marie Bonaparte (using the pseudonym Narjani) in 1924 who suggested that a shorter distance led to more orgasms after studying 200 women from Vienna and France [10].
Specifically it was proposed that if this distance is less than 2.5cm a woman is very likely to have orgasms solely from sexual intercourse.
Sixteen years later, the research team of Landis, Landis, and Bowles studied data and supported that conclusion. However, prior studies lack the scientific rigor that we've come to expect.
Modern researchers Wallen and Lloyd analyzed the results of Bonaparte's survey and the survey by Landis, Landis, and Bowles. While they found that the "absolute" clitoral-to-vagina distance that corresponded with orgasm likelihood varied between the two studies, perhaps because of differences in measurement, their conclusion was that both studies support the clitoral distance theory.
Data from two independent samples, collected over 70 years ago and more than 15 years apart, support the notion that the distance between a woman's clitoris and her vagina influences the likelihood that she will regularly experience orgasm solely from intercourse.
So, if a woman is unlikely to orgasm during Missionary position it may be due to how far her clitoris lies from her vagina (the length of her partner's penis can also contribute by aiding vaginal orgasm [12]). Coital alignment functions by aligning two bodies during sex to provide direct clitoral stimulation.
Coital alignment has produced "a somewhat more positive outcome than did directed masturbation [13, 14]". 37% of female participants in one study reported substantial improvements [15]. However, other studies struggled to replicate the claims made by Eichel about coital alignment, including increased or enhanced orgasms [16].
Resources
One Redditor warns others that sexual activities that involve a lot of grinding, including CAT, can lead to more urinary tract infections.
Dr. Justin Lehmiller ponders the best sex position and describes the benefits of coital alignment.
Regina Nuzzo looks into the reason why so few women seem to orgasm from penetrative sex and reveals that the distance between a woman's clitoris and vagina is related. Known as the "rule of thumb," this was initially discovered by Princess Marie Bonaparte who investigated clitoral distance and orgasmic ability.
Frequently Asked Questions
FAQ #1 – How does Coital Alignment Technique differ from Missionary position?
Although CAT and Missionary (more on that here) might look similar because the man is on top in both, there are some crucial differences. For starters, your partner will pull his upper body up further than in Missionary, so his pubic area can rub against yours. The changes the angle that his penis is at.
Secondly, you'll want to focus on rocking and grinding versus thrusting when in this position. Both of you can move rhythmically to increase clitoral sensations for yourself.
Wrapping your legs around your partner is important to coital alignment, too.
FAQ #2 – When won't Coital Alignment work?
The man's position in CAT can require more penis length to work correctly. This isn't a position that works well if your partner is smaller.
Related: Positions & Techniques To Guarantee Intense Orgasms During Small Penis Sex
Similarly, if your vulva is especially fleshy or you need more pressure than CAT provides, this position may not be satisfying.
Finally, some women don't like coital alignment because it takes away from G-spot stimulation. If you prefer internal stimulation or a solid combination of both during sex, then you might want to try out other sex positions.
FAQ #3 – What other positions work for female orgasm?
If Coital Alignment doesn't work for you or if you want to find more positions that will guarantee an orgasm, try any of the following.
Of course, you can find more sex positions to experiment with to find out how you can orgasm during sex in our ultimate list of sex positions.
Orgasm Every Time. Easily. Here's How...
I want to tell you about my friend Karen.
Karen came to me one day. She was hysterical.
She told me that her marriage was falling apart because she and her husband didn't have satisfying sex.
Every time they were intimate, Karen was faking her orgasms. It turns out she couldn't orgasm during sex.
In fact...
She never had an orgasm in her entire life. Not one!
This left her feeling embarrassed and ashamed. And...
She completely hid this from her husband. Thankfully...
It turns out that there is a way for any woman to orgasm. Easily. And have multiple vaginal and full body orgasms during sex and masturbation.
I shared the process with Karen.
After she followed the simple process, she could barely come to terms with how...
Quickly and dramatically her sex life changed.
We met up a few months later and...
She would not stop talking about it,
"I thought I was one of those women who couldn't orgasm. I used to think I was 'broken' and 'unfixable.' This saved my sex life, and that saved my marriage."
Even if you currently struggle to orgasm during sex or when masturbating, this process will also work for you.
And best of all, you don't need to do anything weird or uncomfortable to start having the best orgasms and sex of your life.