This discreet newsletter will teach you how to eat pussy like a god and make her squirt. Click here to get it.
I'm going to show you how to eat pussy so good that your partner speaks in tongues.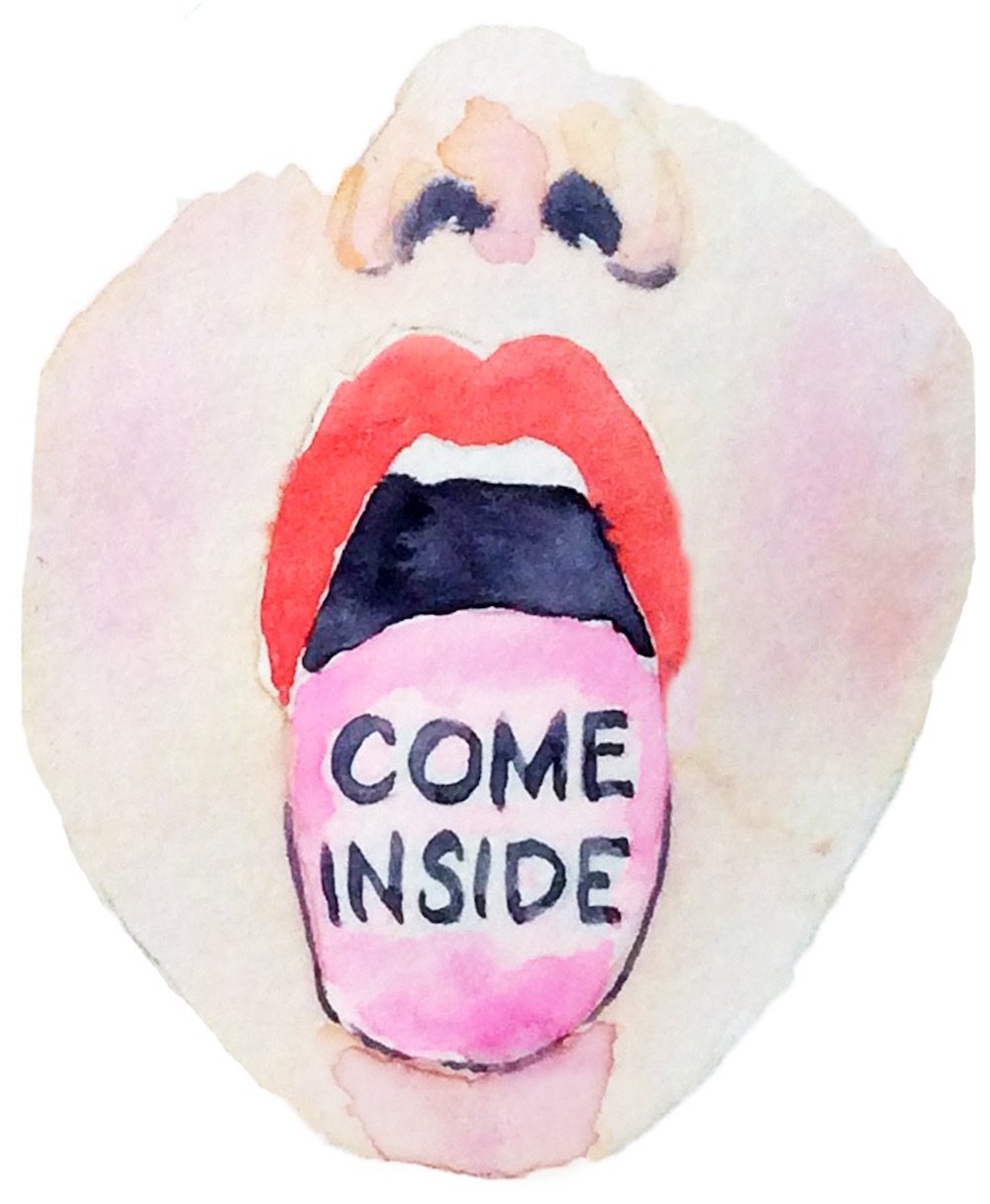 When you use the techniques I am about to show you, your girl is going to shout, scream and cry for more. She may even display signs of addiction.
Side note: If you are currently struggling to make your girl orgasm, then you may want to learn about Squirt, Shake & Scream. It begins by teaching you the techniques to make your girl orgasm and squirt consistently. Then you'll learn how to give her multiple vaginal and full-body orgasms. You can find out more here.
Unfortunately, there is a lot of garbage out there on eating pussy the right way. That's why I've structured this pussy eating guide so that it couldn't be easier to be a cunnilingus master.
Truth be told, there are only two techniques you need: the Pancake and Vortex and they are by far the most pleasurable and intense you can use. In fact, every other technique you can learn is nowhere near as important as these two techniques…although I will teach you some other techniques, so you never run out of ideas.
Here's how the guide is structured.
Her Anatomy – A little boring, but god damn important!
The Build Up – 7 Steps to teasing her to please her aka pussy eating foreplay
Pancake & Vortex – The only 2 techniques you need to make her shake & scream with pleasure when you eat her pussy.
14 More Powerful Pussy Eating Techniques – These will make sure she is eternally grateful for the ecstasy you give her and that you'll never run out of ideas.
11 Dangerous Mistakes Most Men Make – You must avoid these horrendous mistakes that most men make when licking her pussy if you want her to stay obsessed with you.
You don't want to start using the Pancake and the Vortex to eat her pussy immediately. Taking your time to build up her anticipation and make her want it more is going to make her orgasms more powerful and intense.
This way, when you do finally lick, suck, caress and please her with your mouth, she'll feel like a heroin addict who finally got her fix. And in case you're wondering, women adore having their pussy eaten.
I will teach you how to properly "build up" to eating her pussy in just a second, but first, you need to fully understand her anatomy…
Sidenote: If you want to learn how to make your girl squirt like a pornstar and give her girl back-arching, toe-curling, screaming (multiple) orgasms to keep her sexually addicted you, then you can learn them in my private and discreet newsletter. Get it here.
1. Her Anatomy
In the diagram below, you can see the most important parts of the outside of her vagina aka her vulva.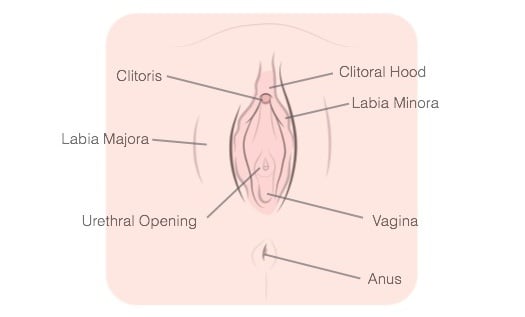 Clitoral Hood – At the top of her vagina, you can see her clitoral hood. The clitoral hood is the little flap of skin that covers her clitoris. It protects her very sensitive clitoris from getting hurt and is similar to your foreskin [1]. Both are known as the "prepuce" [2].
Clitoris – Her clitoris is probably the most important part of her vulva when you are eating her out and licking her pussy. You can see a tiny nub of flesh full of nerve endings that you will be focusing most of your effort on. As you can see from the diagram, it's located just underneath her clitoral hood (prepuce) [3, 4].
However, the clitoris extends far between the surface [5]. The clitoris is actually 9 to 11 centimeters long in total [6], so you don't necessarily have to focus solely on the glans (tip) [7] of her clitoris to provide her pleasure when you lick her pussy. The hidden part includes a shaft [8, 9, 10], so you can think of your licks as stroking her shaft.
Labia Majora & Labia Minora – Her labia majora & minora are the flaps of skin indicated in the diagram that run along the outside of her vagina. As you can see, her labia majora are much larger than her labia minora. The sensitivity of these varies from woman to woman. Some women will adore it when you lick their labia, while others will be indifferent to it.
Urethral Opening – Her urethral opening is where she pees from, so we won't be paying much attention to it when eating her pussy.
Vagina – Her vagina is the other area of her body, besides her clit that is super sensitive and feels incredible for her when it's stimulated with your tongue or lips or finger or penis. Because the vagina is internal, it's technically incorrect to say you eat her vagina.
Anus – Her anus also possesses a lot of nerve endings and can be quite pleasurable to have stimulated too if she's into anilingus. I cover more about anal sex in the guide on how to have anal sex.
Now let's learn about her important internal anatomy…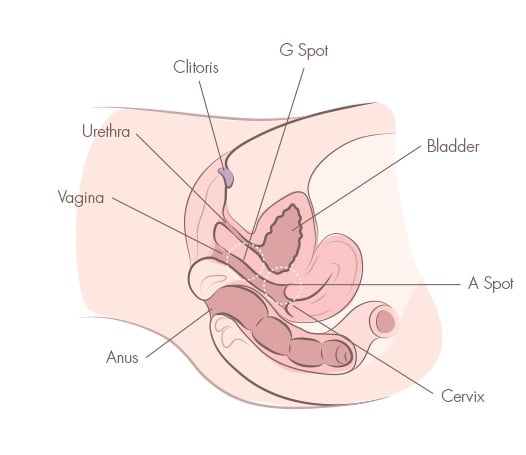 G Spot – Her G Spot is located on the anterior wall of her vagina [11, 12, 13] about 2-3 inches (5-7.5 cm) inside the anterior wall of her vagina. The G-spot is actually an area inside her vagina where you can access her clitoris internally [14]! If you're using your fingers, feel for a place surrounded by valleys or "gutters" that has subtle ridges [15 p 82-83]. However, as I explain in the guide to making her squirt, her G Spot won't feel pleasurable to touch until she is thoroughly aroused and horny.
So if you go looking for it but haven't first got her aroused, you're going to have trouble finding it.
You can find out more information on how to find her G Spot in here. Note: I originally wrote this guide for women, but it is just as relevant for guys.
A Spot – As you can see from the diagram, her A-Spot is located much deeper in her vagina on the anterior wall by the cervix. When stimulated it can lead to very powerful vaginal orgasms. Using your fingers to reach her A Spot is going to be difficult, so you may need to invest in something like a dildo to do it for you. The A-Spot is also called the deep spot, AFE zone or even the "epicenter."
Vagina – The entire length of your girl's vagina is sensitive and includes both her A Spot and G Spot.
Cervix – Your girl's cervix is very sensitive, and while some women love having their cervix stimulated during masturbation and sex, others find even the slightest pressure on their cervix to be an intolerable source of painful sex. More on painful sex here. Pain might increase around her period when the cervix has become hard and low [16].
Anus & Rectum – Her rectum is the area inside her anus. Some girls love anal sex and being fingered anally, while others don't. My advice is to talk to her and experiment. The anal sex guide should help you out too. One thing to remember is that the anus doesn't self-lubricate, so you should always use lube. Discover more about lube.
When you're eating her pussy, you will be mostly focused on her outside anatomy, and I've covered the most important parts of it above.
2. The Build Up – 7 Steps To Teasing Her To Please Her
Teasing will bring her to a frenzy, and it works on men, too. More about that in this post. This foreplay also increases the chance that your woman will orgasm – by 50% if you add 15 to 20 minutes [17]!
Now here's a step-by-step guide to tease her:
1. Start With A Slow Journey – Kiss from her mouth down to her breasts. Keep kissing her body as you lower yourself to her waist and hips. As you get to her panties, place a hand on either leg and slowly spread them. Spots that are especially sensitive and turn a woman on are known as erogenous zones — and you might be surprised by some of them!
2. Panties – Don't worry about taking her panties off just yet. Instead, kiss her vulva/vagina through her panties and even squeeze it lightly with your lips. You can also softly run your tongue over her vagina from the bottom right up to the clit.
3. Lower – After kissing her through her panties for a few minutes, move slightly lower with your kissing along her inner thigh. You can go as far down as the inside of her knee here, but the further you move from her vagina, the less sensitive it gets. Kiss her down along her inner thigh on one leg, then back up and afterward switch to her other leg.
If she likes it rougher, you can gently squeeze the skin of her inner thigh between your lips or even teeth, but make sure not to be too rough. Otherwise, you risk seriously hurting her. You can also suck the skin here to give her a hickey that no one will see but her.
When crossing to the other leg, spend a little longer kissing her vagina outside of her panties. Don't be surprised if she begs you to start eating her out at this stage…if she does, try to keep a slow pace to keep building the anticipation.
4. Mons – Before you take her panties off, move your way above her clit to the top of her panties and place some soft kisses on her mons (the area above her clitoris).
5. Take Them Off – If she hasn't already taken her panties off, place your fingers on either side of them, on the outside of her hips and slowly pull them down until they are all the way off.
6. Close Call – Now start slowly kissing and licking (extremely softly) all around her vagina and clit. The edge of your lips should be making a tiny amount of contact with her vagina and clit as you move your way around…constantly teasing her.
7. Main Course – Finally, you can get to the main course…it's time to start using the Pancake & Vortex.
3. Pancake & Vortex
These two techniques are incredibly easy to perform and as I said earlier, will be responsible for the most powerful orgasms you can give her when eating out her pussy. They are the:
The Pancake
The Vortex.
The Pancake
The Pancake is crazy simple.
Start by sticking your tongue out of your mouth. Allow it to drop down over your chin and relax. Now make it wide and flat (like a pancake) as demonstrated below: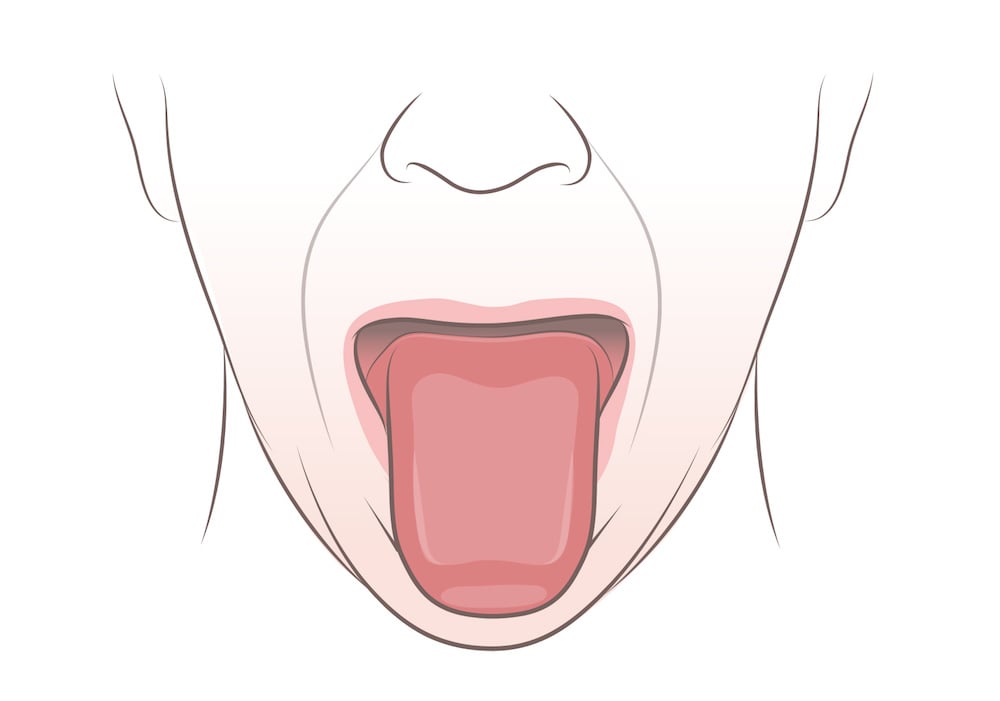 You will be holding your tongue in this position when performing the Pancake, keeping it relaxed, wide and flat.
To perform the Pancake, start with the base of your tongue at the bottom of her vulva. Making sure your entire tongue is thoroughly covered in saliva, slowly move your head upwards from the bottom of her vagina to the top so that your tongue moves from the bottom until the tip of your tongue passes over her clit.
DO NOT make movements with your tongue. Keep it relaxed, wide and flat. INSTEAD, your head will be doing all the movement. As your head moves upward, your tongue will follow.
This is the position you should start at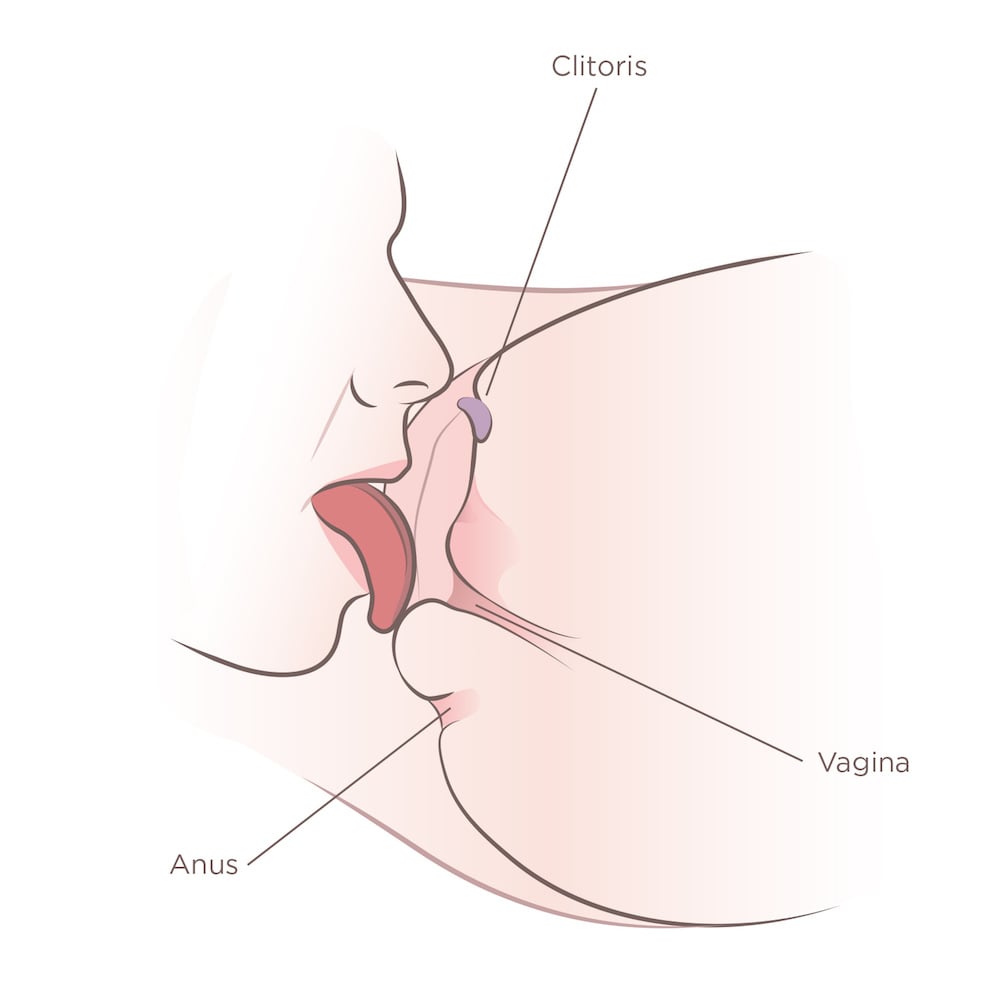 When you reach the top, stop, pull away from her so you are no longer making contact and start over from the bottom.
In the following demonstration you can see the position at the top…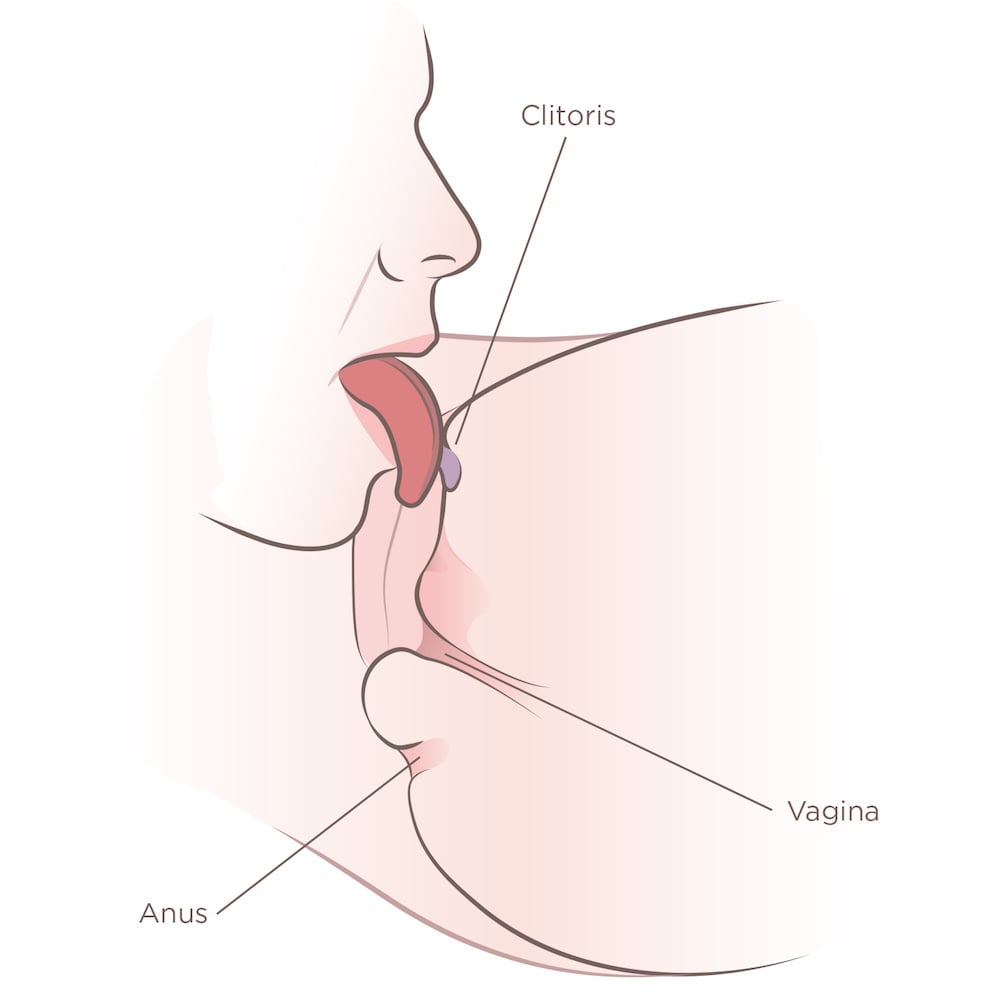 Keeping your tongue relaxed, wide and flat ensures that you cover as much area of her vulva/vagina as possible, giving her maximum stimulation.
That's all there is to performing the Pancake…
Although there are some important things to keep in mind…
What should I do with my tongue while I move my head upwards?
Just keep it relaxed, flat and wide. That's it. Don't try to make any shapes with it. Don't curl it up. Don't perform a flicking motion. Again, it should be relaxed, flat and wide when you eat out your girl.
How much pressure should I use to properly eat pussy?
First of all, you won't be using the muscles in your tongue to apply pressure as you move upwards during the Pancake because you will be focused on keeping it relaxed, wide and flat…
I know I sound like a broken record here, but this is crucial to keep in mind.
Instead, you will be using your head and neck to apply pressure. This has the dual effect of making sure your tongue doesn't get tired so quickly…enabling you to perform cunnilingus for longer, but also allowing you to provide huge amounts of pressure (if required).
So, how much pressure should you use…
As little as possible. More pressure does not equal more intense orgasms. You should use minimal pressure for the first few minutes and gauge her reaction to it. You should be so light, that you are barely touching her.
If she can come from incredibly light pressure, then you should focus mostly on using light pressure.
If you are not hearing, seeing or feeling much of a reaction from her (faster breathing. moaning, clutching at linens, bodily tension if she's close to orgasm), then start to use increasing amounts of pressure until you can tell she's enjoying it. However, your goal should always be to use the minimum amount of pressure possible to make her cum when you are eating her out.
How fast should I be?
This is similar to the amount of pressure you use…
Move as slowly as possible.
Again, you need to see how she responds to this. If she isn't getting much enjoyment from your slow movement, you'll need to speed up. Many women can come when you slowly move from the bottom of her vagina to the top over 15 long, agonizing seconds, while others need you to move as fast a dog drinks water!
When figuring out both how much pressure to use and how fast you should move, you need to listen to her body and see what she reacts to. You should also get her feedback on your technique. Don't be afraid to ask her if this works for her.
Alternatively, you can experiment by specifying that you're going to perform a few techniques and getting her to rate them.
Should I do anything different when she is about to cum?
There are two schools of thought about what to do when she is about to cum. The first is for beginners and intermediate folks while the second is for advanced guys…
Super-Steady Pace (beginner – intermediate) – Most women greatly appreciate when you can maintain an incredibly steady rhythm as they are about to cum. So, keep the pressure the same and maintain the same speed. Switching it up now can ruin her orgasm and mood.
Agonizing Slow Down (advanced) – If you have gone down on your girl, brought her to orgasm repeatedly and can now do it with ease, you should try the Agonizing Slow Down.
Here's how to do it…
When you can tell that she is close to orgasm, slow down ever so slightly so that the final approach to orgasm takes longer than usual. This way she will get to experience the hyper-pleasurable build up to orgasm over a longer period.
As you try this more and more, the closer she is to orgasm, the slower you should get. This way, she will get to enjoy that wildly-intense feeling right before she comes, for longer. This will make her come much harder than normal.
Warning: If you haven't eaten her pussy much before, you won't know how her body reacts to your tongue that well. So trying the Agonizing Slow Down when you are new to eating her pussy is a recipe for a frustrated, dissatisfied woman.
Should I do anything different AFTER she has had an orgasm?
Just like guys, most women have a refraction period when they have clitoral orgasms. Her clitoris and vulva become ultra-sensitive, and when it's touched, it's almost painful.
So what should you do if your woman has a refractory period?
Well, don't touch it for a few minutes, duh!
Instead, focus your attention elsewhere, kissing around her vagina and even returning to her inner thighs. Basically, do anything except making contact with her clit and vulva. Returning to foreplay is a good idea or simply lying beside her until she recovers can work too.
After a minute or two, if you want to continue eating her out (and she wants it too), you can test how sensitive she still is by kissing the bottom of her vagina and gauging her reaction. If she flinches, then wait longer. If she enjoys it, move higher and higher until you can touch her clit AND she enjoys it.
Any flinching on your way up and you'll need to wait longer.
The Vortex
The Vortex is very easy to perform and crazy effective at making her eyes roll into the back of her head.
Make a small "O" shape with your lips like in the illustration below. This "O" shape should be a little bigger than her clit.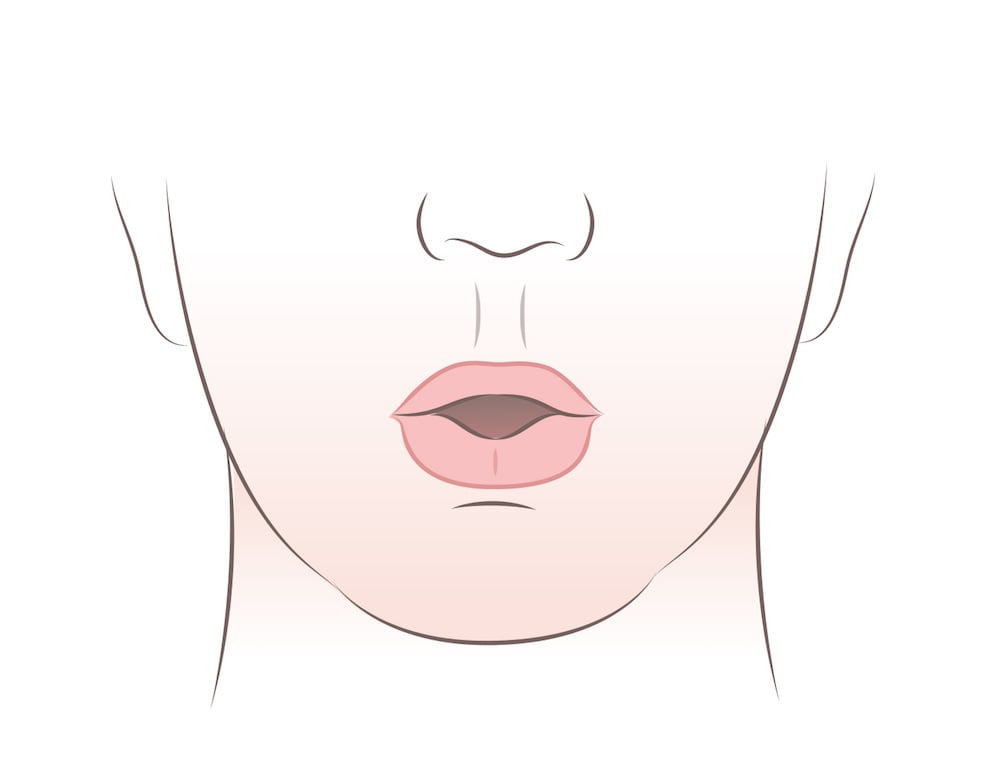 Make sure your lips are covered in saliva and place this "O" over your girl's clit and the surrounding area
Then gently start sucking it.
This will cause her clit to get sucked up into your mouth and will feel very pleasurable for her.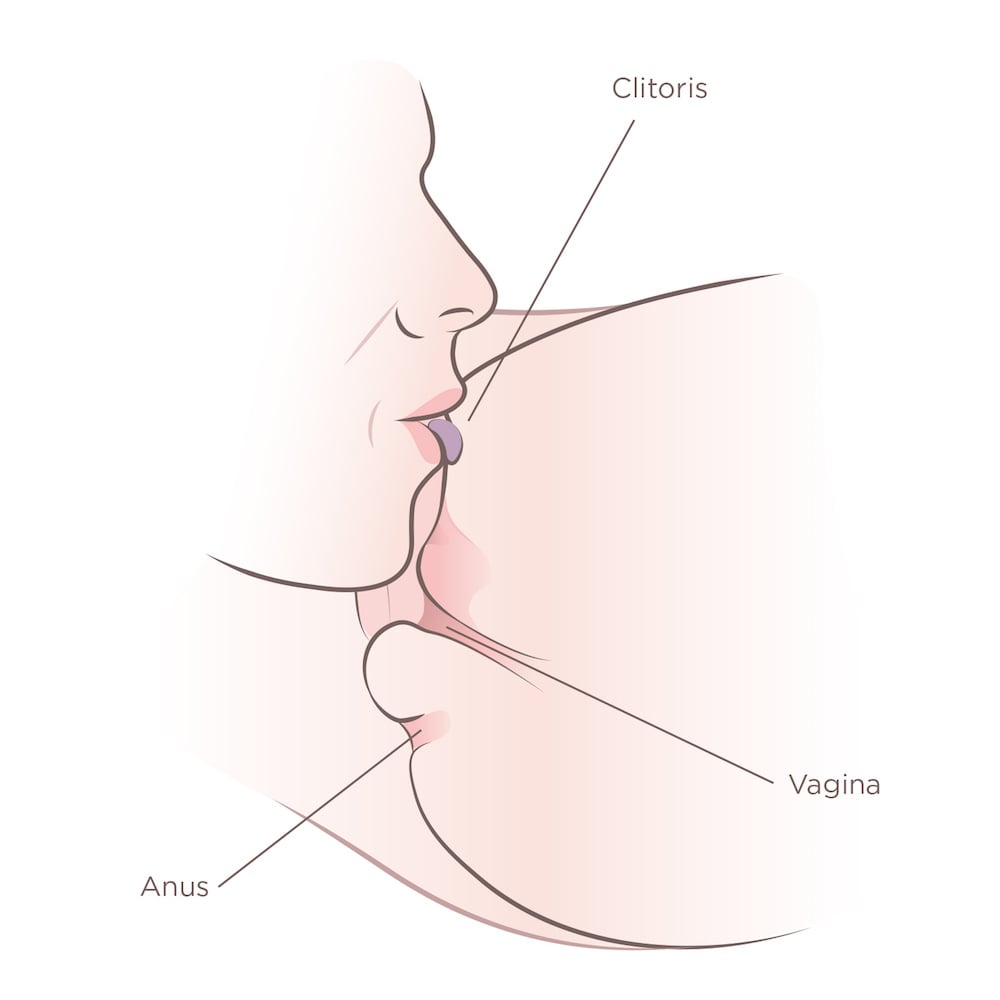 That's the basic technique, but there are multiple variations you should try, all while keeping note of what she enjoys most.
Constant Vortex – The easiest way to perform the Vortex is by keeping a constant level of suction. For some women, this is all they need to reach climax.
Rhythmic Vortex – When performing the Rhythmic Vortex, you will be sucking and releasing the pressure rhythmically, pulling her clit in and out of your mouth and releasing it. How fast you do this is up to you…
You can do it slowly or as fast as the beat of a song. Talk to her and listen to her body and gauge what she prefers.
Hard Vortex, then slow release – First you need to quickly apply a strong level of suction to her clit, before releasing it slowly. Rinse & repeat.
Licking Vortex (my favorite) – When you suck her clit into your mouth, try holding it there, while you use your tongue to massage her clit. As I mentioned earlier, vary the speed and pressure you apply with your licking to figure out what she enjoys most.
How big should my O be?
The answer to this question is…
Whatever works best.
If your girl prefers you to use a small "O" where you can barely suck her clit into her mouth, then do that. If she finds it most pleasurable when you have a very wide "O" and suck in her clit along with a large part of her labia and vulva, then do that instead.
As always, listen to her body for feedback, but also talk to her and you'll figure out exactly what she needs for her most powerful orgasms.
Should I use my teeth on her clit?
Hell no! Her clit is one of the most sensitive spots on her body, so it's highly likely that your teeth will hurt her clit. Even if she explicitly asks for it, you need to be incredibly cautious and I would recommend that you never use your teeth.

And that's the only two pussy eating techniques you'll ever need to give your girl mind-altering orgasms and make you the best she's ever had…
But…
4. 14 More Powerful Pussy Eating Techniques
Of course, there are a bunch of other cunnilingus techniques that work well for keeping things fresh, even if they aren't quite as effective as the Pancake & Vortex…
So, if you find that you have slipped into a routine or become somewhat robotic when eating and licking her pussy, then you may want to try some of the following tips…
1. Under Pressure
This technique is all about applying extra pressure to the area directly below her clitoris during the Pancake.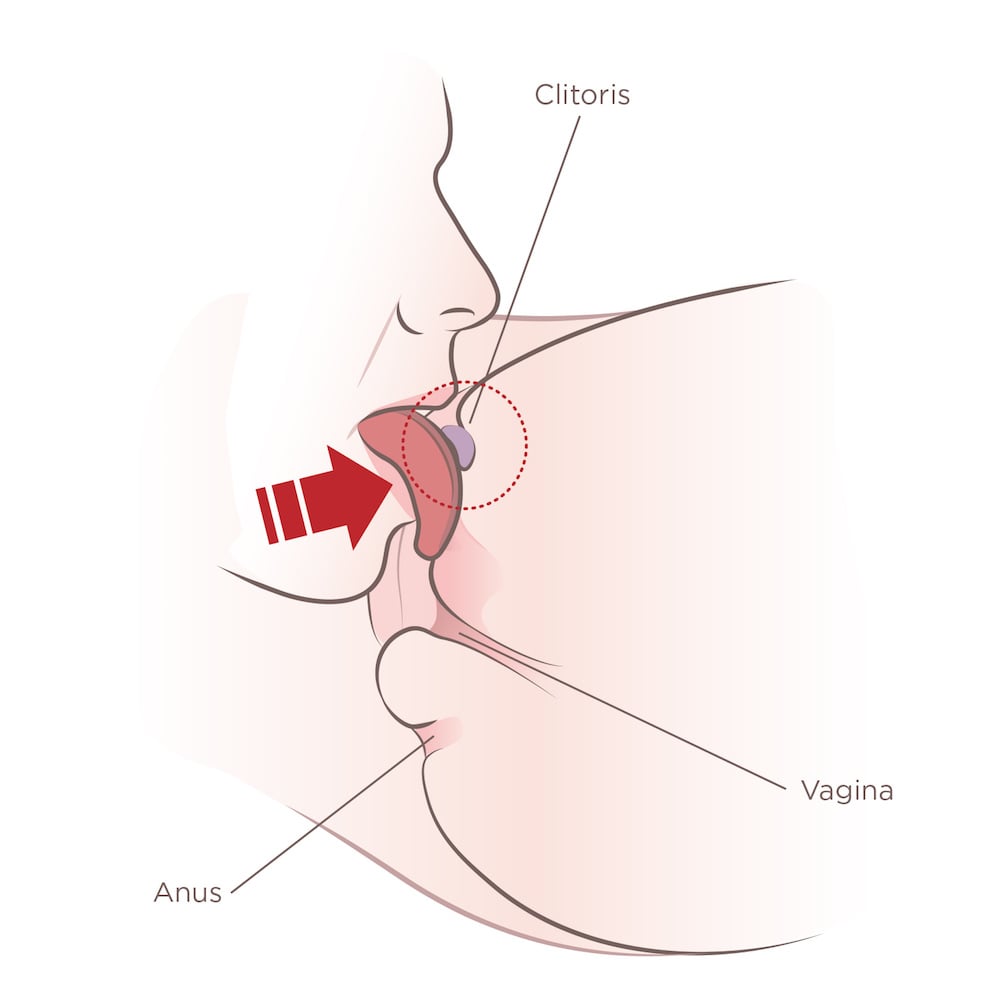 So, when you are making your way up her vulva, right before your reach her clit, you should increase the pressure so that the base of your tongue is forced under her clit slightly.
Once the base of your tongue is under her clit, slow down your movement, but don't release the pressure.
As you continue to move upwards, she will feel the texture of your tongue stimulate the bottom of her clit, adding a further dimension to your oral sex skills.
2. Take Her To The Edge & Back
Edging is a powerful tool you can use to amplify her orgasms. The best part is that you don't have to reserve edging for when you go down on her to eat her out. You can use it during anal sex, regular sex or any other activity that can make her orgasm.
For now, we're going to talk about how to edge her when eating her pussy.
Start by eating her out as you normally would…
When you can tell she is getting close to climaxing, start to slow down and back off, so she DOESN'T orgasm.
Spend twenty seconds to two minutes on something else pleasurable that won't bring her to orgasm like:
Kissing all the way around her vagina.
Kissing her up and down her inner thighs.
Focusing your attention on her breasts.
Then when she has calmed down just a little bit, return to eating her out as normal, but at a slightly slower pace this time. Again, you want to do this up until she is about to climax, then…
Stop.
Again, spend some time on other pleasurable, but non-orgasm-inducing activities until she has calmed down.
Start eating her out again at an even slower pace all the way until she cums.
I can guarantee you that edging her like this will cause her to have one of the most powerful orgasms of her life, if not the most powerful.
And, as I said before, you can use edging during any orgasm inducing activity 😉
Note that it's difficult for some women to come, even if you eat pussy the right way. If this applies to your partner, I would not advise trying to edge her because you'll both end up frustrated just like you might feel if you struggle to get hard and maintain your erection.
Related: How to Get Hard and Maintain Your Erection
3. Give Her The Finger
Using your fingers when you are eating her pussy can be awesome. It gives you the opportunity to give her more stimulation, stimulate her simultaneously internally and externally, and provides her with lots of variation. There are a bunch of ways to finger her while eating her out, with some being easy to do, while others will feel quite awkward.
4. Lick Her Clit & Finger Her G Spot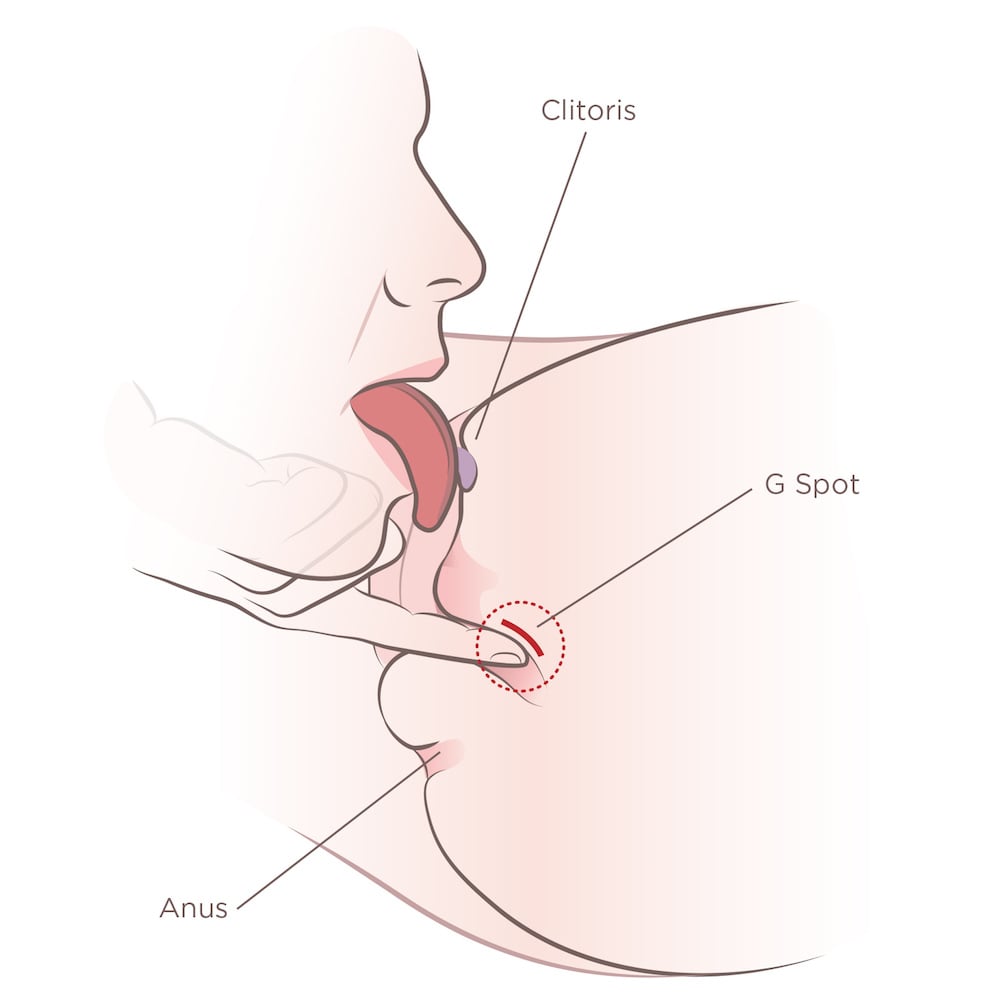 Licking her clit or using the Under Pressure technique of applying extra pressure under her clit while you finger her G Spot is a great way to add your fingers to the mix. Scientists have even found that oral and manual sex (fingering) along with deep kissing are the three activities most likely to get a woman off [18]. So oral sex skills might be more important than making your penis bigger or lasting longer in bed.
You can also use your free hand to press down on her mons pubis to provide stimulation of the G-spot externally. Some women also like when you rub this area.
5. Suck Her Clit & Finger Bottom Of Her Vagina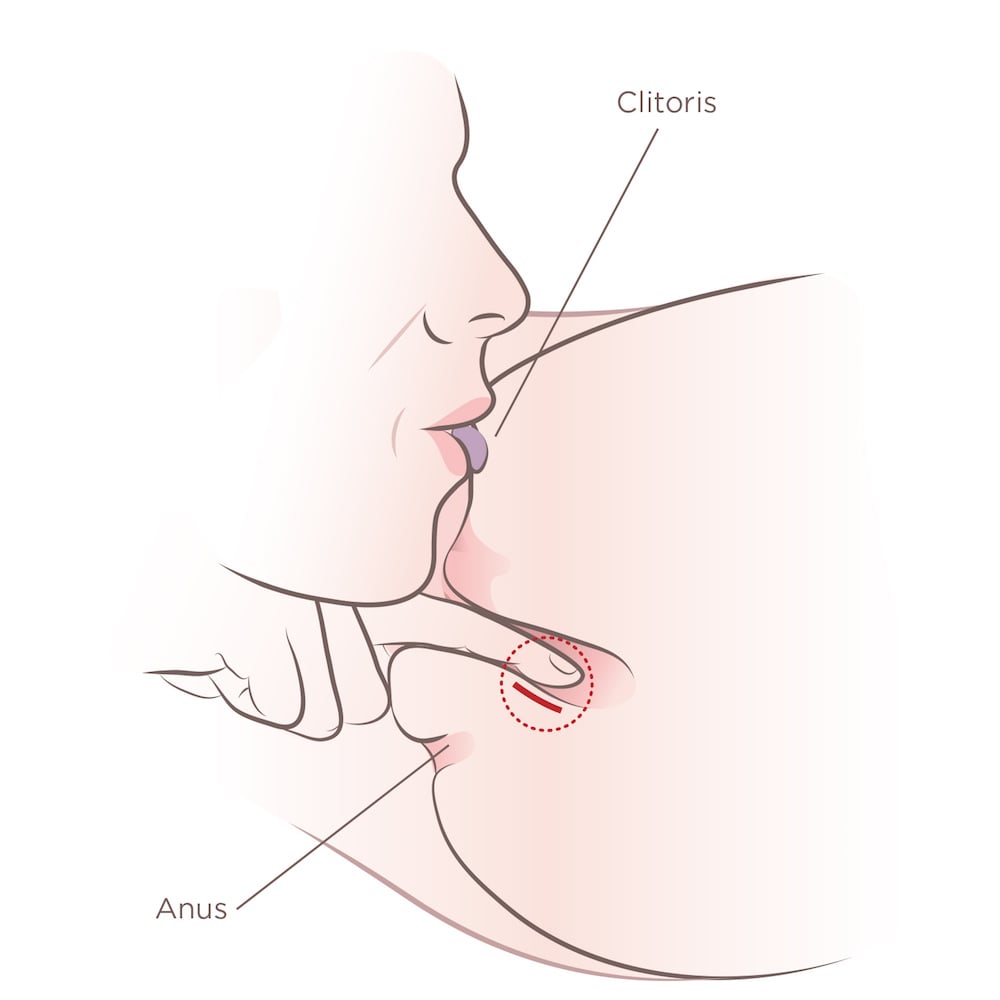 Alternatively, you can suck her clit like in the demonstration above. While doing this, try massaging the bottom of her vagina, as deep as possible.
Keep in mind that for some women, the bottom of their vagina is not particularly sensitive, although, for many, the bottom of their vagina at the back of it is very sensitive. So you may have trouble reaching it unless you happen to have incredibly long fingers. You can always substitute your finger with a dildo or penis shaped vibrator if you happen to have one.
6. Lick Her Clit, Finger Her G Spot & Play With Her Ass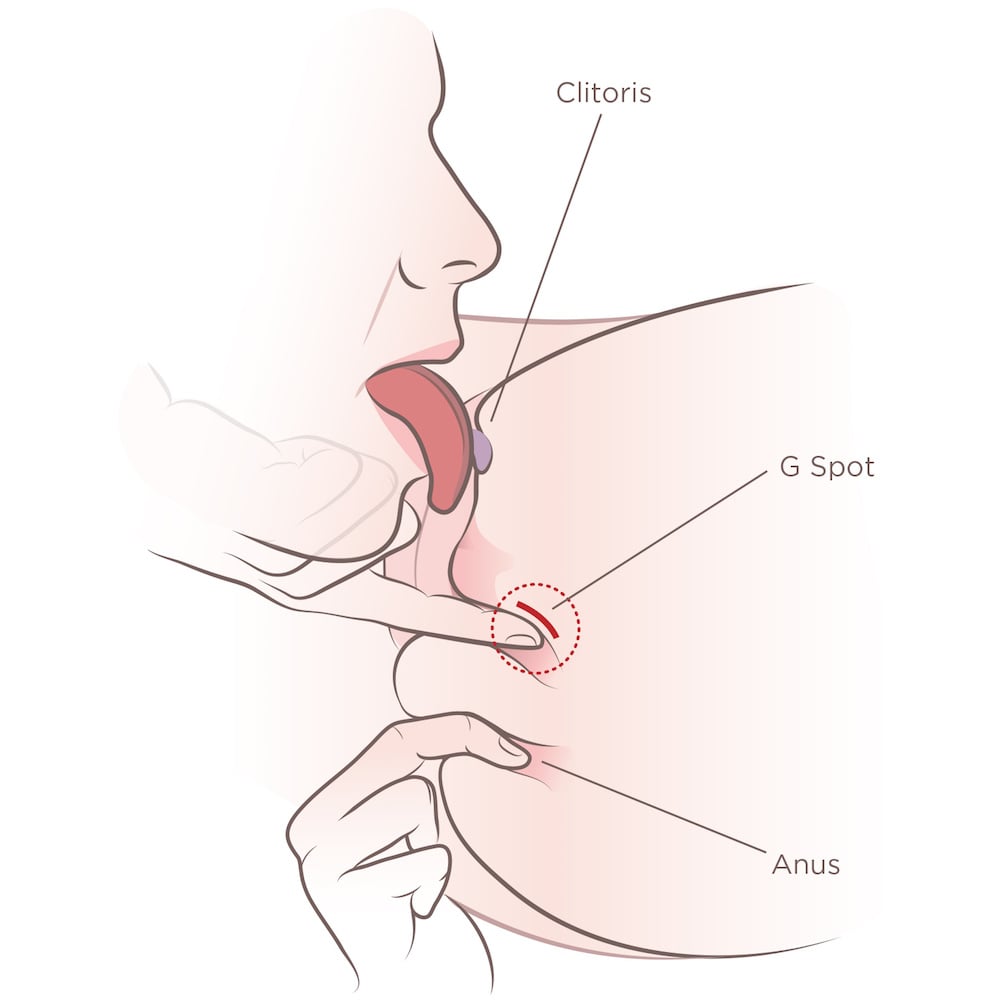 If it's not too awkward or uncomfortable for you, you can use another hand to stimulate her ass while your mouth focuses on her clit.
There are a bunch of ways to play with her ass.
Simply rub it on the outside without ever penetrating it.
Light, rhythmic pressure on the opening, without penetrating it.
In & out penetration.
Holding your finger(s) inside her ass.
Note: The easiest way to play with her ass, is to put your arm over her leg and reach around from behind.
Warning: If you use one or both of your hands on her ass, then make sure you DO NOT touch her vagina with them afterward. Otherwise, you risk giving her vagina an infection.
Get more tips for anal fingering.
7. Experiment
I've given you some ideas of how to get your fingers involved when eating her pussy, but there are so many more ways to use them. You don't even have to use your fingers at the same time you are eating her out. For example, you can take a rest from eating her pussy by fingering her and then return to eating it when you're ready.
You'll find 20+ ideas in the guide to fingering your girl.
Speaking of using your hands…
8. Powerplay
Introducing some element of power play when you're eating her pussy out can be incredibly hot. Here are two ways to do it:
Tie Her Arms Up – If your girl enjoys being restrained when you're intimate, then tying her arms above her head before you lick her out is going to be a lot of fun for both of you. It takes a lot of her control away. Rather than repeating myself here, check out this guide for restraining your partner during sex.
Get Her To Control The Pressure – Equally, she may adore being the one in control.
She can take control when you're eating her pussy by putting her hands on your head. This will allow her to control your position, pace, and pressure as you eat her out.
She can even get a little rough by pulling your hair and grinding her pussy against your face.
This also has the added benefit of allowing her to push your head away if her clit becomes too sensitive after orgasm.
9. Get Her To Help
Pussy eating can be a team sport. This is especially true if she has trouble reaching orgasm.
If your woman can't quite climax as you're licking her pussy, she can add extra stimulation herself using her hands. I'm not going to repeat myself here, but she may want to try some of the techniques I describe in the Masturbation Guide or this article on fingering herself.
She can also move her labia out of the way while you lick her pussy by spreading them with her fingers.
She can even call an audible, instructing you to use more or less pressure, go faster or slower or to refocus your efforts elsewhere.
10. Experiment With Your Tongue
I know that at the start of this pussy eating guide, I mentioned that there is no need to move/flick your tongue when going down on her.
This is TRUE for the most part…
But…
There is no harm in experimenting with AND gauging her reaction to it. For many women, they find that having their clit flicked inconsistently by the tip of your tongue to be more annoying than pleasurable.
But, a percentage of women DO like it, and some may like it as a finishing move…
And, it's one way to change things up from time to time. You can try:
Curling your tongue up and using it penetrate her.
Swirling your tongue around her clit.
Flicking her clit up-and-down or side-to-side.
Using the Pancake in reverse. Start at the top of her clit and move downwards.
You can even try holding it in place on her pussy with sustained pressure.
11. Pick A Side
Determine which side of her clit she likes most to have stimulated!
Left or right side?
Top or bottom?
Somewhere in between?
Her clitoris has crura (legs) that extend below the clitoris and under the skin to either side of her vaginal opening [19]. This may be the reason there is a particular side that is most sensitive for her.
12. Wetter Is Better
This is not so much a technique, but more general advice when going down or learning how to finger a girl. The wetter you can make it, the better it will feel for your girl.
I'm not talking about using water here.
Instead, I'm talking about using as much saliva as possible. And, if you have trouble producing enough saliva, then I highly recommend using lube instead. Flavored lube can also make the activity more pleasurable for you.
13. Cool Runnings
If you want to take a break from eating her pussy, then a great way to do that is to pull back and make that same "O" shape with your lips during the Vortex
Then gently blow on her wet pussy to give her a cooling sensation.
This is also a great move to use during her refractory period when her clit and vulva can be too sensitive to touch.
14. Eating Her Ass
Eating her ass AFTER you eat her pussy is fantastic if she enjoys anilingus.
Warning: Do not touch her pussy again with your mouth once it has been near her ass. Your mouth will likely have small amounts of fecal matter on it (no matter how clean she is). This fecal matter can then enter her vagina from your mouth causing irritation and infection.
There are a bunch of ways to eat her ass that I have detailed in this Ass Eating Guide. Even though the Ass Eating Guide is written for women learning how to eat their guy's ass, pretty much all the same information applies to you when eating your girl's ass.
Get more tips in this post about rimming.

Remember that if you lick her anus, you definitely DON'T want to go back to tongue in vagina stimulation.
5. 11 Dangerous Mistakes Most Men Make
Unfortunately, there are some potential problems, and stumbling blocks that you may run into that will affect the amount of pleasure you can give to your girl when eating her pussy. You need to be aware of these problems and avoid them to make sure you maximize your pussy eating efforts.
1. Don't use the alphabet – This is where you draw the alphabet with your tongue on her clit/pussy. Most girls don't enjoy it at all when you spell the alphabet with your tongue on her pussy.
This technique doesn't work because it's incredibly inconsistent. You might hit a place she likes, but you're not going to spend much time on it. Speaking of inconsistency…
2. Be consistent – Being inconsistent is a great way to frustrate your girl and make it near impossible for her to orgasm. Most guys feel the same way when they are getting a hand job/blow job. It's frustrating when she strokes you randomly with no consistency.
In other words, you should aim to use the same rhythm, speed, and pressure when you go down on her, ESPECIALLY as she's about to cum.
3. Listen for feedback – Terrible lovers do not look for feedback. You need to listen to her feedback, both listening to how her body reacts as well as actively asking her what she enjoys most.
As you get more and more feedback from her, you will be able to build up a mental library of techniques that are guaranteed to make her see you as the best lover she's ever had.
When listening to her body, if she's moaning or sounds breathless, you're doing a great job. And if she's closed her eyes or her body is tensing up, or she starts breathing faster/harder, then she is probably close to orgasm, and you just need to continue at the same pace.
However, some women like oral sex but don't get to that point. An important part of knowing how to give cunnilingus is knowing that not every woman will orgasm or even wants to, and you definitely shouldn't pressure or rush her.
4. Food is a bad idea – Licking cream off your partner's body can be incredibly erotic and fun. But licking it off her pussy can cause serious problems.
Some food particles can make their way into her vagina and cause irritation or a yeast infection (find out more about yeast infections) or even worse. For this reason, you should avoid putting cream, chocolate sauce or any other food on or near her vagina.
5. Do not imitate porn – Trying to imitate porn during sex or when fingering her or when eating her pussy is usually a bad idea. Porn is filmed to look good on screen, and that's it.
Porn directors don't particularly care whether or not the actors are enjoying it and as a result, porn provides a shitty way to learn good pussy eating technique.
6. Do not be too rough – The clitoris is amazingly sensitive, so you don't need a lot of force. Although some women enjoy hard pressure, not every woman does.
Try licking through her panties or labia if she's too sensitive for direct contact.
7. Do not try to replicate sex – You'll notice that most of the techniques we suggested focus on licking her clitoris and vulva. While many women enjoy vaginal sex, you're limited with what you can do with your tongue, which probably won't be able to penetrate very much.
Even if you could, the tongue in vagina technique doesn't do much for many women.
You can lick around the opening and may even love the taste of her there, but you want to get back to her clitoris sooner rather than later.
Of course, some women do like tongue insertion when being eaten out, so you might want to ask just in case. You'll never understand how to eat out a girl if you're afraid of communication!
Related: Use Sexual Communication for Complete Sexual Fulfillment
8. Do use your hands – Using your hands when eating her pussy is A-OK. As I mentioned before, it's also a great way to give your mouth and tongue a rest and also change things up. Variation is the spice of life, after all. Here are just a few examples of how you can get your hands involved.
You can switch between stimulating her using only your tongue and then using only your hands and then using only your tongue again.
You can use both your tongue and fingers at the same time.
You can use your hands almost exclusively, and as she's getting close to orgasm, you can finish her off using only your tongue. Or vice-versa.
9. Do not rush, but don't ignore quickies either – I've previously talked about how taking your time can work really well to build anticipation.
It means when you finally go down on her, she's so incredibly sensitive and ready that you can pretty much do no wrong.
Equally, it can be really hot if you're at a party together and you quickly sneak off and eat her out before returning knowing that you've both been up to no good.
The key is switching things up to keep it interesting. If you do the same thing, it'll get boring for both of you.
And if you're the type who rushes eating someone out because you simply see it as a type of foreplay before getting to the "main thing," you're missing out — and your girl knows it. Attitude matters and you need to understand that if you want to eat pussy like a pro.
10. Do ask for help – In the ideal world, you will be able to listen and observe your girl's body as you try different techniques on her, allowing you to see what works and what doesn't work.
Some women just won't like certain cunnilingus tips I've just given you, and that doesn't mean anything is wrong with her. It just means you need to spend more time getting to know her specific preferences.
If she isn't sure what she likes, we suggest trying a few different ways to eat pussy and getting her to rate them.
However…
This strategy doesn't always work.
Some women are quieter than others and may not react much, even when they orgasm. As a result, you may find it near impossible to tell if she is enjoying herself or not.
The only solution is getting some feedback from her. After you go down on her, try asking her about what she enjoyed, what she didn't enjoy, and what she wants you to do differently.
This is the only way that you're going to get better at eating her out.
11. Do not make orgasm the goal – When a girl goes down on you, it feels amazing, right? The same is true for women.
But…
Women often have a more difficult time reaching orgasm when they are with you. They can feel self-conscious when getting intimate. In fact, reaching orgasm when masturbating alone is usually easier for most women.
So try not to focus solely on making her climax when eating her pussy…
Don't tell her you're going to make her orgasm, especially if you've never helped her to cum in the past.
This allows her just to appreciate the pleasure, even if she doesn't get off.
AND…
She won't feel required to fake an orgasm if she doesn't get there.
Is your partner having trouble with orgasm? Read this together.
What If None Of These Pussy Eating Techniques Work?
If you find that none of these techniques are working on your girl, the most likely reason is that you have not followed Step 1 & 2 of the Bad Boys Bible correctly and not that you don't know how to eat pussy. If you haven't removed the Brakes to her sexuality and have not used some Accelerators, then she will naturally find it hard to get in the mood, let go and enjoy you going down on her.
The only other reason is that she simply may NOT enjoy the thought of you eating her pussy. She may be so self-conscious that no amount of effort on Step 1 (Removing the Brakes to her Sex Drive) will allow her to fully enjoy it.
Of course, there are plenty of other great techniques to make your girl orgasm if cunnilingus is not your girl's cup of tea.
Resources
This guide on the 31 best sex tips for pleasuring your girl is very helpful.
Check out the Wikipedia pages for both the A-spot (AFE ZONE) and G-spot.
Youtuber Stevie gives pussy eating tips in this video as part of her Lesbian Sex Ed series.
Bustle has two posts where women describe what oral sex feels like and what they're thinking about to provide you with more cunnilingus tips.
One woman opens up about the best oral sex she ever had and what the guy did right before licking her vagina.
The Bottom Line
Learning how to eat pussy is surprisingly easy. However, if you want your girl to enjoy it and more importantly, beg you for it, then you need to be aware of Step 1 – Removing the Brakes to her Sex Drive and Step 2 – Amplifying the Accelerators to her Sex Drive. Otherwise, all the techniques that I've just taught you are going to be far less effective when you lick, eat, caress and suck her pussy with your mouth and tongue.
Watch This: Pussy Eating Tutorial Video
I put together an in-depth, step-by-step instructional video that will teach you how to make your girl sexually addicted to you and only you. You'll learn the Vortex and Pancake pussy eating techniques so you can give any woman full-body, shaking orgasms.

If you're interested in learning these techniques to keep her addicted and deeply devoted to you as well as having a lot more fun in the bedroom, then you may want to check out the video. You can watch here.