I can't publish my most intense and wild sex tips online, so I send them in my private and discreet email newsletter. You can find out more here.
Most of the sexy women we see in the media are thin and svelte, but does that mean that plus size women can't or don't have awesome sex lives? Absolutely not! Bigger girls have amazing sex all the time. However, size can sometimes cause certain positions not to work so well. Learn which are the best positions for bigger women and how you can modify sex positions to work even if you're a BBW (big beautiful woman).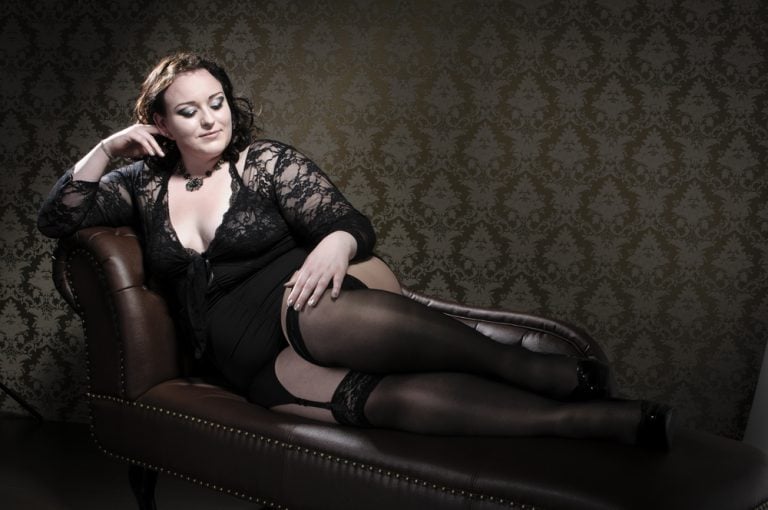 Sex Positions for Big Girls
Try out any – or all – of the following plus size sex positions to see what works for you.
Side note: If you are currently struggling to orgasm during sex or masturbation, then you may want to learn about the Easy Orgasm Solution. It begins by teaching you the techniques to orgasm easily and consistently. Then you'll learn how to have multiple vaginal and full body orgasms during sex and masturbation. You can find out more here.
1. Doggy
Doggy style is a good position for BBWs because your tummy can't get in the way. Instead, your man enters you from behind. Rear entry positions can be more difficult if you've also got a bigger butt, however.
Pillows, especially those made from memory foam, can help you support your weight in this position. Plus, doggy style is great for G-spot stimulation. Tips for finding your g-spot here.
2. Cowgirl
The second position for fat people is one that many larger women are afraid to try, and we'll explain why that's a mistake in a bit. However, this dominant female sex position is ideal because your man lies on the bed and you can straddle him and go to town
Plop a couple of pillows under his butt to raise his hips for a better angle.
3. Spooning
This is another good sex position if your man's penis is long enough to penetrate you from behind. He can adjust his body, so he's at more of an angle than exactly parallel to your body. He can lean his top half away from you, potentially placing his legs between yours, so his feet stick out front.
Related: If you want to give your man back-arching, toe-curling, screaming orgasms that will keep him sexually addicted to you, then you'll find them in my private and discreet newsletter. You'll also learn the 5 dangerous & "dumb" sex mistakes that turn him off and how to avoid them. Get it here.
Another option is for you to lift your leg, either bent at the knee or pointed toward the ceiling. This enables him to grab your leg for leverage and get closer to you for penetration. This is quite similar to the next sex position for BBWs.
4. Leg Glider
In the Leg Glider position, you're slightly leaning to one side (you can potentially lie on your back if you twist your spine, however). You lift your upper leg toward the ceiling, and he straddles the leg that is on the bed. He needs to scoot close enough to penetrate, which means he can grasp your leg or place it along his body wherever your foot lands based on your height.
This might be a good position for nuzzling, a leg massage or even some foot play if either of you has a foot fetish. Learn more about a foot fetish.
5. Thigh Tide
Thigh Tide is just Reverse Cowgirl with an important alteration: he bends one leg at the knee (Discover how to do the Thigh Tide sex position). You can wrap your arms around his leg and grind your clit against his thigh as you ride him. This increases the likelihood that you'll orgasm.
Related: How to Orgasm Every Time
6. Butterfly
The final sex position for big girls is one that works best if your man is the right height to penetrate you while he stands on the floor and you lie on your back on the bed. In the Butterfly position, you should be scooted to the edge of the mattress. He can penetrate you with your legs up against his chest. The key is to keep your legs straight so they're not pushed back against your tummy and breasts, which might not feel so great.
Get tips for the Butterfly position.
However, you can easily modify this position by wrapping your legs around his waist or simply having him hold your thighs while your legs extend straight out behind him. If you lie on your stomach instead, you'll be in the Superwoman position. Learn the best way to enjoy the Superwoman sex position.
7. Deep Impact
This sex position for big girls is somewhere between the legs-on-shoulder style and Missionary position. Instead of lying on top of you, your man kneels and raises your hips so that your butt rests on his thighs. This brings your vagina closer to his penis, which should make penetration easier.
Like the name suggests, it's great for deep penetration. Read more on deep penetration.
You can leave your feet against his chest/shoulders, wrap your legs around him like in the Drill sex position or even bend at the knees and let your feet lie flat on the bed if your legs are long enough to do so.
Get inspired by the Deep Impact position.
Of course, these are just some recommended plus size sex positions. Don't be afraid to get creative!
What If He's Bigger?
You might be a bigger woman (or not) who finds sex difficult because your partner is also larger. The answer? Get on top!
When your man is on top, his penis might be obscured. But when he lies on his back, his weight shifts in a way that gives you better access to his cock. You might realize that he's more well endowed than you thought before.
Reverse Cowgirl (more about Reverse Cowgirl sex position) also works well, but you'll want to stay away from positions where you're facing each other.
Check out all these sex positions where the woman is on top.
Ride Him, Cowgirl
Maybe you're looking for sex positions for big girls because you think you can't ride your man. Well, we've got news for you! Yes, you can!
Unless your partner has a smaller penis that doesn't work well for Cowgirl style, you've got nothing to worry about. And that can often be fixed by placing a pillow or two beneath his hips to raise them.
Read: 4 Tips to Ride Your Man with Confidence
Even if you're much bigger than he is, you're not going to hurt him or do any lasting damage. Although, if you're too reluctant to climb on top, you might not be doing any favors to your sex life and relationship.
One of the main reasons women are afraid to get on top, especially BBWs, is the fear of how they'll look. Yes, things might hang out a little more and jiggle as you move. But your partner knows what you look like, and he's already chosen to have sex with you. If he's asking you to be on top, he wants you there!
Besides, he might specifically like how you look and feel because you're fluffier. We advocate having sex with the lights on at least some of the time because confidence is very sexy!
So climb on board and, if you can, reach down to his body with your hands, so your arms frame your breasts and create some stunning cleavage for him to look at. You might also feel more comfortable wearing lingerie. Get tips for picking the best lingerie.
Furthermore, you should do your best to focus on how sex feels and not how it looks. Even the most gorgeous of people can get into unflattering positions, but you know why they do that? Because it feels good for them or their partners! If you're constantly worried about how you look or sound during sex, you're unlikely to loosen up enough to enjoy that — and that can spell bad news for your orgasm, too!
Finally, you might worry that you're not sure what to do. Being on top can look like it needs a lot of flexibility or strength, especially in porn, but that's not always the case. You don't necessarily have to rest on your feet and bounce. In fact, many women prefer kneeling and grinding back and forth, which can also provide better clitoral stimulation.
Kick anxiety about sex to the curb once and for all with this advice for getting rid of sexual anxiety in this post.
Modification Is Key
None of these sex positions for fat people are ones we just made up. In fact, they call come from our list of sex positions. But you may have tried some of these positions in the past without much luck. Why is that?
Some of these positions need modification for rounded butts, bigger tummies and more weight. If you're a bigger gal and your partner has a smaller penis, then your thick thighs might seem like an obstacle. But a little modification goes a long way.
Read: How to Make Small Penis Sex Work
This means things such as
Kneeling rather than sitting or lying
Moving to the floor instead of the soft bed
Strategically placing pillows under the partner's body who is on the bottom
Leaning over a piece of furniture
Scooting to the end of the bed
Lifting a leg
It's easy to think that sex should be, well, easy. But sometimes it takes a bit to figure out how your bodies work together, and there's nothing wrong with that!
Cause for Concern?
While being a bigger girl won't stop you from having a fun and active sex life if you don't let it, there are some considerations. For example, you don't want to get into any positions where your man has to carry or hold you if he can't comfortably do that (and those acrobatic positions work for very few people, to begin with).
Secondly, note weight limits on any sex furniture or sex swings. There are those items made specifically for larger bodies, and some can support over 200 pounds, but any item that is supporting both of you needs to accommodate your combined weight. You don't want to come crashing down and hurt yourself or need to replace a door frame or spackle your ceiling!
With that in mind, don't use anything to support yourself that isn't intended for this. This includes faucets and shower fixtures, which people may grab ahold of to steady themselves under a slippery stream of water. Remember, these are not usually load-bearing items which means they can break easily.
Related: How to Have Incredible Sex in the Shower
The internet is plum full of sex horror stories where someone broke a fixture or faucet or even tore down part of their shower wall in an attempt to get it on!
Finally, while you might be flexible if you do yoga or a similar workout – and some bigger ladies can definitely stretch – not everyone has the same amount of flexibility or mobility. Don't try to force your body into any position that you just can't do!
Ultimately, that means speaking to your man if you're uncomfortable or something's not working for you. If you're not comfortable but don't speak up, how will he know? We understand that talking about sex is hard. That's why we wrote a guide on it. Check out the guide to sexual communication.
Now that you've got some plus size sex positions to try, it's time to head to the bedroom. You'll find that you can be a bigger woman and have great sex – people do it all the time! Your partner will be glad to see your enthusiasm.
Orgasm Every Time. Easily. Here's How...
I want to tell you about my friend Karen.
Karen came to me one day. She was hysterical.
She told me that her marriage was falling apart because she and her husband didn't have satisfying sex.
Every time they were intimate, Karen was faking her orgasms. It turns out she couldn't orgasm during sex.
In fact...
She never had an orgasm in her entire life. Not one!
This left her feeling embarrassed and ashamed. And...
She completely hid this from her husband. Thankfully...
It turns out that there is a way for any woman to orgasm. Easily. And have multiple vaginal and full body orgasms during sex and masturbation.
After I shared the simple process with Karen, she could barely come to terms with how...
Quickly and dramatically her sex life changed.
We met up a few months later and...
She would not stop talking about it,
"I thought I was one of those women who couldn't orgasm. I used to think I was 'broken' and 'unfixable.' This saved my sex life, and that saved my marriage."
Even if you currently struggle to orgasm during sex or when masturbating, this process will also work for you.
And best of all, you don't need to do anything weird or uncomfortable to start having the best orgasms and sex of your life.