The Turtle sex position is a type of Doggy Style sex that requires a little bit of flexibility. It's an easy way to spice things up with your man when you are starting to get bored with regular Doggy Style and aren't yet ready to try other positions from our Sex Positions Guide.
To get into the Turtle position, you first need to be resting on your knees on the floor or bed. When in this position, lower yourself downwards so that your butt is sitting on top of the back of your ankles. Next lean as far forward as you can. You can grab hold of your legs in front of you to help lean further forward. Your man will be on his knees behind you penetrating you. He may find that he needs to adjust his height to make it easier for himself by either spreading his knees or bringing them together.
Side note: If you are currently struggling to orgasm during sex or masturbation, then you may want to learn about the Easy Orgasm Solution. It will teach you how to have multiple vaginal and full body orgasms during sex and masturbation. It works even if you currently struggle to orgasm during sex or when masturbating. You can find out more here.
What You Do In The Turtle Position
When you are in the Turtle position, you'll find that you can barely move. This is great if you like your man taking control during sex while you remain fairly inactive. One great thing about the Turtle position is that it can feel incredibly submissive and you can learn more about that here. Your man can also bind your wrists to your thighs as part of your light bondage routine.
But if you like, you can gently push back against your man. One thing you do have a lot of control over is the angle of penetration. You can control it by raising and lowering your upper body until you find something that you enjoy.
What Your Man Does In The Turtle Position
Your man will be doing much the same action he does when in any Doggy position, such as the Bassett Hound position. He just needs to thrust in and out (forwards and backwards). To help himself do this, he can put his hands on your waist/hips and gently hold onto them. If he wants, he can also lean over you and hold onto your shoulders. For slightly more kinky sex (find out what that means), he can grab your hair (just make sure that he doesn't hurt you!).
More Tips When Performing The Turtle
Having gotten quite a decent amount of feedback on the Turtle sex position, there are some things you should think about and consider if you want to get the most out of this position with your man:
Don't forget to try varying the angle of entry until you find what's most enjoyable.
If your man wants, he can stand on his feet and crouch over you instead of resting on his knees.
As with all Doggy Style positions, the Turtle is perfect for anal sex as well. Make your first time great with these tips.
If you have bad knees, then you may want to avoid this position.
Similar Positions
Bassett Hound
Bassett Hound – Your legs remain tucked between his, but you can support yourself with your hands.
If you want to give your man back-arching, toe-curling, screaming orgasms that will keep him sexually addicted to you, then you'll find them in my private and discreet newsletter. You'll also learn the 5 dangerous & "dumb" sex mistakes that turn him off and how to avoid them. Get it here.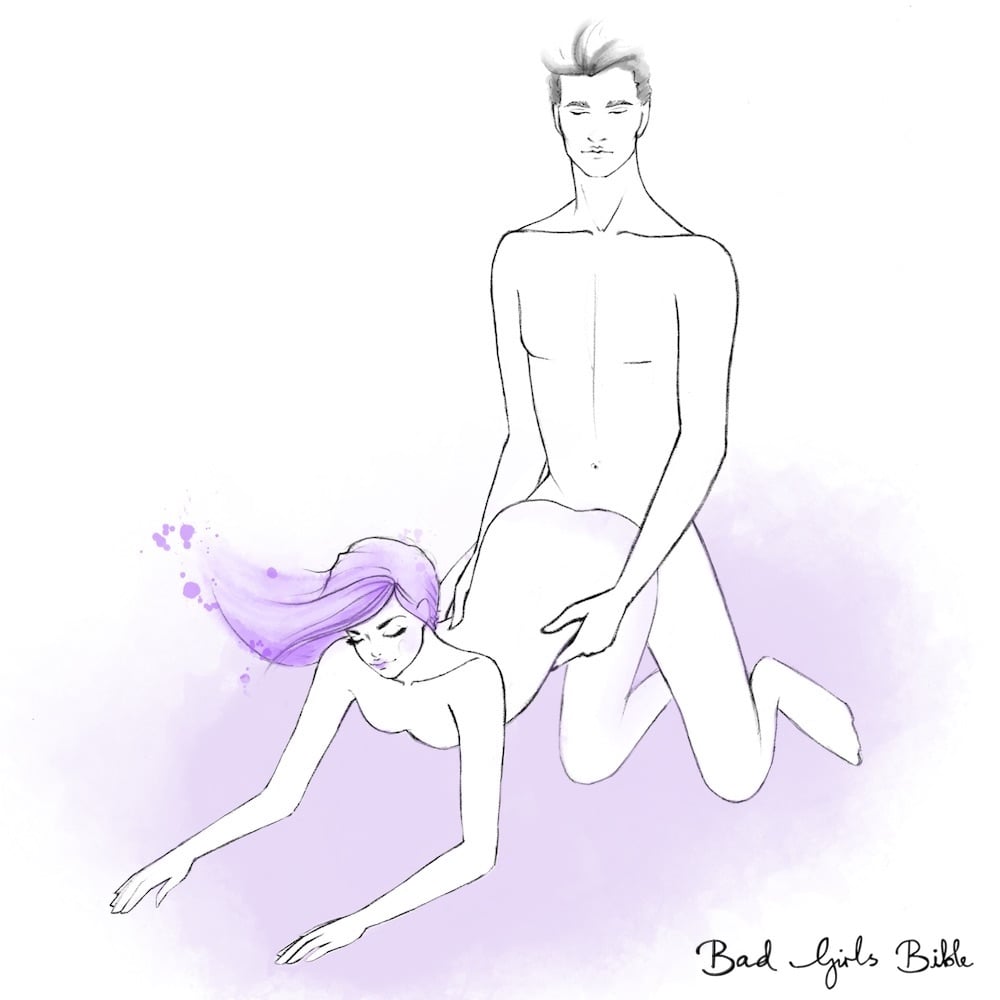 Doggy Style
Doggy style – Move your legs outside of his while you're on all fours to try the classic doggy style.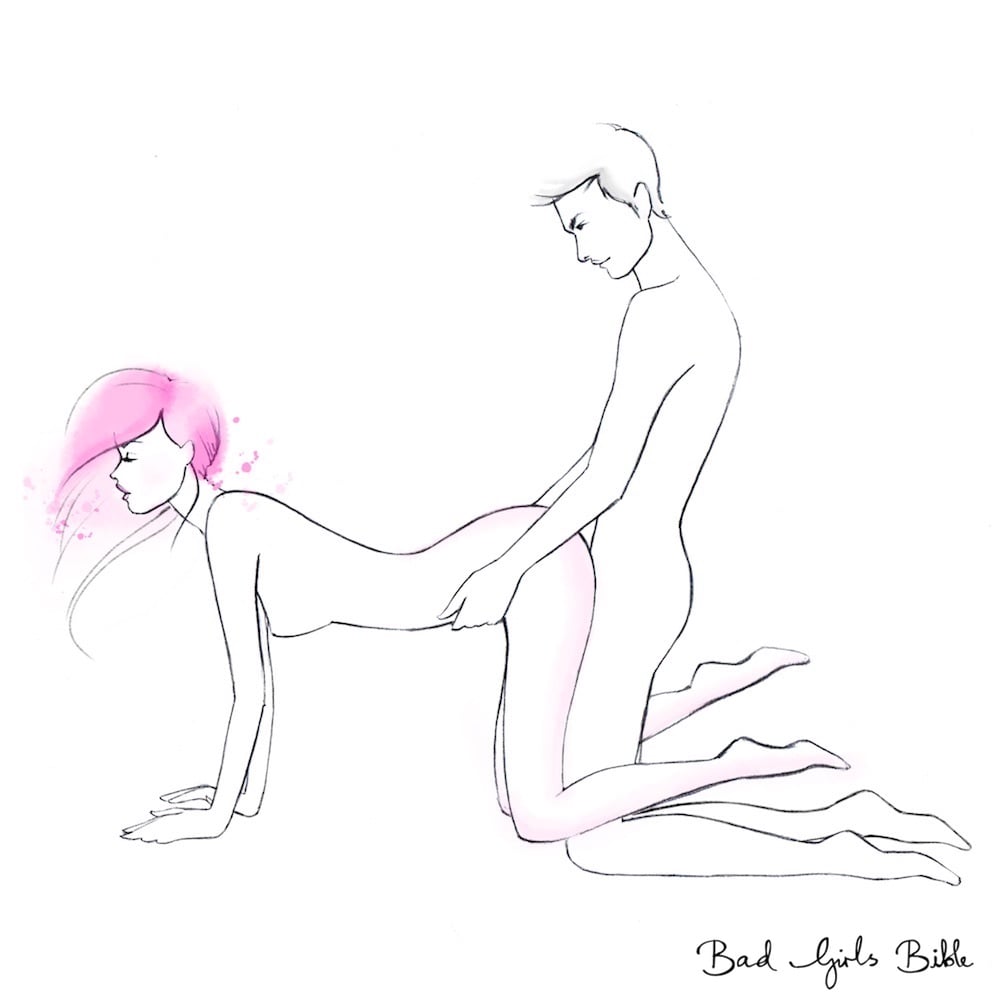 Teaspooning
Teapsooning – When both of you kneel, on the bed, he can penetrate from behind. Either of you can stimulate your clitoris in this position!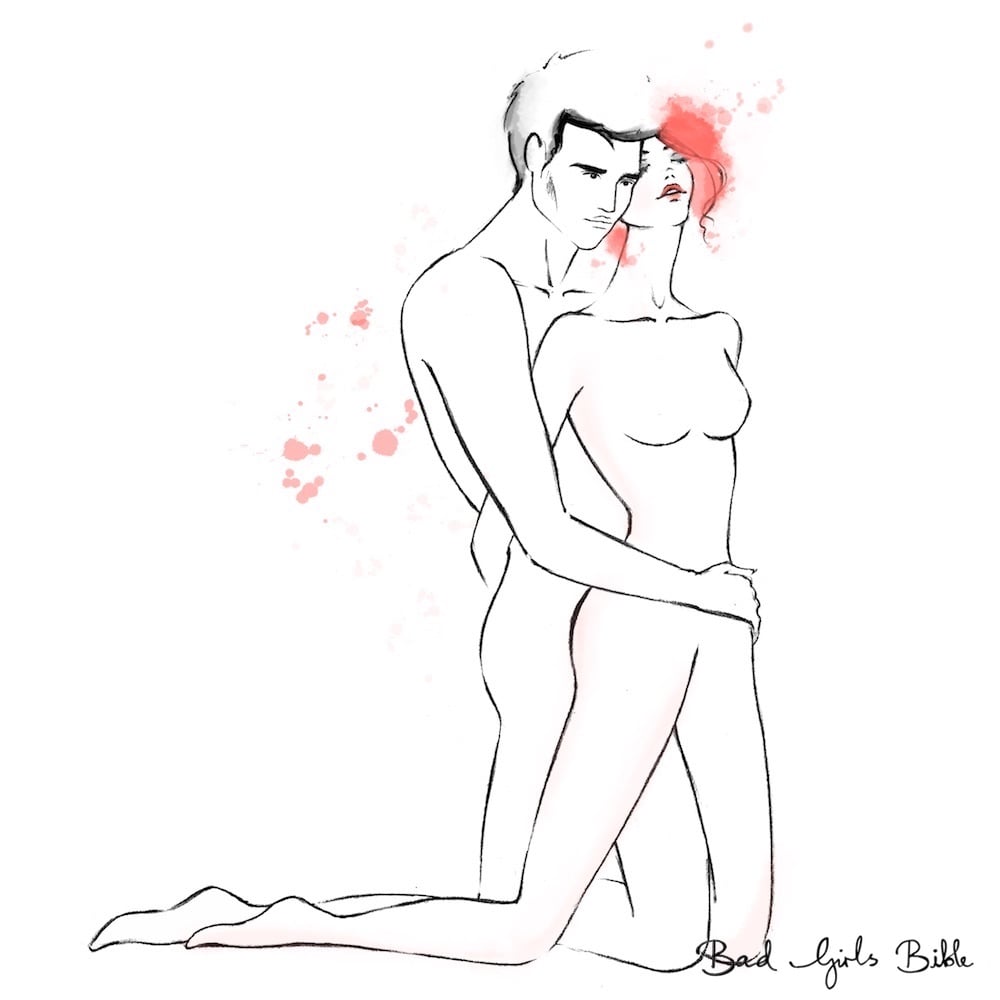 Check out more doggy style sex positions in our definitive guide!
Sean's Thoughts On The Turtle Sex Position
The Turtle is relatively easy for both partners to perform, which makes for a nice change for when you find yourselves getting bored of Doggystyle or something similar. One thing I have noticed is that when you are in the Turtle position, you will be facing the floor, which I find to be less intimate than a lot of the other 'from behind' positions.
Orgasm Every Time. Easily. Here's How...
I want to tell you about my friend Karen.
Karen came to me one day. She was hysterical.
She told me that her marriage was falling apart because she and her husband didn't have satisfying sex.
Every time they were intimate, Karen was faking her orgasms. It turns out she couldn't orgasm during sex.
In fact...
She never had an orgasm in her entire life. Not one!
This left her feeling embarrassed and ashamed. And...
She completely hid this from her husband. Thankfully...
It turns out that there is a way for any woman to orgasm. Easily. And have multiple vaginal and full body orgasms during sex and masturbation.
After I shared the simple process with Karen, she could barely come to terms with how...
Quickly and dramatically her sex life changed.
We met up a few months later and...
She would not stop talking about it,
"I thought I was one of those women who couldn't orgasm. I used to think I was 'broken' and 'unfixable.' This saved my sex life, and that saved my marriage."
Even if you currently struggle to orgasm during sex or when masturbating, this process will also work for you.
And best of all, you don't need to do anything weird or uncomfortable to start having the best orgasms and sex of your life.