The Face Off sex position is a 69 position that most men will have never experienced, making it perfect for surprising your man when you feel that sex is starting to get a little bland. Check out our recommended sex positions when you want to try something new.
To get into position for the Face Off, your man needs to sit down on either the floor or on the bed with his legs out straight and his body upright. You then need to stand in front of him, facing in the same direction so that your butt is in his face. Keep your feet outside his. Next, you need to bend right over to start giving your man a blowjob. Meanwhile, you will be exposing yourself so that it's easy for your man to perform cunnilingus on you and eat you out.
Side note: If you are currently struggling to orgasm during sex or masturbation, then you may want to learn about the Easy Orgasm Solution. It begins by teaching you the techniques to orgasm easily and consistently. Then you'll learn how to have multiple vaginal and full body orgasms during sex and masturbation. You can find out more here.
What The Girl Does In The Face Off Position
When in the Face Off position, you just have to focus on three things:
Staying Comfortable
Keeping Your Balance
Giving Him A Wonderful Blowjob
1) Staying comfortable is actually pretty easy. If you keep your legs straight, then they will get sore quite fast. But if you bend your knees, you'll find that you can stay in the Face Off position for much longer. Additionally, if you need to take a break, then feel free to stand up straight, while your man keeps pleasuring you. Also for some, it takes some time to get used to having your head upside down.
2) Keeping your balance is also relatively easy. Just put your hands on the floor and spread your legs quite wide like you might in a lap dance.
3) I explain in a lot of detail exactly how to give your man a great bj in the section all about blow jobs and fellatio.
What The Guy Does In The Face Off Position
Your man has a much easier job in the Face Off position. He has two things he needs to focus on:
If you want to give your man back-arching, toe-curling, screaming orgasms that will keep him sexually addicted to you, then you'll find them in my private and discreet newsletter. You'll also learn the 5 dangerous & "dumb" sex mistakes that turn him off and how to avoid them. Get it here.
Helping You To Stay Balanced
Giving You Great Cunnilingus – cunnilingus tips
1) To help you keep balanced, your man just needs to gently put his hands around your legs or back and hold you in place.
2) Some men don't pay enough attention to pleasing their girl while others do. If your man is not doing a good job, then there is a way to give him some help. Just start telling him what you like as he is doing it. Say things like, "That feels amazing" or "Right there" or "Don't stop." This positive reinforcement will let him know to keep doing the things you like. Check out our guide to sexual communication for more ideas.
Things To Consider When Performing The Face Off Position
The Face Off is not a 69 position that many could dream up on their own, but it's still a whole lot of fun! Below is some great feedback that I've managed to get from students who've tried it with their man:
If you find it difficult bending over, then position your feet behind your man's back so that you don't have to bend over as much.
You can also use the Face Off position exclusively for receiving oral sex from your man. This means you don't have to lean over so much, or you can even stand completely upright during it.
Try giving him a handjob if this position doesn't work so well for simultaneous oral.
Performing the Face Off in the reverse direction (by having your man stand and lean over while you sit down) doesn't work so well. It makes it very difficult for him to perform cunnilingus on you.
This can be quite a dominant oral sex position if you are the female partner.
Similar Positions
69
69 – The classic position where you can orally satisfy one another.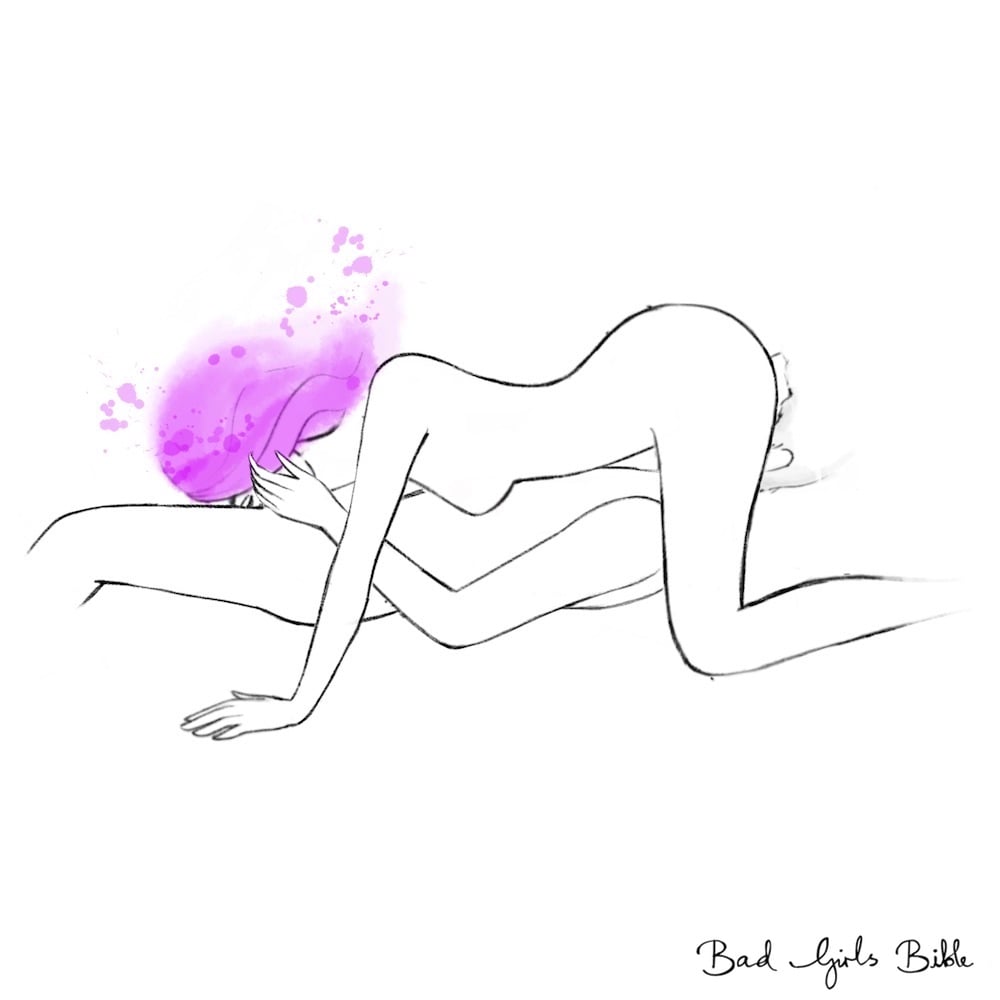 Lie Back
Lie Back – A blowjob position where you're on your back.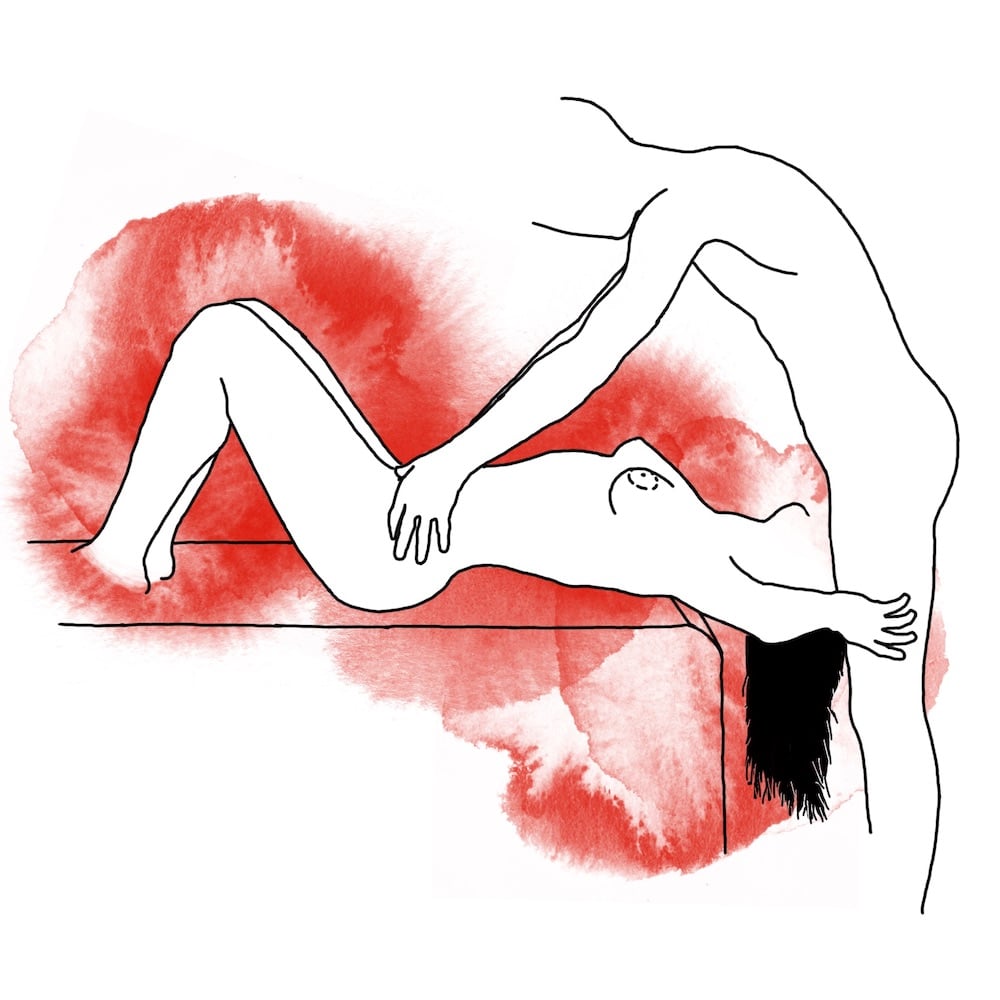 Golden Gate
Golden Gate – This position is a little trickier but is worth trying if you're agile.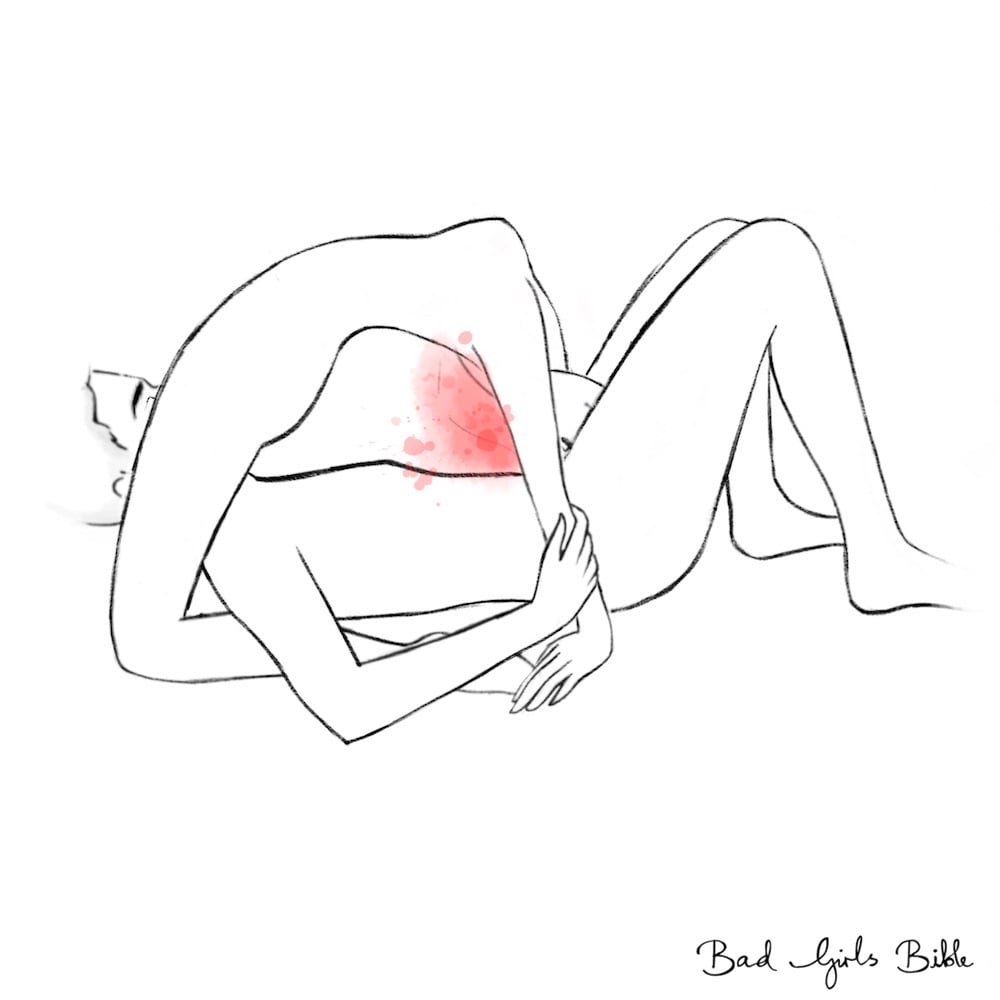 There are even more 69 positions in our positions guide.
Sean's Thoughts On The Face Off Sex Position
I like the Face Off position. It's really different to the regular 69 position which makes for a nice change. The only issue I have with it is that it can often be difficult for a girl to perform without getting tired or feeling weird because their head is upside down, but for guys it's really easy.
Orgasm Every Time. Easily. Here's How...
I want to tell you about my friend Karen.
Karen came to me one day. She was hysterical.
She told me that her marriage was falling apart because she and her husband didn't have satisfying sex.
Every time they were intimate, Karen was faking her orgasms. It turns out she couldn't orgasm during sex.
In fact...
She never had an orgasm in her entire life. Not one!
This left her feeling embarrassed and ashamed. And...
She completely hid this from her husband. Thankfully...
It turns out that there is a way for any woman to orgasm. Easily. And have multiple vaginal and full body orgasms during sex and masturbation.
I shared the process with Karen.
After she followed the simple process, she could barely come to terms with how...
Quickly and dramatically her sex life changed.
We met up a few months later and...
She would not stop talking about it,
"I thought I was one of those women who couldn't orgasm. I used to think I was 'broken' and 'unfixable.' This saved my sex life, and that saved my marriage."
Even if you currently struggle to orgasm during sex or when masturbating, this process will also work for you.
And best of all, you don't need to do anything weird or uncomfortable to start having the best orgasms and sex of your life.