I can't publish my most intense and wild sex tips online, so I send them in my private and discreet email newsletter. You can find out more here.
Today, you're going to learn (& see) 12 female dominant sex positions that range from gentle, vanilla domination to hardcore domination of your partner, verging into dominatrix territory!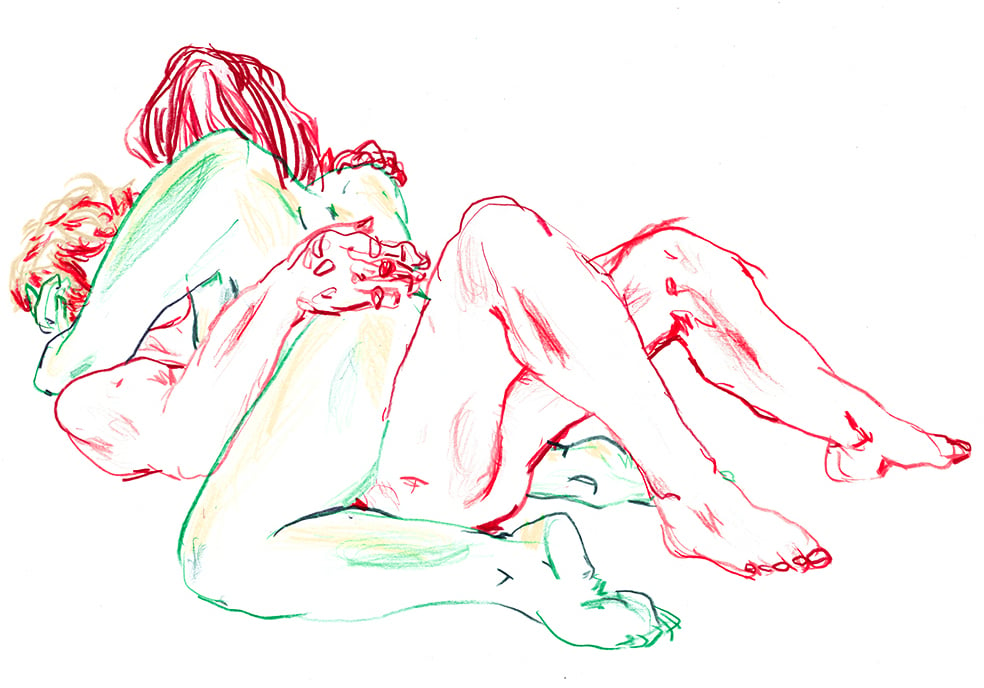 After learning these 12 dominant female sex positions, I'm then going to teach you some of the finer aspects of using these positions for dominating your partner during sex
Side note: If you are currently struggling to orgasm during sex or masturbation, then you may want to learn about the Easy Orgasm Solution. It begins by teaching you the techniques to orgasm easily and consistently. Then you'll learn how to have multiple vaginal and full body orgasms during sex and masturbation. You can find out more here.
Let's jump in with a position that will make you feel powerfully dominant.
1. Face Sitting Position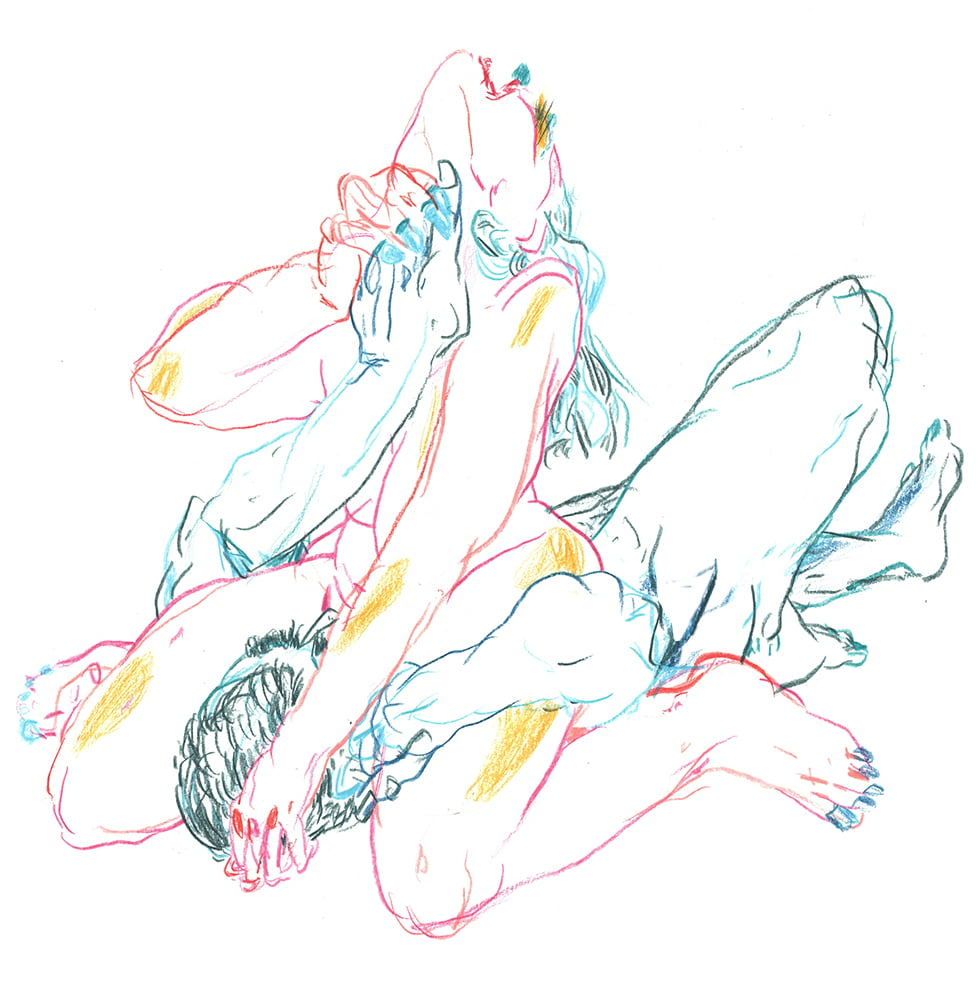 Face sitting is probably the most dominant position on the list. Your partner is completely immobilized on their back and forced to orally please you.
You can raise and lower yourself on their mouth to increase the pressure and stimulation they are forced to give you.
Even better…
You can lower all your weight down onto their face if you really want to dominate them. Just make sure they can still breathe!
Related: If you want to give your man back-arching, toe-curling, screaming orgasms that will keep him sexually addicted to you, then you'll find them in my private and discreet newsletter. You'll also learn the 5 dangerous & "dumb" sex mistakes that turn him off and how to avoid them. Get it here.
Bonus female domination (or femdom) points for grabbing their hair or the back of their head and pulling their mouth into your vagina and clit. Additionally, you can grind yourself against their face in this position rather than holding still.
In-Depth Guide: How to be dominant in the bedroom.
2. Reverse Face Sitting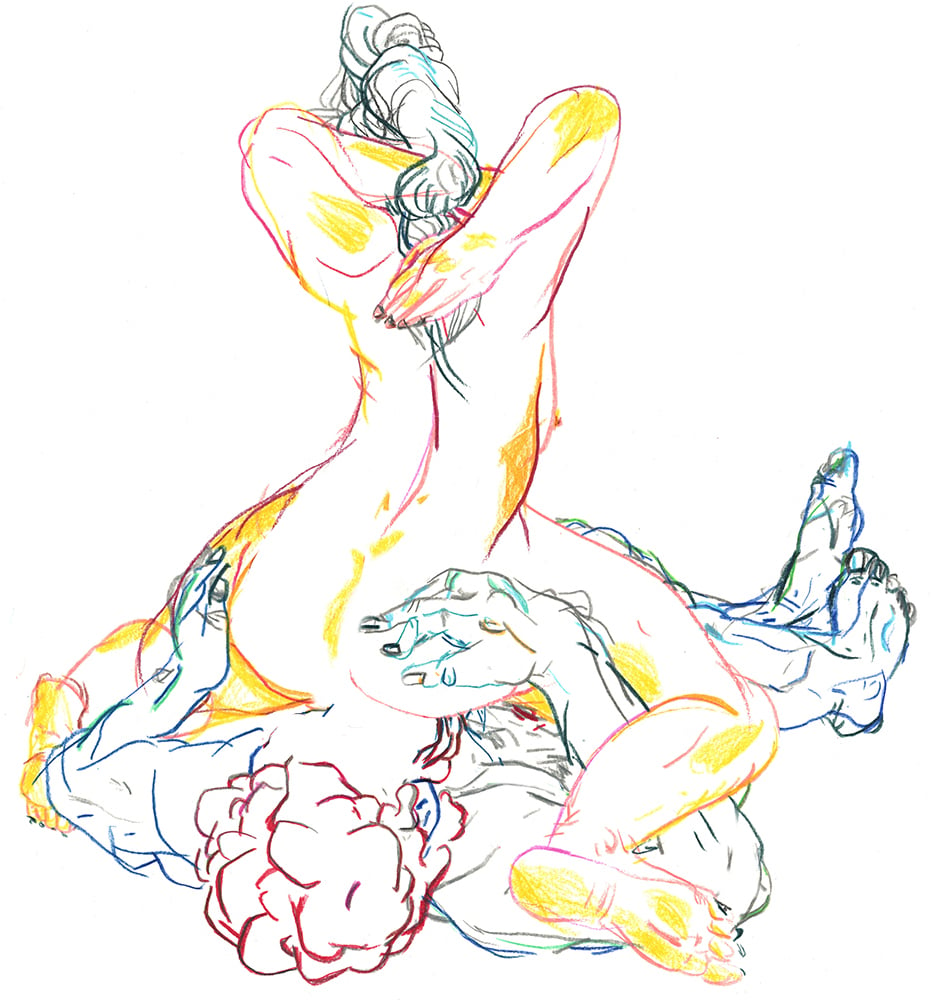 This one is the same as above, but you will be facing in the opposite direction.
You have a bunch of options here to ramp up the domination. You can:
Lean forward and place your hands on their hips to balance yourself.
Reach down and squeeze their nipples if you're feeling sadistic.
If you want to sensually dominate your partner as you sit on their face, you can also reach down and give him a hand job or massage his testicles. Or if your partner is female, you can finger her. Of course, you can also be much meaner to their genitals if you are both into BDSM.
3. Fast Fuck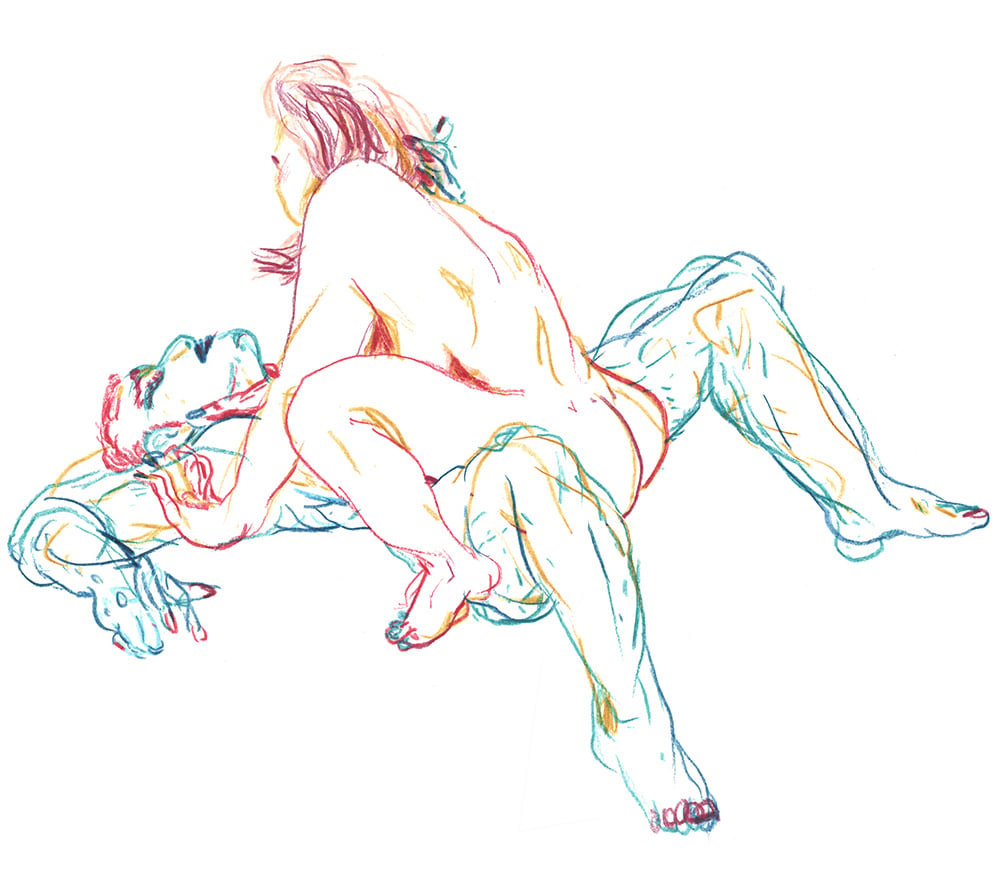 The Fast Fuck position lets you be a dominant woman in bed as you are directly over your partner, with you looking straight down at them. You can control how much weight you place on them, which allows you to control both the speed and depth of their strokes.
For added female domination, you can place your hands on their shoulders to keep them pinned down or if you are into something riskier like choking during sex, this is the perfect position for it.
4. Sybian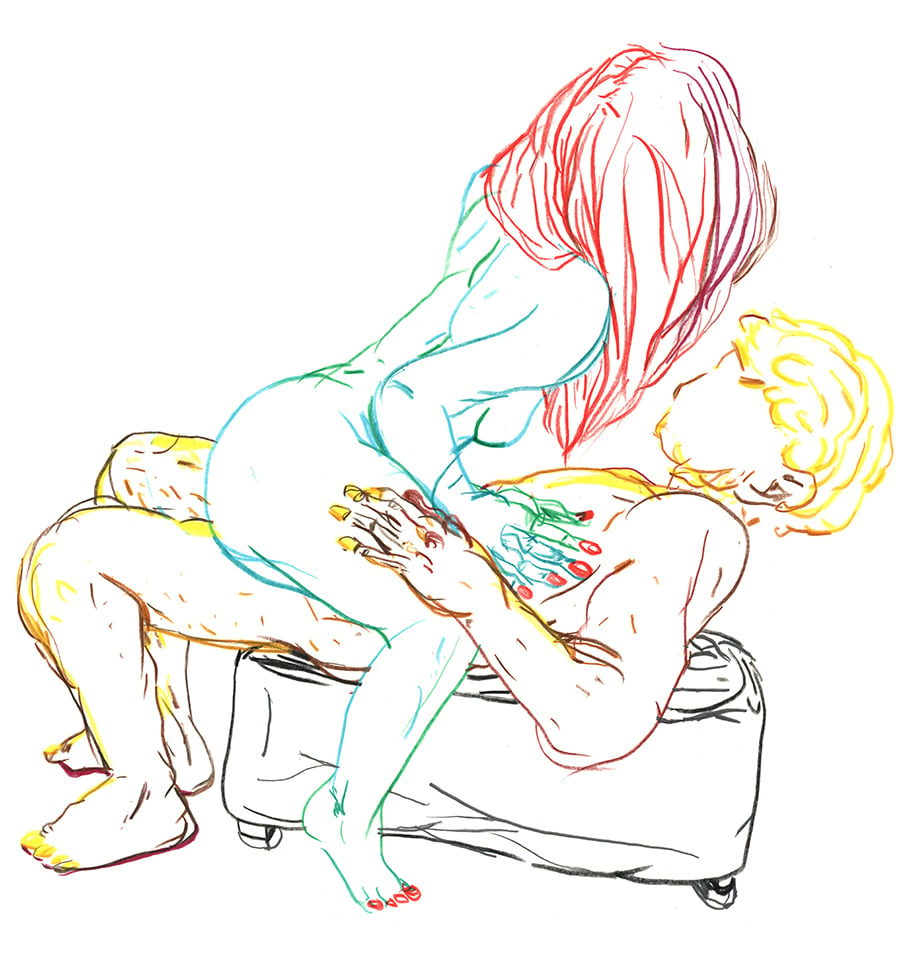 The Sybian sex position requires a cushioned stool to perform properly. Your partner will be in a somewhat awkward position trying to keep themselves balanced on the stool, which means they won't be able to move much.
This allows you to be in control while riding them.
Place your hands on your partner's chest for balance and start grinding.
Note: Your man will need a strong lower back for this one. Bouncing up and down on him may be painful for him, so stick to grinding.
5. Amazon
This dominant sex position for women looks a little funky but is pretty easy to perform. To perform the Amazon sex position, your partner lies down on their back and brings their knees to their chest. The further to their chest that they can bring their knees, and the closer that they can keep their knees together, the easier it will be for you to get into this position.
You can place your hands on their knees to balance yourself and lean forward to make your partner feel even more submissive.
Go deeper: Your partner may want to read our step-by-step guide on how to be submissive.
6. Cowgirl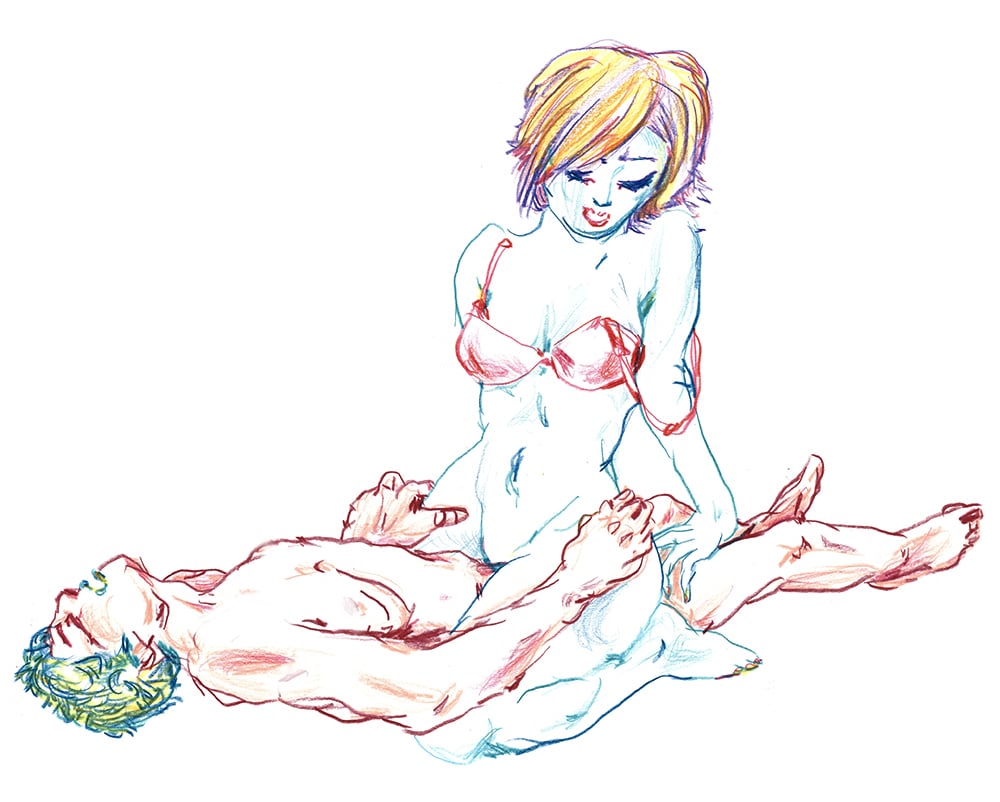 A classic dominant female sex position. If you are dipping your toes in the world of dominating your partner, then start with Cowgirl.
Get your partner to lie down on their back, get on top of them and start grinding. Or move up and down to feel them thrust into you.
Bonus domination points for leaning forward and pinning their hands down or even playfully and softly slapping them if they are into being punished during sex.
Get tips for building your confidence when riding your man.
7. 69 Woman On Top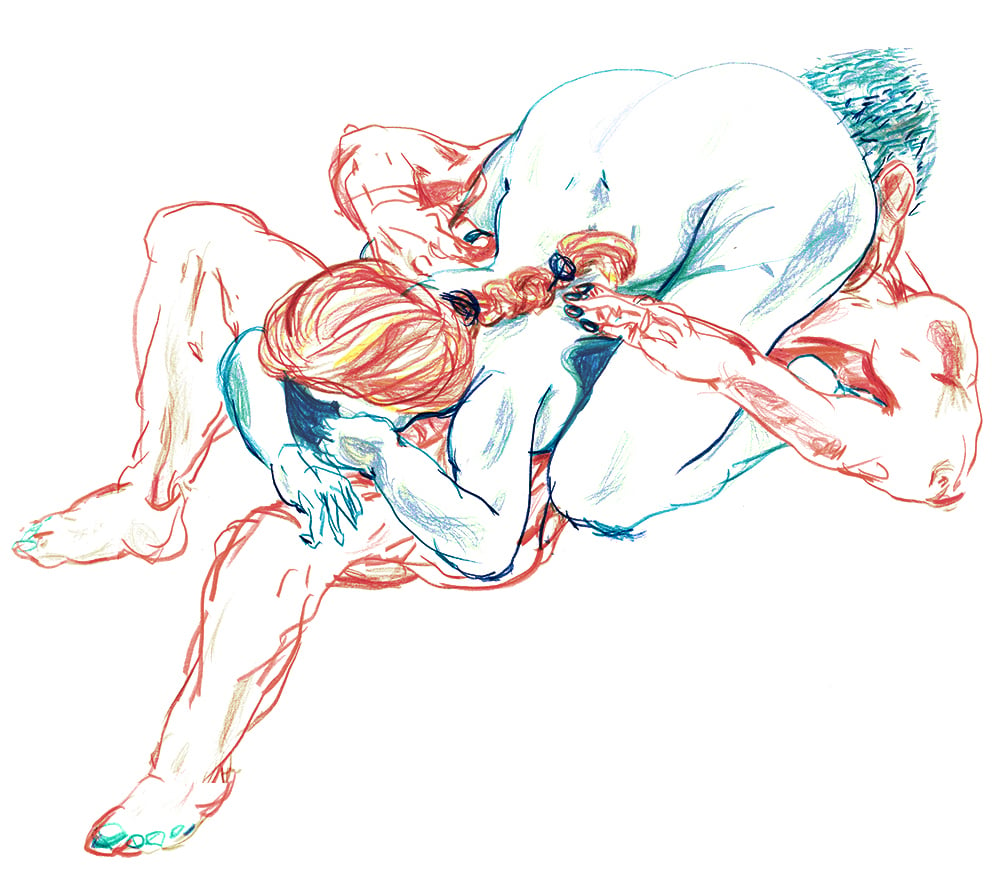 This variation of the 69 position is a little like the reverse face sitting position I already discussed above. Your partner lies down on their back, and you sit on their face while the eat your pussy.
Next you need to lean forward and start oral pleasuring them (here are some blow job tips if your partner is a man and 85 cunnilingus tips & techniques if they are female).
Bonus points for trying bondage with your partner and tying their arms to the corners of bed to make them further submit to you.
8. Face Off 69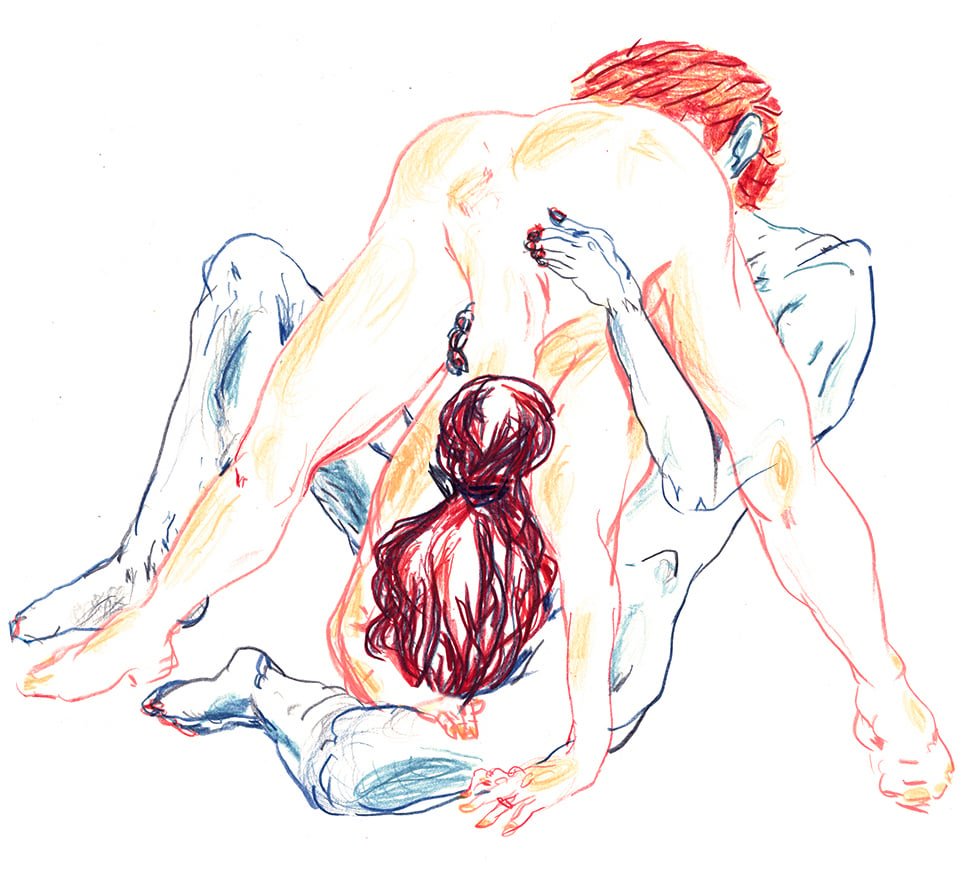 The Face Off 69 position is easier than other positions like the Golden Gate 69 position.
Ideally, your partner will sit down on the floor with their back to a wall. While facing in the same direction, place your feet approximately at either side of their hips, so that your butt is in front of their face. Then lean right over so that the can start giving you oral or eating your ass.
If you are flexible, you can bend over and start using some of these 55 blow job techniques on him.
If you are not flexible, stretch your arms to the floor to balance yourself.
If you are really unflexible, rest your arms on a chair/table in front of you.
If there are height issues, then your partner may need to put a pillow under their butt or you may want to wear stilettos.
9. Mastery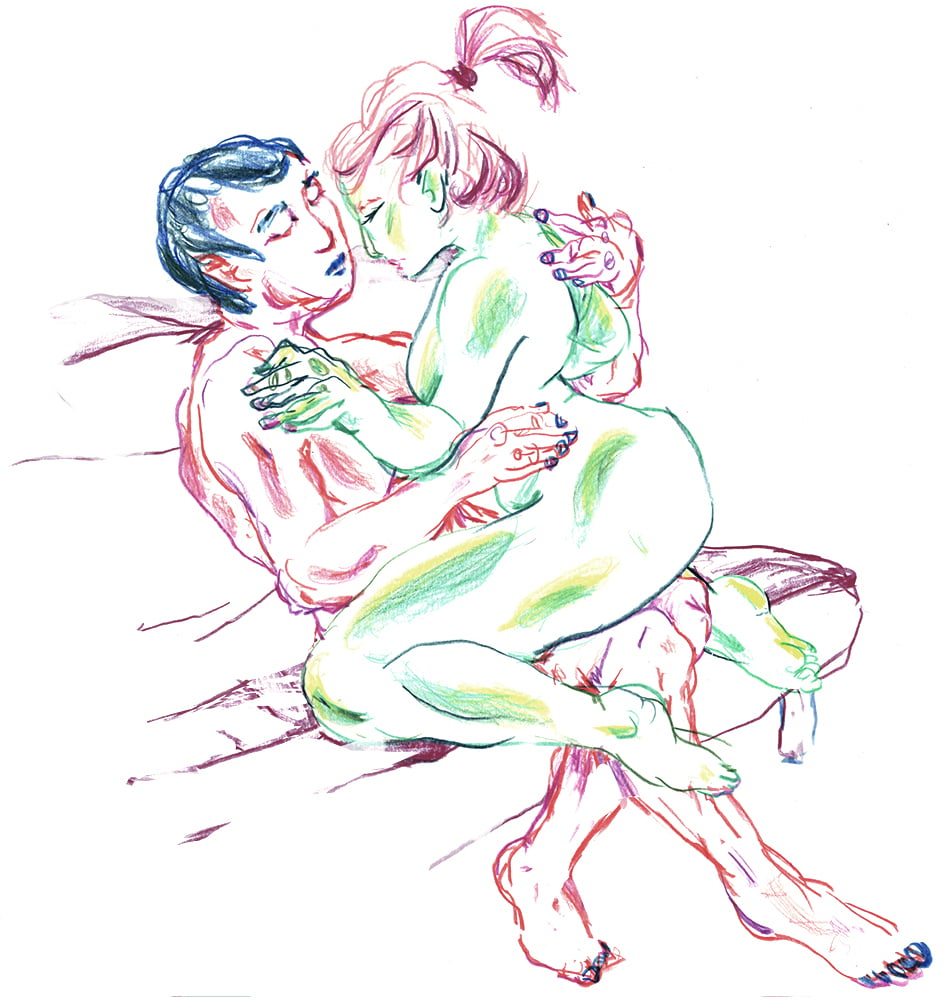 The Mastery sex position is the perfect female dominant sex position for those of you who like sex on the couch. Have your partner sit down and get on top of them. It's that simple.
Double bonus points for grabbing their head/hair and pulling it in so they can kiss and suck on your breasts.
10. Betty Rocker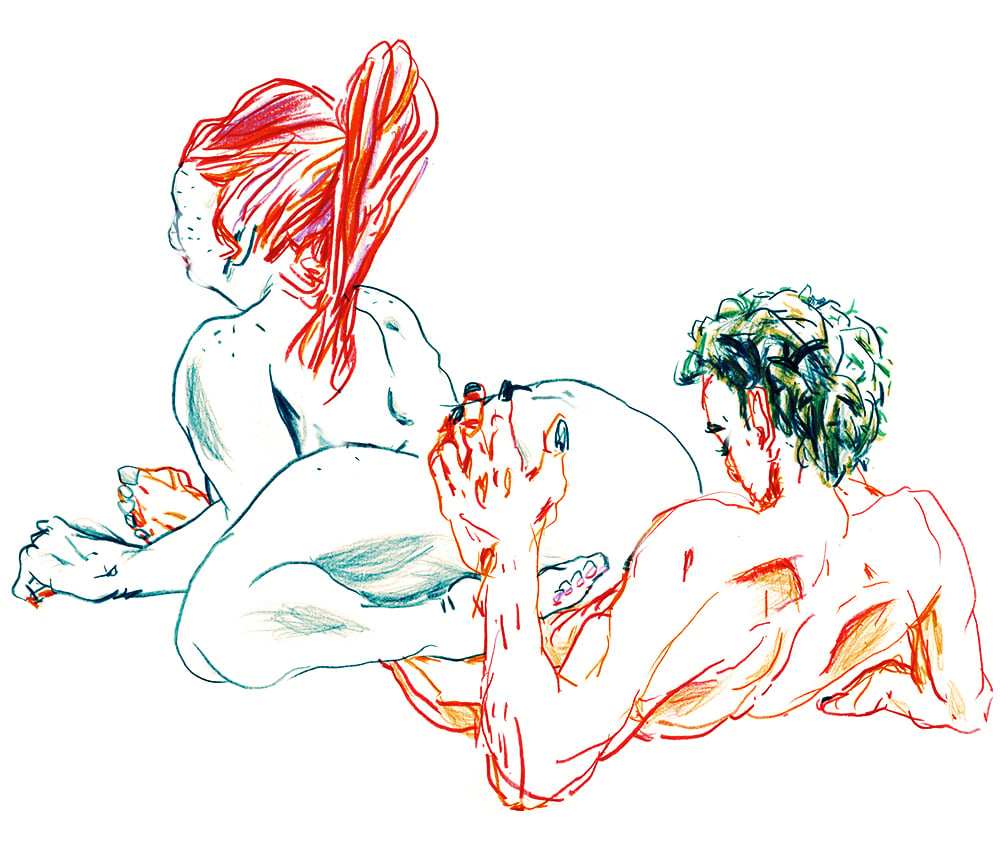 The Betty Rocker is a killer female dominant sex position for those of you who happen to have a foot fetish.
Your partner lies down on their back and you lie down on top of them facing towards the bed and in the opposite direction.
You can then remain on your knees or stretch out your legs, putting your feet right by your partner's mouth, like in the illustration above. Your partner can also adjust their legs to bring their feet right to your mouth.
Bonus points for nibbling, licking and sucking your partner's toes and feet as you have sex.
Double bonus points for getting your partner to pleasure your feet and toes with their mouth while you do the same to their feet.
11. Man Missionary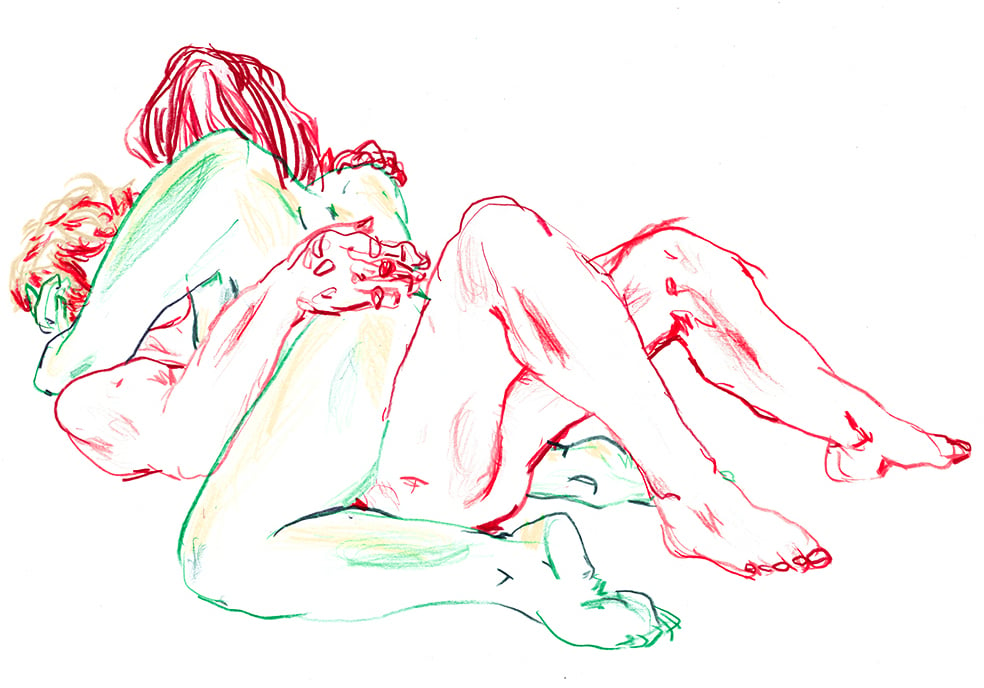 Think of the Man Missionary position as the Missionary position but with you on top and your partner on their back. You can place your hands on the bed beside their shoulders or grab their shoulders to give you more leverage as you thrust from the superior position as a female. Your partner can also thrust up from beneath you.
Alternatively, you can wrap your arms around his head to pull him in and kiss him.
Bonus points for putting your hand on the back of his head and directing his mouth to your breasts.
12. Lotus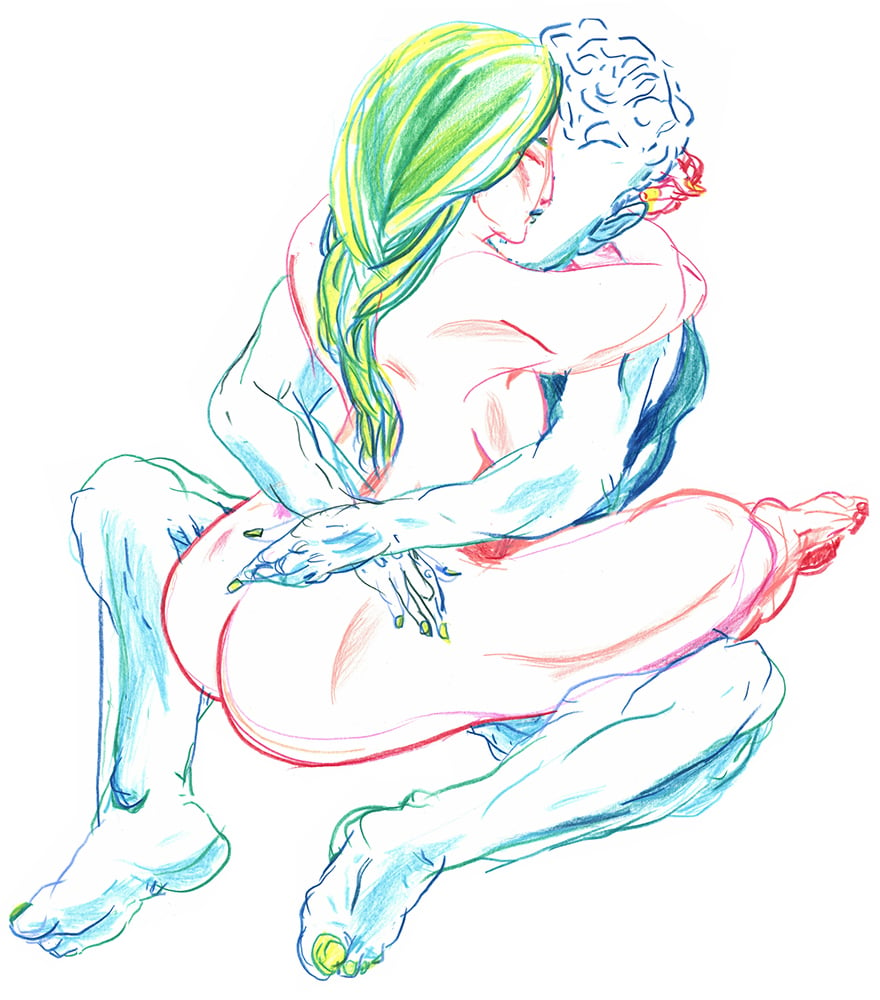 The Lotus position is more of a sensually female dominant sex position, rather than an "aggressive" one. It's also deeply intimate and a common position used for tantric sex. Your partner sits down on a cushion with their legs crossed. You then sit down in their lap facing them.
You can grind together or you can bounce up and down on your man in the Lotus position.
Dominant idea – Grab the hair at the back of their head, at the roots and pull it down, exposing their neck. Then start kissing, licking and sucking it.
The Different Levels Of Female Domination
The moment female domination gets mentioned many people start to think of a leather-clad dominatrix wielding a whip with her submissive bound tightly to a bed.
That's almost never the case with female domination. The truth is that domination and submission exist on a spectrum.
For example, you can be super loving and sensual with your domination by having sex in the Cowgirl position, while kissing them or…
You be more dominant by tying your partner to the bed and sitting on their face, adding a blindfold to any activity, or…
You can get extreme and introduce humiliation and sadomasochism into your sex sessions.
You can even be dominant when your partner is on top or going down on you. Really, the position or activity matters much less than your attitude, including your confidence, ability to craft a scene, and the care you extend toward your partner–even if you're giving him instructions, pinching his nipples, or flogging him.
And your domination can expand beyond intercourse to pegging, for example, where you get to be in control completely while wearing a strapon. Discover great pegging positions, which double as dom sex positions.
Or you might not focus on the genitals at all while you spank your partner, which can definitely be a dominant activity!
The key is finding out what works for you and your partner. Our advice is to talk to your partner and figure out what you both want. Don't forget to discuss safety precautions, including safe words.
Related: 8 Vital BDSM Rules To Keep It Safe, Sane & Crazy-Kinky
Once you discover the ideal femdom sex positions to match your flavor of domination, you can enjoy being in control, whether you prefer to be in charge all of the time or only like it occasionally!
Illustration : Antonin Guillot
Orgasm Every Time. Easily. Here's How...
I want to tell you about my friend Karen.
Karen came to me one day. She was hysterical.
She told me that her marriage was falling apart because she and her husband didn't have satisfying sex.
Every time they were intimate, Karen was faking her orgasms. It turns out she couldn't orgasm during sex.
In fact...
She never had an orgasm in her entire life. Not one!
This left her feeling embarrassed and ashamed. And...
She completely hid this from her husband. Thankfully...
It turns out that there is a way for any woman to orgasm. Easily. And have multiple vaginal and full body orgasms during sex and masturbation.
I shared the process with Karen.
After she followed the simple process, she could barely come to terms with how...
Quickly and dramatically her sex life changed.
We met up a few months later and...
She would not stop talking about it,
"I thought I was one of those women who couldn't orgasm. I used to think I was 'broken' and 'unfixable.' This saved my sex life, and that saved my marriage."
Even if you currently struggle to orgasm during sex or when masturbating, this process will also work for you.
And best of all, you don't need to do anything weird or uncomfortable to start having the best orgasms and sex of your life.