I can't publish my most intense and wild sex tips online, so I send them in my private and discreet email newsletter. You can find out more here.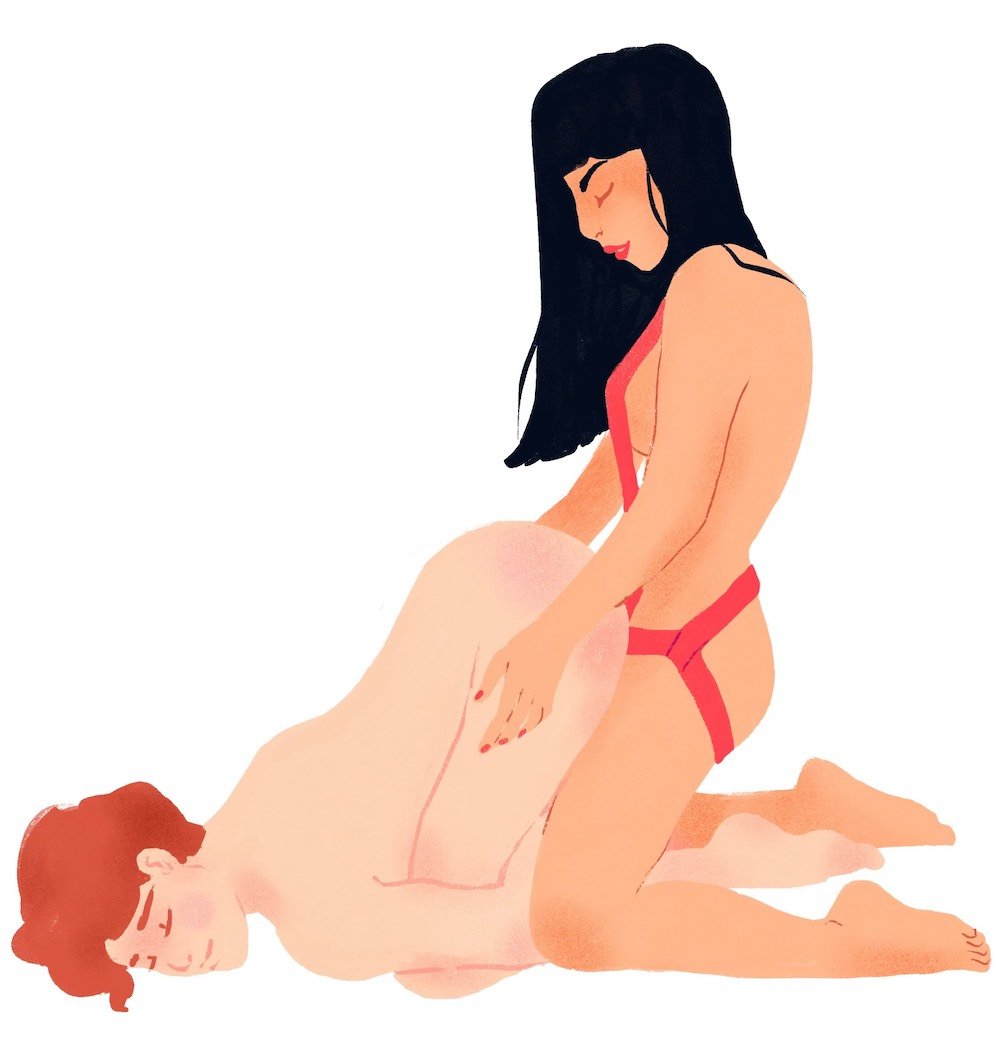 In this post, you'll get a brief rundown of what pegging is, who does it, and why. But you can skip down the page if you're just looking for a new sex position to try the next time you peg your partner. The best pegging positions (with pictures!) are toward the end of the article, and that information is the real gem of this post!
Pegging: What, Why, and How?
What is pegging – Pegging is an activity where one person wears a harness and dildo, also known as a strap on, to penetrate their partner anally. Traditionally, pegging involves a man and a woman, but we use the term for any strap on anal penetration between two partners.
Side note: If you are currently struggling to orgasm during sex or masturbation, then you may want to learn about the Easy Orgasm Solution. It will teach you how to have multiple vaginal and full body orgasms during sex and masturbation. It works even if you currently struggle to orgasm during sex or when masturbating. You can find out more here.
How to peg your partner – Read this in-depth guide on how to peg your partner to learn how.
Why people love pegging their partner – Are you wondering why some people like pegging? It can be great fun for partners to switch roles and the power that comes with those roles. Putting on a strap on can make you feel powerful if you've got a vagina, and some pegging positions even up the ante!
Why some partners love getting pegged – And for the receiver? Pegging can stimulate sensitive areas of the anus and the prostate in particular. This walnut-shaped organ can be stimulated through the anus and perineum and is key for some to unlocking a powerful new type of orgasm or the ability to have multiple orgasms for men!
Related: Prostate Massage 101
How To Peg Your Partner: Quick-Start Guide
The harness – Let's say you're interested in pegging, what do you need to get started? First, the person doing the pegging needs a comfortable harness.
If you want to give your man back-arching, toe-curling, screaming orgasms that will keep him sexually addicted to you, then you'll find them in my private and discreet newsletter. You'll also learn the 5 dangerous & "dumb" sex mistakes that turn him off and how to avoid them. Get it here.
The dildo – If your partner has never been anally penetrated before, they might not know what they like or may need something beginner-friendly. A smaller, smooth dildo that's flexible is a good option. Larger, textured, and rigid dildos may be better for those who are more experienced with pegging.
P Spot dildos – If you want to stimulate the prostate specifically, a curved and contoured P Spot dildo works well. Plus, many G Spot dildos can double as prostate toys!
Our guide to strap ons has some great information to help you find the perfect harness and dildo.
Pegging preparation – Before you get down to business and assume the pegging position, you might want to know what kind of prep you need to do for pegging. It's the same as you'd do for any anal penetration and you and your partner can choose several levels of hairlessness and cleanliness to ensure your comfort.
Check out this article about preparing for anal sex to get the lowdown about pegging prep. Follows these tips to reduce pain during anal no matter what pegging positions you try.
Once you've decided you want to peg your partner and have your gear, including lube, you're ready to get into position. Any of the following positions work for pegging, but you may want to stick to something more straightforward as you learn how to control your strap on, read your partner's bodily responses to penetration, and figure out what both of you like.
1. Doggy Style Position For Pegging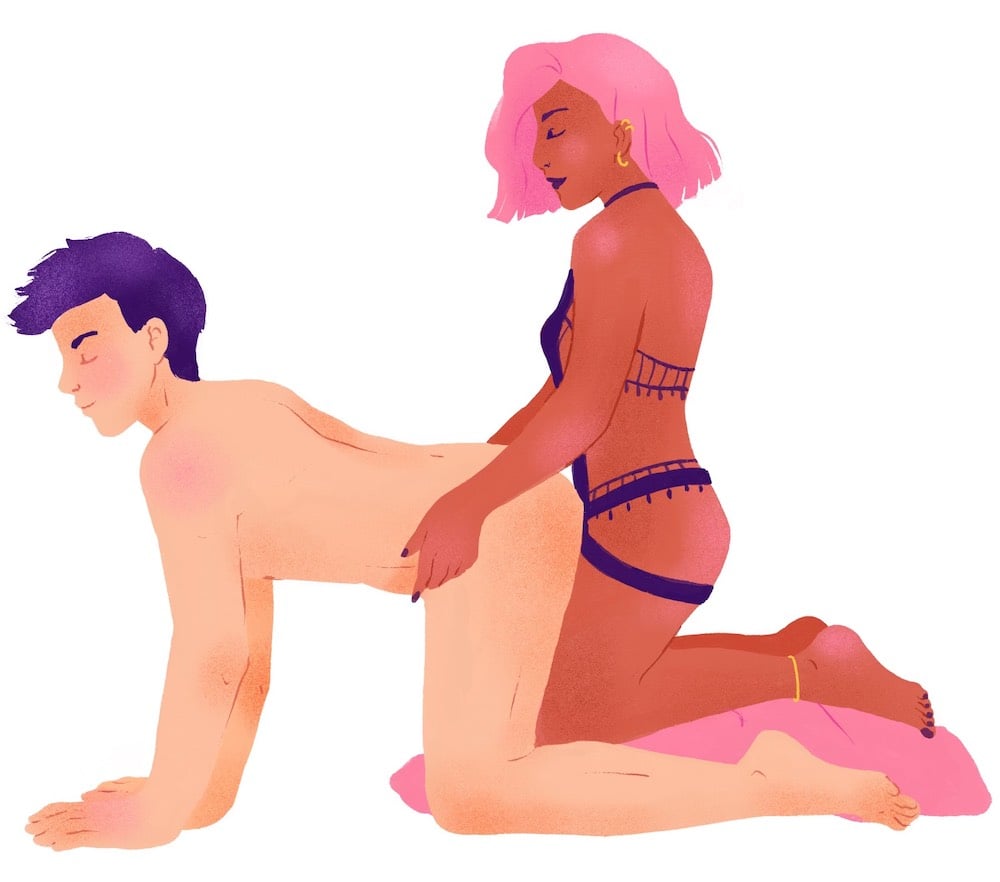 Doggy style is a classic position for regular vaginal and anal sex, but it works well for anal sex no matter who's the receiver. Pegging in doggy can be a little tricky if the partner wearing the strap on is much shorter than your partner, so you may want to try kneeling on a sex pillow to give you a little more height.
Go in-depth: Doggy style sex position guide.
2. Amazon Position For Pegging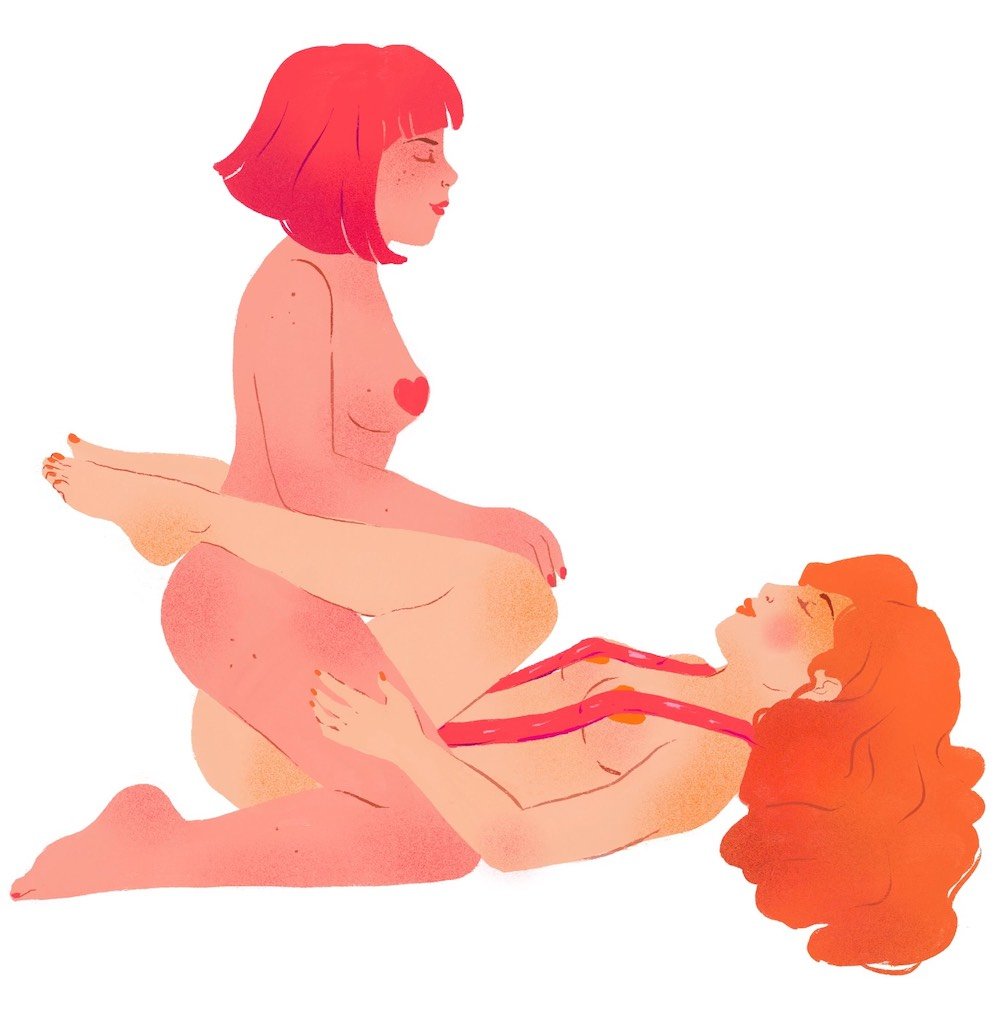 The Amazon sex position is more acrobatic than some, so we couldn't blame you if you decided to try one of the easier pegging positionsfirst. However, it's worth checking out if you're adventurous and agile!
In the Amazon position, the giving partner lies on their back with their knees pulled toward their chest so they can penetrate their partner from below. The receiving partner sits on the back of giving partner's thighs. You can swap positions when pegging your partner, so the giver is on the bottom, or…
kKeep the same positions so that the receiver is on the bottom.
Go in-depth: Amazon sex position guide.
3. Butterfly Sexual Position for Pegging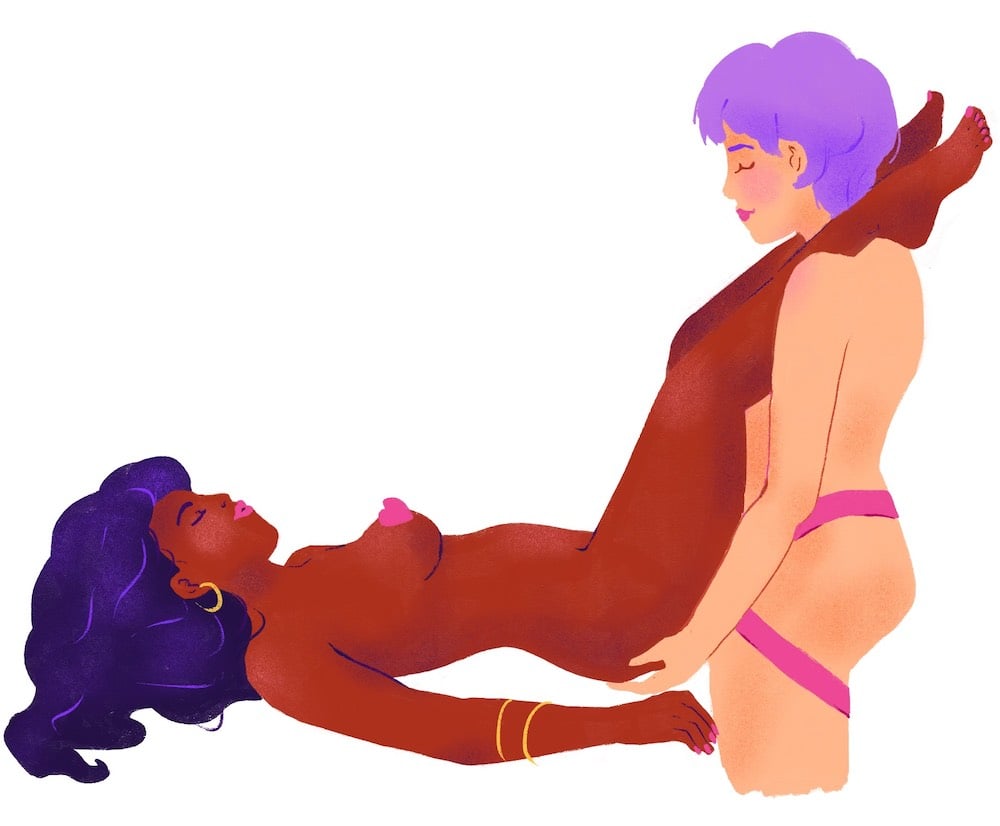 In the Butterfly position, pegging is quite a bit easier, which makes this one of the best pegging positions. Your partner lies on the bed with their legs bent at the waist and straight up while you stand on the floor at the edge of the bed. Your partner's legs rest against your shoulders, which will lift their hips to make pegging possible.
Try using your hands or a pillow under your partner's hips if you need a bit of a boost to make the position work well.
Go in-depth: Butterfly sex position guide.
4. Turtle Sex Position for Pegging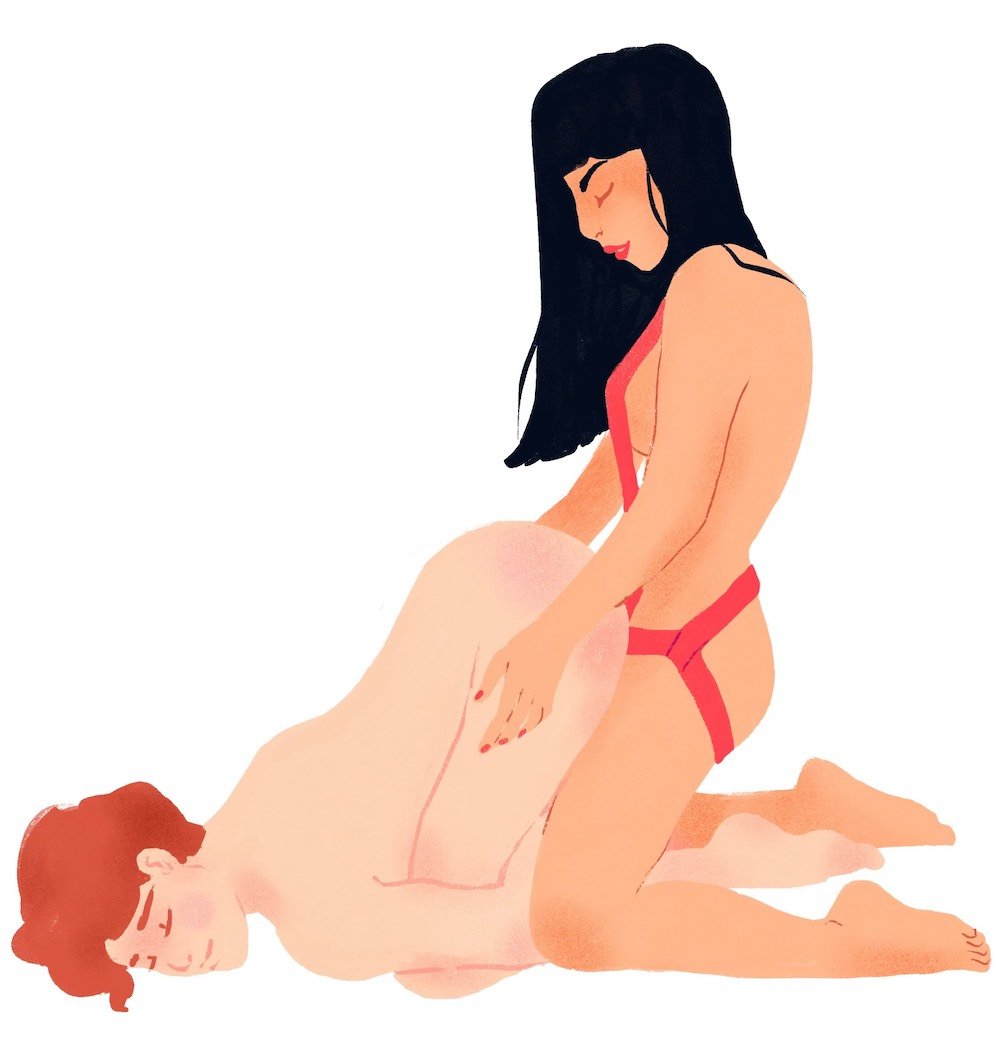 Check out the Turtle if you want to feel extra close to your partner while pegging. To start, the receiver will kneel on the bed or floor, reaching back around their legs with their arms. The giver kneels behind them with their knees on the outside.
While doing the Turtle, the receiving partner might be more comfortable resting on a pillow beneath their head or chest.
Go in-depth: Turtle sex position guide.
5. Teaspooning Positon for Pegging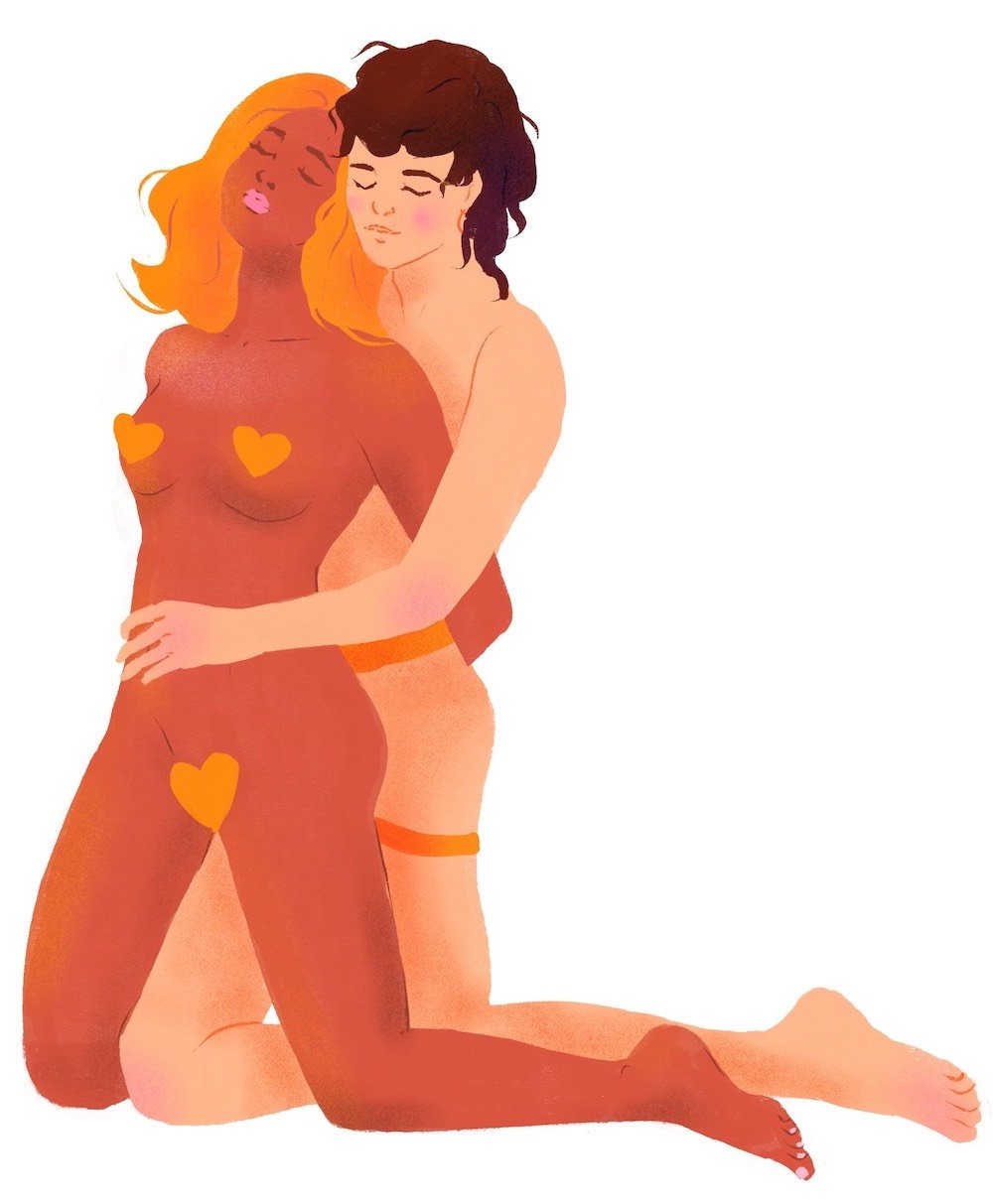 Teaspooning can be an incredibly intimate position for pegging, just like it is for vaginal sex. Kneeling directly behind your partner provides plenty of skin-to-skin contact, and you can reach around to rub or stroke them as you penetrate them from behind.
Learn how to give a fabulous hand job.
Again, differences in height can be problematic in this pegging position. But you can try to work around it by leaning backward or getting your partner to kneel more.
Go in-depth: Teaspooning Sex Position.
6. Frog Leap Position for Pegging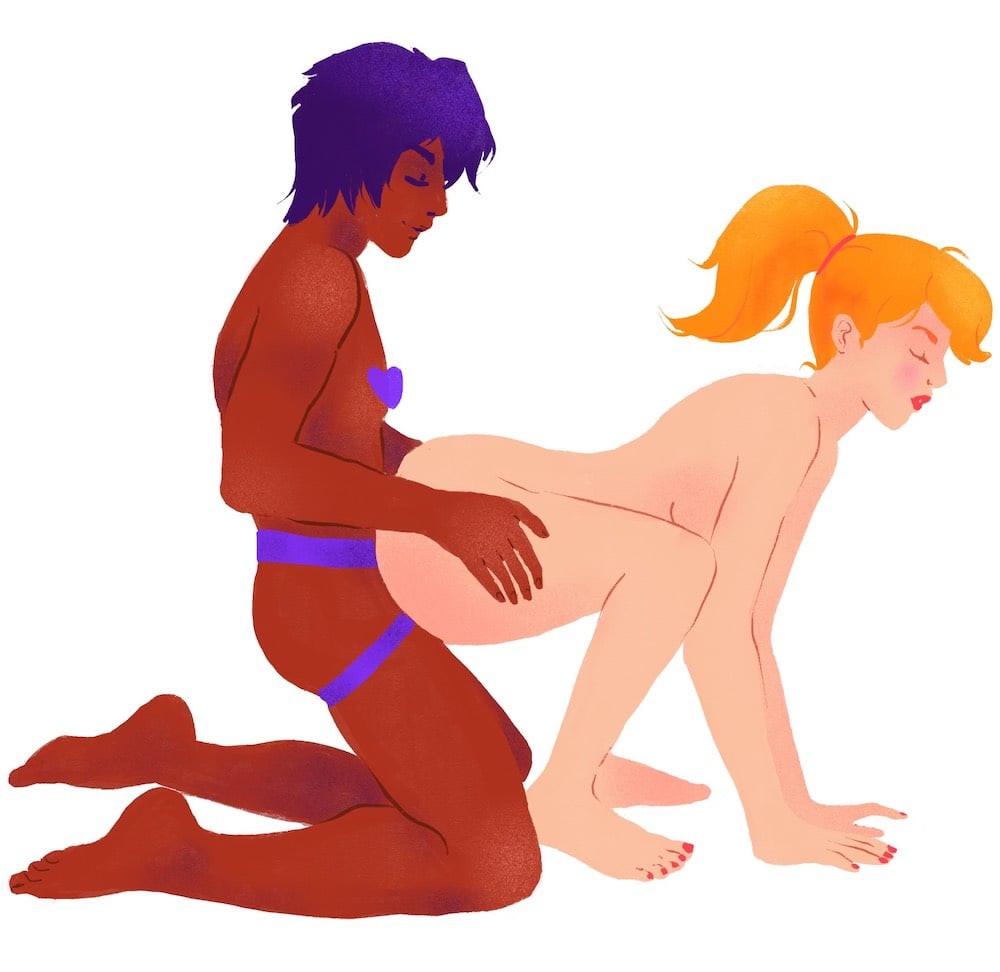 This sex position might be more comfortable for both of you, compared to similar positions like the Turtle. The main changes involve the receiver reaching out in front of them instead of behind them, and their knees are on the outside.
Frog Leap position has the advantage of letting your partner adjust the height of their hips to make rear entry easier and more fun.
Go in-depth: Frog Leap Sex Position.
7. Burning Man Position for Pegging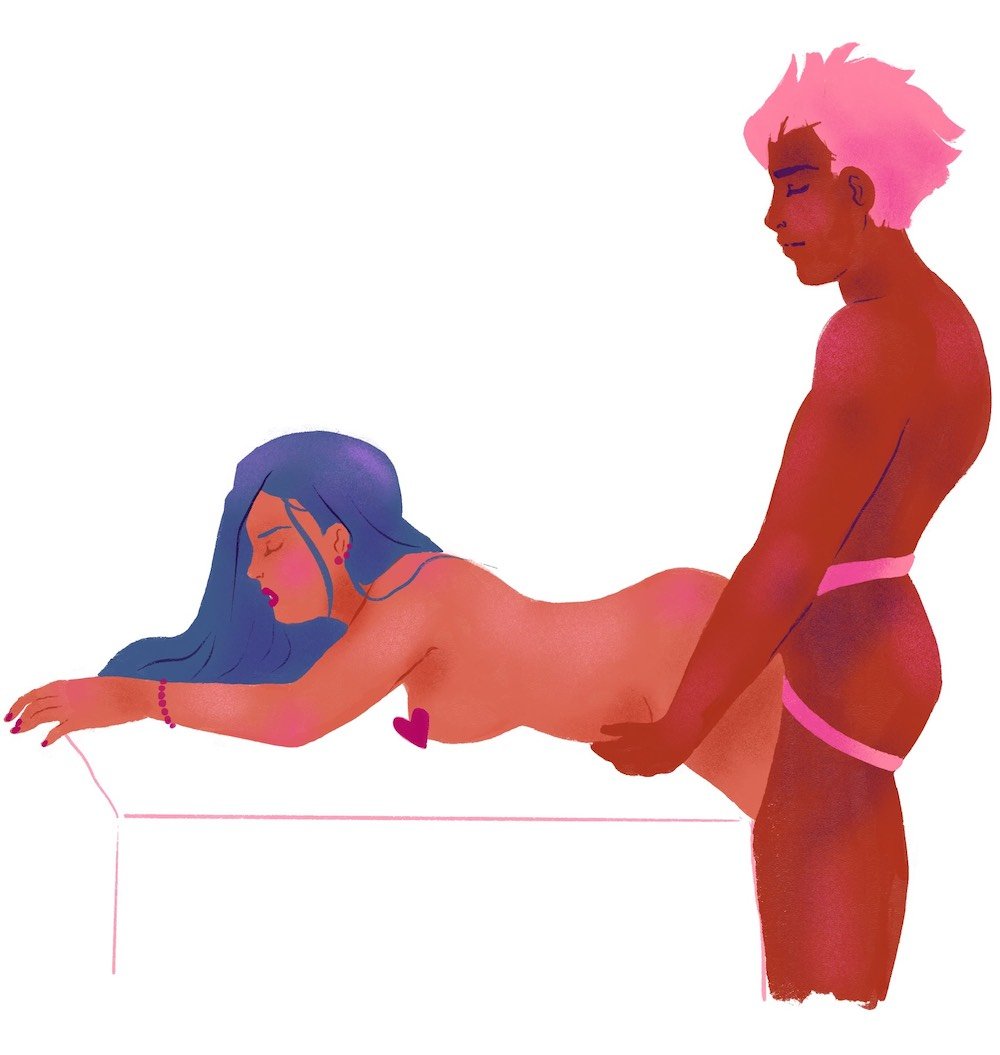 You could call this the "Burning Woman" position when used for pegging. The recipient leans over a counter or table while the pegger enters them and penetrates from behind. Finding a piece of furniture, like a table with the right height is key to making this position work for pegging.
Go in-depth: Burning Man Sex Position.
8. Pearly Gates Sex Position for Pegging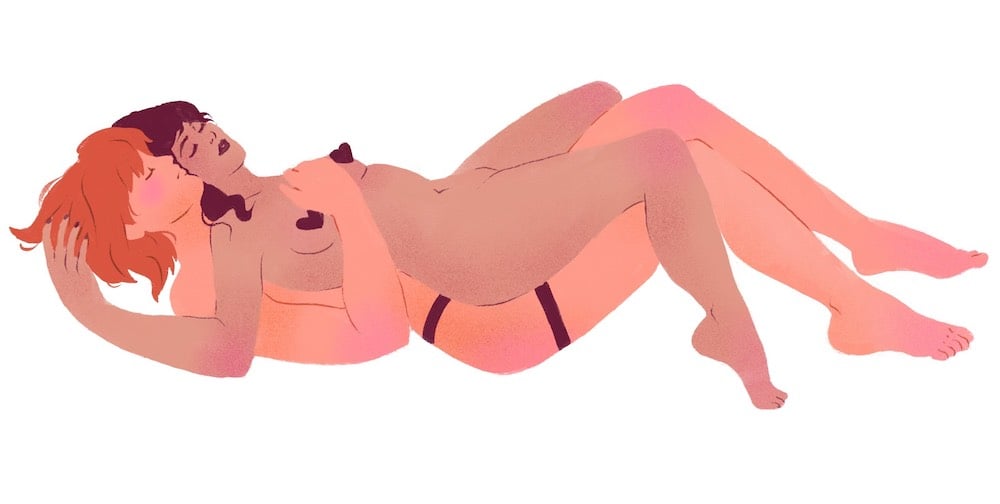 In this sensual sex position, you lie on your back while your partner is on top of you, also facing up. This lets you thrust from below. Bending your knees and using your feet for leverage on the bed can help you thrust. You can reach around to caress your partner's chest or stroke their penis.
Go in-depth: Pearly Gates Sex Position.
9. Spooning for Pegging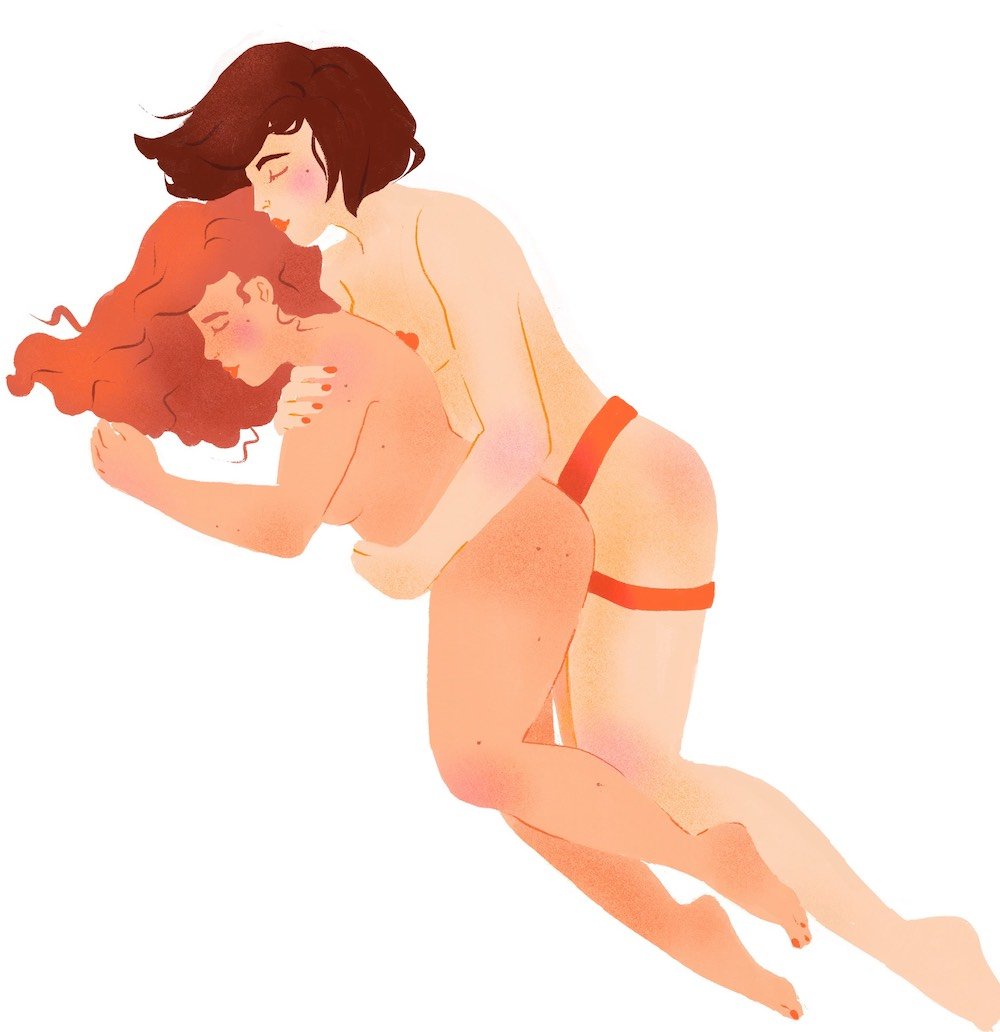 Spooning is a classic lazy position that works well for morning sex or when you want to whisper and moan directly into your partner's ear. Women are often the "little spoon," so pegging gives them a chance to switch it up. Try massaging your partner, draping your top leg over their hips, or grasping and lifting their top leg if you'd like in this pegging position.
Tip – If you struggle with heartburn while spooning, turn on your left side instead of your right.
Go in-depth: Spooning Sex Position.
10. Missionary Position for Pegging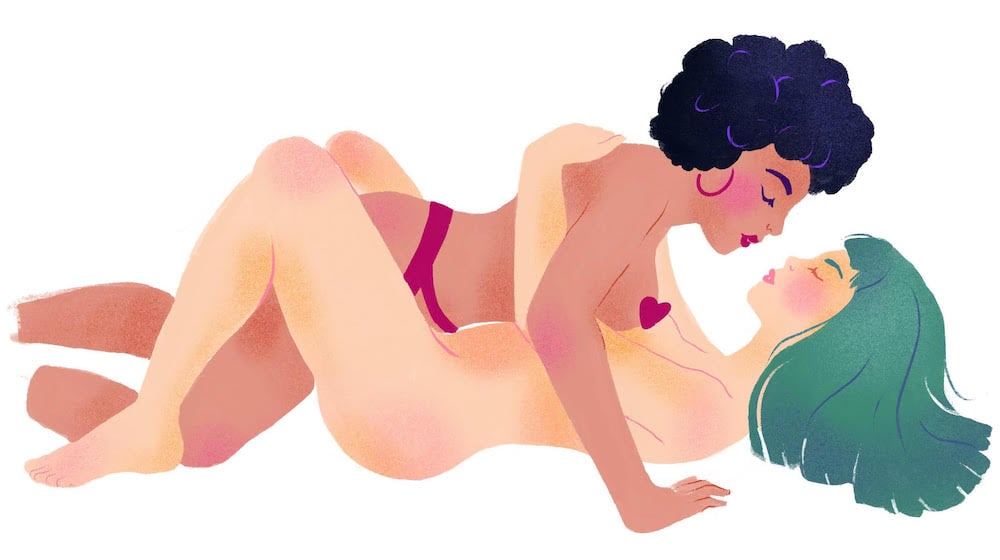 Most people think of the Missionary position as the default position for intercourse, but plenty of men enjoy it for receiving anal sex too. So there's no reason you can't try it for pegging, too!
You'll need to make a couple of modifications, such as having your partner lift their legs and bend their knees so you can scoot closer when pegging them, but you can grab their legs for leverage.
Go in-depth: Missionary Sex Position.
11. Cowgirl Style for Pegging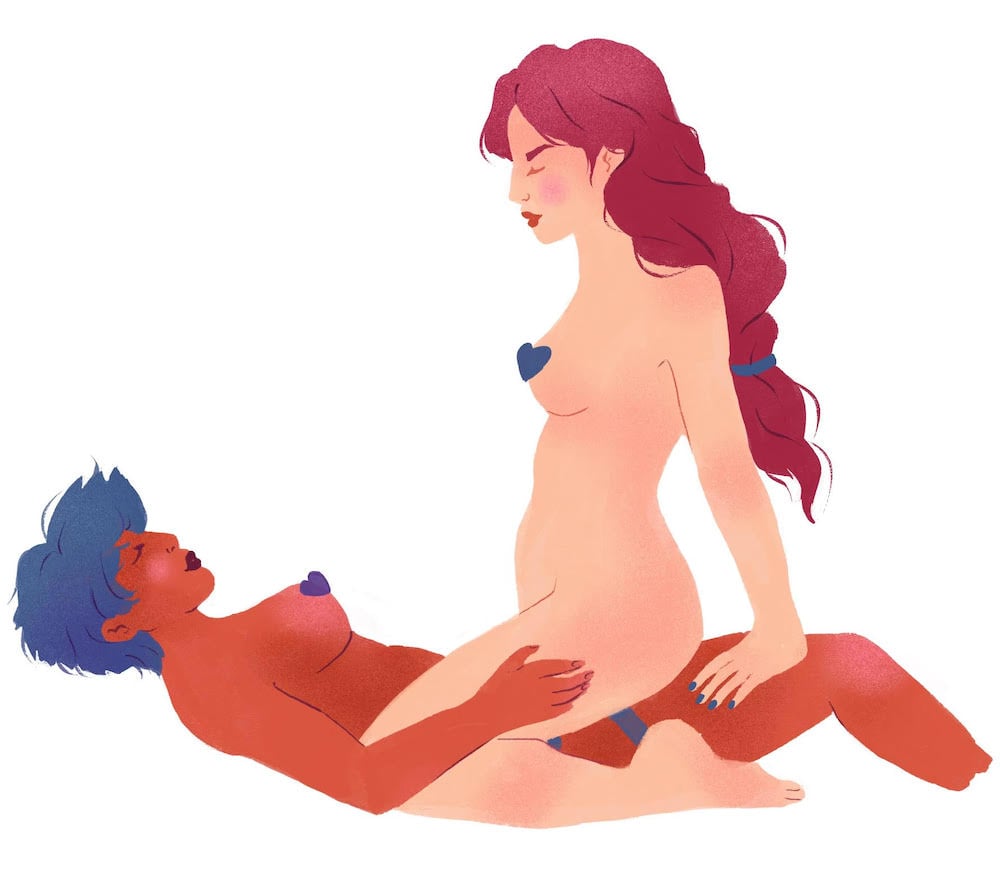 Cowgirl is all about the receiving partner straddling the giving partner and riding them. When pegging, the receiver can get on top and lower themself onto the strap on instead. Some people even call this the Cowboy (and facing the other way, the Reverse Cowboy).
This is a good pegging position for several reasons. Being on top lets the receiver control the depth, pace, and angle they take the strap on anally. Meanwhile, the giving partner can still play with their penis/vagina.
Go in-depth: Cowgirl Sex Position.
12. Sandwich Position for Pegging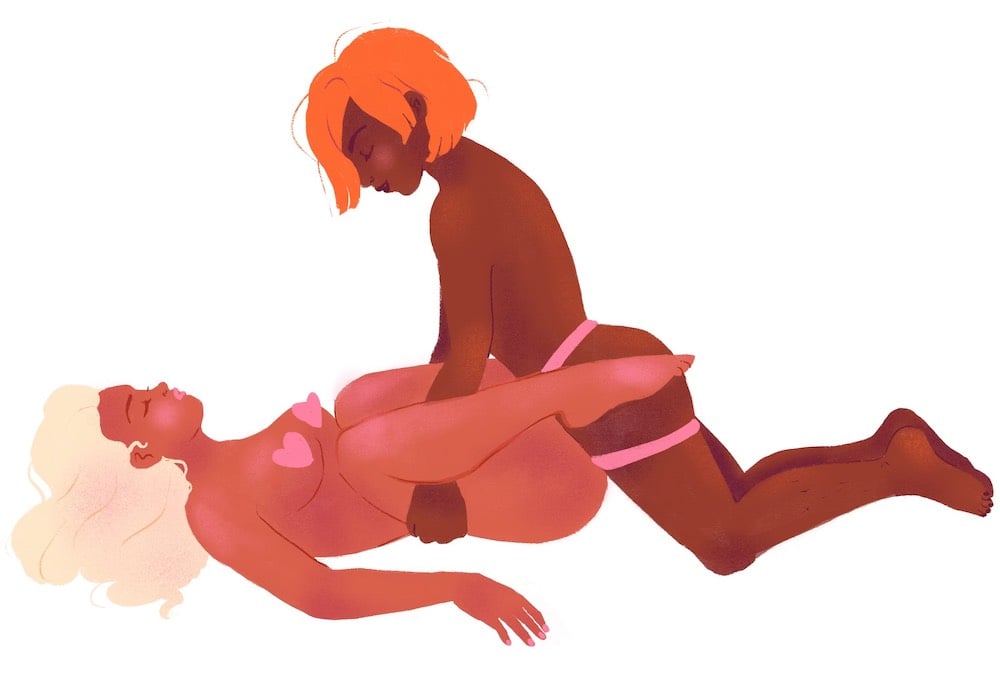 The Sandwich sex position is perfectly designed for anal sex, and eye contact makes it incredibly intimate. The receiver lies back and brings their knees up toward their chest. Meanwhile, the person with the strap on slides between their partner's legs and grabs the back of their thighs, which they can use for leverage while thrusting.
Go in-depth: Sandwich Sex Position.
13. Rear Entry for Pegging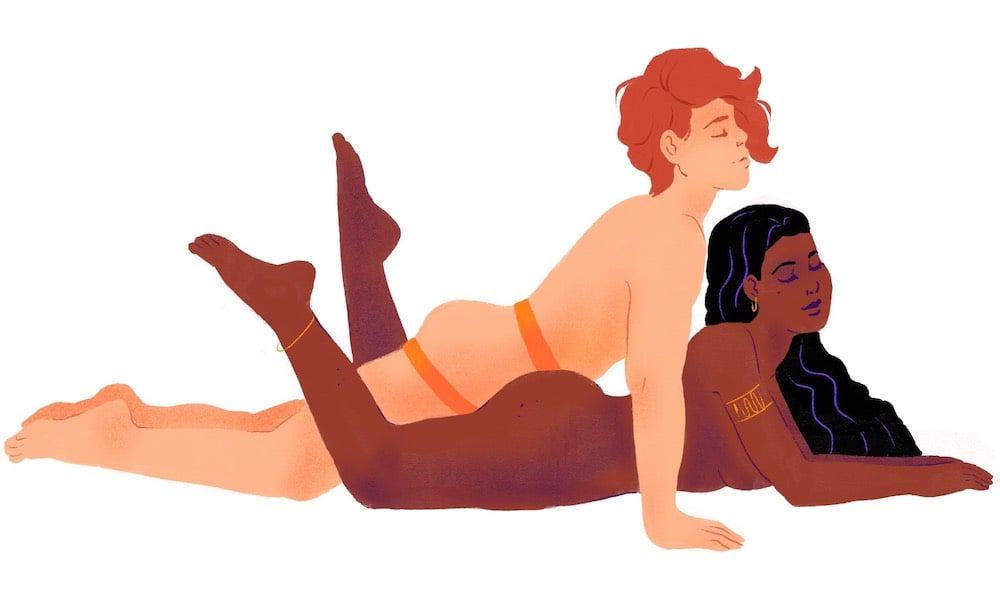 Rear Entry is a given for pegging and strap on sex. When your partner lies on their stomach in this pegging position, their tushy is right there for the taking! You may already be familiar with this position if you're a Reddit user, but members of the site tend to call it Prone Bone, instead.
In this position, your partner is lying face down on their stomach. You then penetrate them from behind, lying down on top of them with your legs inside theirs.
For extra intimacy, you can lie down on top of them and hold their hands in yours.
Or you can take on a more dominant role and pin them down, making them your submissive.
You can also go in at more of an angle, similar to the Cross sex position.
Go in-depth: Rear Entry Sex Position.
14. Sitting Sex Positions for Pegging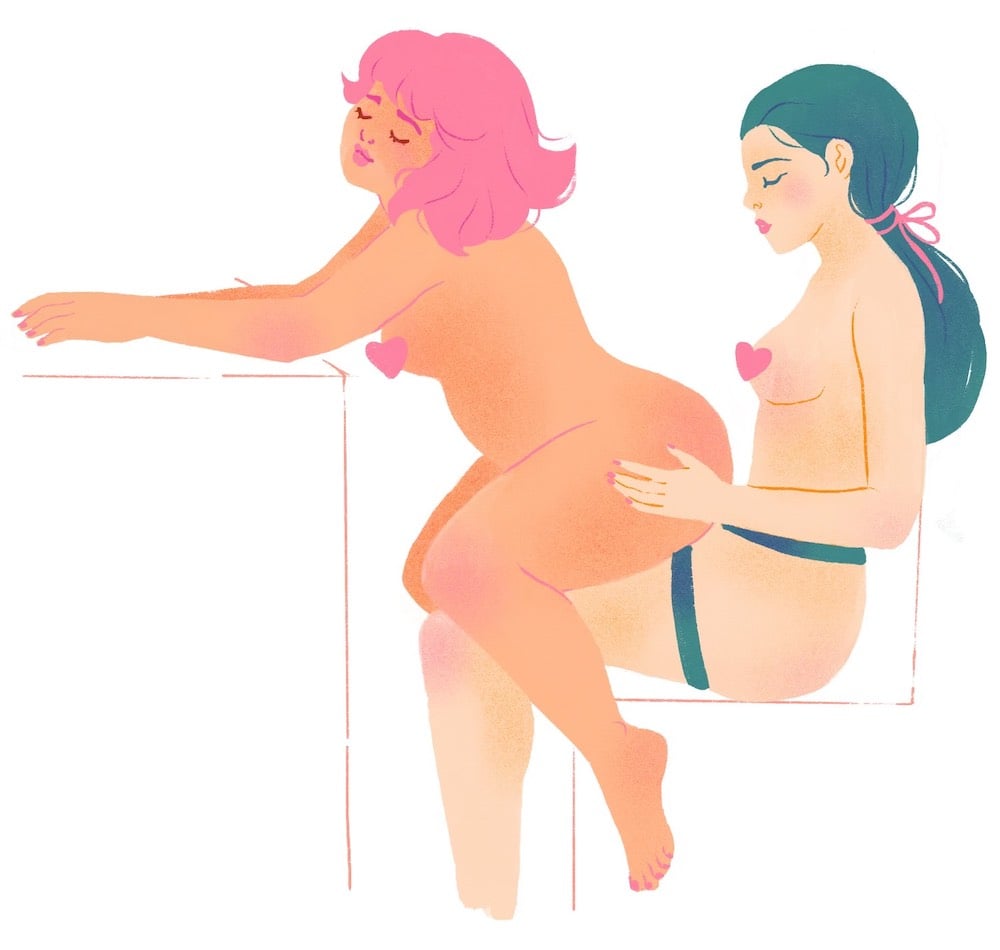 If you're a woman, your partner probably doesn't spend a lot of time in your lap during sex. However, pegging is all about changing things up! So take a seat and have your partner do the same in this strap on position.
Lap Dance position – For women pegging male partners, it's likely that his legs are longer, so it's easier for him to rest his feet on the floor while straddling you with his back to you like in the Lap Dance position.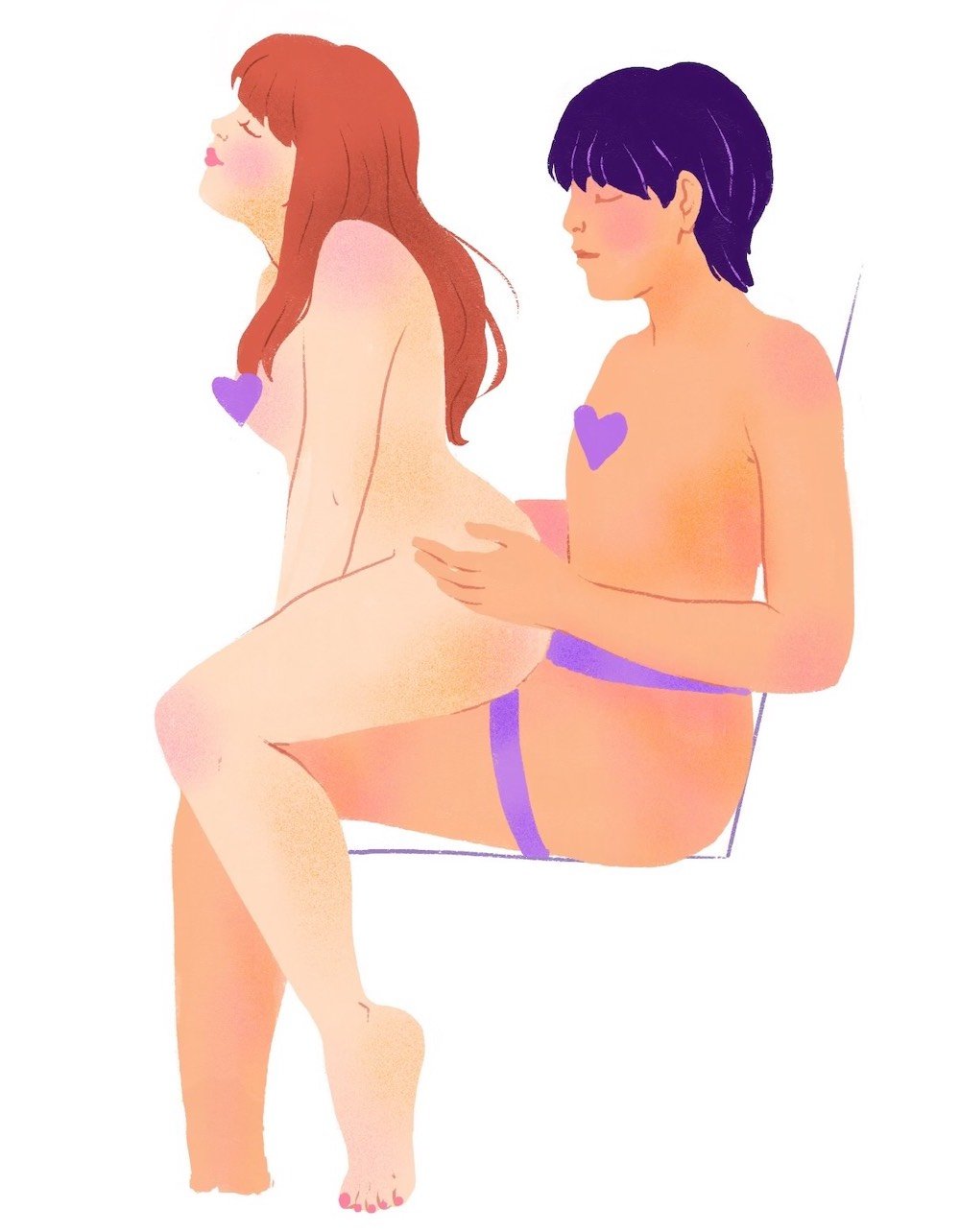 Back Seat Driver position – Or you can try the Back Seat Driver position if you'd prefer your legs to be on the outside. Then the receiving partner can swirl or lift their hips on your cock until you're both satisfied.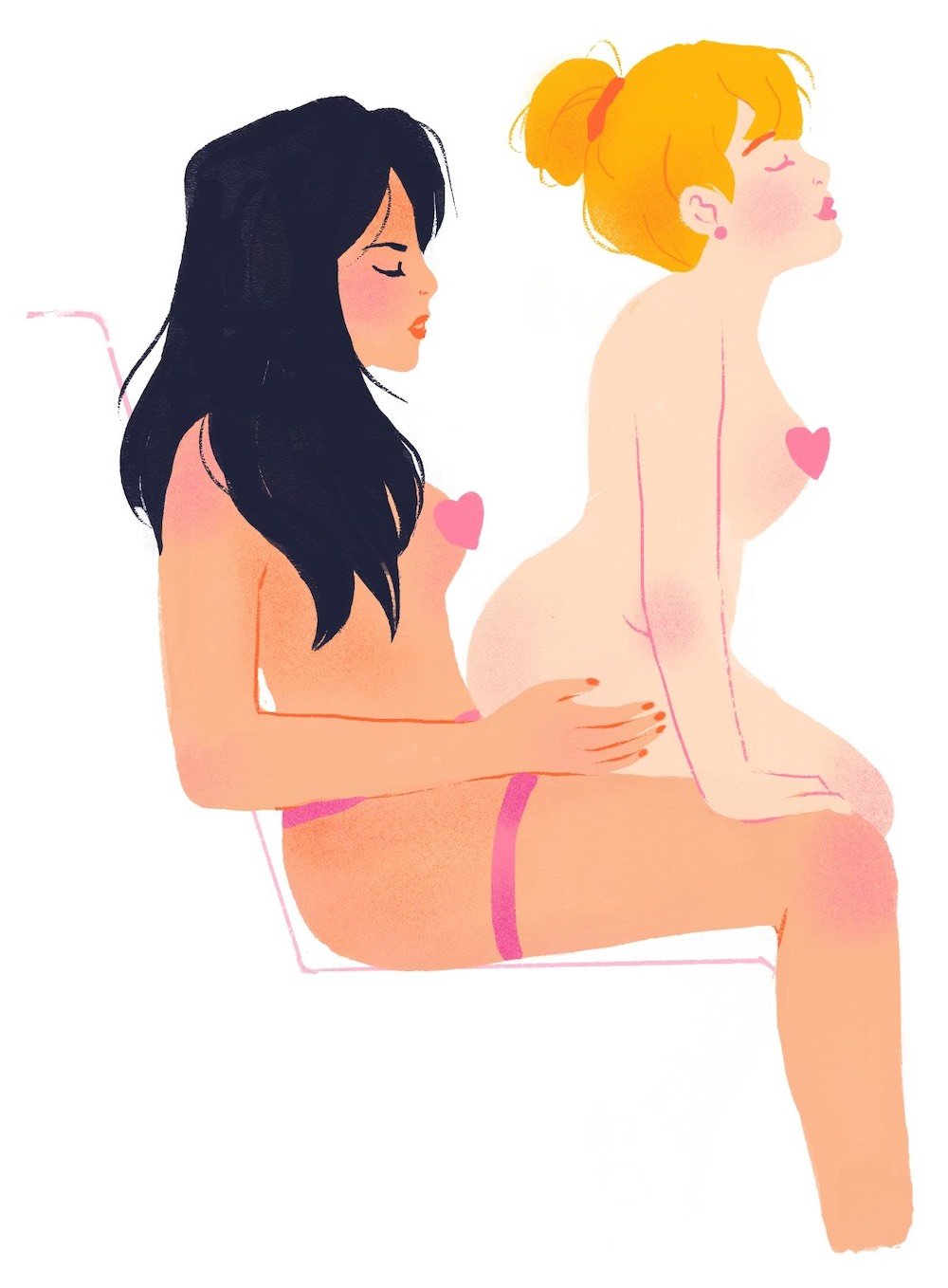 Go in-depth: Sitting Sex Positions.
15. Jockey Position for Pegging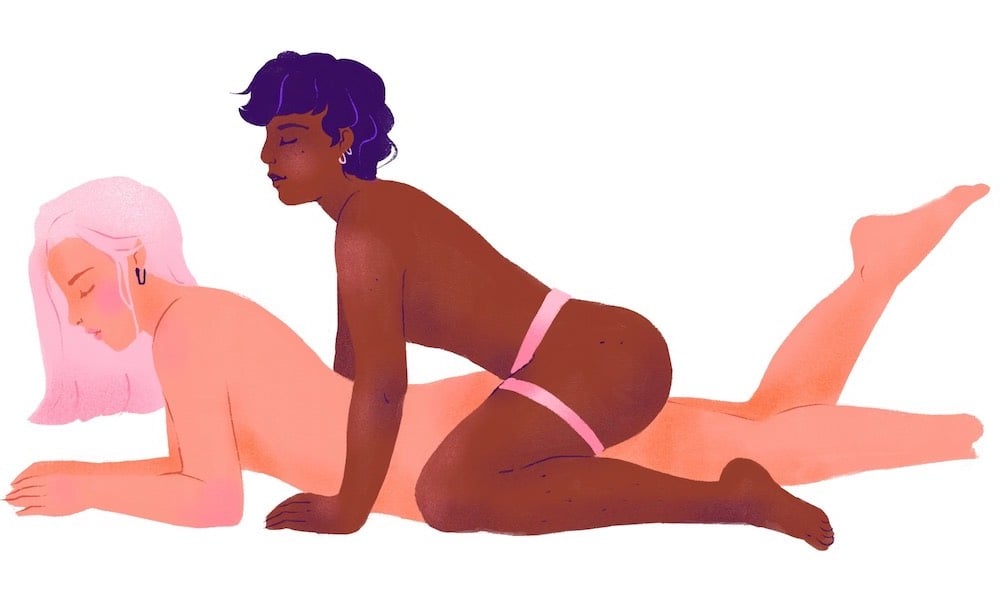 The Jockey position is pretty relaxed for both giver and receiver. The recipient lies on their stomach and can prop themselves up on their elbows. The giver straddles them and leans down on their arms, so their weight doesn't fall entirely on their legs and feet. You can easily lift and swivel your hips when pegging your partner in the Jockey sex position.
Go in-depth: Jockey Sex Position.
16. Superwoman Position for Pegging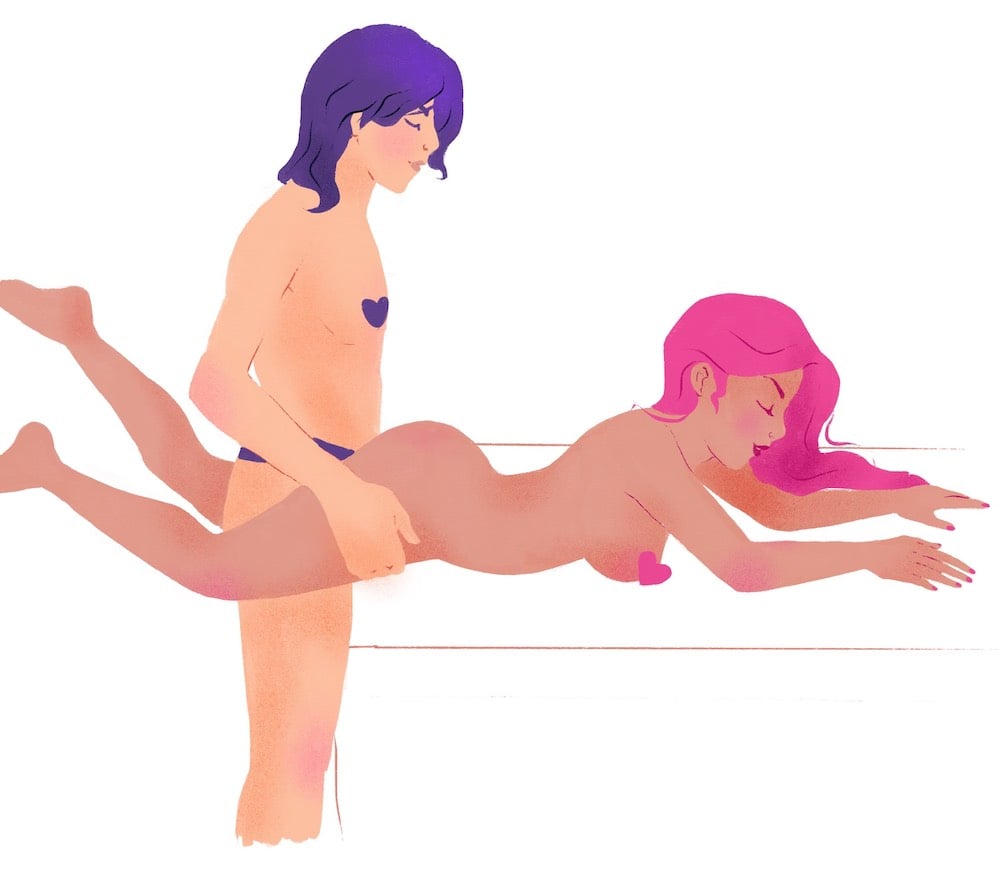 Do height differences make pegging your partner harder than you'd like?
If yes, then give this one a try…
Have your partner lie on their stomach with their legs hanging off the edge of the bed. Stand next to the bed between their legs, which you can hold as you fuck your partner from behind. Experiment with holding their thighs, hips, or waist to see what feels best during pegging.
Go in-depth: Superwoman Sex Position.
17. Bouncing Spoon for Pegging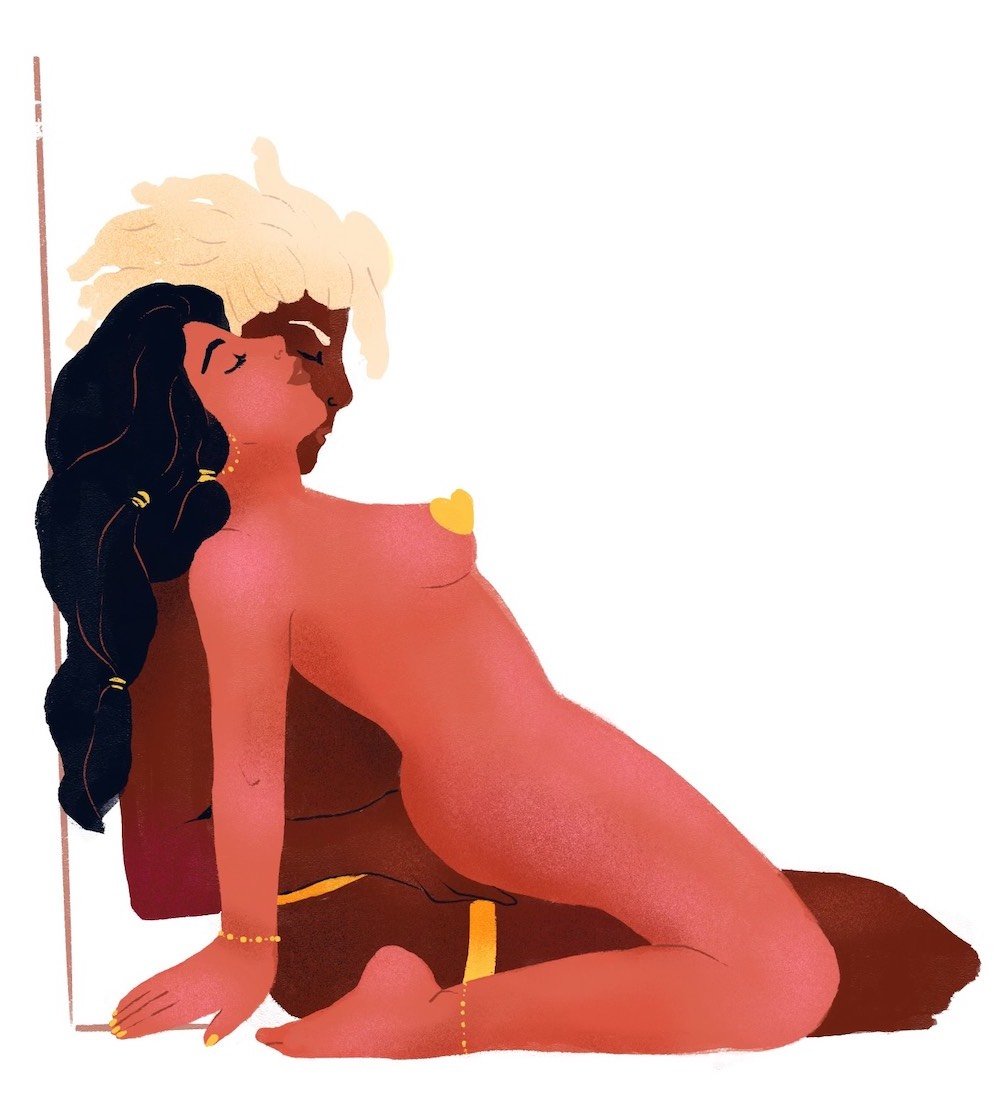 For the final pegging sex position, you'll sit on the floor with your back against a wall and your strap on standing at attention. Your partner will straddle your lap facing away from you while kneeling, so you may have to scoot your butt away from the wall to make room for their legs. However, this is a great strap on position if your knees and legs aren't especially strong.
Once your partner lowers themself onto your strap on, they can move their hips, and you can assist with your hands lifting their ass. If they don't need a hand, reach around and stroke their cock/vagina, instead.
Go in-depth: Bouncing Spoon Sex Position.
These pegging positions you just learned are the final ingredient for a fun time sexploring with your partner. But you can head to the Bad Girls Bible pegging guide if you're interested in this activity in general or need a refresher on penetrating your partner with a strap on before trying out the pegging positions above.
Orgasm Every Time. Easily. Here's How...
I want to tell you about my friend Karen.
Karen came to me one day. She was hysterical.
She told me that her marriage was falling apart because she and her husband didn't have satisfying sex.
Every time they were intimate, Karen was faking her orgasms. It turns out she couldn't orgasm during sex.
In fact...
She never had an orgasm in her entire life. Not one!
This left her feeling embarrassed and ashamed. And...
She completely hid this from her husband. Thankfully...
It turns out that there is a way for any woman to orgasm. Easily. And have multiple vaginal and full body orgasms during sex and masturbation.
It's called the Easy Orgasm Solution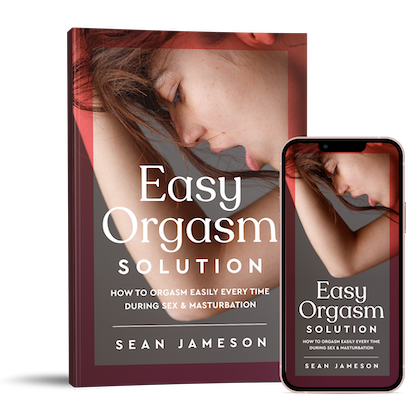 I shared it with Karen.
After she followed the simple process outlined in the course, she could barely come to terms with how...
Quickly and dramatically her sex life changed.
We met up a few months later and...
She would not stop talking about it,
"I thought I was one of those women who couldn't orgasm. I used to think I was 'broken' and 'unfixable.' This saved my sex life, and that saved my marriage."
Even if you currently struggle to orgasm during sex or when masturbating, the Easy Orgasm Solution process will also work for you.
And best of all, you don't need to do anything weird or uncomfortable to start having the best orgasms and sex of your life.