The Rear Entry sex position is perfect for those who like their men to be in control during sex while also remaining quite intimate at the same time. The Rear Entry is very much like Spooning, but with the man on top. Learn over 100 different sex positions.
To perform the Rear Entry, you first need to lie down on your stomach on the bed with your legs open. Your man then gets on top of you with his legs together in pretty much the same position he would be in while performing the Missionary position with you and then enters you. He then rests part of his weight on your back and part of it through his arms by putting his hands on the bed. This way you will feel him right on top of you without him crushing you and causing you breathing difficulties!
What The Girl Does In The Rear Entry Position
As the Rear Entry position is one with your man very much on top, you can just lie there and enjoy it. But you can also change the angle at which your man penetrates you. This could be great for G-spot stimulation.
By planting your knees firmly on the bed, you'll find it quite easy to lift your butt up into the air. Doing this will also help you to thrust back into your man with each of his thrusts.
The tighter you squeeze your legs together, the bigger your man will feel. This is a great trick for small penis sex. More on small penis sex.
What The Guy Does In The Rear Entry Position
You man will be doing the majority of the work in the Rear Entry. He can simply thrust in and out using his hips. Or he can use more of a full body motion to thrust up and down. Make sure to let him know what you prefer him doing.
Your man will also be on top of you. Some like feeling the full weight of their man press down on them, while others prefer just to feel him slightly press against them. So let him know what you prefer. Your man is also in a great position when on top of you like this to kiss you on your back and the back of your neck adding to the intimacy.
If you want to give your man back-arching, toe-curling, screaming orgasms that will keep him sexually addicted to you, then you'll find them in my private and discreet newsletter. You'll also learn the 5 dangerous & "dumb" sex mistakes that turn him off and how to avoid them. Get it here.
Things To Consider When Performing The Rear Entry Position
Many students of the Bad Girls Bible have tried the Rear Entry or a variation of it with their partners. Here is some feedback from them on it:
Try varying how wide you hold your legs open, all the way from very open to close together to make it tighter for your guy.
Try putting a pillow right under your waist/hips to raise them and change the angle of entry.
If you have a headboard or there is a wall in front of you, then you can put your hands on it and push yourself back onto your man.
Anal sex can work in this position. Check out our anal sex tips.
Similar Positions
Jockey
Jockey – In this similar sex position, your man can kneel and lean over you.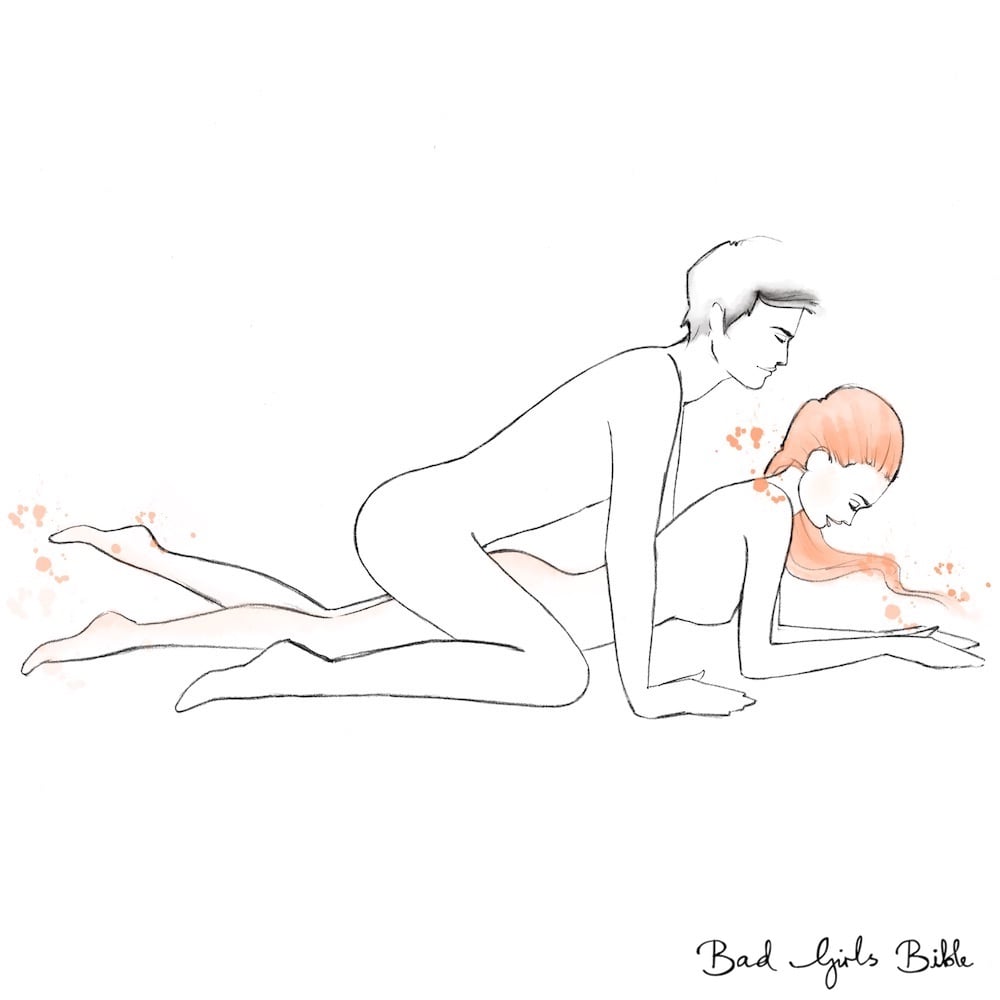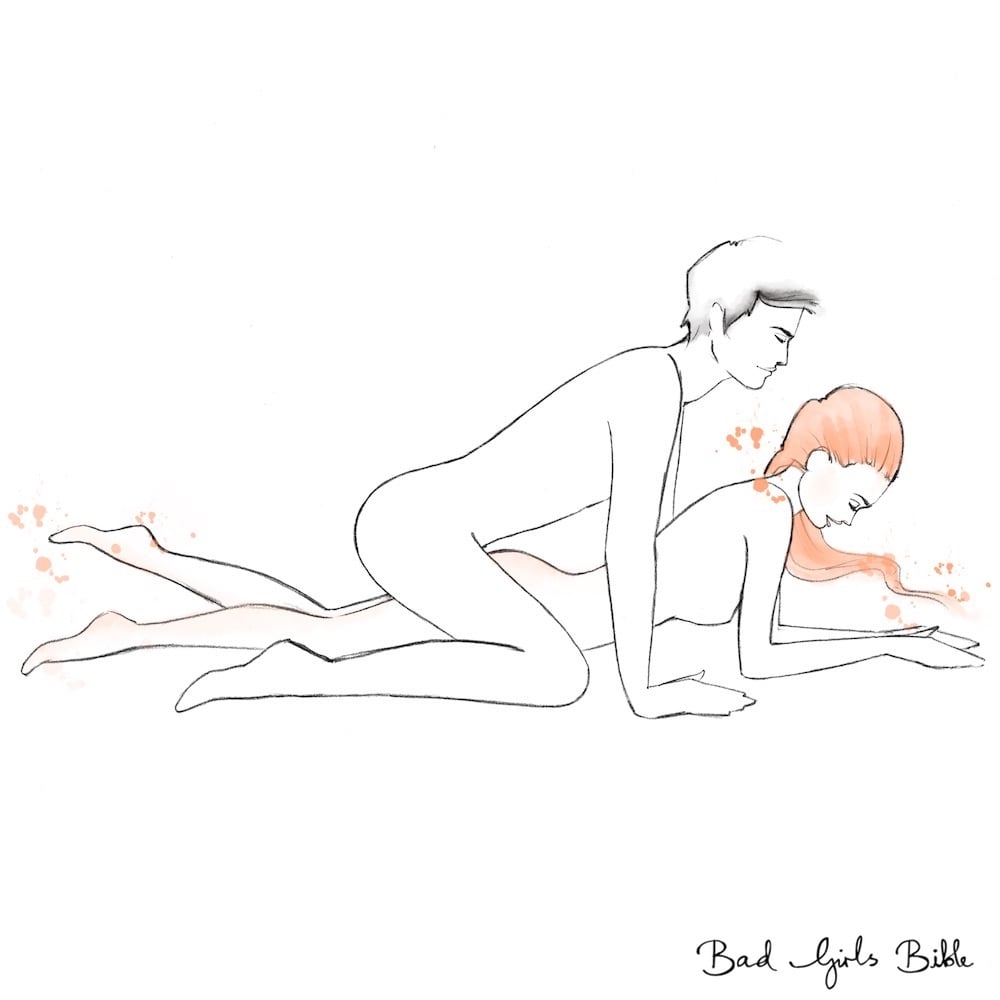 Bent Spoon
Bent Spoon – You can spice things up by lying on your man in Bent Spoon position. It's like Rear Entry but upside down!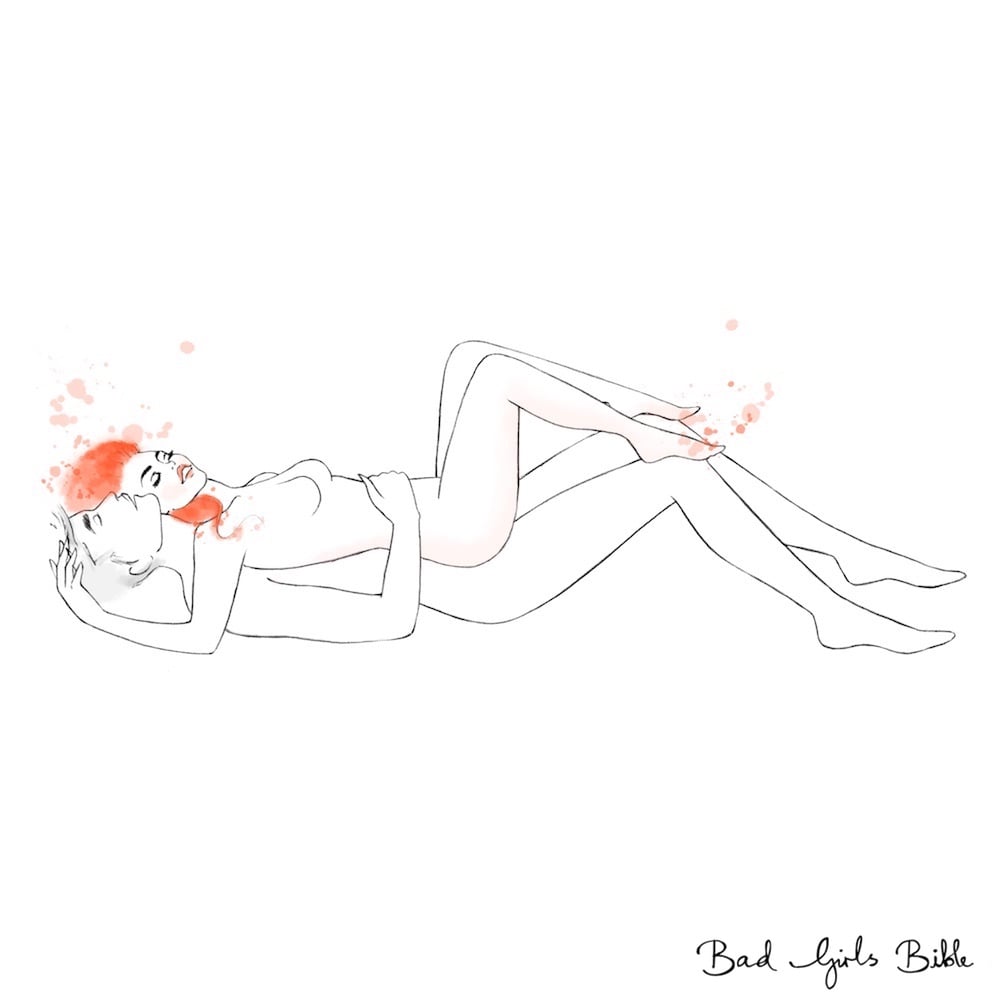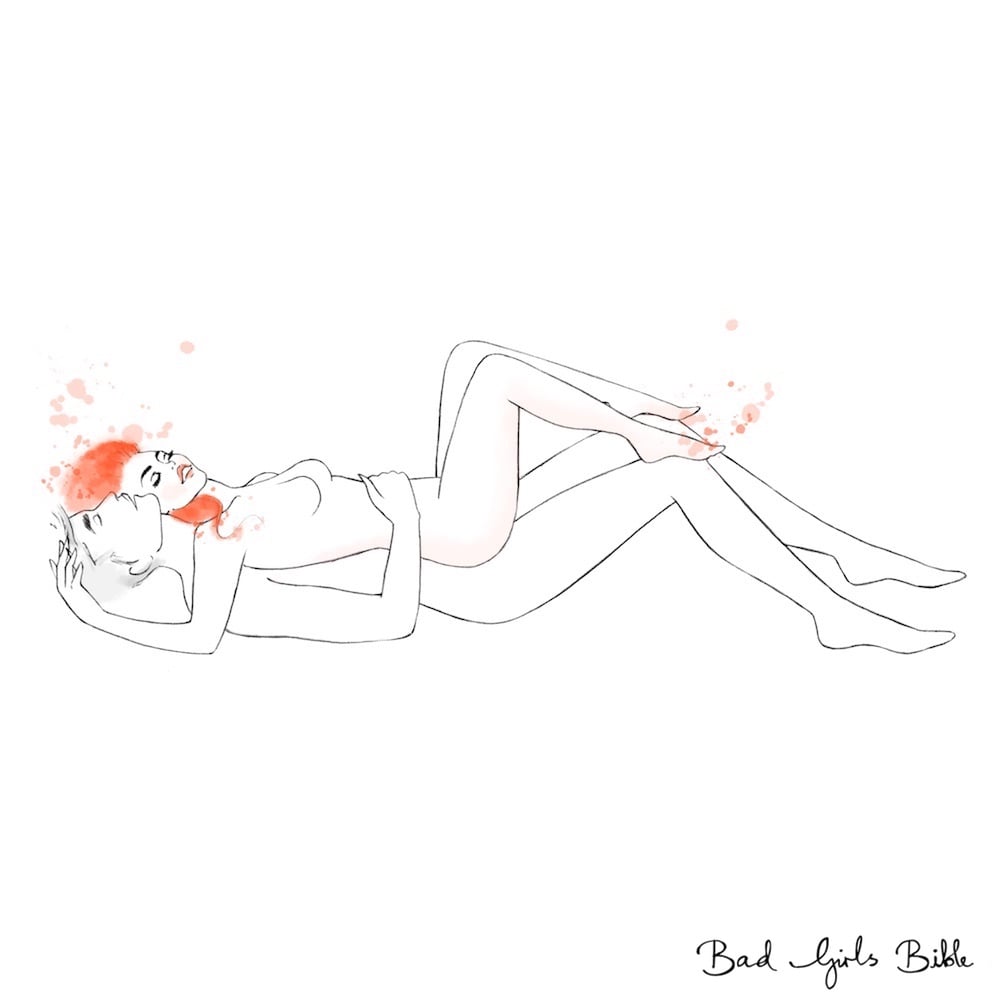 Cross
Cross – When your man's body crosses yours, it changes the angle of sex.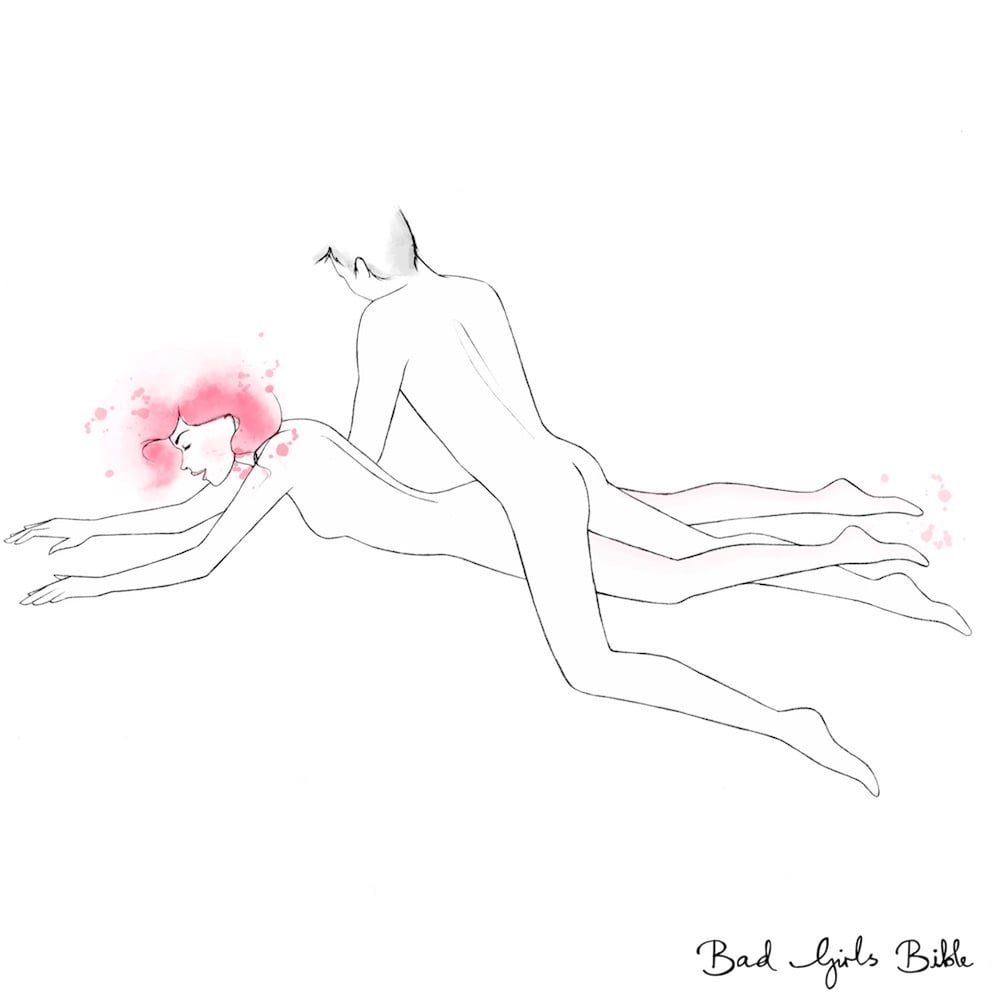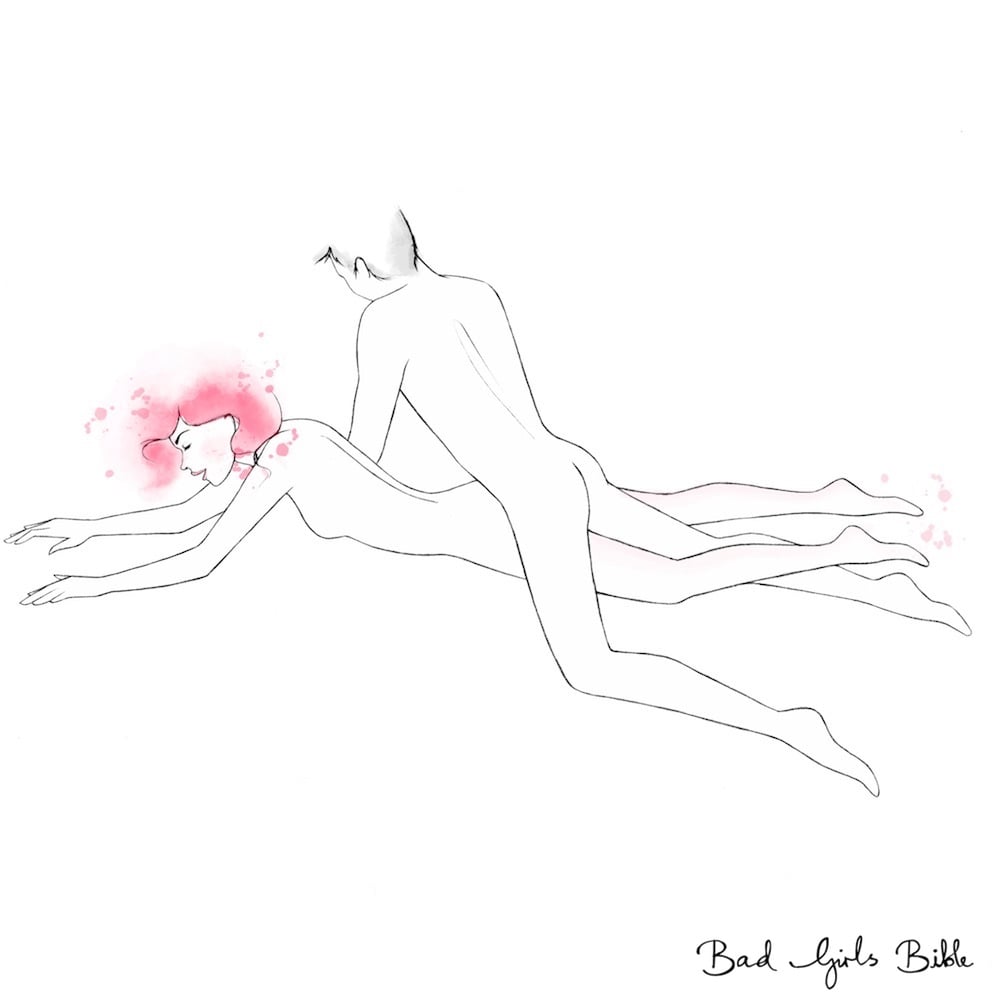 Sofa Spooning
Sofa Spooning – Move to your side and the sofa for something new.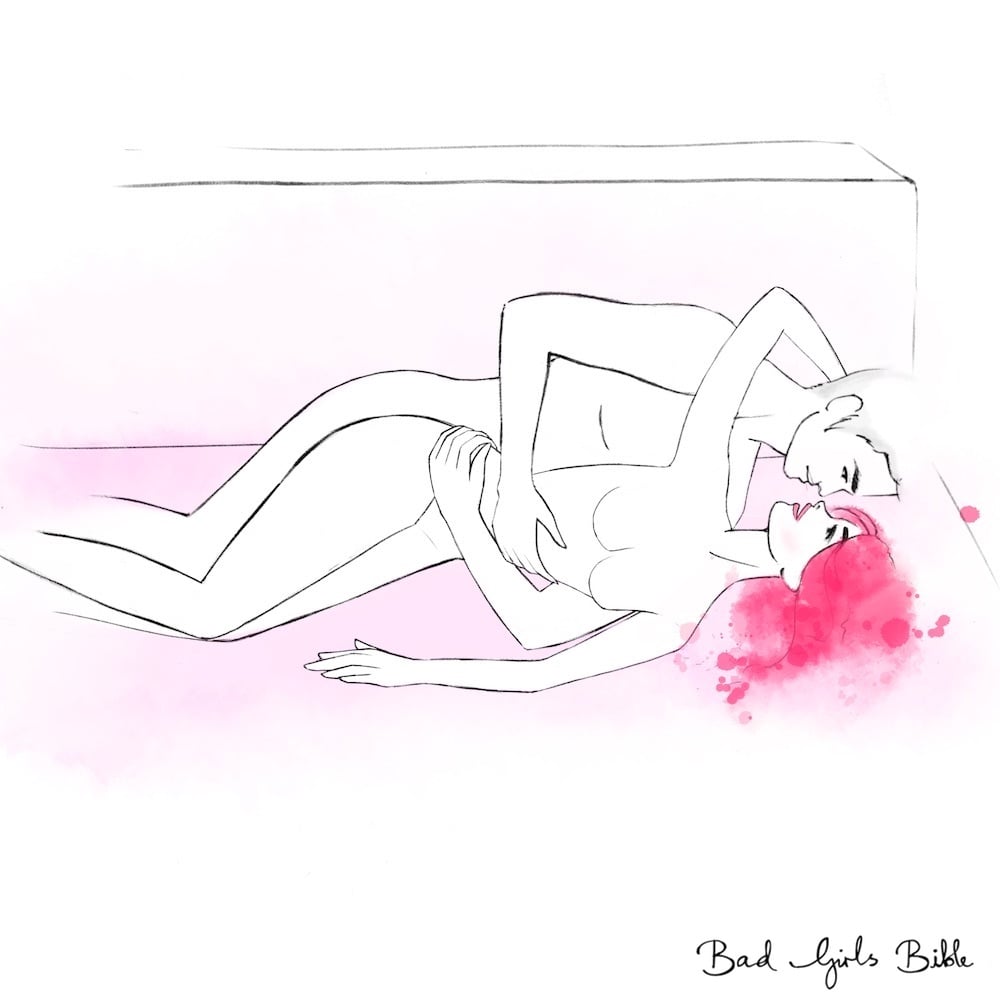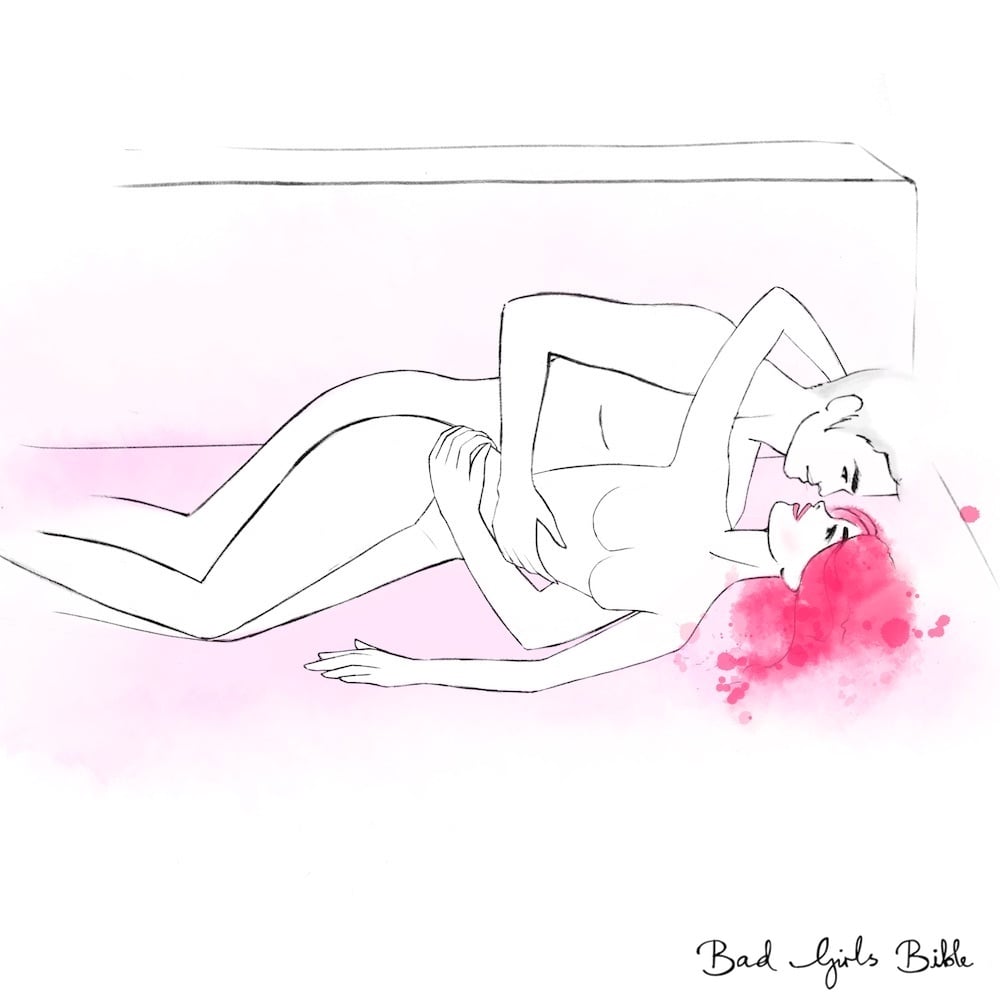 There are even more awesome sex positions on your stomach.
Sean's Thoughts On The Rear Entry Sex Position
I really enjoy the Rear Entry position. It feels both hot and sensual at the same time as I can penetrate my girl with a lot of force and also feel close to her by lying on top of her.
This is going to sound a little crazy, but...
I want to teach you some oral sex techniques I call "sexual heroin" because they will make any man completely and utterly addicted to you, doing anything just to be with you.
These secret oral sex techniques, that you can use on any man, will give him back-arching, body-shaking, screaming orgasms so powerful that he may pass out afterwards.
If you are in a relationship where the "spark" is no longer there and would like to experience more passion, fire, and intensity then you may want to check them out.
Some side effects include:
Having a man who constantly looks at you like he wants to rip your clothes off.
Other women becoming jealous of your relationship and how your man treats you.
A guy who makes excuses to his buddies and cancels on them so he can spend more time with you.
A man who can't keep his hands off you.
Click here to learn learn these techniques now.
You're also going to hear a story of how one woman used them to overcome a potential divorce and make her marriage stronger and more passionate than she ever thought possible.