This discreet newsletter will teach you how to make him cum hard, give freaky oral sex & make him scream your name in bed. Click here to get it.
These 15 lesbian sex positions will help you and your girl have some of the most passionate and intense sex of your life whether giving oral, using your fingers, using a strap on, or tribbing your partner.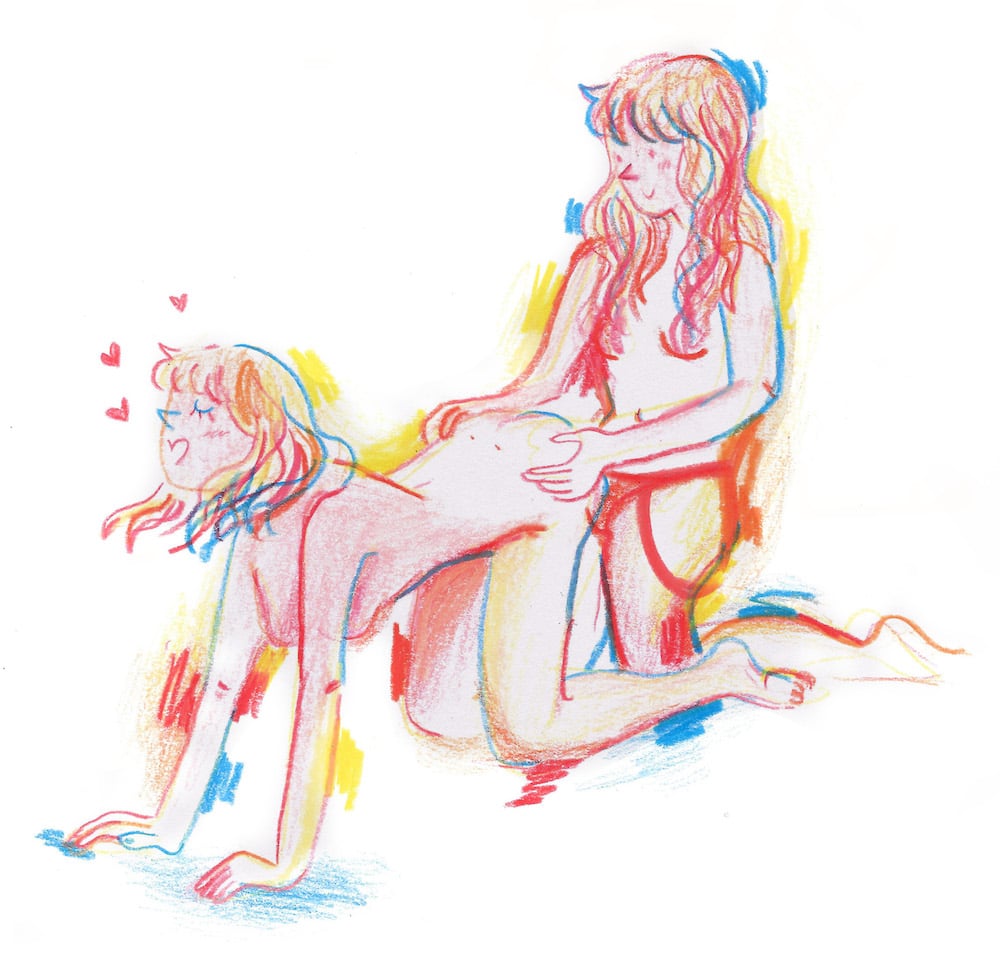 Let's dive in!
Side note: If you are currently struggling to orgasm during sex or masturbation, then you may want to learn about the Easy Orgasm Solution. It begins by teaching you the techniques to orgasm easily and consistently. Then you'll learn how to have multiple vaginal and full body orgasms during sex and masturbation. You can find out more here.
1. Scissoring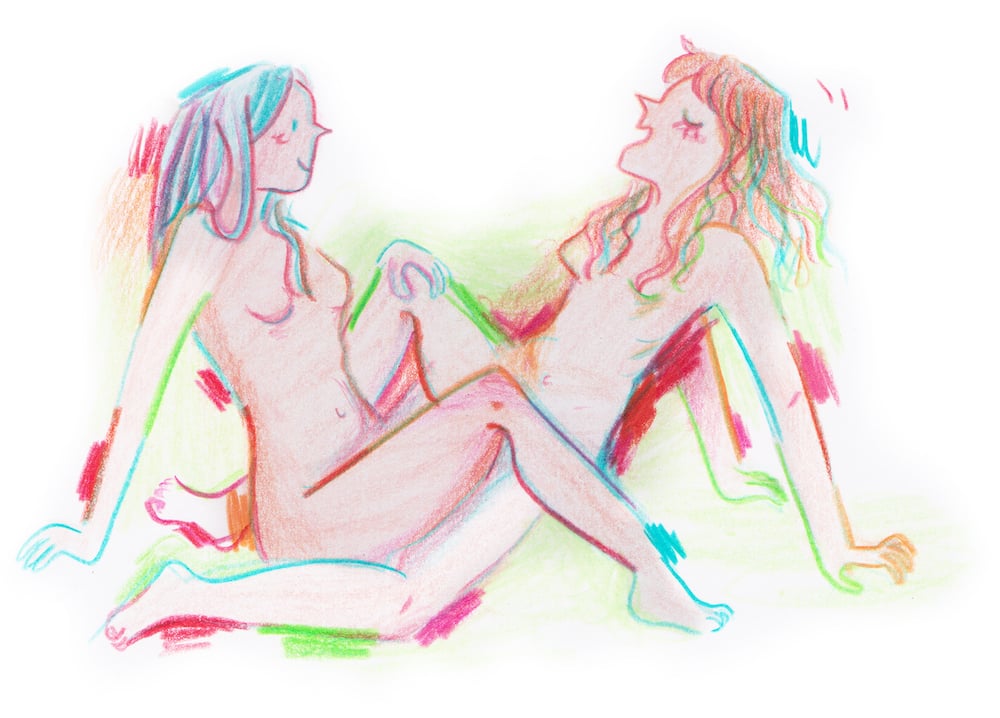 Scissoring (sometimes known as bumping) is one of our favorite lesbian sex positions as it can combine many different types of stimulation for you and your partner.
To start making love in the Scissoring sex position, you both need to sit on a bed facing each other. You then need to interlock your legs like in the illustration above. If you need to, rest your hands behind yourself to help balance. Then you can:
Embrace and kiss each other. After all, women are more likely to orgasm if a sexual encounter includes deep kissing, manual genital stimulation, and/or oral sex in addition to vaginal intercourse [1].
Depending on your body shape, grind your vulvas together, aka tribbing or tribadism.
Mutually masturbate each other.
2. Thigh Tide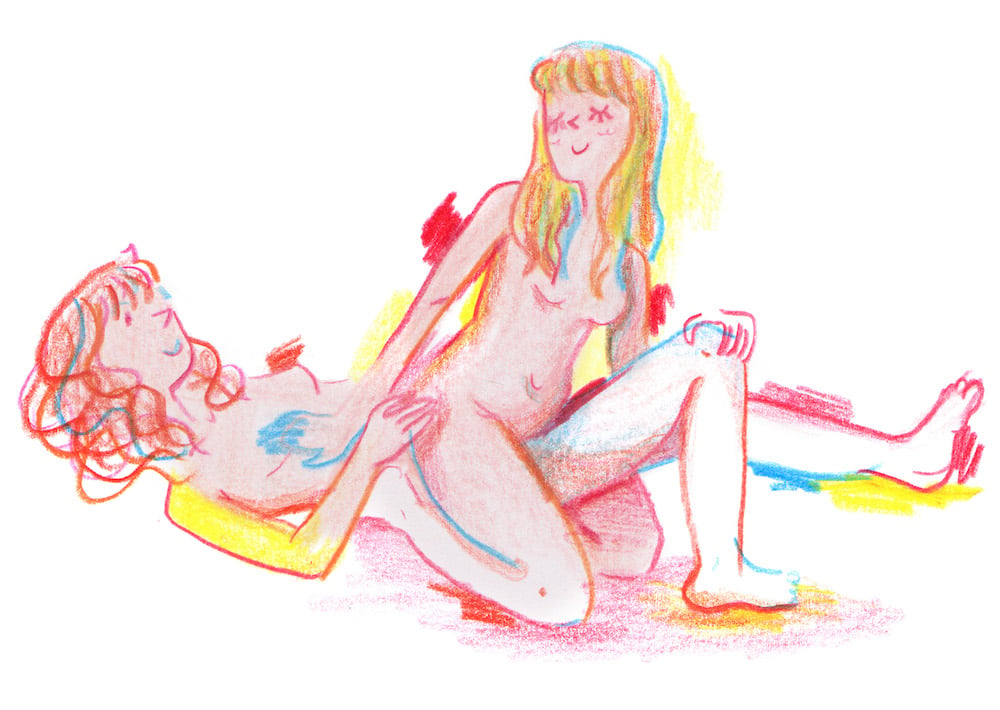 If you enjoy humping a pillow to get off, you'll love intercourse in the Thigh Tide position.
To get set up in the Thigh Tide position (also known as the "knee move"), have your partner lie down on her back with one leg straight while raising her other knee upward, like in the demonstration of this lesbian sex position above. You then need to straddle the thigh of her raised leg while sitting down on her lap.
From here, you can start grinding yourself on her thigh/quads.
If you like anal play, she can start fingering you anally or even use a dildo on you
Swap roles/positions!
3. 69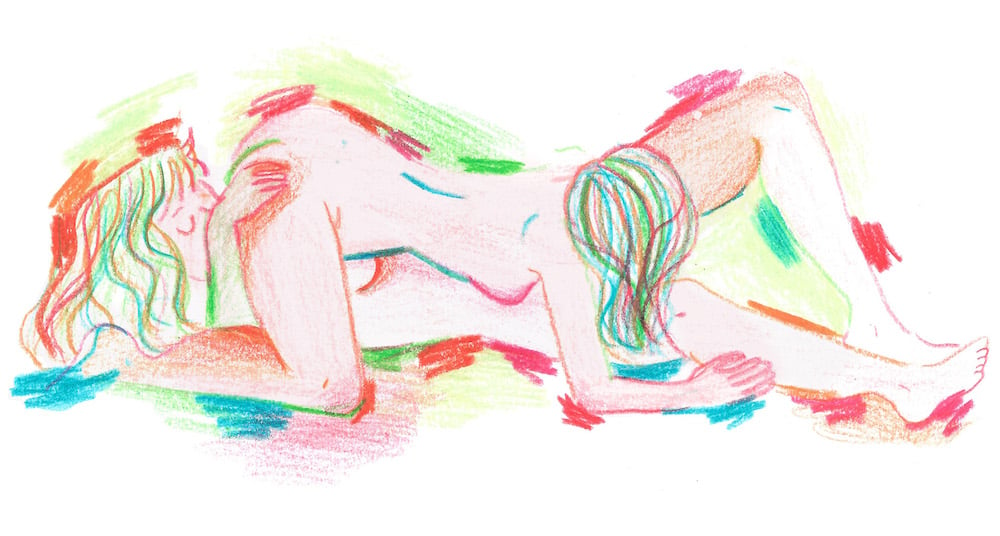 69ing is one of our favorite lesbian sex positions as both you and your partner will be getting off at the same time!
If you want to give your man back-arching, toe-curling, screaming orgasms that will keep him sexually addicted to you, then you'll find them in my private and discreet newsletter. You'll also learn the 5 dangerous & "dumb" sex mistakes that turn him off and how to avoid them. Get it here.
The easiest way to 69 with your girlfriend is for her to lie down on her back while you get on top of her, facing in the opposite direction, like in the illustration above. This way your mouth will be right over her vulva, while at the same time, your vulva will be right over her mouth. Next…
You need to start eating her pussy, while she performs oral sex on your vagina at the same time.
You can also use your hands to grab and massage her thighs and bum.
A more comfortable way to perform the 69 position is for you and your partner to lie on your sides while performing oral sex.
4. Cowgirl (With A Strap On)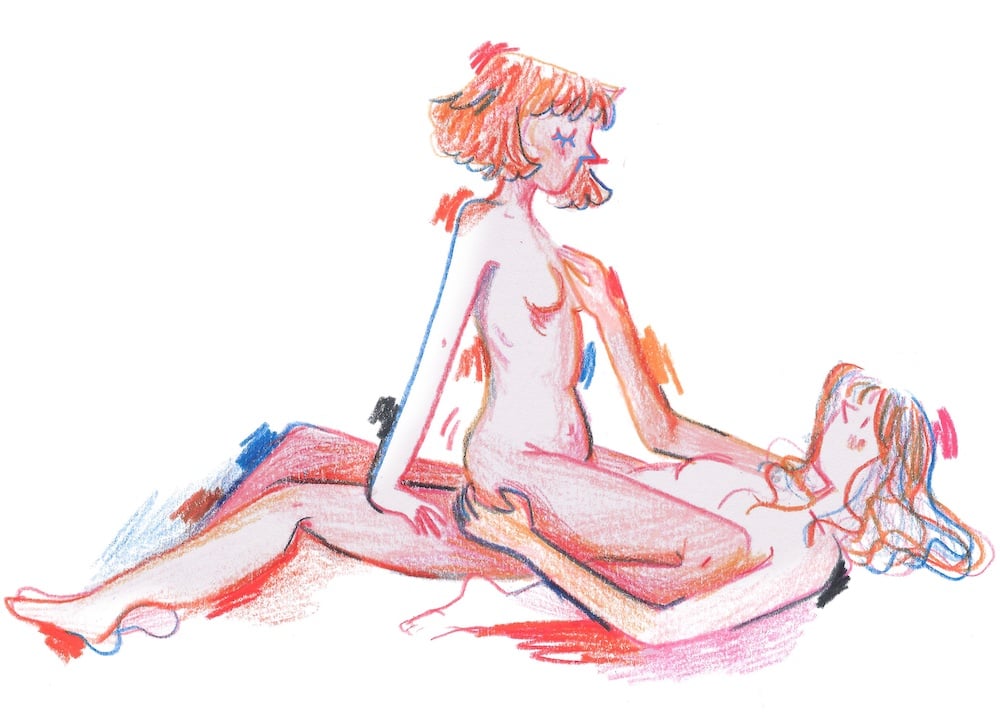 How lesbians have sex can be the same as hetero or gay couples once you use a strap on. Of course, you don't have to use a strap on, even if it's a stereotype that lesbians always do. In fact, one study found that "[o]ral sex, vaginal penetration with fingers, and mutual masturbation were the most commonly reported sexual practices between women," so using a strap on is far from the 'norm' or a requirement [2].
But a strap on can be plenty of fun! So, grab your strap on and start experimenting with the Cowgirl position.
After putting on her strap on, she needs to lie down on her back. You then straddle her, while facing her and sit down on her lap so that her strap on can penetrate you.
While lying on her back, she can then start thrusting into you.
Alternatively, she can remain still while you grind on her, stimulating your clit. Play around with thrusting and grinding until you find a combination that works for you.
You can lean forward until you lying on top of her for more intimate sex or try leaning backward and resting on your hands for support (many women find that leaning backward helps to stimulate your G Spot).
Don't forget to swap roles/positions 🙂
5. Face Sitting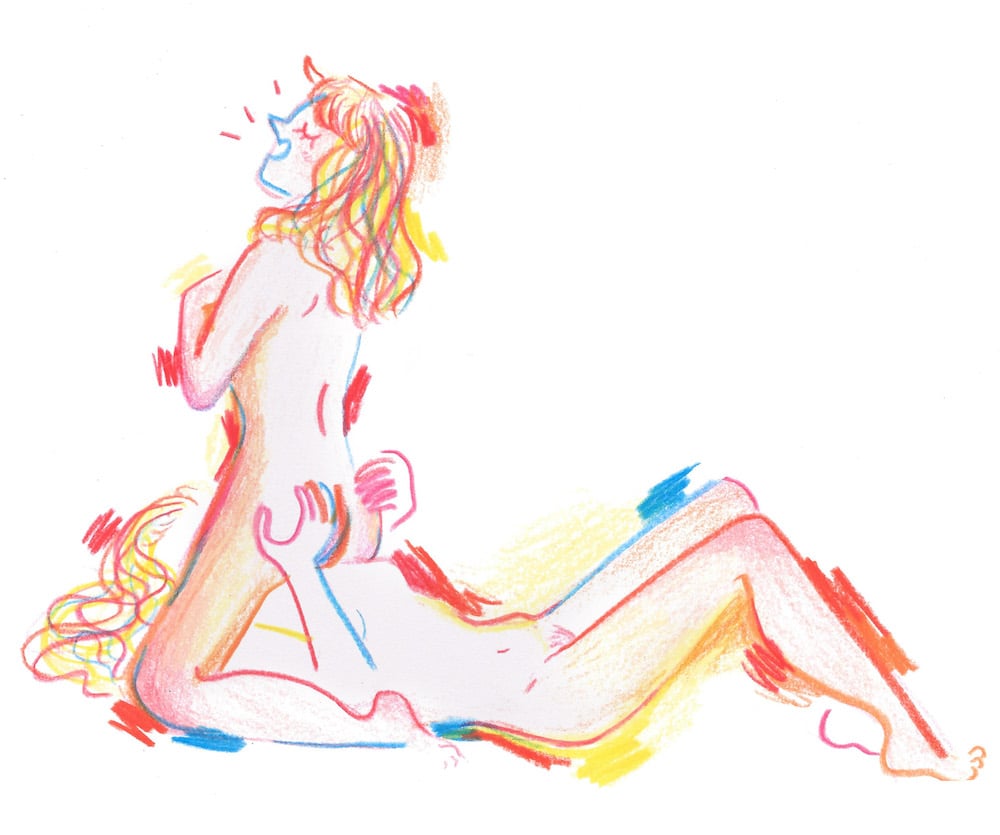 If you like being dominant during sex or being submissive, then Face Sitting is a lesbian sex technique you should try.
Start with your partner lying down on her back. Next, you need to get down on your knees, straddling her so that you can lower your vagina onto her mouth and face. You can be facing her body in this position, or you can be facing in the opposite direction (like in the illustration above); both positions work.
Then lower yourself down onto her face…
Now, you might be wondering whether you're actually supposed to rest your weight on your partner's face or if you should use your muscles to hover. The truth is…
It depends.
Some people literally want to feel their partner's entire weight–no matter how big or small–on their faces. They're happy to tap a thigh when they need to breathe.
But that's not true for everyone. So it's probably best to ask. If your partner states that they want to experience your full weight, give it to them. Don't be self-conscious.
She can then start performing her favorite cunnilingus techniques on you. She can grab your thighs/hips in this position to pull you harder, down onto her mouth or push you off so she can have a breather.
An extra kinky sex move is rubbing and grinding your vulva up and down her face to really dominate her. If she has her hands on your hips/thighs to help control your motion if you are grinding on her face.
To really amp up your domination, try saying some of these 162 dominant things to your submissive while you ride her face.
This is the last time that I'll say it, but like with all the lesbian sex tips and positions I recommend, don't forget to swap roles!
6. Doggy Style (With A Strap On)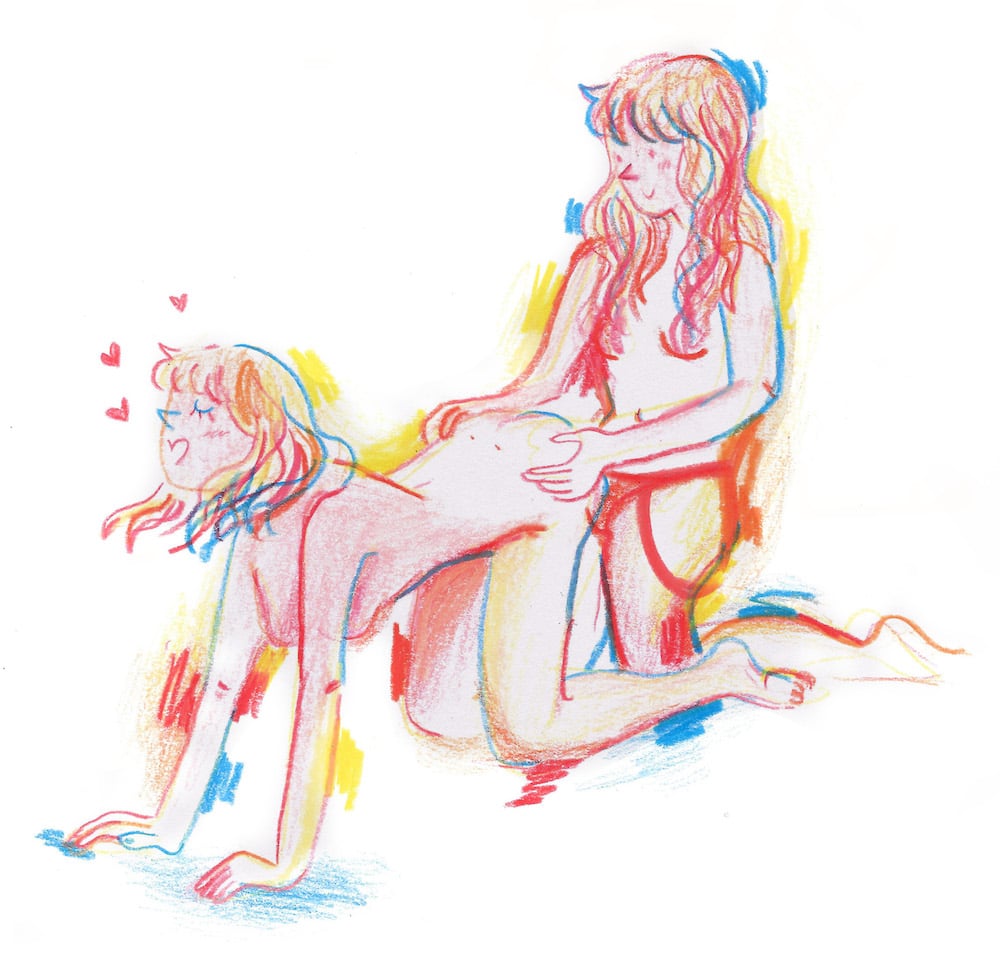 Doggy Style is a lesbian intercourse position that requires using a strap on.
Your partner needs to get down on her hands and knees. You will then penetrate her from behind while wearing the strap on.
7. Deep Impact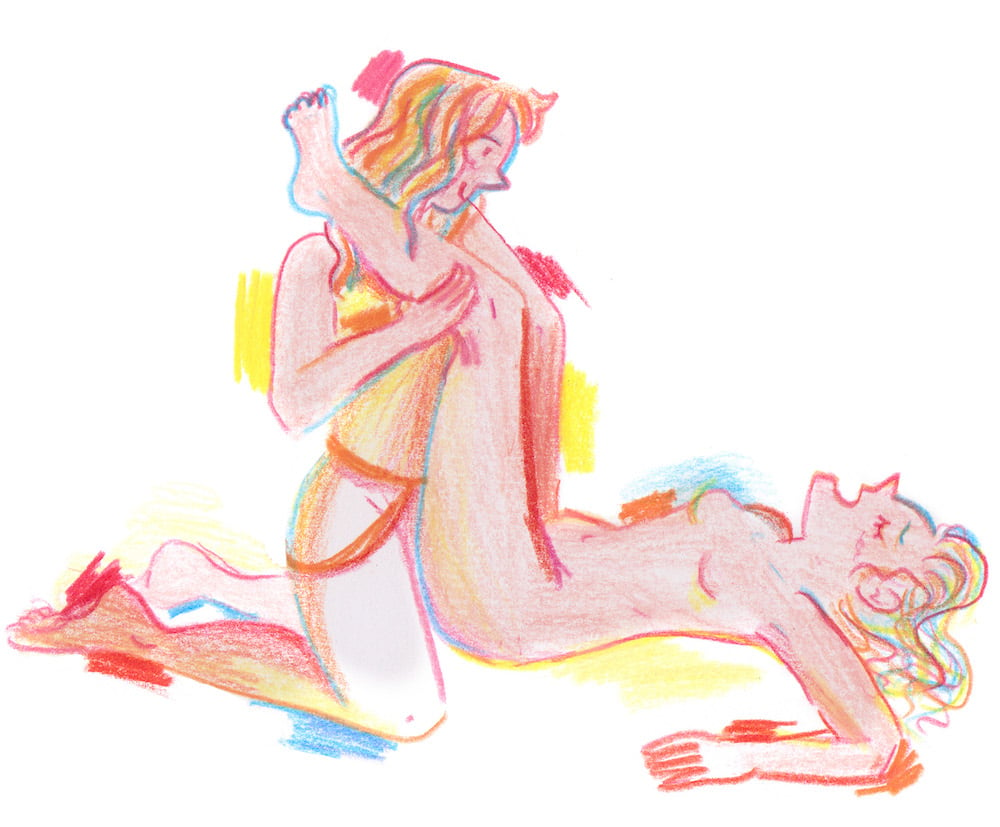 We recommend that you experiment with multiple G Spot sex positions until you find the one that works best for you. However, the Deep Impact position is our favorite.
As you can see in the demonstration above, your partner needs to lie down on her back with her ankles resting on your shoulders. Then you need to get down on your knees and start pegging her with a strap on while you hold her legs for leverage.
You can control the angle and depth of penetration by leaning forward over your partner or instead leaning backward.
If your partner likes deeper penetration that hits her A Spot aka the deep spot, then you can lean over her. For additional depth, try putting a pillow under her butt/hips to raise them up.
If she wants shallower penetration, then you can lean back slightly. This shallower penetration makes it easier to stimulate her G Spot.
If either you or she has a foot fetish, then you'll like the Launch Pad position as you can easily take her feet into your mouth.
8. Lap Dance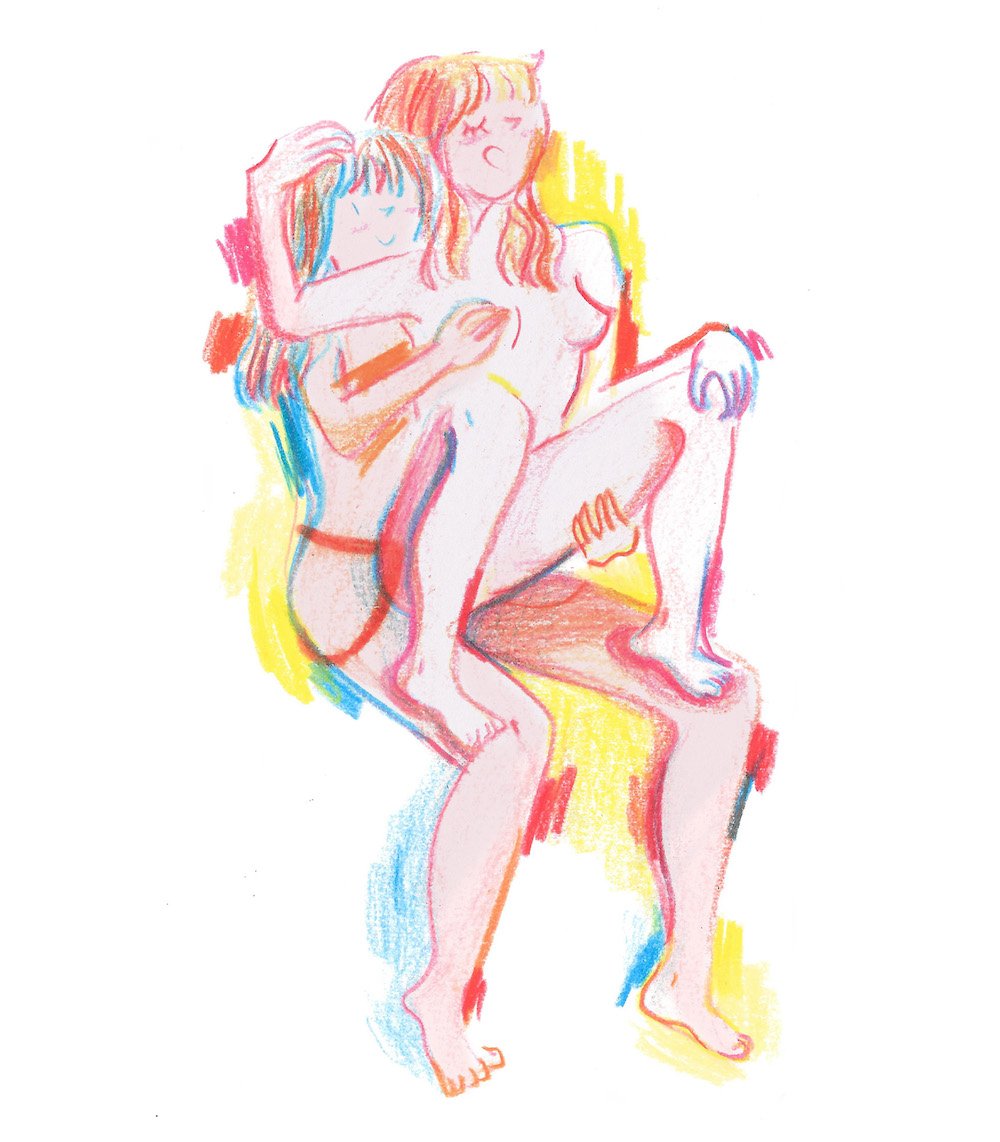 The Lap Dance is a position that works better for lesbian sex than heterosexual sex.
You need to sit down on a comfortable armchair or couch. Your wife or girlfriend will then sit down on your lap.
If you are wearing a strap on, then you can have penetrative sex.
She can raise her feet and rest them on your thighs (like in the illustration above) or rest them on the floor to change the depth/angle of penetration.
If you aren't wearing a strap on, then you can reach around and start fingering your girl.
If she is into using sex toys during sex, then try using them.
9. Missionary (With A Strapon)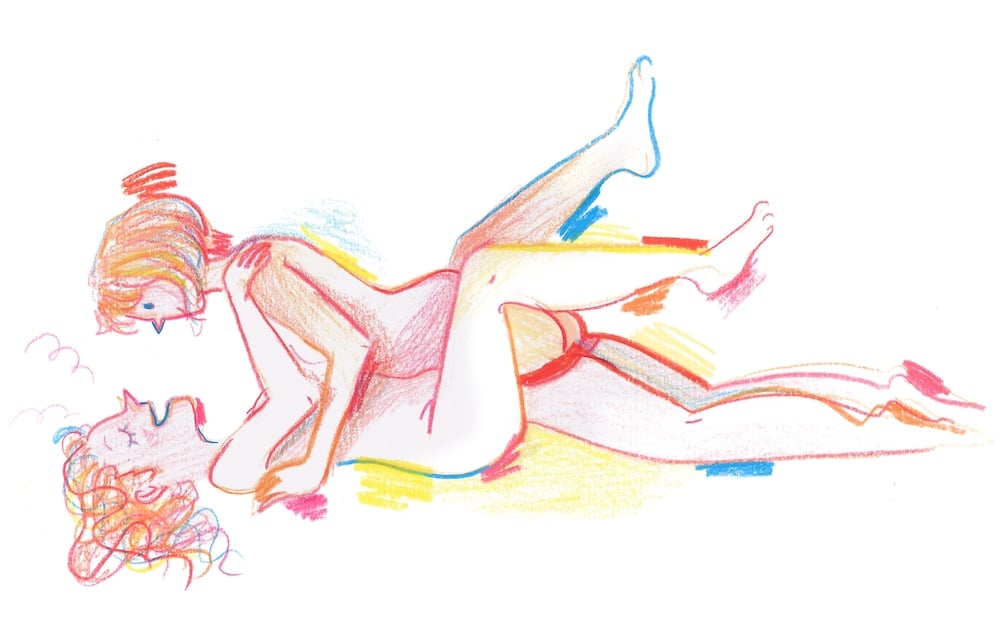 The Missionary position is a super intimate position for lesbian sex. The only requirement is a strap on.
For this lesbian sex act, your partner needs to lie down on her back, and you then need to get on top of her while facing her. Then, you can start penetrating her. There are plenty of ways to spice up lesbian sex in the Missionary position…
If your partner prefers to feel you thrust in and out, focus on thrusting in and out. Talk to each other first to find out what type of penetration you both prefer.
You can also try grinding up against your wife or girlfriend using the Coital Alignment Technique, where you stay deep inside her while grinding against her clit. One study found that while 36.6% of women need clitoral stimulation to orgasm, an additional 36% of women indicated that, while clitoral stimulation was not needed, their orgasms feel better if their clitoris is stimulated during intercourse [3]. So clitoral stimulation is very important for giving your partner great, pleasurable sex!
You can place some pillows on the bed, under your partner's hips/butt to raise it up. For many women, this completely changes the angle of penetration and can be very pleasurable. Placing a pillow on the bed, under your partner's hips is one of those lesbian sex ideas that can be used in multiple positions.
If you are into bondage or BDSM, you can try tying her wrists to the bed or her ankles or both! As with all and any BDSM, ensure you have both agreed on a safe word beforehand.
Try whispering some of these 91 dirty things during sex in her ear. Here are a further 81 sexy things to say during sex so you never run out of ideas.
Lastly, there are a bunch of variations to the Missionary position that are well worth trying like the Deckchair position, Drill position, Sandwich position, and even the Spread Legs position.
10. Spooning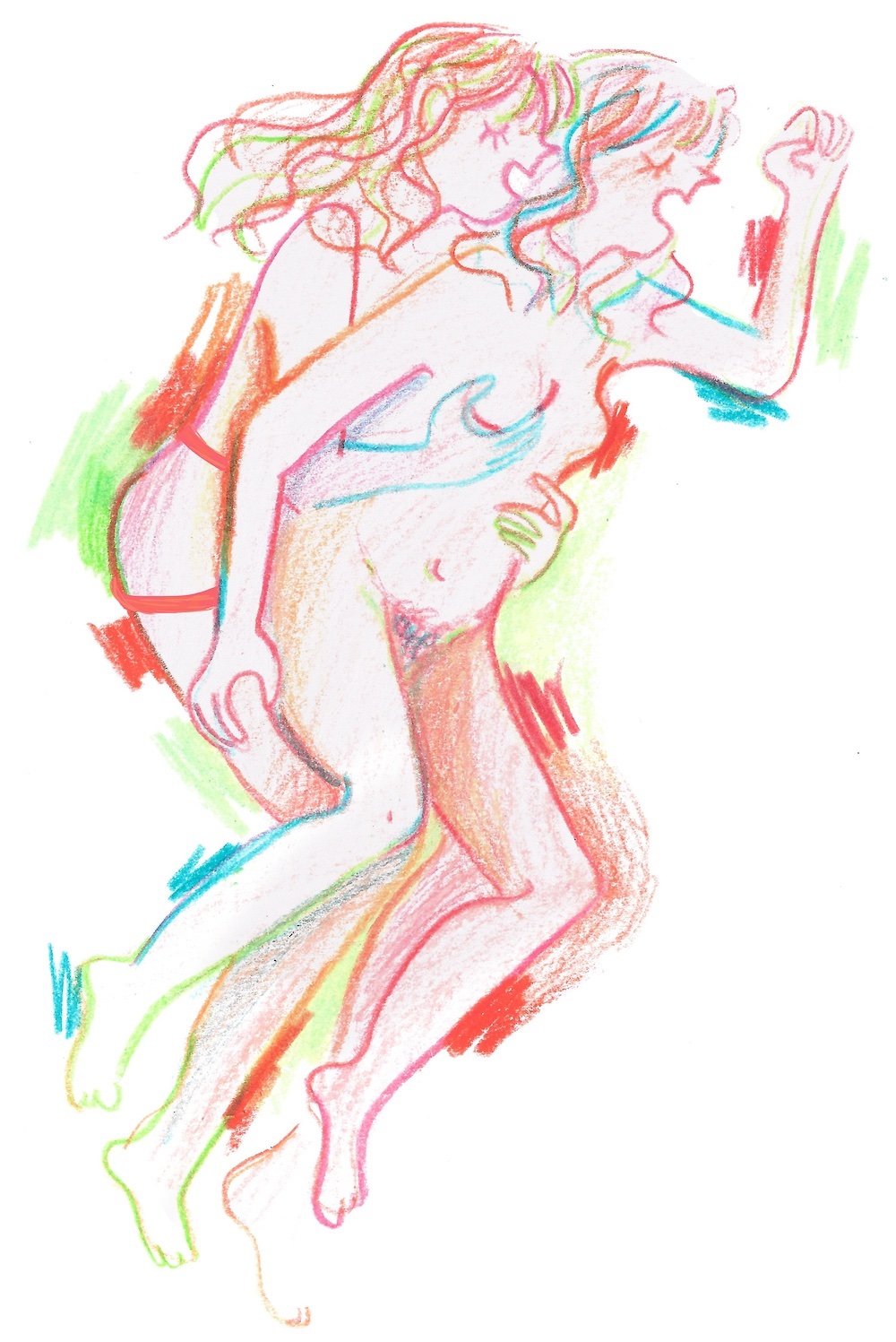 I should have probably included Spooning higher up on this list of lesbian sex positions. It's a wonderfully intimate position for penetrative sex, non-penetrative sex and even cuddling.
Both you and your partner need to lie on your sides, facing in the same direction. If you are the "big spoon," you will be behind your partner, facing her back. This means that your partner is the "little spoon." She will be in front of you.
As the big spoon, you can wrap your arms around your partner and pull her close. You can also intertwine your legs with hers.
As the big spoon, try slowly sliding your hands down her side, over her hips and towards her vulva. From here, you can start pleasuring her clitoris and labia with your fingers. You can also finger her or use these 25 techniques to make her orgasm.
If you are wearing a strap on as the big spoon, then you can have anal sex or regular vaginal sex.
There are also lots of variations and similar positions to Spooning like the Sofa Spooning position, Teaspooning position and Bent Spoon position. Even the Pearly Gates position is quite similar, although the little spoon will be on top.
11. Pretzel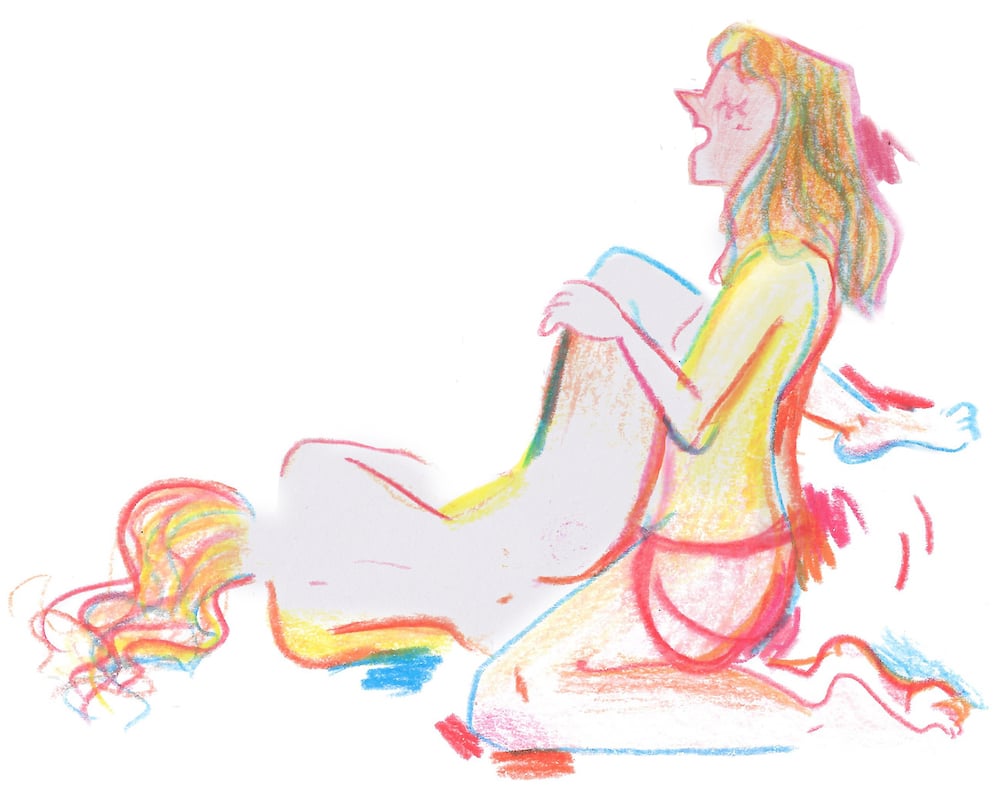 The Pretzel sex position is a woman-on-woman sex position that works for either penetrative sex (using a strap on) or for non-penetrative sex (tribbing or grinding).
Your partner needs to lie down on her side and bring the knee of her top leg towards her chest while keeping her bottom leg straight like in the demonstration above. You then need to straddle her bottom leg while on your knees, facing her. Your partner can then rest her top leg over your leg as you start making love to her.
If you are on top, straddling your partner's bottom leg, then it's very easy to grind yourself against it. If her leg is too small, try placing a pillow over it and grind against it instead.
While on top, you can push your pelvis forward and start tribbing (rubbing your vaginas together) with your girlfriend. Depending on your body shape and mobility, tribbing in this position may not be possible. In other cases, the partner lying down on her side may need to raise her top knee really close to her breasts to make tribbing possible.
Strap on sex is also possible in the Pretzel position.
12. Jockey (With A Strap On)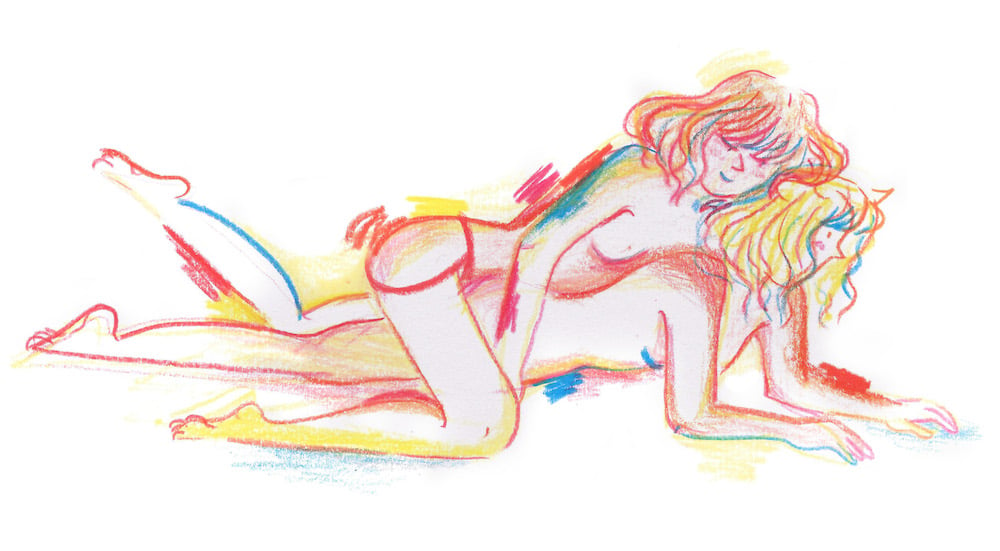 If you enjoy having sex from behind, then try the Jocky position while pegging your partner with a strap on.
Your partner will be lying down on her stomach. You will then be on top of her, on your knees facing her back like in the illustration above. Many women find that they can have vaginal orgasms in the Jockey position. Here are some tips to help get you there…
Thrusting with a simple in-and-out motion and see how your partner likes it.
Experiment with the angle of penetration.
Then try remaining deep inside your partner and then grinding your body forward and backward on her so that you are stimulating many different parts of her vagina.
Your partner, who is lying down on her stomach can put a pillow or even sex wedge under her hips to "push" them upwards and change the angle of penetration.
Related: 17 Pleasurable Pegging Positions.
13. Cunnilingus For The Queen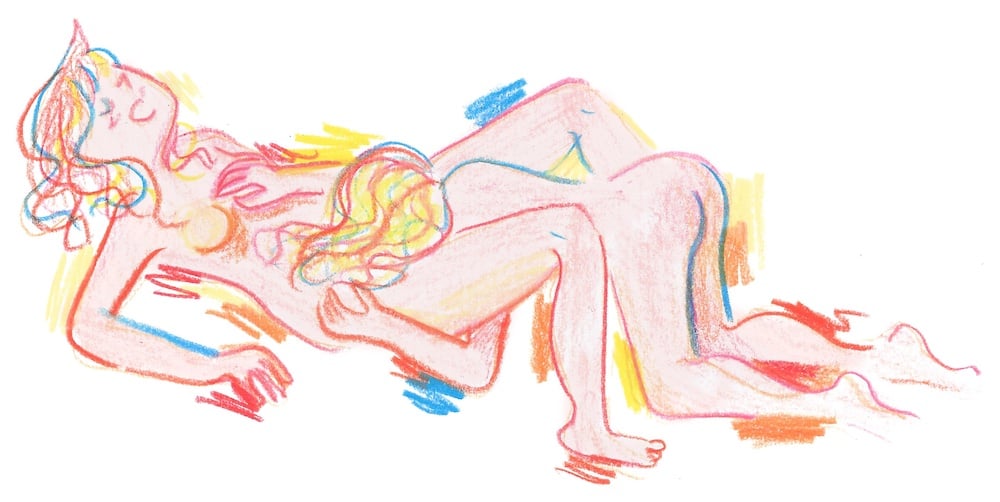 The Cunnilingus For The Queen position is a very straightforward way to pleasure your lesbian partner with oral sex
Have her sit down on the edge of a comfortable armchair, sofa, or bed as demonstrated in the illustration above. Next, you need to get down on your knees in front of her. You can start with some foreplay by kissing, caressing, and sensually massaging her outside her pants before taking them off.
Then, it's time to give her the best oral sex of her life…
Our favorite techniques for performing cunnilingus are the Pancake and Vortex.
Try grabbing her thighs and pulling her body into your face as you give her oral sex.
A fun femdom idea you can try a you go down on your partner is cuffing her hands behind her back or tying her arms to the chair.
14. Standing Embrace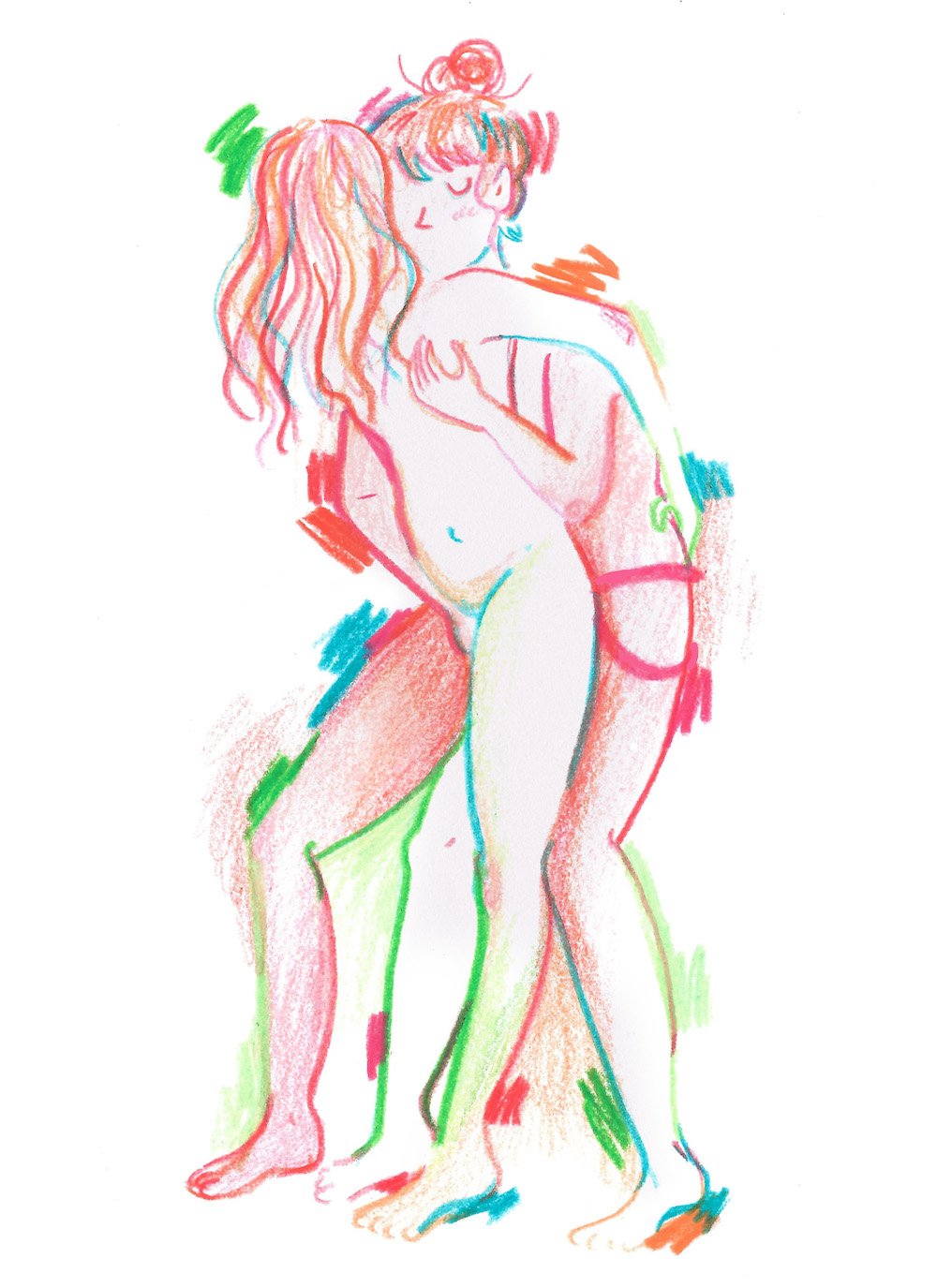 I originally did not include the Standing Embrace in this lesbian sex guide but changed my mind as it's great for impromptu quickie sex.
It's very easy to perform…
You will both be facing in the same direction while standing up. If you are at the back, you can then wrap your arms around your partner, embracing, caressing and satisfying her.
While holding your partner from behind, you can slowly slip one hand down their stomach and into their pants.
Take it a step further by fingering and making your girlfriend squirt in this position.
When standing behind your partner, you are in the perfect position to give her a nipple orgasm by playing with her nipples.
If you are standing behind your partner, you can gently place one hand on her neck as you kiss her. Alternatively, if you want to be kinky, try lightly choking her (make sure she gives you her enthusiastic consent to this beforehand).
Anal sex with a strap on is also an option in the Standing Embrace position.
15. Mutual Masturbation
Masturbating your partner while they masturbate you is known as mutual masturbation. It can happen in multiple sex positions, so it's not necessarily a position but more of a lesbian sex technique.
You can do it on a couch, bed, in the shower…literally anywhere. So, don't worry too much about what position you use, and focus more on the techniques. Try reading some of the following guides together to learn what gets you both off as you mutually masturbate each other.
Orgasm Every Time. Easily. Here's How...
I want to tell you about my friend Karen.
Karen came to me one day. She was hysterical.
She told me that her marriage was falling apart because she and her husband didn't have satisfying sex.
Every time they were intimate, Karen was faking her orgasms. It turns out she couldn't orgasm during sex.
In fact...
She never had an orgasm in her entire life. Not one!
This left her feeling embarrassed and ashamed. And...
She completely hid this from her husband. Thankfully...
It turns out that there is a way for any woman to orgasm. Easily. And have multiple vaginal and full body orgasms during sex and masturbation.
I shared the process with Karen.
After she followed the simple process, she could barely come to terms with how...
Quickly and dramatically her sex life changed.
We met up a few months later and...
She would not stop talking about it,
"I thought I was one of those women who couldn't orgasm. I used to think I was 'broken' and 'unfixable.' This saved my sex life, and that saved my marriage."
Even if you currently struggle to orgasm during sex or when masturbating, this process will also work for you.
And best of all, you don't need to do anything weird or uncomfortable to start having the best orgasms and sex of your life.