The Burning Man sex position gets its name from the fact that you can have some passionate, fiery, 'burning' sex with your man in this position. To do it, you need either a counter top or table, like a few of the other positions from our comprehensive guide on the best sex positions.
You need to face the counter top and then lay your stomach over it while keeping your feet on the ground. Your man can then penetrate you from behind either vaginally or anally. As your legs remain on the ground, they will act as an anchor, keeping you in place so that your man can really give you some hard, intense penetration without you slipping out of place.
Side note: If you are currently struggling to orgasm during sex or masturbation, then you may want to learn about the Easy Orgasm Solution. It begins by teaching you the techniques to orgasm easily and consistently. Then you'll learn how to have multiple vaginal and full body orgasms during sex and masturbation. You can find out more here.
What The Girl Does In The Burning Man Position
When you are in the Burning Man position, you are going to be quite passive. If there is a wall in front of you, then you put your hands on it and push yourself back onto your man.
Another thing you can do to increase the passion and intimacy is to turn around and make eye contact with your man while he is thrusting into you. If you're having anal sex with your man, then you can use your hand (or hands) to masturbate yourself to increase your chances of cumming.
You can also get a bit more upright in this position and lean your upper body back towards him while in the Burning Man so that it feels more like the Bodyguard position and adds a little bit of intimacy. When you are upright and have your back against his stomach, he will be able to wrap his hands around your waist and shoulders.
What The Guy Does In The Burning Man Position
Your man will be doing the bulk of the work in the Burning Man. If it's his first time trying it, then all he has to concentrate on is simply thrusting in and out. He also has the option of holding onto your waist or shoulders to pull you into him as he is thrusting.
If he likes to feel dominant when having sex with you, then he can grab hold of your hair. Let him know by showing your submissive side.
If you want to give your man back-arching, toe-curling, screaming orgasms that will keep him sexually addicted to you, then you'll find them in my private and discreet newsletter. You'll also learn the 5 dangerous & "dumb" sex mistakes that turn him off and how to avoid them. Get it here.
But if he wants to make it more intimate and sensual then instead of pulling you upright, he can lean over your back, so it feels like he is spooning you over the counter.
Things To Consider When Performing The Burning Man Position
I have gotten some great feedback from students who have tried the Burning Man with their guy. Here are some of their insights:
Make sure that your man isn't too forceful in this position. Because you are wedged up against a counter top or table, your body won't move as much when he thrusts into you. This means that he is more likely to accidentally hurt you by thrusting too hard. So tell him if he is!
This can make for some kinky, unexpected sex when you are in the kitchen or living room. If you are wearing a skirt, then all your man has to do is lift it up and pull down your panties. Things like this make a welcome change from only ever having sex in the bedroom.
Your man is completely free to move around you in this position, so get him to experiment with different angles until you find one that you both enjoy.
Similar Positions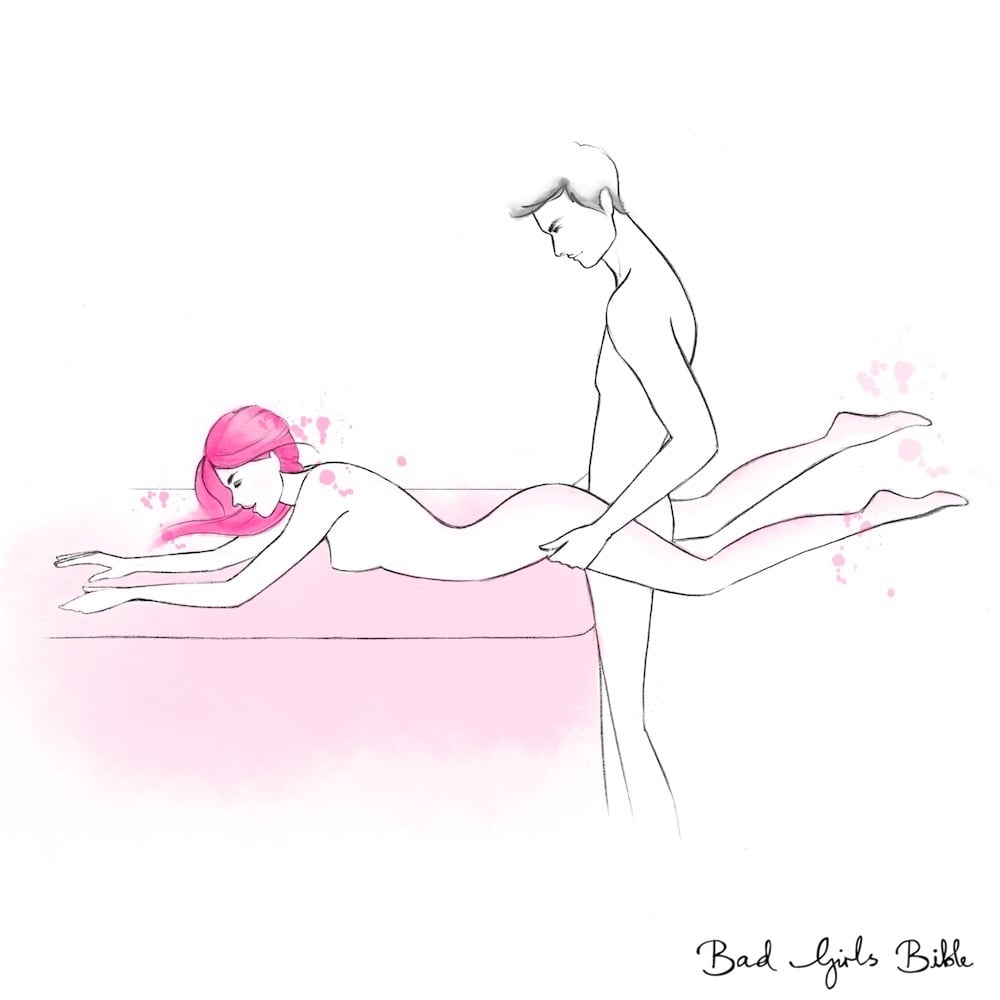 You'll feel like you're flying when he lifts up your legs behind you.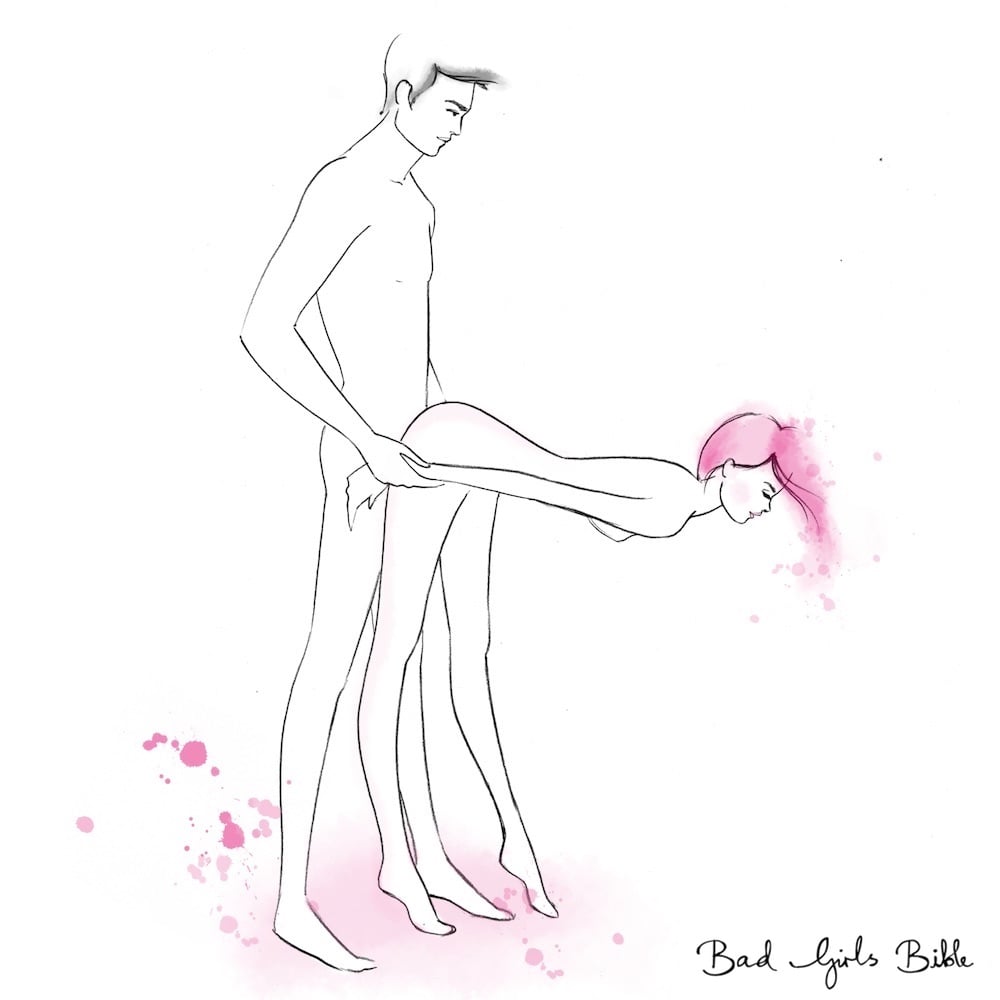 Give up control when you let your man hold your arms back.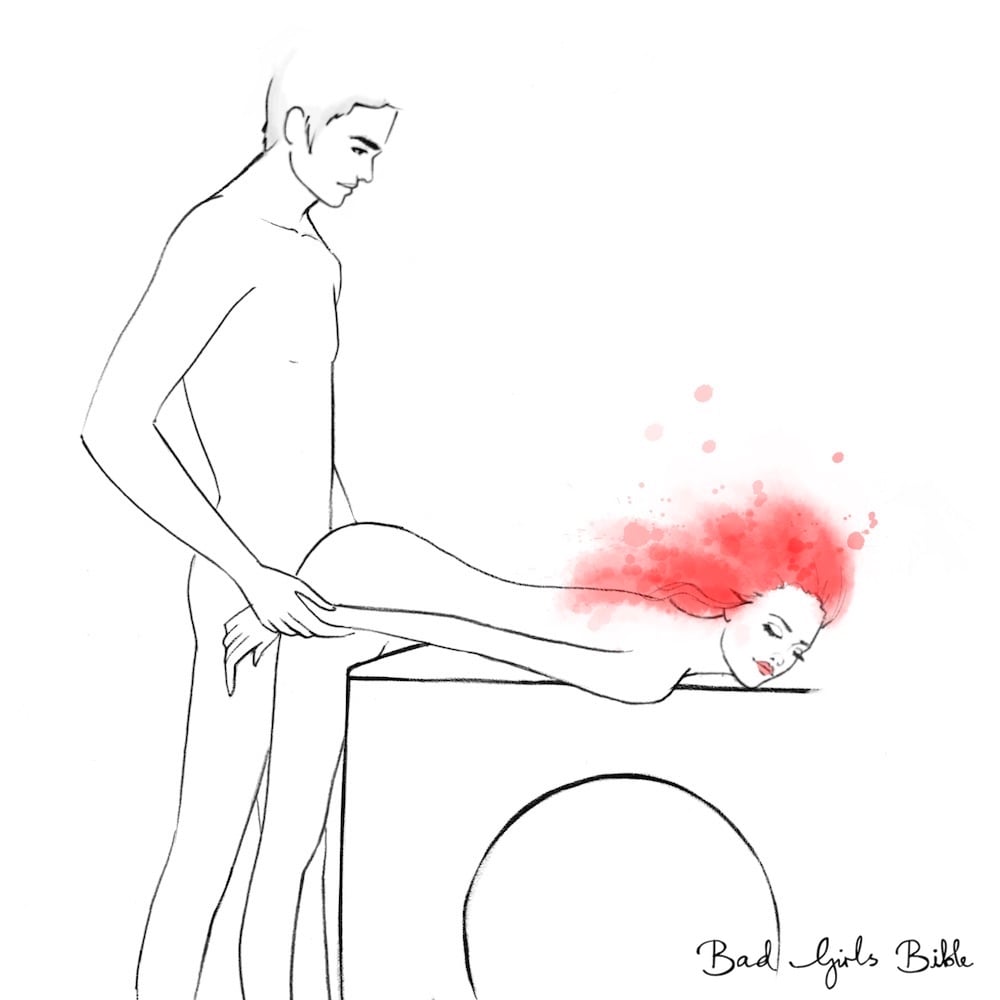 The vibrations of the washing machine add something unique to this pose.
There are plenty more similar positions in our sex positions guide here.
Sean's Thoughts On The Burning Man Sex Position
I am a big fan of the Burning Man. It's very flexible, and one of the great things about it is that I can also easily provide some extra pleasure using my fingers (especially if I am having anal sex).
This Woman Finally Learned How To Orgasm Easily During Sex. At 42 Years Old. Here's How...
I want to tell you about my friend Karen.
Karen came to me one day. She was hysterical.
She told me that her marriage was falling apart because she and her husband didn't have satisfying sex.
Every time they were intimate, Karen was faking her orgasms. It turns out she couldn't orgasm during sex.
In fact...
She never had an orgasm in her entire life. Not one!
This left her feeling embarrassed and ashamed. And...
She completely hid this from her husband. Thankfully...
It turns out that there is a way for any woman to orgasm. Easily. And have multiple vaginal and full body orgasms during sex and masturbation.
I shared the process with Karen.
After she followed the simple process, she could barely come to terms with how...
Quickly and dramatically her sex life changed.
We met up a few months later and...
She would not stop talking about it,
"I thought I was one of those women who couldn't orgasm. I used to think I was 'broken' and 'unfixable.' This saved my sex life, and that saved my marriage."
Even if you currently struggle to orgasm during sex or when masturbating, this process will also work for you.
And best of all, you don't need to do anything weird or uncomfortable to start having the best orgasms and sex of your life.