The Sybian sex position gets its name from the Sybian machine. This is a powerful vibrator in a box that you need to straddle in a manner quite like the Cowgirl position, with a knee on either side of it on the bed. Not everyone loves this position, but thankfully there are plenty more options in our list of the best sex positions.
Performing the Sybian sex position is similar to this, but is has some differences. The first is that your man will be on either a bed of cushions or a soft-cushioned seat/stool. He will be lying on his back/butt.
Side note: If you are currently struggling to orgasm during sex or masturbation, then you may want to learn about the Easy Orgasm Solution. It begins by teaching you the techniques to orgasm easily and consistently. Then you'll learn how to have multiple vaginal and full body orgasms during sex and masturbation. You can find out more here.
You will still be straddling your man like in the Cowgirl position, except instead of resting on your knees on either side of him, you will be on your feet or will have them in midair while you are sitting in his lap facing him. You can put your hands on your man or on either side of him to help keep yourself balanced.
What The Girl Does In The Sybian Position
When in the Sybian position with your man, you are going to be using your legs to push yourself up and down on him. You can also grind on him slowly by keeping him inside you and thrusting forwards and backwards or in a circular motion.
When in the Sybian position, you are also in the perfect position to put on a show for your man if you like. This means that you can start rubbing your clit and breasts. While this feels nice for you, your man will also enjoy it too! When in the Sybian position you are going to be doing a lot of the work, but you have most of the control also, which means that you can lean quite far forwards or even a little backwards to change the angle of entry.
Some women feel a little nervous getting on top, but we've got great advice for boosting your confidence when on top of your man and you'll find more tips for riding your man here.
You can rest your hands on your man's stomach or even stimulate your clit with one of these clitoral stimulation techniques.
If you want to give your man back-arching, toe-curling, screaming orgasms that will keep him sexually addicted to you, then you'll find them in my private and discreet newsletter. You'll also learn the 5 dangerous & "dumb" sex mistakes that turn him off and how to avoid them. Get it here.
What The Guy Does In The Sybian Position
Your man will be fairly immobile during the Sybian, making a it a perfect position for women who want to dominate their man during sex. He can gently thrust back onto you though if he wants. Other than that, the most he can do is rub your legs and waist with his hands and keep eye contact with you.
Things To Consider When Performing The Sybian Position
The Sybian position is really just a variation of the Cowgirl position and is not as popular as it. Still some students of the Bad Girls Bible have tried it out with their men and have reported back some of their experiences on it:
Finding a soft footstool/seat with no armrests is usually the hardest part, although a pile of cushions will do.
You may find that a fitness ball will suffice. You can also use one of these exercise balls in the Speed Bump position.
Just because the Sybian sounds sexy and not that many people have tried it out, don't expect it to give you way more fun and pleasure than other positions.
Similar Positions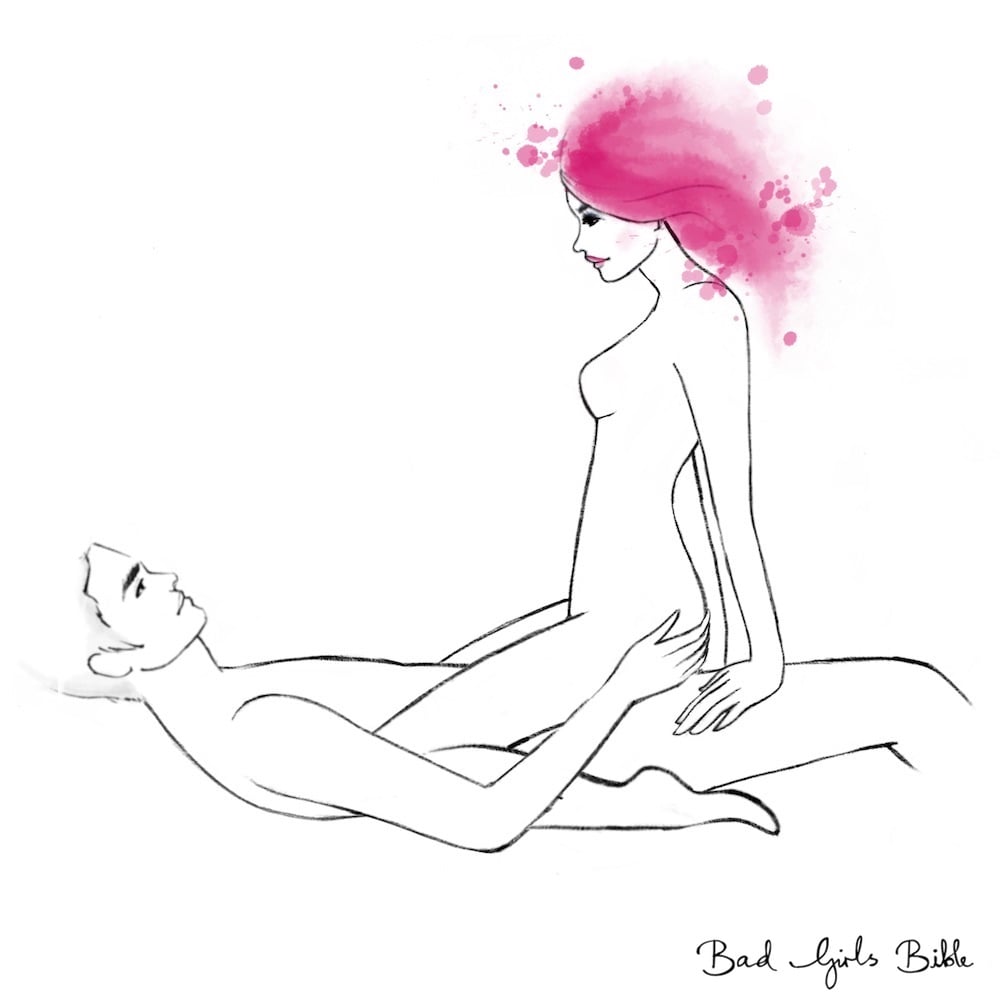 The classic girl-on-top position.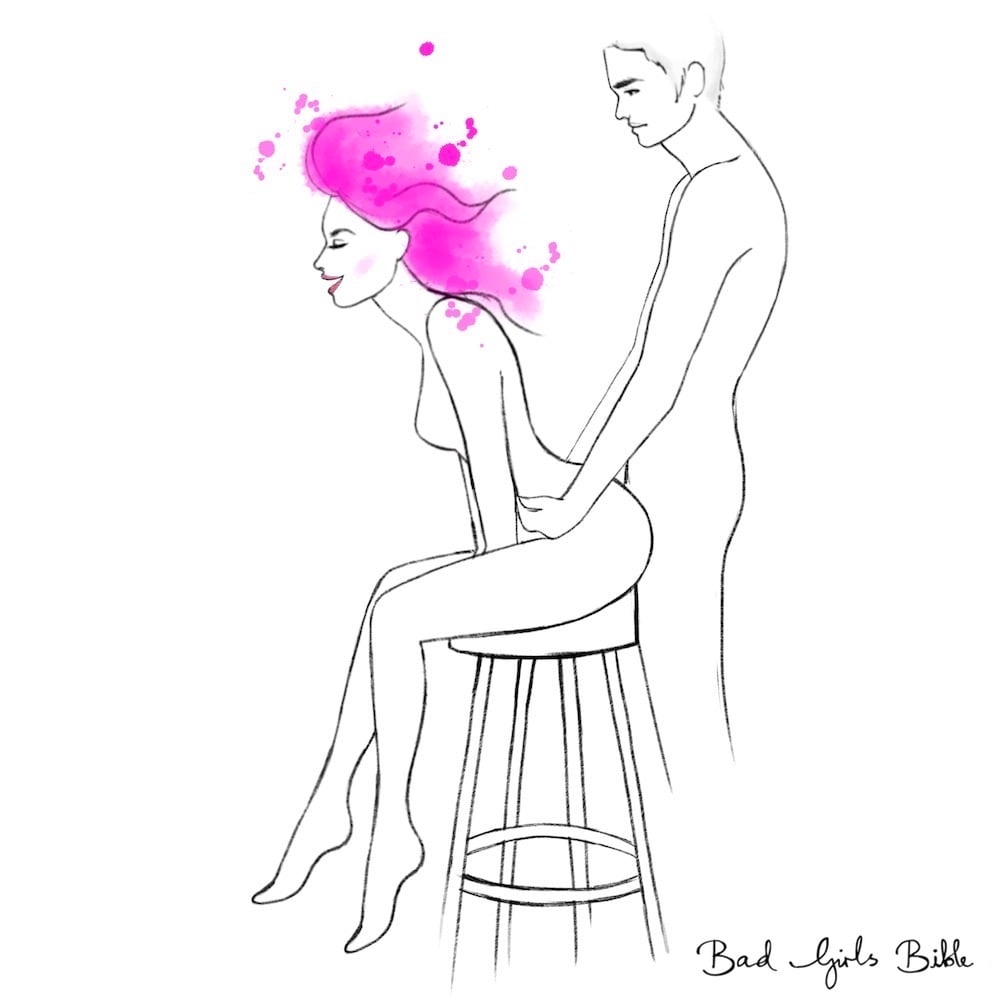 Here's another position to try with a chair or stool.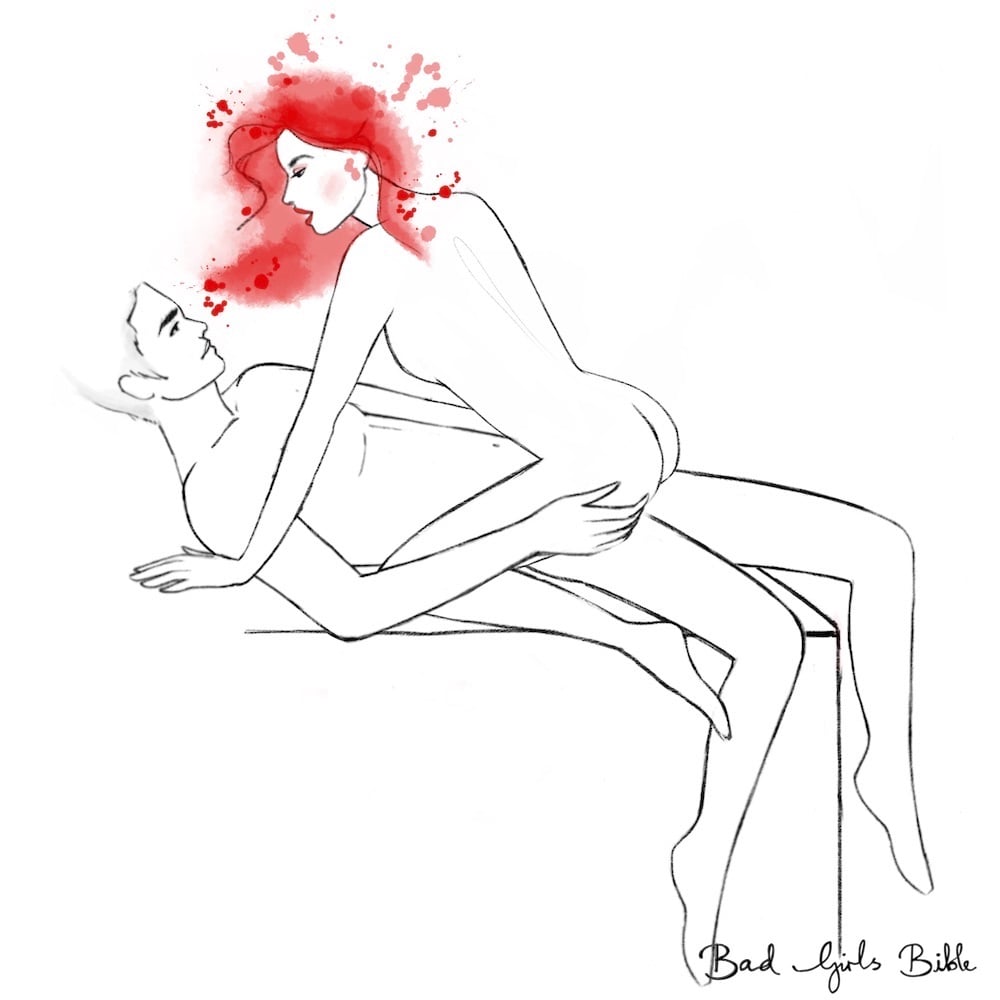 You don't need a chair for this variation.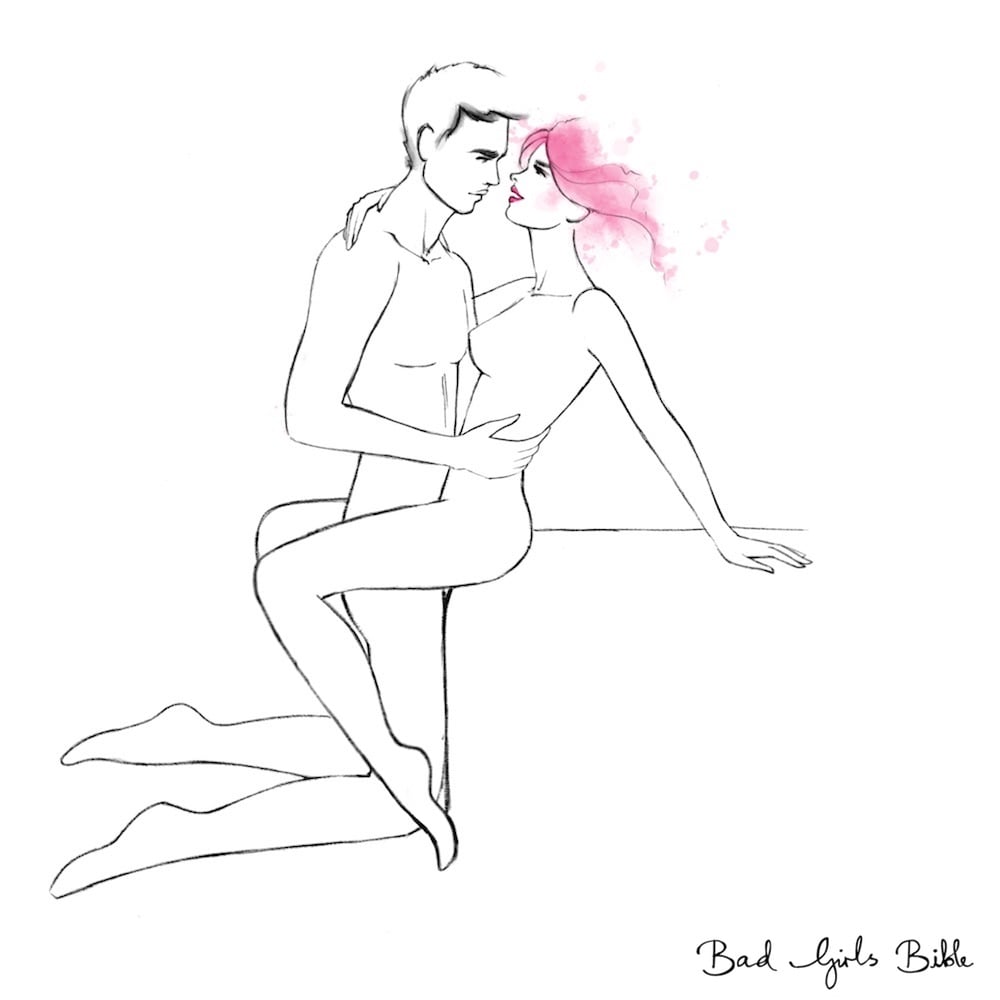 A kitchen counter makes this position fun when you don't have a lot of time.
The Sybian is one of our many sitting sex positions.
Sean's Thoughts On The Sybian Sex Position
The Sybian is one of those positions that I decided to include for completeness. Just because it's in the Bad Girls Bible doesn't mean that it's a killer position, though. You may find that you spend most of your energy just setting it up instead of enjoying it.
Orgasm Every Time. Easily. Here's How...
I want to tell you about my friend Karen.
Karen came to me one day. She was hysterical.
She told me that her marriage was falling apart because she and her husband didn't have satisfying sex.
Every time they were intimate, Karen was faking her orgasms. It turns out she couldn't orgasm during sex.
In fact...
She never had an orgasm in her entire life. Not one!
This left her feeling embarrassed and ashamed. And...
She completely hid this from her husband. Thankfully...
It turns out that there is a way for any woman to orgasm. Easily. And have multiple vaginal and full body orgasms during sex and masturbation.
I shared the process with Karen.
After she followed the simple process, she could barely come to terms with how...
Quickly and dramatically her sex life changed.
We met up a few months later and...
She would not stop talking about it,
"I thought I was one of those women who couldn't orgasm. I used to think I was 'broken' and 'unfixable.' This saved my sex life, and that saved my marriage."
Even if you currently struggle to orgasm during sex or when masturbating, this process will also work for you.
And best of all, you don't need to do anything weird or uncomfortable to start having the best orgasms and sex of your life.