The Sybian sex position gets its name from the Sybian machine. This is a powerful vibrator in a box that you need to straddle in a manner quite like the Cowgirl position, with a knee on either side of it on the bed. Not everyone loves this position, but thankfully there are plenty more options in our list of the best sex positions.
Performing the Sybian sex position is similar to this, but is has some differences. The first is that your man will be on either a bed of cushions or a soft-cushioned seat/stool. He will be lying on his back/butt.
You will still be straddling your man like in the Cowgirl position, except instead of resting on your knees on either side of him, you will be on your feet or will have them in midair while you are sitting in his lap facing him. You can put your hands on your man or on either side of him to help keep yourself balanced.
What The Girl Does In The Sybian Position
When in the Sybian position with your man, you are going to be using your legs to push yourself up and down on him. You can also grind on him slowly by keeping him inside you and thrusting forwards and backwards or in a circular motion.
When in the Sybian position, you are also in the perfect position to put on a show for your man if you like. This means that you can start rubbing your clit and breasts. While this feels nice for you, your man will also enjoy it too! When in the Sybian position you are going to be doing a lot of the work, but you have most of the control also, which means that you can lean quite far forwards or even a little backwards to change the angle of entry.
Some women feel a little nervous getting on top, but we've got great advice for boosting your confidence when on top of your man and you'll find more tips for riding your man here.
You can rest your hands on your man's stomach or even stimulate your clit with one of these clitoral stimulation techniques.
If you want to give your man back-arching, toe-curling, screaming orgasms that will keep him sexually addicted to you, then you'll find them in my private and discreet newsletter. You'll also learn the 5 dangerous & "dumb" sex mistakes that turn him off and how to avoid them. Get it here.
What The Guy Does In The Sybian Position
Your man will be fairly immobile in the Sybian position. He can gently thrust back onto you though if he wants. Other than that, the most he can do is rub your legs and waist with his hands and keep eye contact with you.
Things To Consider When Performing The Sybian Position
The Sybian position is really just a variation of the Cowgirl position and is not as popular as it. Still some students of the Bad Girls Bible have tried it out with their men and have reported back some of their experiences on it:
Finding a soft footstool/seat with no armrests is usually the hardest part, although a pile of cushions will do.
You may find that a fitness ball will suffice. You can also use one of these exercise balls in the Speed Bump position.
Just because the Sybian sounds sexy and not that many people have tried it out, don't expect it to give you way more fun and pleasure than other positions.
Similar Positions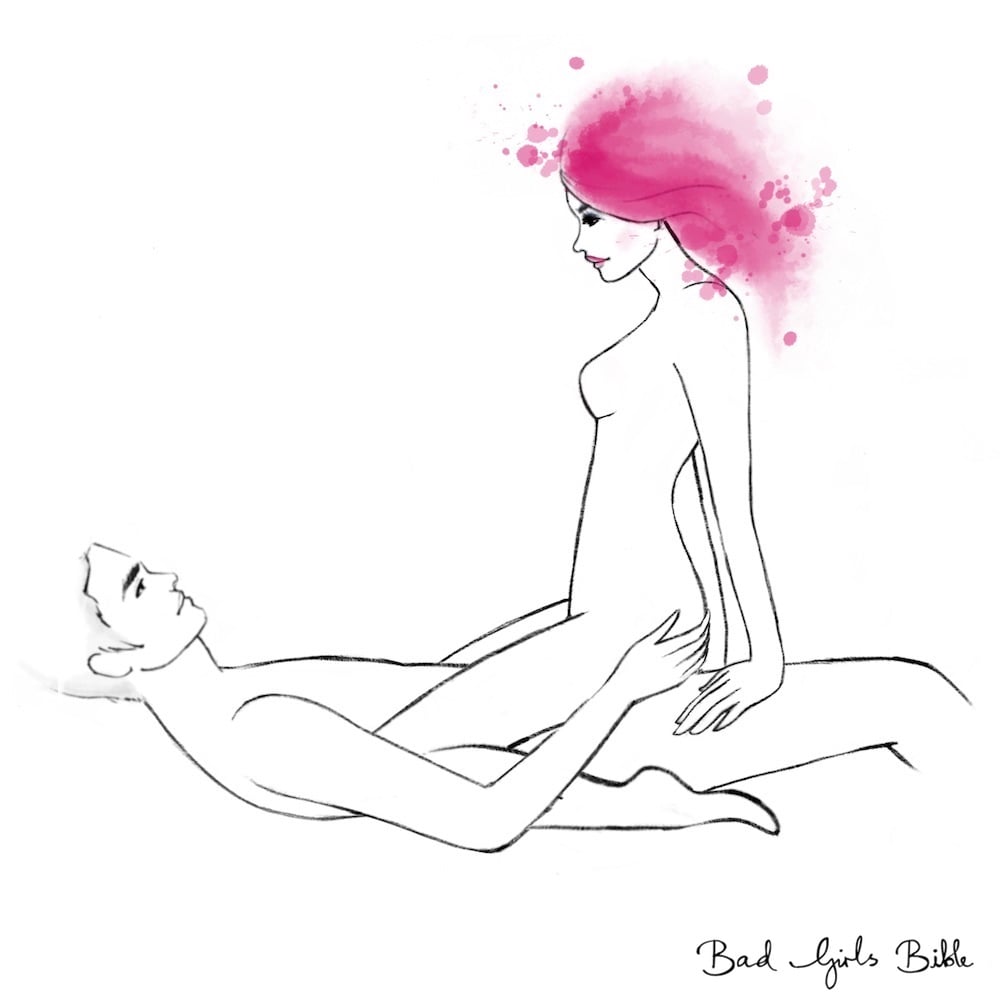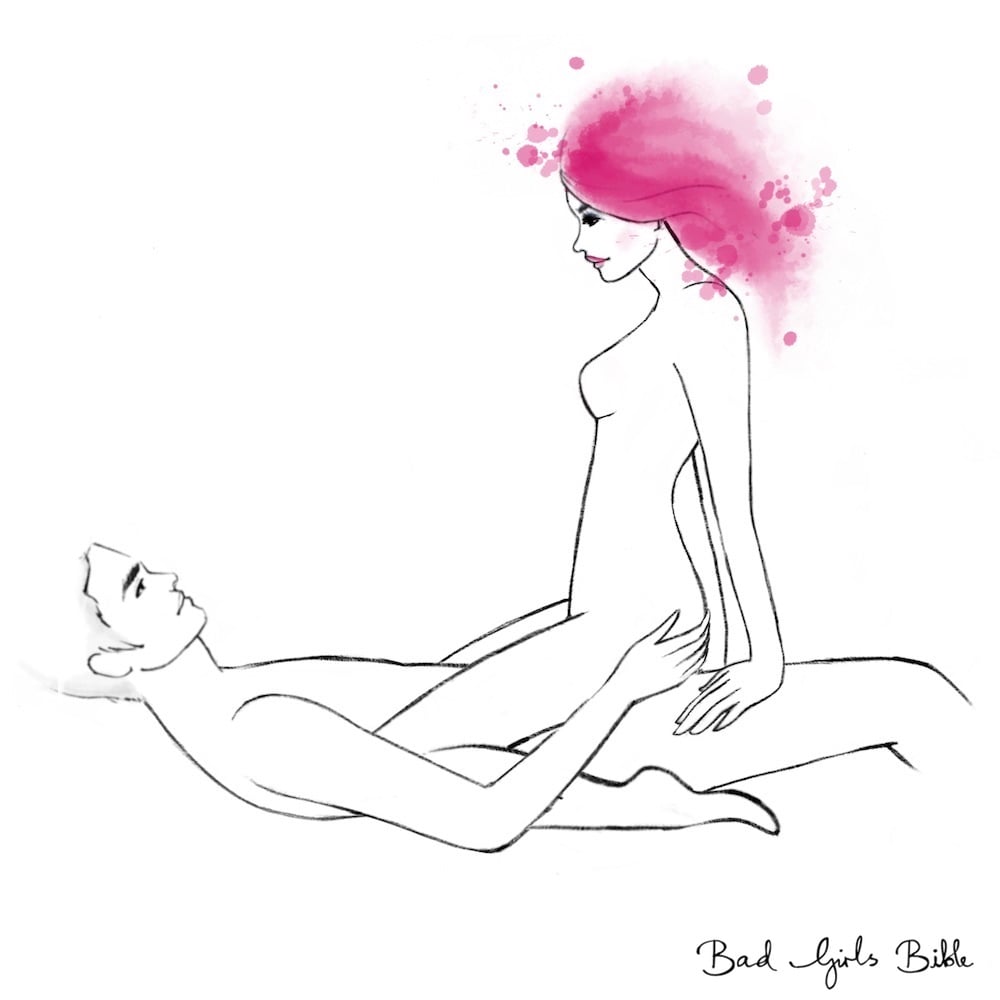 The classic girl-on-top position.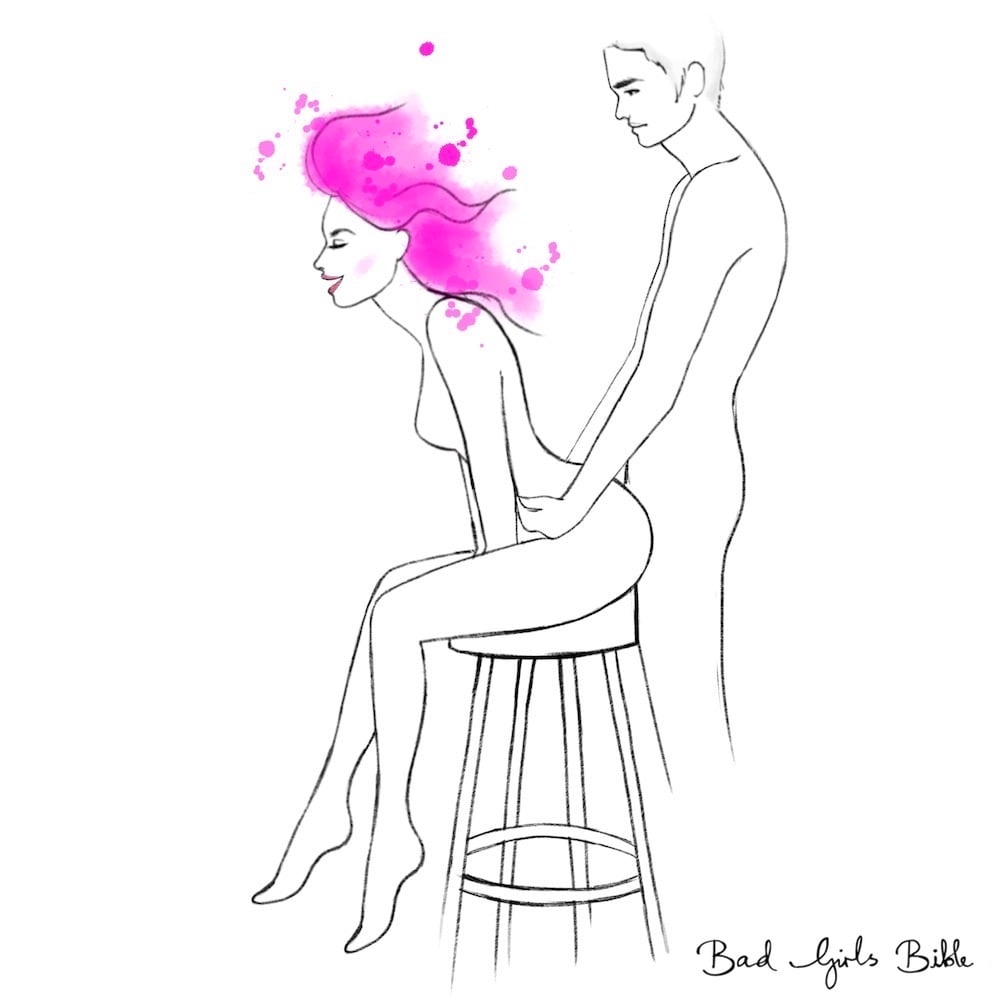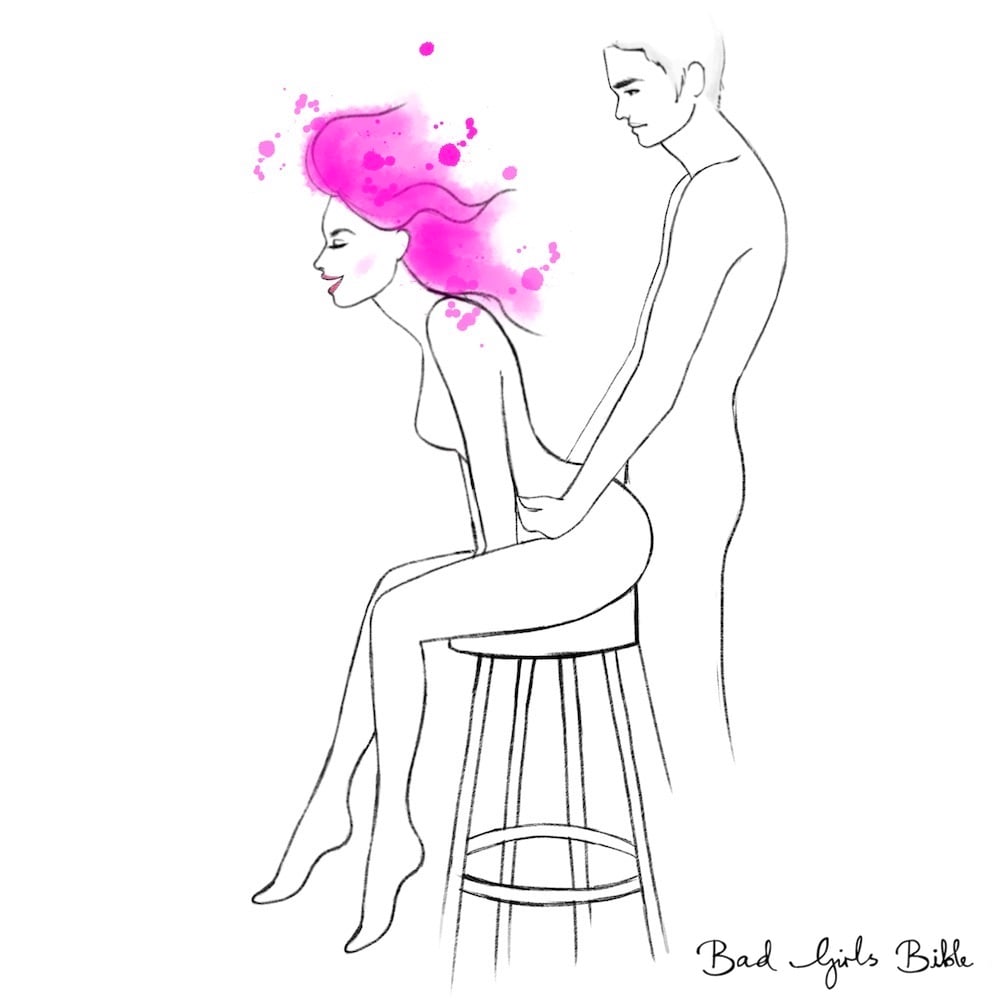 Here's another position to try with a chair or stool.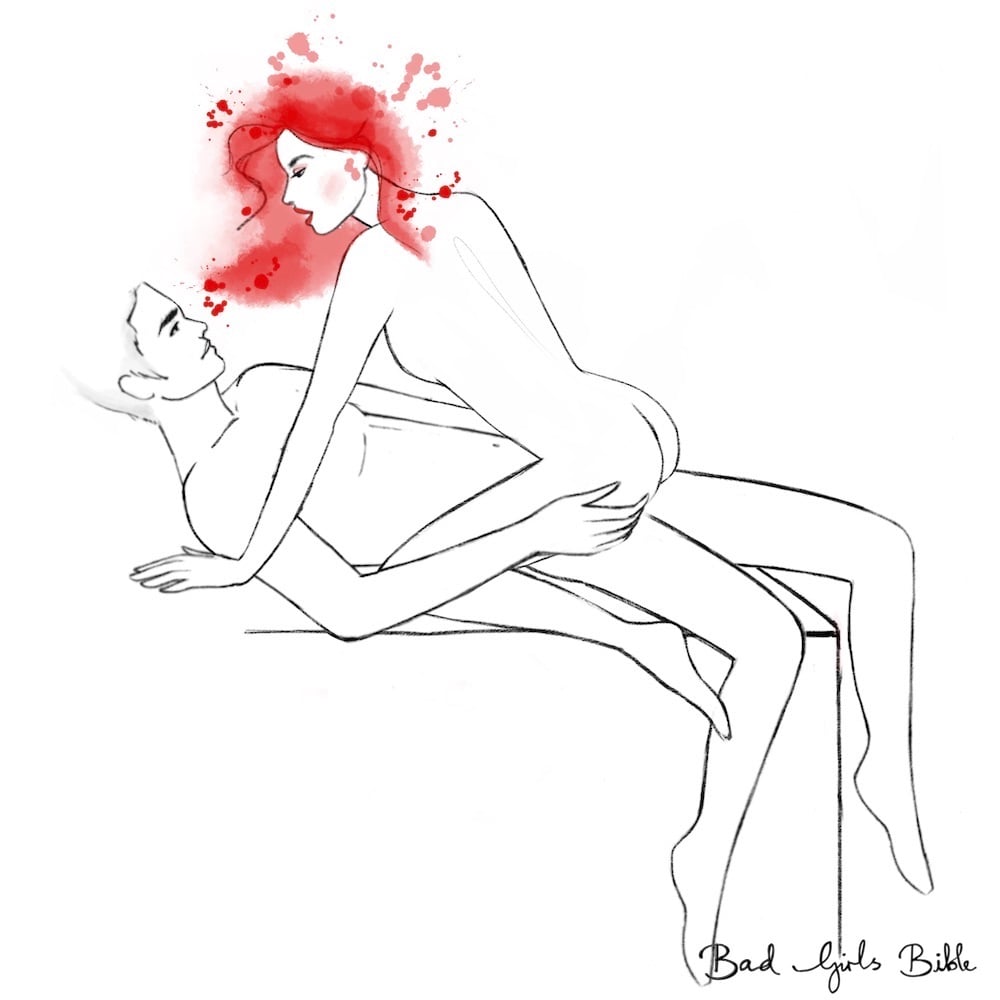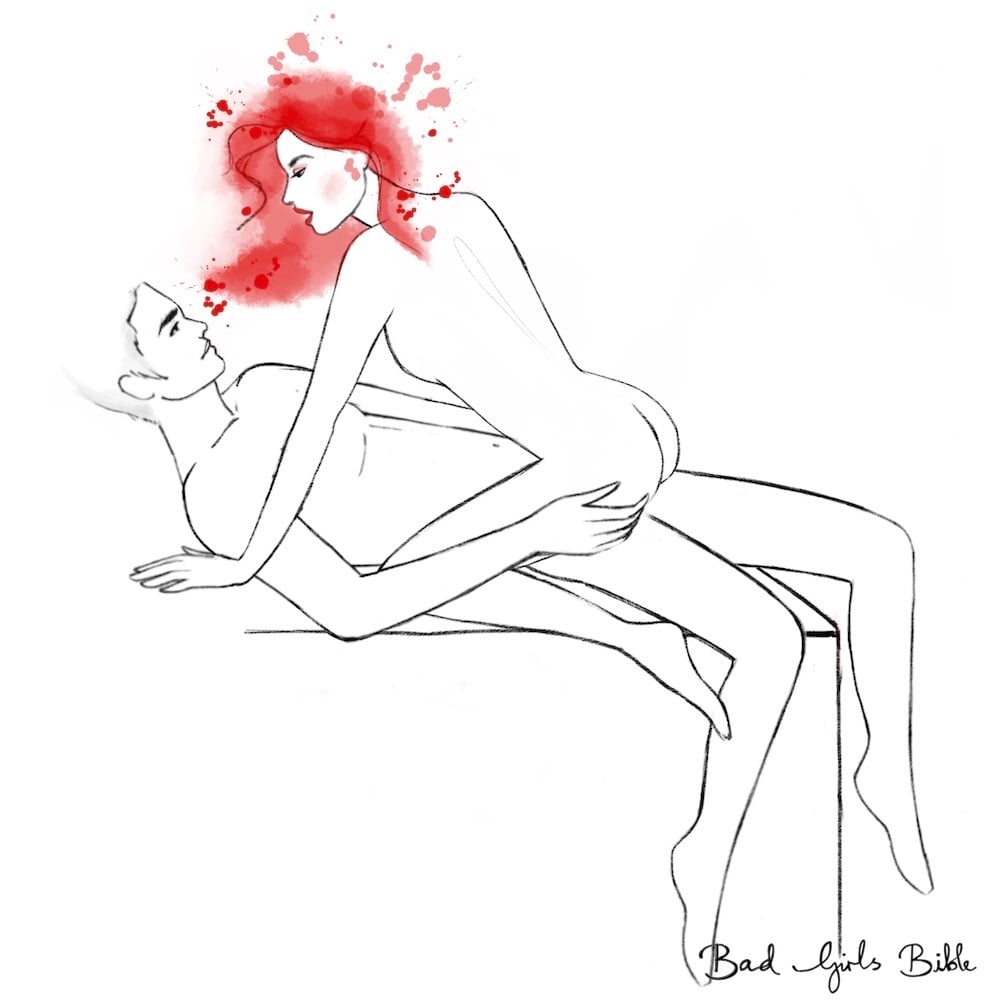 You don't need a chair for this variation.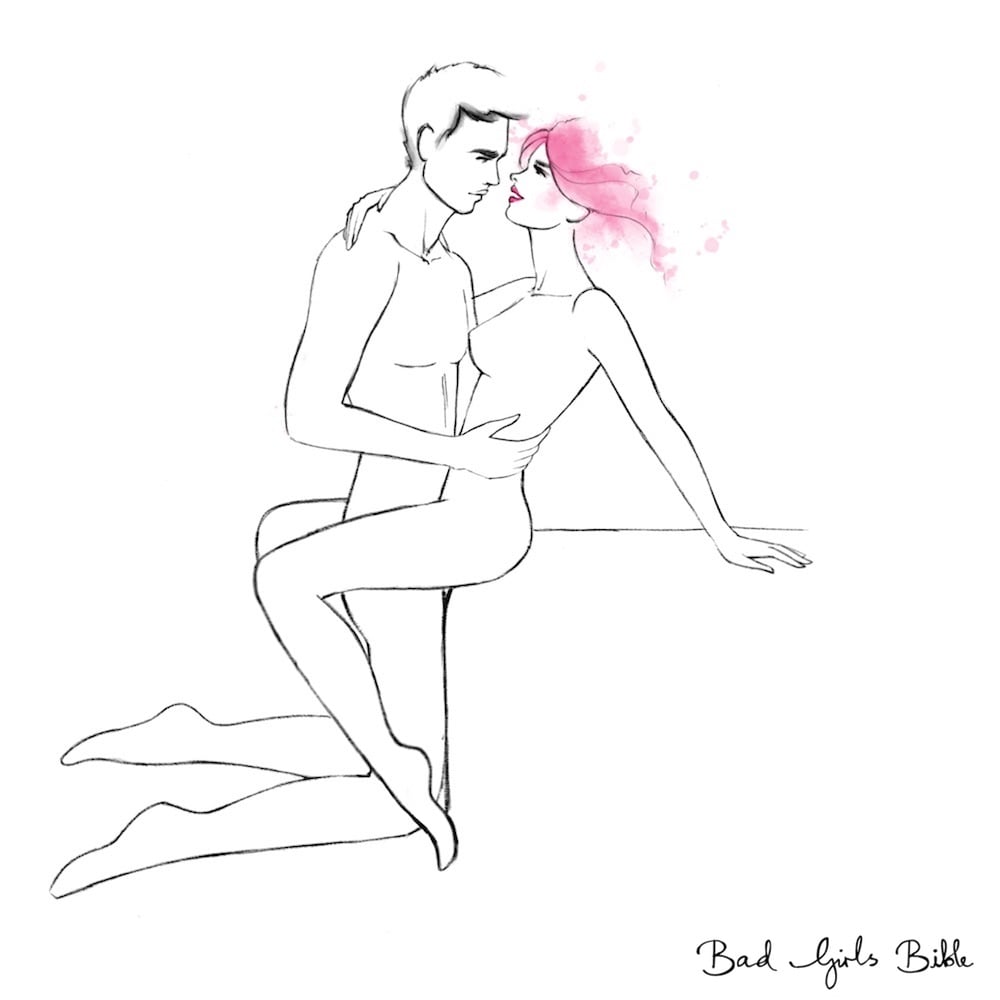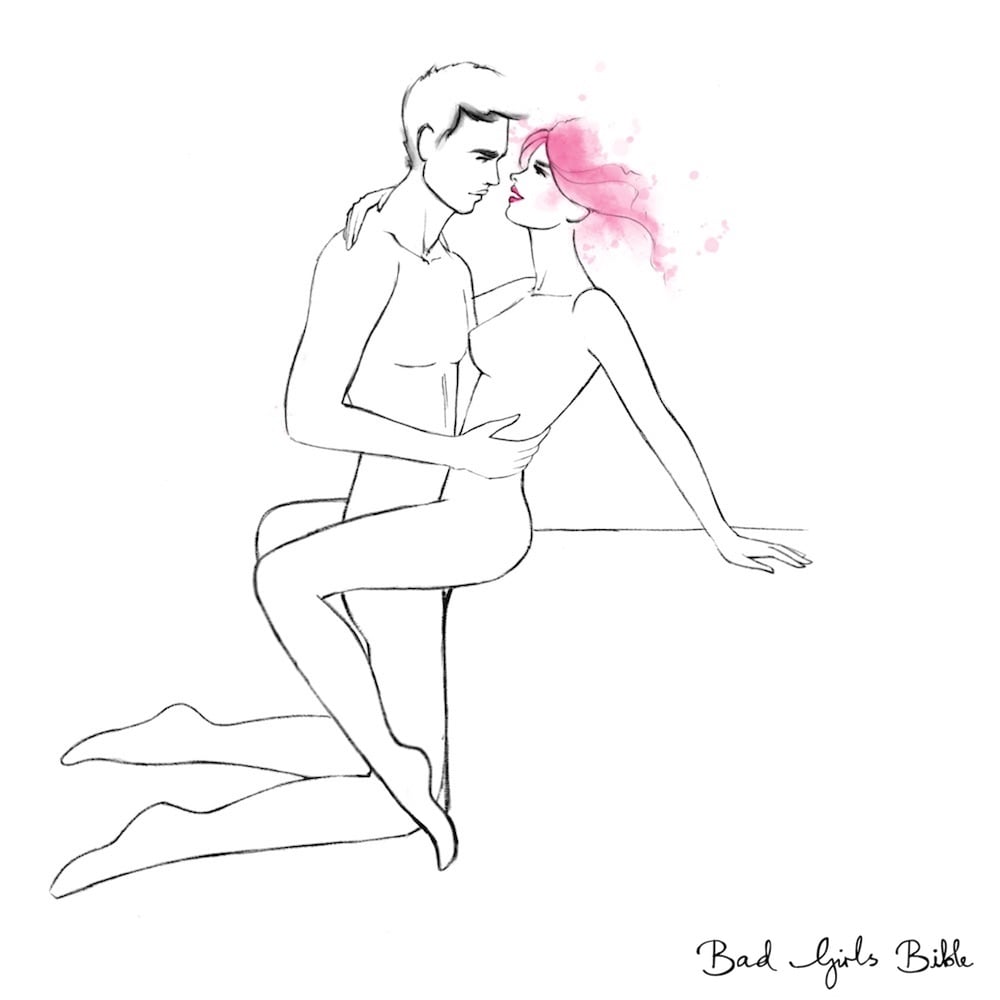 A kitchen counter makes this position fun when you don't have a lot of time.
The Sybian is one of our many sitting sex positions.
Sean's Thoughts On The Sybian Sex Position
The Sybian is one of those positions that I decided to include for completeness. Just because it's in the Bad Girls Bible doesn't mean that it's a killer position, though. You may find that you spend most of your energy just setting it up instead of enjoying it.
This is going to sound a little crazy, but...
I want to teach you some oral sex techniques I call "sexual heroin" because they will make any man completely and utterly addicted to you, doing anything just to be with you.
These secret oral sex techniques, that you can use on any man, will give him back-arching, body-shaking, screaming orgasms so powerful that he may pass out afterwards.
If you are in a relationship where the "spark" is no longer there and would like to experience more passion, fire, and intensity then you may want to check them out.
Some side effects include:
Having a man who constantly looks at you like he wants to rip your clothes off.
Other women becoming jealous of your relationship and how your man treats you.
A guy who makes excuses to his buddies and cancels on them so he can spend more time with you.
A man who can't keep his hands off you.
Click here to learn learn these techniques now.
You're also going to hear a story of how one woman used them to overcome a potential divorce and make her marriage stronger and more passionate than she ever thought possible.