One aspect of being a bad girl who owns her sexuality is the ability to climb on top of her partner and ride him to her heart's content. Men love positions where the woman is on top, partly because they don't have to do the physical labor and partly because it often offers a great view.
However, these positions are also great for the woman because she controls the speed and depth. Many of these positions also provide access to your clitoris for additional stimulation. In short, there's no reason not to get on top, so you should definitely try one or two of these woman on top sex positions the next time you're between the sheets!
Side note: If you are currently struggling to orgasm during sex or masturbation, then you may want to learn about the Easy Orgasm Solution. It will teach you how to have multiple vaginal and full body orgasms during sex and masturbation. It works even if you currently struggle to orgasm during sex or when masturbating. You can find out more here.
1. Cowgirl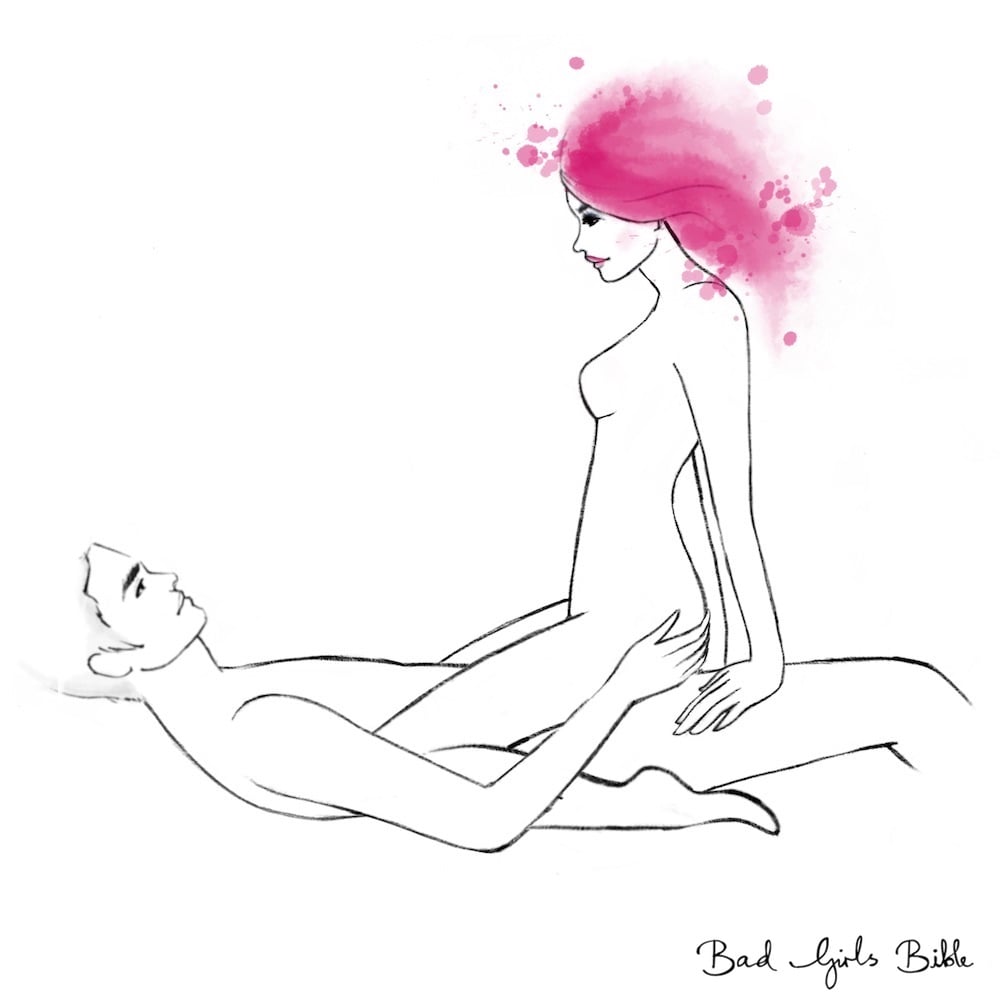 This sex position is what many people would consider a staple, perhaps even the counterpart to Missionary. While your man gets to relax as you ride him, you control the pace, angle, and depth to maximize your own pleasure. There's plenty of eye contact, and you can kiss or lean down close to your partner who gets a great view, especially if you squeeze your breasts together with your hands and arms.
Cowgirl is an excellent position because either of you can stimulate your clit. Try this: have your man place his hand, palm down, on his stomach and split his fingers between the middle and ring finger like Spock's hand. He'll slide his fingers around the base of his penis, and you can grind against his knuckles when riding him.
Don't forget that your man can thrust from below too. If you're into it, your man can also reach around with his hands stimulate your anus in the Cowgirl position.
2. Thigh Tide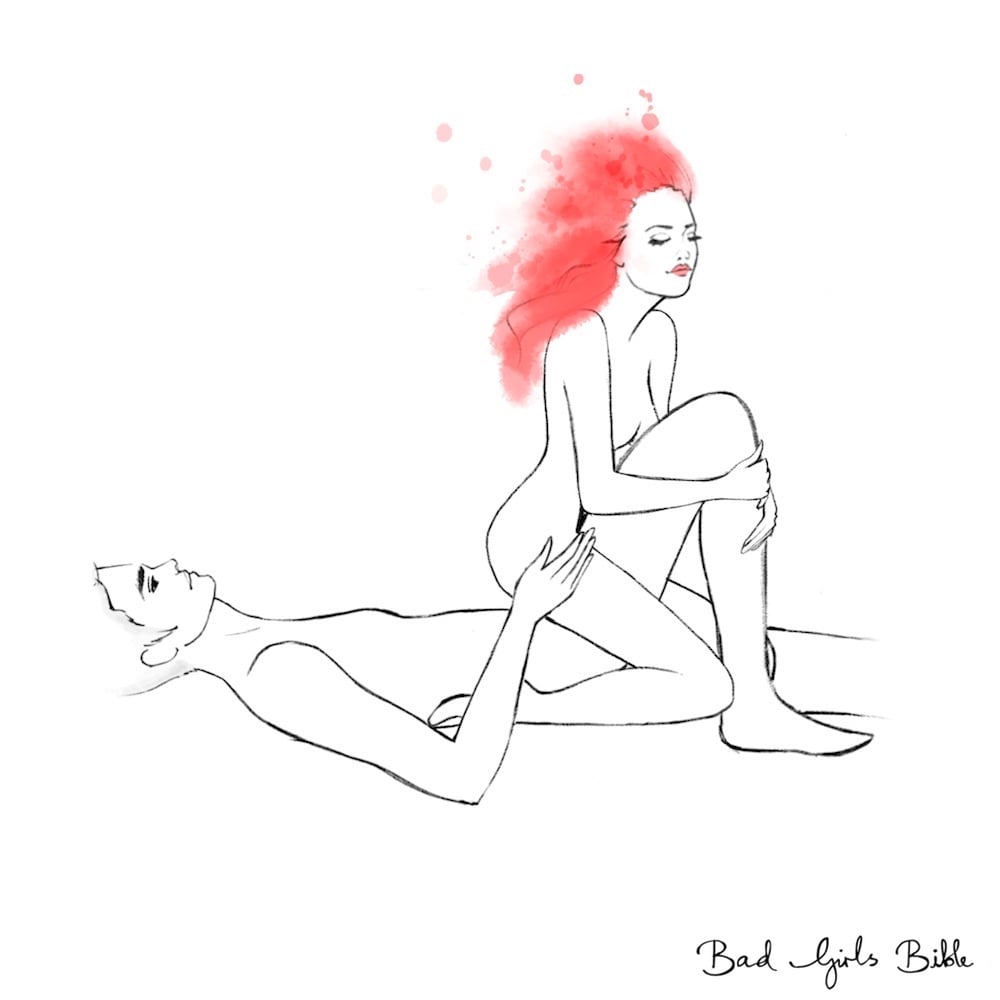 The next woman-on-top position we'd like to recommend isn't as common, but it should be! Thigh Tide looks similar to Reverse Cowgirl, but with a unique twist. That difference is what makes Thigh High a must-try sex position! To get into it, you straddle your man as he's lying down, facing away from him. Rather than keeping his legs straight, he'll bend one knee as shown above and you will straddle his thigh. As you ride him, you can grind your clitoris against his thigh.
If you want to give your man back-arching, toe-curling, screaming orgasms that will keep him sexually addicted to you, then you'll find them in my private and discreet newsletter. You'll also learn the 5 dangerous & "dumb" sex mistakes that turn him off and how to avoid them. Get it here.
If you need more leverage, grab his knee/leg with your hand as you grind.
Guide to Thigh Tide Sex Position
3. 69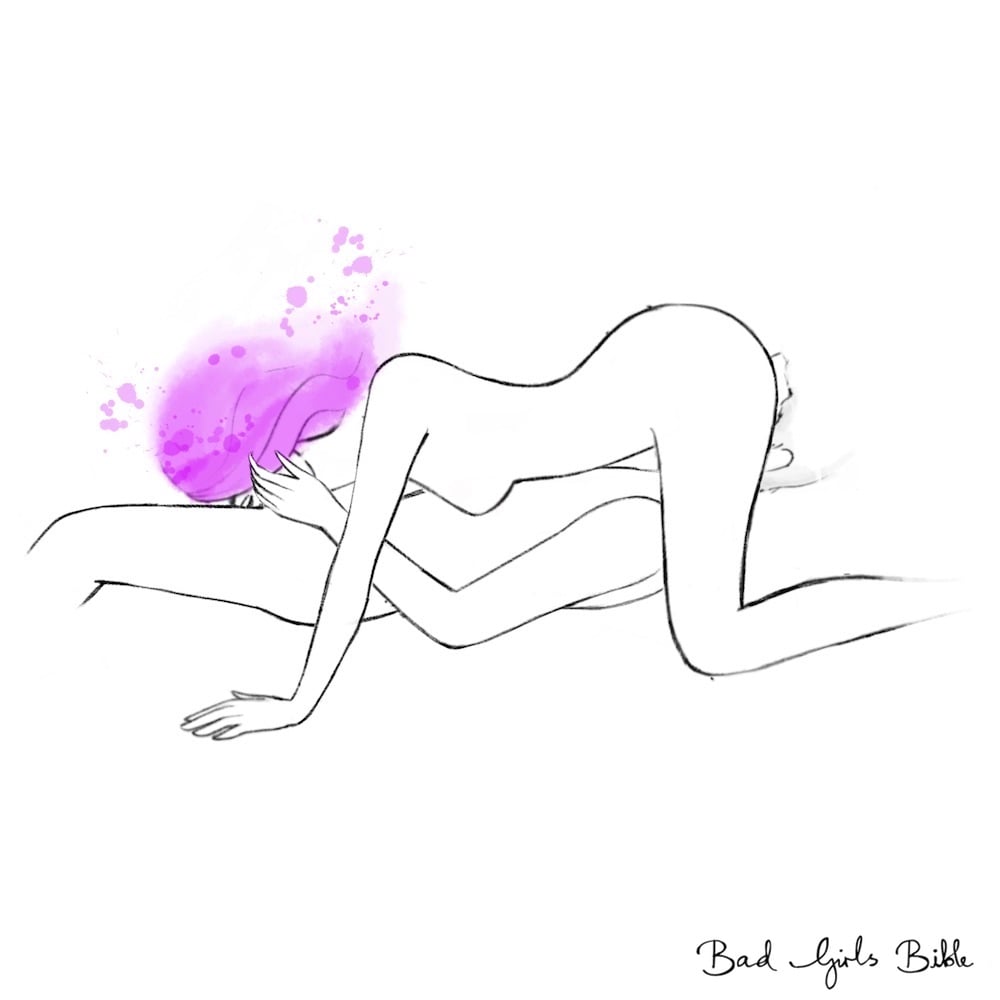 If you enjoy giving and receiving oral sex at the same time, you probably know of the 69 position. In this position, one of you lies down while the other lies on top, face down and facing the other direction. This lines up one person's mouth with the other's genitals.
Although the 69 position doesn't have to have the woman on top, it certainly can. Being on top might allow you to control the depth of penetration better though. You can prop yourself up with your elbows or a pillow if it's more comfortable.
69 Position Full Guide with more positions
4. Lap Dance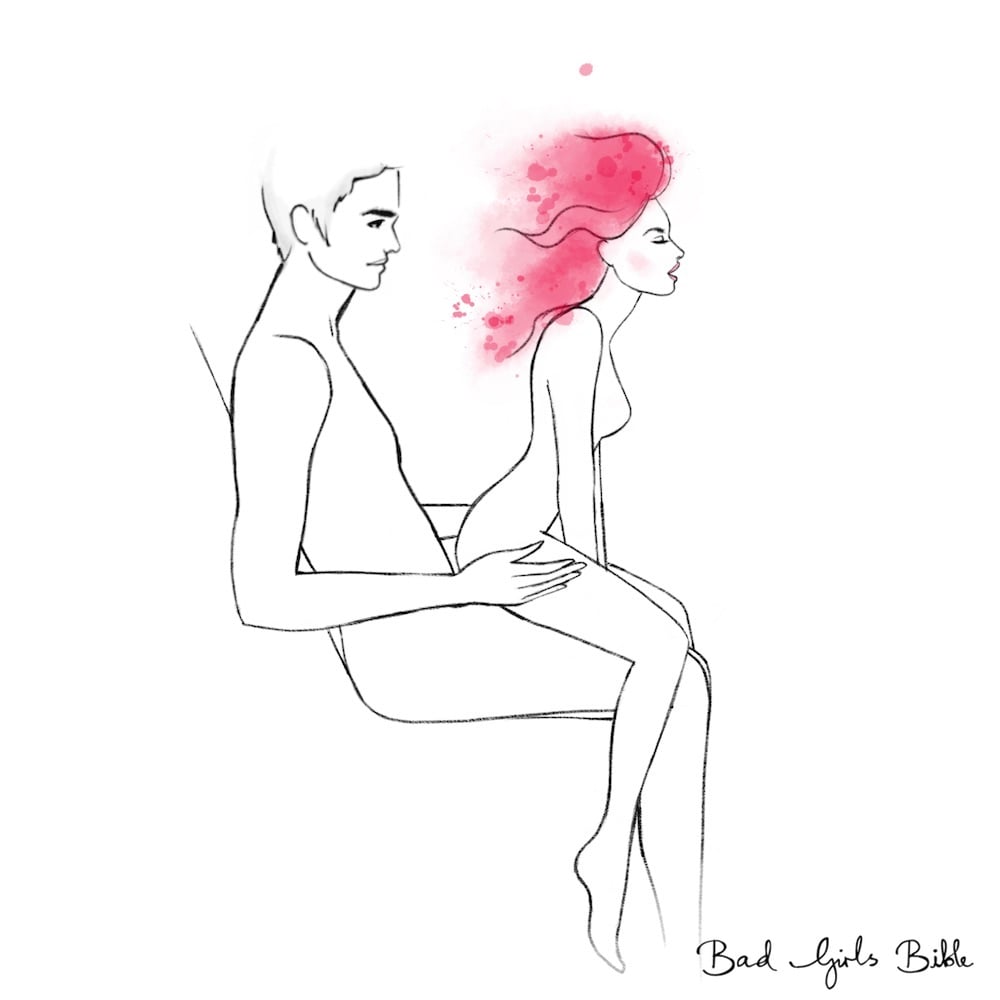 The Lap Dance sex position looks just like the name suggests! Your man sits on a chair or sofa with his thighs together, and you sit in his lap with your thighs on either side of his in this sex position where you are in control. You can swivel and grind your hips while he grasps them to give you a hand,
The Lap Dance position might be a bit difficult if you're especially short and your feet cannot reach the ground or if your arms can't reach the chair beneath your man. If you can lean on a table in front of you, it may help.
5. Lotus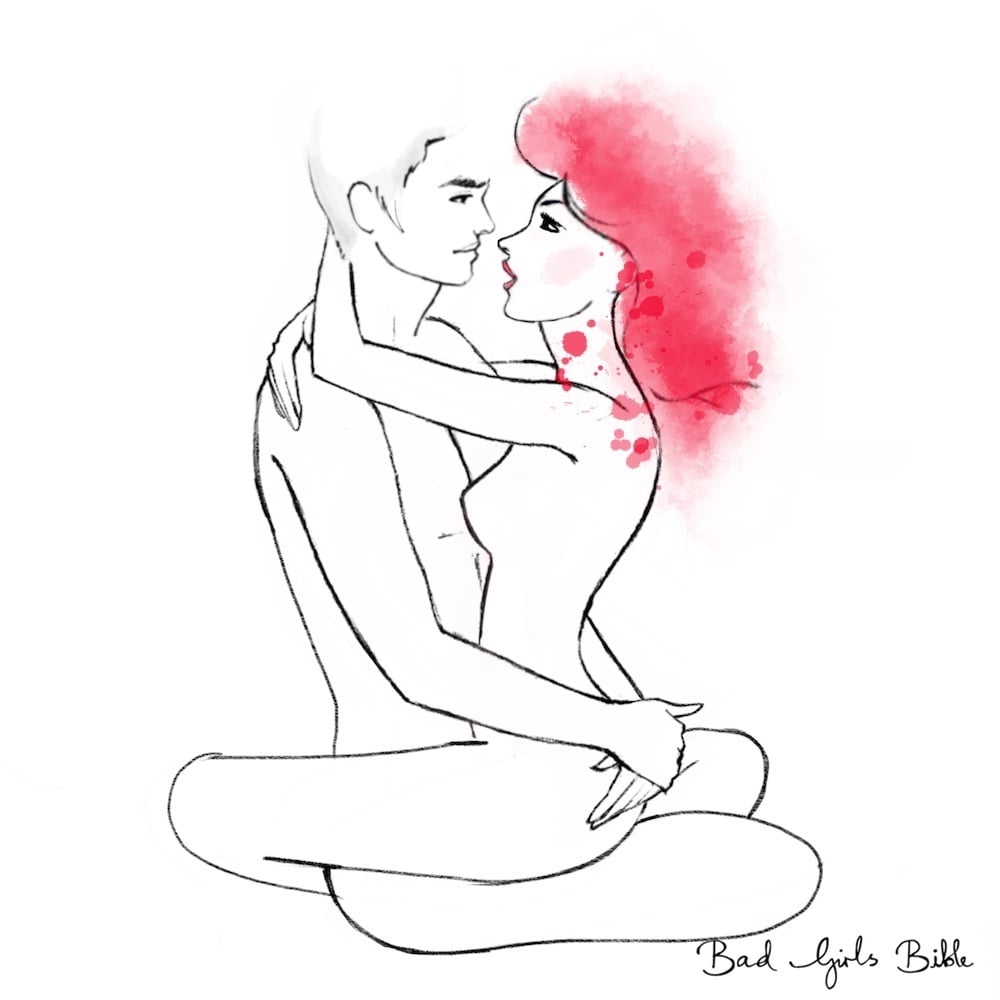 Look no further if you want to try a sex position that's incredibly close and a bit tricky because it requires a bit of flexibility. First, have your man sit down and cross his legs. Then, you sit on his lap with your legs crossed and ankles meeting behind his back with your arms wrapped around his shoulders.
Lotus will work best if you can freely swivel your hips, so those with certain body shapes or mobility issues might not find it particularly pleasurable. You can also enjoy Lotus simply by focusing on the filling sensation, making eye contact, and exchanging breath, a practice in Tantric sex.
6. Amazon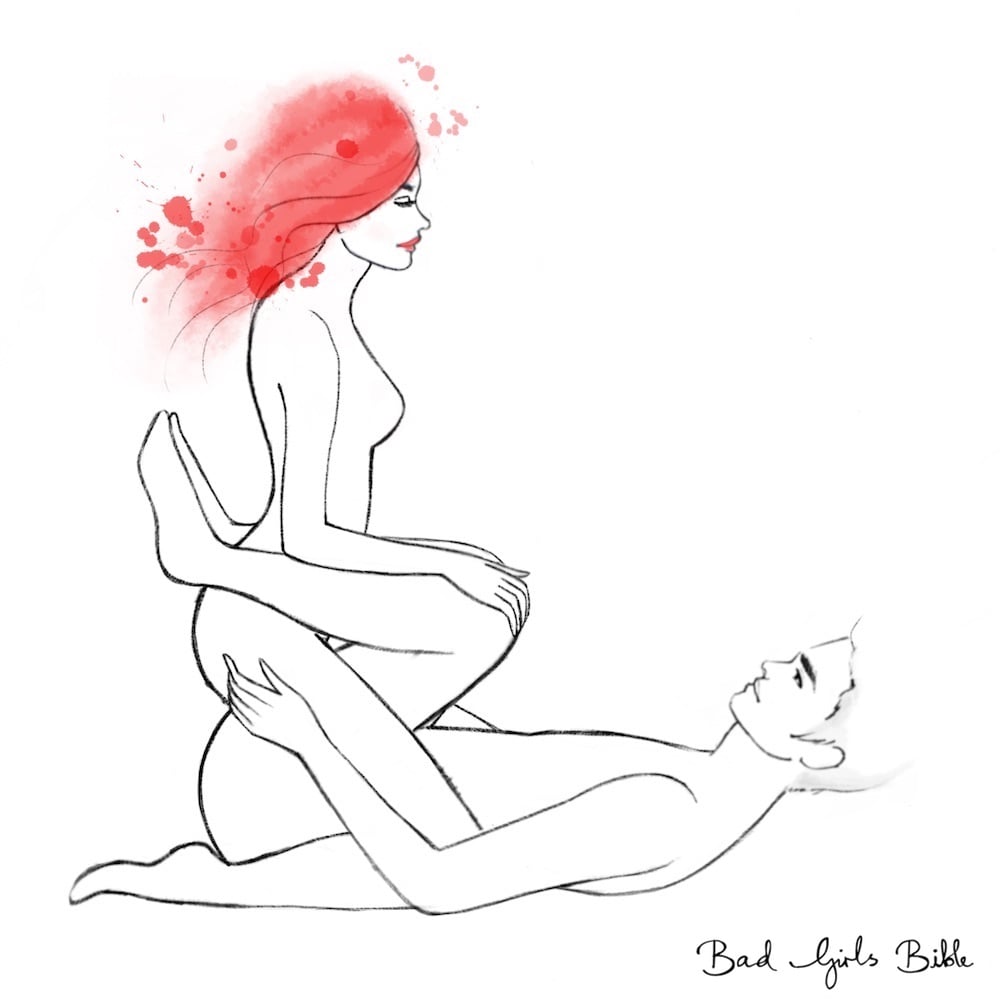 This sex position where the woman is on top is pretty novel, so pay attention to the image. Your man will lie on his back and bend his knees toward his chest. Then, you straddle the back of his legs, either kneeling or squatting, depending on your height. You'll rest your butt on the back of his thighs/butt. Meanwhile, he can wrap his legs around you, and you can rest your arms on his knees.
The Amazon position is all about bouncing, which should be pretty easy, thanks to his bent knees, if you can comfortably get into this position.
7. Crab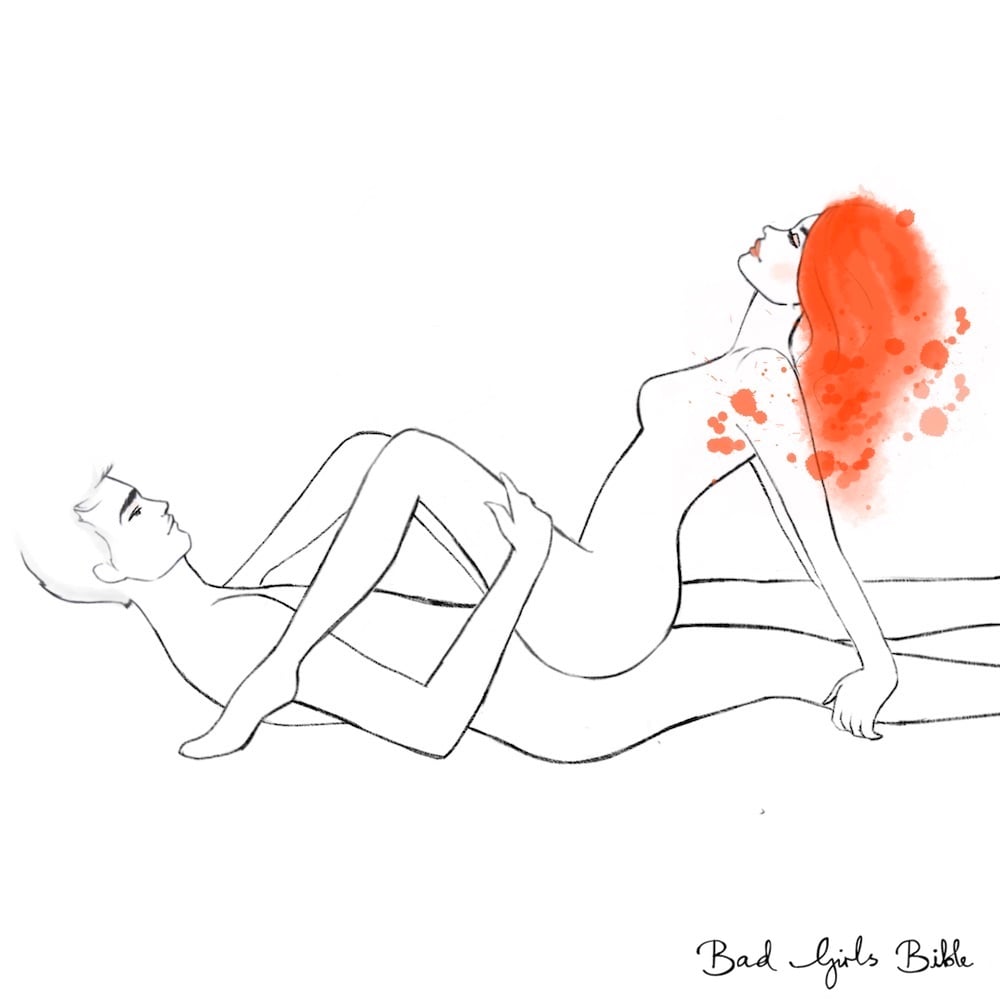 Here's another unusual sex position. Have your man lie flat on the bed. You'll position yourself on top of him with your legs extended in front of you toward his upper body/shoulders. Rest your feet on the bed. Lean back on your arms, resting your hands on the bed behind you or your man's legs. Don't rest them on his knees.
To make the Crab work, you'll need to firmly place your hands and feet on the bed to use them to lift your hips. Alternatively, you can remain in place while your man pushes your butt up and down. The Crab can be quite strenuous, so it's understandable if you don't stay in this position for long.
8. Jugghead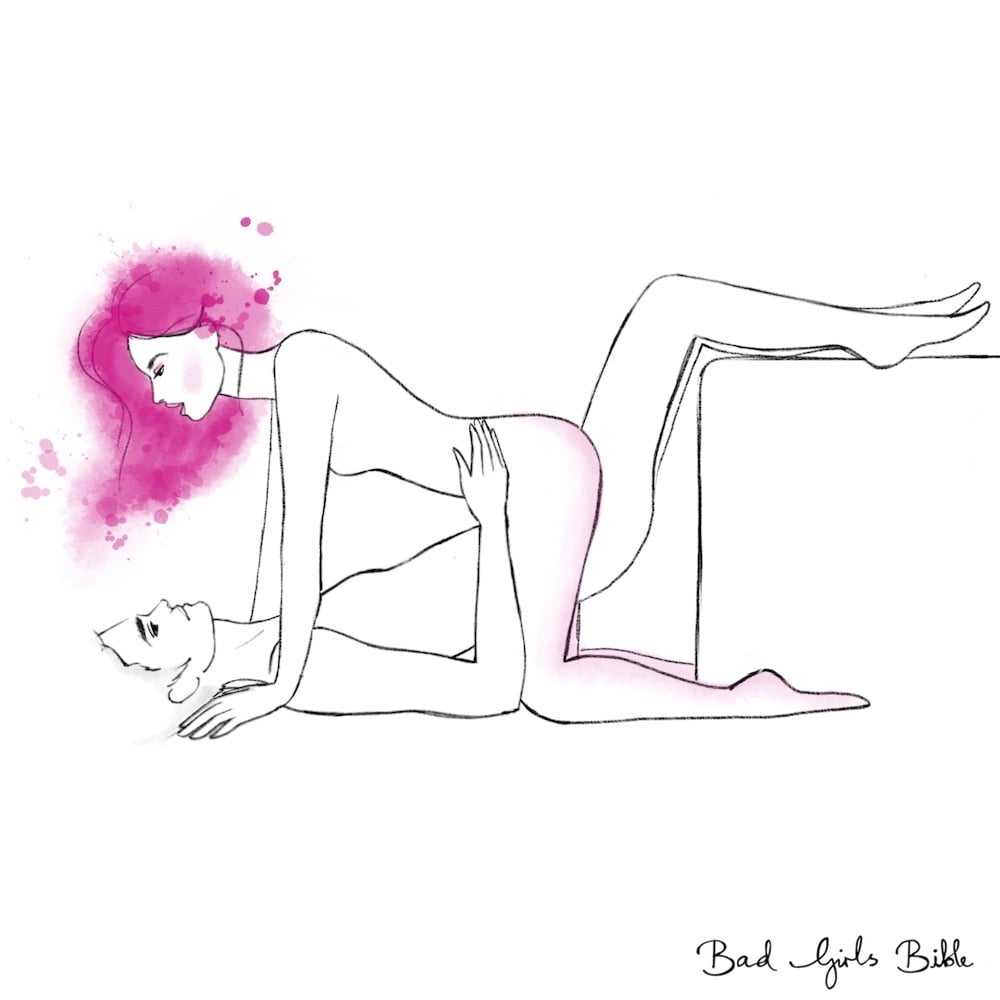 Your man will get quite the rush when you try out this sex position, a head rush that is! In Jugghead, your man lies on the ground with his legs resting on a chair, sofa, or ottoman. This lifts his hips from the floor. Your job is to straddle him while facing him. In Jugghead, you can either sit up or lean over your man with your arms supporting you.
The key to comfort in this position is the right furniture. If it's too tall or short, then it can feel awkward instead of pleasurable. Either way, he might experience a headache if you stay in this sex position for too long and all his blood rushes to his head, so feel free to switch things up.
9. Back Seat Driver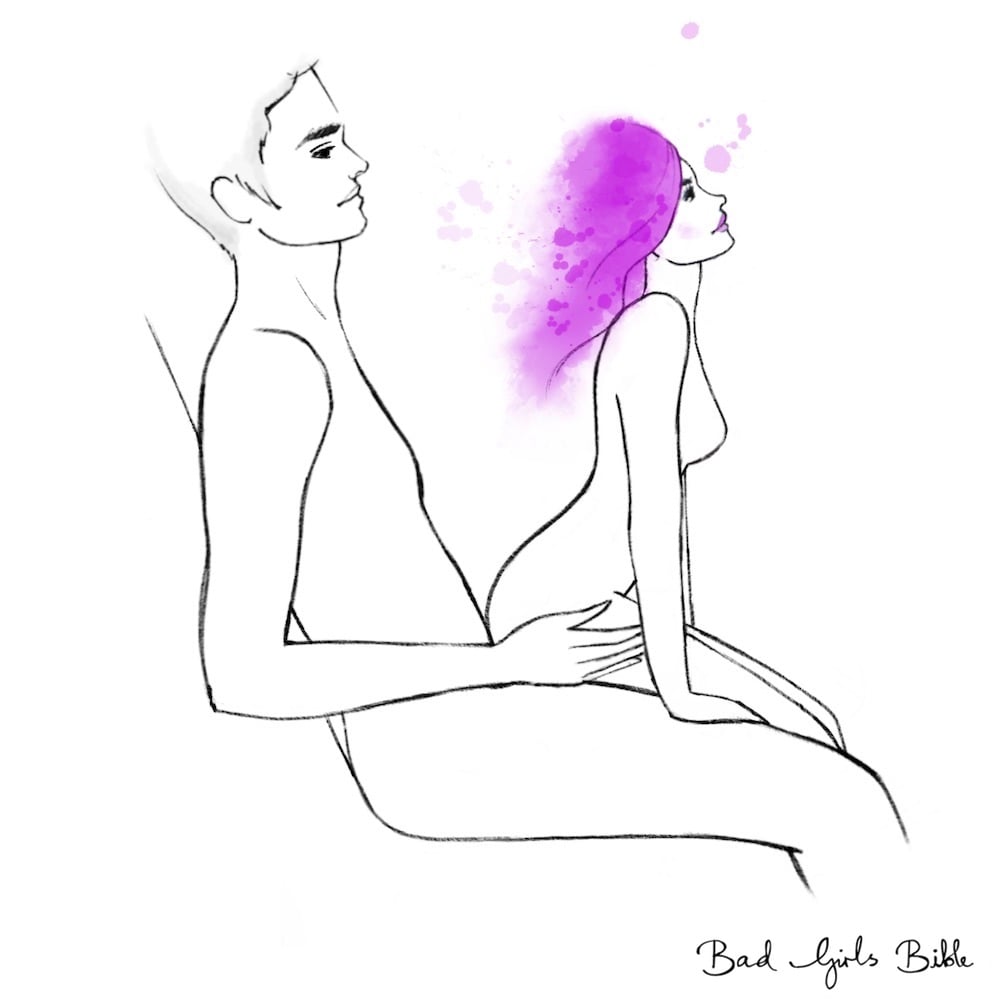 If you're too short to make the Lap Dance sex position work (that's position #4 above), you can try this variation. Your man spreads his legs while sitting and you sit in between his thighs or resting slightly on them. The Back Seat Driver position makes it a bit easier for you to support yourself, either on the surface beneath you or with your hands on your man's thighs.
Although you're limited in what you can do in this sex position, your man can pull your hair or scratch your back if you like that.
10. Bouncing Spoon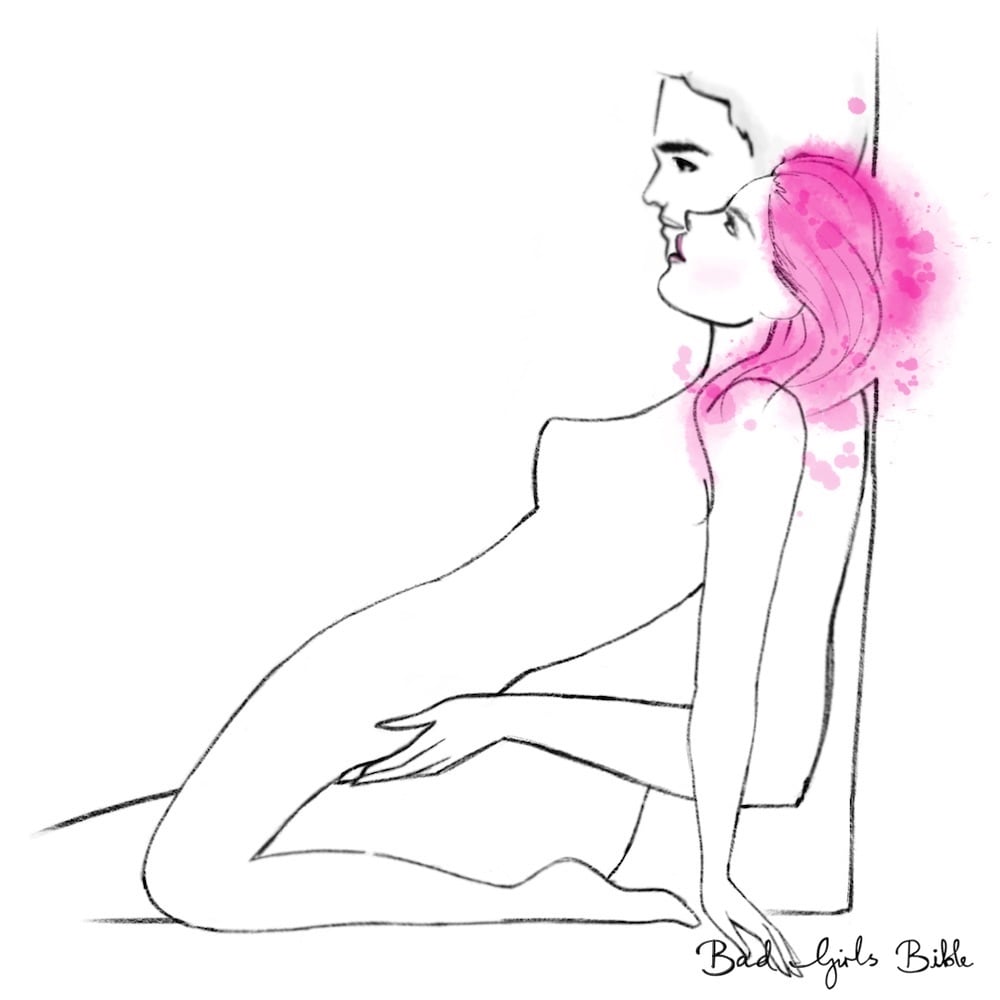 You don't need fancy sex furniture for most positions. Consider this position where your man sits on the floor next to the wall, and you sit in his lap, leaning your shoulders against his chest. Your man will lift your hips with his hands, hence the "bouncing" part of this sex position.
Your man needs to have hit butt far enough away from the wall to provide room for your legs and feet. However, this isn't too hard if you're short. Unfortunately, if your bodies don't line up correctly, this position may be too uncomfortable to be worthwhile.
Guide to Bouncing Spoon Position
11. Mastery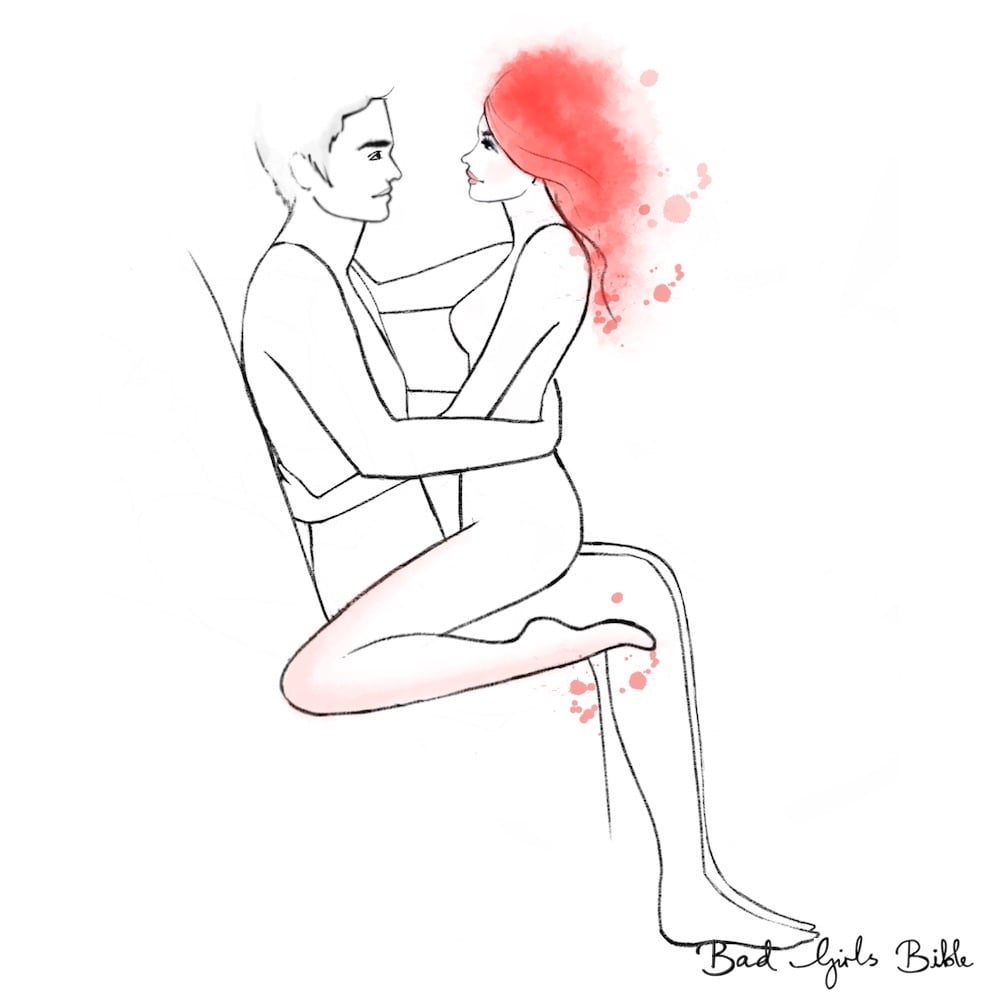 Mastery is a great sex position to try as your man watches TV or plays video games. All you need to do is straddle him as he sits and line up your bodies for penetration. Because you're face to face, you can kiss deeply, pull each other's hair, or touch each other's chests. Your back is free for him to rub or scratch as well.
This sex position is fun because you don't even have to get naked. You can wear a skirt or dress and push it up. Similarly, you man can undo his pants or wear loose shorts that he can work around if he isn't interested in taking off his pants. To make this more of a female dominant sex position, bind his wrists so he can't move them.
12. Side Ride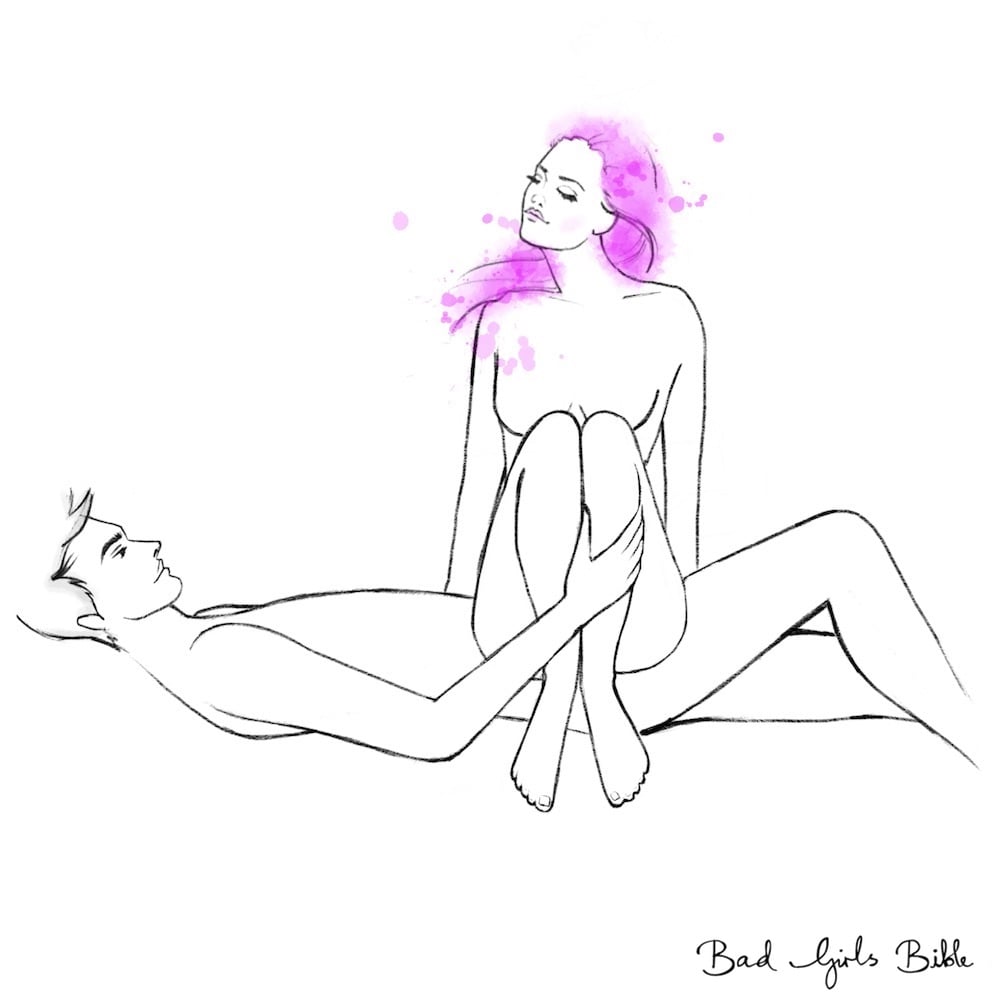 When it comes to woman on top positions, this one certainly has a twist. Have your man lie down. Then, you rest atop him facing the side. Bend your knees and rest your feet in front of you while leaning on your arms behind you.
Side Ride is a pretty limiting position. Your man may be able to thrust up from beneath you while you have limited hip movement.
13. Side Saddle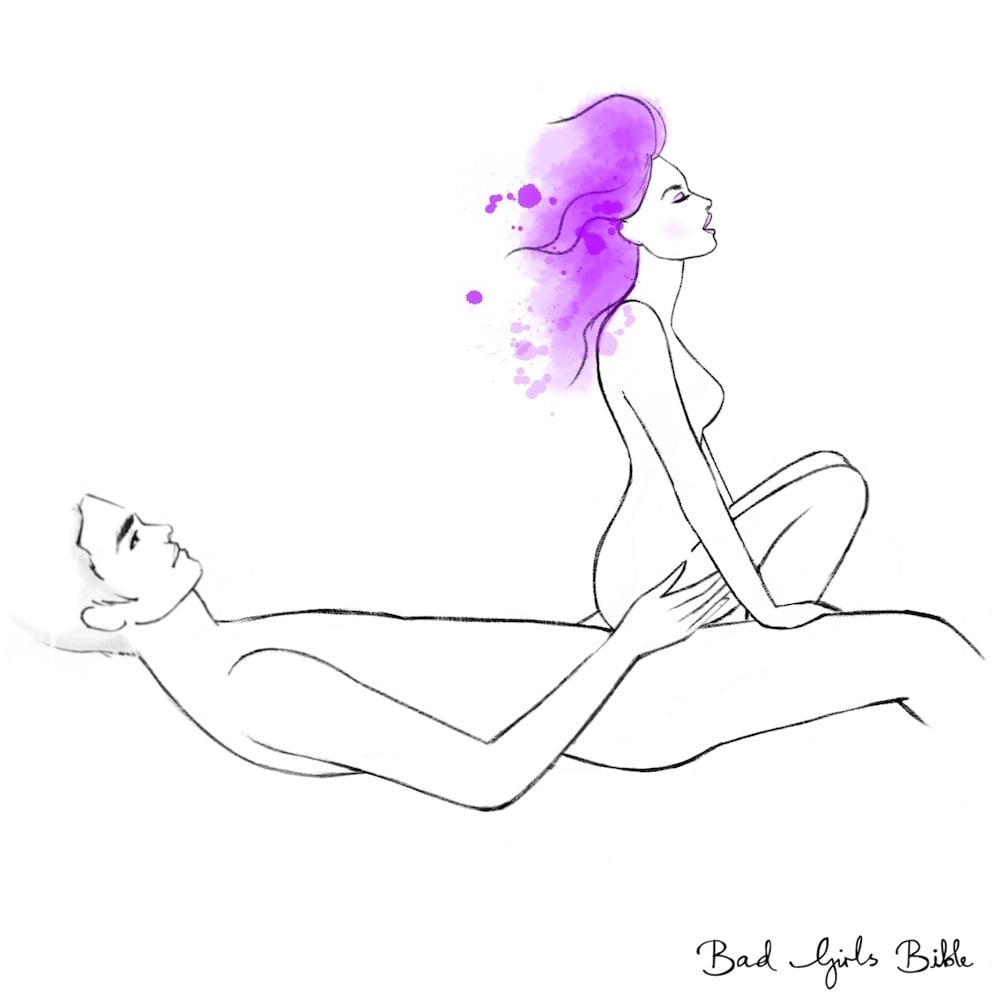 It's easy to get this sex position confused with Side Ride, but they're very different. Your man lies down on his back, while you sit down on his penis facing away from him with your knees bent and feet flat on the bed beneath you while your hands rest on his thighs.
Not everyone will be flexible enough to make Side Saddle pleasurable, but it's worth a shot if you're looking for a new sex position to try.
14. Acrobat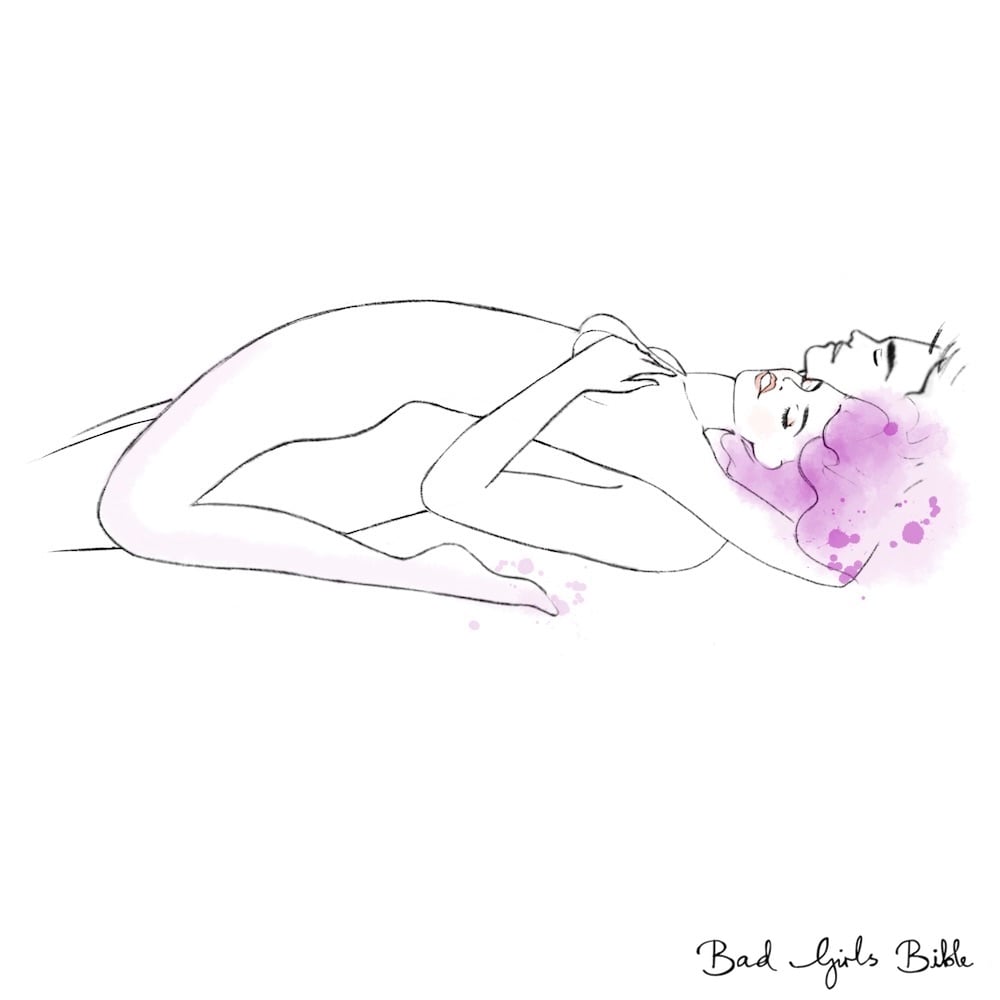 Are you agile and sexually adventurous? Then, this sex position might be up your alley. In Acrobat, your man lies on his back, and you lie on top of him. The trick is to bend your legs at your knees and lie all the way back to rest your upper body on his.
It's understandable if you find this sex position a little hard to perform. You need to be super flexible. It can also be hard on your knees. But if you can accomplish it, this position leaves your breasts and clit free for stimulation.
15. Betty Rocker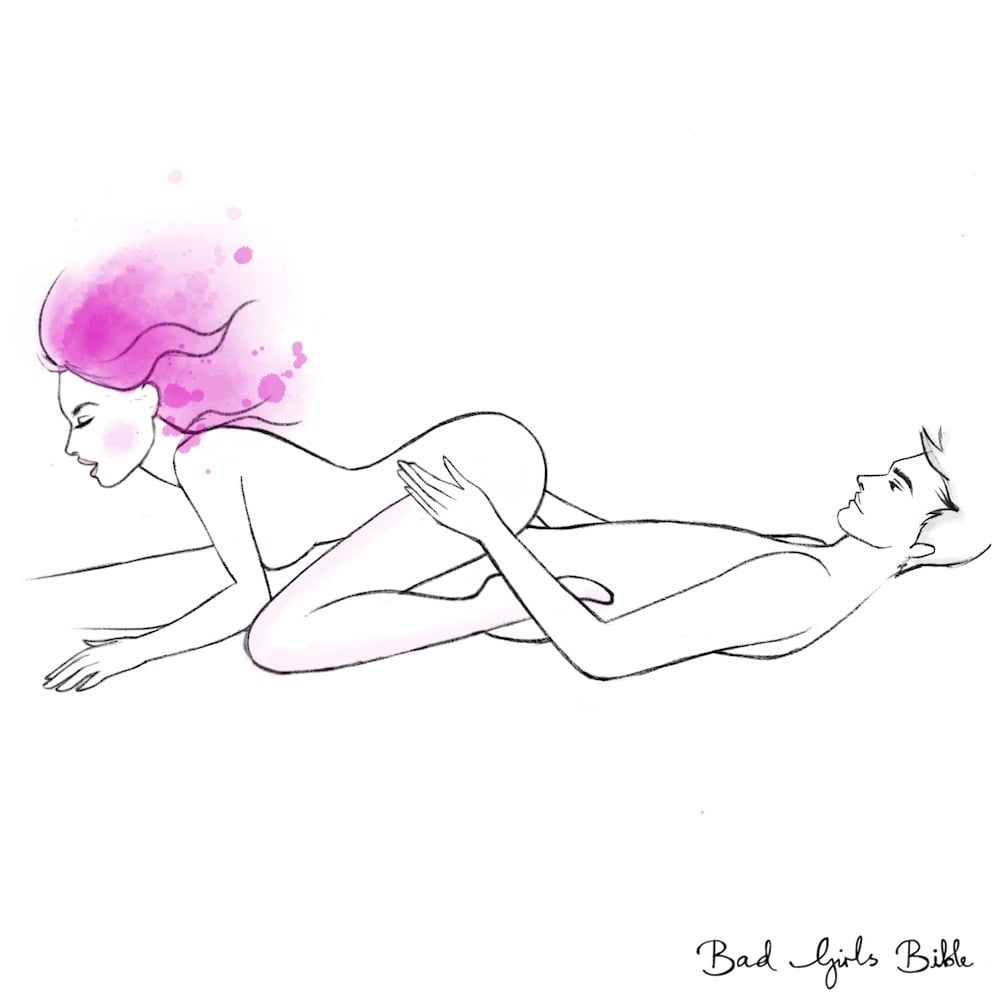 Here's a sex position that's not super difficult. Start by having your man lie down. Next, you straddle him facing away. You want to lower your body so that you can bend your knees and tuck them into your sides. Rest your forearms on the bed outside of his thighs. Then, your man can grab your butt or hips and rock your body.
Betty Rocker is the perfect position for any guy who loves butts. But if you lean too far forward, it might hurt his penis. Try leaning up on your arms. It's also easy to switch into Reverse Cowgirl if this sex position becomes too strenuous.
16. Big Dipper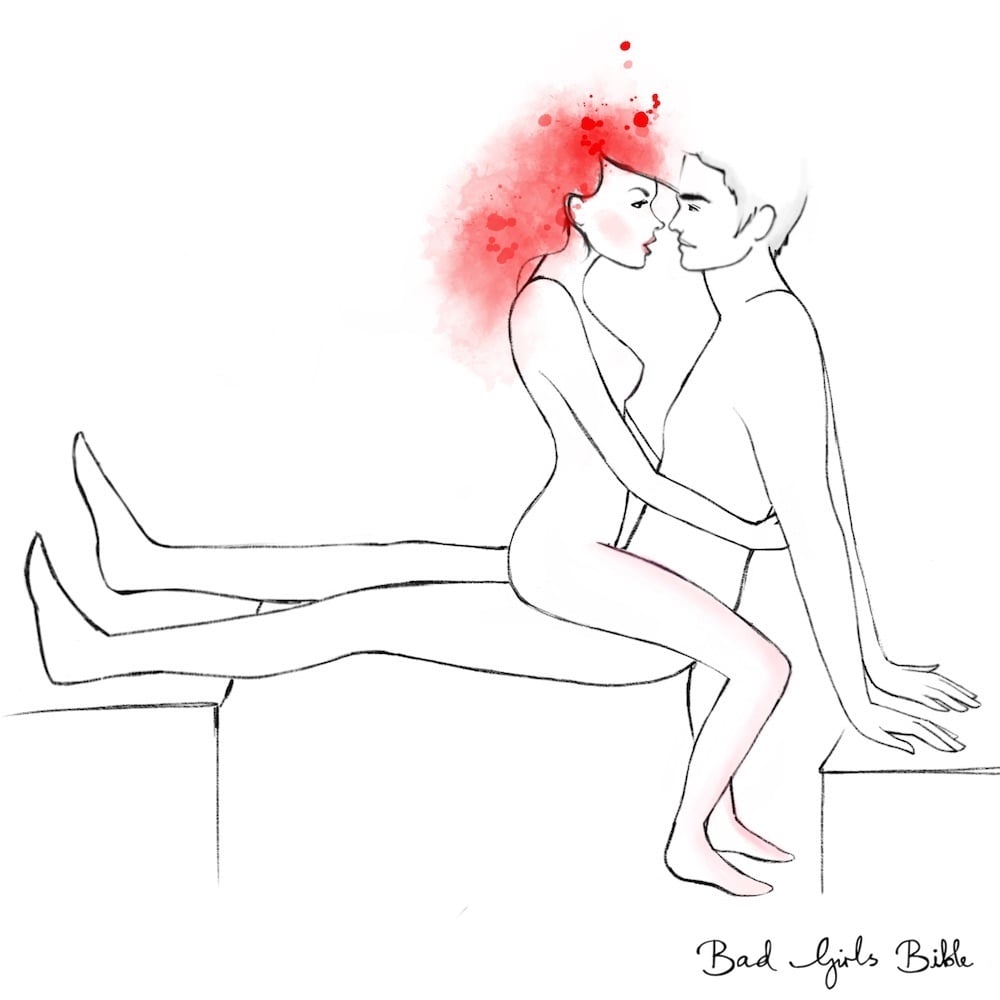 Most woman on top positions allow the man to relax, but that's not always the case! The Big Dipper will give your man quite the arm workout as he rests his feet straight in front of him on a piece of furniture such as a chair or ottoman or even a step. He'll keep his arms straight behind him to prop up his body—and yours! You'll straddle him with your feet flat on the floor and your arms around his waist.
For the Big Dipper to work well, your man will need to have quite strong arms to hold himself up. You'll also need to find furniture that's the right height and won't move beneath your weight. Of course, even if you do, there's a chance that you can tumble to the ground, and someone might get hurt.
Important: Make sure that your man doesn't straighten his knees fully in this position otherwise he risks injury.
Once in this position, your movement is limited, too. He might be able to lift his hips, or the two of you can move together, but you don't want to push his body down too forcefully.
17. Pearly Gates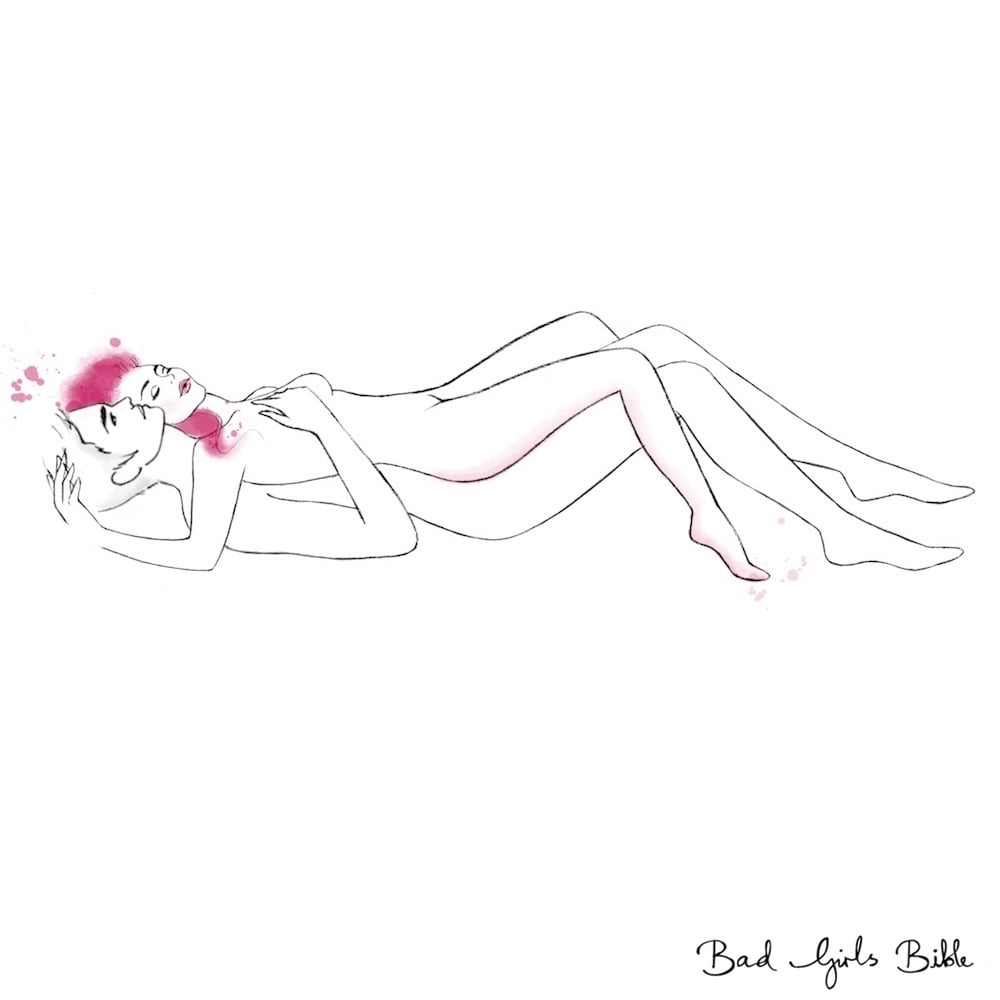 Think of this position as a bit like Spooning. But instead of being on your sides, your man is lying on his back, and you're on top of him. You can both bend your knees slightly; yours will be on top or outside of his. Touch your feet to the ground of the bed beneath you and hold your body up with more stability and have him do all the thrusting.
The Pearly Gates sex position is ideal for vaginal or even anal penetration. Either of you can rub your breasts or clit. One thing we love about this position is how intimate it feels. Your man can whisper loving or sexy words into your ear. However, it takes some stamina to stay in this position for long.
Pearly Gates Sex Position Guide
18. Reverse Cowgirl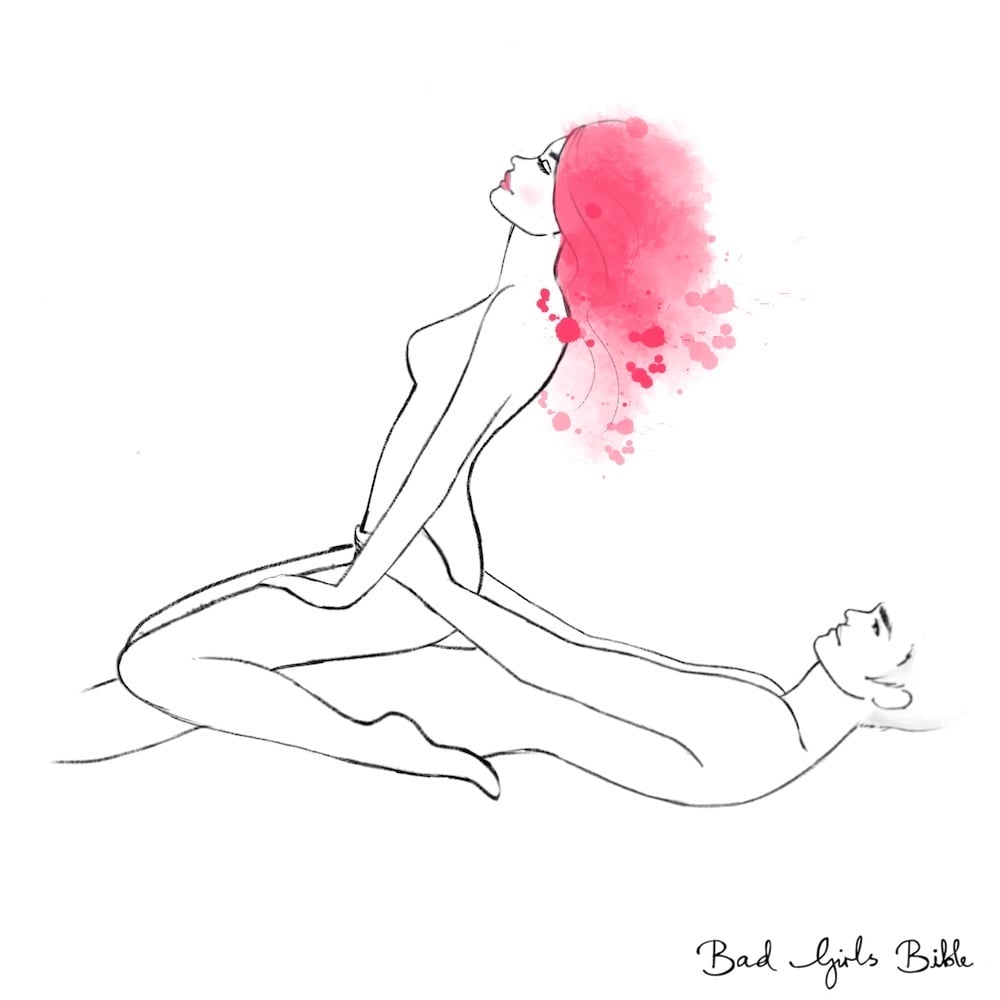 Finally, we have another woman-on-top sex position. In Reverse Cowgirl, you straddle your man as he lies down. However, you face away from him. You can brace yourself on his legs if you'd like for stability. This position works well for various bodies, and you don't have to be super flexible to get into it.
Reverse Cowgirl is all about grinding your hips back and forth or swiveling them around. Don't forget to stimulate your clitoris if there's enough room to do so!
How to Have Sex On Top
Aside from the woman on top sex positions listed above, you might benefit from the following advice.
First, remember that you don't need to do any of these girl on top sex positions perfectly. In fact, you may need to alter them slightly to fit your bodies, agility, and any injuries you have or other considerations. Pillows can be especially helpful, and memory foam sex position pillows retain their shape, making them super useful in any sex position where you are on top.
Psst, get more tips for riding on top.
A lot of women initially struggle when riding on top because they're not sure what to do. There are a couple of options to try. If you're squatting or resting on your feet with knees bent, you can bounce up and down. This is the Asian Cowgirl position. Alternatively, you might prefer to swivel and grind your hips if that's not possible. Grinding is especially useful for clitoral stimulation.
Related: 9 Clitoral Stimulation Techniques For Intense Orgasms
Because many of these are positions where you are in control, they can work well if you're into BDSM or dominating your man.
Many woman on top sex positions work as well for anal sex as they do vaginal penetration. You might even experiment with double penetration with your partner's penis and a toy.
Of course, you can always use your hands and mouth when possible to add to the experience when you're on top. While some people think the woman does all the work, your man may be able to thrust upwards in some of these women on top sex positions.
Aside from doubting your skill, you might also feel vulnerable because riding on top highlights your body. However, that's one of the very things that men tend to love about woman on top sex positions. If you need to build confidence before trying a sex position where you are on top, check out this article with 10 Tips To Feel Super-Confident In Girl On Top Positions.
Finally, remember that the penis tends to bend upward naturally, so if you're facing away from your man and his penis is forced downward like in the Betty Rocker position, it might hurt him. Be sure to talk about sex and what feels good or what you want to maximize pleasure.
Few things feel as powerful or pleasurable as when you ride your man. Once you master how to have sex on top and find positions that you like the best, you may not want to go back to any other sex position!
Resources
Better Sex Through Mindfulness by Dr. Lori Brotto is a great book that can teach you the importance of being in the moment—and not in your head—during sex, whether the session involves her on top or not.
Frequently Asked Questions About Girl on Top Positions
FAQ #1 – How can I be more confident when riding on top?
First, remember that pretty much any position with you on top is great for your man visually. Then, remember there is no right way to have sex, whether you're having sex on top or not. Experimentation and connection are more important than doing everything perfectly or having sex in a specific way. Finally, remember that woman on top positions are great for you to enjoy yourself, so focus on doing what feels good to you!
If all else fails, fake it until you make it. Act like you're confident. And if you're not feeling that confident, then read this guide on how to ride your man with confidence.
FAQ #2 – What do I do in girl on top positions?
Generally, you either:
Bounce up and down, which is easier when squatting, especially if your man has thicker thighs to support your booty.
Rock/grind/swivel, which involves tucking and rolling your butt. Your hips and legs do much of the work. It's not a full-body movement.
The method depends on the specific position and your physical ability. Of course, you can always stick to one method if it feels better to you. Or you might start by grinding when having sex on top but move to bouncing when you near orgasm.
Related: How To Orgasm Every Time For Women
You can also try hip and butt movements such as twerking, which can be fun.
Your Angle – Remember that angle matters. Try learning forward or backward to make sex in these girl on top positions feel better for you and your man.
Your Hands – Aside from that, figuring out what to do with your hands can be confusing in a position where the woman is on top. While some of the sex positions in this post have specific suggestions for your hands, they might not work for you, and others have plenty of options. You can rest your hands on your man's chest or shoulders or under his armpits. You can keep them at your sides or on your thighs; although, you're missing out on the opportunity to bring extra pleasure. Sometimes when you have sex on top, you'll be able to rub your clit, meaning extra pleasure!
FAQ #3 – Should I avoid woman on top positions if my man is smaller than me?
Not at all! It's improbable that you could hurt your man when having sex on top. You might want to make sure your weight is distributed more on your legs than his body, but this concern is typically one driven by anxiety and not reality. Furthermore, don't worry about how you might look. If you ask most guys, they'll tell you they love seeing their girl on top, even more so when she's confident!
Orgasm Every Time. Easily. Here's How...
I want to tell you about my friend Karen.
Karen came to me one day. She was hysterical.
She told me that her marriage was falling apart because she and her husband didn't have satisfying sex.
Every time they were intimate, Karen was faking her orgasms. It turns out she couldn't orgasm during sex.
In fact...
She never had an orgasm in her entire life. Not one!
This left her feeling embarrassed and ashamed. And...
She completely hid this from her husband. Thankfully...
It turns out that there is a way for any woman to orgasm. Easily. And have multiple vaginal and full body orgasms during sex and masturbation.
I shared the process with Karen.
After she followed the simple process, she could barely come to terms with how...
Quickly and dramatically her sex life changed.
We met up a few months later and...
She would not stop talking about it,
"I thought I was one of those women who couldn't orgasm. I used to think I was 'broken' and 'unfixable.' This saved my sex life, and that saved my marriage."
Even if you currently struggle to orgasm during sex or when masturbating, this process will also work for you.
And best of all, you don't need to do anything weird or uncomfortable to start having the best orgasms and sex of your life.