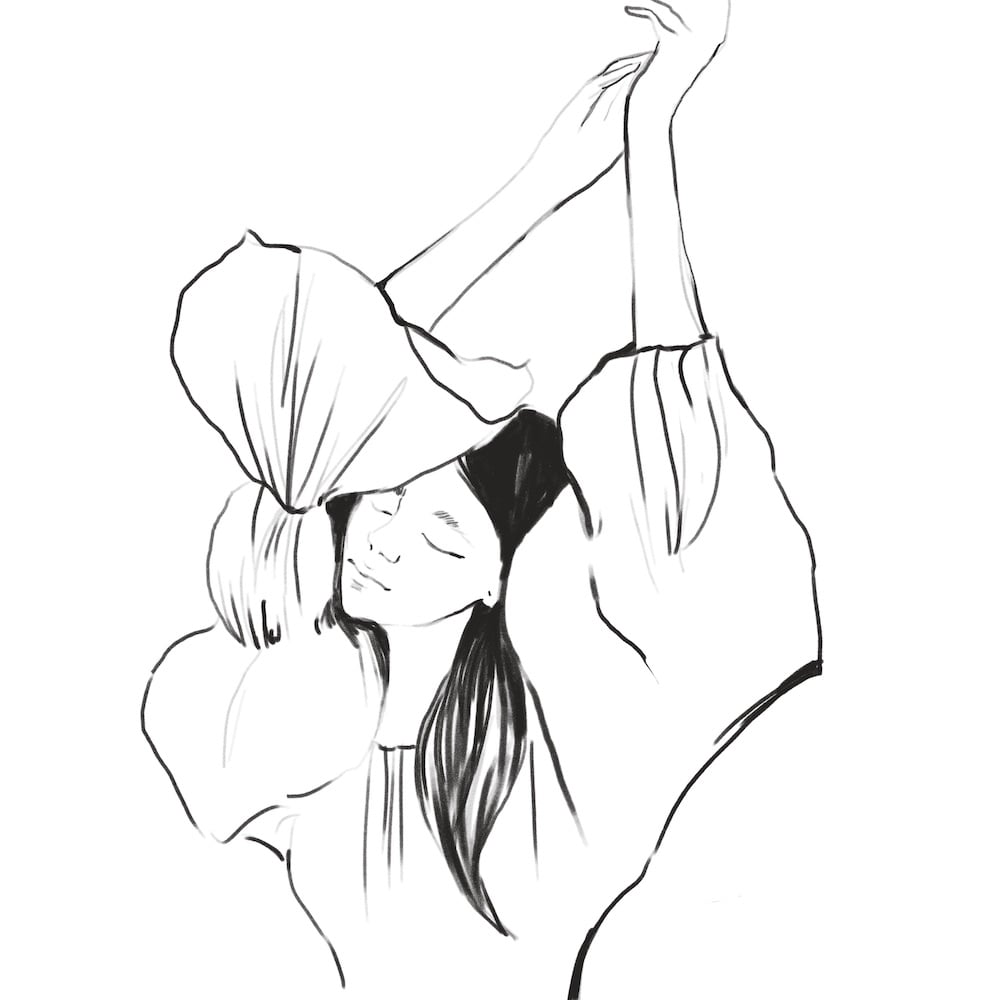 Hot, fast and even rough sex can be fun, but balancing it out by having slow, romantic sex is a good idea too and this is for a lot of reasons. Romantic sex involves intimacy, affection and lets you show your man just how much you care about him. Being romantic involves having a connection and not just a genital one.
It's often difficult to be romantic when life gets in the way, though. Getting the kids off to school while you and your sweetie are rushing to get out the door yourselves only to start another hectic routine when everyone is back home isn't exactly conducive to long romantic sex sessions. But that doesn't mean you should ignore that part of your relationship. Making time for some romantic sex with your man helps cement your relationship, and that helps get you both through the more challenging times.
It's important to keep the relationship interesting, and that means doing something different from the same old stuff like renting a movie. Breaking your routine for some scheduled intimacy helps couples stay together, and that advice comes from the American Psychological Association, not just me! Send your sweetie a note after your talk to let him know that you're planning something special for the two of you. Anticipation is a powerful aphrodisiac.
Psst, are you a guy who wants to know how to romance your wife sexually? Rest assured that most of the information in this article applies to you, too. However, you might also want to hop over to the Bad Boys Bible Guide to Pleasuring a Woman for more tips!
1. Discuss Beforehand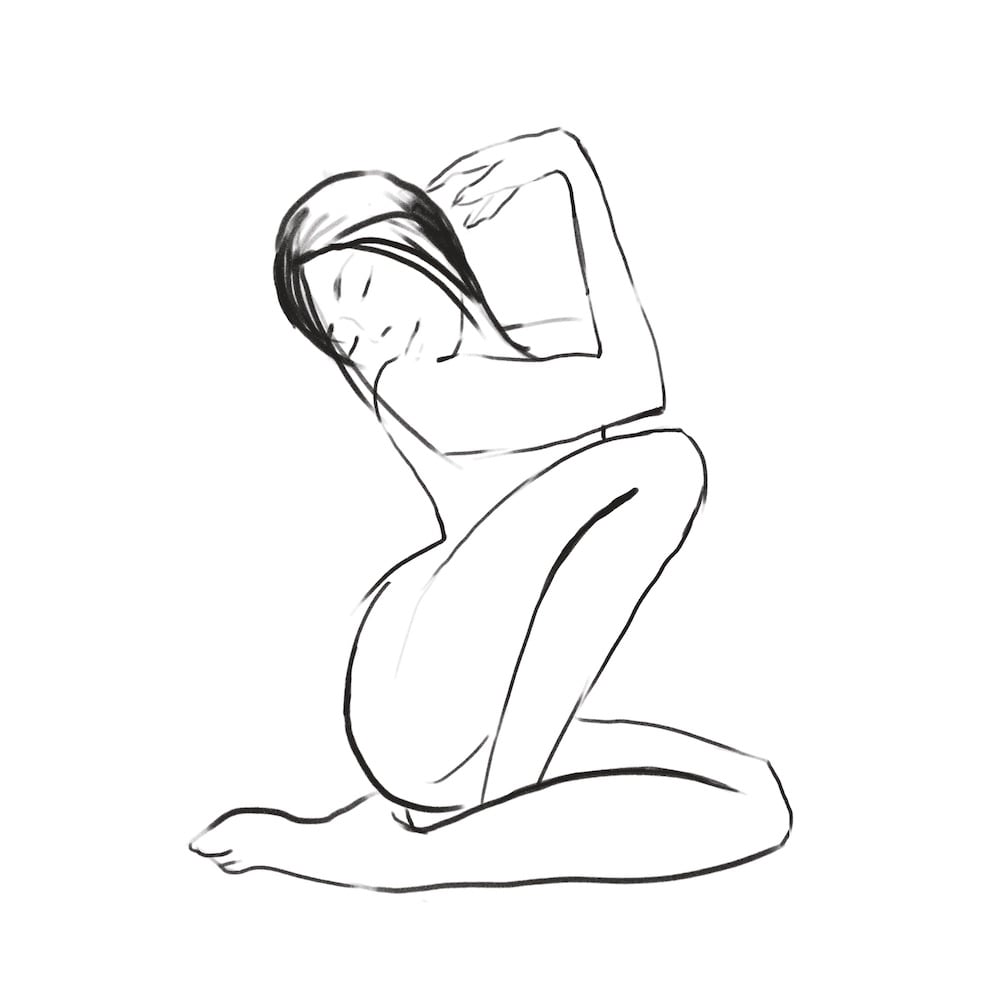 Good communication is key to romance and having romantic sex with your man. It's important to talk about personal topics, not just about the kids or home maintenance. During one of your talks, mention that you want to make sex more. You want to make sure that you and your honey are on the same page in the romance department. Explain to your man how much you both need some romantic "date nights" together, how they will bring you closer and how much fun they can be.
Don't be afraid to be specific. If your man isn't super romantic or has totally different ideas of romance, you might be disappointed when he tries to bring that into the bedroom. So if you want champagne, rose petals, eye contact, and romantic music, ask for it.
You can't expect him to read your mind!
When he knows exactly what you want, you've got a better chance to get it.
Don't know what you want? If you don't know, then he won't know how to be romantic in bed.
You might need to take some time to figure out just what romantic sex means to you, and that's okay! Perhaps this is something you can figure out together. What does your flavor of romance look like?
It's important that you talk outside of the bedroom (assuming you're in a relationship with this guy and have the opportunity to do so). If you're already in the throes of passion, you're both feeling pretty vulnerable and suggestions to have more romantic sex or do something different can come across as criticism. Instead, choose a neutral time and place when you both have time and attention to have the discussion and no one feels trapped or surprised by it.
We get it, talking about sex is hard. That's precisely why we wrote this guide to sexual communication. Check it out here.
Remember, even the way you ask to have sex can set the tone [1].
You're not done talking about sex once sex is over, however. Afterward is a great time to let your man know what you really liked. This is known as positive reinforcement, which is "anything that occurs after a behavior that increases the likelihood that the behavior will reoccur [2]" as opposed to negative reinforcement, which tries to reduce or remove unwanted behavior [3, 4].
Positive reinforcement has been used by teachers in classrooms [5, 6, 7], parents [8], with animals [9], and even with drug users [10]. In other words, encouraging your partner when he does things that you want is one way to get more of it.
By using positive reinforcement, you can gently correct your partner when he does something less than stellar. For example, instead of saying something negative such as "Stop" or "Not like that," you can say "That feels good, but it would feel amazing if you did [insert technique here]."
You're providing positive reinforcement, complimenting your partner, and getting what you want. That's what I call a win-win situation!
2. Plan a Weekend Away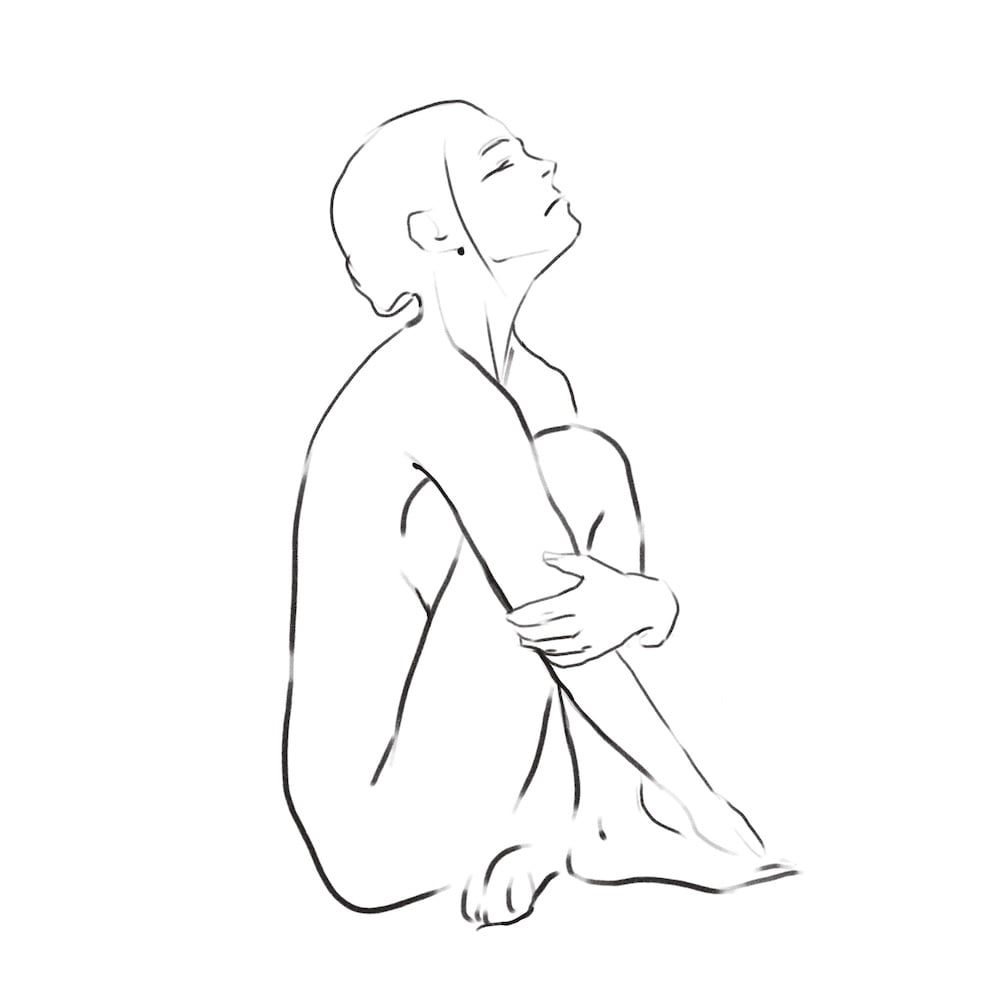 If you can swing it financially, plan a weekend getaway at a luxury hotel or a bed-and-breakfast. He'll appreciate the fact that you did all the planning and all he has to do is show up. Plus, the excitement of getting away for the sole reason of having romantic sex should be enough to get his — and your — heart racing. If you can't get away, you can still set up some romance at home, which we will discuss later.
Just the thought of you going to the trouble of setting up this weekend with him is romantic, which is a great start. Research the best restaurants or nightclubs for dancing in the area, so you'll have something fun and romantic to do to set the mood for even more fun when you get back to your room.
Check if the hotel has a couple's suite or romantic package. These often come with champagne, flowers, candy, and perhaps a trip to the spa for both of you. These packages are often available for honeymooners or Valentine's Day celebrations, but you may be able to find them year round at some hotels.
One thing people overlook when planning a sexy weekend at a hotel is the planning. When you make hotel and dinner reservations, you're setting aside a chunk of time to spend with your man, usually with the intent of having romantic sex at some point. You'll probably feel more connected and relaxed after your weekend.
But even if you don't have an entire weekend or can't afford a hotel, you can still make time for sex. Don't balk at the idea of scheduling sex.
Scheduling sex could change your sex life for the better.
Scheduling sex is better than never having sex at all, isn't it? And it's better to take your time than rush through it like it's one more thing to do before you can finally go to sleep. That's how so many people wind up in a sexless marriage. More on sexless marriages (& fixing them) here.
A regular date night provides you with time and space to connect with your man. And because it's not a surprise, you can feel fully prepared beforehand and not feel rushed during!
3. Shop for Something New to Wear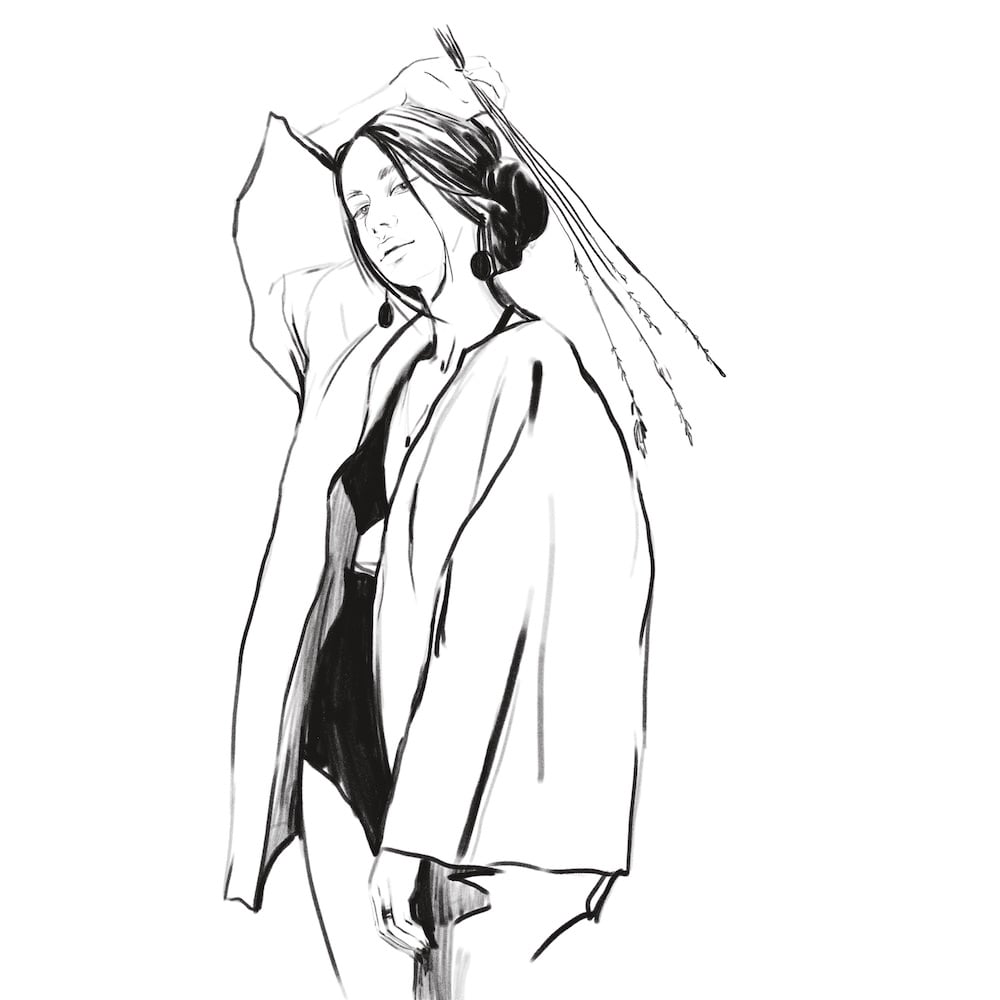 Now that you have the weekend planned, shop for something to wear, both for out on your date and for when you return. Go ahead and get that bodycon dress or sexy lingerie that you can't wear in front of the kids or to work but that you know your honey will appreciate. Pick something you know he'll like. You can find more tips here on dressing sexy here.
And don't forget the lingerie. It might seem silly to you now if you've been married for a while, but a sexy little number never ceases to excite a man. Men are visual creatures. If you want his eyes and attention on you, get a sexy little number that flatters your shape.
Curvy women look hot in a sturdy, lacy bra and boy shorts or high-waist panties. A push-up, side paneled bra paired with a thong looks great on women with a boyish or straight shape. And don't forget to pick him up a little something to wear, too. What man wouldn't want to know that you find him sexy?
Get more tips for picking lingerie that you'll feel comfortable in and will flatter your body.
4. Set the Scene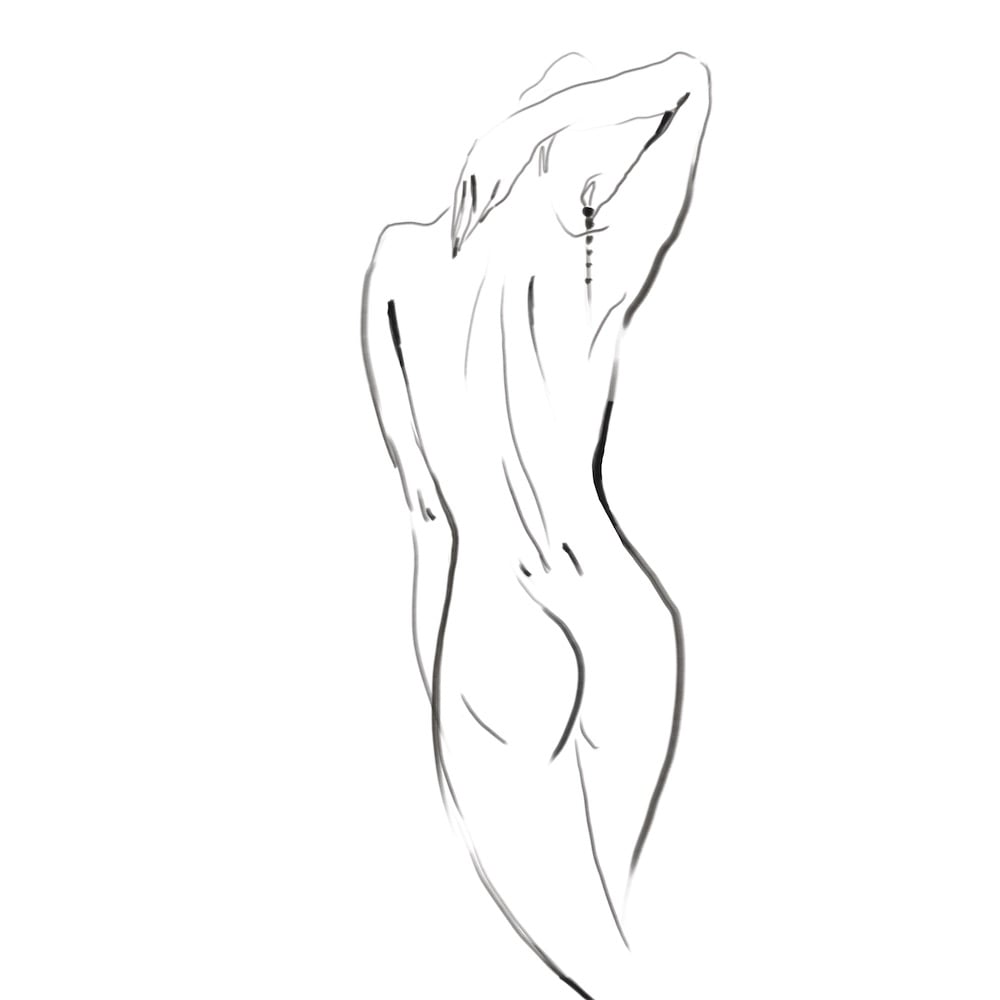 If your budget simply doesn't allow a hotel or bed-and-breakfast, don't try to splurge if the anxiety you'll have from spending too much will be a buzz kill for both of you. But don't worry; you can still achieve the same goal right at home.
Plan for your kids to spend the night at their grandparent's or a friend's house. You can return the favor later. Once you have the place to yourself, set the mood to make the place seem more erotic.
Remove any clutter from the room, and then fill the space with scented candles, incense, or flowers. Some massage candles smell amazing and allow your hands to glide right over your lover's body. This is just one idea of a romantic thing to do for your boyfriend in bed.
Make sure to have some cozy, soft material around. Spritz the bed with something that smells good, perhaps your perfume. Fresh-washed linens can make your night feel especially cozy.
Put on the type of music you both enjoy or you could even put on a white noise machine/app if you're not in the mood for music. For some people, opening the window to let in the sounds and smells of nature helps to increase the romantic mood. Just make sure the neighbors won't hear.
Check out this playlist full of romantic songs to make love to.
Don't forget about temperature. A room that's too cold won't have you wanting to take off your clothes. But if you're already sweating, you may not want to move to have sex at all.
If your idea of romantic sex stems straight from the big screen, why not try some romantic sexual ideas from your favorite movie? This could mean rose petals leading to the bedroom and bed (real ones can stain, but fake ones last forever), champagne in an ice bucket or chocolate-covered strawberries. In fact, feeding sexy snacks to your man can be part of foreplay, which we'll get to in a bit.
Dim the lights. Use a bedside lamp instead of the overhead light. Light a few candles (LED candles can add to the romance without the risk of fire). Or you can drape a scarf over your light source to cut out a harsh glare and cast a gentle color of the room. This is a romantic sexual idea that's super simple but has a big effect.
Don't necessarily feel you have to do this in the bedroom. Since no one's home but the two of you, you might want to plan your romance in a different room like on the couch in the front room.
Pretend you both are young and newlyweds again, back when you were both spontaneous and passionate. Or if you want to stay in the bedroom, bring something new to the table. Massage oils and lotions are very romantic. They also provide a great way to de-stress and relax.
5. Start With a Massage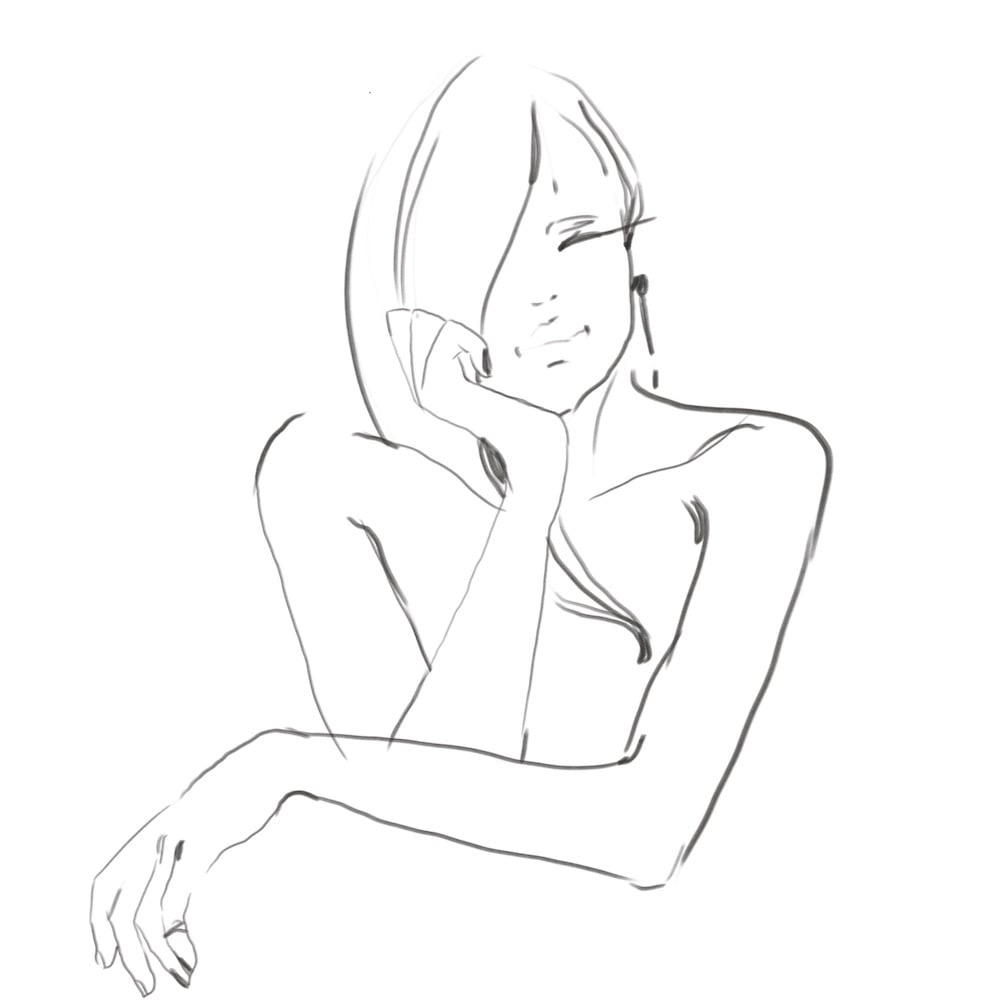 A sensual massage is a great way to melt away tension in your body, the same stress that can make it hard for you to get in the mood.
Plus, it gets your hands on each other, so it's not just your genitals touching. You'll want to keep that up from foreplay to orgasm. Touch every bit of his body. He should do the same with yours.
Try to stimulate all his erogenous zones.
This ensures you're fully connected, which can make it feel more like making love in a romantic way than just sex (check out this guide to making love). After all, you're more than just your genitals. You're a person, and you're connected to your partner.
A sensual massage can help you get into the right head space, and you can return the favor.
Not sure where to start? Check out this article on sensual massage.
While you can purchase massage oils and candles, a slick lotion or oil can work in a pinch. In fact, you can even use a plant-based oil such as shea, coconut or even olive oil, which you probably have on hand. And silicone-based lube works well for body massage as well as penetration.
6. Foreplay for More Play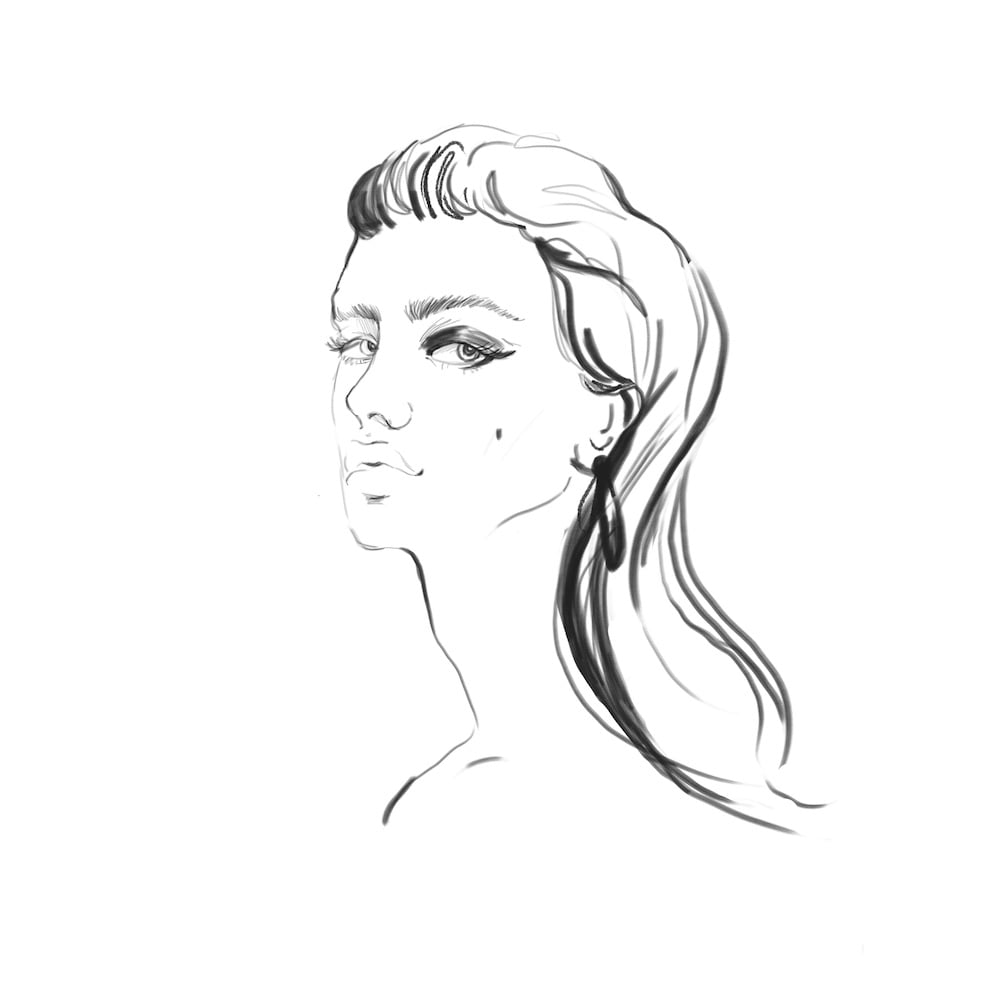 One simple thing that can make sex romantic is simply slowing things down. While there's nothing wrong with a quickie now and then, take your time to really connect with your man.
Related: The Ultimate Guide to Slow Sex
This means not skipping on foreplay, which by the way, may be essential for you to get in the mood and have the best chances of having an orgasm.
In fact, foreplay is so crucial to so many women — and some men! — that it might as well be called coreplay. It can change your entire experience.
7. Talk Romantically (& Talk Dirty!)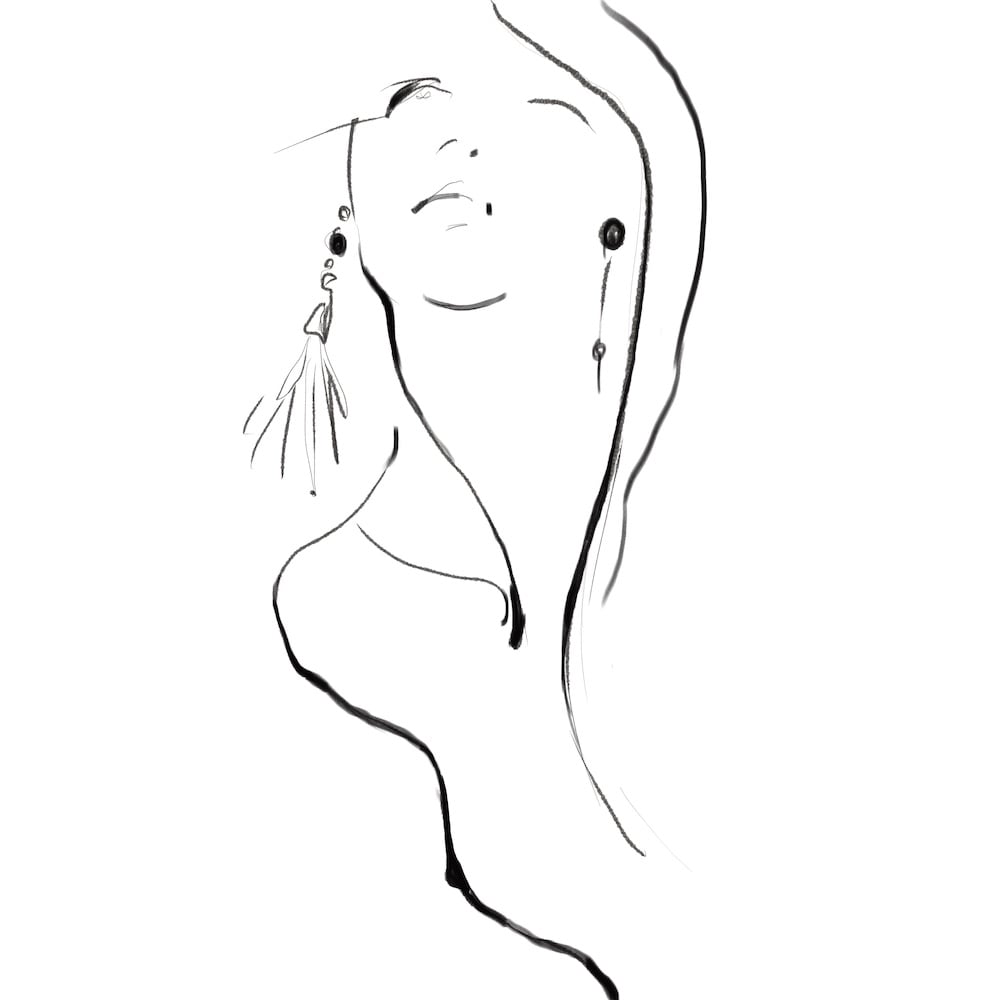 Now that the night has arrived and you're on your date, you need something to talk about after complimenting each other on how sexy you both look. Avoid discussing what you normally talk about at home — this talk is about the two of you being intimate. Start by telling your man what you appreciate about him. Let him know all the ways you value him, such as telling him what a great dad he is and noticing how hard he works to help provide for the family.
Unsure how to talk dirty? This post will give you the skills to talk dirty without feeling self-conscious.
But it doesn't need to be filthy talk. Instead, focus on loving words, compliments, and your emotional connection.
This type of talk shows your man how much you care for and love him and that, although you can handle life on your own, you still need him.
Tell your man that you would pick him all over again. Reassure him that working long hours or taking some time to hang out with the guys is OK. He'll feel more relaxed and more in the mood for some long romantic hot sex.
Oh, and once you are having sex, you might want to incorporate some romantic dirty talk too.
This guide will show you exactly how to talk dirty to your man.
8. Focus on the Journey, Not the Destination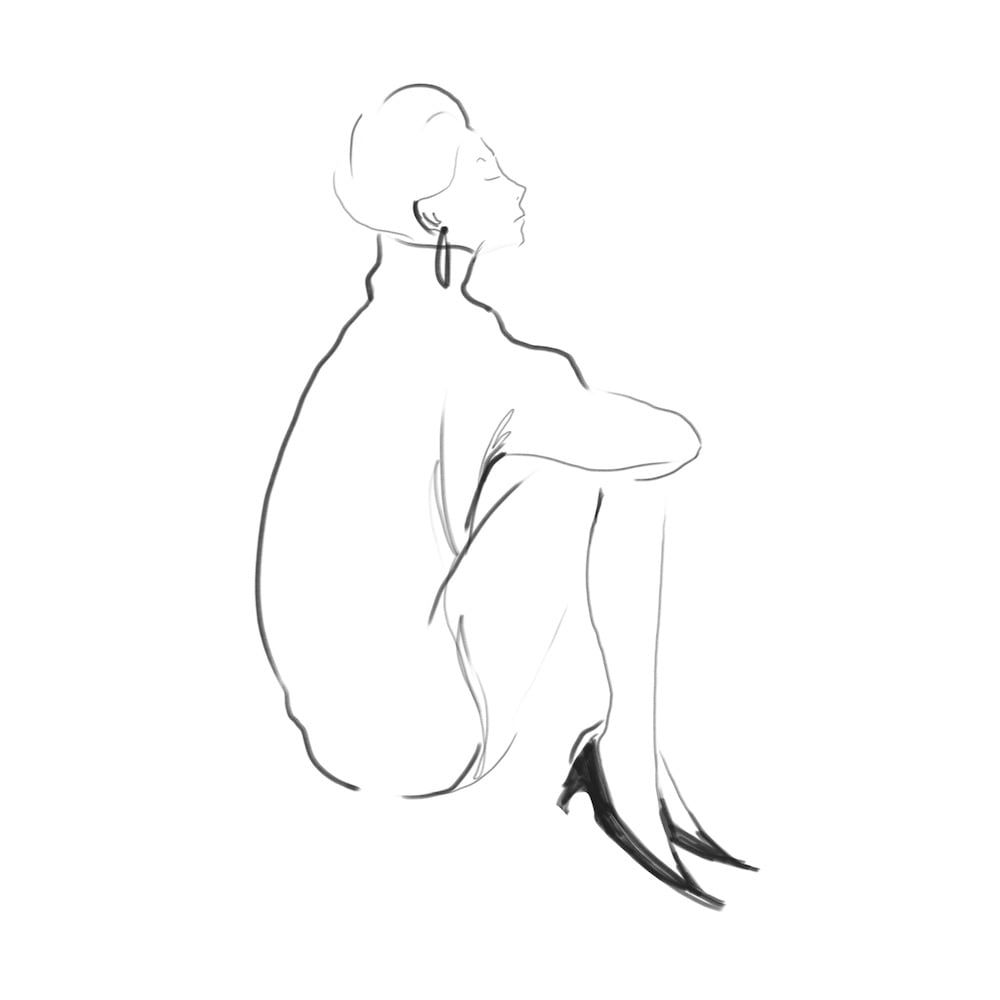 Romantic sex is all about taking it slowly and prolonging the act. The focus isn't the "big O" here, but interestingly, combining a romantic connection with sex improves orgasms for most people. Look into each other's eyes during sex, especially if you usually close them, to ensure a stronger connection.
If you can, then incorporate the practice of tantric sex into your romantic sex, which is a form of tantra yoga that features prolonged lovemaking. The goal of tantra is for both of you to be in touch with your bodies, not just to have routine sex. Start by harmonizing your breathing. Sit on his lap in straddle position, and inhale his exhaled breath. He does the same and inhales your exhaled breath. Make sure when you do this to let the breath flow into your entire body, and watch as he does the same with your breath.
Discover the possibilities of Tantric sex.
This naturally leads to mindfulness, a practice where you're completely aware of what's happening right now [11]. An important element of mindfulness is not making any judgment [12] of your thoughts or feelings, which can help to make it easier to reduce your anxiety and reach orgasm more easily. This practice has been found to be effective at battling depression and anxiety [13], but it can also improve your sexual satisfaction [14 p 84, 15] and increase arousal [16].
Mindfulness is one of those things that is far easier said than done. We often don't let ourselves remain in the moment, but you can start by being aware of things around you. What can you see, hear, feel, smell, and taste in the moment? How does your body feel?
When you notice your attention drifting to tomorrow's to-do list or worries about how your body looks, shift back to focusing to the here and now.
If it's hard to be mindful during sex, you can practice mindfulness during the beginning of your day. Find a few quiet moments to sit and breathe. Pay attention to your breath and how your body feels. If your attention wanders, gently redirect it back to your breath.
It's important to repeat this practice to become more skilled at mindfulness [17].
9. Don't Forget to Kiss
Kissing is often is passed over during routine sex but is an essential part of romantic sex. In fact, some people don't kiss when they're having casual sex. They reserve those passionate kisses for romantic partners alone.
So if you want to make sex romantic, plant one on your man!
You should already be super relaxed from the breathing exercise, so your kisses should reflect that, and they should also be slow. Circle the tip of his tongue with your tongue. Then massage his tongue with yours. You should both be feeling the love you have for each other.
Need to brush up on your kissing skills? Take a look at these 22 hot kissing techniques.
10.

Try These Romantic Sex Positions

What's just as important as kissing when it comes to romantic sex? A romantic sex position.

What makes a sex position romantic? It depends.

For some people, sex needs eye contact to be romantic.

If you're one of those people, then positions where you're facing your man, will do the trick — but you don't have to stick with Missionary. There are plenty of other options!

Another thing that can make a sex position feel romantic is being close to your partner. There are a few sex positions that do this.

Check out the romantic sex positions below for ideas.
The Lotus Position is Perfect…if you're flexible
Any position that allows you to look into his eyes is romantic. That's why I always recommend something like the lotus position (demonstrated here) if you are flexible enough and you find it comfortable.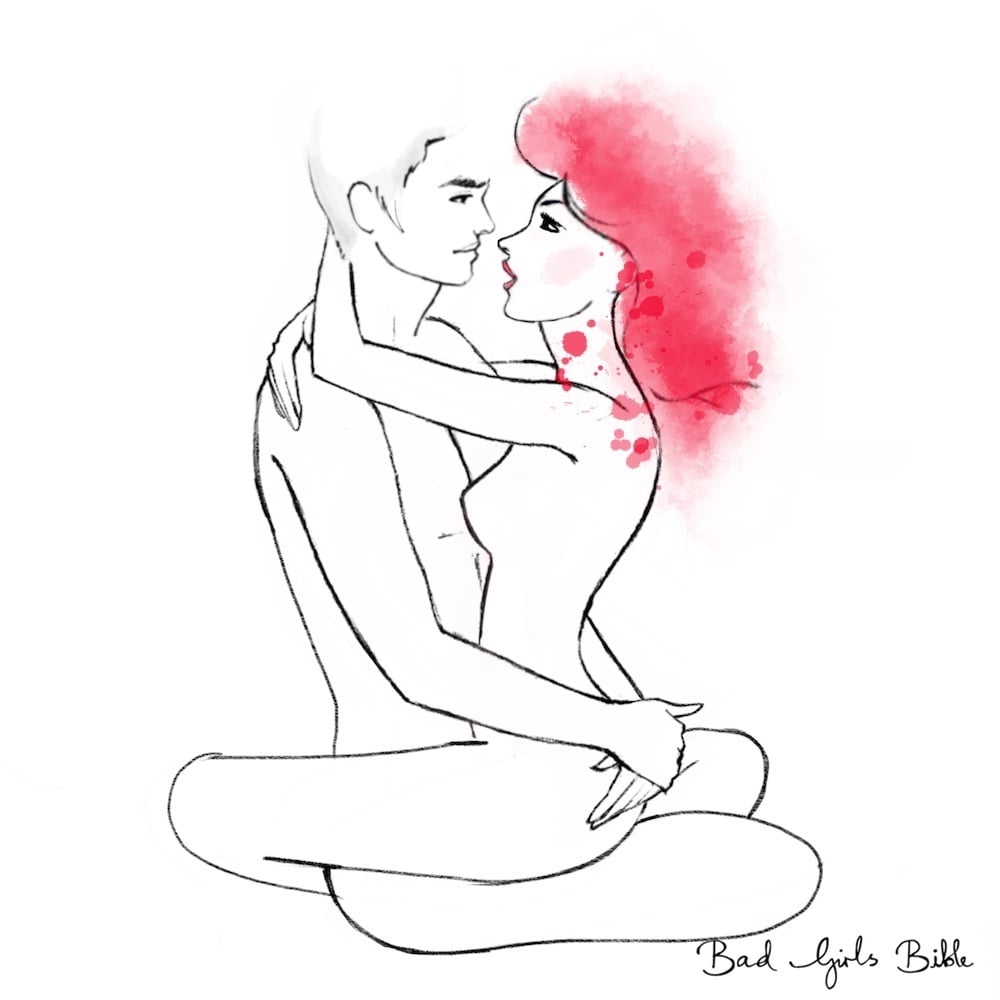 Keep your movements slow and rhythmic as you feel his breath on your lips. You should get some good stimulation in this position, and he gets a good view.
Go Back to Basics: Missionary
The Missionary position might be the old go-to position, but it's popular for a reason. It's perfect for when you want to have romantic sex with your man, and it allows you to continue eye contact. He can run his fingers through your hair and gently touch your face while you're both moving in perfect rhythm. Plus, both of your bodies will be in full contact with each other.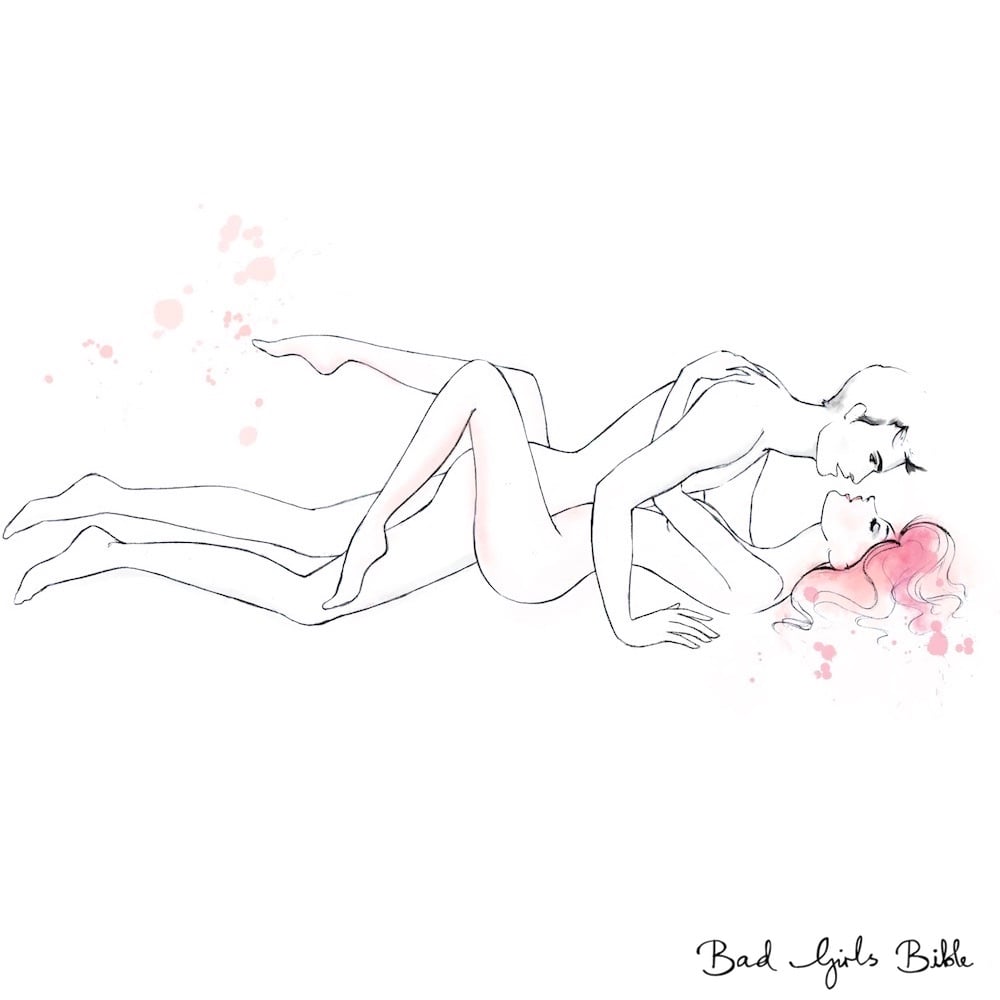 Try varying the position by putting your legs over his shoulders so that you are in the Anvil position, as demonstrated below. This allows the deepest penetration, and it allows you to keep on those sexy high heels you just wore for your date night. Again, keep things moving slowly, especially when your legs are over his shoulders; it could be painful if he gets too deep too quickly. Communication is key with this sex position.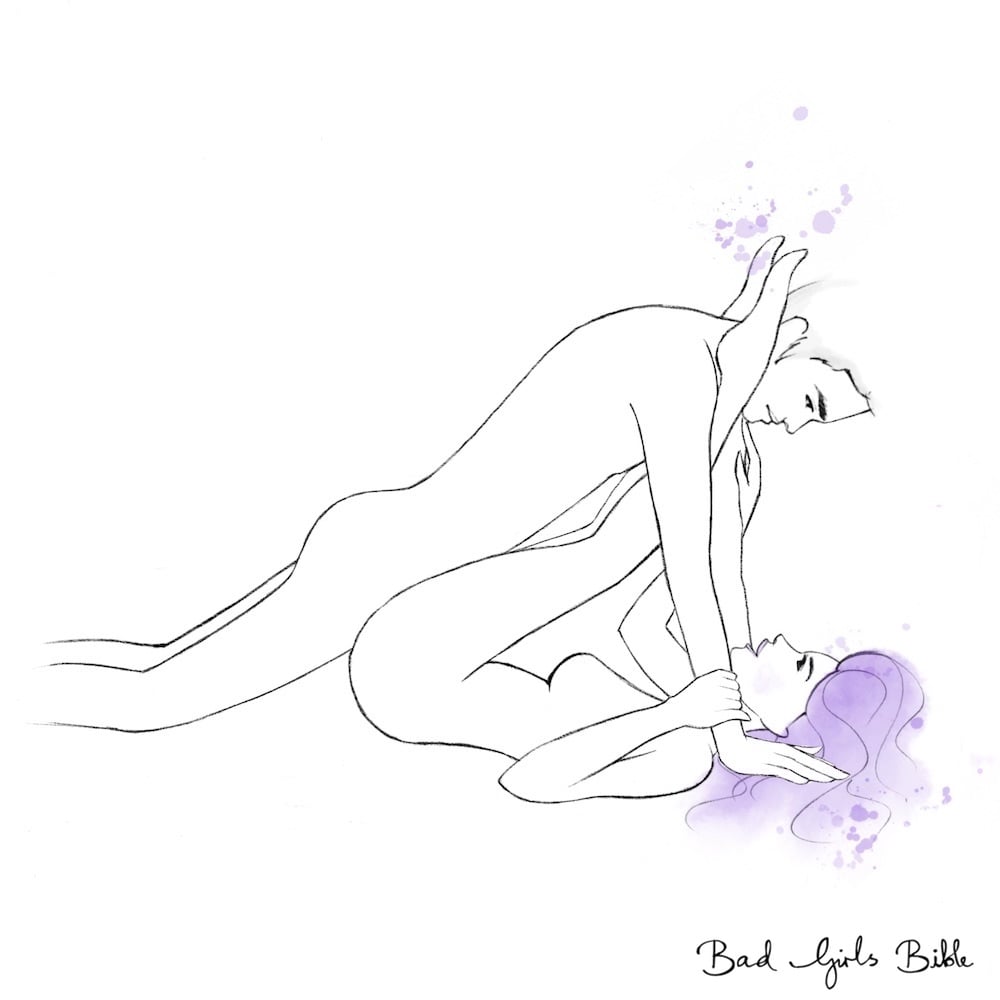 Another variation with the missionary position is for you to keep your legs closed. Although your legs are closed, this position opens up a whole new range of sensations for both of you.
Keeping it Basic: Spooning
If you want more advanced sex positions, then check out the other 100+ sex positions in the Sex Positions section here.
Spooning breaks the maintaining eye contact rule, but it's great if you want to learn how to have romantic sex none the less thanks to the amount of body contact it incorporates.
With him on the outside of the spoon, he is in a good position to give you slow and gentle kisses on your neck and earlobe while whispering what he's feeling about you right then. He's in a dominant position, so you should just enjoy it, and go with the flow. But you can always push back against him or change the angle of entry by changing your lying position.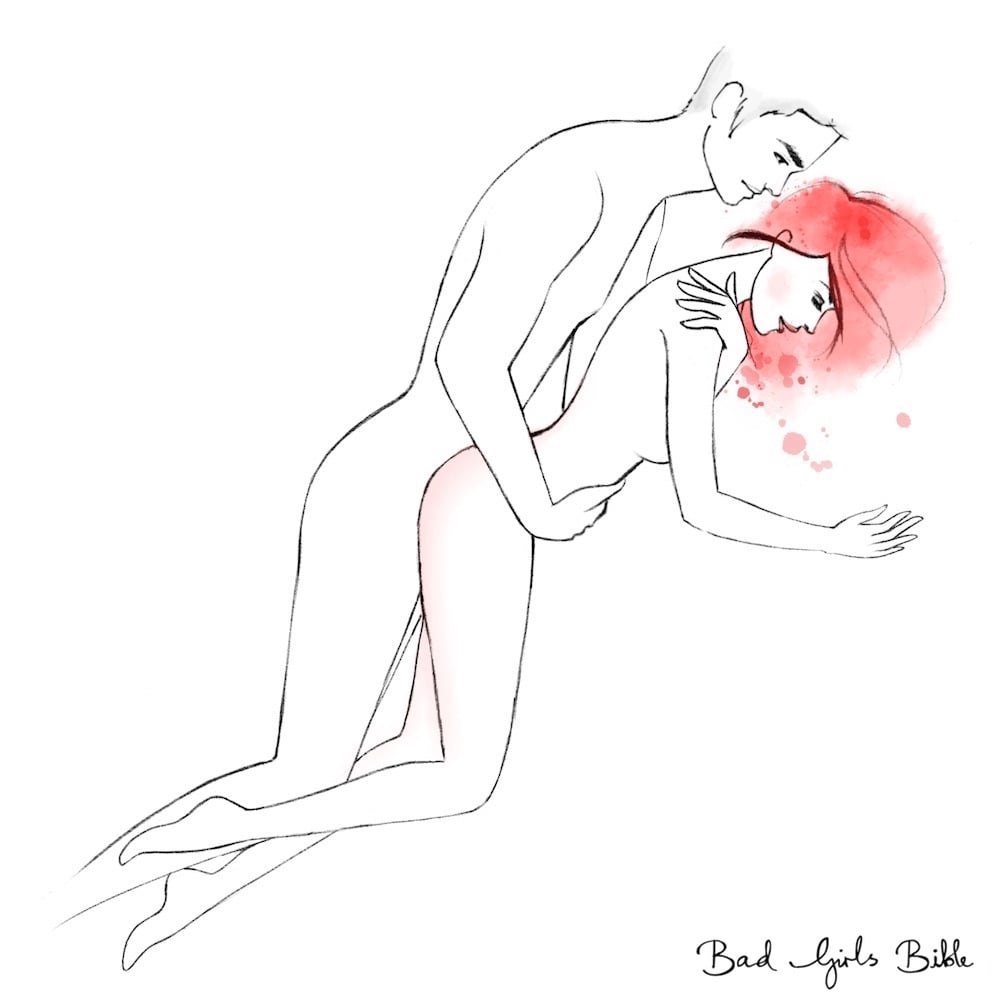 While you're lying on your side with him behind you, he can then enter you, and you can scoot your butt to him. This puts him in a good position to gently caress your breasts. After some time of this, flip over to face him, and keeping with the spoon theme, wrap one leg around his side. Now you can look at each other and start kissing again.
Slow Dance keeps you heart to heart
If you and your man can make this position work with your heights, it can be quite intimate. In the Slow Dance position, you both stand and face each other. Spread your legs a little so he can penetrate you (he might also lift one of your legs for easier access).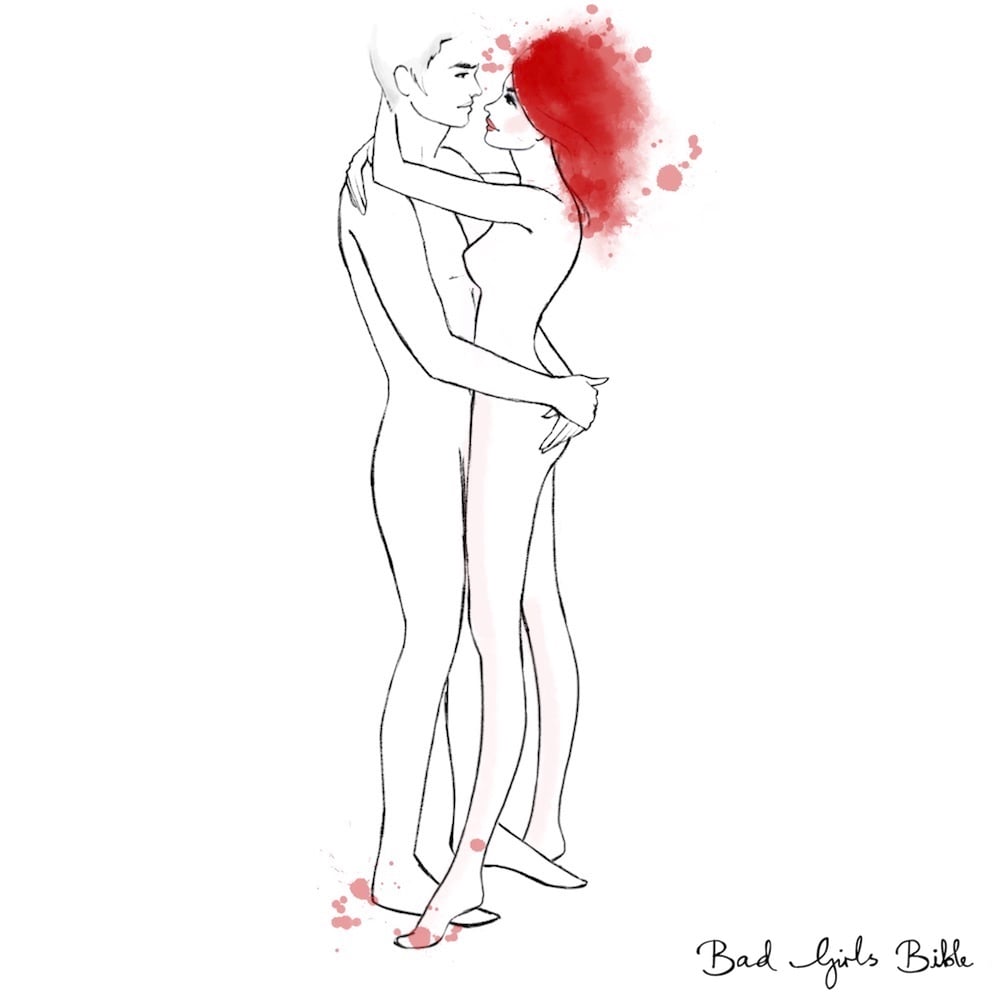 Get tips for the Slow Dance sex position.
Stand & Carry: You'll Never Feel Closer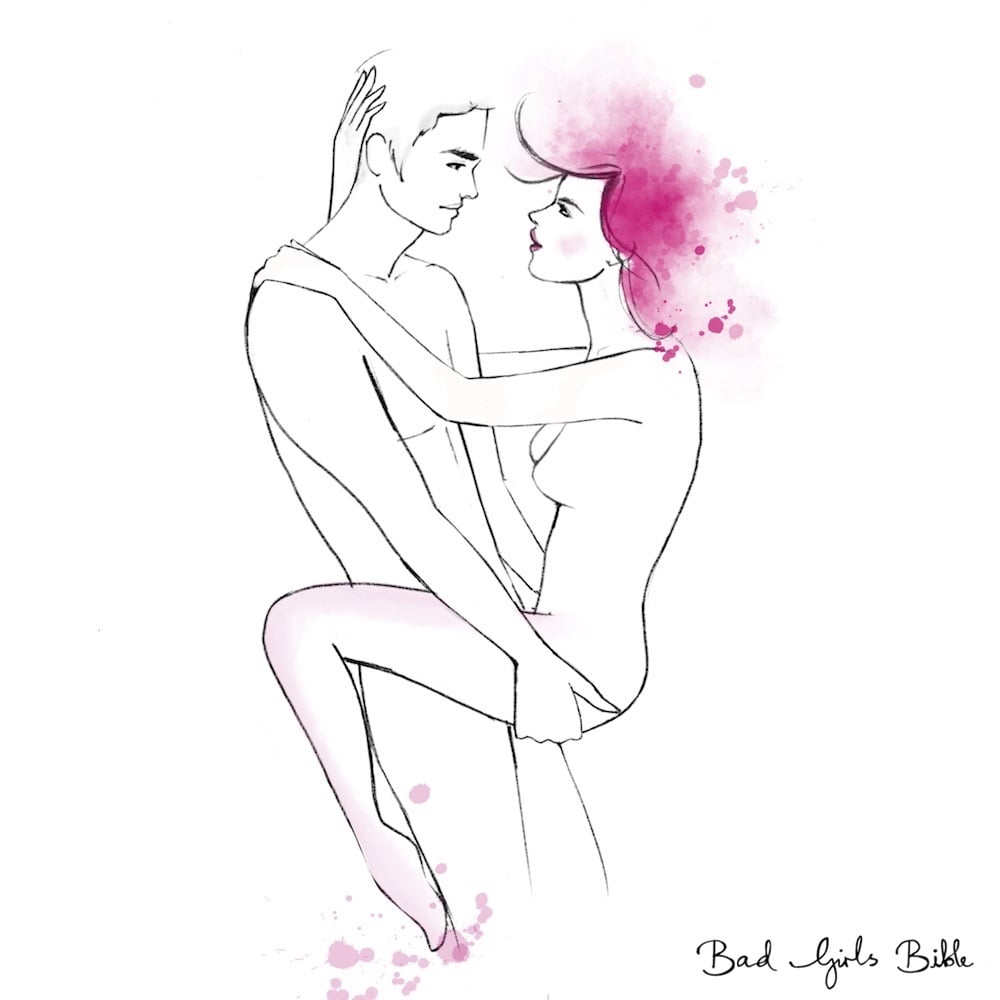 While this sex position won't work for everyone — your partner needs to be able to lift you up, it can be amazing when it does work right. You'll be safe in your man's arms, gazing into his eyes and able to see the pleasure on his face.
When he lifts you up, you can wrap your arms around his shoulders and your legs around his waist for added security. He can brace your body against a wall to make it easier. Then, he'll focus more on thrusting into you than lifting your body up and down.
If he gets tired, he can set you on a piece of furniture or lie you back on the bed to continue in Missionary position.
Learn more about the Stand & Carry position.
Of course, there are plenty of other sex positions to consider, and what you might consider a romantic sex position could differ from the next person. Don't be afraid to experiment.
Not sure how to get started? Try any of the sex positions on this list of 100+ best sex positions.
11. Cuddle After
Cuddling can be incredibly romantic. Your bodies are intertwined. You can whisper sweet nothings, caress one another, feel each other's hearts beating, and share sweet kisses.
Nonsexual touch is important to your connection.
You can cuddle any time you want — and it doesn't have to lead to sex.
But cuddling after sex can be considered a type of aftercare. That is, it helps you return to equilibrium as your heart rate stabilizes, the sweat dries, and hormones return to their normal levels.
A lot of women and men enjoy cuddling after sex but not everyone. So if it's something that's important to you, especially if your man has a tendency to nod off after sex, make sure he knows you want a few cuddles and figure out if he can give you five or ten minutes of cuddles before he falls asleep.
Remember, it's not his fault that he falls asleep after sex. It's because of all the chemicals. But when your partner tends to fall asleep after sex, you may actually want his affection and to bond emotionally more [18]. So it's fair to ask for a compromise.
12. Mind Your Expectations
While your head is probably swimming with romantic sex ideas now, and you might want to rush off to try romantic things to do for your boyfriend in bed, proceed with caution
Real life sex is never how it is in the movies.
You probably don't have an entire crew to make your sex life look — or sound — good. You're a real person with real flaws, but so is your man. Sometimes sex, even romantic sex, can be a little awkward. Sometimes one of you just isn't in the right head space, or it takes longer to orgasm than usual, so you call it quits.
These are the realities of real world sex, and Hollywood never depicts sex how it really is. That's okay.
But if you can't accept that, you're in for a rude awakening. You might never enjoy sex because you're too busy wanting something more, perhaps something unattainable. If you don't want to set yourself up for disappointment, keep your head straight and be prepared for possibilities that might not be exactly what you want.
Remember that sex is an experience that you create with your partner. It'll never be the same twice, and it would get boring if it was! There would be no room for growth.
When you understand this, you'll find that sex tends to get better and better over time. And it should be easier to have more romantic sex.
Keep the Romance Alive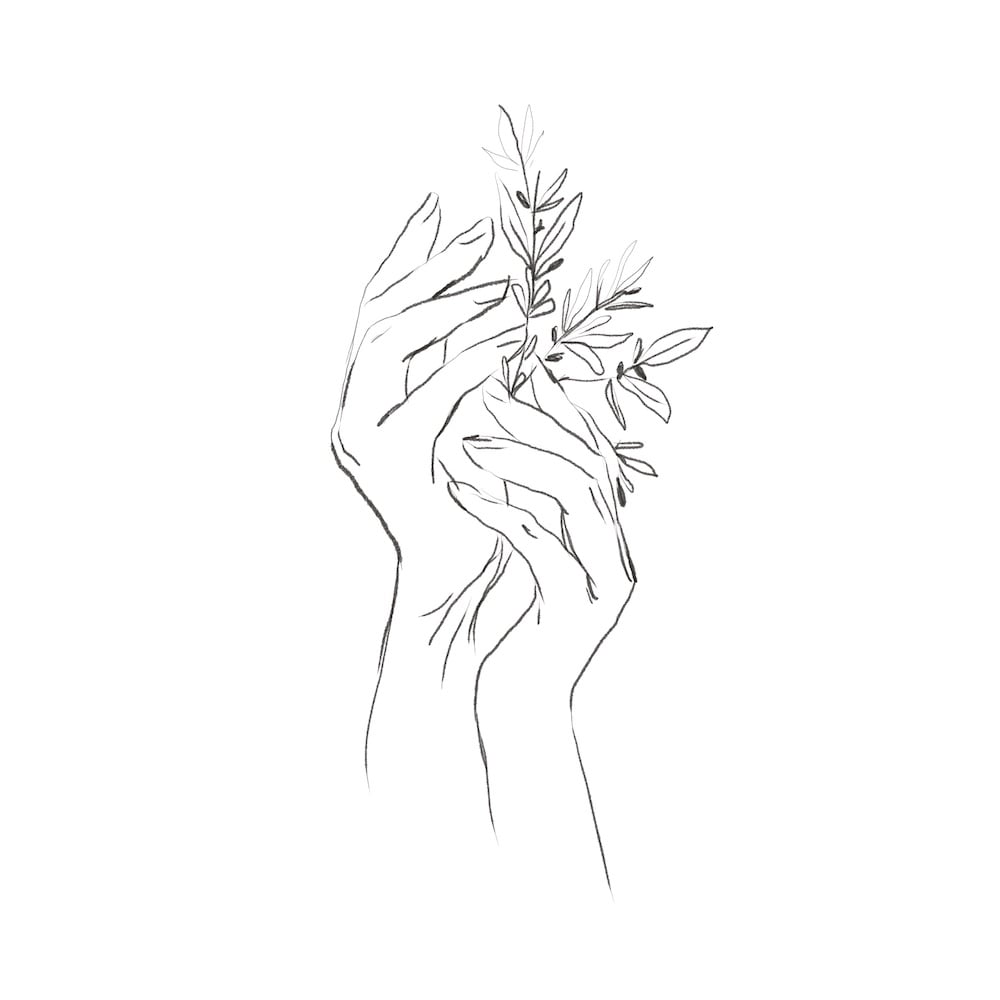 The exhilarating and passionate honeymoon phase usually doesn't last forever, a couple years at most, because your hormones will naturally begin to calm down.
But when couples work on their relationship, that honeymoon phase doesn't go away; it just changes to something different, a more calm type of love which is just as important for keeping your marriage intimate.
The key to remaining close in your relationship is communication to keep the connection going. You both need to trust and respect each other. You should be able to talk with each other about anything, and when you talk, be sure you are speaking in a kind tone. It's sometimes possible to tell whether a couple will stay together or break up just by the way they communicate. You both also need to overlook each other's annoying quirks — yes even you have some. Just knowing that you both accept each other, quirks and all, makes your relationship stronger, which can open the door to romance and having passionate romantic sex.
There is a myth that this should just happen [19], but it takes work.
Your relationship satisfaction is just one component of a good sex life [20, 21, 22], so don't forget to work on your relationship when you want to improve sex. Plus, your sex life affects the well being of your relationship [23], especially for men [24].
Romantic Is What You Make It
While this article contains many romantic sexual ideas that aren't exactly ground-breaking, it's important that you create the type of romance that works for you.
We've already discussed this a bit, but one thing it's important to emphasize is that romantic sex doesn't have to be stereotypical.
It doesn't have to be all rose petals and champagne. You don't have to make eye contact. Sure, this might be romantic to some people, but it might not be to you. And that's okay.
Rough sex can still be romantic. You can romance your husband through kinky sex. The power you exchange during a BDSM scene can be incredibly romantic.
Learn more in this introduction to BDSM.
Sometimes the most important factor of romantic sex isn't all the romantic sex ideas you try, it's the person you're having sex with!
So if you're completely smitten with this guy and him you, then your sex is bound to be at least a little romantic.
If you can't always get away for the weekend, try going on a picnic when the kids are at school, or do something you used to do together before life became complicated. While the Bad Girls Bible will teach you everything you need to know about having incredible sex, don't forget that there's more to a romantic and passionate love life than just sex.
Resources
In this post on Psychology Today, Elliot D. Cohen Ph.D. discusses whether you're making love or just having sex and the difference between those two things. Many people equate romantic sex to making love and not "just" having sex.
Dr. Lori Brotto's book Better Sex Through Mindfulness: How Women Can Cultivate Desire focuses on how mindfulness can help you to increase desire and have better sex, but mindfulness techniques can help you feel more connected to your partner and achieve the romantic sex you want.
Frequently Asked Questions
FAQ #1 – What if I want romantic sex but he doesn't?
This can go the other way, too. It's not just women who want romantic sex some or all of the time.
If you find yourself in this position, you need to come to a compromise to meet both of your needs [25]. Perhaps you alternate when someone wants romantic sex and the other wants a different kind of sex such as rough sex. Consider who wants or needs this style of sex more right now.
You can also look for ways that you can both get a little of what you want during sex. Perhaps it's rougher during penetration, but you make sure to cuddle and share pillow talk afterward.
Remember that someone not wanting romantic sex isn't necessarily a bad thing.
It doesn't mean your partner doesn't love you. They might just prefer a different style of sex or may want something different today. Or they may keep romance outside of the bedroom. And even if your man isn't romantic in the same way you are, he probably shows his feelings in other, perhaps more practical, ways.
However, if you find that you only want romantic sex and your guy never does or vice versa, it might be time to consider whether you're sexually compatible and if that's a deal-breaker for you.