Sure, we've all done dinner and a movie, probably more times than we'd care to admit. But what about the fun date ideas that really stand out in your mind?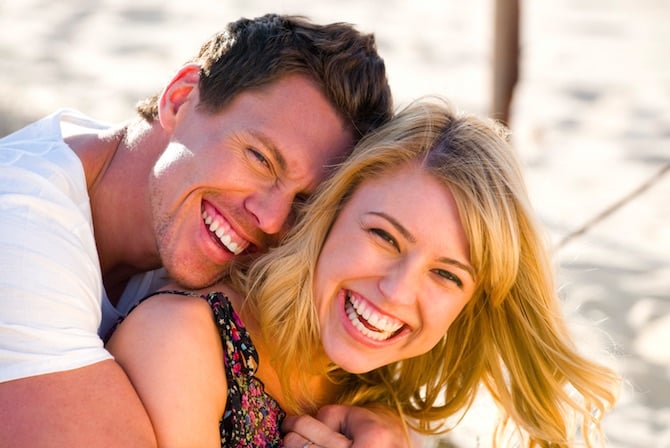 Besides being different, fun and interesting, planning and organizing them helps make your relationship, whether a budding romance or a date night for a married couple of many years, stronger, deeper and more intense, especially when you get home together. And when you do get home, the Bad Girls Bible will show you everything you need to know to have a lot of fun in the bedroom.
Important: Make sure you take your partner's likes and interests into account while exploring these fun date ideas; though tasting 12 different wine varieties sounds like fun to you, it may not be for your back-on-the-wagon partner.
Very Important: Lots of these ideas seem a little lame. That's the whole point though, the idea of the date isn't to be doing the coolest, hottest thing. It's to have fun, where you are laughing at yourselves, laughing at how silly the date is and just out of your normal schedule/routine.
Here are some fun date ideas to think about when planning your next great escapade:
30 Fun Date Ideas
Have a ball! Check out your local bowling alley. If they've got any special events coming up such as midnight bowling or 80's night, plan on having some fun with it. You can either enjoy the local cuisine or check out an awesome bar and grille around your bowling time for drinks and a meal.
Wine a little. For a really fun date idea, a wine, beer or hard liquor tasting, while planning on spending a little time to educate your palette on the different nuances between separate varieties of a drink is a great idea…if you both enjoy a little booze. Hint: If it's at a microbrewery, distillery or winery, don't forget to take the tour – you'll get some awesome insight into what happens during brewing.
Raise the bar. Spend the evening having drinks in a number of different bars, trying out their house specials and seeing which ones you each like best, and which ones you have in common as favorites. Hint: Plan ahead to have public transportation or a taxi ready to take you home after this fun date idea, just to make sure you're safe.
Stretch it out. Take a yoga or tai chi class together, then enjoy the extra flexibility later in the evening. Pair it with drinks at a juice bar, a meal at a local-foods restaurant or an awesome shopping excursion at a shop specializing in crystals, meditation tools and other spiritual offerings. Even if you think all this stuff is ridiculous, it can still be a bunch of fun to giggle at everything.
Hang out at an outdoor festival. Whether it's an evening ArtWalk, local jazz festival or your community's annual "insert-produce-here" festival, a really fun date idea includes checking out the local talent, enjoying festival cuisine and talking about the really campy stuff that's funny to watch.
Dine in instead of dining out. Cooking together can be a really fun time, especially if one of you knows a cuisine the other doesn't. Have fun teaching each other the nuances of Thai spices, Scottish shortbread or Ethiopian cuisine. Don't forget to feed each other tastes as you go!
Feel the rhythm. Take a dance class, whether it's a group class offered every week at the same time or, if your partner is stage shy, see about a private class. Try a dance you're not familiar with, such as the waltz, Foxtrot or salsa, to add more interest to the evening.
Level up! Checking out an arcade can be a really fun date idea if you are both at the same skill level. If you want to avoid the pre-teen and teen crowd, try going in the afternoon before school is out or later in the evening, when the kids are home in bed.
Take a hike. If you've got national, state or local parks nearby, take a picnic lunch (or dinner) and go exploring. Pack some binoculars to watch wildlife and take advantage of any tours or special programs you're interested in. Don't forget to check the park rules before bringing alcohol – many parks do not allow it.
Up, up and away! A hot-air-balloon ride, flying lessons or a quick tour by airplane or helicopter gives you a romantic, bird's-eye view of your area. Have some fun locating places you know. Hint: Pack a fancy snack and light drinks to enjoy while you're up, unless one of you has motion-sickness problems – then pack Dramamine.
Get your hands dirty. Stop at a pottery shop to create a unique piece on a wheel or paint your own special pottery to commemorate the evening. A fun date idea? Paint wine glasses or beer steins one night, then pick them up for an at-home wine tasting for your next date.
Are you the literary sort? Hang out at a bookstore for a couple hours, talking about books you've enjoyed and ones you haven't had the chance to read yet. Browse through the poetry section to find interesting pieces to read to one another.
Bring back some retro romance. Find a drive-in theater, whether original or brand new, and enjoy watching a movie together on the big screen, but with more privacy than a regular theater. Bonus: You can steam up the windows like Rose and Jack on the Titanic.
Hit the carnival. Whether you've got a carnival in town or just decide to enjoy the local theme park, spend some time enjoying food, rides and games like you did as a teenager. A fun date idea could include enjoying a Ferris wheel ride, playing a few carnival games and just enjoying each others' company.
Try a themed night at a club. Whether it's 80's night or a gothic revival, playing dress up can be a lot of fun! Letting your inner selves show will help you and your partner learn a lot more about each other.
Take a cooking class together. Whether it's fine French cuisine, learning how to roll sushi or enjoying some masala while learning Indian cooking, a cooking class will not only give you a memorable evening, but the ability to re-create the cuisine on your own later on. Hint: Don't forget to ask about allergies – it won't be any fun if one of you is sick the entire time.
Go out together, separately. If you're working on a long-distance relationship, why not go out together while you're apart? Make plans to both hit the same type of restaurant at the same time, rent a movie or watch your favorite show while talking about it on the phone or over Skype. Hint: Don't forget to get a little steamy in your talk when you have some privacy; phone sex can be very hot across the great divide! This guide on phone sex and this one on skype sex will help.
Do the tourist thing. Check out a local motel for fliers on popular attractions in your area and check out a few you haven't seen yet. You may discover some local gems such as a tourism-friendly farm or even amazing natural sites you didn't realize were tucked away in your town.
Check out a museum. Whether it's an art gallery, a museum that collects specific artifacts or a local history museum, you're sure to get an education and some culture. If you've got a themed museum in the area, plan the rest of your night around it as well. Mining museum? Check out some art jewelry shops, rock shops or other places with fun, sparkly things.
Try something you've always wanted to do. Whether it's a bucket list item (you'll find our sex bucket list here with 243 things and counting to tick off) or just something you haven't tried before, stretching your wings and exploring a new possibility is always more fun when there's two of you. Even better, you may find that both of you like it enough to find something more you have in common.
Take a mini road trip. Instead of going cross country, drive an hour or two to explore an area you haven't had the opportunity to see before. Pack a bag with some snacks and drinks, grab some music you haven't listened to in a while and just enjoy getting out and about together.
Get down and dirty. Try out a mud run, paintball or ATVing at a local place; grab some clothes and shoes you're not afraid to get dirty, take some time to read the rules and just have fun with it! If you're trying to protect an awesome manicure, don't forget a pair of decent gloves. The bonus? Cleanup, of course!
Play games. Dig out the cards and play a few games, whether from your childhood or perhaps a more risque version of poker, like strip poker? Order a pizza and get a selection of beers to accompany the evening, or grab some finger foods and awesome wine pairings to help your inner child come out to play. These dirty sex games and these ones too are great for really spicing things up.
Dress it up. Have a fancy-dress date at a really awesome restaurant, then check out a great show at the opera or theater. But if money is a concern, fix a fancy, candle-lit meal at home. These tips on dressing sexy and this guide on picking the perfect lingerie will help.
Knead the tension away. Hit the spa for a couples massage or massage class, giving you the advantage of learning different massage techniques to help each other unwind, while discovering what works best for you. Hint: Don't be afraid to pick up some awesome massage oils or lotions you liked for practice later on in the day. If you really like it and are shy, order some sensual massage oils online to save the embarrassment. This guide on massaging your man will get you up to speed.
Get stars in your eyes. Whether it's stargazing at a local park or enjoying the offerings of a local observatory or planetarium, spending some time enjoying a beautiful starlit sky together helps set a wonderfully romantic mood for the rest of the evening. Hint: Download a sky map app to help identify the constellations you're not familiar with.
Get out on the water. Whether it's renting a paddleboat or canoe, hiring a boat for a sunset cruise or dinner on a showboat, being out on the water always creates a natural romantic setting. Bring some awesome treats along, some romantic music (in a waterproof container) and enjoy the surroundings. Hint: As with air travel, if motion sickness is a concern, bring the Dramamine along!
Flip a coin. Instead of planning an evening, let chance take you where it may. Flip a coin whenever you need to make a decision (downtown or out-of-town, Italian or steaks, club or park) and do whatever Fate brings your way. Hint: Pack a bag of "just in case" items including a blanket, snacks, a shawl to dress up an outfit, hiking shoes, some spare cash and similar items in case they're needed.
Pick your own. Get out into the country, enjoy the fresh air and spend the day at a local farm picking produce. When you're done, go home to make dinner or dessert with it. Salsa is an awesome option as you discover who likes spicy and who likes non-tomato salsas. Many local farms offering you-pick options will have some awesome recipes to try out – give them a shot and see what you both like or don't like about them. Hint: Don't forget the sunscreen and bug spray!
Go retro. Hit a local thrift store, flea market or antique mall and see what cool, cheesy or downright odd things you can find. Reminisce about the things you had growing up that you still have, or the obnoxious things you couldn't wait to get rid of. See if you can find a piece to do a DIY project with. Bonus: You get to create something together and get to bond and share experiences while you're working on it, which can make it a really fun date idea to try out!
Just remember, not every date has to be a bold new adventure! If it is, then your man is going to get tired of it pretty quickly. Spending some quiet time together watching TV or taking a walk around the neighborhood is an awesome way to get to know each other and enjoy each other's company. Ensuring that you are doing something fun on your date every once in a while can make your relationship even more enjoyable and memorable, especially if you usually end up at the same old restaurant. Whether your date takes extensive planning or just requires you to get outside the house, remember that the most important part is having a great time together.