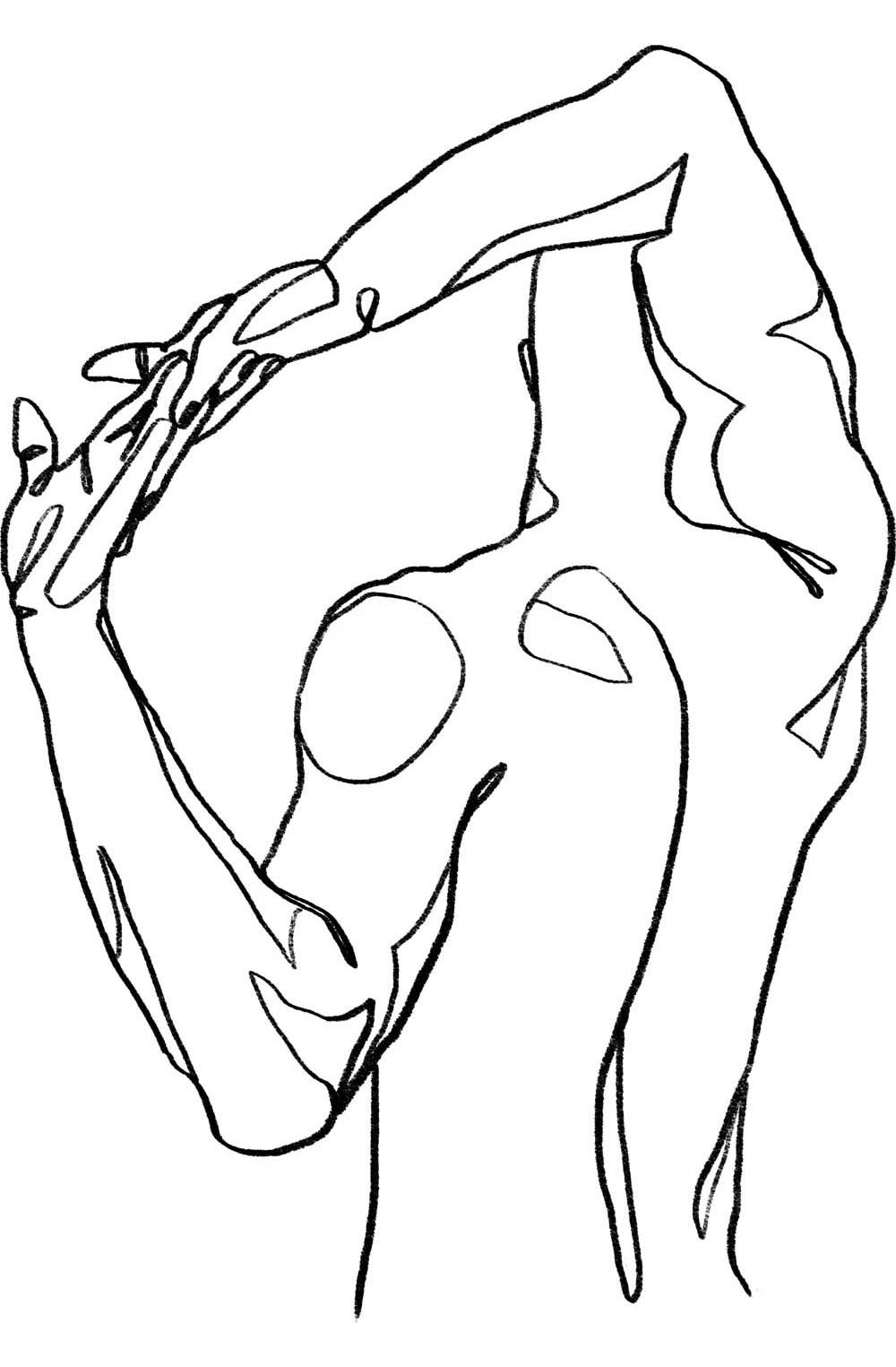 We asked 86 men what a blow job feels like for them. Their answers are below, ranging from "A good blow job feels like the person giving it is trying to suck out your soul through your dick" to "When the woman seems disinterested or like it's a chore for her, I'd rather not have her do it at all. I like to have connections when being intimate."
We got so many responses to what it feels like to get head, that we decided to split them into 2 sections, what a good blow job feels like and what a bad blow job feels like.
51 Men Tell Us What A Good Blow Job Feels Like
When we asked people what a good blow job feels like, many of their responses followed similar themes. So, we grouped their responses around these similar themes. Enjoy!
The Deeper, the Better
It's enjoyable when she uses her tongue all around, she uses her lips to suck and squeeze, she tightens her mouth, tongue, and lips at the same time as she takes me in and out. Then, she holds it in the deep throat positions while she does some sort of magic I haven't figured out. I also like it when she uses her hands and her tits.
I love it when she spits on it and gets my dick really wet and sloppy, and I love when she deep throats I shake and moan a lot. Side note: How to make a man shake in bed.
A little deep throat, a lot of licking the tip, especially on the underside. It makes my toes curl and feels like I'm edging. After that, my mind goes completely blank.
In-depth guide: Learn how to deep throat.
It's Different From Intercourse
The climb to climax is not the same as vaginal sex. You get teased for so long, just enjoying the view and the service. You don't even know when you got so close to orgasm, it feels amazing.
It's lighter than a handjob and softer, more teasing than a vagina.
You're able to build or anticipation by doing different things than having sex vaginally. Depending on the girl, it feels different, but monotony would be boring.
Really Getting Into It aka Enthusiasm is Key
Her mouth feels wet and warm. She sucks on the head of the penis and engulfs the entire shaft. She's not afraid to be sloppy and most of all, what makes a great glow job, is when the woman has no inhibitions.
If I'm relaxed and aroused, the blow job is not rushed, there's a slow build-up. And I know she's into it.
For me, a good blow job means my partner's 100% effort to satisfy me by taking my dick in her mouth, deep penetration in mouth, tongue, lips, and teeth all working, and above all, her moans. It makes me feel that she likes it too…
Watching my girl's pretty face looking up at me and the fact that she is loving it gives me climactic chills.
When the girl has self-enjoyment when performing for me. She enjoys giving pleasure to me.
Like she is going wild on your cock, like she is craving it and can't stop sucking cock and balls.
When we ran a study to examine if women like receiving oral sex, we discovered that an enthusiastic partner was also important for women when they were being eaten out.
Getting to Be Dominant
Feels gratifying physically, but it's always a very empowering activity. I find it hardest to be respectful during a blowjob. I want to grab her head and push it down and call her names, which is totally against my nature but seems tempting when getting a blowjob.
It's an intimate dance of Dominance and submission. The cocksucker using their skills to serve their Dominant. The Dominant using their skills to enhance the experience for the cocksucker.
When I'm the aggressor, I feel like a stud.
From a mental standpoint, there is a power or dominance you get from having your dick in your wife's mouth. In addition, it's mentally stimulating to see your cock sliding in and out of her mouth.
The feeling of, "This chick cares about my physical release that she is willing to put my cock down her throat repeatedly to climax to show she would rather see my enjoyment and release than have oxygen" The best blowjobs have me squirming in pleasure. The sloppier and kinkier, the better.
Related: Learn How To Be Submissive Sex
…Or Giving Up Control
My partner has total control…whether sucking the head or licking and sucking my balls
Like she's completely in control, I'm vulnerable but trust her completely. When it builds, I almost don't think I can handle the orgasm, and when I do, my whole body feels weak.
It's relaxing to just give up control and let someone else pleasure you. It is beautiful.
Almost helpless! I love when she concentrates on the head, licking the length, and giving my balls attention.
Learn: What is BDSM.
Wetter is Better
Starting with a penis massage with organic coconut oil is ideal as it forms a great base, onto which her saliva is added, forming the best combination of grip and slip! Her taking advice or asking me what I'd like, or asking for feedback is excellent.
I love when they're wet, the sloppier, the better. Use the hand a lot to help out as it feels good and gives her neck/throat a rest. I like when my girl either lets me cum in her throat or all over her face and watch her play with it and lick it up.
Tight suction, wet and sloppy, mouth up and down versus hand involvement
It should be very wet. Different velocity. Not just fast and hard but anticlimactic, so its a longer pleasure
I like tons of spit. I don't ask (I should), but I love it when some women spit on my cock and dribble on it, play with their tongues in the spit and stick their tongues in my urethra.
Related: How to make yourself wet.
Sensations of the Penis
Getting head feels like she is sucking everything and makes my dick flutter
A tickling sensation all along my penis and the rush of cum leaves me with an ecstatic feeling.
Amazing. It feels like my girl is about to suck my balls up through my dick. My mind feels blown. It intensifies with every stroke.
Feeling her soft lips travel down my shaft, and have her stop at my penis head and just apply a little pressure with her mouth and have her work her magic with her mouth.
From a physical standpoint, the swirl of the tongue is awesome!
Variety is Important
A good blow job has a variety of different aspects, including licking, shallow sucking, and taking the whole penis in her mouth. It should feel warm and wet. My cock feels so hard when being sucked, and my mind feels completely relaxed.
There is heavy stimulation from both the mouth and hands. It has a variety of different types of stimulation. It's relaxing and can help quiet the storm of my mind.
Stimulates all areas of the penis simultaneously- using mouth and hands. Amazing sensations, my mind is full of desire and pleasure.
Including the Rest of the Body
The best is when the girl doesn't limit herself to the shaft and plays with the balls
I feel totally zen. I get very long blow jobs that can last an hour. It makes me so sensitive that I moan and jump to her every touch. Starting with stroking me very slowly and sucking on my nipples at the same time. Her other hand rubs and plays with my ass until I beg her to suck my cock.
Firm pressure grasping my balls. While licking and sucking in my penis. It makes my body super relaxed.
Discover 9 testicle massage tips & techniques to add to your blow job routine.
How a Blow Job Feels Overall
My spine shivers, I get lost in my dreams, my legs shake
I feel like electricity running through every nerve of my body. My body spasming uncontrollably
A good blow job will give me jelly legs, and I will feel so tired and happy at the same time
An all-consuming feeling. You feel your ass tighten up as those lips slide up and down your shaft.
Tingling all over. Feeling the closer you get to orgasm is euphoric, lightheaded, dizzy, and even sometimes magical.
After I cum my body feels weak, and my psyche too. So I am dead after that.
Related: How to make a guy cum hard.
Emotions Matter, Too
It feels like acceptance into/confirmation of a loving relationship.
It touches my soul because my wife is the best ever.
A soft, slow blowjob feels so good. It makes me tingle and feels amazing. It makes me feel like I have a closer connection to my partner because she is willing to do that. I've been in a relationship before where my partner didn't like doing that.
Sometimes It's Pure Poetry
Sometimes our readers couldn't help but get a little poetic with their responses, including several who described the blow job feeling like an out-of-body experience!
It's a total surrender and transfer of control on some higher and benevolent entity that simultaneously fills you out with cosmic power and holistic comprehension and empties you out of the unnecessary matter inhabiting your mind.
A good blow job feels like a moment of ejaculation, curling your toes, and having body shocks. The mind becomes shocked that anything could feel like that.
It feels like an erotic explosion in my whole body
Like she is joining in a covenant with you, her entire body is yours, your entire body is hers. The anticipation from a blowjob is much more intense.
A good blow job feels like the person giving it is trying to suck out your soul through your dick.
35 Men Tell Us What Bad Blow Job Feels Like
We then asked, "What does a bad blow job feel like?" Only 35 men had responses as several replied that blow jobs couldn't be bad!
I NEVER EXPERIENCED A BAD ONE, EVER!
I never had a bad blow job. Had some fair blow jobs. It's like pizza: some are better than others.
I never experienced a bad bj
However, there were guys that had experiences of bad blow jobs…
No Teeth, Please
It will come as no surprise that teeth (scraping, biting, etc.) were mentioned more than anything else in our survey. If men mentioned only one thing, it was usually that you should never use your teeth during a blow job!
Unenthusiastic. Catching my penis with their teeth all the time.
Teeth ruin it for me.
When It's Too Hard
Bad blowjobs are like the over-vigorous ones in porn.
Biting too hard, changing rhythm or pace too frequently, or stopping too soon! Too little lubrication is also bad.
I don't like when they actually try to suck out a straw. I prefer some teasing with the tongue, good firm connection, lips around my penis, no teeth sliding up and down, alternating between tongue and lips.
Rough handling. Not sensual. A bit mechanical
Too much teeth friction, or sucking too hard
Related: How to have rough sex, the right way.
..Or Too Soft
Too quick, too soft (no stimulation), if the girl is anxious or insecure. I need a girl who is sure of herself to feel very well treated.
No suction, stop and go, feeling like she's not enjoying it.
Too little pressure and being too gentle is kinda offputting.
Related: 13 Sex Positions For Low Confidence
…Or Shallow
Not having my cock in far enough in her mouth.
If she is unable to take it deeply, it does not feel good. But it still needs a lot of good technique.
Women not being able to deep throat me.
Lack of Enthusiasm
The girl giving the blow job has to like it and want to do it, or else you might as well just stop cause I can tell by your performance, and if you hate it, so will I.
No interest, or apparent interest in doing it from the other person, like a duty or obligatory vibe…. and I believe one can tell the difference.
Pacing or lack of enthusiasm. I can tell when a woman wants to go into intercourse sooner rather than later when she is giving me oral sex, and ask her what position she wants to start with as I am good for 20-30 minutes of intercourse which usually means several positions before I finish.
When the woman seems disinterested or like it's a chore for her, I'd rather not have her do it at all. I like to have connections when being intimate.
If she's just going through the motions and maybe just not into it or just doing it for me. That's an instant buzzkill. I can't get off unless I know she wants me like I want her. Lack of moisture sucks too.
When Swallowing Become An Issue
Her NOT swallowing…or doing the same thing over and over…just going thru the motions…and obviously not enjoying it.
She worries about swallowing.
Related: 97 Women Explain Why They Spit or Swallow & What You Should Do
The Solution: How to Swallow Cum With Ease.
Lack of Rhythm
When she is not in rhythm. Presently, my wife has braces on her teeth, and if she is not careful, she scrapes my penis when in the wrong position.
No rhythm, too tight a grasp, focusing too much on the shaft
Everyone is different, but I like the rhythm to vary, switching between entry and running the tongue over the shaft and a little hand action
Interruptions
Of course, there are times when getting a blow job feels like heaven. It's just timing that makes it negative. One participant put it succinctly!
The phone rings!
Not Taking Your Time
Rushing to finish.
Doing it really fast just to get rid of it.
When a woman doesn't look for the signs of what is working and not. I prefer to go slow and give me eye contact. She shouldn't just get it over and done with! I want to feel like a meditation.
A bad blow job is when the woman is just trying to make you cum as quickly as possible rather than just enjoying giving you selfless pleasure.
Not Enough Physical or Visual Connection
I need to be able to touch or see my wife giving it. Bad is in the dark and not touching me with her hands.
Won't gag or make eye contact.
Straying From the Main Event
Don't go near my ass or my balls, or I will lose my hard-on in a second and may not get it back.
Share Your Own Experience
Now that you know why a blow job feels good (or bad!) it's your turn to share what a blow job feels like for you in the comments section below.