I can't publish my most intense and wild sex tips online, so I send them in my private and discreet email newsletter. You can find out more here.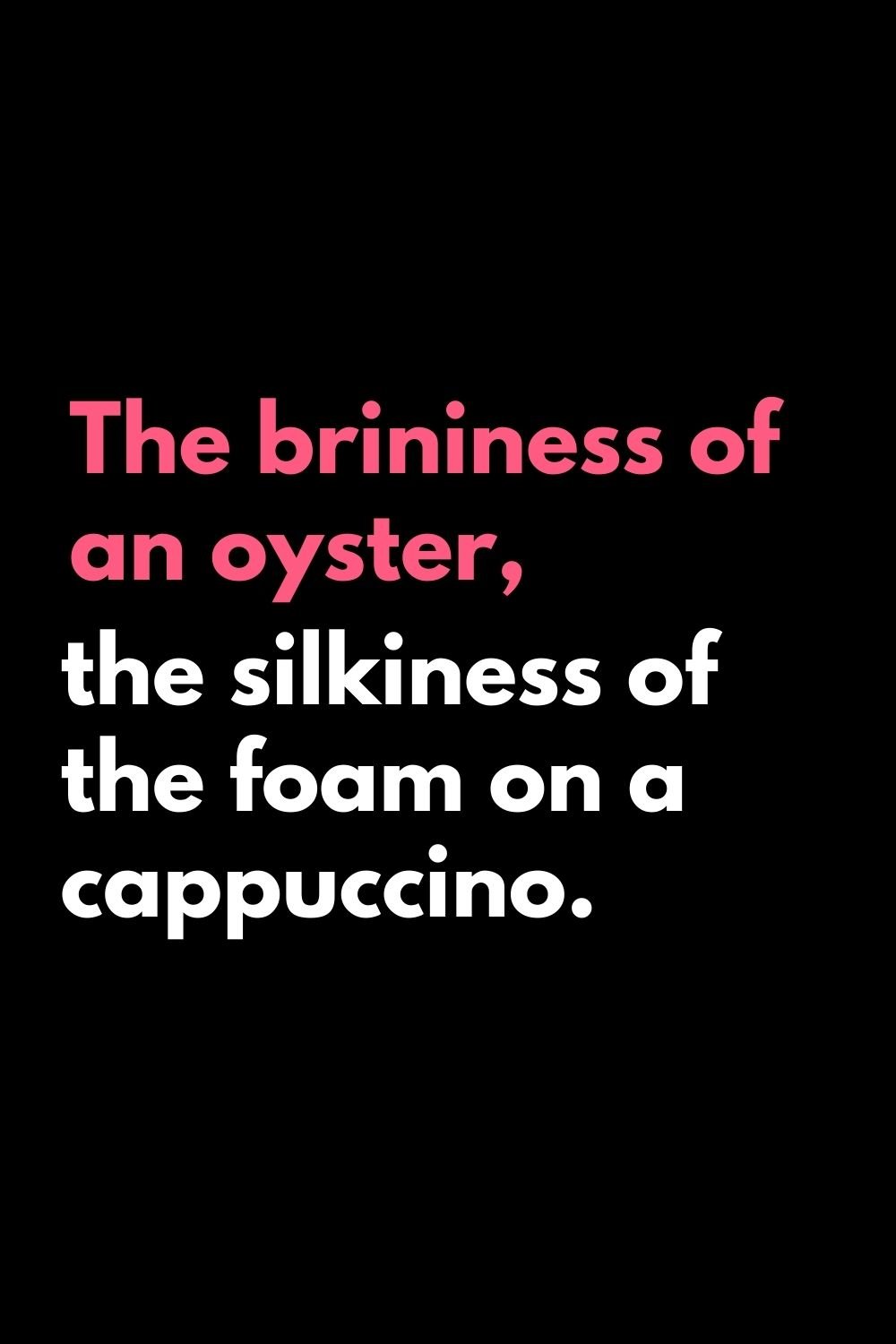 So we interviewed 52 women, asking them a simple question:
What does come taste like?
Side note: If you are currently struggling to orgasm during sex or masturbation, then you may want to learn about the Easy Orgasm Solution. It begins by teaching you the techniques to orgasm easily and consistently. Then you'll learn how to have multiple vaginal and full body orgasms during sex and masturbation. You can find out more here.
Their responses ranged from highly descriptive/informative to completely hilarious and sometimes even poetic.
After you read their 52 responses below, I'd urge you to keep reading if you want to:
Learn more about why cum tastes the way it does.
How to change the taste of a man's cum and…
How to minimize the taste of his cum if you currently have a problem with it.
Now it's time to learn what come tastes like…
52 Women Tell Us Exactly What Cum Tastes Like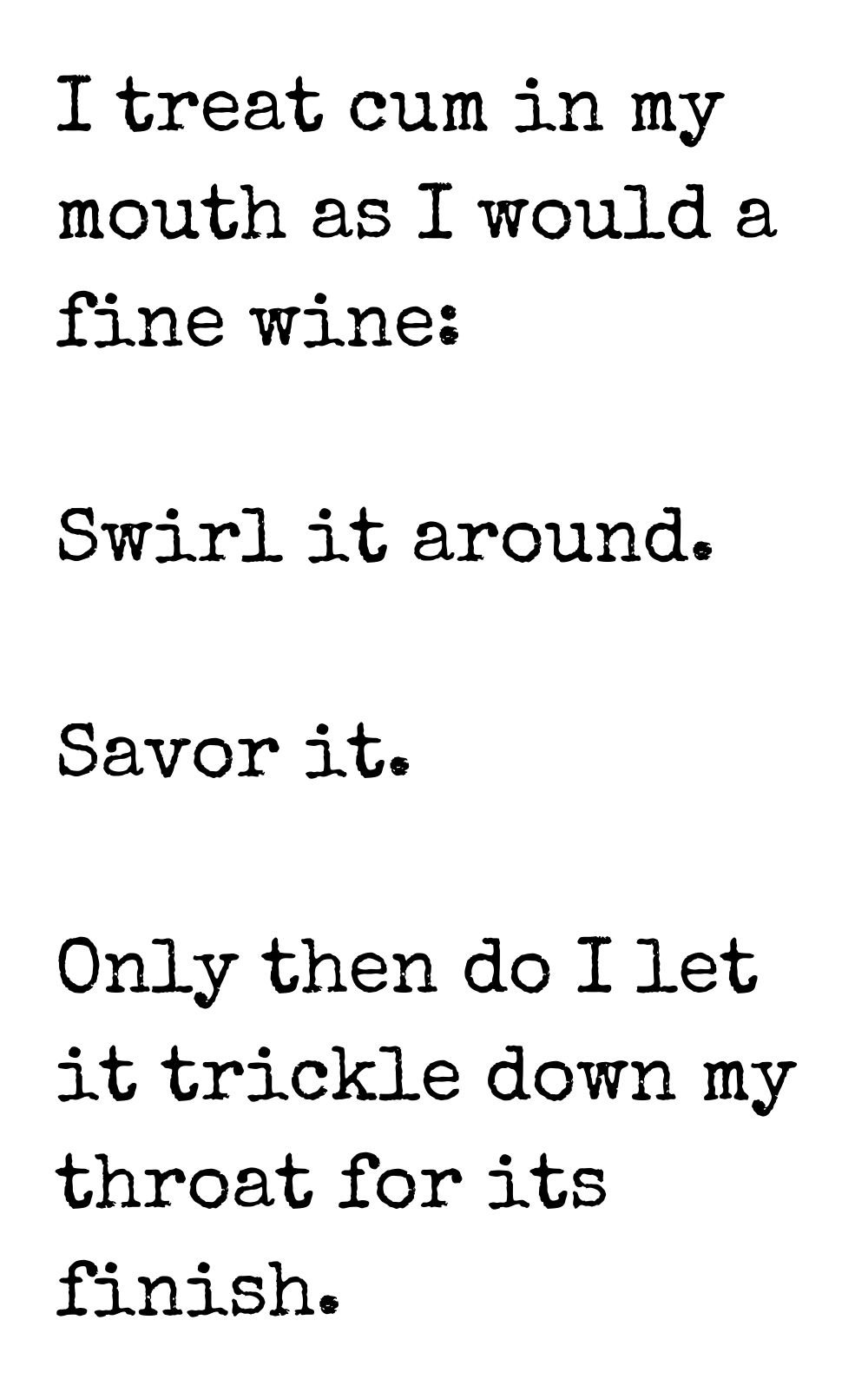 Tangy yet sweet milky texture.
Mostly bitter I'd say, sometimes a little sweetness to it.
I like my boys to have something sweet like pineapple juice or coconut juice or both. Body Armor makes a coconut pineapple drink it's perfect. I think most of the time it's a sweet delicious taste. If a guy has something not desirable to eat or is dehydrated I can't really describe the taste because there's nothing like it. I'm obsessed with the taste of come. Pre-come is out of control delicious it's like liquid candy for me. Learn: How to give a blow job.
Hopefully like cum! A little bland with a whisper of aspirin.
Soupy pudding texture. Mostly sour/salty tasting.
Baking soda.
It's an aggressive flavor that attacks the tongue with a kind of musky earthiness I can't really compare to anything. I've only given blow jobs to men I really like, and I think about the taste of his cum as being just a part of who he is. So if I like the man, I appreciate the way his cum tastes just like I appreciate all the other things about him.
Chlorine.
Green tea.
It tastes like medicine and the texture of it can feel harsh-ish on my teeth. Learn: How to swallow cum with ease.
Creamy, sometimes a bit salty, sometimes gently honeyed. I treat cum in my mouth as I would a fine wine: swirl it around, savour it, and let it trickle down my throat for its 'finish'. Discover: How to deep throat without gagging.
My partner's is spicy.
It depends on the guy's diet/current health. If he has a nice balanced diet and he's fairly healthy it has a slight salty but more sweet taste to it. If he's a smoker it adds a Smokey flavor to it. This can be off-putting if you're not expecting that hint of smoke in the flavor. If he is lacking in iron, the flavor is very muted. You can tell how healthy he is by how balanced his cum tastes. It should taste really good, if not he should evaluate his diet or see his GP for a check-up.
It tastes like whatever he ate or drank a few hours prior to the blowjob. Most of the time it's yummy unless it's something bitter like beer but either way I enjoy the taste and texture.
Thick, like pudding and salty, like ocean water.
Decent cum tastes slightly tangy and sweet. The texture is smooth. The worst cum I ever tasted was lumpy and reminded me of curdled yogurt and was bitter. It was so bad I gagged on it.
Salty and a bit like a stone apple.
It tastes like bad sauce or like some type of seafood.
It depends. Sometimes is salty and bitter, sometimes the texture and smell are horrible like an unfresh fish or cheese or something sweated. How to cure bad vaginal odor.
Usually Sunflower seeds.
Salty with a slight ammonia after taste
Salted like goats cheese 🤢
Ugh gross. It's this nasty bitter-sweet taste and it smells like bleach and it's thick gooey and hard to swallow. It's like swallowing a raw egg with a broken yolk 🤮 so I prefer to have my husband cum on my face mouth close or on my boobs if giving a blow job.
Nasty, like a bitter metallic taste.
Sweaty over-the-counter Cetaphil face wash.
Like the beer head of white frothiness.
It is almost tasteless.
Most of the time it doesn't have a flavor. Other times, it's more sweet.
Cottage cheese. Learn: How to make semen taste better.
Taste and texture can actually vary. It can be salty, oysterish and sometimes smells like Brie cheese.
Kinda like a rubber band, maybe a saltier rubber band.
It tastes like marshmallow but sometimes it's bitter. Many times, it feels good and slimy.
It tastes like nothing as long as your partner drinks a boatload of pineapple juice a few hours before you make love in the bedroom. 🍍 is the key. Related: How to make your vagina taste good.
Every man tastes a little bit different, just as every woman does! Their unique physical composition plays into it as much as anything else. If I had to generalize, I'd say cum is slightly viscous in texture, almost like mucus, very mildly salty and soapy in taste. It has never bothered me, nor is it my favorite taste or texture. But for me, tasting and swallowing a man's cum is powerful, because I used myself to overcome his sense and elicit a powerful response. That cum is only for me, no one else will experience that offering (unless I decide to share).
Its salty but in a good way. Like mayonnaise.
Delicious.
Candy.
It's not bad if you let it hit the back of your throat. It's kinda salty or bitter. The gross part to me is that it's warm and thick-ish. If he eats shitty food or asparagus, it's bad. Sweet foods/fruit make it better! I try to focus on how hot he thinks I am when he watches his cum land on my tongue.
The brininess of an oyster, the silkiness of the foam on a cappuccino.
It depends on what my husband has eaten. Beer actually makes the taste more "sweet".
Tastes like vanilla.
Cream soda.
Pineapple. Related: What does vagina taste like.
It's slightly acidic but has really no specific taste.
Bland, thick, needs a few herbs 😂
Most of the time, I try to swallow loads without tasting too much. But, usually salty, bitter goo. Sometimes, if my man has been eating healthier, more fruits and vegetables, the bitterness goes away and is much less bitter. Either way, I try to not pay attention to the taste too much. Psychologically, it's just powerful, maybe empowering, satisfying, to please my man. Most men, especially in a relationship, are grateful and affectionate after getting a blowjob. That almost makes the taste irrelevant.
Tastes like what I imagine a tablespoon of warm spit tastes like.
My boyfriend's cum tastes sweet and warm, which is ironic because he eats like shit. With my ex, it kinda tasted like how coffee breath smells. I have had other pretty bad ones though. One time there was a guy I hooked up with in college and his cum tasted like rubber and bitter latex. It was awful.
My experience with a vegetarian was that it tasted very sweet and it was more watery not thick. I love to swallow. My experience with a meat-eater was it tastes gross. I will not swallow it and it's thick.
Different guys taste different. The diet and what they are drinking also effects taste. Beer drinkers and sugaraholics are my favorites. Sweet and salty with the texture of warm pudding…yum
Depends on the diet, medication but generally like soft coconut meat.
The taste changes depending on what he eats and drinks. I prefer to drink it in my wine.
If you're still on the fence on whether to actually swallow your man's load or not, then read this feedback from 97 women on why they either spit or swallow.
Moving on…
Related: If you want to give your man back-arching, toe-curling, screaming orgasms that will keep him sexually addicted to you, then you'll find them in my private and discreet newsletter. You'll also learn the 5 dangerous & "dumb" sex mistakes that turn him off and how to avoid them. Get it here.
There's an old joke in which a sex-ed teacher explains to her class that a man's ejaculate contains 80% sugar in the form of glucose. Without thinking, a student asks "Why does it taste so salty?". Of course, the punch line is that she's just admitted to swallowing cum from at least one of her sexual partners, which is how she knows what cum tastes like, and everyone gets a laugh.
1. What Does Cum Taste Like Really?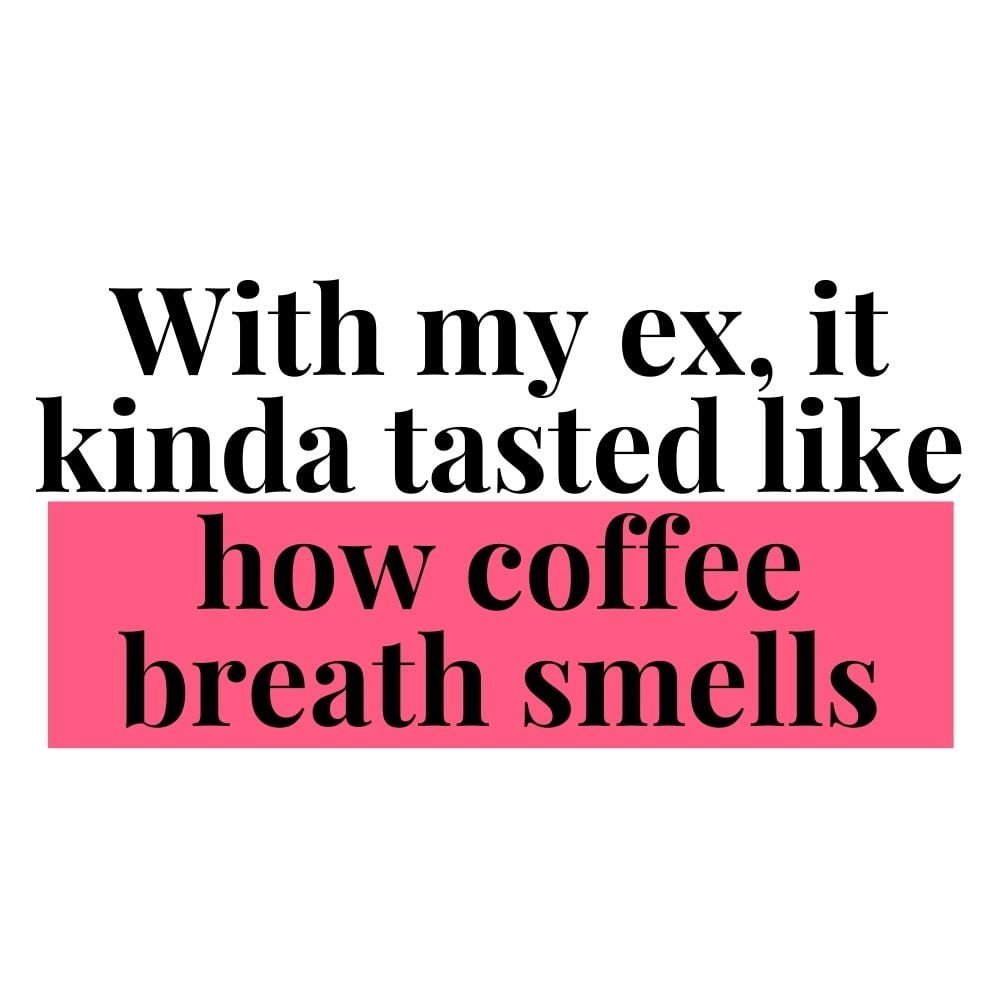 Of course, she's not wrong. Cum often tastes salty. The same is true for pre-cum, which can also get you pregnant. Other people report that cum tastes sour, bitter or metallic. The latter is because of your man's zinc content in his semen – which isn't actually 80% glucose by the way. It is over 95% water, in fact! Other ingredients in semen include sperm, Vitamins, hormones, minerals, fructose and proteins.
Whether or not you like your food seasoned with salt, this might not be what you enjoy in your sex life. And that's perfectly okay. But can your man change the way his cum tastes? The answer is yes… usually!
2. What Does Cum Taste Like When You Alter Diet?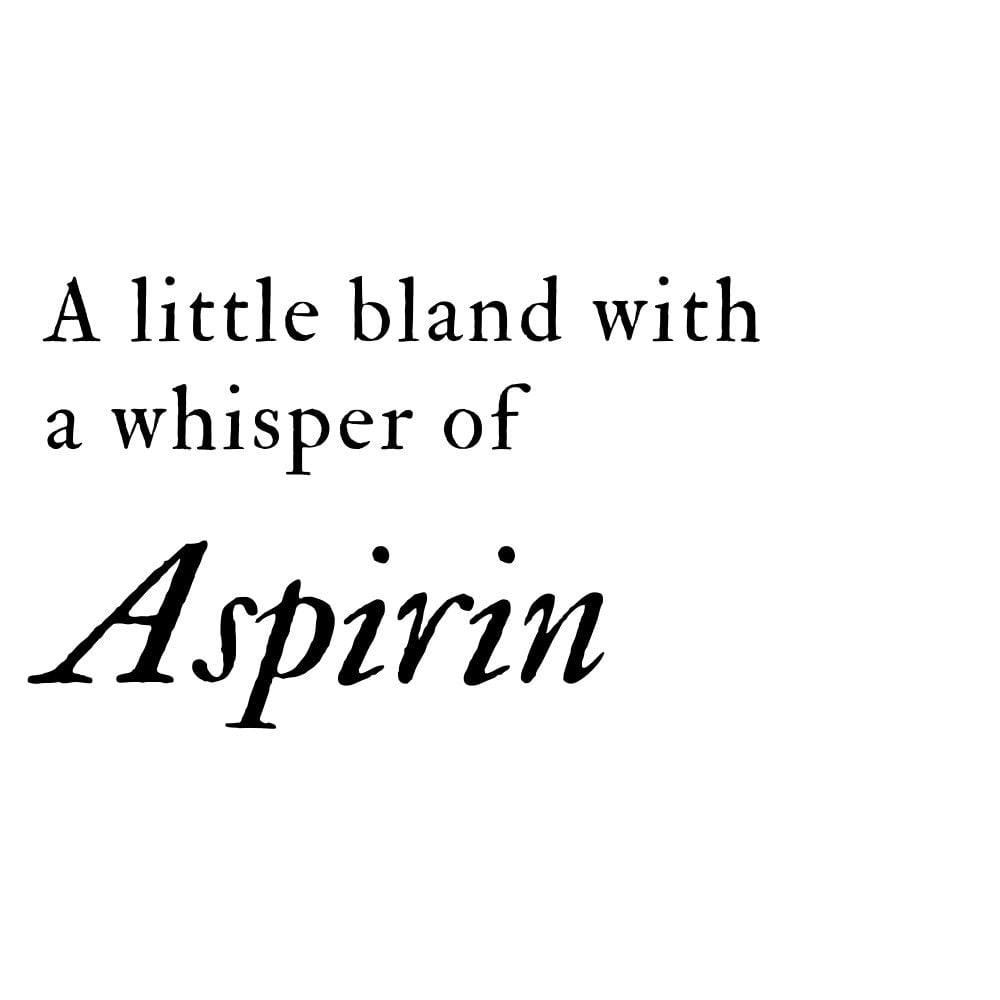 The age-old recommendation is that eating pineapple or drinking pineapple juice will change the taste of his ejaculate to one that's sweeter, and you might find that more enjoyable or, at the very least, less unpleasant. This is true not because pineapple is some miracle ingredient but because diet can definitely change the taste of your man's cum, which also explains why it can taste different if he's switched to a new diet or nutrition plan.
Related: Pineapple can improve the taste of your vagina.
If he prefers, melon will alter what cum tastes like because those fruits are both sweet and are mostly water. Green foods high in chlorophyll also have a sweet effect on the taste of his cum. These include celery, parsley, wheat grass and spinach. Plus, they're good for you! The healthier his habits, the more normal his semen will taste. Some studies even suggest vegetarians taste better than meat eaters!
He can also add sweeter fruit juices to his diet. Some people recommend cranberry juice, which might also help you beat a UTI. More on burning after sex. that here. However, fruit juice tends to be acidic and too much can be a bad thing for your teeth. It's all about finding the right balance!
Finally, it's worth trying a smoothie. This not only tastes good, but can improve his taste. Give the following recipe a try:
1/4 fresh pineapple, cubed
1 banana, cut
4 ice cubes
1 cup pineapple or apple juice
Blend it all together with the option of wheat germ or protein powder, and head down south a few hours later to see the taste difference in his cum! You can also enjoy a smoothie with him for breakfast.
Other things can also make his cum taste more acidic. These include eating lots of red meat, eating garlic or onions, smoking, drinking alcohol and drinking coffee. Asparagus can cause semen to taste bitter, just like it changes the smell of urine. These things also have the same effect on women and can also make you smell less appealing. Read more about vaginal odor and what to do about it.
So if he wants to lighten up on those activities before you're going down on him to suck his cock, it might help. Generally, increasing his water intake is both healthy and a way to make semen taste more mild.
3. Try This to Minimize the Taste of His Cum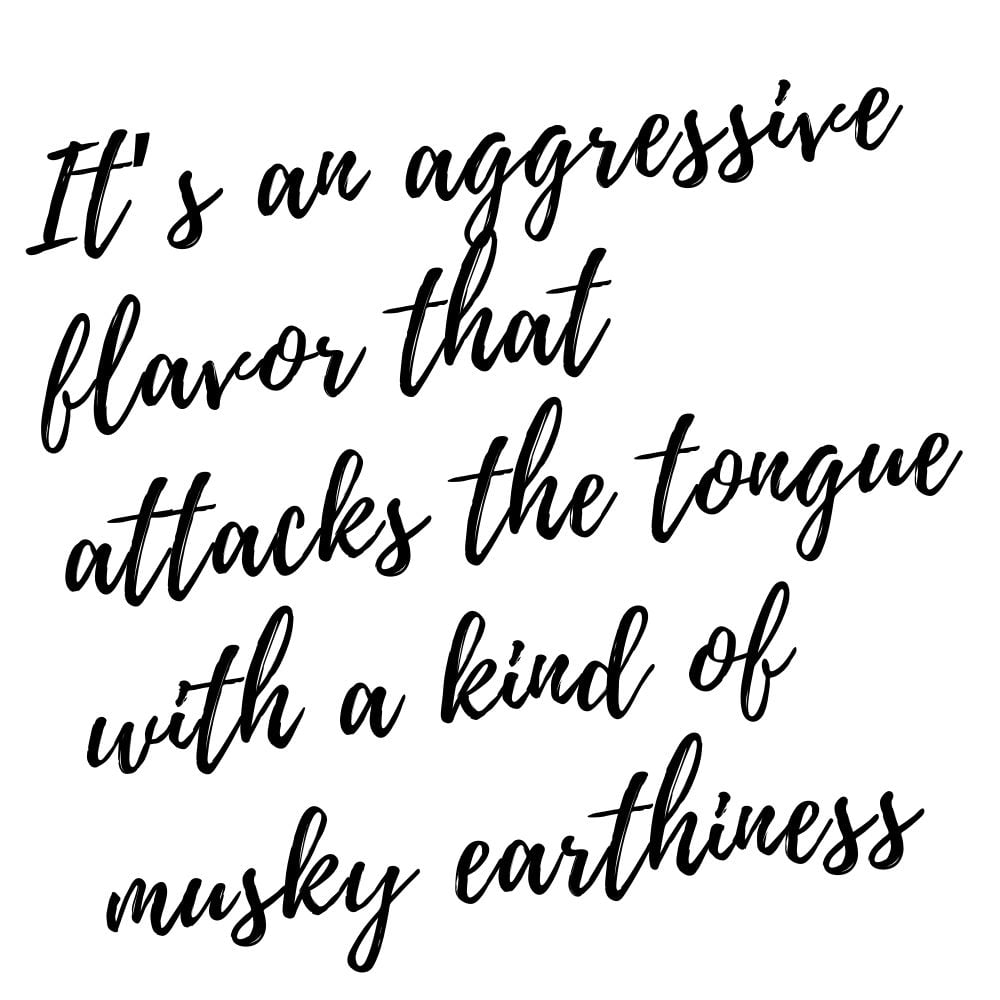 But you don't control your man's diet, and there may be factors such as medication he must take that are out of both of your control. What can you do to improve the taste of his cum if you want to give amazing head and swallow?
1. Flavored Lube
This can improve the entire activity by making his cock more slippery as you bob your head up and down. You can choose from a variety of flavors – fruits and berries are especially common – to help mask the salty taste of cum and precum. Learn about lube.
2. Flavored Condoms
Another option is a flavored condom, which will both make the taste of the blowjob you're giving more pleasant and catch his cum, so you won't have to swallow at all. Using a condom can also help to prevent STIs that are spread through oral sex.
3. Eat or Drink After
You can also keep a glass of water or a flavored drink on hand as soon as he ejaculates and you swallow. Rinse his cum down with a swig to get the taste and texture out of your mouth. Consider a hard candy to suck on after you're done, too.
4. Breath Mints and Strips
A breath mint or strip can also do the trick. There's even one company, that makes strips specifically for oral sex that dissolve on your tongue. Right now, these strips are available in strawberry, chocolate, watermelon and mango. At $10 for a pack of three, it's pricey. But it's worth checking out if you're adverse to what cum tastes like.
5. Candy and Food? Not So Fast!
Some people recommend accompanying your blowjobs with food items such as pop rocks, whipped cream or even a popsicle. While these ideas might sound hot and clever, all of these foodstuffs contain sugar, which can lead to a yeast infection. Not only can your man get a yeast infection, but he can pass it to you through vaginal sex, so we don't recommend playing with food near anyone's genitals!
6. The Money Shot
No one says you have to swallow, either. You can let your man ejaculate onto your stomach, face or chest if you prefer. He might find it pretty hot. After all, there's a reason why this activity is known as the "money shot" in porn!
Don't force yourself to taste or swallow his cum because you could actually be training yourself to have a negative response, just like Pavlov and his dogs. Instead, give it a try – check out our tips for swallowing in this post – and cut yourself some slack if it's not for you. You might realize that his cum doesn't taste that bad at all or that you can live with the taste of it for the few moments it's in your mouth.
For most guys, oral attention is going to get them hard and happy. He'll just love the sight of you going down on him. If you don't want him to finish in your mouth, you can switch to PIV sex or a hand job. There are plenty of other ways to keep him satisfied in the bedroom if you don't love what cum tastes like!
Orgasm Every Time. Easily. Here's How...
I want to tell you about my friend Karen.
Karen came to me one day. She was hysterical.
She told me that her marriage was falling apart because she and her husband didn't have satisfying sex.
Every time they were intimate, Karen was faking her orgasms. It turns out she couldn't orgasm during sex.
In fact...
She never had an orgasm in her entire life. Not one!
This left her feeling embarrassed and ashamed. And...
She completely hid this from her husband. Thankfully...
It turns out that there is a way for any woman to orgasm. Easily. And have multiple vaginal and full body orgasms during sex and masturbation.
It's called the Easy Orgasm Solution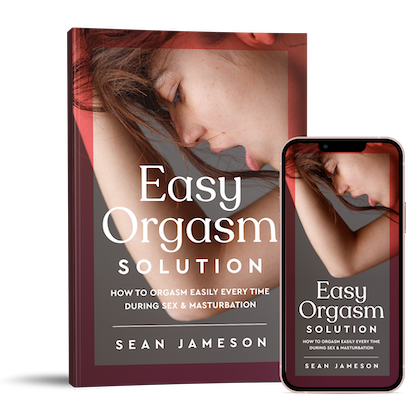 I shared it with Karen.
After she followed the simple process outlined in the course, she could barely come to terms with how...
Quickly and dramatically her sex life changed.
We met up a few months later and...
She would not stop talking about it,
"I thought I was one of those women who couldn't orgasm. I used to think I was 'broken' and 'unfixable.' This saved my sex life, and that saved my marriage."
Even if you currently struggle to orgasm during sex or when masturbating, the Easy Orgasm Solution process will also work for you.
And best of all, you don't need to do anything weird or uncomfortable to start having the best orgasms and sex of your life.