The Stand & Carry position is unlike pretty much every other sex position. You don't need a bed or a sofa to perform it. Instead your man is going to be standing up for it and he will be holding you off the ground.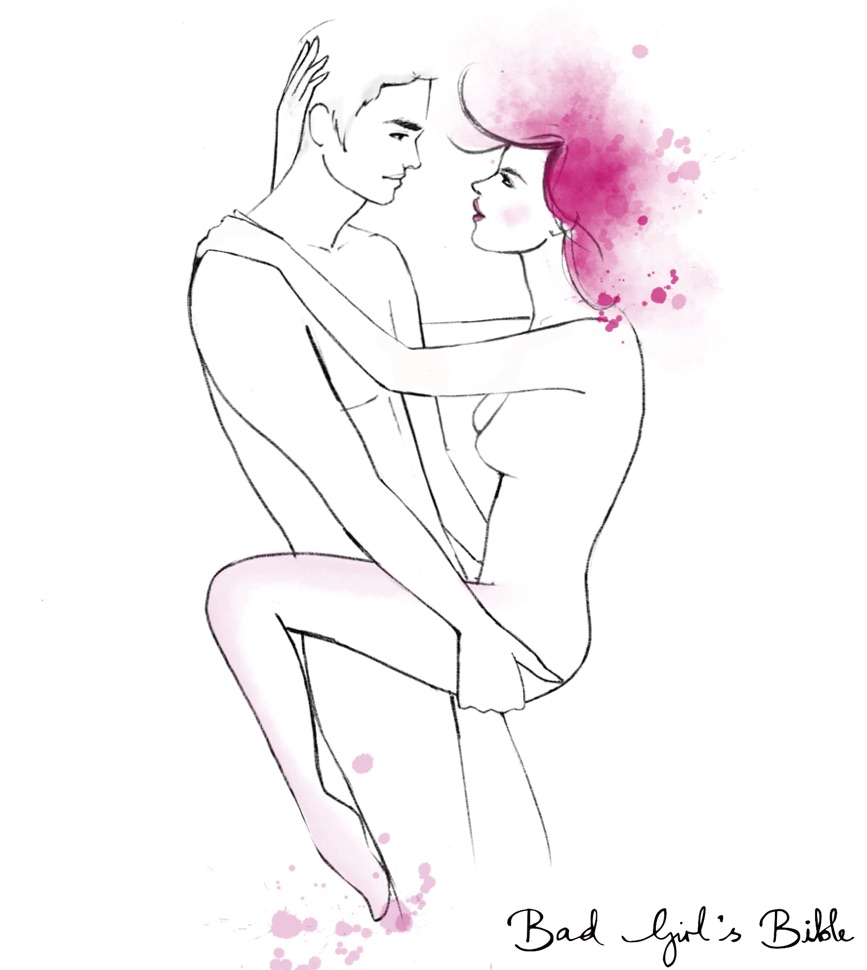 Lifting you up is the hardest part of the Stand & Carry. It's easiest is if you start of in a position like the Butterfly, with you lying down on your back on a bed or a table, while your man is standing.Your man can then lean over you and you can put your arms around the back of his neck and wrap your legs around his waist. Your man can put his arms around your waist or butt before standing up straight while holding you.
Alternatively, you can both start off standing and facing each other like in the Slow Dance position. While inside you, your man can put his hands around your butt/waist and pick you up. When your man picks you up you can then wrap your legs around him.
What The Girl Does In The Stand & Carry Position
When your man is holding you in the air, you need to carry some of your weight using your arms around the back of his neck. Your legs wrapped around his waist can also carry some of your weight.
Even though your man will be doing a lot of the thrusting, you can still pull yourself up and down on him. You can pull yourself up with your arms and you can squeeze your legs against his waist to grip it so that you can move yourself upwards. When in the Stand & Carry position, you can lean backwards quite a bit or hold yourself close to your man to change the angle he enters you at.
What The Guy Does In The Stand & Carry Position
Your man has 2 jobs in the Stand & Carry position. The first is holding on to you and supporting most of your weight. The second is thrusting into you. He will be holding onto you by wrapping his hands around your waist. He can thrust into you by bending and straightening his legs. Or he can use his hips while keeping his legs fairly straight.
Things To Consider When Performing The Stand & Carry Position
Quite a few students of the Bad Girl's Bible have tried out the Stand & Carry with their man. Here is some of the feedback they have given on it:
The Stand & Carry is tiring: Performing it for more than 2-3 minutes is exhausting for both of you.
Try performing the Stand & Carry up against a wall, so that your back is up against it. This will help take some of your weight meaning you and your man can last longer in it. He will also be able to fuck you with more force when you are against a wall.
Sean's Thoughts On The Stand & Carry Sex Position
The Stand & Carry is not that difficult to perform. The only thing that it requires is that both of you have a considerable amount of strength. If your man has a bad back, then I highly recommend that he avoids the Stand & Carry as it will put a lot of strain on it.
If you enjoyed my tips in this article but want a true sex masterclass, then you may be interested in watching
this blow job tutorial video
where you'll learn my most powerful techniques & tips for giving your man incredible oral sex. Enjoy!
Free Bad Girls Bible Membership Access