Going through a breakup is never something you want happening when you get in a relationship, but there are some situations where splitting up is the best decision. If you hang on to a relationship well past its expiration date, you put yourself and your partner through a lot of fighting, stress, and emotional rollercoasters. Staying in a broken relationship also prevents you from pursuing other relationship opportunities more compatible with your wants and needs.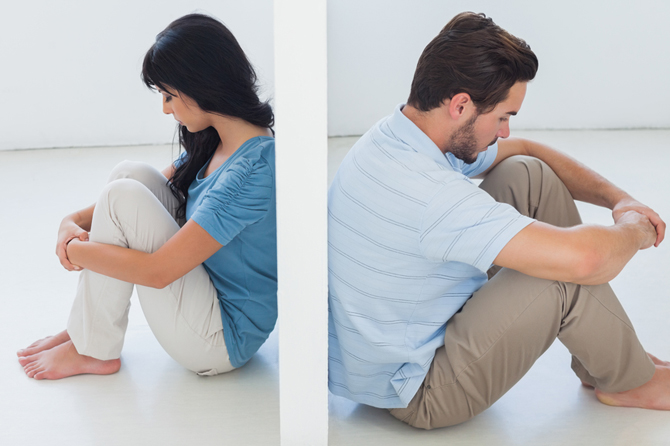 Not every relationship problem should result in a break up, however. Developing the skills to decide when to break up and when to fight for a relationship is invaluable in providing you with the healthy relationship experience you deserve.
Cheating
Infidelity, whether it's physical or emotional cheating, is an often cited cause of break ups. It causes fights, destroys trust, and is an incredibly hard transgression to work past. Cheating happens for a variety of reasons; check out some reasons women cheat. Sometimes your partner gave in to temptation due to self-control issues, but cheating could just as easily be caused by existing issues within the relationship.
For example, a lackluster love life could lead to many emotional problems such as lower self-esteem and feelings of desirability. This is why great sex is crucial to a relationship. When the outside person starts complimenting and actively desiring your partner, it can create a situation where they deal with their negative emotions through cheating.
Sometimes cheating takes an emotional form instead of a physical form. They treat the outside person with the same attention and emotions that they are expected to give you. This situation is sometimes referred to as a "work spouse", where co-workers form close bonds that may lead to inappropriate behavior or physical cheating. When to break up in this situation depends on whether you can rebuild broken trust.
It's not always easy to tell if your man is cheating. Her are some signs.
Constant Conflict
Many healthy relationships have fights or disagreements from time to time, but when the fighting is a daily reality, there's a big problem. Sometimes you have a relationship that's simply more volatile emotionally than the typical couple, but the fights are resolved quickly and with clear communication and personal development. Tips for improving disagreements in your relationship here.
Looking at how you and your partner handles the fighting, as well as the reasons causing the fights, helps you discover whether these disagreements are healthy situations that resolve in a mutually agreeable manner, or major problems in the relationship. You may choose when to break up based on the severity of the fights and your tolerance for that behavior.
It's not healthy to have terrible fights just for the makeup sex.
Overwhelming Negativity
It's hard to stay happy and fulfilled in a relationship when there are constant negative emotions. The type of negativity varies, from disengagement with your passions and hobbies to anger at small, insignificant problems throughout the day.
When you are filled with more negative emotions than positive emotions when it comes to the relationship, it's a bad sign. Sometimes the negativity from yourself or your partner may be a symptom of another problem, such as depression, so it's useful to explore all possible avenues when deciding what's causing the negative feelings. Negative relationships can also be a factor in developing depression like I talk about in this post.
Trust Issues
Relationships are supposed to be about trusting your partner with every aspect of your life. Trust issues are often a symptom of other problems in the relationship, such as cheating, or suspicious activity by your partner.
For example, while your partner has the right to ask for privacy when it comes to his personal computer, cellphone, and other devices, if he's actively hiding the phone or uses multiple phones, there are some major trust issues that need to be addressed. If you can't handle not being able to trust your man, choosing when to break up can make you happier in the long run.
Check out the rest of our relationship advice archives.
Life Incompatibility
He wants kids; you don't. You want to travel the world; he's a homebody who barely wants to step foot outside the house. Sometimes it doesn't matter how much you love someone, there are life incompatibility issues that prevent you from spending the rest of your life together.
The relationship could be great in every other respect, but if you're moving in two different directions someone has to give up on their dreams, which leaves one person resentful overall. When to break up in this situation depends on whether you want a short term relationship and financial entanglement considerations.
Sexual Compatibility
Some people are all about saving sex until marriage, but discovering sexual incompatibility can lead to major issues in the relationship. Sexual intimacy is an important part in many relationship types, outside of asexual relationships. Compatibility comes into question both when you're planning to move to the next level and considering a breakup.
A lack of intimacy leads to emotional distress and problems in other aspects of the relationship, which may cause problems such as cheating, fighting, and other issues. Communication and compromise can help you work through sexual compatibility issues, but sometimes libidos and kinks don't match up in the slightest. In many cases, it's less of a question of when to break up, and more of a question of getting on board with communication and counseling to bring life to the bedroom.
Needs Aren't Met or Considered
Everyone has needs and wants in a relationship. Wants aren't always able to be addressed, depending on life circumstance, but needs are things that you and your partner can't live without. Trying to minimize your needs in a relationship can easily lead to resentment, anger, and fighting. It's important to understand the difference between a want and a need, however, since wants are not necessary to your long term happiness in the relationship, but needs are.
Hindering Your Future Goals
Have you always had your eye set on a specific goal for your life path, such as attaining a specific position in your career path or pursuing educational opportunities? Your partner should be supportive of your future goals, not actively hindering them. While relationships are about compromising and working together to achieve goals, if your partner isn't creating an environment to help you with your goals, and is only helping his own out, you need to re-evaluate your priorities.
Addiction Problems
Addiction comes in many forms, from alcohol to porn. Enjoying a particular vice in moderation is not a bad thing, but when the addiction gets in the way of your relationship or his every day life, it is a major issue that needs addressing. For example, if he spends an hour or two a night playing a video game, it's no big deal, but if he plays to the point where you don't have any quality time together, it's a problematic situation.
Unplanned Long Distance
Long distance relationships are hard even when you plan for them. When they come out of nowhere because of work, family, or other issues, it's incredibly difficult to transition from a live-in relationship to a long distance relationship. Sometimes the stress is too much, especially if there's no end date to the long distance.
The amount of effort, communication, time investment, and monetary investment can sometimes make a long distance relationship impossible to maintain.  But you can sometimes make an LDR work if you follow good advice.
Time Management Stress
If you and your partner are juggling school, family, and jobs, sometimes there isn't enough time for each other. In this situation, the lack of quality time slowly degrades your happiness with the relationship. It's hard to keep the spark alive when you see each other for one hour per day, especially if you are spending that much time stressed and exhausted.
Family Issues
Some partners are more involved with their families than others, and major family problems can lead to disruptions in the relationship. If you dread going over to the in-laws because they are toxic, nasty, or down right abusive to you, then there is spillover into the relationship. Your partner may have a problem standing up to his family or seeing the issue because blood is supposed to be thicker than water. When to break up in this situation depends on whether your man is willing to defend you to his family or cut them out of your lives entirely.
What Reasons are Worth Breaking Up Over?
There are many reasons that can cause a break up, but how to know when to break up is the big question. Relationships require a lot of work and effort from you and your partner to function properly, so you aren't going to throw away a relationship the first time you disagree on something. However, there are major deal breakers for everyone — for some people it's penis size — that are instant death knells for a relationship, and other issues that may be unforgivable for one couple but something that can be worked through by another.
Often, cheating is a problem that many couples can't come back from. The breach of trust and the amount of time it takes to regain the trust afterward is often too much for the relationship to bear, although some have worked through it successfully. Other issues that are difficult to compromise include one person wanting children and the other one pursuing a childfree life, different ideas about the importance of pursuing higher education, and not being able to agree on a location to buy a home.
Look at it Logically: Pros and Cons
If you aren't sure whether a relationship is worth saving, take an analytical look at the situation and create a pros and cons list. Writing the positive and negative factors in the relationship puts everything down in black and white. Sometimes it's eye opening to see how many negatives there actually are in the cons column, or positives in the pros column.
If the list is overwhelmingly negative, it may be time to face the fact that the relationship may have too many problems to fix. In some cases, small transgressions build up over time, until the hatred, resentfulness, and anger is too much to work through.
Poll Your Friends
Emotional support networks are helpful for dealing with the potential for a breakup and the fallout afterward. Friends also have a third party perspective that provides you with valuable insight into your situation that you may not be able to see, since you're intimately involved. Your friends also bring their own life experiences to the table, which is helpful if they have dealt with similar situations.
However, take your friends' advice with a grain of salt. They may not always have your best interests in mind if they happen to have their own agenda. And if you only tell them about the negatives, they may be biased.
Listen to Your Gut
Your instinctual reactions are often telling, and many people don't listen to their gut nearly enough. If you simply don't feel engaged and connected with the relationship, and your gut is telling you to get out, it's possible that a break up is the best course of action for your life.
It's a hard and emotionally trying decision to make, but in the long run it has the potential to lead you to a more happy and healthy relationship. You don't want to spend your life miserable in a relationship that doesn't work for you or your partner, simply because breaking up is hard or not a thing you're supposed to do.
Relationships aren't Always Easy
If you aren't running into a deal-breaking situation, but you are experiencing mounting frustration, it's important to remember that relationships require conscious effort to maintain. A relationship shouldn't feel like work, but you do put time, energy, and effort into making it worth for everyone involved.
If your guy is great in most aspects of the relationship and tries his best, it's important to acknowledge his actions. Sometimes stress, especially financial stress, puts a lot of pressure on a relationship. Create a framework where you can honestly and openly communicate with each other to head off problems before they become major issues. Consider relationship counseling to work through pre-existing issues that may seem insurmountable before you give up on a great guy.
Understanding how to know when to break up with a guy is an important part of finding the relationship that truly lasts forever. Listen to your gut, identify your deal breakers, and acknowledge when your guy is making the effort and just needs some help. Sometimes choosing the time when to break up is the right decision, but considering your options and working through your issues and emotions provides guidance on the proper course of action.