Many women want to know why men cheat. There's no definitive answer, and it's not like women don't cheat, either. There is a host of reasons why men cheat, ranging from his own immaturity and insecurity to drug abuse to stress in his life. Understanding why men cheat can help you prevent cheating or repair your relationship after cheating if that's something you're interested in. And if your man has cheated on you, understanding reasons men cheat can help you realize it's not your fault.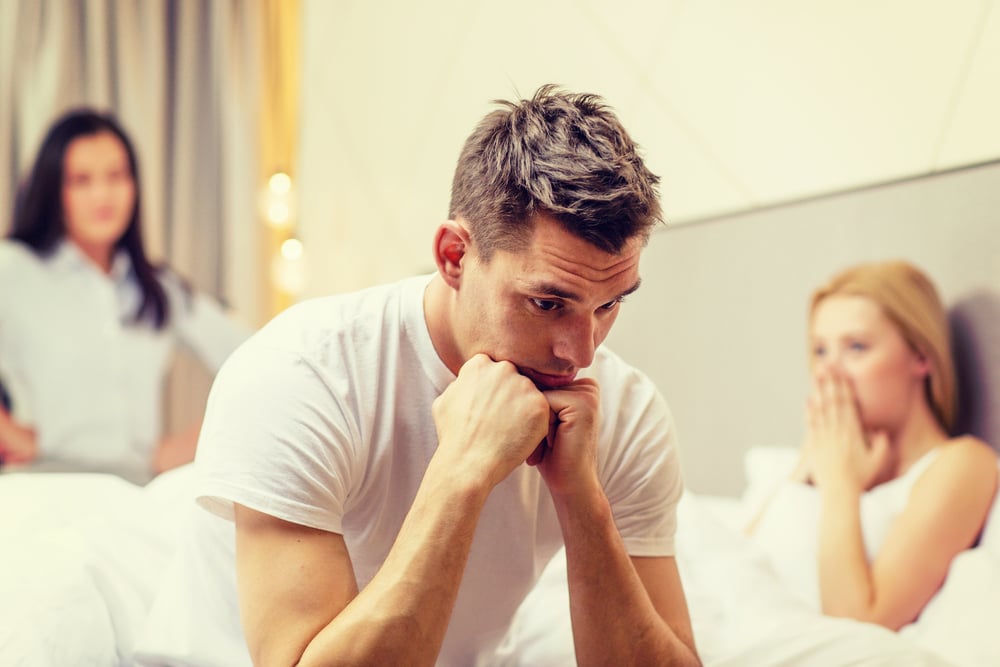 Why do men cheat? There are many reasons that I explain below…
1. He Wants to End the Relationship
Breaking up with someone isn't easy, but there's definitely a right way and a wrong way to do it. Cheating is absolutely the wrong way, but sometimes men – and some women – do this. They don't avoid getting caught. In fact, they want to. If he thinks you'll break up with him, then he doesn't have to be the one to have that conversation. If you think this is why he's cheated, then you're probably better off without him. That immature behavior doesn't make for a good relationship. We've got great advice for getting over him here.
2. He Desires Intimacy
Intimacy waxes and wanes in relationships, and that's often not a problem. But a lack of intimacy can hurt your relationship, and this is one reason men cheat. Of course, it's not the right way to go about it. Either he should end the relationship or the two of you should work on restoring intimacy. This includes emotional intimacy, which ensures your bond is secure, and physical intimacy, which leads us to our next point.
3. He's Avoiding Intimacy
Why do men cheat? Well here's one take on it: if a man is avoiding intimacy with his partner, he might cheat on her. It doesn't really make sense but, then again, many reasons for cheating aren't usually reasonable!
4. He Needs to Feel Wanted
For couples who've been together for a while, showing appreciating and desire might not be a priority. After all, there is work, kids, the home, and other obligations that demand your attention every day. You might not have any attention, time or effort to give to your man at the end of the day. Unfortunately, this is one of the reasons men cheat. Men want to feel wanted and sexy, just like women do.
Even if you don't have sex, take the time to let him know he's the one who gets your motor running. Perhaps give him a compliment to remind him of the things you think and feel but may forget to say and show on a daily basis. Otherwise, if there's someone who is willing to give him those compliments and the attention he's not getting at home, he might resort to cheating.
5. It's a Fantasy
Real life can be hard, and not everyone deals with that in the right way. Stress can lead to drinking or drug use, gambling and lying. It's also one of the reasons men cheat. When he sleeps with and develops a relationship with someone else, he can build it into a fantasy that feeds his needs, not to mention his ego, in a way that the responsibilities of his real life don't. Of course, those problems will all be waiting for him when he returns home, but he can forget about it for a while in fantasy land.
6. He Has a Problem with Chemical Dependency
Why do men cheat? Sometimes it's just a bad decision because of another bad decision. Men who have problems with drugs and alcohol often struggle with cheating. When his judgment is already impaired, he's more likely to have sex with someone else and not think about the consequences. After he sobers up, he might feel horror at the realization of what he's done. But this may only send him back into his bad habits.
7. There's Mental Instability
It's difficult to be in a relationship with someone who has PTSD, anxiety, depression or other mental issues. When our brain chemistry is off, we can make bad decisions. And while this doesn't excuse cheating or other unhealthy behavior in a relationship, it is sometimes why men cheat. It doesn't have to be the end of your relationship if he takes responsibility, seeks help and the two of you work through any issues.
8. It's a Reward
Is your man stressed? Does he feel like he's been victimized by the world or working so hard that he deserves some sort of reward? This might be one of the reasons he cheats. It's certainly immature and unhealthy. There are few ways more extreme to reward oneself, and this sort of behavior indicates that your man has a lot of growing up to do!
9. He Likes the Thrill
Some women ask "Why do men cheat?" because it seems like the negatives outweigh the positives. When some people cheat, they feel guilty and are paranoid about getting caught. But that's not the case for others. Sometimes cheating represents the thrill. It's taboo. He could get caught, and it makes it more enticing. It's similar to why some people like having sex in public, and there are negative consequences to both. If he's getting "positive" feelings from his cheating, he's unlikely to stop or even feel remorse if he is caught.
10. He's Curious About Other Women
A lot of women think that the reason men cheat is because of a hotter, younger woman vying for his attention. While this is sometimes the case, it isn't always. In fact, the woman he cheats with might not be any more attractive or younger than you. There are some instances when she might be noticeably less attractive. But she offers that reward, that fantasy or that attention he feels the relationship is lacking.
Still, this is sometimes a reason why men cheat. They have a straying eye. If he's the type to cheat simply because a good-looking woman has come onto him, he might also be the type who refuses to commit because he's worried about missing out. He's probably not a catch if he thinks like this, anyway.
11. He Wants (Better) Sex
It's normal for couples to have different sex drives, especially after the honeymoon period passes. However, it can be a deal-breaker if you don't deal with this correctly and in a timely manner. You need to compromise if he wants more sex than you. Remember, physical intimacy is one way to show that you care about him.
If you are having sex but he's finding that it's not satisfying, he might seek sex elsewhere rather than talk to you about his sexual needs. Discussing sex can be difficult, especially for people who are more private, but it's essential to keep your relationship strong to potentially prevent cheating. Check out our tips for talking about sex.
12. It Gives Him Control
If a man feels like his life is spinning out of control, he might resort to cheating. Of course, the lying and sneaking around will probably lead to a situation that makes him feel even more helpless in the end, but he might regain a sense of control for the time being.
So why do men cheat? There is no one reason. Unless he's a serial cheater, he might simply be dealing with issues in his life or your relationship in the worst possible way. It is possible to repair your relationship and move forward together if you're both dedicated to it. We've got an entire section dedicated to cheating and infidelity. Check it out here.
You can trust him again in many cases, but that's not always possible. Sometimes, cheating means your relationship is over, and you have to move on. Moving on can be difficult, especially if you're shared a home and a life and have children. But often it's better to move on than to stick with a man who won't take responsibility for his cheating.