The Lazy Wheelbarrow sex position is anything but lazy! To perform it requires a good deal of effort. It's one of the more exotic sex positions in the Bad Girls Bible.
To perform the Lazy Wheelbarrow with your man, he needs to start off by sitting down on a sofa or a chair (with no armrests) with his legs together. You then need to sit down on him with your legs together like you would in the Lap Dance or Back Seat Driver positions. You then need to lean forward, as far as possible and put your hands on the ground in front of you. Your stomach will be resting on your thighs.
What The Girl Does In The Lazy Wheelbarrow Position
Because you will be in an awkward position when performing the Lazy Wheelbarrow, you won't be able to do much besides trying to keep yourself comfortable and using your arms to keep yourself up.
There are a lot of things that you and your man will be doing in the Lazy Wheelbarrow position that you may not have done before, so make sure to let your man know if he is doing anything that hurts or is uncomfortable. Talking about sex can sometimes be difficult, so our guide to sexual communication may help.
What The Guy Does In The Lazy Wheelbarrow Position
When you are getting into the Lazy Wheelbarrow position, your man's first objective is making sure you are not too uncomfortable and that he is carrying enough of your weight.
As he is sitting down, he will find it difficult to thrust into you. Instead, you will be grinding on each other. So your man needs to gently move you forward and backwards over him by holding onto your waist.
Things To Consider When Performing The Lazy Wheelbarrow Position
The Lazy Wheelbarrow is a fairly exotic, 'out there' position. It's not like the Missionary position that pretty much everyone already knows. Even so, a few students of the Bad Girls Bible have tried it and have given me some interesting feedback on it:
Related: If you want to give your man back-arching, toe-curling, screaming orgasms that will keep him sexually addicted to you, then you'll find them in my private and discreet newsletter. You'll also learn the 5 dangerous & "dumb" sex mistakes that turn him off and how to avoid them. Get it here.
Just because the Lazy Wheelbarrow is exotic, 'out there' or is hard, to perform doesn't mean it's better than other styles. You'll find that they are lots of positions that are way more satisfying, enjoyable and easier to do than the Lazy Wheelbarrow.
If you like lots of thrusting during sex, then you'll hate the Lazy Wheelbarrow. It's very difficult for your man to do any thrusting during it at all. But this may be ideal for avoiding cervical pain. More on turning painful sex into pleasurable sex.
The Lazy Wheelbarrow is one of the less intimate positions that you'll find in the Bad Girls Bible. If you are searching for tips on intimate sex, then you may enjoy these intimate sex tips.
Similar Positions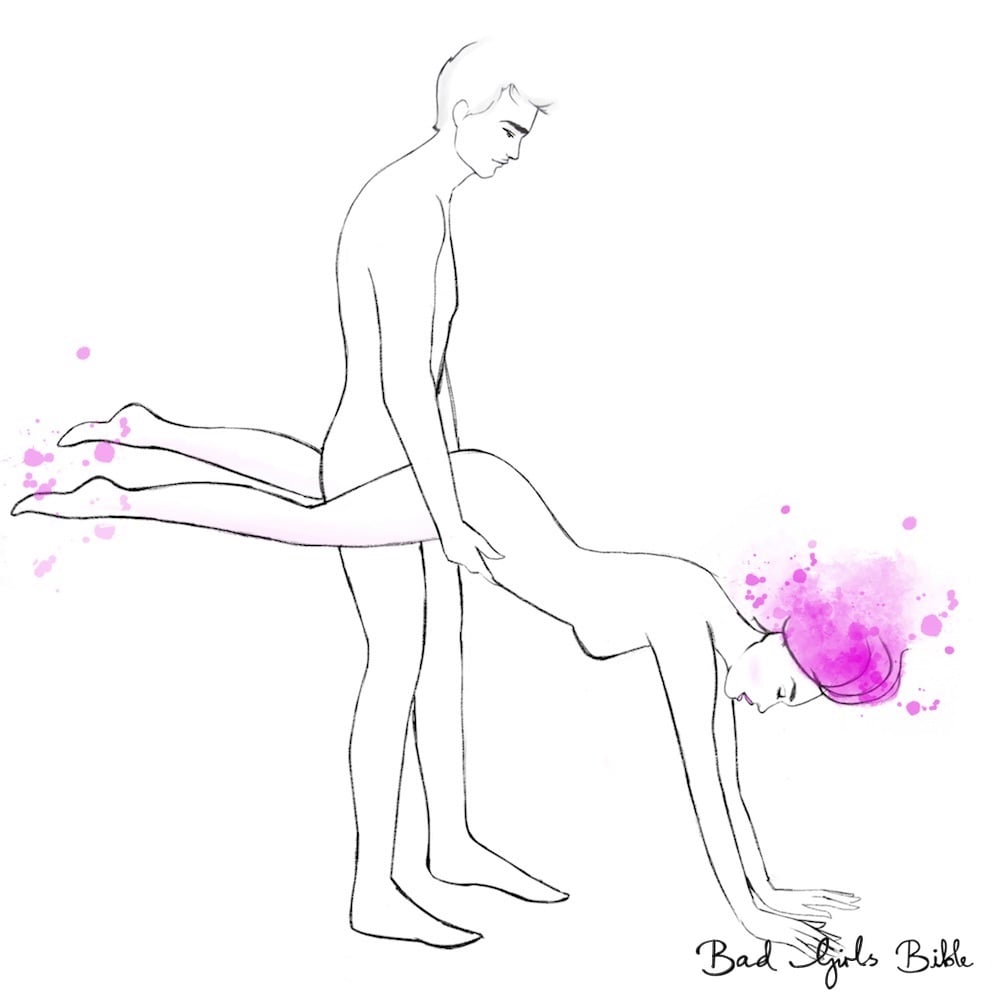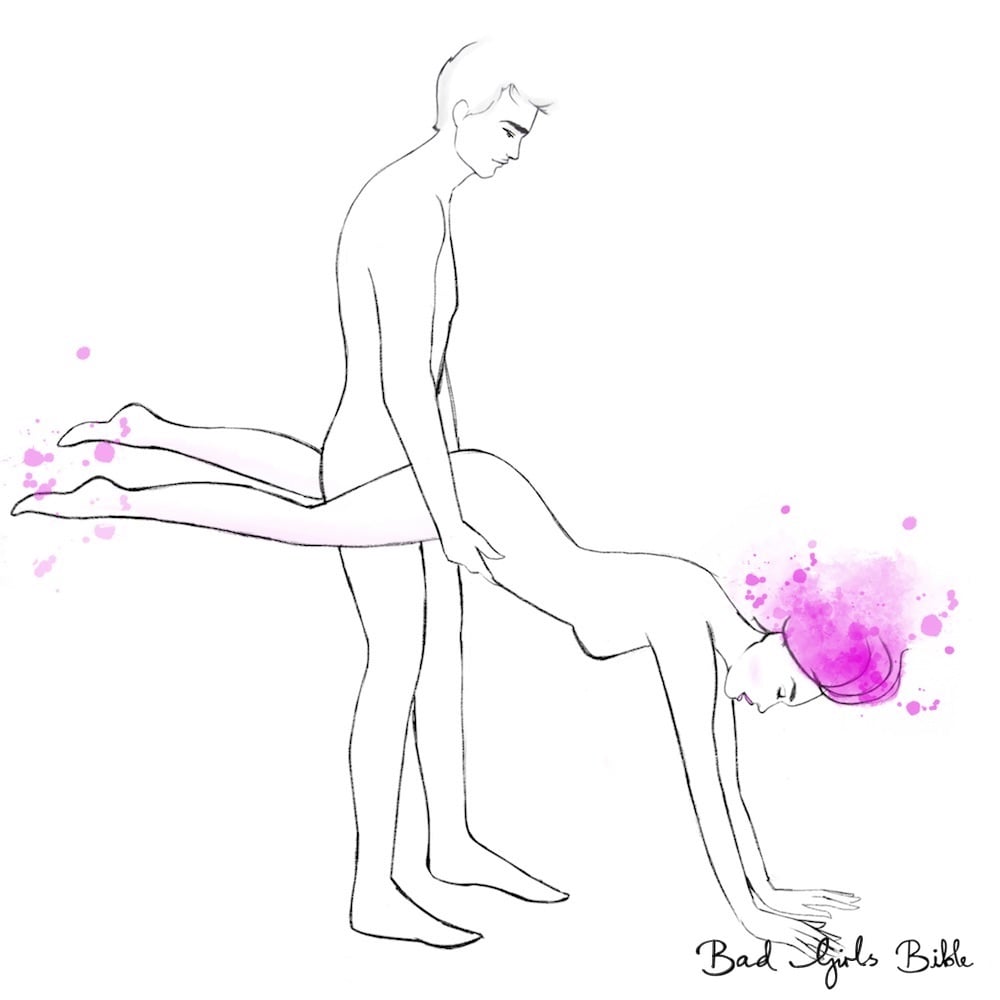 A full standing position makes this one a bit harder.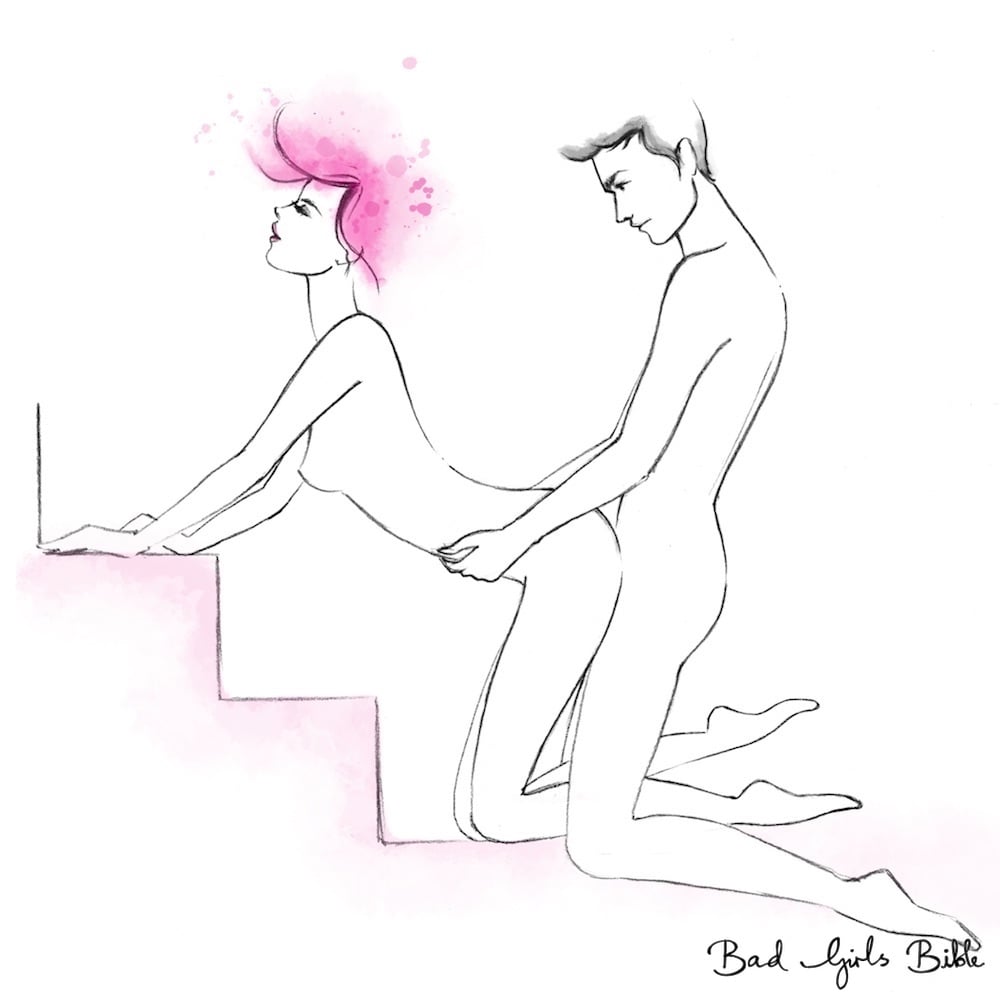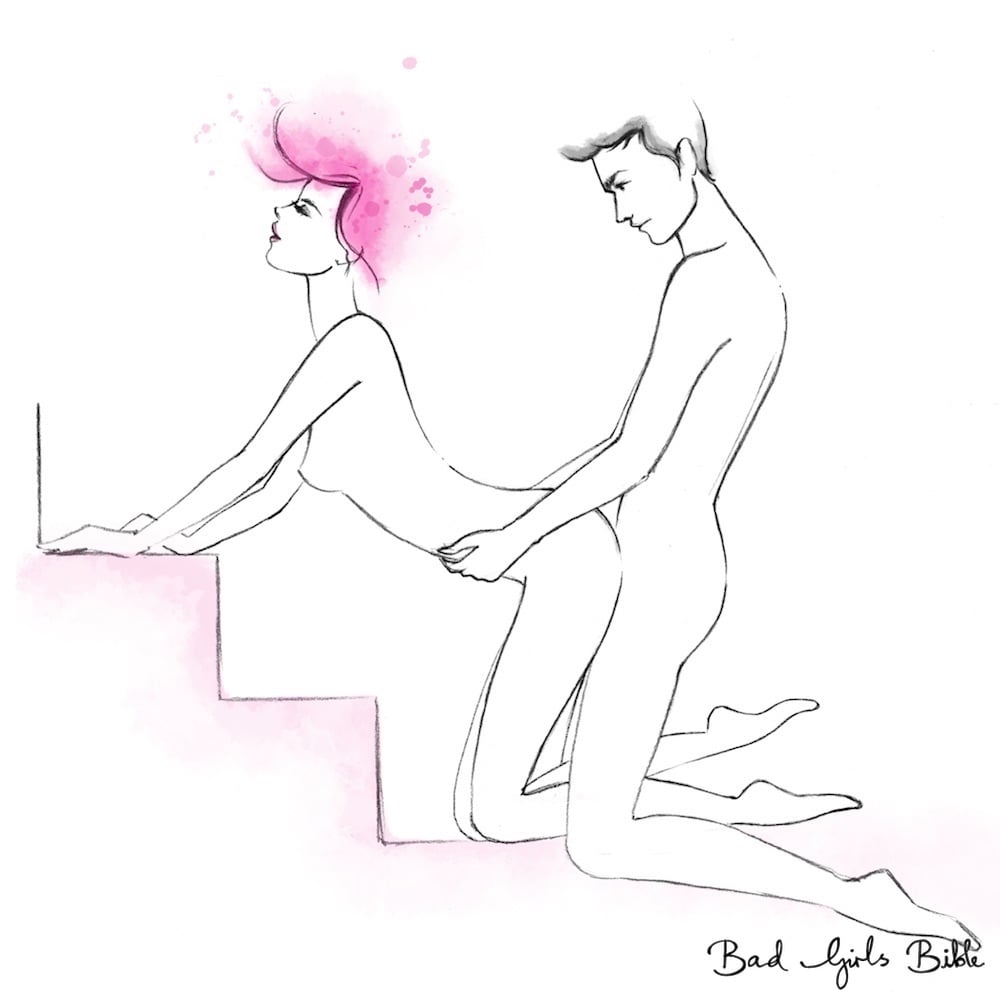 If you turn around to lean on a chair or stairs, you'll be in this pose.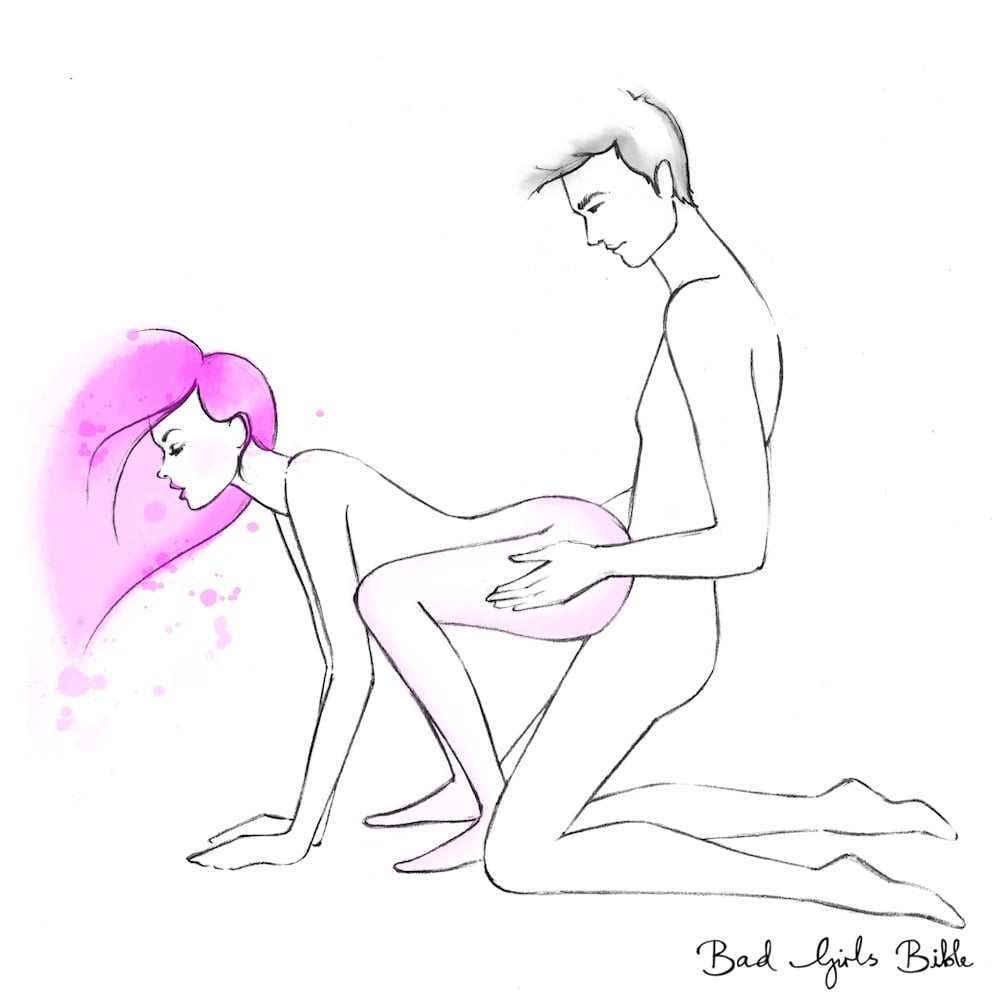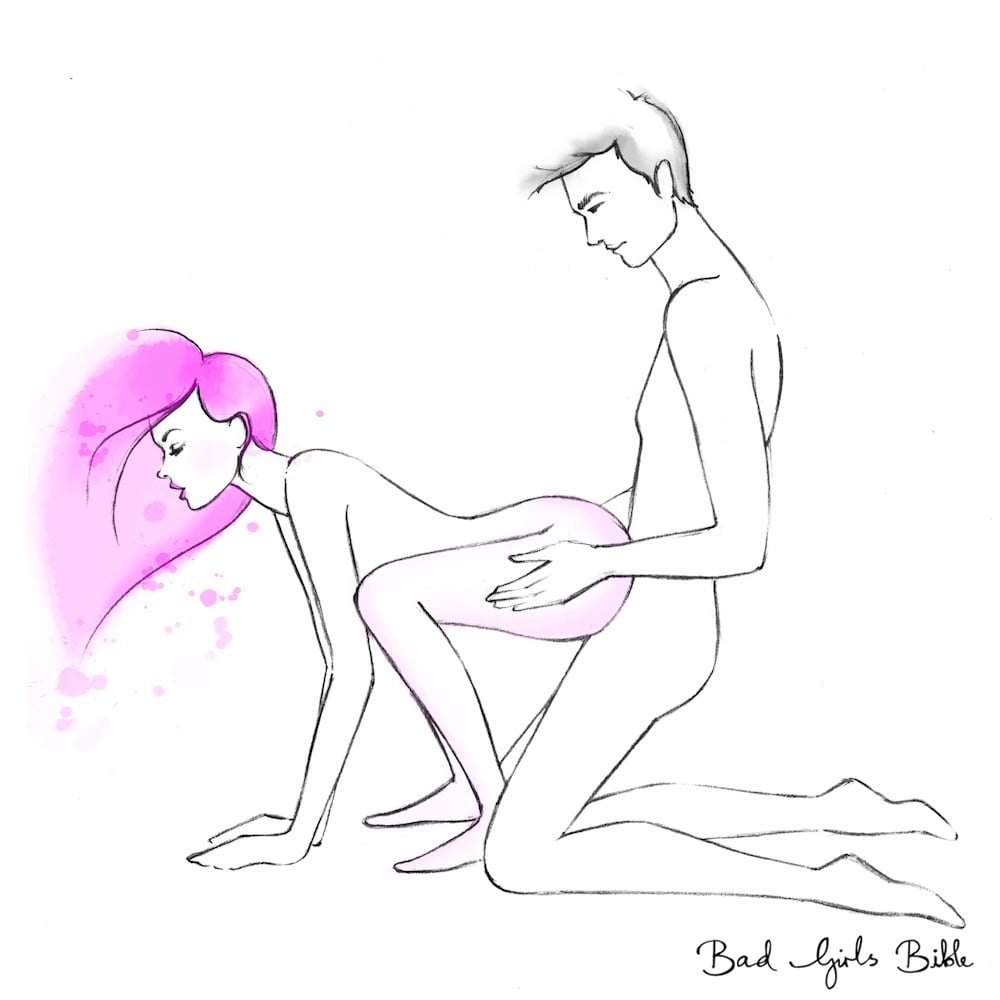 More like Doggy Style with you squatting.
Try more of the exotic sex positions suggested by the Bad Girls Bible.
Sean's Thoughts On The Lazy Wheelbarrow Sex Position
As you can probably already guess, I am not a fan of the Lazy Wheelbarrow sex position. I find that it's just not worth the effort for so little pleasure. But I still think you should try it at least once yourself before deciding whether or not it's for you.
This is going to sound a little crazy, but...
I want to teach you some oral sex techniques I call "sexual heroin" because they will make any man completely and utterly addicted to you, doing anything just to be with you.
These secret oral sex techniques, that you can use on any man, will give him back-arching, body-shaking, screaming orgasms so powerful that he may pass out afterwards.
If you are in a relationship where the "spark" is no longer there and would like to experience more passion, fire, and intensity then you may want to check them out.
Some side effects include:
Having a man who constantly looks at you like he wants to rip your clothes off.
Other women becoming jealous of your relationship and how your man treats you.
A guy who makes excuses to his buddies and cancels on them so he can spend more time with you.
A man who can't keep his hands off you.
Click here to learn learn these techniques now.
You're also going to hear a story of how one woman used them to overcome a potential divorce and make her marriage stronger and more passionate than she ever thought possible.