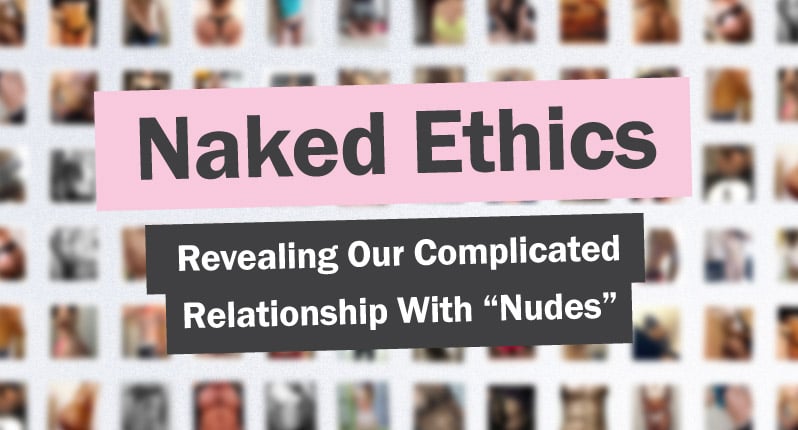 Americans send 1.8 million nudes per day or 20 per second.




4 in 10 Americans have sent a nude photo, 11% in the last month.




23% exchanged nudes with someone they matched on Tinder, more than any other dating app. Most never met the recipient for a real date.




7 out of 10 times strangers swap nudes on dating apps, the result is someone possessing a stranger's nude who they'll never meet.




Nearly 1 in 5 people would buy a nude, paying around $27 on average.




Men were twice as likely as women to obtain a nude without permission (23% vs. 12%).



70% of women and 50% of men believed those who share others' nudes without consent should receive a jail sentence (average of 1.5 years) or a fine of $4,400.



A majority of women (58%) and nearly 4 in 10 men (38%) thought a new "sext offender" registry would be a good idea.
"Send nudes" began as an online joke – a snarky comment to throw at someone if they revealed themselves as female on a forum. But this request, while still a meme, is no longer rhetorical. Millions of men and women around the world are sending nudes and without a shred of irony.
The unstoppable rise of messaging and dating apps, lightning-fast wireless internet, and high-definition front- and rear-facing cameras on hand at every moment have, for better or worse, made digitizing our naked selves irresistible.
Beyond confirming their ubiquity, we wanted to uncover the implications of requesting and receiving nudes. Are they the new normal and harmless fun or an ethical nightmare without an undo button?
We asked 1,058 Americans how many nudes they sent, what they believed a nude is worth in various contexts, and what the punishment should be for those who misuse them.
Americans send 20 nudes per second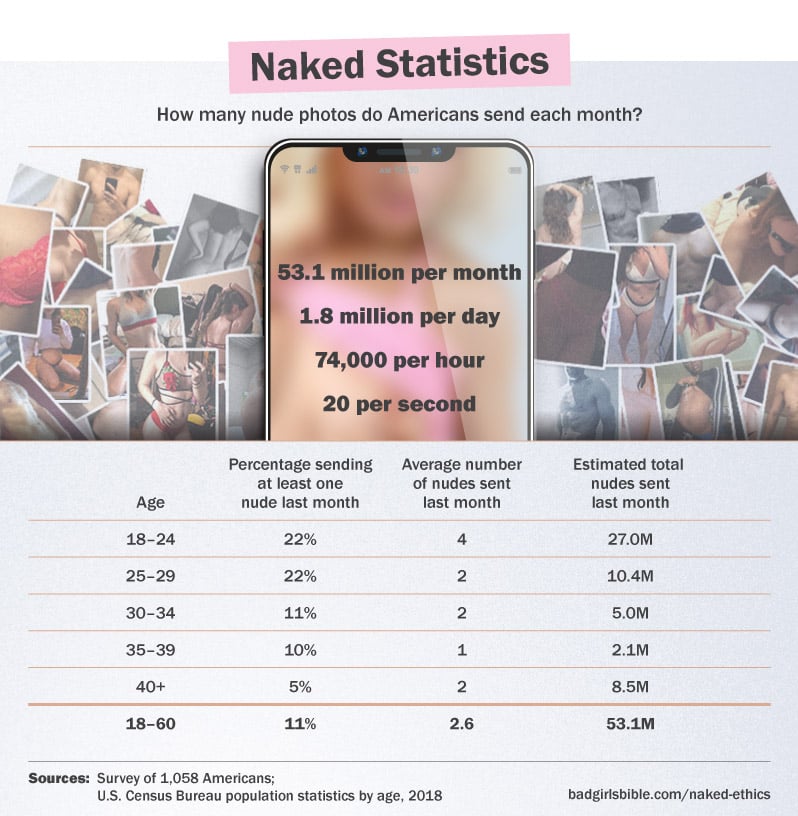 In the time it took you to read the first four paragraphs on this page, 1,000 nude photos were snapped and sent by American adults. We know this because we asked over 1,000 people, aged 18 to 73, about their nude photo-taking habits.
The figures, weighted to reflect the age breakdown of the U.S. adult population, revealed that 4 in 10 Americans have sent a nude photo to someone at least once in their lives. But sending nudes is most definitely a pastime of the young – 60% of women under 30 and 54% of men under 30 had sent at least one nude. More than one-fifth of all young people aged 18 to 29 had even sent a nude in the last 30 days, compared to 11% across all age groups.
We asked those who said they'd taken a nude about the most revealing image they'd ever sent. Eighty percent of women said it included their breasts, 37% included their genitals, and 59% included their face. Fifty-six percent said the nude included their breasts and/or genitals and face in the same photo.
Among men, 75% included their genitals (the now infamous "dick pic"), 39% showed their face, and 33% included both.
Overall, 60% of nudes in the U.S. were sent by men (totaling an estimated 32 million photos per month versus 21 million sent by women). The men who did send nudes did so more frequently – typically four times a month for men under age 30 and three times a month for men aged 30 or older, compared to 2.5 a month for women of any adult age.
But not all nudes are requested and enjoyed by their recipients.
Women are nearly 4x more likely than men to receive a nude they didn't want and don't enjoy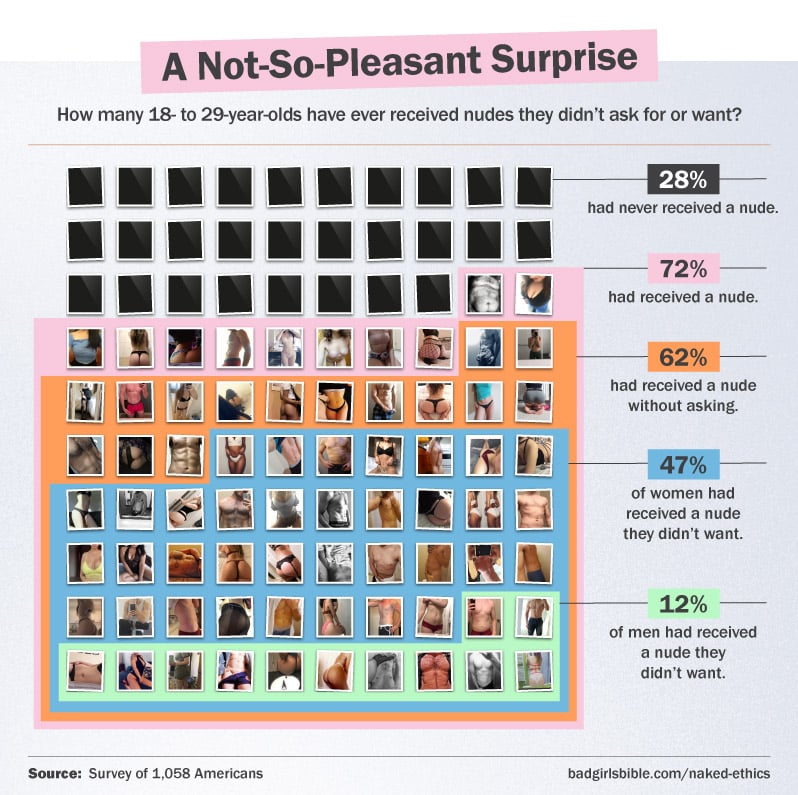 The majority of adults under age 30 (72%) had received a nude at some point in the past. But the devil is in the detail. There's a big difference between happily receiving a nude you requested and having thrust on your eyeballs an X-rated show for which you didn't buy a ticket.
Four in 10 women and 6 in 10 men said they'd been sent a nude they didn't ask for but were happy to receive, whereas nearly half of women (47%) said they'd received a nude they neither wanted nor enjoyed, compared to just over 1 in 10 of men (12%).
You don't need to be in an active chat with someone on a messaging or dating app to be on the receiving end of an unsolicited nude. There have been reports in the U.K., U.S., and Australia of "cyber-flashing," in which strangers are sent nudes by people nearby through their phones' AirDrop or Beam file transfer features. Even if the unwitting recipient doesn't accept the file, they are still subjected to thumbnail previews of the offensive images.
Cyber-flashing is still relatively rare. Online dating apps, however, have been a breeding ground for nudes for nearly two decades. What's new is the ease with which people using dating apps can snap and send a high-resolution shot of themselves. In 2000, when eharmony launched, the first camera-equipped phone had a resolution of 0.35 megapixels. Today, at least seven smartphones boast 48-megapixel cameras capable of taking a naked selfie that shows every skin pore of its brave, or foolhardy, subject.
We asked our participants which dating platforms they'd used and which, if any, had led to them share a nude.
One in five dating app users goes on to send a match their nude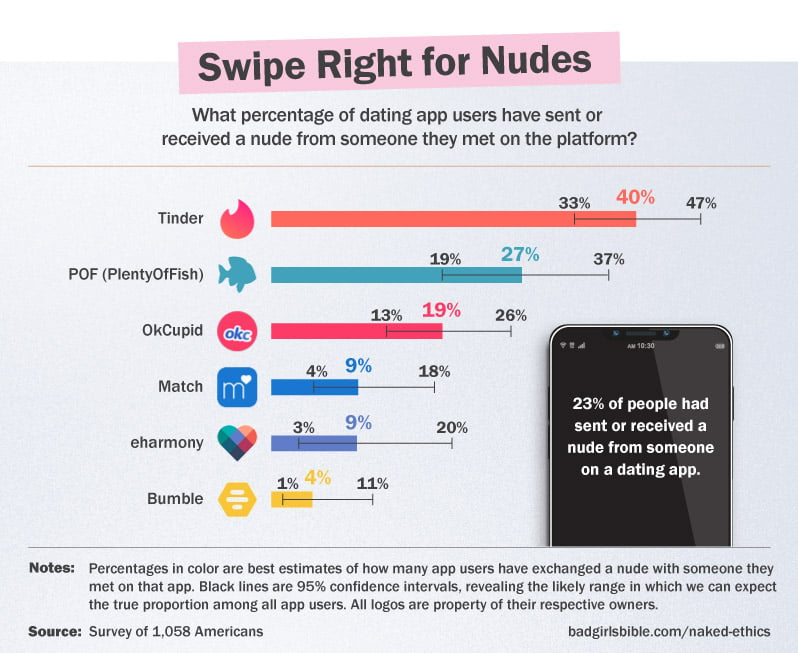 These days, there's an online dating app for most dating styles, and some have reputations for attracting specific types of users and behaviors. There are religious and niche apps (e.g., Jdate and Christian Mingle), apps aimed at busy professionals (e.g., EliteSingles), "classic" paid platforms (e.g., Match and eharmony), and a slew of free "social dating" options, like Tinder, Bumble, and Happn. But which app sees the most nude swapping?
Across all dating platforms our survey respondents had used, 23% had sent or received a nude from someone they talked to online. Based on the apps for which we had enough users to make estimates, Tinder had the highest proportion of nude swapping. Forty percent of Tinder users sent or received a nude from someone they swiped right. (You can't send photos directly on Tinder, so the percentage represents people who met on the platform, moved to another messaging app, and then sent and/or received a nude.)
POF (PlentyOfFish) had the second-highest proportion of users who had sent a nude or received one from someone they met on the platform (27%).
Not all of the people who said they'd sent a nude or received one from someone they met on a dating app did so before meeting them in person. Among the 37% of survey takers who said they'd sent a nude to someone they met on a dating app before meeting in person, the nude led to an in-person date only 29% of the time. That means 7 out of 10 times people swap nudes on dating apps before meeting in real life, the result is someone possessing a stranger's nude who they'll never meet.
Dating apps have also given rise to a new social phenomenon: selling and buying nudes for cash or favors.
We believe our own nudes are worth at least three times more than others'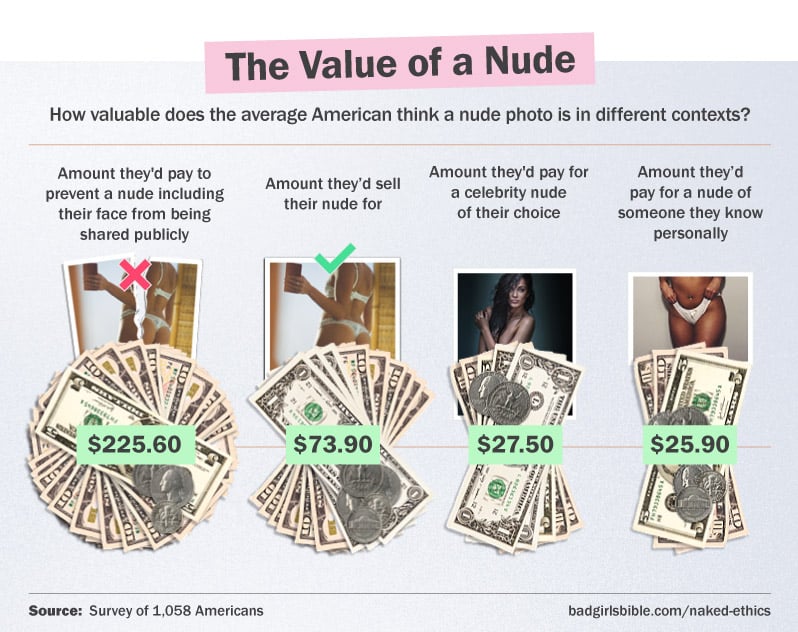 Not all nudes are made equal. To better understand how people value them, we asked how much people think naked selfies are worth in U.S. dollars in a variety of contexts.
Twelve percent of people said they'd be willing to sell a nude photo of themselves to someone else, and the average price tag would be $73.90. Women were more than twice as likely as men to say they'd be willing to sell their nude (17% versus 7%).
Some people put a higher price tag on their self-image; 25% said they'd need at least $170, and 10% said they'd charge $500 or more.
Being willing to sell your nude is one thing, but is there a market of willing buyers?
Eighteen percent of people told us they'd be willing to pay for a nude of someone they knew personally or a celebrity of their choice, with men being five times keener to buy than women (30% versus 6%).
In actuality, 9% of men had paid for a nude at least once, whereas not a single woman we spoke to said she'd swapped cash for photographed flesh.
On average, people who'd buy a nude of someone they knew personally would pay $25.90, only slightly less than their best average offer for a celebrity of their choosing ($27.50). This is considerably less than the price of the celebrity nudes that were leaked in "The Fappening" in 2014. The illegally acquired photos were on sale for $100 to $350, depending on the celebrity in question, four to 13 times more than what people said they were willing to pay on average.
Someone I knew was posing as someone else and later revealed it was him and a friend wanting to see if I would actually send a nude. — 30 year old survey participant
It appears we feel that our own nudes are worth twice as much on the open market as someone else's, including A-listers ($73.90 versus $26 to $28). When we asked how people would respond to a blackmailer who is threatening to leak a nude that shows their face, 1 in 5 said they'd be willing to pay an average of $225.60 to prevent the fallout.
It's clear from speaking to dating app users that the buying and selling of nudes is mostly a one-way street between men and women. Thirteen percent of women said at least one man on a dating site had asked to buy their nudes, and 6% of men had tried to sell them theirs. However, only 3% of men had been asked by women to sell their nudes, while 24% had been offered access to a nude by a woman on a dating app for the right price.
One reason that 8 in 10 people wouldn't buy a nude is that you don't always need to pay for the privilege. There are ways to get nudes for free even when you don't have permission.
1 in 10 people have taken a screenshot of a nude that was intended to be temporary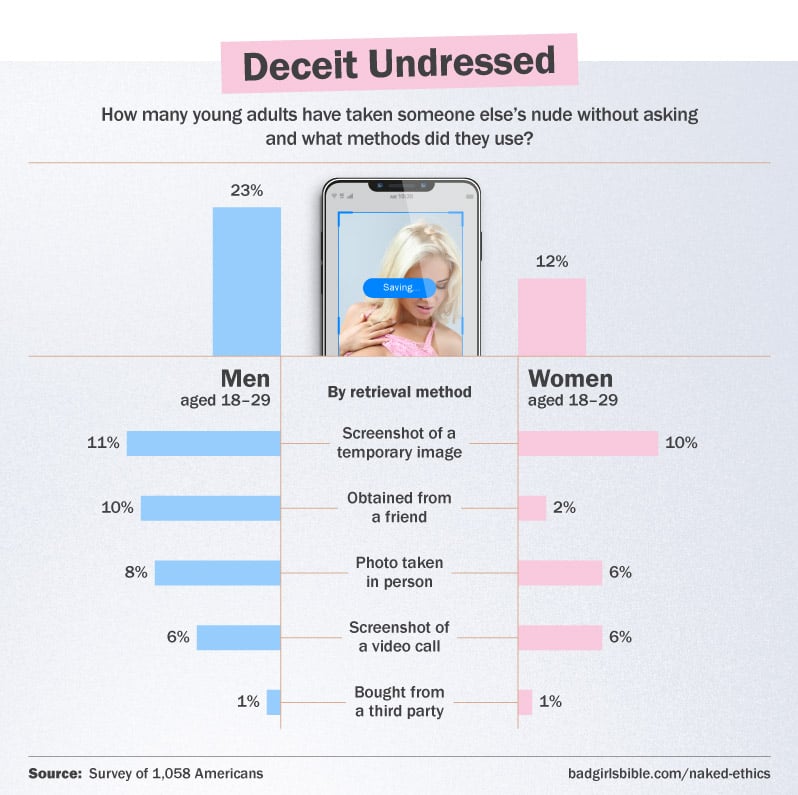 To obtain someone's nude without their permission 25 years ago probably would have required breaking into their house and rummaging through their personal belongings. Thanks to technology, we can now add a nude to our personal stash from the comfort of our own homes.
Men were nearly twice as likely as women to obtain a nude without permission (23% versus 12%). The most common method used by both genders was taking a screenshot of a temporary image – from Snapchat, for example.
Articles about surreptitious screenshots on Snapchat stretch back to 2013. Today, it's widely known by Snapchat users that there's no such thing as a truly temporary nude. But there are still dozens of guides on how to take a screenshot of Snapchat "without them knowing."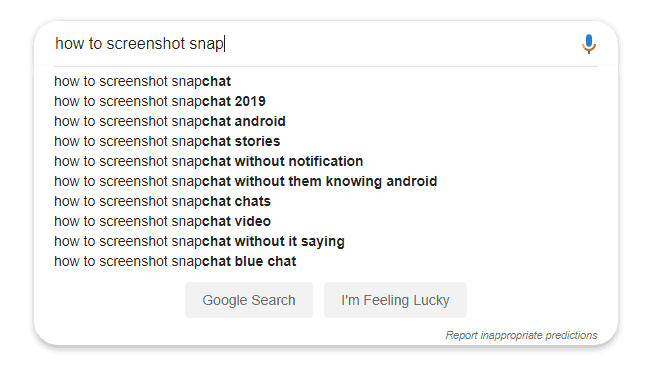 Men were five times more likely than women to obtain a nude from a friend, but roughly the same proportion of men and women had secretly snapped a photo in person or took a screenshot of a video call.
If you share with others, lovers can and do become enemies pretty quickly … Someone taking a nude of you without your knowledge or permission is another thing. That's sexual assault in my book. — 33 year old male participant
We've seen that more than 50 million nudes are sent and received in the U.S. each month, many with consent and many without. What happens to the ones that are swapped between romantic partners when the romance comes to an end?
Half of people keep possession of their partner's nude after they break up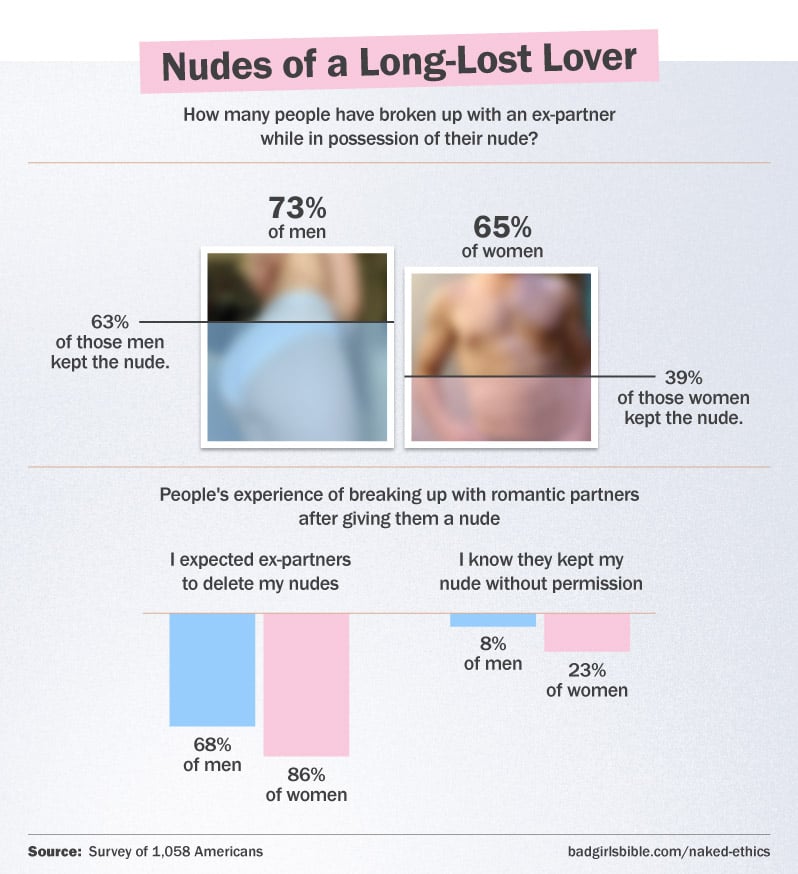 Seventy-three percent of men and 65% of women told us they've been in the possession of a partner's nude after breaking up with them. Of those people, over 6 in 10 men kept the nudes compared to nearly 4 in 10 women.
I wonder sometimes what he did with them, or what he has told people about me. As the female in this situation, I feel like my reputation is way more at stake than his, but that he holds all of the power and I absolutely hate it, and hate that I have allowed myself to get messed up in this situation. — 26 year old female participant
The ethics of keeping nudes past a relationship's expiration date aren't straight-forward. Forty-six percent of women told us they think it's cheating if a man keeps a nude of his ex after entering a new relationship, compared to 27% of men in the reverse situation.
Nevertheless, 35% of men and 17% of women admitted to keeping an ex-partner's nudes without explicit permission from the person featured in the images. Comparing these numbers to the proportion of people who know their exes kept their nudes reveals an intriguing gap. Thirty-five percent of men kept their exes' nudes without consent, but only 23% of women said they knew their ex had kept their nudes without explicit permission. So, at least, 12% of women and 9% of men have no idea their nudes live on in their exes' new lives.
Many, many years ago, I did let my husband take nude photos of me with an Instamatic camera – we divorced, he's since died, and I have no idea what happened to the photos. — 64 year old female participant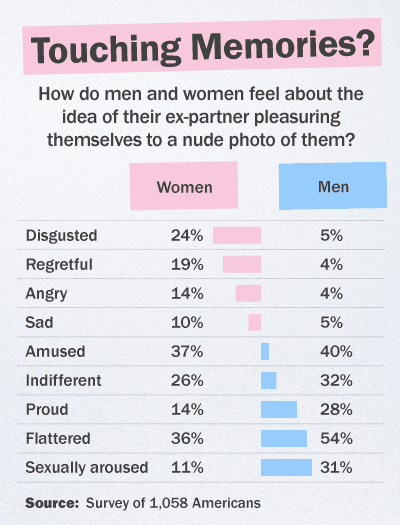 We asked how people would feel if they knew their ex-partner pleasured themselves while looking at a nude they'd kept from their former relationship. One in 4 women said they'd feel disgusted compared to 1 in 20 men. Women were nearly five times more likely to say they'd feel regretful than men (19% versus 4%) and nearly three times less likely to say they'd feel sexually aroused (11% versus 31%). But 36% of women said they'd feel flattered (54% of men said the same).
With millions of fresh nudes stored on hard drives, phones, and in the cloud, there's a greater opportunity than ever for lines of consent to be blurred or flagrantly crossed.
What does the public think the punishment should be for sharing a nude without permission?
One-quarter of people think sharing a nude without permission deserves a five-year jail sentence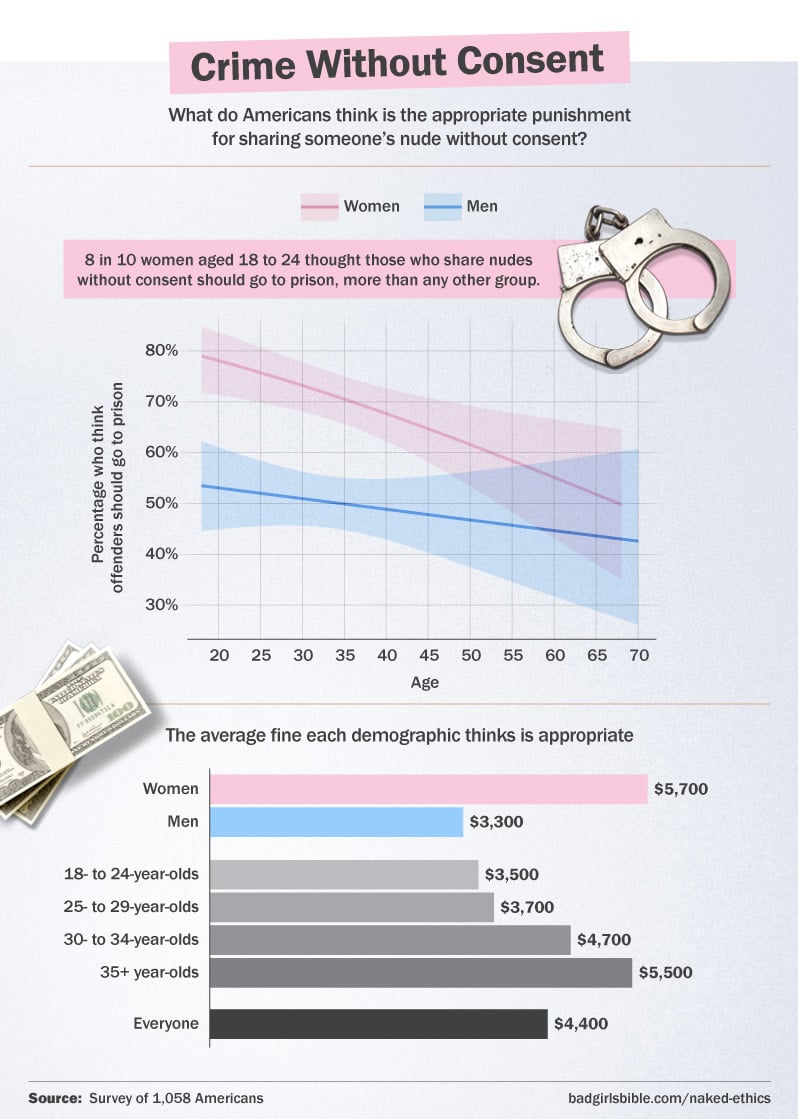 Although our results suggest many of us have a relaxed attitude toward sending and receiving nudes, we aren't so charitable toward those who misuse our most precious photos.
Seventy percent of women and 50% of men said they believe a jail sentence is appropriate, with an average recommended jail sentence of 1.5 years or a fine of $4,400. Both are roughly equivalent to a class A misdemeanor (e.g., burglary, assault, or DUI).
Overall, 89% of women and 79% of men said they think culprits should be fined, with women recommending a fine of $5,700 on average, compared to $3,300 by men. Some believed the punishment should be even more severe, with 25% recommending a jail sentence of five years and a fine of $10,000 (a class D felony (e.g., voluntary manslaughter or stalking).
For reference, the hacker allegedly responsible for "The Fappening," in which dozens of celebrities' private photos were illicitly acquired, received an eight-month jail sentence and no fine. However, there have been cases with more dramatic punishments. A Houston woman was awarded $500,000 in damages by a civil court after her ex-boyfriend posted her nudes on a number of websites maliciously and with ill intent.
Forty-five states and D.C. now have revenge porn laws, which shows that the legal system is rapidly trying to catch up with technology.
[They] put up a nude photograph in the photo lab at our college. — 45 year old woman
[They] sent it to my family. — 19 year old woman
[They] threatened to post it online. — 23 year old woman
6 in 10 women think a new "sext offender" registry is a good idea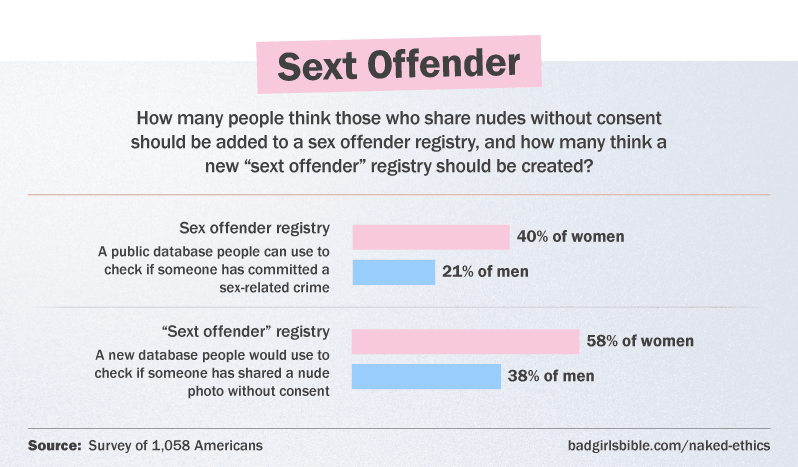 While most states are developing their laws surrounding the "intentional distribution of nonconsensual porn," it's currently up to the judge to decide if the culprit should be added to a sex offender registry – a database to help law enforcement and the public track the location and details of people charged with sexual offenses.
Forty percent of women and 21% of men polled thought that people who shared others' nudes without consent should be added to a public sex offender registry, alongside pedophiles and other high-risk offenders.
A majority of women (58%) and nearly 4 in 10 men (38%) thought that a new, separate "sext offender" registry would be a good idea. It would list people who have shared nudes without consent and give others a warning that they might not deserve their trust.
Summing Up
We live in strange, nude-filled times. Facebook has suggested creating a massive database of nudes to help detect when they're shared without our permission (and all we have to do for the privilege is send them our naked pictures), and Amazon founder Jeff Bezos was threatened with the release of his personal photos if he didn't do what his blackmailer wanted.
If the largest social network and the world's richest man struggle to contain the toxic potential of nudes, what chance do the rest of us have?
We all have the choice to take a nude, but a majority of the people we surveyed (55%) said there's someone currently in their life whom they'd consider sending a nude. And once it's sent, it's out of our hands.
It takes time to really get to know someone, and even if you think you know them well, years later, they still might do something shady with the private pictures you have sent them. — 27 year old female participant
Twenty-six percent of people hang on to their exes' nudes, which puts many of us in nude limbo. Perhaps they'll come back to haunt us, or maybe – as 14% of women and 28% of men said – we'll feel proud at the thought that they may still be getting some "enjoyment" from them.
---
Fair use statement
You have our consent to share our research on Americans' attitudes toward nudes for any non-commercial purposes. But please link to this page so that we are credited.
Methodology
In May of 2019, we surveyed 1,058 Americans aged 18 to 73 about their history of sending nudes, their attitudes toward them, and their opinions on how people who mishandled nudes should be treated. Men and women were equally represented in our survey sample.
We recruited our survey respondents using an independent academic research platform. To avoid bias, participants did not know the survey was conducted for BadGirlsBible.com, nor did they know the full details of the survey topic. The survey was described as being about "how we send and receive photos in the modern world," again to avoid self-selection bias. Our survey results are reported with a maximum sampling error of 3%.
Where relevant, responses were weighted to reflect the age distribution of the U.S. population. Estimates of nude swapping on popular dating platforms are based on a limited number of respondents, so the results are shown with 95% confidence intervals to express the relative uncertainty of the prevalence estimates.