There may be someone one out there for everyone, but no one said the love of your life would pop up in the same zip code. Whether you met from afar or moved apart after things got serious, distance can change the entire vibe of a relationship. There won't be any loving arms to walk into after a long day at work and dinner-and-a-movie date nights won't happen on a regular basis.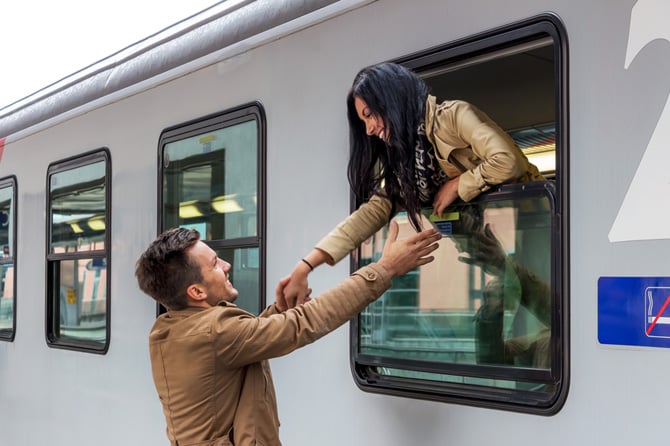 But long-distance relationships can also be incredibly strong and durable since dealing with the daily challenge of being apart can make other issues seem small and manageable. However, you can't approach a long-distance relationship like you would a traditional dating situation. Whether you are a hour-long car ride away, across the country or on different continents, you'll need some tried-and-true long-distance relationship advice to help make things work.
1. Set a goal
You may be able to endure, and even thrive, while seeing each other once in a blue moon for the short term, but long-distance relationships often get harder over time. Eventually, the two of you will probably want to start a life together in the same location. Start thinking about what that looks like, and what it will take to get there. Will one of you move when you finish school, get a new job or reach a milestone in your relationship?  Having some sort of timeline, even if it's vague, for the future can make the present easier.
2. Set some ground rules
Nearly every couple has rules, but in a long-distance relationship, boundaries take on a whole new level of importance. Make sure you are both on the same page concerning the level of commitment. Are you an exclusive item, or is it okay to see other people while you are apart? Also, be sure to agree on how much contact is needed. Do you need daily phone calls, or is speaking once every few days enough? When you both speak openly about your needs, and set standards around them, there's less room for miscommunication and disappointment.
3. Stay positive
Attitude is everything, so try to stay upbeat even when your long-distance relationship feels like a drag. Rather than dwelling on the down side of being apart, look for opportunities within the situation. View your long-distance relationship as a unique experience that is something out of the realm of anything you have done before. Focus on the positive parts, like visiting a new place and getting more time to spend with your friends and family.
Also, try to see how the miles can actually strengthen your relationship by teaching you patience, new communication strategies and greater trust in your partner. By focusing on what's good, you may be able to give negativity less power to uproot your bond.
4. Understand each other's schedules
You might keep your long-distance relationship going strong by hopping from one phone call, video chat and text message to the next, but all that communication might cut into other activities. Keeping track of each other's commitments, such as work schedules, social commitments, business trips and meeting can prevent the phone from buzzing at an inopportune time. This is especially important if you are in different time zones, when your bedtime might be the middle of his workday.
Not only will knowing each other's schedules help you schedule chats, it will also help you feel immersed in daily life together and prevent either of you from coming across as needy.
5. Visit each other regularly
Get ready to rack up some frequent-flyer miles. One of the most important pieces of long-distance relationship advice is to visit each other as often as possible. You might find that you need to take turns doing the traveling, so that the budget burden, and the jet lag, doesn't become too much. When you do find yourself in the same location, make spending time together the priority, rather than cramming in a lot of activities.
It's tempting to play tourist, but you can go out to dinner or to see a show anytime. While it's good to get out and have fun together, time spent communicating face-to-face and being intimate may help strengthen the relationship. It might be good to skip the parties and cuddle, instead.
6. Spend holidays together
In a long-distance relationship, you'll probably miss your love a little bit every day. But special occasions can be especially trying. Holidays usher in a wealth of emotions, from glee to despair. Plus, there's added emphasis on relationships and family during these times. Make every effort to be with your special someone on big days, such as Christmas, birthdays, Valentine's Day and anniversaries. Check out gift ideas here and VDay suggestions in this post.
If hopping on a plane isn't possible, at least try to share the day by amping up communication. Multiple phone calls, video chats and ongoing text messages can make you both feel like you are sharing the occasion.
7. Go on a date
You may not be able to make a reservation for two at your favorite restaurant, but that doesn't mean you can't have a regular date night. Set up a weekly appointment to spend some quality time together face-to-face via Skype or Facetime. Then, do everything you can to create an authentic date experience. Put on a pretty outfit and doll yourself up, just as you would if he were taking you out for a night on the town. Once you are online together, order takeout from the same type of eatery and queue up matching movies.
Check out tons of date ideas here.
8. Find ways to be intimate
The difference between a romantic long-distance relationship and friends that live in separate areas is often physical intimacy. He may not be there to touch and please you, but there are plenty of tech-savvy ways to satisfy your carnal cravings together across the miles. For some, it may feel a bit awkward at first, but sexting and Skype sex can both be very satisfying once you get into it.
On Skype, slip on your sexiest lingerie and put on a show by doing a little strip tease or pleasuring yourself. Here are some great tips for dressing sexy for your man, too!
Send him flirty text messages once in awhile, and, once you know it's safe to rev things up, type dirty to him. Check out the sexting ideas in this post to keep things hot.
9. Don't put yourself in tempting situations
Craving the physical presence of your sweetie can sometimes make it more tempting to indulge in inappropriate behavior with other people. A long-distance relationship shouldn't turn you into a hermit, and it's important to get out and have fun. But make sure that you have fun but don't step over the line, or make him worry excessively.
Going to happy hour with the office hottie or meeting your girlfriends for a night of drinking and dancing might not be the best idea right now. If you do decide to go out, tell your honey in advance and let him know when you get home. He's mind will probably be racing with possibilities, so reassure him that you are just having a little innocent fun. He should trust you, but it's usually a good idea to demonstrate that you are worthy of that trust.
10. Keep things fresh and interesting
The usual routine of phone calls and texts can get dull, potentially leaving both of you feeling bored in the relationship. Doing sweet, creative things for each other is important for every couple, but in a long-distance relationship, you may have to work extra hard at it. Show him that you can by popping a care package of his favorite treats through snail mail. You can also write down some of your thoughts in an old-fashioned letter and put a stamp on it and send it to him.
You can also enlist the help of his roommate or friend to plant a surprise, like a gourmet meal, in his place. Whatever you do, find little ways to break up the monotony of your game of phone tag. What about a little phone sex?
11. Don't go overboard
In a long-distance relationship, you will probably always be longing to hear from him. But you can actually overdo it on communication. Constant calls and texts can be disruptive and look desperate and clingy. Instead of trying to cram in large quantities of communication, focus on quality instead. Try to have meaningful conversations instead of spouting off a quick text for every little thing that pops up. You want him to look forward to hearing from you, not see it as spam.
12. Enjoy your solo time
Missing each other is part of most long-distance relationships, but you can't spend your hours pining for him. Instead, make the most of the time on your own.
Throw yourself into your career by working overtime, tackling big projects and taking classes. Or, sign up for a new fitness class and spend some extra hours at the gym working on your body. Master a new hobby, volunteer in your community and meet up with your girlfriends regularly. Staying busy will keep your mind off missing him. Plus, all your new activities will give you plenty to chat about when you are together.
13. Send photos
He's probably thrilled to hear your voice or read your texts, but he would also love to see your face. Since you can't stay tied to a webcam all day, use an app like SnapChat to send photos. Let him see your smile, or send a pic of what you are doing during your day so that he can experience it with you. Keep the pics clean the majority of the time, but send something a little more risqué when you know it's safe. Check out this article for photo tips and other sexy gift ideas.
14. Talk through problems
No matter how much solid long-distance relationship advice you employ, there are bound to be issues and frustrations that pop up along the way. Open, honest communication is important for every couple, but it takes on a whole new significance when you are apart. Whether you are feeling lonely, overwhelmed by the distance and time apart, or frustrated by not being able to see an end to the situation, talk it through with your partner. Then, work on finding solutions together.
Remember, communication is a two-way street, so when he opens up about problems he sees, it's time to listen and solve them with him, even if you are feeling fine.
No matter how much long-distance relationship advice you read and implement, it's probably always going to be a little bit difficult. Would it be easier to fall for the guy down the street? Sure. But you can't usually help who you fall for or what situations arise once you are together. Though long-distance relationships have challenges, they can also be manageable and rewarding with the right tools and strategies. Your happily ever after might require a plane ticket, but a little effort and commitment can help to shrink the miles.