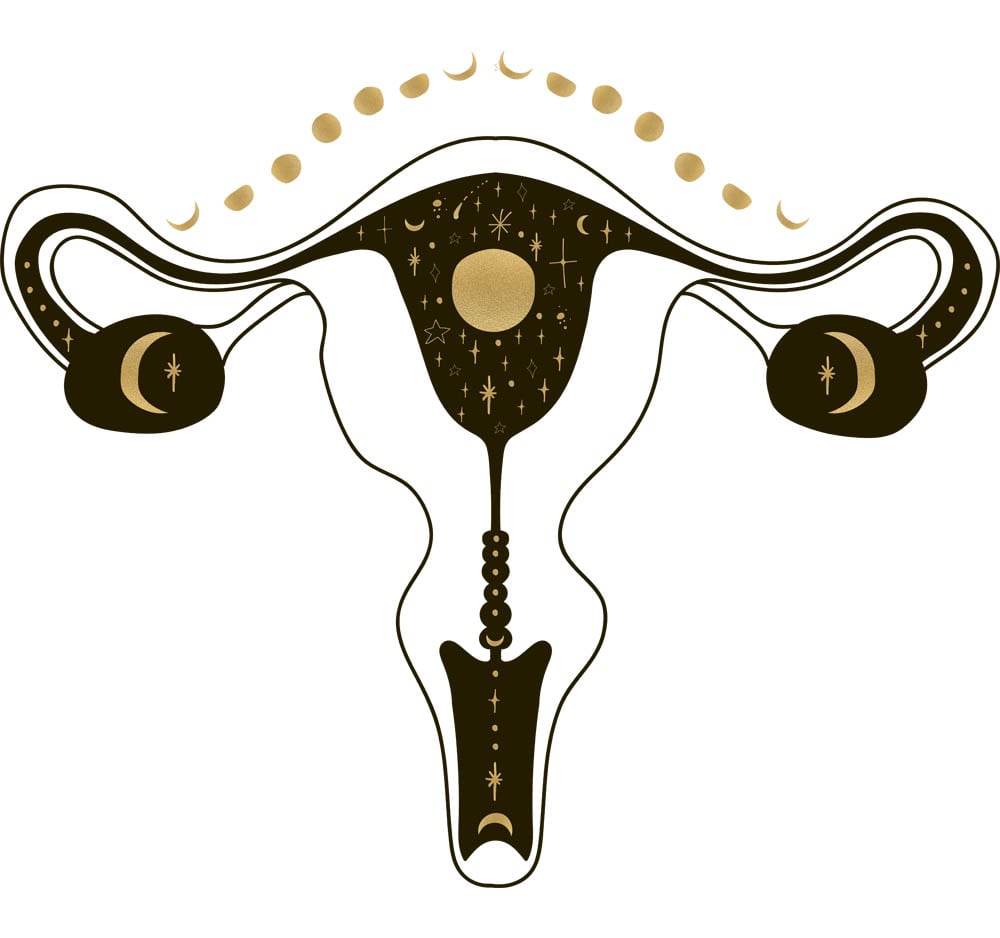 How many types of orgasm can you name? And how many do you have? Many women struggle to just have one, the clitoral orgasm. You may have mastered that and the G-spot orgasm, but have you heard of the cervical orgasm?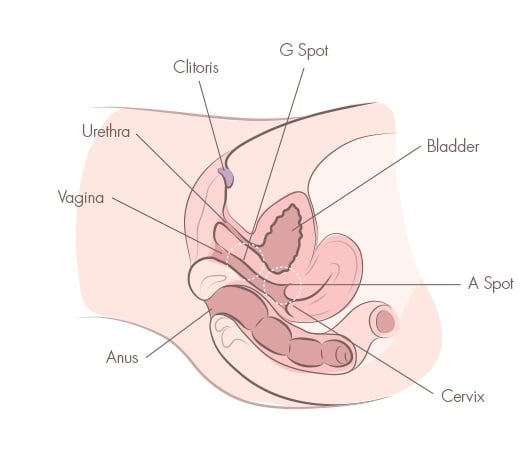 Your cervix is the entry between your uterus and vagina [1], just as you can see in the diagram above. It's too small for a penis to enter [2] but quite elastic [3] – enough to allow menstrual blood to pass through as well as an infant's head during childbirth.
The cervix is located between at the end of the vagina between 3 and 7 inches deep [4]. It might feel like a tiny donut if you or your partner touch it with your fingers. Some people describe touching it like touching the tip of a nose. Just in front of the cervix sits the A-spot, another pleasurable spot.
Prefer audio? Listen to a podcast with Jason Julius about the cervix, squirting orgasms, and so much more!
The cervix dilates during childbirth [5, 6, 7] and your period [8] and can be made to dilate during IUD insertion [9, 10]. All of those things can be pretty uncomfortable so you might not be too keen on playing around up there. But your cervix can lead to great pleasure if you spend a little time waking it up.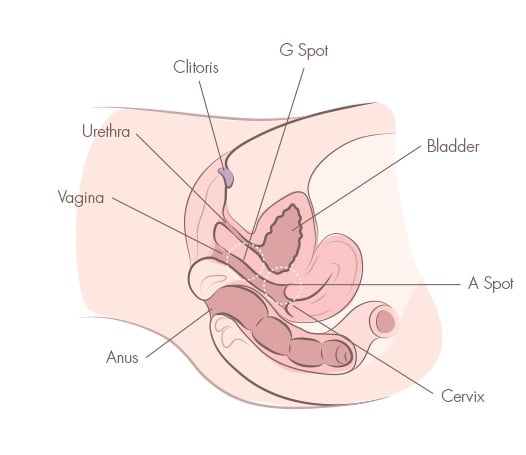 Did you know that your cervix tends to sit lower around your period? This might make cervical stimulation easier. However, the cervix also tends to be harder during these times so you may find it more uncomfortable to try to have a cervical orgasm then.
Warning: some women find that cervical stimulation actually releases emotions. So don't be alarmed if you find yourself experiencing some feelings you didn't expect.
Still, not everyone woman enjoys having their cervix touched, according to sex educator Carol Queen:
Some people find this kind of stimulation unerotic, neutral, unpleasant or painful—so the cervix isn't a magical hidden pleasure point, at least not for everyone.
You know your cervix better than anyone, of course!
Your Cervix And Pleasure?
According to the Taoists, the cervix is the third gateway, after the clit and G-spot. Of course, it's literally the "gate" between your uterus and vagina, and it serves its primary purpose during childbirth. But can your cervix be a source of pleasure? We certainly think so!
Some cultures believe that there is an irrevocable connection between your cervix and your body, which is precisely what makes a cervical orgasm so amazing. And sex educators such as Annie Sprinkle are among those who have been able to have a cervical orgasm. She even lists this as one of seven types of female orgasm.
How Cervical Orgasms Differ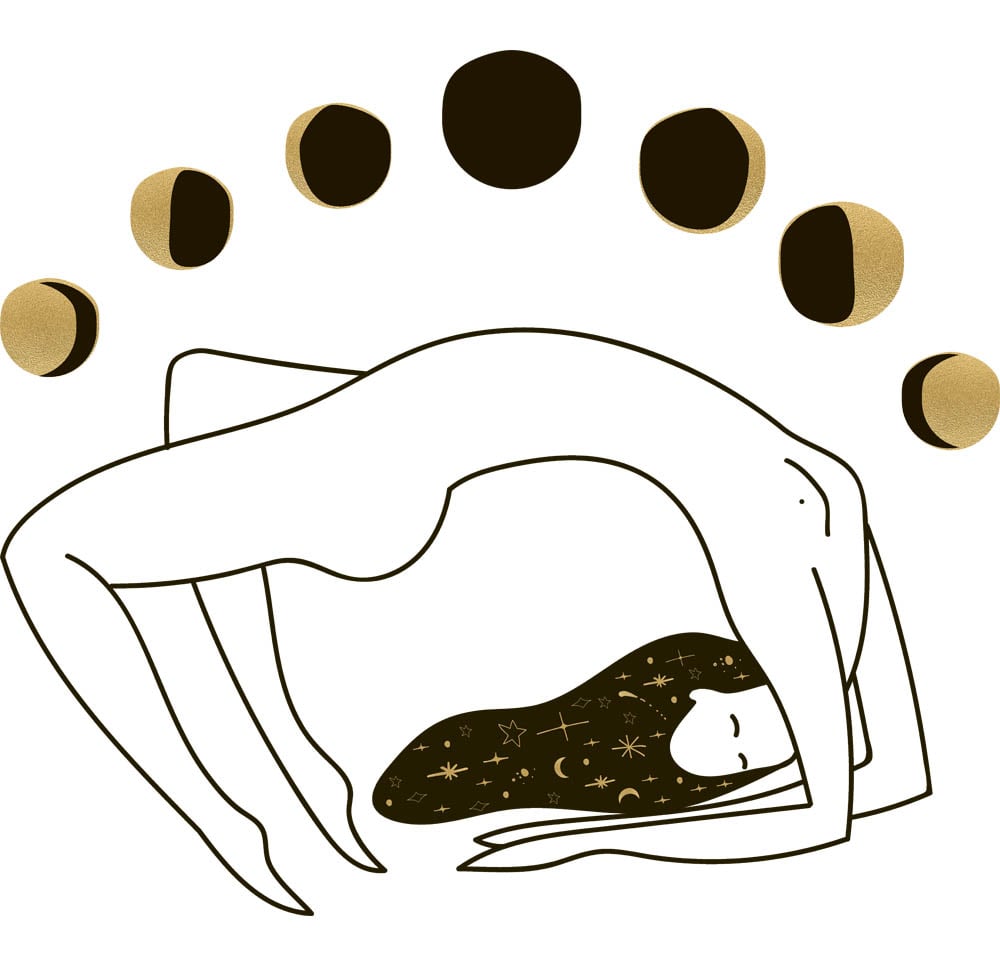 You've probably heard someone describe clitoral orgasms differently from G-spot or even cervical orgasms. Clitoral orgasms tend to feel "shallow," which means they're focused on the outside of your body. The come and go quickly, and they're centered at your clit. Some people go so far as to call them "immature." Now, we think all orgasms are pretty awesome so we wouldn't say that. But many women do report that cervical orgasms feel better than the other types of orgasms.
While G-spot orgasms might be deeper, cervical orgasms tend to radiate throughout the entire body (learn more about full body orgasms). Muscles contractions are deeper, closer to your stomach. Cervical orgasms can produce wave-like sensations.
Some women feel exhausted after this type of orgasm in a way that doesn't happen with a clitoral orgasm – like when a man comes and is down for the count.
A cervical orgasm may be much longer than you're used to. For some women, it may be possible to have multiple cervical orgasms, too. It's no wonder why you might want to try it!
If you read elsewhere about cervical orgasms, you might find some of the personal accounts and anecdotes to be a bit "New Age." Some practitioners say that absolutely every woman can have one, but that's a bold statement. Comparing an orgasm to taking ecstasy is also setting the bar pretty high, and some people simply don't want to mess around with Taoism or Tantric sex or anything else that might seem far out.
It's totally cool if those ideas don't apply to you, and you want to experiment – just like it's cool if you do want that type of experience. The information below will help you get closer to your goal!
How to Achieve Cervical Orgasm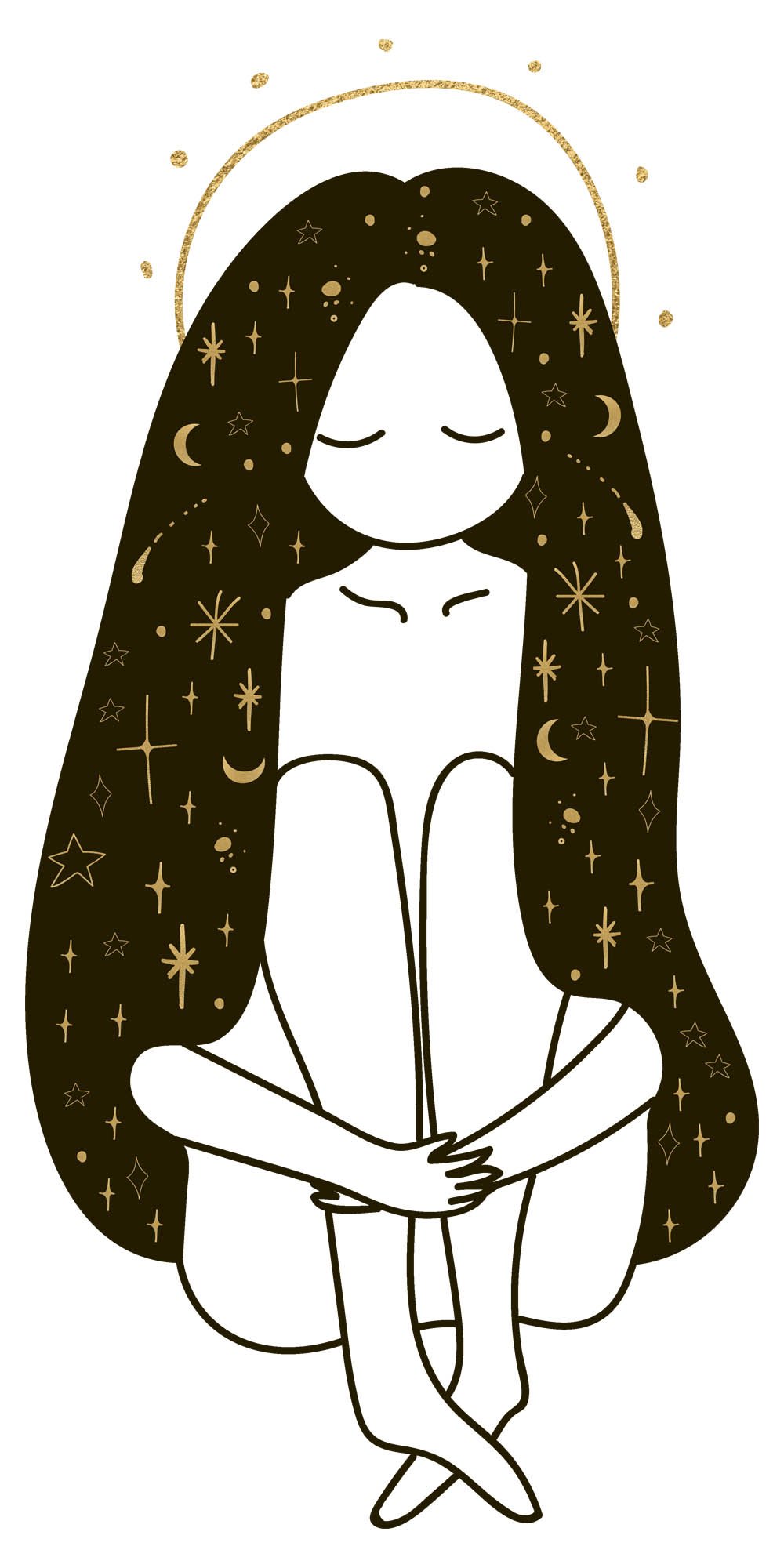 1. Plenty of Foreplay
If you've only associated cervical contact with discomfort in the past, then you might be understandably wary about trying for a cervical orgasm. One way to make things more pleasurable is to make sure you warm up with plenty of foreplay. Ask your man for a sensual massage. He can go down on you or finger you. Perhaps you'll already have had intercourse before you even try to access your cervix. Either way, make sure to use plenty of lube, too. More on that here.
All of this should help you relax and get adequately aroused, which is essential to the cervical orgasm!
2. The Right Positions
Deep penetration is key to the cervical orgasm. While the G-spot might lie just a few inches inside your vagina [11, 12], the cervix is all the way at the back. A partner with a longer penis comes in handy, as does finding a position that pushes your cervix a little lower. This might be why women who are capable of orgasm from stimulation deep within the vagina prefer a partner with longer penises [13].
The Best Sex Positions for Cervical Orgasm

Doggy Style
Many women have found success with doggy style, which is great for G-spot stimulation, too!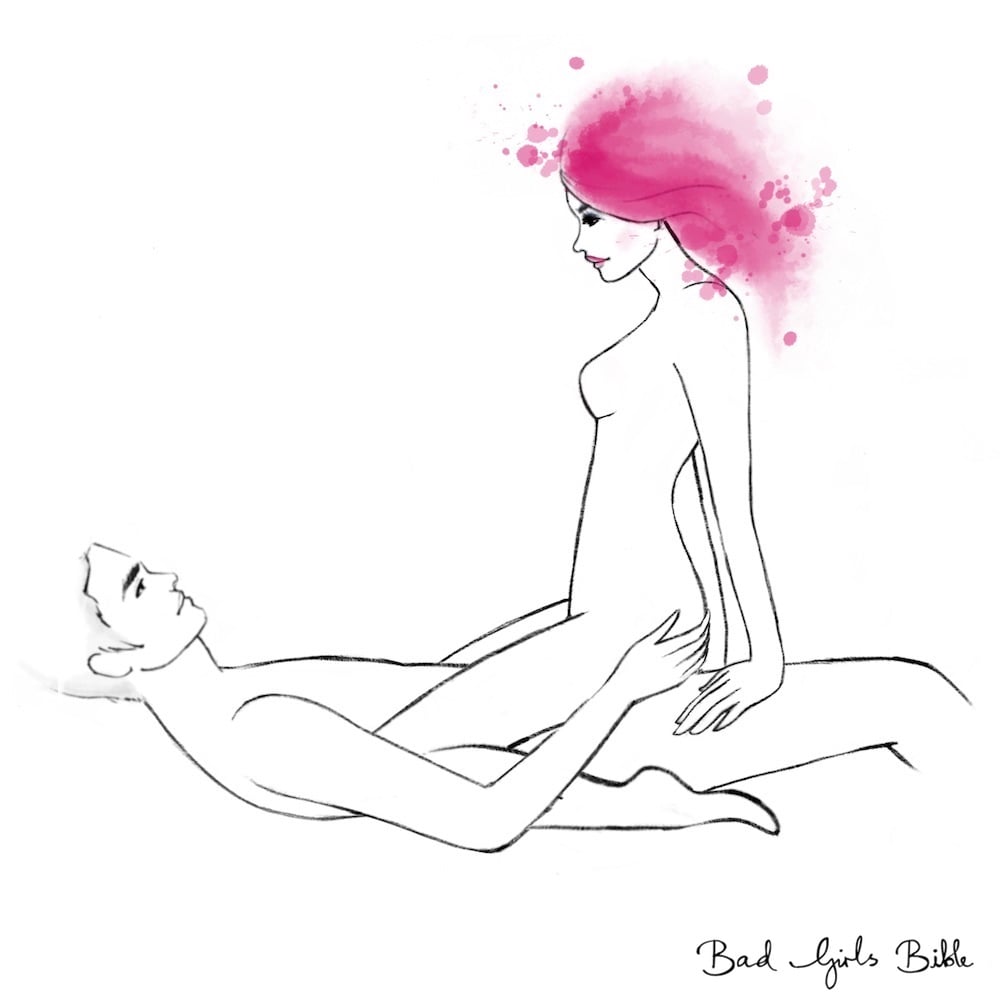 Cowgirl
You can also try when you're on top because you'll be in control! Being in control during positions such as Cowgirl helps some women feel more pleasure and come more easily. However, some women feel self-conscious in this sex position. If that's you, you may benefit from reading our 10 tips to feel super confident in girl on top sex positions.
Sex positions that offer deeper access will be your best bet for cervical orgasms. You can find a list of more than 100 sex positions, some of which you can modify with better cervical access.
Solo Sex
Having a cervical orgasm during masturbating may be a bit tricky because your cervix is harder to access than your G-spot. Consider positions where you're more scrunched up than elongated. Sitting, for example, might work better than lying down stretched out. You might also try kneeling, squatting, or even bending your legs toward your chest when you're on your back to see if it helps you have a cervical orgasm.
3. Experiment with Technique
While many women don't like having their cervix pushed, poked or prodded, some find that these very things are key to having a cervical orgasm. One thing to try is consistent cervical stimulation once you've made initial contact. This, stimulation will be less "pokey."
Some experts even recommend visualizing your cervix as a gateway and allowing it to open so that you will find stimulation pleasurable and can have a cervical orgasm. Try it and see if it helps!
One Redditor who described her cervical orgasms as "incredible" offered this advice:
She inserts her index and middle finger, places them on either side of my cervix, and gently rotates her wrist. And I completely lose control of my body, I'm all hers. It's a very intense feeling. Because it's not direct/center I avoid pain but still feel the pleasure.
You might also find that fisting, which provides intense stretching and filling and allows for deeper penetration, helps you have a cervical orgasm.
4. Sex Toys
When it comes to playing with toys, choose a longer vibrator or dildo. Because you're aiming for cervical orgasm, you might not necessarily need one that's super thick and filling – unless that's what you're into, of course. There are a few other choices to make when picking dildos. Learn more about using your dildo.
Is Cervical Play Risky?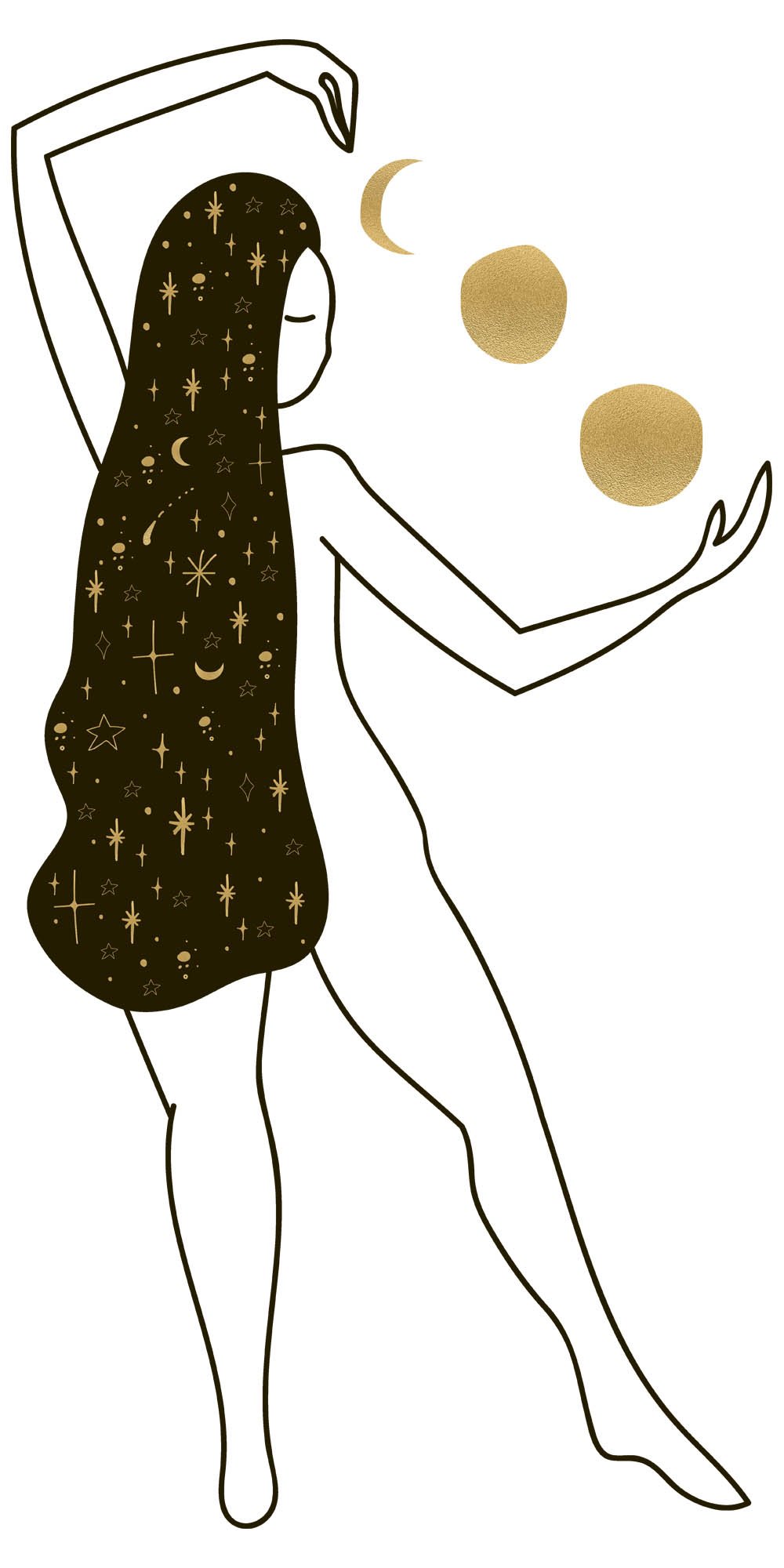 Before you proceed with cervical stimulation, a word of caution, you don't want to be too rough in your quest for a cervical orgasm. Rough sexual activities can lead to bleeding after sex [14]. While a bit of spotting is nothing to worry about, you don't want to rupture your cervix.
Furthermore, if you have an IUD (a type of birth control), the strings will come out through your cervix [15, 16]. Moving them may be uncomfortable, could irritate your cervix, and in rare cases may cause the IUD to be pulled out.
Proceed with caution and use common sense, and you should be okay!
Our Advice
If you want to know how to have a cervical orgasm, the advice in this guide can help get you there. However, not every woman appears to be able to have this type of orgasm, and that's okay!  There's nothing wrong with you if you're having a little trouble getting off or with a new type of orgasm. Check out our guide to making yourself orgasm for some tips, but don't forget to simply enjoy the journey. It's not all about the destination!
No research has specifically looked into cervical orgasms to determine what a cervical orgasm is or how it might be different from other types of orgasms, so it may turn out that only some women can learn how to have a cervical orgasm.
For some women, focusing on orgasm is exactly what makes it so hard to get off. So, make sure you're enjoying the experience above all else. If it doesn't happen this time, you can always try again. But you don't have to if you simply don't like having your cervix touched.
Resources
This article about the types of orgasm on Bustle explains how people qualify different orgasms but why that may not be accurate because of how the brain acts.
Carrie Weisman writes about cervical orgasm and talks with sex educators and doctors on AlterNet.
Sexpert Beverly Wipples responds to a reader's question about orgasms after having a hysterectomy. While not about cervical orgasms specifically, the response informs readers that orgasms may become more difficult after the procedure that removes parts such as the cervix. Could all orgasms be a little cervical by nature?
Annie Sprinkle, a sexologist, outlines seven models of orgasm in this article. She includes cervical orgasms as a type of inter-vaginal orgasm and notes that they "often occur with fisting."
Healing Love through the Tao: Cultivating Female Sexual Energy offers guidance for experimenting with Taoist sexual practices included some cervical exercises.
Frequently Asked Questions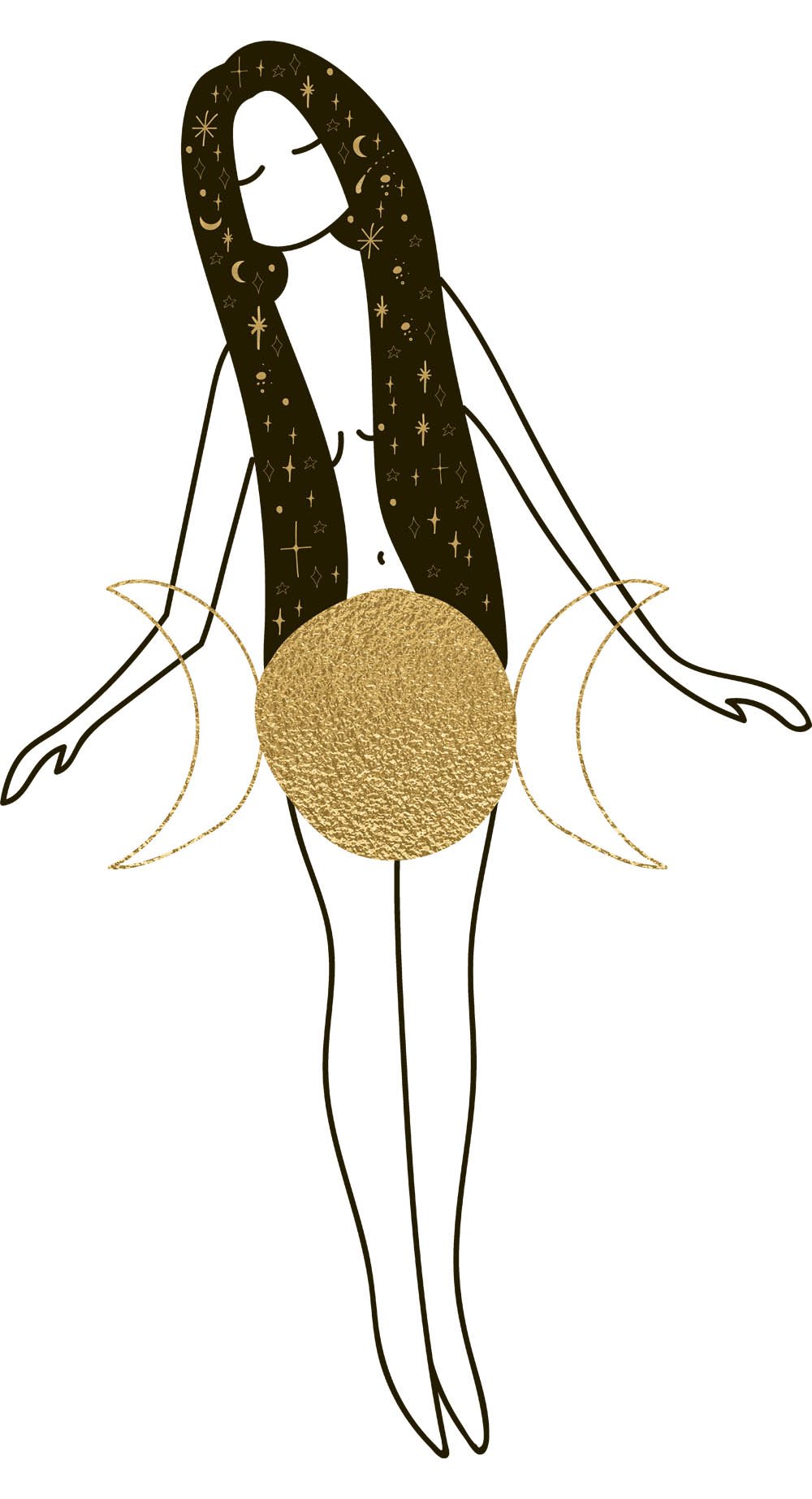 FAQ #1- Is it true that women can have multiple types of orgasms?
Yes. Many women, and perhaps you are included in this, have experienced orgasms that produce different sensations when stimulating different parts of their bodies or using different types of stimulation. As the name suggests, a cervical orgasm is produced by stimulation of the cervix.
However, there is some debate about whether all these orgasms are really different types. For example, studies have found that there is no specific organ or spot where the G-spot is purported to be [17]. Instead, orgasms resulting from G-spot play occur because this is actually a location where the larger clitoral organ can be stimulated through the vaginal wall [18]. Other orgasms (the A-spot, for instance) may be similar.
Read More: What Is The A Spot? 
One study indicates that not all orgasms are caused by clitoral stimulation, concluding that
The assumption that women may experience only the clitoral, external orgasm is not based on the best available scientific evidence. [19]
When it comes to cervical orgasms, it doesn't appear that the clitoris is involved similarly to how a nipple orgasm doesn't include clitoral stimulation. Still, there has yet to be any research into cervical orgasms specifically, so there's a lot to learn about what a cervical orgasm is and how to have one.
FAQ #2 – Why does cervical stimulation hurt?
You're not alone if most or even all cervical stimulation hurts. There are a few reasons why.
First, the S2–S3 nerves are built to transmit sensations of pain from the cervix to the brain [20 p 417]. Secondly, the cervix changes during your menstrual cycle. The cervix begins to soften and widen just before ovulation [21, 22, 23] as your body prepares for fertilization and, ultimately, pregnancy. Your cervix widens, also known as dilation and this happens a lot during childbirth.
Spending more time playing before you even get to cervical stimulation may help to reduce sensitivity to pain as well.
A softer cervix won't register pain as highly as a harder one. This means that cervical stimulation may be comfortable during one part of your cycle but not the others. Furthermore, your cervix is high during the fertile part of your menstrual cycle [24], meaning it may be harder to accidental bump or poke it during sexual activity. This can make deep penetration feel better.
There's also the issue of technique. Even people who enjoy cervical stimulation and can have cervical orgasms may find poking and thrusting to be uncomfortable. Instead, you should focus on back-and-forth rubbing rather than thrusting. Your partners need to understand this if they want to master how to give a cervical orgasm.
Combining these things may be vital to you being able to enjoy cervical stimulation
FAQ #3 – Is there a way to ensure cervical orgasm?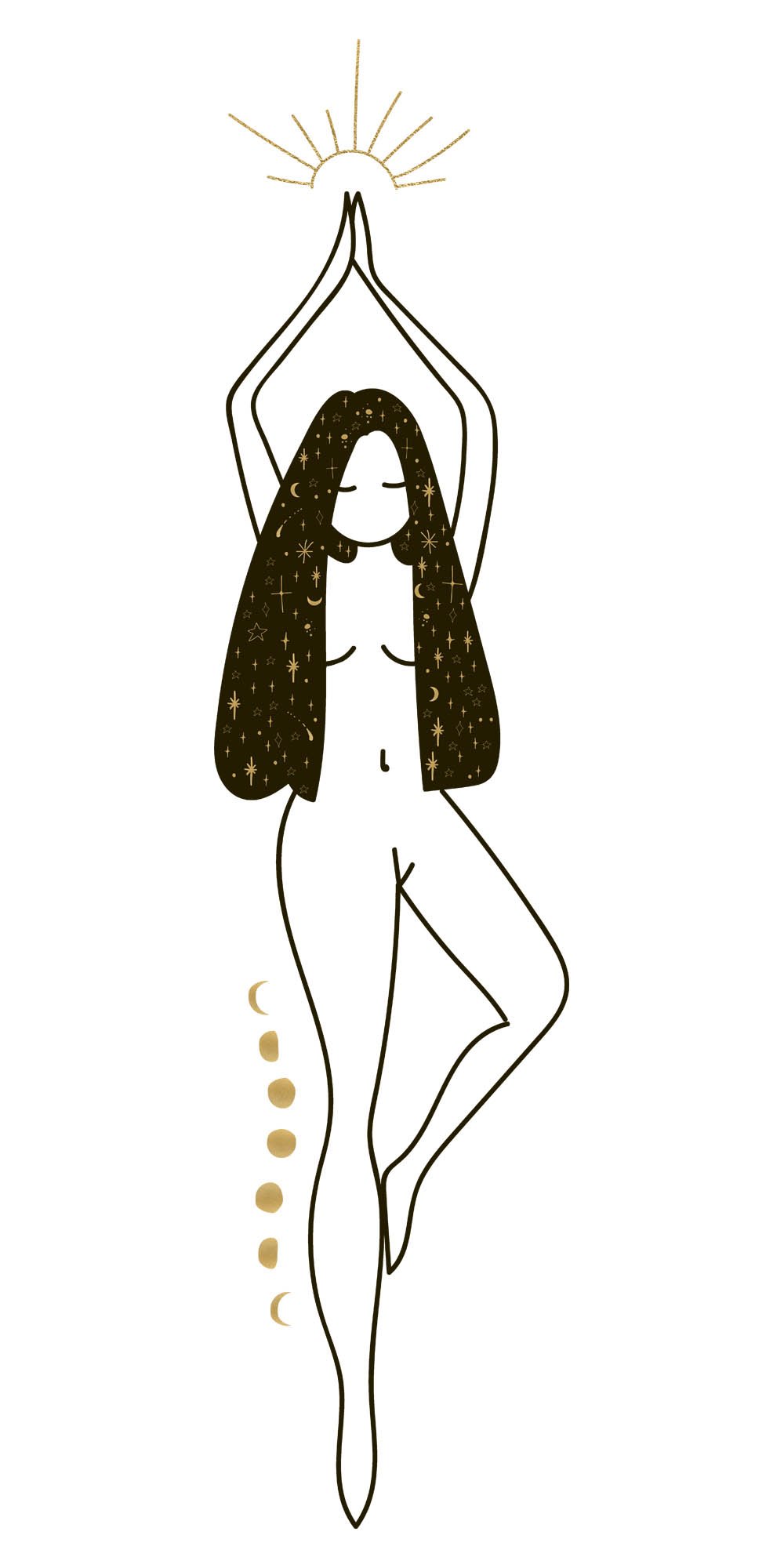 There's no surefire way to have a cervical orgasm, but some things may help. Sexologist Annie Sprinkle recommends fisting to achieve a cervical orgasm. Others suggest that cervical orgasms are best achieved when you're having sex with someone for whom you feel love rather than a casual sex partner (find out how to have casual sex you'll actually enjoy) or even by yourself.
Related: What Is Fisting? And How To Do It Right
FAQ #4 – Can you have a cervical orgasm after a hysterectomy?
A hysterectomy is a surgical procedure in which the uterus is removed [25, 26, 27]. There are various types of hysterectomies, some of which remove more organs than others. The cervix may be removed or damaged during these procedures. However, a laparoscopic hysterectomy and specifically a supracervical hysterectomy is less invasive and can leave the cervix [28, 29, 30].
Beverly Whipple warns that orgasms can become more difficult for women who have had a hysterectomy that involved removal of the cervix and uterus because of damage done to nerves in the process, the role the cervix plays in orgasm, and the role the uterus plays in muscle contractions during orgasm. Not everyone believes that removing the cervix will have adverse effects, however.
According to the NHS:
Having a hysterectomy doesn't mean you can't have an orgasm. You still have your clitoris and labia, which are highly sensitive.

It's not known what role the cervix plays in orgasm. Some experts have argued that removing the cervix can have an adverse effect, but others have found that it doesn't.

A review of the evidence comparing subtotal with total hysterectomy in premenopausal women found both types offered similar results for sexual function.

In a study comparing different surgical methods of hysterectomy, a number of women noticed reduced sexual sensation. This included reduced feeling when their partner penetrated their vagina, a dry vagina and less intense orgasms. If, before hysterectomy, you had noticeable uterine contractions during orgasm you may find you don't experience these anymore [31].
This is because the ovaries create hormones [32, 33] that play a role in arousal, vaginal lubrication, and tissue health [34]. These hormones decrease after surgeries that remove the ovaries and cause "surgical menopause" [35, 36]. Vaginal dryness and atrophy can occur with naturally occurring menopause as well [37, 38]. This can lead to painful sex [39, 40, 41] as well as discomfort during other activities [42].
To combat this, you may consider hormonal supplements in the form of a pill, cream, patch [43] or even vaginal ring [44], moisturizing your vagina with specialty products, and using lubricant for sexual activities.
Read More: Sex After Menopause -What You Need To Know & Expect