This discreet newsletter will teach you how to give him freaky oral sex & make him scream your name in bed. Click here to get it.
Ever wonder what it's really like to be a dominatrix? Why men would pay someone to them beat up and humiliate them?
As popular culture so often twists, turns and distorts the facts surrounding the kinkier sides of sexuality, we decided to interview some of the world's top dominatrices so you can see what their job really entails and how they got involved with such an interesting profession.
Side note: If you are currently struggling to orgasm during sex or masturbation, then you may want to learn about the Easy Orgasm Solution. It begins by teaching you the techniques to orgasm easily and consistently. Then you'll learn how to have multiple vaginal and full body orgasms during sex and masturbation. You can find out more here.
The 8 dominatrices we interviewed are:
Mistress Talon is a dominatrix that specializes in foot & body worship, slave training, rope bondage, fear play, spanking, flogging and whipping. She bases her dominatrix services out of both Edmonton and Vancouver.
Related: If you want to give your man back-arching, toe-curling, screaming orgasms that will keep him sexually addicted to you, then you'll find them in my private and discreet newsletter. You'll also learn the 5 dangerous & "dumb" sex mistakes that turn him off and how to avoid them. Get it here.
Lady Seraphina is a Calgary based dominatrix who loves nothing more than training, tormenting, punishing & praising her submissives. She first started experimenting with BDSM when she was 19 and hasn't looked back since. She offers everything from hypnosis to couples sessions to cross dressing.
Italian Domina is a dominatrix who has many skills including rope bondage, spanking, cock and ball torture, cross dressing, infantilism as well as much more. While she is based in Toronto, Canada she adores travelling.
Mistress Madison Stone is a stern sadist originally from Baden-Wurttemberg in Germany, but currently residing in Calgary, Canada. When she's not working as a dominatrix, Mistress Madison enjoys hiking, swimming and looking after her 3 pets, a German Shepard and 2 Siamese cats.
Mistress Shira Lynn is a tall dominatrix, standing 5′ 10″ who offers sessions in everything from blindfolds to bukkake to cling film play. She offers sessions in her dungeon located in Ottawa, Canada but she also travels extensively.
Mistress Katia  is a domme with almost 10 years of experience in the fetish and BDSM world. She is currently located in Vancouver, Canada. She offers everything from puppy training to medical scenes.
Mistress Lexxi Brown is a dominatrix from Montreal, Canada. She offers various types of BDSM sessions for subs and slaves. She also offers financial domination.
Mistress Aveena is a dominatrix based out of Montreal and Calgary that likes nothing more than pushing her submissives limits whether this is through corporal punishment, CBT (cock and ball) torture, anal training or any of her other specialities.
Rather than editing the interviews or picking out the most sensational quotes to make them seem more controversial than they really are, we have decided to give you our dominatrices responses in full. This way, we can give you a real insight into the mind of a professional domme. Ok…here we go!
1. Do you feel that you were born to be a dominatrix and dominant person or was it something that you learned and grew into?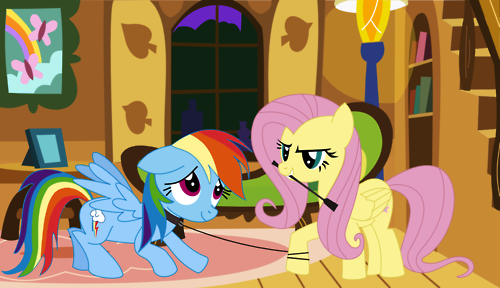 I've always been a dominant person, though I didn't always recognize it. In time, as I learned about kink and explored it, I found my role, and it fits me to a T. ~ Lady Seraphina
Lets start off with a little story, I was in Grade one in Woodstock, New Brunswick. Picture this, a little girl at the top of the hill, a little boy about the same age runs up to her, she pushes him down and kicks him down the hill… Only to have him stop at the bottom of the hill and run up the hill so I could do it again. And this kind of thing was to happen constantly throughout my life.
I do feel that in a way I was born in a dominant role, I was always someone that liked to be in charge but of course I was in charge in ways where people didn't think I was in charge, which in the BDSM world is called "topping from the bottom". I slowly learned what I liked and how I liked it. 
Over the years and through a stint of submission and not having the confidence in myself to be who I wanted to be (who I knew I was) it eventually just clicked and I decided "I was no longer going to be the victim and take control of my life and my sexuality". Instead of me regretting my sexual experiences I could take charge and feel good about my sexual needs, wants and desires. 
The more I learned about BDSM (bondage and discipline, dominance and submission, sadomasochism), the more I found my role. I find that there is strength in submission as well as strength in dominance. ~ Mistress Talon
I was definitely born with it. I have six nieces. One of them is going to be a Domme. When she was nine months old my Grandmother made me promise that I would take her under my wing especially as she got older. ~ Italian Domina
Yes I do feel I was born with dominate genes. Growing up in a military household everything was about authority & structure. I ended up with high standards for myself & an insatiable desire to control everything in my life. It seemed impossible to hold down regular 9-5 jobs where I was not in charge & I've had numerous including working for a Christian based company.
When I became a dominatrix it was a natural & effortless decision as well as an outlet. Having this outlet helped me level out my control issues & impracticable need for perfection in my personal life. Because of my profession I am a much more relaxed person who goes with the flow. With that said I am still a go-getter & independent. This profession is a blessing in disguise for me. ~ Madison Stone
I was definitely born a dominant person. ~ Shira Lynn
I think I was born to be a Dominatrix, however I had to learn many skills to be able to do it on a professional level. There were definitely times growing up where I was one of the smallest kids in the class, and times when I had really low self confidence. I had a partner introduce me to BDSM when I was about 17, and I thought I was a submissive based on the fact I didn't know what to do. But once I had enough experiences being "the bottom" I realized that I am definitely "a top". My first detention was in Grade 6 because the boys were scared of me and told the teacher that I had been grabbing their testicles,which was true! I was doing this but did not see it as a sexual thing, I just thought it was funny to watch them be in pain. But the detention was quite humiliating and I learned that non-consensual touching was not appropriate. I guess that was a sign though, that I had sadistic tendencies as early as age 11. ~ Mistress Katia
I've had a dominant character for as long as I can remember. Even as as child I was hard-headed and stubborn even though that doesn't necessarily make you a domme.
I've started noticing my dominant side and power in my teens when people (mostly boys) would submit to my will/demands more often then not. I wasn't bossy or cruel, but standing tall & strong always did the trick by itself. ~ Mistress Lexxi Brown
It is something that was definitely inside of me and that was asleep… I had my awakening when I started dominating at the age of 19 🙂 ~ Mistress Aveena
2. Do you feel like you understand men better than most women, having seen so many in such a vulnerable state?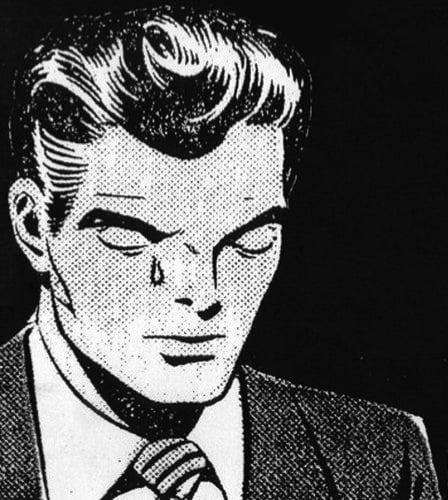 I have always understood men. They are much simpler than women. Not that they can't be complex, but the way they think makes a great deal of sense. They are also taught a great many things that often need correcting, which is part of what a Domme is there for. ~ Lady Seraphina
I do understand men better but I do not think it's because I have seen them vulnerable. It's because I am open minded. I make no assumptions based on social status or public perception. ~ Italian Domina
I do feel like I understand men better then a lot of women. It's not just because I have seen them in a vulnerable state. I've been more comfortable around men my entire life, I could relate to them better than most women I have met. But I am a person that can read people quite well, you have to be very observant to be a good dominant. Especially a professional, otherwise you can miss some signs that could be detrimental to your bottoms wellbeing, physically or mentally. But I do understand their needs and desires. What they want and some of the reasons behind it. Talking about their fantasies does show a lot about who they are and what they feel. ~ Mistress Talon
I would say I understand men differently. Since they are in a vulnerable state it allows them to really open up & share a side of them that they hide due to a lack of understanding & potential judgment. ~ Madison Stone
I've had both vanilla and BDSM relationships and that has given Me the opportunity to see more facets of men's personalities than most women will ever have access to in their lifetimes. There is incredible insight gained by looking into a man's eyes, usually as he is on his knees in front of Me, as he confesses that although he is alpha and dominant in his vanilla life, he yearns to submit to the will of a strong woman. ~ Shira Lynn
Not exactly. I don't think all men want to be in a vulnerable state, and some men would hate being in a submissive role. I definitely would understand submissive men on a larger scale because I have dealt with so many of them. Each submissive has their own BDSM activities they are into.
One guy might get aroused from being treated like a puppy, another a foot stool, another an adult baby, and another a full on rubber clad slave, tending to My every need. I imagine many women haven't seen the amount of submissive men as I have, so I definitely have a stronger handle on things than "most women." ~ Mistress Katia
I think I do. However the thing is no two men are the same but my open-mindness and experience made me understand a lot of things about men. As a Domme you get to learn things about them that only you know. Things they keep from their girlfriends, family and friends but confide or show freely to you. ~ Mistress Lexxi Brown
With my vast experience in the field and with the men that I have met in sessions, I acquired a great knowledge of their behavior, especially regarding their psychology behind BDSM and their sex life. I learned a lot about their motivations, their needs and restrictions, their fear, their taboos, etc.  I realized that even though they identify themselves to different cultures, all these men share the same fantasies and their desire to submit before a beautiful dominant woman. They are all one after all ~ Mistress Aveena
3. Do you ever feel like an agony aunt or therapist instead of a dominatrix? (If yes, then why do you think that is?)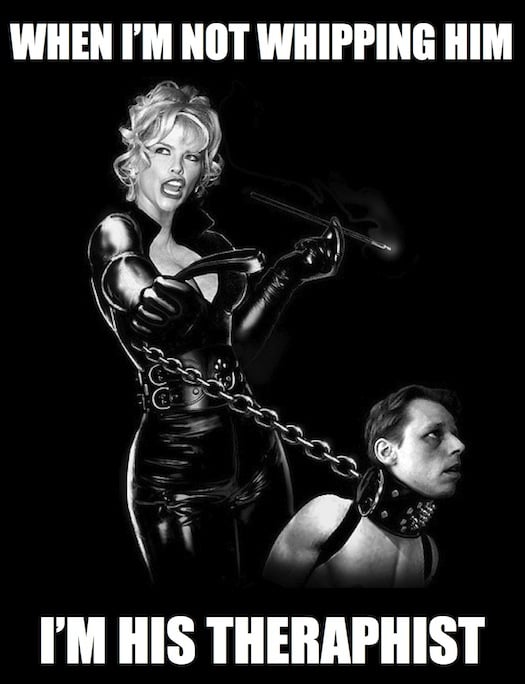 Absolutely. A huge part of what I do is therapy. People open up to me, knowing they may tell me anything without judgement. I facilitate healing while they are in my playroom, which is part of why they leave feeling much better than when they arrived. It's not a matter of therapist *instead of* a Dominatrix; rather, a good Domme is part therapist, part guide, part mother, and part evil sadistic bitch. ~ Lady Seraphina
Yes i do but as my good friend Medora says "men do not spend $300 an hour to talk about their problems. They can go and see a therapist for $20! I try not to become their therapist, I am a better Dominatrix! Often I feel like an agony aunt for other Dommes! ~ Italian Domina
I never feel like an agony aunt, but sometimes "the rapist" (haha, I hope that wasn't too bad of a tasteless joke!).
The role of a dominatrix, or even as a dominant in general is one of figuring out who this person they are playing with is. Their likes/dislikes/limits as well as their abilities and having to work within that spectrum. You do want them to come back because it was an enjoyable experience even if it was something they don't really enjoy.
So feeling like a therapist is always a risk when helping people get through some of the stigma behind their fetishes and begin to accept themselves. I help them realize that their fetishes and fantasies don't define them as people, that it's just another aspect in a wide range of who they are. ~ Mistress Talon
I do not feel like a therapist instead of a dominatrix, I feel both work together. As a woman many of us have no problems vocalizing whats going on in our lives or minds. Really many of us can go on for weeks! Men tend to censor things. Perhaps that's due to the "weak" stigma society often gives men for their supposed inadequacies.
These men already recognize I am open minded and because of that they feel comfortable I will not judge. Being an excellent dominatrix carries many of the same qualities a therapist has like: understanding, non-judgment, being open minded, confidential and a pair of good ears. They tell me their deepest secrets & even emotional issues that stem all the way back to their childhood. ~ Madison Stone
Sometimes, at the end of a session or scene, the sub may try to understand why and where his need for submission came from. His soft underbelly is exposed and in an attempt to protect it, he tries to figure out its origins and thinks that he can then overcome it.
There is also the submissive who is feeling guilty and asks if I think he is cheating on his wife. I empathize and gently share My take on it all. Seeing a proDomme is an event and I don't want the client leaving with anything but a good feeling about getting his needs met. ~ Shira Lynn
I definitely see Myself as a form of therapist. Many men are hard-wired in their sexuality from a very young age. A foot fetishist once told Me he remembers crawling on the floor as a young child, sniffing all the women's feet, and how his love of women's feet never went away as he began to sexualize them at an older age.
And another foot fetishist told Me that he would follow women wearing flip-flops around town, because he was so turned on. Rather than doing something creepy like that, he can come into see Me for a mutually consensual proper foot worshiping session. I give men a safe place to act out their fantasies so that they aren't violating non-suspecting women. And I give them a space where they aren't judged for their bizarre fantasies which definitely is therapeutic for sure. Some men are scared to ask their partners to enact their fantasies because they worry it will cause offence, and other's prefer to maintain the dominant role at home for traditional reasons, and seek out submissive role play scenarios from a professional. ~ Mistress Katia
I do get what you mean… men as subs relieve their stress, problems, insecurities by letting go totally in a session. However, I don't do anything with all their problems except whoop some ass, lol. I'm a domme all day in the end… it's all about me, unlike a therapist. ~ Mistress Lexxi Brown
Sometimes, I do have the impression of being some kind of therapist, but it is part of my profession and it is actually one of the aspects that I love about it.  I need to understand subs better in order to personalize the session, therefore I do not hesitate to ask them detailed questions about their deepest desires, the origins of these desires, goals they would like to achieve, etc.  
The more I learn about the person, the deeper the connection will get.  This way, the sub sees a progression within the sessions and boundaries can be surpassed. ~ Mistress Aveena
4. Do you think that your profession is misunderstood?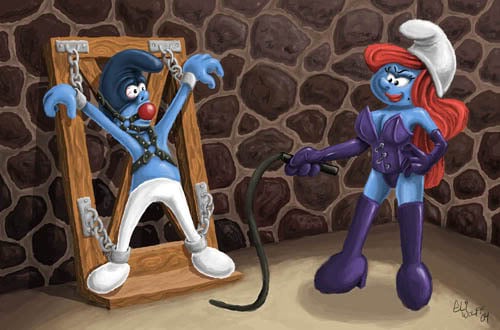 Often, yes. First off, in North America we tend to think that it must be a sexual service (ie: an escort with a whip). While there are certainly fetish escorts, there are many professional Dommes like me, and we do not offer sexual contact. As well, after chatting with me for a bit, I often hear, "but you're so nice!" You can be a genuinely nice, caring person, and be a Dominatrix.
In fact, I will assert that you must be. You must care about the people in your power. Just because I enjoy their pain doesn't mean I want to harm them; I am invested in their well being. ~ Lady Seraphina
It is definitely misunderstood. These days a lot of escorts pretend to be Dominatrices without any training. This is not about sex. It's so much more and infinitely better than sex. ~ Italian Domina
I do think that being a dominatrix is misunderstood. There are escorts that dabble in BDSM. This usually means that they will be more intimate with their clients. But being a lifestyle domme and a professional dominatrix, it's not about sex, it is about exploring the needs, desires and fantasies of the client.
I give them a safe, sane and consensual way to explore those things. I do feel like I am a teacher sometimes. But it's wonderful because I do help people find themselves, physically, emotionally and sometimes spiritually. ~ Mistress Talon
Absolutely my profession is misunderstood. I can understand where people come from though…what you do not know how can you understand? Much of this profession has been misconstrued greatly. Many think dommes are escorts, have a negative attitude, its abuse, its eccentric & it's not normal. Yes there are dommes who provide escort services & escorts who provide fetish services. Then there are dommes like myself who only provide fetish services. There are dommes who have a negative attitude & take it out on subs, I think thats wrong.
If you have a poor attitude stay home, this profession is wild & kinky but it's also about having fun. As far as weird goes, whats normal? ~ Madison Stone
I'm not sure what most people's take on My profession is. When I see a Dominatrix on television, though, it seems that the exchange is based on pain being delivered by a mean and angry screaming bitch. That's not the way it really is. Its all about giving up control. ~ Shira Lynn
Well I believe there definitely can be a stigma towards anyone who works in a sexualized industry whether it's an exotic dancer, escort, adult film performer or a Dominatrix. Luckily I have a strong community of friends who are non-judgmental. But some religions teach people that sex is sinful outside of marriage.
And our government makes laws that create stigma against sex industry workers. I am a Traditional Dominatrix and do not have sex with My clients, but there are people who assume that I do. Many people have no idea what BDSM even is, as it's such a niche, which can make My profession misunderstood as well. ~ Mistress Katia
YES!! YES YES YES!! The biggest misconception is that we're close to escorts. I don't have anything against these girls but what we dommes do is light-years away from this!! I personnally never have sex with subs/clients unless I decide to, because I need a good f*ck. And in such rare cases, I'm the one fucking the shit out of you… not the other way around. Not to say also that this has nothing to do with money but rather that I'm turned on by a particular sub/slave.
The 2nd misconception is that people think we are mean and always pissed off because we're dommes. NOT TRUE!! Being a domme doesn't mean you have to have an attitude with everybody, it's just that you emanate a natural strength and dominance… you don't have to push it or fake it! I'm usually all smiles and nice until someone acts out of pocket with me. Then I become a bad mother******.
But if you act right I'll always be respectful and nice to you. And most dommes are the same. I also don't like the insecurity some people have around us. You know like someone showing off just so I know he's dominant and that he won't submit to me, or someone acting scared and distant because they think I will try to domme them and take advantage of them. We don't try to domme everybody!! I respect a person's position which can also be domme or neutral, or even a sub that is submissive to one person only. Because I'm a domme doesn't mean I will climb over anybody and impose myself. ~ Mistress Lexxi Brown
Yes.  Many people think that being a dominatrix is about whipping and mistreating people.  They completely neglect to consider the psychological side of domination. I have the impression that people tend to focus on material aspects of this profession.  But it is WAY much more than hurting men and pulling them on a leash… ~ Mistress Aveena
5. What are the most common fetishes that you encounter?
Masochism, of course. The vast majority of people who see me are masochists on one level or another. Foot fetish is one of the most common fetishes in North America. Bondage fetish is high up there. I also see crossdressers, medical fetishists, some adult babies, and of course, nearly everyone is a female supremacist. No fetish is a negative thing, as long as you can do it safely and with consent. ~ Lady Seraphina
Foot fetish is usually how a man gets started into this world. Restraints and bondage are common too. ~ Italian Domina
The most common fetishes that I have encountered are bondage and crossdressing, so don't be offended if a guy likes the feel of your underwear more than his own.  ~ Mistress Talon
I have encountered so many different fetishes but find the most prominent: foot fetish, pegging, queening, CBT, humiliation, bondage and of course a some good ol' paddling. ~ Madison Stone
In Canada, My client's interests are more often strapon play, golden showers, bondage, and mild to moderate pain. UK submissives tend to enjoy pain, ranging from a spanking to the extreme pain of a cane, and crossdressing. Middle Eastern slaves are into foot, shoe and boot worship, ass worship and humiliation. ~ Shira Lynn
Naughty nurse medical role play scenarios, spankings, foot fetishes and sissy training (forced feminization) are very common. ~ Mistress Katia
Fetish for black women a lot.. Also foot fetish, ass & tits worship… spanking… strap-on domination ….Humiliation… leather/spandex/lingerie fetishes… spitting and face slapping.. those are the ones that always come around. ~ Mistress Lexxi Brown
Hmmm… I get a lot requests for anal training, foot fetish and toilet training. I also get requests of role playing too. Roles vary a lot, some people can come up with quite original ideas (such as the shoe salesperson vs the bitchy female client)  ~ Mistress Aveena
6. What types of guys avail of your services?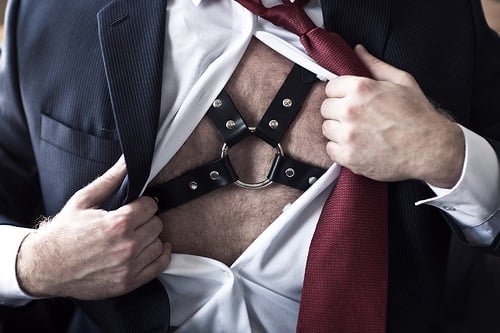 A lot of very 'normal' well-adjusted people come to see me. In fact, as I only play with people I deem to be genuinely decent human beings, I see some of the nicest people around. On average, they are white, 40-60 years old, and either in the trades, upper management, or running their own business. I also see people of other ages, ethnic backgrounds, and professions, but these are the most common. The oldest client I've played with is 75, the youngest was 22. ~ Lady Seraphina
All types. If I have to describe the general type it would be a man 30-50 executive position. Got married, had children, loves his family very much but needs an outlet for his kink. ~ Italian Domina
Both guys and girls take part in my services. So there's people from all aspects of society. From businessmen to athletes, to your guy/girl next door. ~ Mistress Talon
All types of guys book sessions with me. The average is the middle class, late 30's white collar male. I have seen males from very young but legal age to late 80's. All nationalities, physical disabilities, shy virgins to people who are prominent public figures. Most have had past experience while a few are just "trying it out". ~ Madison Stone
Unless I've seen someone for years, I don't really know or ever ask what they do in their vanilla lives so My opinion in this regard is limited. I make a conscious effort not to ask any personal questions.Seeing a proDomme is expensive and for that reason, men tend to be over 30, most are between 40 and 60. I've noticed in the last few years that I am seeing more men under 30.
Those under 30s have university degrees and good jobs. They are less guarded and like to talk about themselves. Submissives are so varied. They come from every possible area of economic and marital status, type A personalities, quiet and shy, 9-5ers, risk takers, tall and handsome, short and portly, you name it. Most people would never be able to tell who is and who isn't a submissive. I find that I can sense when a man hungers to be on his knees and he can sense Me. I've also found that the more stress a person is under, the more responsibility he has, the greater his need to give up control on occasion. ~ Shira Lynn
Mostly lawyers and psychiatrists. Ha, just joking, but not really… Every type of man comes to see Me. From ages 20-70, all races, all professions, all walks of life. Every man has a sexual fantasy, and therefore there are quite a variety of men who enter My dungeon. ~ Mistress Katia
All types of guys but mostly business men with a lot of responsabilities. When it comes to ethnicity and age they are mostly white and between 35 and 60. ~ Mistress Lexxi Brown
All kinds of people. I get students, construction workers, retired men, CEOs, lawyers, doctors, university professors, business men, etc. I get all kind of men, they are all respectful. I choose them carefully through e-mailing (it is an excellent way to scan people).  ~ Mistress Aveena
 7. Would you be happy for your daughter/son to follow you into this world?
I have absolutely no desire to raise a child, but if I were to do so, or if one of my nieces or nephews were to approach me about it, I would certainly encourage them. If you're wired for BDSM, kink, fetishes, or anything else, you should accept it and love who you are. Approach it with the right attitude, and as with anything, strive for balance. ~ Lady Seraphina
If I had daughters I would love for them to be Dommes but looking at my friends daughters I'd have to say that it tends to skip a generation. ~ Italian Domina
Absolutely not as a proDomme, and I think I would prefer she didn't even as a Dominant in her primary relationship. Its not an easy road and most women are naturally submissive. 
I personally wouldn't have it any other way. ~ Shira Lynn
Well, as long as they are a consenting adult and loving what they were doing, then what they get up to is their own business. But Mom would definitely want to teach as many health and safety practices as possible, and would want to help manage their business when they got started so that they would not be stolen from, violated or exploited in any way. There are bad people out there and I would protect My adult children from them… ~ Mistress Katia
100% yes, no question about it. People in my personal life understand what I do & I have been blessed they are accepting of it. As long as my child/children are happy, I am happy. Although I may want to teach them the ropes. ~ Madison Stone
I would have no problems with my daughter/son to become a part of the BDSM lifestyle. As long as they do things safely, consensually and in the right frame of mind. I'm not going to condemn them for wanting to explore different things in their sexuality as long as they are responsible and have researched how to do things properly. ~ Mistress Talon
Happy, no. But i'm certainly not against it. If She/he decides to choose this path, I would have a talk with them concerning this lifestyle, pros and cons, and everything they need to know before they embark on this journey. If they are serious about it then I would probably mentor them. Weither they are top or bottom/Domme or sub, I would support them as long as they are happy and comfortable with their lifestyle. They would most likely be dommes though, it's in their genes LOL. ~ Mistress Lexxi Brown
I would not mind at all. It's a nice way to get acquainted with "small business management" and to develop excellent communications skills. As long as they get well informed on the profession and as long as they have a plan A.  ~ Mistress Aveena
8. What advice would you have for women who want to introduce dominance & submission play to their partners?
Communication and consent. You have to talk to them. It's true that you can simply pin their hands above their heads while you're on top and see if he or she responds well to it, but in order to go any further with BDSM you MUST communicate. Have a talk, approach it gently, and see if your partner is open to trying things. You never know what they might be into. 
Take it slow, and remember that they won't necessarily like everything you try, but that doesn't mean they won't like anything. Also, you must never pressure your partner into playing – this is all about consent. There are also great forums on sites such as Fet Life. ~ Lady Seraphina
Inform yourself, read, go to munches, ask an experienced Dominant to teach you. Safety safety safety ~ Italian Domina
Some advice would be listen to your partner, ask questions, research, then surprise them with your sexy, confident self. Don't shoot down their fantasies and do try to be accomadating. You never know you may enjoy making some of his fantasies come true.
But remember to make sure you are not over stepping your boundaries or beliefs. Just push the bar just a little bit at a time. Do take things slow and only do things that you are comfortable with, because if you are uncomfortable with it and still doing it he will notice and that can ruin the mood. ~ Mistress Talon
My best advice would be to do what you are comfortable with but embrace some change. Keep an open mind & talk to your partner about things you like or may want to try.
Its all about having fun & doesn't have to be hardcore (for example, some people like gentle femdom). You can spice things up with simple items like blindfolds, cuffs, a little paddle or even a change in wardrobe. A person may discover new likes and want to try again or may discover it's not for them. ~ Madison Stone
Go for it. One idea to introduce DS play discreetly and gauge your partner's interest in it would be to be on top and while riding him, hold his wrists and put your weight forward.
A more direct route and something that could be easily introduced would be tying them up and introducing tease & denial. You can also take it further with ruined orgasms. If you're feeling confident and have a very open communicative relationship, just ask. If it involves sex, they don't usually put up much of a fight. Role play and spanking are also good starting points.
Strapon play makes men feel the most submissive, but they often fight it because of its connection to homosexuality. Make your man understand that its about a power exchange, that his ass is an unexplored erogenous zone, and that it doesn't mean he'll be switching sides. Have fun with it.  ~ Mistress Shira
Maybe try watching some BDSM movies together, going to a local fetish club, or going to BDSM workshops which are offered in the community. (The internet is a handy tool.) There are also events called, "munches", where folks in the BDSM community meet at various restaurants and other venues to chat. And of course there are online forums people can join.
It's important to communicate with your partner about what your kinks are and hard limits so that everything is consensual and enjoyed. I do not recommend buying a whip and springing it out on him, as he may not enjoy it… It's something that should be talked about first for sure. ~ Mistress Katia
Talk. Talk. Talk. Talk. Then, experience. And once you experience, go step by step, go soft and easy..with time you can climb ladders of intensity once you are both comfortable. Men are often insecure when it comes to being submissive. They somewhat feel like they would be lesser men or whatever stupid typical male-thinking lol. 
A good idea would be to read books or magazines together, go to fetish events as observers, etc.. If they're still reluctant, make them watch porn! Nothing TOO HARDCORE in case you scare them!! Something soft and sexy, like a teacher spanking his student or a boss lady forcing his employee to lick her boots and ass. That's the magic trick with men.. even though it's not their usual type of porn, they will be aroused and probably develop a sexual curiosity about it. This will accelerate the whole process and they'll want it. ~ Mistress Lexxi Brown
Both partners should be open-minded.  Turn off TV, read books and specialized articles and get experience in the field at some point. Then the most important part: communication, trust and respect. ~ Mistress Aveena
What Do You Think?
So you've heard from the Mistresses about what they really get up to as dominatrices…but what about you? Would you be interested in becoming a dominatrix…or at the least injecting some dominance and submission play into the bedroom?
What about the other side of the spectrum? Would you be interested in your man becoming more dominant in the bedroom, calling the shots? Let everyone know what you're thinking in the comments section below…
Orgasm Every Time. Easily. Here's How...
I want to tell you about my friend Karen.
Karen came to me one day. She was hysterical.
She told me that her marriage was falling apart because she and her husband didn't have satisfying sex.
Every time they were intimate, Karen was faking her orgasms. It turns out she couldn't orgasm during sex.
In fact...
She never had an orgasm in her entire life. Not one!
This left her feeling embarrassed and ashamed. And...
She completely hid this from her husband. Thankfully...
It turns out that there is a way for any woman to orgasm. Easily. And have multiple vaginal and full body orgasms during sex and masturbation.
I shared the process with Karen.
After she followed the simple process, she could barely come to terms with how...
Quickly and dramatically her sex life changed.
We met up a few months later and...
She would not stop talking about it,
"I thought I was one of those women who couldn't orgasm. I used to think I was 'broken' and 'unfixable.' This saved my sex life, and that saved my marriage."
Even if you currently struggle to orgasm during sex or when masturbating, this process will also work for you.
And best of all, you don't need to do anything weird or uncomfortable to start having the best orgasms and sex of your life.