Below is the ultimate bachelorette scavenger hunt that you can play at your bachelorette party.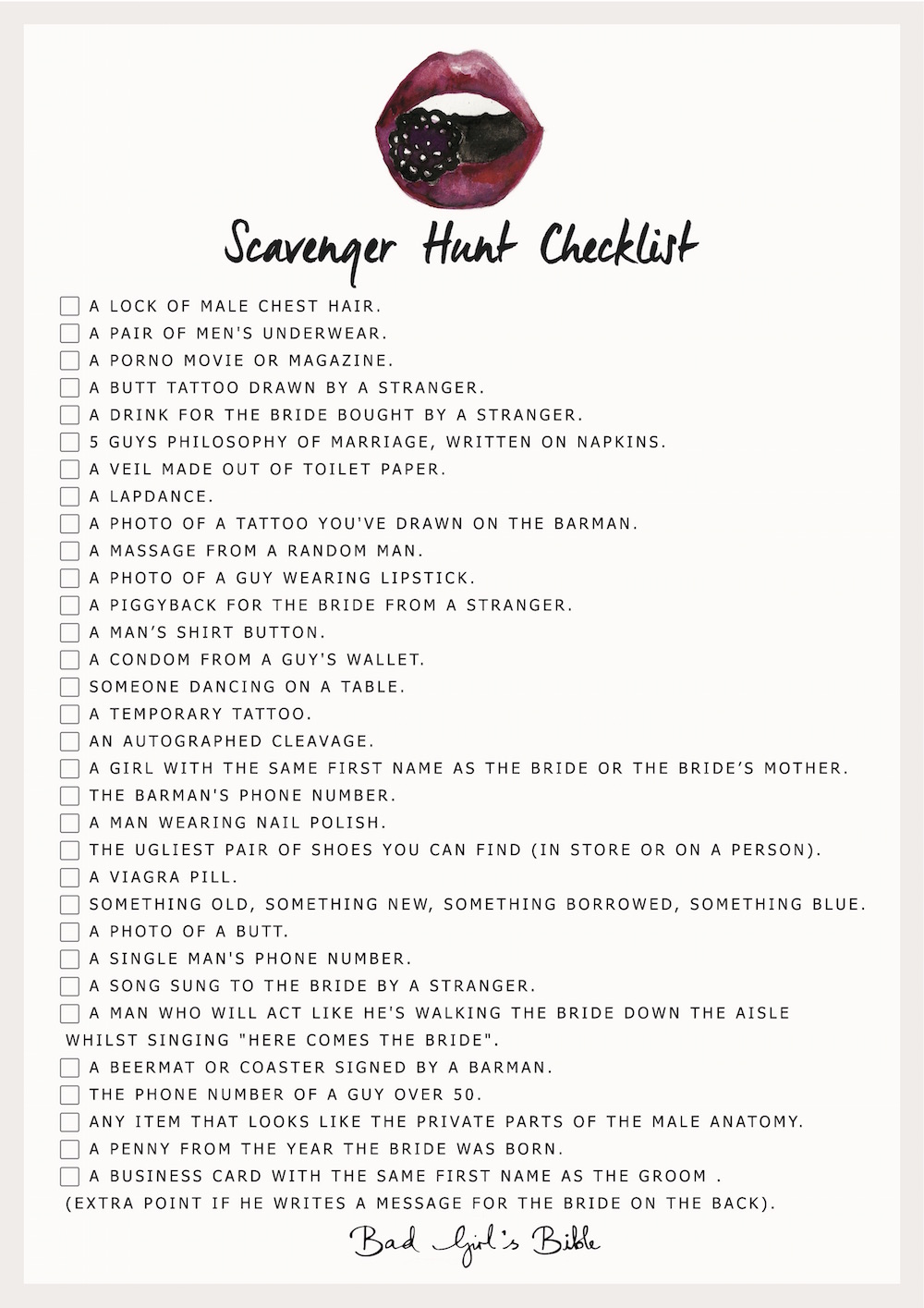 You can download this scavenger hunt checklist here.
You can also download a blank version of the scavenger hunt checklist here and use it to create your own checklist, tailored to the bachelorette.
Tailor the Scavenger Hunt to the Bachelorette
The bachelorette is someone you've probably known for a long time, so keep her likes, dislikes, and general personality in mind when you craft a bachelorette scavenger hunt for her. That's why I included this blank scavenger hunt checklist template that you can download and print.
You can push her out of her comfort zone, but don't go over the line or she'll simply be uncomfortable instead of feeling like she's having one last wild fling before she settles down. If you have a party girl bachelorette, keep it on the wild side to keep her interested. If not, our advice is to err to the mild side. If you're worried about the reception to the scavenger hunt, run the tasks from the checklist above as well as these tasks below by other bachelorette party members to figure out which can stay and which should go.
The Search for the Perfect Drink
Start the bachelorette scavenger hunt with a bar hopping expedition to find the best version of the bachelorette's favorite drink. For added variety, try to visit different types of bars for this task, such as a dive bar, a lounge, a gastropub, and a sports bar. Your bachelorette might even take her future husband to one of those hot spots for a married date.
Selfie Hunt
Create a list of people, objects, and places for the bachelorette party to take selfies with. Upload them to a shared Instagram account to share the scavenger hunt experience with all of her friends.
Landmark Looking
Put small items or gifts around prominent landmarks around town. If you want to get extra creative, make a map showing the general location of the landmarks you want the bridal party to find the gifts. If you have a particularly outdoors-loving bachelorette, consider setting up a personal geocaching adventure for her.
Deploy a Pick Up Line
Horrible pick-up lines are one thing many people are happy to avoid once they get married even though cheesy pickup lines can be a lot of fun if you ham it up. So, of course, you should make the bachelorette and the bridal party deploy the best of their worst pick up lines as they're out and about.
Land the Free Drink
The bachelorette doesn't get a chance to get free drinks after she's tied the knot, so send her to the bar and see if she can grab a free drink off the bartender or a guy at the bar. For bonus points, have her take a picture with the drink.
Pay it Forward
See another bachelorette party running around while you're having your fun? Send them free drinks. Who knows, you might be fulfilling their bachelorette scavenger hunt criteria.
Find Vine Moments
Make it a requirement to take at least one Vine video throughout the course of the scavenger hunt to commemorate the funniest or most ridiculous moments throughout the night. If you're having trouble snapping a video, look for a nearby photobooth, one of the bachelorette party ideas in this post.
Take a Group Photo in an Adult Store
No scavenger hunt is complete without heading down to the local sex toy shop and posing dramatically. Arrange everyone as though you are making a movie poster and put on your best serious face as you snap the shot. For bonus points, get a store employee to take the picture so you're all in the photo. You might even walk out with a brand-new sex toy to spice up your sex life!
Find Another Bachelorette
If your bachelorette is getting married during spring or summer, she's in prime time for weddings and it's likely you'll run across another bachelorette to be in your travels. Take a selfie with her or add her in on the scavenger hunt fun.
Find a Guy with Her Husband's Name
Hunt down a guy with the same name as her husband. If you can, get a picture, a business card, or some other proof that he does share the same name. Extra bonus points if he matches the first and last or middle name.
Find a Cardboard Cutout of Her Favorite Celebrity
The bachelorette won't be able to booty call her favorite celebrity, but she can find a cardboard cutout and pose with it in pictures she may or may not regret the next day.
Bridal Party Modeling Wedding Dress
Why should the bride to be have the fun in the wedding dress? Head to a wedding store and get a picture modeling a wedding dress even if it's outdated and breaks every rule about how to be sexy!
Practice Being Carried Over the Threshold
The bachelorette doesn't want to get dropped during this romantic gesture, so finding people to practice it with is important.
Record a Karaoke Experience
If the bachelorette scavenger hunt party hasn't picked up their Vine moments yet, they will once you go to a karaoke bar. Have the bridal party belt out their favorite romantic song and record it for a video no one will forget.
Finding the Wedding Colors
During the course of the scavenger hunt, scope out the area to find items matching the exact shade of the wedding colors.
It's great to have a fun time with the scavenger hunt, but remember this is about the bride, not you. Make sure the bachelorette scavenger hunt tasks you choose are tailored to the bride to be and are fun for her. If you try to make the reserved and shy wallflower go out to the bar and try to take pictures with the guys she finds there, she's not going to have good memories of the event. When done right, the scavenger hunt will make for an amazing story during a future game of "Never Have I Ever!"