The Brute sex position is a man on top position in which your man will be quite dominant but it's not particularly intimate. In some ways, the Brute is a little like the Amazon position but in reverse, with him on top and you on your back.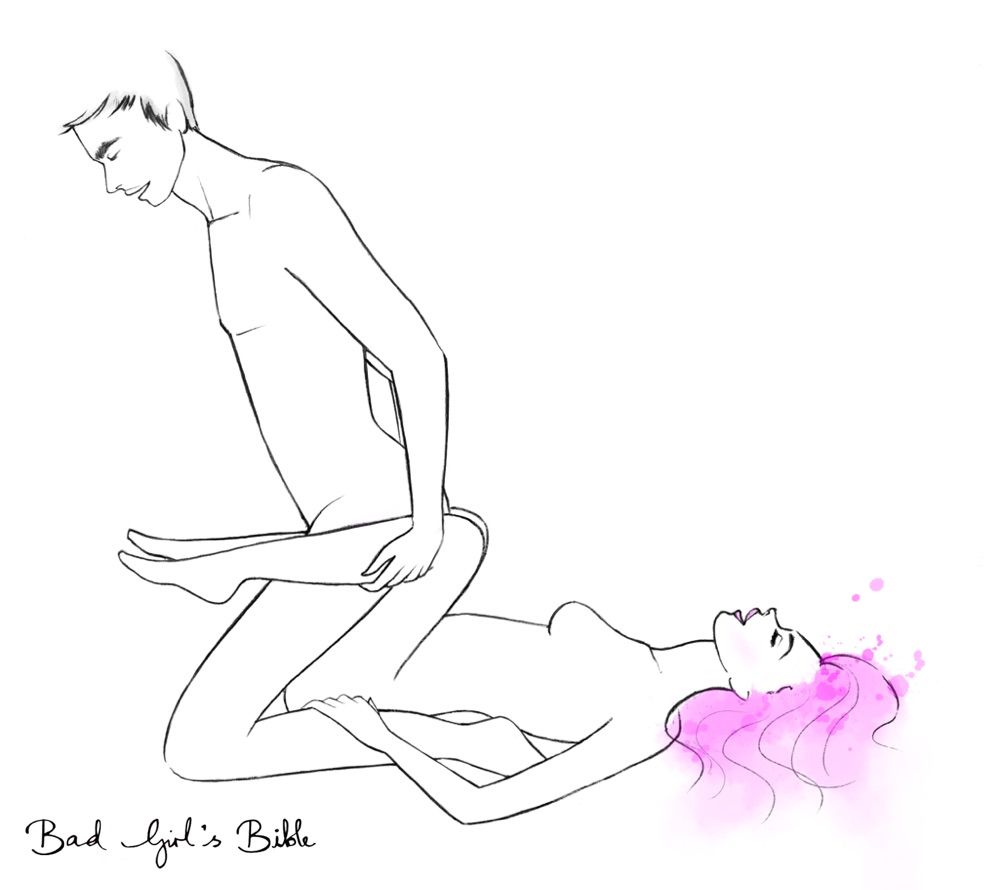 To get into this position, you need to lie on your back and bring your knees to your stomach and chest. Your man will be standing with his back to you with his legs straddling your hips. He will then squat downwards and slowly enter you. All he then needs to do is slowly squat up and down.
You and your man need to be very careful when getting into this position. He will be pushing his penis very far downwards in order to penetrate you, putting a lot of pressure on his suspensory ligaments which can cause him considerable pain and even injure him.
What The Girl Does In The Brute Position
In the Brute position, you don't have to do much. At first your main concern will be making sure that your man doesn't press too hard downward on your thighs with each thrust (it can be really sore if your man is quite big and heavy). Other than that, you just need to gently push him back upwards using your thighs. You can actually put your feet under his armpits to help push him upwards if you want.
What The Guy Does In The Brute Position
Your man needs to be very careful at first not to hurt himself in the Brute position. He will be pushing his penis very far downward just to enter you, so he should be very slow and gentle with his first few strokes.
A great way to take some of the strain off his penis is for him to lean forwards.
The Brute position doesn't allow your man to achieve deep penetration, so he needs to focus on making small, short thrusts up and down, which can take a while to get used to at first. He may find that instead of thrusting upwards and downwards, it's easier to remain fairly stationary and to just use his hips to grind on you.
Things To Consider When Performing The Brute Position
Although I wouldn't consider the Brute position to be a very popular sex position, I have gotten some insightful feedback from students that have tried it. Here is what they had to say about it:
This is one of the least intimate/romantic positions out there.

That's why it's called the Brute I suppose

.
If your man enjoys watching pornography during sex, then the Brute is a good position for it. This is again another reason why this position is not particularly intimate.
Your man has to be really careful not to thrust down too hard, otherwise he can really stretch and hurt the muscles in your thighs
Sean's Thoughts On The Brute Sex Position
If I am planning a nice romantic love making session with my girl, the Brute will not be on my list of things to do. However, when I am in a more dominant mood, the Brute is a great position for it.
If you enjoyed my tips in this article but want a true sex masterclass, then you may be interested in watching
this blow job tutorial video
where you'll learn my most powerful techniques & tips for giving your man incredible oral sex. Enjoy!
Free Bad Girls Bible Membership Access