The Lap Dance sex position shares a lot in common with the Back Seat Driver position. The Lap Dance position is a sex position where your man can relax and 'enjoy the show' just like he would in a strip club but he also has the option of being a bit more active.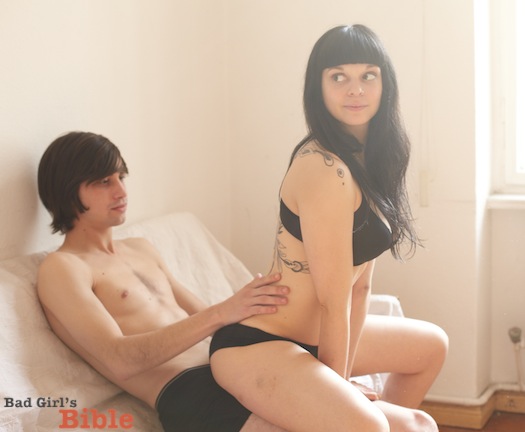 To perform it, your man needs to sit down on a comfortable sofa or seat. He can sit fairly far back in it and will have his legs wide open. You will be on your feet and need to back up into your man. You need to grab his penis and guide it in to your vagina. Then once he is inside, you have some choices:
1) You can slowly grind on your man while he stays deep inside you.
2) You can bounce up and down on him. He can help you using his arms.
3) You can lean forwards or backwards on him, depending on how intimate you want to make it.
What The Girl Does In The Lap Dance Position
You can probably guess from the name that the Lap Dance is mostly about your man's pleasure. So keep this in mind when performing it with him. Part of making it feel like a lap dance for your man is making it visually appealing for him. So don't be afraid to look back over your shoulder and make eye contact with him or kiss him when when you are on top.
If you lean forwards while on top of him, then you can put your hands on your knees and will be more easily able to bounce yourself up and down on him. If you lean backwards, then you'll find it really hard to bounce up and down on him without him physically lifting you up and down. You'll find it easier to just grind on him instead.
What The Guy Does In The Lap Dance Position
Your man doesn't have much to do in the Lap Dance position. He can just sit back and enjoy it or he can get involved by helping to raise you up and down on him with his hands around your waist. If you lean back into him, then he can wrap his arms around you and hold you close.
He is also in a great position to gently massage your clitoris or finger you if you are having anal sex.
Things To Consider When Performing The Lap Dance Position
Now that you know how to perform the Lap Dance position, here are a few pointers courtesy of some of the Bad Girl's Bible students:
Some positions are all about you and your man pleasing you, while you don't have to do too much work yourself. The Lap Dance is all about him, so try to keep that in mind when performing it with him.
You can lean really far forward to the point where you are facing the floor if you find it more enjoyable.
Sean's Thoughts On The Lap Dance Sex Position
Sex shouldn't always be about just your man or just you. It's a give and take (no pun intended), so sometimes your man will be doing all the work for little reward and sometimes you will be doing all the work. It's important to keep it balanced so you both are kept satisfied.
If you enjoyed my tips in this article but want a true sex masterclass, then you may be interested in watching
this blow job tutorial video
where you'll learn my most powerful techniques & tips for giving your man incredible oral sex. Enjoy!
Free Bad Girls Bible Membership Access