The missionary position is one of the most common sex positions in the world. The reason for it's popularity is that it's easy to perform, it feels great and most people already know it. However if you don't yet know how to perform the missionary position, this guide will show you how.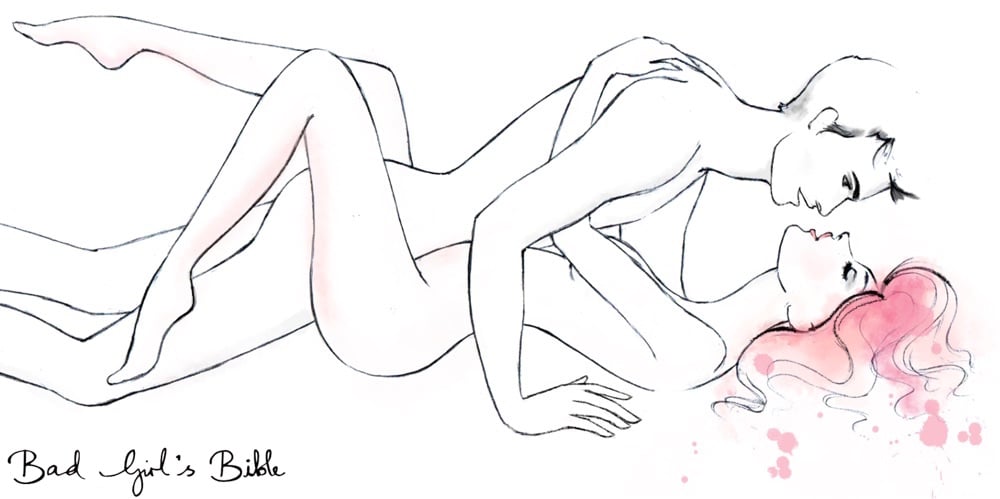 The image above is how the missionary position is performed with your partner. You need to lie on your back, with your legs open. The man then positions himself on top of you so that his legs are in between yours. The man can steady himself by resting his weight on his elbows which he positions either side of you. He can also rest part of his weight on you, but should be careful to make sure that it's not uncomfortable for you. Make sure to tell him if it is. You may find that you need to guide your man's penis into your vagina when you are about to sex in the missionary position.
What The Man Does In The Missionary Position
The missionary position is very straightforward and doesn't require much agility or flexibility at all, so it's suitable for all ages. For the man to perform it, he simply needs to thrust his penis in and out of your vagina. While thrusting his penis in and out is certainly pleasurable for you, you will find that it's even more pleasurable for you if he can move his pelvis up and down at the same time so that his pubic bone can apply pressure onto and around your clitoris.
In this position, the man has a good degree of control on how deep he penetrates you and well as how fast.
What The Girl Does In The Missionary Position
When you are having sex in the missionary position with your man, you may feel that because he is on top, that he's the one in control. You'll be surprised to learn that you actually also have a great degree of control over how deep he penetrates you along with how much stimulation your clitoris gets.
When your man is on top of you, you can wrap your arms around his neck or head, or alternatively you can 'hook' your arms underneath his and grab his back so that you can pull yourself down onto his penis for slightly deeper penetration.
To Stimulate Your Clitoris: If you want him to stimulate your clitoris more than he already is, then all you need to do is grind it against his pubic bone on every thrust. It will take a little while to get your rhythm, but once you do, it feels amazing!
To Make Him Penetrate You Deeper: To get him to penetrate you deeper when having missionary sex is really easy. All you need to do is lift your legs up. Keeping them raised in the air will quickly tire you, so your best bet is to wrap them around your partner's back.
If you don't like wrapping your legs around your partner, but still long for deeper penetration, then you can put a pillow or cushion under the small of your back/hips area. This will elevate your vagina and allow him to penetrate you more deeply without you have to raise your legs.
Why The Missionary Position Works So Well
Having talked to many students, both guys and girls, I have concluded that there are a number of reasons the missionary position works so well when having sex.
It allows for fully body contact, increasing intimacy and closeness.
It allows you to easily kiss your partner on the lips during intercourse which again increases the feeling of intimacy and closeness.
Many girls find it arousing that their man is in a slightly dominant position when on top of them. Some say that they feel like he is pinning them to the bed and is 'in control'.
When performed correctly it is incredibly enjoyable for both you and your man, without either of you having to perform any sexual gymnastics that some sex positions often require.
Sean's Thoughts On The Missionary Position
If you haven't had sex many times before, then you'll find that the missionary position is very easy to perform. One of the most underrated aspects of it is that you have a large degree of control as to how deep you take your man.
You should also note that during the Missionary position, your man can rest on his elbows instead of his hands.
If you enjoyed my tips in this article but want a true sex masterclass, then you may be interested in watching
this blow job tutorial video
where you'll learn my most powerful techniques & tips for giving your man incredible oral sex. Enjoy!
Free Bad Girls Bible Membership Access