How would you describe your last orgasm? Go ahead, think about it. Was it easy or hard to come by? If you achieved one, would you be able to explain how it happened?
To get the answers to these questions and more, we asked over 1,000 sexually active adults to share their orgasm experiences with us. We learned what gets women off versus men and the biggest misconceptions about climaxing. 
If you have questions about achieving an orgasm or aren't sure how to make them happen for yourself or a partner, you're not alone. Read on to see how many people are consistently coming and what's standing in their way if not. 
Closing the Orgasm Gap
Amongst the 1,015 sexually active adults who participated in our study, we noticed a few trends regarding age. Nearly 13% of sexually active women in their 20s said they had never had an orgasm during partner sex, only by themselves when masturbating.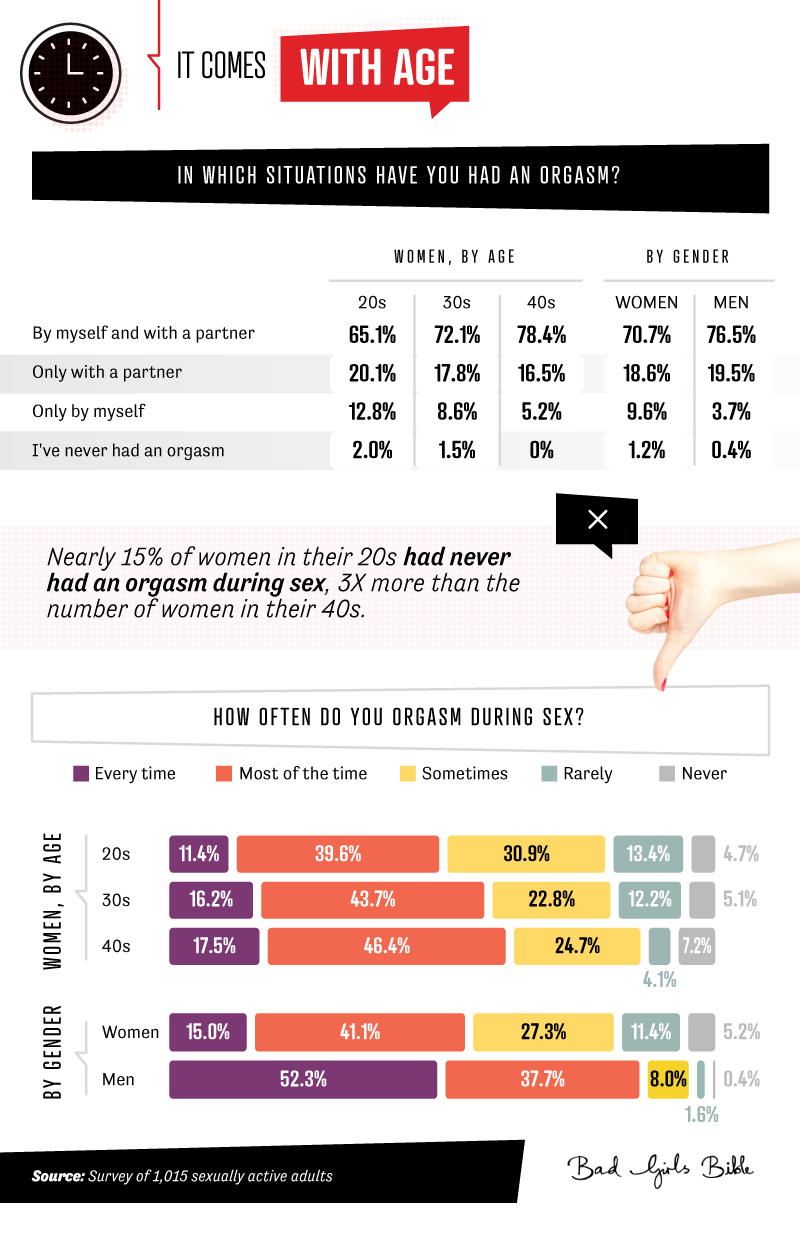 Fortunately, however, this percentage declined for each successive age group. Almost 10% of women in their 30s and around 5% of women in their 40s said an orgasm with a partner hadn't happened yet. 
Men were another story, though. Ninety per cent said they always or almost always climaxed during sex, and nearly 77% have been able to get there by themselves and with a partner. Only 0.4% of men said they had never had an orgasm. 
It Doesn't Come Easily for Everyone
While less than half a per cent of men reported never having an orgasm, we talked to women about the obstacles to reaching their sexual peak.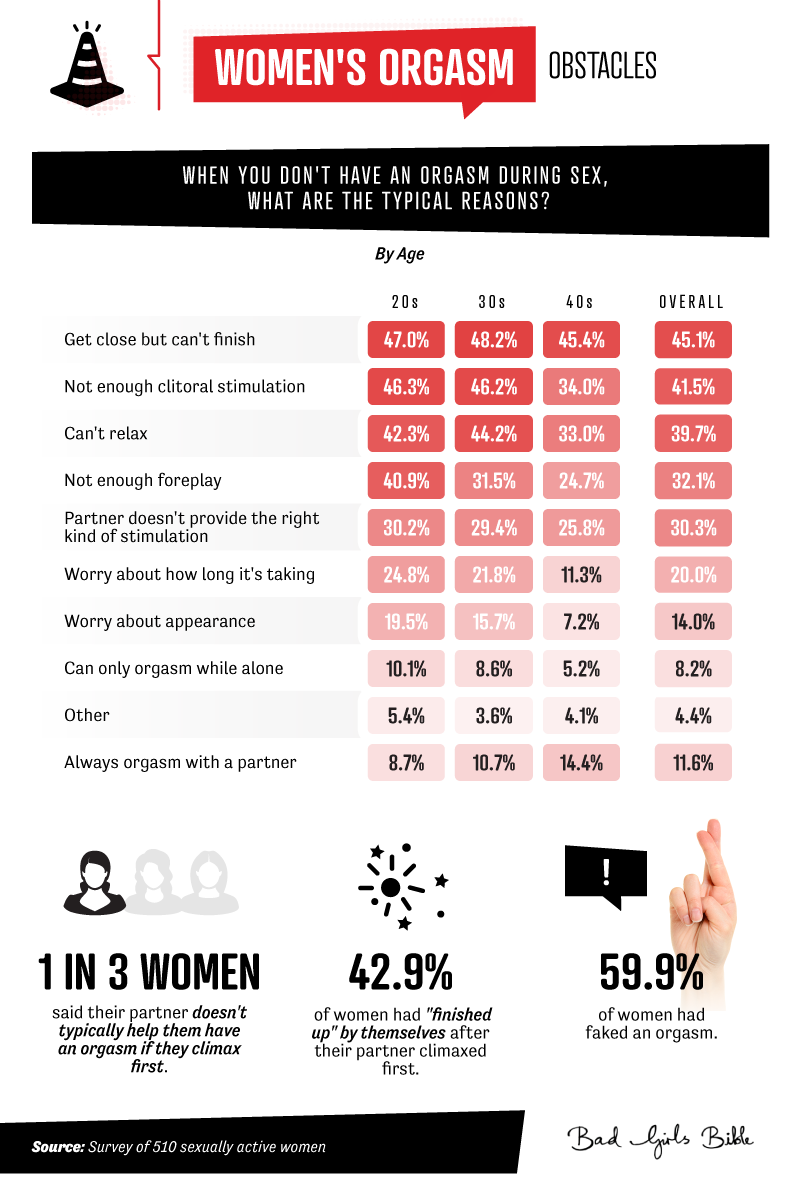 When asked why they sometimes had difficulty achieving orgasm during sex, 41.5% of women said there wasn't enough clitoral stimulation, 32.1% pointed to a lack of foreplay, and 30.3% said their partner didn't give the kind of stimulation they needed. 
Worry and overthinking also posed a problem for climaxing, particularly for younger women. Around 42% of women in their 20s and 44.2% of those in their 30s said they couldn't relax. And 19.5% of twenty-somethings said they worried about what they looked like during sex. Even if you're aroused and fully stimulated (tips for getting aroused), being in your head can hinder your ability to orgasm. However, regularly practising mindfulness can help you reconnect with your body and be more fully present during sex.
More: How to get rid of sexual anxiety.
Just about 15% of women were able to say they always had an orgasm during sex. But some managed to find it afterwards: 42.9% of women said they sometimes got there themselves after sex was over, and 59.9% of women have resorted to just faking it at times. 
Most Popular Paths to an Orgasm
Of course, we won't leave you without some orgasm tips and tricks from experienced women and men. You are capable of achieving an orgasm; there just might be a few things you need to consider or practise.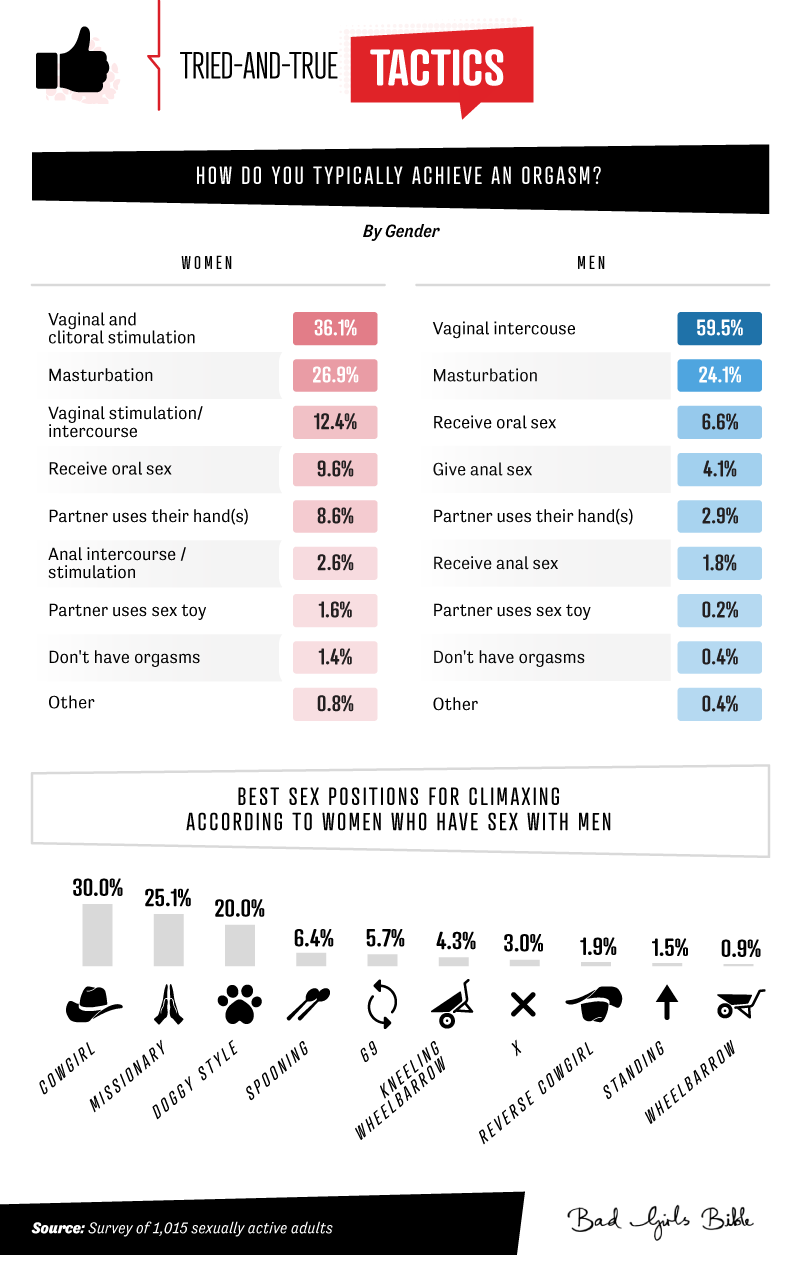 When women did experience an orgasm, 36.1% said it happened due to vaginal and clitoral stimulation. However, while 59.5% of men reported orgasming from vaginal penetration alone, only 12.4% of women were able to say the same. Oral sex, hands/fingers and sex toys also worked to get another 9.6%, 8.6% and 1.6% of women to orgasm, respectively.
If you're looking to tell if your partner has really had an orgasm, psychologists recommend thinking of your own orgasms and not the signs you may see in pornography. And if you have to ask, it's likely your partner hasn't climaxed. 
We also found there was little-to-no need to think outside the box in terms of sex positions. Thirty per cent of orgasming women said the Cowgirl position (or girl on top) worked just fine, and another 25.1% said they could get off with Missionary. Something more complex like the Wheelbarrow sex position was only preferred by 0.9% of the women surveyed.
Testing Your Sexual Smarts
Looking back on some "fake" bedroom behaviours, nearly half of women said they had no regrets about doing so. They felt that faking orgasms was worth it for the sake of making their partner feel good.
While this is a very personal choice, honesty is typically the best policy in the bedroom, especially since it can help both partners climax more often. Experts say this communication and feedback can be as simple as asking "Can you use a little more pressure?" or saying "Keep doing that." The more comfortable you are asking for what you want, the easier it will be to achieve an orgasm.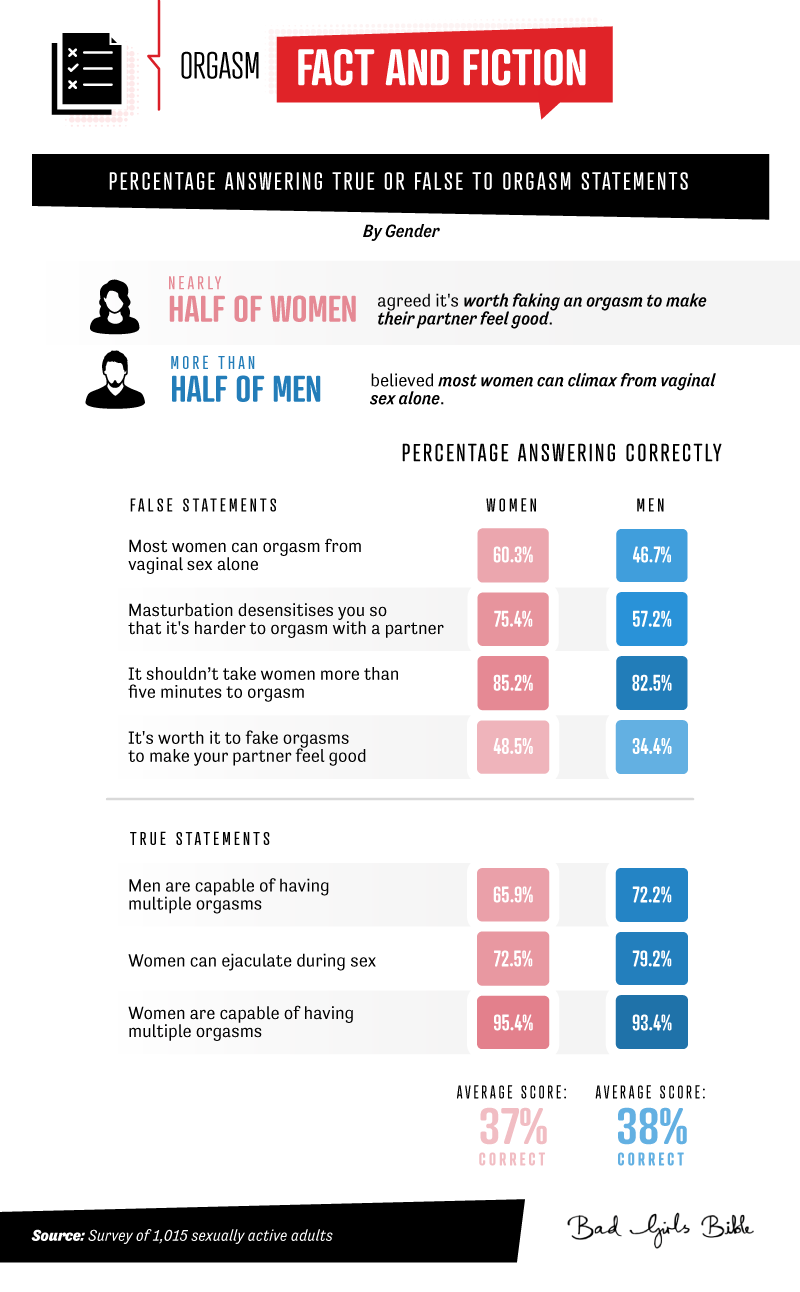 But these weren't the only true-or-false questions we asked respondents. Thirty-five per cent of women falsely thought men weren't capable of multiple orgasms, and 42.8% of men incorrectly assumed masturbation physically desensitises a person and makes it harder to orgasm with a partner.
Overall, both genders were pretty uninformed, as they both failed in terms of average scores. After tallying up the correct answers to our orgasm questions, men achieved an average score of 38% correct and women just 37% correct. 
The Magic Words
As promised, the next part of the study details how respondents described their own orgasms. With the ability to write in responses, participants gave us a glimpse into different climax experiences. Explore the list below to get a sense of how orgasms make people feel, at least as far as they were able to describe it to us:
Good (top men's word): 151 mentions

Amazing: 148 mentions

Intense (top women's word): 147 mentions

Great: 100 mentions

Relaxing: 93 mentions

Release: 92 mentions

Euphoric: 86 mentions

Explosive: 81 mentions

Pleasurable: 68 mentions

Relief: 66 mentions

Exciting: 65 mentions

Happy: 58 mentions

Satisfying: 50 mentions

Pleasure: 50 mentions

Warm: 45 mentions

Powerful: 45 mentions

Awesome: 45 mentions

Fun: 43 mentions

Tingly: 42 mentions
Not surprisingly, most of the words surrounding achieving an orgasm were positive. "Euphoric" was used 86 times, "explosive" 81 times and "pleasure" 50. We're going to assume that even "overwhelming," which we heard 28 times, was used in a positive light.
For both genders, "release" (92 uses), "relief" (66 uses) and "relieving" (51 uses) came up a lot in reference to an orgasm's effects on the body. This relief could have referred to physical or emotional release, as both are thought to correlate with orgasms. According to a scientific study, sexual activity and orgasm can alleviate severe headaches. Frequent orgasms can also help manage stress and anxiety. 
Coming Up
We're glad our study ultimately revealed that both men and women have a lot to learn when it comes to sex. Women, especially, are learning how to achieve better and more frequent orgasms as they get older. If only we could tell our younger selves that there's no need to worry about what we look like or if we're doing the right things during sex. Just be honest. 
At Bad Girls Bible, you and your partners can get the knowledge you need to better enjoy life in the bedroom (or anywhere the mood strikes). Head to BadGirlsBible.com for more intense sex, greater orgasms and deeply passionate relationships. 
Methodology
For this study, we surveyed 501 sexually active people who identified as women and 514 sexually active people who identified as men. There were unique surveys for both men and women. Participants had to be 18 and older and currently sexually active. Among women, approximately 88% were straight, 4% were gay, 7% were bisexual and about 1% were asexual. Among men, 88% were straight, 7% were gay and 5% were bisexual. Women ranged in age from 18 to 87 with a mean of 36.2 and a standard deviation of 10.8. Men ranged in age from 18 to 77 with a mean of 36.2 and a standard deviation of 10.9.
We asked all participants to choose three words or phrases that best described orgasms in their minds. We also asked them to enter a phrase that would describe orgasms to someone who'd never experienced them. 
We asked respondents a series of true/false questions, and we compared their answers to the real answers to create a calculation showing the percentage of questions each person got right out of 7.
Sources for Quiz Answers
Most women cannot orgasm from vaginal intercourse alone:

Women can ejaculate during sex:

Masturbation does not reduce sensation:

Some men are capable of having multiple orgasms:

On average, it takes women more than five minutes to reach an orgasm:

Some women are capable of multiple orgasms:
Limitations
This survey is not comprehensive of every person's experiences with sex and orgasms. The study is based on means alone, purely exploratory and is intended for entertainment purposes only. Survey respondents were predominately cisgender, so more research is needed in the future to explore the experiences of additional populations. The data were neither weighted nor statistically tested.
Fair Use Statement
Bad Girls Bible is more than happy to share our wisdom in the name of sexual health and enjoyment. Please feel free to share the findings of this study, but be sure its use is noncommercial and you link back to this page.